COURSE MAP - SEE THE COURSE VIDEO!!!!! QUICKTIME | WINDOWS MEDIA
- Footage provided by Chris Belcher, Music by Propellerheads, Produced by Marc Davis
IMPORTANT RACE INFORMATION
The boys and girls Championship races are open to any team within the Rocky Mountain five state Region. We expect a large turnout, in preperation of this possibility we have alotted enough time to possibly run two races and combine the times for team scoring. In such a scenerio the final Region Rankings will be used to seed both of these races to offer the best competition to the best teams within the Region. However, each and every team is important to us and we will be fair if such a situation arises.
AWARDS
This is a team championship race only. There will be team awards presented to the top three teams in both the boys & girls championship races. There will also be an award presented to the winning state as determined by the top five runners from that state in comparison to the other competing states. This state award will be a rotating trophy presented to the winning states high school athletic association.
Individual awards will presented to the top three boys and girls finishers with each individual winner recognized as Rocky Mountain Region Champion.
*Notes – The standard XC scoring, a max of 7 runners per team with 5 runners scoring with the next two as displacers, will be in effect. No teams with less than 5 runners will be accepted.
DIRECTIONS
Course address: 201 Von Elm Ln Pocatello, Idaho
Intersection of I-15 and Highway 86
Purple numbers = Hotels
Red Star = Course Location
Pocatello Red Lion is Host Hotel, 110 rooms have been reserved for this race. Contact Red Lion first to reserve your teams rooms at a special discounted rate.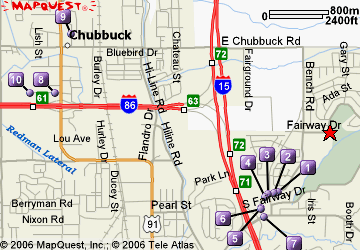 RACE COURSE
The course is a specially designed and measured course for this race only. Held on the same site as the 1980 U.S. National Cross Country Championships it is a beautiful, yet difficult course with multiple hills. This race is a great primer for Foot Locker West Regional and NIKE TEAM NATIONALS.
COURSE MAP - SEE THE COURSE VIDEO!!!!! QUICKTIME | WINDOWS MEDIA
5000 METER course specifically designed for this championship race. A challenging scenic one loop course located on the site of the 1980 U.S. National Cross Country Championships.
This race will be scored by Doug Padilla of Runnercard. Two scores will be recorded. A score will be kept to determine the winning individual team. A score will be kept by state to determine the winning state. A trophy will be awarded to the winning team and a trophy will be awarded to the winning state's State Association.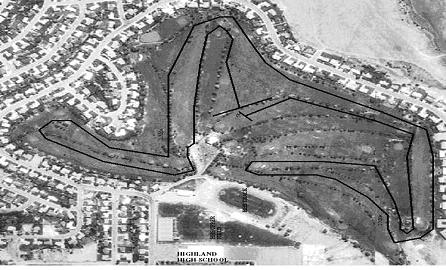 PARKING MAP