Girls High Jump - Patience Coleman NC 5-10.75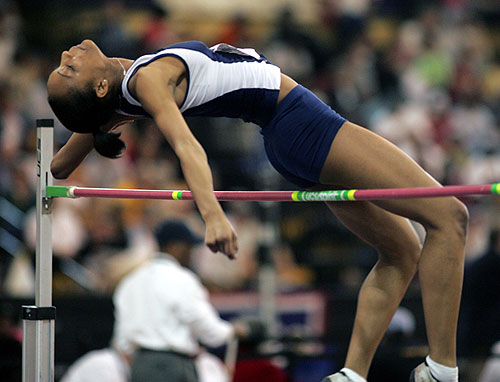 photo by Vic Sailer / PhotoRun
text by Elliott Denman
Patience Coleman's paid off.
Did the Southern/Durham, NC junior hit the panic button when she missed her
first two attempts at 5 feet, 8 ¾ inches after seeing top rival Erin Hannon, a
Bradford, Pa. senior, take the lead after second-attempt clearance?
Not at all.
She simply gathered up all her cool and sailed up and over to set up a
three-way contest with the bar now set at 5-10 ¾.
Sure enough, Coleman cleared at second attempt while Hannon and Deep Creek
High/Chesapeake, Va. junior Ashley Gatling went out and that was it. Gatling
had also cleared 5-8 ¾ on third try and thus wound up third.
Coleman's winner was the best jump in this meet since Sheena Gordon's 6-0
winner for McDowell High of Erie, Pa. in 2002. Hyleas Fountain of East
Harrisburg, Pa. had gone 5-11 ½ in 1999 and so Coleman ranks third on the all-time
NIN list.
Coleman knows all about winning the big ones. She's a five-time North
Carolina state champion, indoors and outdoors, and took the USATF intermediate
girls Junior Olympic national title last summer.
 

Girls High Jump

==========================================================================

 5-3, 5-5, 5-7, 5-8.75, 5-10.75, 6-0.25, 6-1.5, 6-2.75

    National: N    6-03  2/18/1984   Lisa Bernhagen, Wood River, Hailey, ID    

        Meet: M    6-00  3/2002      Sheena Gordon, Mc Dowell, Erie, PA        

    Freshman: )    5-10  2004        Patience Coleman, Southern, Durham, NC    

    Freshman: (    5-10  1989        Karla Newman, White Creek, TN             

   Sophomore: R 6-00.75  1981        Mary Moore, Issaquah, WA                  

      Junior: J    6-01  1987        Alison Smith, Clarence, NY                

      Senior: $    6-03  2/18/1994   Lisa Bernhagen, Wood River, Hailey, ID    

    Name                    Year School                  Finals           

==========================================================================

Flight  1  

  1 Coleman, Patience         07 Durham Striders,Dur      1.80m    5-10.75 

  2 Hannon, Erin              06 Unat-PA-Bradford,Br      1.75m    5-08.75 

  2 Gatling, Ashley           07 Deep Creek Hs-Gi,Ch      1.75m    5-08.75 

  4 Schroll, Erika            06 Three Rivers HS,Uni      1.70m    5-07.00 

  5 Phillips, Margaret        06 West Brunswick H,Sh      1.65m    5-05.00 

  5 Artis, Jonee              06 Deep Creek Hs-Gi,Ch      1.65m    5-05.00 

  5 Meister, Kristen          06 Maumee Valley CD,To      1.65m    5-05.00 

  5 Gates, Jasmine            06 Tallwood HS,Virgini      1.65m    5-05.00 

  5 Knight, Carin             06 New Rochelle HS,New      1.65m    5-05.00 

  5 Atkinson, Saniel          09 Bishop McNamara,Upp      1.65m    5-05.00 

  5 Moles, Emily              07 Irish Road TC,Wayne      1.65m    5-05.00 

  5 Stewart, Bianca           10 Columbia Hs-Nj,Mapl      1.65m    5-05.00 

 13 Benedict, Christine       06 Ravenscroft Scho,Ra      1.60m    5-03.00 

 13 Kirby, Wanetta            07 Huguenot HS,Richmon      1.60m    5-03.00 

 13 Chavis, Tiffany           06 Unat-GA-Marietta,Ma      1.60m    5-03.00 

 13 Emde, Dina                07 Pope John Paul I,Hi      1.60m    5-03.00 

 13 Dewson, Christine         07 Panda TC,Wilmington      1.60m    5-03.00 

 -- Hale, Lesly               06 Motor City Strid,De         NH            

 -- Cross, Emily              06 Armada HS,Riley, MI         NH            

 -- Mitchell, She'Ana         07 Bethel,Hampton, VA          NH            

 -- Thomas, Chelsey           08 Unat-GA-Locust G,Lo         NH            

 -- Newby, Ashley             09 Columbia Hs-Nj,Mapl         NH            

 -- Romero, Melissa           06 Panda TC,Wilmington         NH            

 -- Schulz, Kristin           07 The Woodlands HS,Th         NH