Boys Pentathlon - David Klech CA 3980
Klech trailed fellow Golden Stater Terry Prentice by 32 points after four events, but streaked to a 15-second win in the closing 1000m to win going away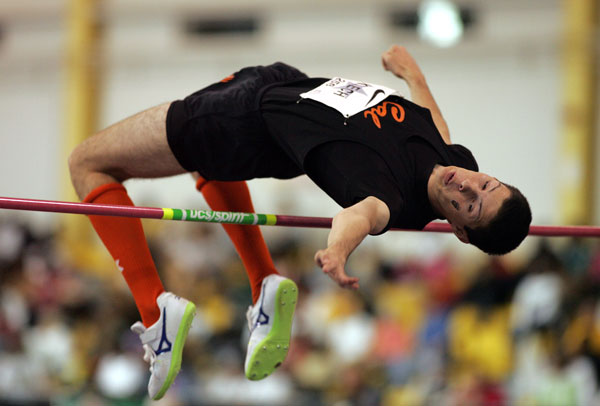 photos by Vic Sailer / PhotoRun
text by Pete Cava
Boys pentathlon – 60m hurdles: David Klech (San Ramon, CA) led after the opening event with a first-place finish in 8.14 seconds, good for 947 points. McArthur Henley (Richmond, VA) ran 8.36, earning 893 points and second place. Third was another Californian, Terry Prentice (Pomona, CA), whose time of 8.37 gave him 891 points.
Boys pentathlon – long jump: Terry Prentice took over the lead after two events with a leap of 23-1.25, good for 823 points and a score of 1,714. Prentice's effort left David Klech in second place with a 1,688 aggregate. Klech's best jump, 21-11.5, netted 741 points. Jason Allen (Ellicott City, MD) moved into third place with a 1,587 score after a 22-3 jump that earned him 762 points.
Martin Ross (Brentwood, TN) was fourth with 1543 while McArthur Henley dropped to fifth place with 1519 points.
Boys pentathlon – shot put: Terry Prentice remained in the top spot after three events. Prentice's heave of 40-8.25 got him 631 points for a 2345-point total.
David Klech was still in second. His 34-4.75 mark was good for 515 points and a total score of 2203. Jason Allen remained third after a 37-10 toss. That earned him 578 points, good for a 2165-point total through three events.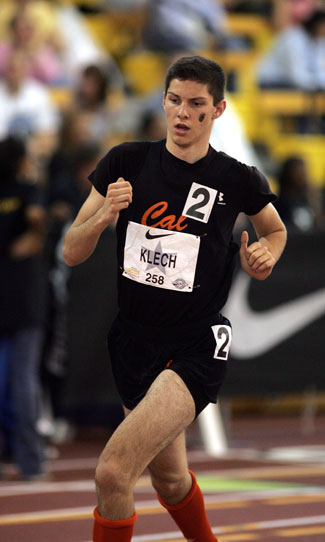 Boys pentathlon – high jump: Terry Prentice held on to the lead after four events, but just barely.
With a 3094 total, Prentice led David Klech by 32 points after the high jump.
Prentice got over the bar at 6-4.25 for 749 points, while Klech's 6-9 clearance added 859 points to his score for a 3062 aggregate.
Still in third with one event left – the 1,000 meters – was Jason Allen. Allen's 6-3.25 mark was good for 723 points and a 2849 score.
Hot on Allen's heels was Frank Shotwell (Medina, OH) with 2849 points.
Boys pentathlon – 1,000 meters: (right) David Klech of California High School in San Ramon, Calif., hammered a 27-second split for the final 200 meters to finish in 2:35.99.
The time earned the UCLA recruit 918 points, enabling him to erase a 32-point deficit as he finished first with a meet-record 3980 point total.
Klech, who trailed Terry Prentice (Pomona, CA) after four events, said he'd been working hard on the 800 meters this season. The extra practice paid off.
"When I was a freshman, I used to run the mile," said Klech, who was visiting Eastern U.S. for the first time. "My goal was to go out fast."
Klech's game plan suffered a slight disruption near the start of the race when another contestant cut him off. "Just four people trying to get in one lane," he said with a dismissive wave of his hand. "When I heard the bell, that's when I went for it. I'm happy with the win and the record."
The lanky 6-4, 170-pound Klech said he was happy with his hurdles performance, but not his long jump mark. "It's early in the season," he said. Asked about the shot put, he shook his head and said, "It's just not my event."
Throughout the competition, Klech competed with a small black design on his left cheek. "It's a grizzly paw," he explained, "our school logo. It's my lucky charm."
Prentice (Pomona, CA) finished second with 3756. His time of 3:00.23 was worth 662 points. Third place went to local talent Jason Allen (Ellicott City, MD) with 3562 points. Allen netted 674 points in the 1,000 with a time of 2:58.96.
Prentice is a top contender in Sunday's long jump.

	  Event 43  Boys Indoor Pentathlon

================================================================

    National: N  4303  3/15/2003   Donovan Kilmartin, Eagle, ID                

        Meet: M  3908  3/1999      Marcell Allmond, St. Paul,Sante Fe, CA      

   Sophomore: R  3534  1991        Ryan Theriault, Las Vegas, NV               

      Junior: J  3962  1998        Marcell Allmond, St. Paul SantaFeSpr, CA    

      Senior: $  4303  3/15/2003   Donovan Kilmartin, Eagle, ID                

    Name                    Year School                  Finals 

================================================================

  1 Klech, David              06 California HS,San R       3980J 

  2 Prentice, Terry           07 So Cal Cheetahs,Pom       3756R 

  3 Allen, Jason              06 Mt. Hebron,Ellicott       3562R 

  4 Shotwell, Frank           06 Medina HS,Medina, O       3481  

  5 Ayers, Michael            07 Kindersport,Nolensv       3438  

  6 Crosta, Nick              06 Monsignor Donova,To       3417  

  7 Ross, Martin              06 Kindersport,Brentwo       3386  

  8 King, Aaron               07 Morris Hills HS,Wha       3359  

  9 Dixon, Dominique          06 Morris Hills HS,Wha       3314  

 10 Holcombe, Alex            07 Germantown Acad,Sou       3292  

 11 Pixley, Cory              06 Pioneer HS,Delevan,       3186  

 12 Henley, McArthur          06 Huguenot HS,Richmon       3153  

 13 Calderwood, Jordan        07 Langley HS,Fairfax,       3066  

 14 Ignaczak, Arthur          06 Toms River Ind,Manc       3021  

 15 Randall, Ryan             06 Hudson HS,Hudson, M       2939  





	  Event 43  Indoor Pentathlon: #1 Boys 60 Meter Hurdles Indoor Pentathlon

==========================================================================

    Name                    Year School                  Finals  H# Points

==========================================================================

  1 Klech, David              06 California HS,San R       8.14   5  947  

  2 Henley, McArthur          06 Huguenot HS,Richmon       8.36   4  893  

  3 Prentice, Terry           07 So Cal Cheetahs,Pom       8.37   1  891  

  4 Ross, Martin              06 Kindersport,Brentwo       8.39   8  886  

  5 Davies, Benjamin          08 Kindersport,Frankli       8.51   3  858  

  6 Shotwell, Frank           06 Medina HS,Medina, O       8.54   6  851  

  7 Ignaczak, Arthur          06 Toms River Ind,Manc       8.61   2  834  

  8 Allen, Jason              06 Mt. Hebron,Ellicott       8.65   6  825  

  9 Stillman, William         06 Xaverian Brother,No       8.71   7  811  

 10 Calderwood, Jordan        07 Langley HS,Fairfax,       8.72   7  809  

 11 King, Aaron               07 Morris Hills HS,Wha       8.80   1  791  

 12 Crosta, Nick              06 Monsignor Donova,To       8.86   4  777  

 13 Dixon, Dominique          06 Morris Hills HS,Wha       8.87   8  775  

 14 Pixley, Cory              06 Pioneer HS,Delevan,       8.97   3  752  

 14 Riegel, Shane             06 Kutztown HS,Kutztow       8.97   2  752  

 

Event 43  Indoor Pentathlon: #2 Boys Long Jump Indoor Pentathlon

=================================================================================

    Name                    Year School                  Finals            Points

=================================================================================

  1 Prentice, Terry           07 So Cal Cheetahs,Pom      7.04m   23-01.25  823  

  2 Allen, Jason              06 Mt. Hebron,Ellicott      6.78m   22-03.00  762  

  3 Klech, David              06 California HS,San R      6.69m   21-11.50  741  

  4 Crosta, Nick              06 Monsignor Donova,To      6.48m   21-03.25  693  

  5 King, Aaron               07 Morris Hills HS,Wha      6.40m   21-00.00  675  

  6 Shotwell, Frank           06 Medina HS,Medina, O      6.37m   20-10.75  668  

  7 Ross, Martin              06 Kindersport,Brentwo      6.32m   20-09.00  657  

  8 Ayers, Michael            07 Kindersport,Nolensv      6.20m   20-04.25  630  

  9 Henley, McArthur          06 Huguenot HS,Richmon      6.18m   20-03.50  626  

 10 Pixley, Cory              06 Pioneer HS,Delevan,      5.97m   19-07.00  580  

 11 Holcombe, Alex            07 Germantown Acad,Sou      5.93m   19-05.50  571  

 12 Dixon, Dominique          06 Morris Hills HS,Wha      5.92m   19-05.25  569  

 13 Stillman, William         06 Xaverian Brother,No      5.89m   19-04.00  563  

 14 Davies, Benjamin          08 Kindersport,Frankli      5.81m   19-00.75  546  

 15 Calderwood, Jordan        07 Langley HS,Fairfax,      5.66m   18-07.00  514  

 

Event 43  Indoor Pentathlon: #3 Boys Shot Put Indoor Pentathlon

=================================================================================

    Name                    Year School                  Finals            Points

=================================================================================

  1 Holcombe, Alex            07 Germantown Acad,Sou     14.61m   47-11.25  766  

  2 Dixon, Dominique          06 Morris Hills HS,Wha     13.88m   45-06.50  721  

  3 Davies, Benjamin          08 Kindersport,Frankli     13.44m   44-01.25  694  

  4 Ayers, Michael            07 Kindersport,Nolensv     13.23m   43-05.00  681  

  5 King, Aaron               07 Morris Hills HS,Wha     12.96m   42-06.25  665  

  6 Prentice, Terry           07 So Cal Cheetahs,Pom     12.40m   40-08.25  631  

  7 Pixley, Cory              06 Pioneer HS,Delevan,     12.22m   40-01.25  620  

  8 Randall, Ryan             06 Hudson HS,Hudson, M     12.20m   40-00.50  619  

  9 Shotwell, Frank           06 Medina HS,Medina, O     12.01m   39-05.00  607  

 10 Ignaczak, Arthur          06 Toms River Ind,Manc     11.85m   38-10.50  597  

 11 Allen, Jason              06 Mt. Hebron,Ellicott     11.53m   37-10.00  578  

 12 Calderwood, Jordan        07 Langley HS,Fairfax,     11.24m   36-10.50  560  

 13 Henley, McArthur          06 Huguenot HS,Richmon     11.11m   36-05.50  553  

 14 Riegel, Shane             06 Kutztown HS,Kutztow     11.02m   36-02.00  547  

 15 Stillman, William         06 Xaverian Brother,No     10.89m   35-08.75  539  

 

 Event 43  Indoor Pentathlon: #4 Boys High Jump Indoor Pentathlon

=================================================================================

 Starting height is 1.37, Porgression is 3 cm  1.79, 1.82, 1.85

 1.88, 1.91, 1.94, 1.97, 2.00, 2.03, 2.06, 2.09, 2.12, 2.15, etc

    Name                    Year School                  Finals            Points

=================================================================================

  1 Klech, David              06 California HS,San R      2.06m    6-09.00  859  

  2 Prentice, Terry           07 So Cal Cheetahs,Pom      1.94m    6-04.25  749  

  3 Crosta, Nick              06 Monsignor Donova,To      1.91m    6-03.25  723  

  3 Shotwell, Frank           06 Medina HS,Medina, O      1.91m    6-03.25  723  

  3 Allen, Jason              06 Mt. Hebron,Ellicott      1.91m    6-03.25  723  

  3 Pixley, Cory              06 Pioneer HS,Delevan,      1.91m    6-03.25  723  

  7 Calderwood, Jordan        07 Langley HS,Fairfax,      1.85m    6-00.75  670  

  7 Ayers, Michael            07 Kindersport,Nolensv      1.85m    6-00.75  670  

  9 King, Aaron               07 Morris Hills HS,Wha      1.82m    5-11.50  644  

 10 Dixon, Dominique          06 Morris Hills HS,Wha      1.79m    5-10.50  619  

 10 Randall, Ryan             06 Hudson HS,Hudson, M      1.79m    5-10.50  619  

 12 Henley, McArthur          06 Huguenot HS,Richmon      1.76m    5-09.25  593  

 13 Holcombe, Alex            07 Germantown Acad,Sou      1.73m    5-08.00  569  

 13 Ross, Martin              06 Kindersport,Brentwo      1.73m    5-08.00  569  

 15 Keating, Mark             06 Monsignor Donova,Is      1.67m    5-05.75  520  

 15 Ignaczak, Arthur          06 Toms River Ind,Manc      1.67m    5-05.75  520  

 

 Event 43  Indoor Pentathlon: #5 Boys 1000 Meter Run Indoor Pentathlon

=======================================================================

    Name                    Year School                  Finals  Points

=======================================================================

  1 Klech, David              06 California HS,San R    2:35.99   918  

  2 Ross, Martin              06 Kindersport,Brentwo    2:50.62   759  

  3 Keating, Mark             06 Monsignor Donova,Is    2:51.27   752  

  4 Ayers, Michael            07 Kindersport,Nolensv    2:55.27   711  

  5 Crosta, Nick              06 Monsignor Donova,To    2:57.31   691  

  6 Randall, Ryan             06 Hudson HS,Hudson, M    2:58.87   675  

  7 Allen, Jason              06 Mt. Hebron,Ellicott    2:58.96   674  

  8 Riegel, Shane             06 Kutztown HS,Kutztow    2:59.53   669  

  9 Prentice, Terry           07 So Cal Cheetahs,Pom    3:00.23   662  

 10 Holcombe, Alex            07 Germantown Acad,Sou    3:01.14   653  

 11 Ignaczak, Arthur          06 Toms River Ind,Manc    3:02.17   643  

 12 Shotwell, Frank           06 Medina HS,Medina, O    3:03.34   632  

 13 Dixon, Dominique          06 Morris Hills HS,Wha    3:03.56   630  

 14 King, Aaron               07 Morris Hills HS,Wha    3:08.48   584  

 15 Fekete, Joseph            06 Monsignor Donova,Br    3:09.71   572