Syosset 7:42.22 4x800 USR



Adam Lampert, Chris Howell, Sean Tully, Dan Tully and coach Bart Sessa --

photo by John Dye

photo by Dan McManamon
New York schools Shaker and Syosset came in 1-2 in the nation and they ran that way, quickly turning it into a match race. Shaker led the first two legs until Sean Tully's 1:52.1 third leg gave Syosset a seemingly insurmountable lead. Then Shaker anchor Joe Belokopitsky made a spirited rally in the last 300 meters. Syosset anchor Dan Tully (above) held him off, but Shaker's time of 7:43.86 earned 3rd place all time in Jack Shepard's HIGH SCHOOL TRACK annual. Syosset broke the national record of 7:42.67 set in 2000 by Don Sage's York Elmhurst IL squad. Syosset splits, all seniors: Adam Lampert 1:58.4, Chris Howell 1:54.6, Sean Tully 1:52.1, and Dan Tully 1:57.1.
G 1000m - Katie Doswell 2:47.10 US#2 all time
Doswell makes her move at the bell on Janine Davis (right), with Brittany Sheffey and Latavia Thomas right behind.

photo by John Dye

Meet organizers didn't get a national record (2:45.46 by Ari Lambie 2 years ago), but they got a coming out party for the St. Catherine Richmond VA junior who was unknown on the national stage until doubling last week at Virginia Tech. This was a special junior girls race set up for a record challenge. Janine Davis NJ, who ran the 4th fastest 1000m ever earlier this year (2:48.69) led all the splits (1:06, 1:42 and 2:15.4), but Doswell was challenging on the outside at the bell and moved on top smoothly on the last lap. Davis finished in 2:47.85, followed by Brittany Sheffey 2:49.48, Latavia Thomas 2:52.14 and Sarah Bowman 2:53.89. The race resulted in all time national #2, #4 and #7 best girls 1000m times, and the top four this season.
Before today, Doswell was having success in Virginia with doubles at the CNU Showcase (2:59.17 1000m and 5:03.05 1600m) and Virginia Tech (1:15.04 500m and 2:52.38 1000m). She also pole vaults 10-0.

other High School results:

B 4x400 - Newburgh Academy NY 3:17.82 US#1, first team under 3:20 this year. Newburgh caught early leader Dewitt Clinton NY on the third leg and rolled to victory. Newburgh splits were Maurice Little 50.0, John Bowden 49.9, Ed Jackson 49.9, and Sam Stubbs 48.0 . Previous US#1 Simon Gratz PA faded to last on the second leg and had to rally furiously to get second in 3:21.98.
G 4x400 - Truman NY 3:52.41 US#3. Hempstead NY 3:54.84 appeared a sure winner until faltering badly on the last lap. Favored Eleanor Roosevelt MD 3:54.86 dropped the baton on the backstretch in the third leg and could only get back to a photo finish for second and third.
G 4x800 - Boys & Girls NY 9:04.29, Bay Shore NY 9:04.51, Suffern NY 9:06.14, and Eleanor Roosevelt MD 9:06.75 -- a pulsating struggle that produced the four fastest times in the US this season and four of the fastest six ever in the US, with Boys & Girls checking in at #3. All four teams were locked together in the anchor leg, with first Suffern and then Bay Shore (Mary Liz McCurdy) leading. McCurdy, who split 2:10.2 had a slight lead into the turn, but B&G's Adrenee Sterrett swung wide in the stretch and beat McCurdy to the wire.
B 4x200 - US#1 Simon Gratz Philadelphia PA 1:28.20.
G 4x200 - Middle College at Medgar Evers 1:40.73, zooming past a bobbled first exchange by leader Eleanor Roosevelt MD 1:41.06, who came back to challenge but couldn't catch MCME.

LSU freshman Xavier (X-Man) Carter won the 200m in 20.67, 0.02 faster than his US high school record set at the NSIC in the Armory last March. Later, Carter was named MVP of the meet after his 46.0 carry in the closing 4x400 got LSU close enough for Kelly Willie's come from behind anchor to win.

the X-Man returns to New York along with a lot of "DyeStat grads"
After the thrills of Millrose in the Garden, DyeStat was on-site at the New York Armory for the Armory Collegiate Games LSU freshman Xavier Carter led a flock of recent HS record setters in a powerhouse college agenda.
South Carolina's great freshman class was well represented in 400m heats on Friday. Below, Natasha Hastings,
and right, Jason Richardson.
photos by Vic Sailer / PhotoRun

Maryland freshman Toni Aluko cleared 5-10 to win the college women's high jump on Friday.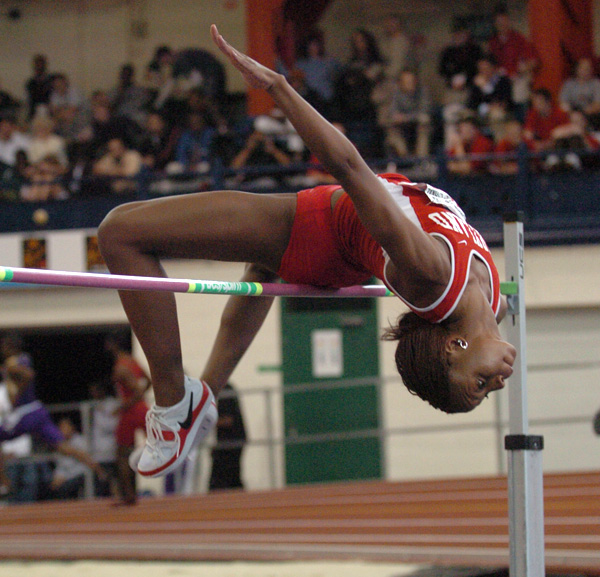 photo by John Dye
60D and 60H finals at Madison Square Garden
The top 6 qualifiers in Friday's 60D and 60H heats advanced to the finals at the Millrose Games Friday night. Stanford sophomore Janice Davis, many time Mississippi state champ in high school, was the fastest qualifier in the women's 60D at 7.32.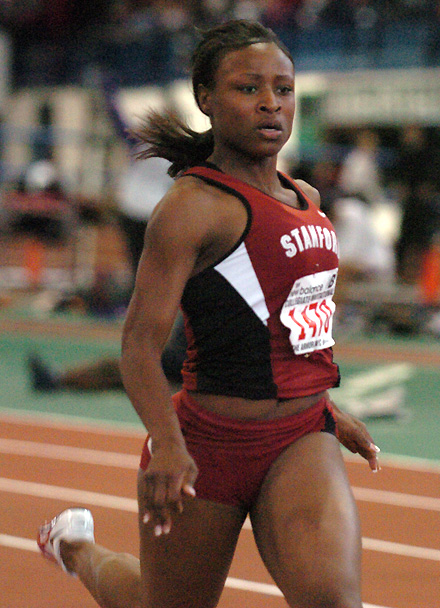 photo by John Dye
Preview
This meet features powerhouse college programs, recent "DyeStat graduates" and current HS relay national leaders.

Most of the powerhouse teams in the country are here: Stanford, South Carolina, Texas, Duke, Villanova, Arkansas, North Carolina, Georgia, Illinois, Louisiana State, North Carolina State, Ohio State, Penn State, Tennessee, Texas A&M.

Recent "DyeStat graduates" litter the entry lists. There are high school record setters Xavier Carter (LSU football player who returns to the scene of his HS indoor record 20.69 200m), Shana Cox, Natasha Hastings, Amanda and Katy Trotter, Andra Manson, and Shalonda Solomon, Ari Lambie, Donovan Kilmartin, Ashley Owens, Danielle O'Reilly, and Kenneth Ferguson. There are also Erica McLain, Yvette Lewis, Michael Grant, Jason Richardson, Lauren Jespersen, Janice Davis, Gayle Hunter, Selena Sappleton, and Lauren Centrowitz.

The high school relays feature this year's US#1 boys sprint crew, Simon Gratz Philadelphia boys (1:27.96 and 3:20.14), the US#3Middle College at Medgar Evers, Brooklyn girls (1:40.83) and the two fastest boys 4x800 relays -- Shaker NY (7:59.80) and Syosset NY (8:00.05).

by the Armory staff

* More than 60 of the best collegiate track and field teams in the nation will compete in the 5th Annual New Balance Collegiate Invitational at the New Balance Track & Field Center at the Armory on West 168th Street on Friday (Feb. 4) and Saturday (Feb. 5). The meet will start at 9 a.m. each day.

At least three athletes who competed in the 2004 Olympics will be at the Armory. Hazel-Ann Regis, the Armory record holder in the 400 Meters and defending champion of the event, runs for Louisiana State University. She ran in the 400 for Grenada and has an outdoor best of 50.64. Shevon Stoddart, a senior at South Carolina, ran locally for Uniondale High School. She has competed in this meet for three years, and ran the Intermediate Hurdles in the Olympics for Jamaica. Richard Phillips, a high hurdler, competes for George Mason University and ran a lifetime best of 13.39 in the Olympics for Jamaica, making the semifinals. It is possible that LSU will use Bennie Brazell on its 4x400 Meter Relay. Brazell ran in the Intermediate Hurdles for the U.S. in Athens.

*A number of athletes in the meet are prime prospects for making Olympic teams in 2008. They include Tyson Gay, NCAA champion in the 100 Meters with a best of 10.06, who is a senior at Arkansas and will be running in the 60-Meter Dash; Andra Manson of Texas, the NCAA indoor and outdoor champion in the high jump, who is the New Balance Collegiate Invitational record holder at 7-6, has a best of 7-7 ¼, and set the national high school record when he won the World Juniors two years ago in Kingston; and Natasha Hastings and Shalanda Solomon, both freshman sprinters/quartermilers at South Carolina, who both ran on the World Juniors gold medal 4x400 team over the summer in Italy. Solomon attended Long Beach Poly, anchoring the national record-setting 4x400 team for them at the Armory last March.

Hastings had a distinguished career at A. Philip Randolph High School. Other Olympic prospects include Ari Lambie, a sophomore at Stanford who ran a 4:13 1500 as a freshman last year, anchored the winning 4x1500 team at last year's Penn Relays with a 4:11 leg, and will be running the Mile and Distance Medley Relay here; Kelly Willie of LSU, an Olympic Trials finalist in the 400 and NCAA runner-up to Olympic champion Jeremy Wariner, who is running the 200 and 4x400; and Donovan Kilmartin, a sophomore at Texas, who broke the national high school pentathlon record at the Armory two years ago and is a native of Eagle, Idaho.

*In addition to outstanding freshmen Hastings and Solomon, other standout incoming competitors include: Ashley Owens of Colorado, who attends LSU and ran 11:13 in the 100 Meters last year, equaling Marion Jones's high school best and just .02 from the national high school record (she also set the national high school indoor record for 60 Meters at 7.19 and will run the 60 Meters here); Gayle Hunter, a Californian attending Penn State, who was the best long jumper and heptathlete in the country last year; and Xavier Carter of Palm Bay, Florida, who attends LSU, is a star wide receiver as well as a sprinter, has an outdoor 400 best of 45.44 and broke the national high school indoor record in the 200 Meters on this track last March, clocking 20.69 (he is running the 200 here).

*The Women's Mile may be the best individual field in the meet. Scheduled for 4:25 p.m. Saturday, it features Marina Muncan of Villanova (1500 best of 4:13.84), Ari Lambie of Stanford (4:13.14), Shannon Rowbury of Duke (4:17.41), and Erin Donohue (4:16.78) and Carol Henry (4:17.42) of North Carolina.

*Athletes with Famous Parents: Lauren Centrowitz, a freshman at Stanford, is running the Mile. Her father, Matt, who ran for Oregon and was on an NCAA championship cross country team, is head coach at American University (he will be in attendance); Andrew Keino, son of the legendary Olympic 1500 Meter champion from 1968, Kip Keino (Kip will be in New York receiving an award at the Millrose Games and is expected to see his son in the Mile at noon Saturday); and Wallace Spearmon, Jr., one of the favorites in the 400 for Arkansas, who is the son of his namesake, a former national champion in the 200. It is not known if the elder Spearmon will be in attendance.

*New York City And Area Ties: In addition to Hastings, who ran at the Armory many times for A. Philip Randolph, and Stoddart, who ran for Uniondale, watch Neisha Bernard-Thomas, the favorite on the women's 800 for LSU, and a past NCAA runner-up, attended Tilden High School, where she was city champion; Shana Cox of Penn State, who ran for Holy Trinity of Hicksville, and set the national high school record here in the 300 Meters; and Amanda and Katy Trotter, sophomores at Stanford, who starred in high school in Red Bank, New Jersey, where they ran on a national record-setting Distance Medley Relay.

*Iona brings in a strong team that includes Richard Kiplagat, who holds the meet record in the 500 Meters; Sean Connolly in the Mile; Emmily Chelanga in the 5000, plus a strong DMR.

*Caroline Bierbaum of Columbia, one of the favorites in the women's 5000 at 10:55 a.m. Saturday, will be running her first track race ever at that distance. Bierbaum, a New York City native, finished third in the NCAA Cross Country Championships this fall.

*The Women's Distance Medley Relay, set for 4:25 p.m. Friday, features half a dozen of the nation's best teams in the event: Stanford, Duke, Villanova, South Carolina, Arkansas and North Carolina. It is a feature race of Day One of the New Balance Collegiate Invitational.

*John McDonnell, the legendary Arkansas coach who is the winningest coach in NCAA history with a total of 39 wins as Head Coach in indoor and outdoor track and field and cross country, is bringing his team to New York for the first time. McDonnell lived and worked after emigrating from Ireland. While here as a young man, he ran for the New York Athletic Club, including competitions at the Armory. He became Head Coach at Arkansas in 1977-78.
Schedule
Friday Feb. 4

Manhattan College, the Bronx

Weight throw W F 9:30
Weight throw M F 1:30

Armory, Upper Manhattan

500 meters W F 9:00
M F

College 3k W S
M S

1,000 meters W F 10:30
M F

400 meters W H 10:55
M H

College mile W S
M S

4x800 W S 12:50
M S

60m hurdles W H 1:10
M H

60m dash W H 2:00
M H

College 800 W S 2:50
M S

Championship 3k W F
M F

Championship DMR W F

Field

College HJ W F
M F

College PV M F
W F

College LJ W F
M F

College SP W F

Championship LJ W F
M F

Madison Square Garden (

Millrose

)

College 4x400 M S 7:28
College 4x800 M S 7:33
College 4x400 W S 7:51
College 4x400 M S 7:57
60m Hurdles W F
60m Hurdles M F
60m dash W F 10:23
60m dash M F 10:27

Code

H Heats S Sections F Final
M Men, W Women
HSG/HSB High school girls/boys

Day 2, Saturday Feb. 5,

Armory

College 5,000

W

S

College DMR M S

200 meters W H 9:30

200 meters M H 10:15

Championship 5,000 W F

College 5,000 M S

Championship 5,000 M F

College 4x4 W S 11:40
M S

College mile W S
M S

College 60H W F
M F

College 60 dash W F 12:25
M F

Open 800 W F

College DMR W S

Opening ceremonies

Championship DMR M F

Junior Girls 1000 meters

Championship 200 W F
M F

4x200 HSG F

Open 800 M F

Championship 800 W F

4x200 HSB F

Championship 800 M F

Championship 400 W F

4x8 HSG F

Championship 400 M F

Open mile M F

4x400 HSG F

4x400 HSB F

Youth relays NYRRF 3:40

College 4x4 W S 3:55

Championship mile M F 4:05

College 4x4 M S 4:15

Championship mile W F 4:25

4x8 HSB F

Championship 4x400 W F

Championship 4x400 M F

Award ceremonies

Field

College SP M F

Championship PV W F

College TJ W F
M F

Championship SP W F

Championship PV M F

Championship HJ W F
M F

Championship TJ W F
M F

Championship SP M F