Above All, An Illini Kind of Day
By Stephen (SteveU) Underwood
DyeStat senior editor
After the Midwest's best runners tried to earn a ticket to San Diego on a sunny, but un-California-like snowy Saturday morning, one had several choices in how to summarize the proceedings. It was a Colorado day, with Mohamud Ige (14:58 for the boys) and Keara Sammons (17:26 for the girls) showing that you can predict this year's winners based on last year's top returnees. It was a Minnesota day, with girls from that state taking three of the top nine spots.

But above all, it was an Illinois kind of day, with an intensely focused group of boys from different schools in that state working together to get four in the top ten for clearly the best performance of the day. Ryan Craven in fourth (15:06), Jeremy Stevens in fifth (15:08), Steve Finley in seventh (15:10), and Evan Jager in ninth (15:16), finished within a 10-second span. Three more Illini finished in the top 16.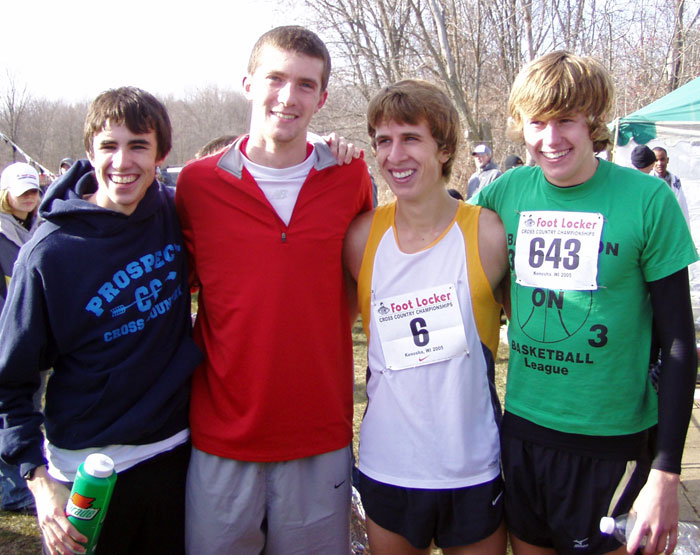 Illinois' big four -- Ryan Craven (4th), Stephen Finley (7th), Jeremy Stevens (5th) and Evan Jager (9th).

Meanwhile, Ige outkicked Landon Peacock MI 15:01 for the win, followed by IN Brock Hagerman's 15:05. Daniel Roberts CO repeated with a berth in sixth (15:06) after qualifying with Vicksburg MI last year. Noah Shannon CO in eighth (15:12) made it two from his state and De'Sean Turner in tenth (15:18) ensured he'll be making two trips to the West Coast. The Warren Central IN leader qualified in tenth, and is already going with his club to Nike Team Nationals in Portland December 3. Jager and Turner, both juniors, were the only non-seniors to make it.

After Sammons had outkicked Betsy Bies SD (17:29), the Minnesota surge began with surprising Hanna Grinaker in third (17:30) and Bria Wetsch in fourth (17:33). Their teammate Elizabeth Yetzer, a prerace favorite, didn't have her best day, but held on for ninth (17:51).

Joining them are Bridget Franek OH in fifth (17:37), repeat qualifier Alison Eckert SD in sixth (17:42), Lindsay Anderson ND in seventh (17:44), Alexandra Banfich IN in eighth (17:47), and Meredeth Snow in 10th (17:52).

Sunshine, 3-4 inches of snow, and temperatures around freezing greeted the seeded girls as they took off on the first big race of the day. With only a moderate wind and the snow packing manageably into the trails, times still proved to be surprisingly fast – for both genders. In fact, the 10th-place times of 15:18 and 17:52 are the fastest ever in the DyeStat era (since 1999) and maybe the fastest ever.
Girls: Keara Winning the Big Ones Now
It sure looked like the fastest girl of them all would be Betsy Bies, the super Yankton, SD junior who grabbed the lead after the long half-mile hill and immediately pushed the pace.

But the race doesn't always go to the runner who starts the best, even when she is as good as Bies. Just call Keara Sammons "The Closer." A month after outrunning Colorado's best, the Smoky Hill HS senior moved up steadily during the race and surged by Bies in the final 200 to win by three seconds, 17:26-17:29.

It was the third time in four years a Greg Weich-coached runner has taken Foot Locker Midwest, following the Megan and Katelyn Kaltenbach sister act in 2002 and 2003. In fact, in the last six years he has had at least one qualifier every year, with four girls making San Diego a total of nine times. But the Kaltenbachs seemed to be more natural winners and leaders, where Sammons has been very, very consistent in the biggest meets, but usually in second or third.

Not any more. The coach had high praise for his newest champion. "Keara ran really well," he said. "She's probably the smartest kid I've ever had, tactically speaking."

For someone who is becoming adept at gunning down early leaders, well, let's say Sammons doesn't fit any stereotypes. Actually, she redefines the word mellow. "I just wanted to go easy the first mile, then try to bring it the last two," she said with an easy smile. "The pack started breaking up at about one-and-a-half miles. Then I started moving at about two-and-a-half. I was in third or fourth at that point."

Meanwhile, Bies had held the lead at a mile in 5:36, with a large pack that included Franek, Anderson, Grinaker, Snow, Wetsch, Franek's teammate Cassandra Schenck (who finished 12th), and WI's Jocelyn Burke (11th) trailing in 5:39.

| | |
| --- | --- |
| | Betsy Bies led early; she would finish second behind Keara Sammons.photo by Davey, RunMichigan.com |

When Bies expanded her lead to six seconds in the next 600 or so, Wetsch broke away from the pack and took up the chase in earnest. They would eventually pass two miles in 11:03 and 11:06. "I felt really good after the mile, so I went into second," said the Holy Family Catholic HS senior from Chaska. "But I could never quite catch her. Then Keara came up and we ran next to each other until almost three miles. It was a 20-second PR, though, and I'm really happy to make the team after trying for four years."

Bies was passed by the smoothly surging Sammons shortly thereafter, but she, too, was quite satisfied with the overall result. "Actually, I just really wanted to finish in the top ten," she said. "I'm very happy with it. I wasn't really trying to push the pace, I just ended up in front and was running my race. I heard Keara coming and then she just came by me (at about 3 miles) and there was nothing I could do."

Amazingly, along with the Smoky Hill dominance, Yankton runners have now taken first or second the past three years.

In the end, Wetsch was also passed by Grinaker, the MN Class AA runner-up who stunned with the race of her life. She was 18 seconds behind Yetzer for 4k at state, with 14:18, and now she's suddenly a 17:30 5k runner and has earned the title of Minnesota's finest, at least for now. Better yet, she's headed for San Diego.

"I had some problems with iron earlier in the fall, but I felt pretty good at state," she said. "But today I felt a lot better. I was feeling more confident, but when I was up there early, it was like 'it feels weird to be up here.' I just kept going. It was like a dream come true."

It's a challenge to make Foot Locker Nationals for the first time; Alison Eckert SD (sixth) and Elizabeth Yetzer MN (ninth) found making it again even tougher. Eckert was injured in an auto accident at the beginning of the season and her first race back wasn't until Roy Griak, September 24, where she finished back in 13th. By her October 22 state meet, she was still a distant 30 seconds behind Bies over 4k at their state meet. Saturday, she was only 13 seconds back over 5k.

"The time after state I was able to use to get in better shape," she said. "I just got in a lot of mileage and more training."

Feeling as good as she'd felt all year, she started out in the top 20 and worked her way up through the woods. "I got up to 10th or so and stayed there most of the way until the end," she said. She passed three runners in the last half mile.

Yetzer started near the back of the lead pack, hung with it, but never made a move toward the lead. "I don't really know what happened," she said. "I just didn't feel that good. The training has been going well; hopefully I'll just be peaking later.

"Hopefully, I'll figure it out." Last time Yetzer had a tough loss, to Wetsch at an early September invitational, she figured it out all right. She came back with an outstanding win at the Griak race.
Boys: Illinois Effort Smells Like Team Spirit
Apparently, anyone who judged the finest male runners from Illinois by last week's showing at the Mid-East Championships better look again. With four of the top nine, and seven of the top 16, Illini boys dominated at Kenosha and wildly celebrated their combined efforts afterward.

At least for those who have wailed about perceived slights to their state in NTN rankings and Page One coverage on the DyeStat message boards, it was sweet vindication. Steve Finley of Palatine, whose Class AA runner-ups behind York have been lifted up by dozens as a rankings victim, could have crowed the loudest. Instead, as the emotional leader of the group, he could not have shown more graciousness and class. "I understand why we didn't make it (they could still get an at-large berth)," he said. "I wish the team could go, but this is good here."

Running together was the plan, he added, of the top Illinois runners who banded together. "We all started together and our strategy was to get to the top of the hill in good shape without wasting too much energy. Then we wanted to go down and move together starting at the mile."

It wasn't quite a home meet for Illinois runners, though the course is just north of the state border, but you would have thought so by the fan support. "We had about 25 or 30 people here from Palatine," said Finley. "There's a lot of people in the school who follow the sport."

Finley, who was a bit under the weather at Mid-East last week, was seventh, behind Ryan Craven (fourth) and Jeremy Stevens (fifth), and ahead of Evan Jager (ninth). Said Jager, "We had amazing depth this year in Illinois this year. Everyone was really good. Before state, I would have said there were at least 10 guys who could win it."

"It was pretty sweet," added Stevens, who also won the unofficial award for the best regurgitation performance after the race. Recovered at the award ceremony, he added with a laugh, "I was hoping we could get five runners, so it could be Illinois vs. the nation (at Foot Locker)."

Craven's assistant coach at Prospect, Pete Wintermute, watched these kids at Dayton last week and Saturday. "The Illinois group as a whole is a close group," he said. "Finley got a lot of the guys ready here."

Of course, it wasn't just an Illinois story Saturday in Kenosha. And at the front, it was hardly relaxed as Landon Peacock MI, building on his Mid-East triumph, through everything he had at top returnee Mohamud Ige CO.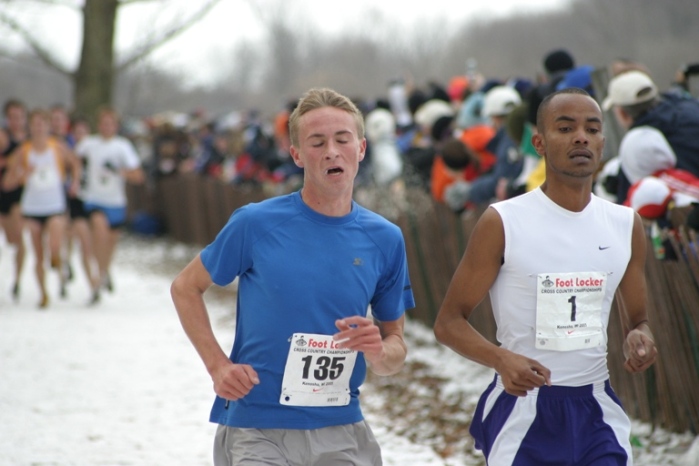 Runner-up Landon Peacock hangs with winner Mohamud Ige. photo by Davey, RunMichigan.com

Not surprising to anyone who's watched him, Ige went to the lead at the top of the hill, just like he did last year. Running regally and relaxed, one wondered if he would run away with it. But Peacock, as is his habit, powered up with the Coloradoan before the mile, which they passed in 4:42.

Unfortunately, Ige left shortly after filling out his Foot Locker forms and skipped the awards ceremony (and key media opportunities). Maybe he had a plane to catch. Peacock was left to wonder what else he could have done and look forward to another battle at Balboa Park.

"We were constantly back and forth," he said. "He just had a better kick. I PR'd by eight seconds, but I really wanted to win."

Not all of the top contenders cared about winning, at least in Kenosha. After losing the end of his junior season to an iron deficiency, Brock Hagerman IN has been building to a San Diego peak all year. Since he blitzed the field at his state meet, he has kept a few aces in reserve while earning his national ticket.

"I just really wanted to get up with the lead pack and stay there most of the race," he said. "But I gained quite a bit at the end and finished strong. First is as good as 10th here."

One can only wonder if he can use a powerful move in the final 2k to win in San Diego as he did at Terre Haute. Thing is, there will be a big handful of stars in two weeks who have designs on the same thing.

But after a great day in the Midwest, Hagerman – as well as Ige, Peacock, Sammons, Bies, and some others – will have a good a chance to wear the crown as any.