6/10/2000 at Sacramento CA
Golden West Invitational
Coming out parties
at 800 meters
Californian Heather Hennessey & Texan Jonathan Johnson emerge from the shadows with big stretch kicks
Los Gatos CA jr Hennessey and Abilene TX jr Johnson have each been overshadowed in their home states by better known talent at 800 meters. Both had golden smiles after they came from behind and defeated national caliber fields in the GWI.
Jonathan Johnson
Abilene TX


Heather Hennessey
Los Gatos CA

Hennessey ran 2:10.53 at the Arcadia Invitational in April, but was second to Liz Morse. Then she was disqualified in the Central Coast Section finals (an errant elbow) and had to watch as Morse won the California championship the following week. The Golden West was redemption time for Hennessey. Just as in the Cal finals a week before, Vallejo CA sr Spring Dawson went out to a big lead in the first lap. But this time it was Hennessey instead of Morse who ran her down in the stretch (below) to win in 2:08.84, as Morse also closed for second place.. Hennessey will be top seeded at Raleigh NC June 17 at the Foot Locker Outdoor championships, with Morse absent but with several top runners from other regions -- defending champ Alice Schmidt NE, Neisha Bernard-Thomas NY, and Virginians Nikeya Green, Elizabeth Bayne, Leslie Treherne, and Kelley Otstott.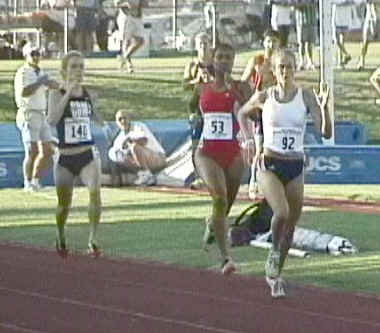 In the Texas State Meet (5A), Johnson made a huge challenge to Adam Davis, runner-up at Raleigh last year, and came up just a stride short in 1:50.42 to Davis' 1:50.10, with Nick Devenport third in 1:51.41. At GWI, Davis was absent, but Johnson came up big with a sparkling 1:49.60 US#2 win (below) over a solid field that included Devenport 1:50:47, Mobile champion Marcelo Dunning 1:51.07, New Jersey champ Josh Kauke 1:51.35, and California champ Mike Serratos 1:52.18. At Raleigh, Johnson will face a very deep field that includes the same faces plus defending FLO champ James Doaty KY, Davis, US#1 Marc Sylvester OH, and Said Ahmed MA.