Junior Women
Gits survives fall to lead Team USA in 13th; Chetelat, Reese lead preps in 29th-30th
John Nepolitan story and photos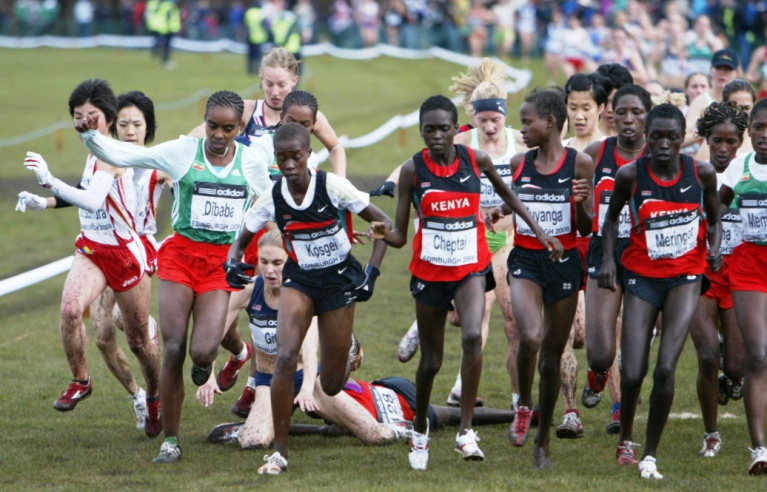 An amazing depiction of the mid-race fall ... Team USA's Alex Gits and Kenya's Jackline Chebii go down, as others, including eventual winner Dibaba, try to avoid disaster. Gits would get back up for 13th and Chebii all the way back up to 6th.


The first race of the day started in the rain, but by the time the runners hit 800 meters it had stopped. The course would get chewed up, but that was to be expected. Early on through the 3 loop race ( 2 short loops and 1 loop heading up the course's major hill, Haggis Knowe), the entire field stayed together with no real push to take command.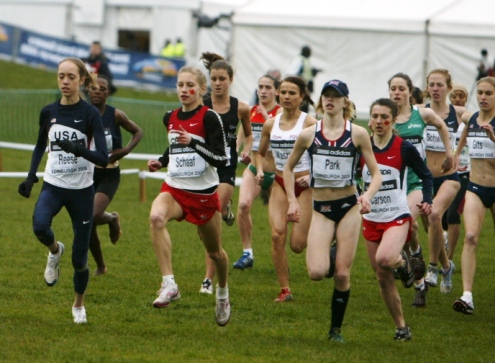 Reese shoots out in front in the first straightaway.


Tamara Carvolth(Australia) was the leader at the end of the first loop, with Kenya holding a commanding 14 – 41 lead over Ethiopia in the team scores. Alexandra Gits in 18th was leading the USA, only 1 second off the leader. With Emily Reese (26th), Lauren Saylor(48th), Marissa Treece(50th), Emily Schwitzer(51st), and Laurynne Chetelat (52nd) the USA sat in 7th as a team after the first lap. To show just how packed the race was, Chetelat was only 5 seconds off the leader and 51 places back.

During the 2nd loop, Kenya had started to press the issue when just past 3000 meters one of the Kenyan runners went down and took Gits out with her. Bouncing right up, Gits got back to work to not lose too many places. Coming up with just one loop to go, it looked like a Kenya vs Ethiopia dual meet, with Kenya taking 1-2-3-4-5-12 and Ethiopia 6-7-8-9-10-11 and all with 1 second of each other. Fighting hard to bounce back from her fall, Gits was just 4 seconds off the leaders in 16th place, with Reese moving into 29th, Schwitzer (35th), Chetelat(39th) Saylor(41st) and Treece (46th) all helping the USA move up into 6th place in the team standings.

Over the final loop Genzebe Dibaba (Ethiopia), who finished 5th last year, pulled away for a 5-second victory, crossing the finish line in 19:59. She holds a 5000 track best of 15:53 and is the younger sister of Olympic and world champion Tirunesh Dibaba, who would win the senior race. The big push over the final 2000 meters also saw Ethiopia move ahead of Kenya for the team title, 16 – 20.


Finishing in 29th and 30th: Chetelat and Reese.

For the Americans Gits kept moving up and finished 13th in 20:41 to lead the USA to a 6th place finish. Behind Gits, the USA put all of its runners in the top 50 with Emily Schwitzer and Laurynne Chetelat moving up all day to finish next in 28th and 29th (both in 21:19. Emily Reese, who was on the lead off the line and up the opening straight, was 30th in 21:22, followed by Lauren Saylor 38th in 21:37,and Marissa Treece 44th in 21:55. It was a very solid performance to start the day off for Team USA.

Team Quotes:



Emily Reese

– "It was definitely overwhelming. The beginning of the race, there was just a pack of, like, 50 girls. Every time you went around a turn you felt like you were going to trip on somebody. I really not used to running in a pack like that; I am usually running by myself. (But) it was a lot of fun."



Alexandra Gits

– " After I fell, I just wanted to get back up. I did not want that front pack to get too much distance on me."



Laurynne Chetelat

- "I really liked it. The hill was not as intimidating as it seemed yesterday, when we jogged through the course. I really just let everything get rolling on the downhills. When we went around turns, people were bumping into each other. I almost had to start walking. I learned here that I have to get out much slower and then move up. I know that Lauren (Saylor) was talking about it before the race, about trying it, and we had nothing to lose."



Lauren Saylor

– "I think that this is awesome to be here with all these great athletes, and learn what they do and try to get to their level."




IAAF XC Home Page