Course Map

Live streaming video
(for fee)

Schedule

Preview



History


US Jrs at World XC

36th IAAF World Cross Country Championships

Holyrood Park, Edinburgh, Scotland, UK
March 30, 2008

DyeStat on-site with stories and photos by John Nepolitan
"Lessons that cannot be learned anywhere else"
For three days, the skies were blue in Scotland, but light rains started to fall the day before these championships and continued on and off right up to the start of the first race, the Junior Girls 6000 meters. Then the sky cleared once again and the fans started to roll in for a fine day of cross country racing.
For just the second time in history, one nation would claim all four individual medals as Ethiopian runners were crowned champions in each race. For Team USA there would be no medals, but there would be fine performances and, for the junior members especially, lessons that cannot be learned anywhere else.
Sixth for both Team USA Junior squads
German Fernandez and Emil Heineking led the men in 25th and 26th (left photo), while Alex Gits (right photo,
center, on ground) overcame a fall here for 13th place and the best finish for the Amercan women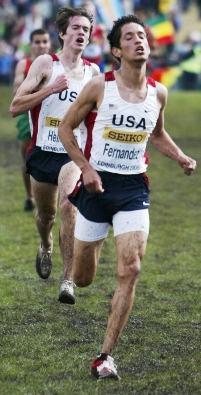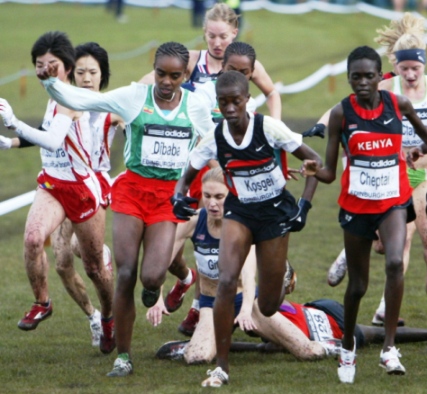 Riverbank CA sr

German Fernandez

leads Team USA's 6th-place finish with his 25th (24:15 for 8k). UVA frosh (former OH prep) Emil Heineking is 26th in 24:16. Preps Kevin Williams CO 35th (24:34) and Ben Johnson NM 72nd (25:37) are 3rd and 5th man, with collegians Ryan Sheridan 52nd in 25:03 and Bobby Moldovan 86th in 25:49.
Kenya tops Ethiopia for title, 21-28, but Ethiopian Ibrahim Jeilan wins individually by 2 seconds in 22:38. Team USA's 138 points is 6th. FULL RESULTS
Stanford freshman and former MN prep

Alex Gits

leads the way for Team USA in 13th in 20:41 (2nd non-African). Preps Laurynne Chetelat CA (21:19) and Emily Reese GA (21:22) are 29th and 30th, just behind Duke's Emily Schwitzer (28th, 21;19). Team was rounded out by Lauren Saylor (38th/21:37) and Marissa Treece (44th/21:55).
Ethiopia goes 1-3-5-7 to beat Kenya at every spot (2-4-6-8) and overall, 16-20 (score 4). Japan is solitary 3rd with 57, while Team USA's 6th (100) is just behind Great Britain (95) and Canada (99). Individual winner is Genzebe Dibaba in 19:59. FULL RESULTS


| | |
| --- | --- |
| YES | NO |
| | |
The Blogs: A Track Junkie in Scotland -
On Saturday, John Nepolitan joined Team USA in the course run-through, getting comments from several and winning the hearts of the Japanese women's team. Check out his final pre-meet blog.
In his 3rd blog entry, Nepo makes his first visit to the course, continues exploring the local geography, and expresses his feelings about Scottish cusine.
In his 2nd blog entry, he climbs the Royal Mile and notes how well Edinburgh promotes the meet.
His 1st blog from Scotland Wednesday highlighted a trip to the famous Roslyn Chapel, an equipment near-disaster, and other traveling tidbits.
| | |
| --- | --- |
| Hanging in Edinburgh: Junior Team leader Gwyn Coogan (third from right) with Team USA juniors (from left) Marissa Treece, Ryan Sheridan, Emily Schwitzer, Lauren Saylor and Emily Reese. The group took a stop for this photo while traveling the Royal Mile in Edinburgh. | |
General Preview

- History of US Juniors at World XC

Each year, just as the outdoor track season is about to kick into high gear in the US, cross country has one last gasp, and the attention of all harrier enthusiasts turns to the World Cross Country Championships. Besides the senior championship races for men (12,000 meters) and women (8000 meters), there are races for junior boys (8000 meters) and girls (6000 meters). Junior athletes must be under the age of 20, but at least 16 years of age on December 31, 2008 (born in 1989, 1990, 1991, 1992) which means that the USA teams will be made up of a combination of high school runners and college freshman. The 36th World Cross Country Championships will be held in Scotland on Sunday March 30th, and with 5 high school runners part of Team USA, Dyestat will be on-site to cover the race as well as some of the other events taking place during the championship week. For those who will be following the action, we've accumulated some background information on past world championships and this year's races.




Team USA for 2008

– selection taken from the USATF Cross Country Championships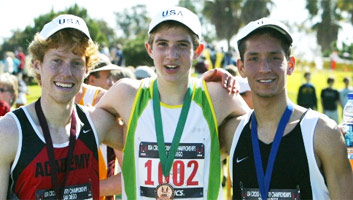 Teams are made up of 6 runners with 4 to score.



Junior Men


German Fernandez (Riverbank, CA) Riverbank High School - 2007 Footlocker West Champion and 3rd at FL Nationals. 2008 USATF XC Jr Champion

Ryan Sheridan (New Rochelle, NY) Iona College - A Footlocker finalist and NY State Champion as a soph then spent the rest of his HS career hurt or ill. Made a splash back into the national limelight when late in the 2008 USATF XC Championships he made a major move to break apart the field. Finished 2nd at the USATF XC Championships to earn his spot on Team USA

Emil Heineking (Hartsgrove, Ohio) University of Virginia - While at Chardon HS (OH) was a Footlocker finalist and state champ at both XC and track (3200m)

Bobby Moldovan (Fort Wayne, IN) North Carolina State - Won the Indiana state championship as a senior in 2006 in the 3200 and Footlocker Finalist while at Northrup High School (IN)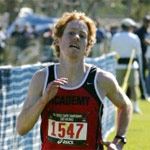 Kevin Williams (Lakewood, CO) D'Evelyn High School in Denver - 2007 – 26th FL Nationals, 6th FL Midwest and State XC Champion

Benjamin Johnson (Albuquerque, NM - left) Albuquerque Academy - New Mexico State Champion, 3rd 2007 NTN, 2006 Footlocker Finalist. Earned his place onto Team USA with a 6th place lean at the tape at the USATF XC Championships

Thom Hunt (Team Leader) won the 1977 IAAF World Junior Cross Country title in Dusseldorf, West Germany, also 2nd in 1976. Held the HS indoor mile record until his 4:02.7 was broken by Alan Webb.



Junior Women
Alex Gits (Edina, MN) Stanford University - 2006 Minnesota Cross Country champion, 2007 Minnesota 3200m state champion. Finished 4th at the 2006 Footlocker Midwest Regional and then went on to Finish 6th at the 2006 Footlocker Nationals. Finished 2nd at the 2008 USATF XC Championships


Emily Reese (Chamblee, GA - left) Chamblee High School - A Footlocker Finalist in 2005 where she went on to finish 15th. 2007 Georgia State 3A Cross Country Champion. Earned her place on Team USA with a strong 3rd place finish at the 2008 USATF XC Championships in San Diego, Ca.

Marissa Treece (Maple City, MI) Notre Dame - NSIC and NON 5000 meter Champion. An 11-time state champion and a holder of seven state records on the Michigan D4 level . Also, while at Glen Lake HS, qualified for the 2006 Foot Locker Nationals

Emily Schwitzer (Minnetonka, MN) Duke University - While at Hopkins HS (MN) earned All-state honors nine times between cross country and track, was a two-time section champion and six-time conference champion. Was a member of Minnesota state champion team as well as a two-time member of state Nordic ski champion team.

Lauren Saylor (Clovis, CA) University of Washington - Was a member of Washington's NCAA qualifying team for the 2007 NCAA Championships. As a prep at Buchanan HS (CA) was a 2004 Footlocker Finalist.

Laurynne Chetelat (Davis, CA) Davis High School - 2nd at the 2007 Footlocker West Region before finishing 16th at the national meet. California Division 1 State XC Champion in 2007

Gwyn Coogan (Team Leader) Olympian and five-time Team USA Cross Country squad member from Exeter, NH.

* 2008 USATF Jr XC Champion Jordan Hasay chose not to take part in the world meet in order to prepare for the outdoor track season.



Real Cross Country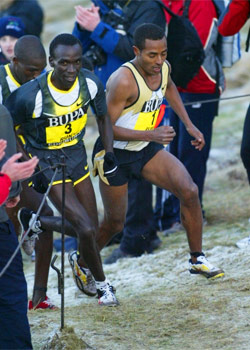 Many times, when people who have not been to the Nike Team Nationals talk about the event, the first words out of their mouth is that the course is not "real cross country," when in fact it is a type of course that most of the world runs on – multiple loops in a fairly open area making it a spectator friendly event. Most US cross country courses seem to try to avoid the multi-loop concept and almost all include a signature hill. At the World Championships, the runners will face a course that more resembles the NTN course: multiple loops close to the fans. For the Junior girls this will be 1 short loop (approx 1800) and 2 long loops (appox 2,100 meters), and for the Junior boys 2 short loops then 2 long loops. On the long loops the runners will go up Haggis Knowe (right),a hill that is between 160 - 200 meters up and then down. From the top of the hill it is 400 meters into the finish. The other areas of the course are far from flat and sure to be chewed up following a series of local races over the loops the day before the big event. The large video screen and team scoring announced at each kilo as a result of wearing chips -- items that separate NTN from all other high school races in the US -- have been a common feature at the World meet for years.



NTN Connection


Ben Johnson is not the only runner stepping to the line who has run the NTN course, which is somewhat similar to what runners will face in Edinburgh; Mercy Kosgei who was 4th at this year's NTN Open race will be running on the Kenyan team, which is favored to repeat as team champions in the Women's Jr race. Kosegi was 2nd at the 2007 World Cross Country Championships and 3rd in 2006.