A Track Junkie in Scotland
John Nepolitan's World XC Champs Blog w/Photos - Day 1 - Wed., March 26, 2008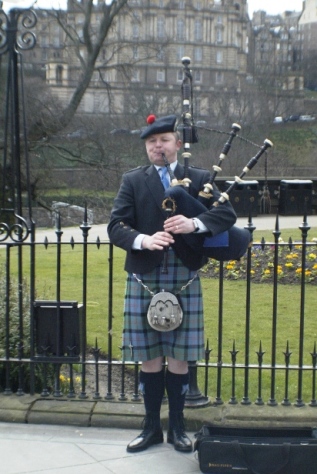 What would Scotland be without a bagpiper?


As I have said in the past, I love to travel and, of course, I love xc/track. It is great that I can combine the two loves in working for DyeStat.

What I love abut the travel is many times I get to go to places that I would never normally go to, such as last year, when I had the pleasure to go to Alabama twice. Truth is, in my normal life I would have no real reason to go to Alabama, but in going to the Great American XC Fest and the Mobile Meet of Champs last year, I was able to see a new part of the USA. It was great and glad I went and looking forward to going back next week for the Mobile meet, but it is also fun to go back to places you had been and see those things that you missed last time.

This is my 4th time in Edinburgh and I am looking forward - yes - to a great set of races this weekend, but I am also looking to a few tourist things that I have not done in the past. Hopefully, along the way, I can give you a small window into a World Championship event. I have been to World cross country and track championships both in small cities, like Edinburgh, and large megacities, like Paris – and everything in between. The smaller cities I enjoy better since the entire town seems to be into the event and talking about it. An event in a huge city like Paris is still great, but just has a different feel.

If you take a look at the event web site, you will see that the organizing committee is going all out to draw a huge crowd Sunday. There will be a number of local and national races on the course the day before. They have also put together an adopt-a-nation program for local schools and clubs to come and cheer for the different nations attending. The USA will be cheered on by the Gala Harriers, and the morning of the championship races there will be a major road race finishing right next to the course, so a huge crowd is expected.

I left for Scotland Tuesday night on a direct flight from New York, and it was an easy calm flight to say the least – just the way I like to start trips. Coming to an IAAF championship meet is great, as most of your basic needs as a member of the media are taken care of. Something as simple as getting to the hotel from the airport are among the things they handle. When you walk off the plane, there is a welcome desk and they put you in a car, sometimes alone, sometimes with others. This trip I shared the car with a member of the TEAM USA medical staff who was on my flight. But in the past I have shared rides with such major players as Ray Flynn (former Irish mile record holder now Alan Webb's agent) and the meet director of the Monoco Grand Prix meeting, right in a car and right to the door of my hotel. The first World XC I covered as a member of the press was in Dublin, and that year I was landing the morning of the first day of races (at that time the races were spread over 2 days). The IAAF sent a special car to collect me at the airport, rush me to the course and through credential check in so I would be there to see the 1st race of the day.

The flight landed at 6:30 a.m. and once we got through customs and all and into the city, it was close to 8 a.m. and not possible to get into my room. I had planned on that, so I dropped off my bags, grabbed my camera and went on my way to play tourist. As you can see by one of the photos I have included, I walked past the famous Edinburgh Castle. I have been there on a past trip, but plan to go back later in the week, and was going to hop a bus (the #15) to Roslyn Chapel, made famous by Dan Brown in The Da Vinci Code.

Funny thing, in the USA I never use public transportation; most times I just can't figure it out more out of being lazy. Yet when I come to a foreign nation, since I have no choice, I have no problem getting about.


The front, and interior, of the Roslyn Chapel

Well, before I jumped on the 15 for my 9 mile journey, my first trip bump reared its ugly head. For the last 2 years, I have been getting by with just 1 battery pack for my camera. I have been meaning to get a backup, but just have not yet – well, not until my camera almost died at the end of the last day of the NSIC last week. I got myself a back up and juiced it up during the week. I tried it out once during the week and it died fast, so I figured I had not totally charged it, so I did it again and tried it in my camera and it worked fine for 1 or 2 pics. So I packed my camera up and jumped on the plane.

Well, after taking one shot of the castle the battery was dead and, with no back up (yes, I left the original home), I was dead. I had flown over 3000 miles to take photos, and report on a race, and I was only going to be able to get 1 or 2 shots. A rookie mistake. But, wait – while driving into the city to the hotel I saw a camera superstore a short walk away. So I went down the street, found the store and my luck was with me – they had one more battery pack in stock. A short juicing and it works fine; I am back in business. So onto the #15 and off to the chapel.

I am not really a very religious person, but I have found that I have been in 3 of the world's 4 largest cathedrals: Seville (Spain), Milan (Italy) and, of course, St .Peter's in Vatican City. Not 100 percent sure who #4 is, but if it is St Patrick's in NY then, yes, I live only 25 miles away but have never been. Now here I was on a bus to a church made famous by a book and movie. The outside was a little disappointing, as it has been covered by structures as they work on the outside, but the inside in an amazing work of art. While St. Peter's is also a work of art, but much different with its polished marble, this raw stone was carved during the middle ages. The work is amazing when you think of the tools the workers had to use at the time. After a great guided tour, and a little walk around by myself, it was back to catch a bus back into town and to check into the hotel to rest and get ready for the rest of the week.



At left, the Edinburgh Castle; at right, a famous UK icon - the double-decker bus.

IAAF XC Home Page