Heartland states -
MN, ND, SD, NE, KS, MO, IA
Schedule
Course
Local Information
Contact Us
Send News
























Results
Four teams qualify for NTN Finals in Portland OR Dec. 1.


Boys

-

Wayzata MN

and

Team Swanson KS




Girls

-

Dowling Catholic IA

and

3-D Running SD




NTN Webcast -

Regional highlights online on Nov. 15, Nov. 22 and 29, followed by live webcast Dec. 1 of NTN finals in Portland.

Seeds and final schedule - teams and individuals who will be running at Yankton Trail Park November 10.



News Log




Matt Tegenkamp will be here!


Former Missouri high school star Matt Tegenkamp will be on hand for the Heartland regional championships, and former Minnesota prep star Kara Goucher will act as Heartland region team captain at NTN finals in Portland OR Dec. 1.


Matt Tegenkamp

Kara Goucher





HS: Lee's Summit MO
5th, Foot Locker 1999
HS PR: 8:53.79 3200
Matt hit the world distance running scene back in 2001 when he placed 5th at the World Junior Cross Country Championships. He reemerged on the world stage again in 2006 becoming the second fastest American-born 5000m runner of all time running 13:04.98. He followed up his outstanding 2006 campaign in 2007 by setting an American Record in the 2-mile and achieving 4th place at the Osaka World Championships, just 3 hundredths of a second from the bronze medal. Matt has run 3:34 for 1500m, 7:34 for 3000m and 8:07 for 2-miles.

HS: Duluth East MN


2-time Foot Locker finalist


(as Kara Wheeler)

In 2007, Kara had a season of a lifetime. She shocked the world in Osaka earning the bronze medal in the 10000m, becoming the first US women ever to win a medal in a 10000m world championship. She followed up this victory with a win in the Great North Run Half Marathon, covering the distance faster than any American women ever had before. Kara has amazing range having run 4:05 for 1500m, 8:34 for 3000m, 14:55 for 5000m, and 31:17 for 10000m.



Schedule





Friday, November 9



12pm-5pm - Packet pick-up at Clubhouse Suites

12pm-4pm - Course open for run-throughs

6pm-7:30pm - Pre-meet dinner –Information
Click here to register for pre-meet dinner.



Saturday, November 10



8:45 am Community Race - Register online
10:30 am Jr. Varsity Girls
11:10 am Jr. Varsity Boys
11:50 am Small School Girls (under 1000 students in school)
12:30 pm Small School Boys (under 1000 students in school)
1:10 pm Boys Large School Race
2:00 pm Championship Girls
2:45 pm Championship Boys
3:30 pm Awards (all divisions)

** All races are 5,000 meters




Course



This 5k course consists of a 2K loop, to be run two times, with a 1K finish loop. The course is modeled after the NTN national course, consisting of moguls and hay bales which athletes must navigate throughout the course.

There is a 60 meter start line which gradually funnels in for about 450 meters to the first left turn. The moguals, which consist of 4 hills about 6 feet tall, are about 650 meters into the course.

The first set of 3 rows of hay bales are located about 1000 meters into the race with the second set being located about 1500 meters into the race.

At 2000 meters, the athletes will be back along the starting straight; they will complete the same loop a second time.

At 4000 meters, the athletes will again be on the starting straight, but this time at about 450 meters they will make a gradual left turn and head back toward the starting line for a 500 meter straightaway into the finish chute.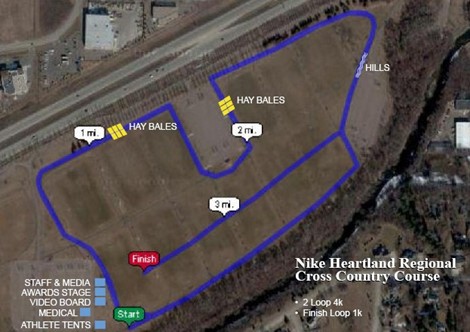 Directions to Yankton Trail Park XC Course

I-90 from the West
Exit 396A I-29 South to Exit 75 I-229 North to Exit 3 Minnesota Ave. Right <.1 mile to park entrance #1.
I-90 from the East
Exit 400 I-229 South to Exit 3 Minnesota Ave. Left .1 mile to park entrance #1.
I-29 from the North or South
Exit 75 I-229 North to Exit 3 Minnesota Ave. Right <.1 mile to park entrance #1.
From meet headquarters
South on Louise Ave 1.7 miles to 57th Street. Left (east) on 57th St. 1.2 miles to park entrance #2.

Directions to meet headquarters
I-29 Exit 78 (26th Street), Turn east onto 26th St 1/3 mile (26th St becomes Louise Ave), Turn left into Clubhouse Hotel & Suites, 2320 S. Louise Ave
Local Information
Hotels



Mention NTN Heartland Regional when making reservations.

Clubhouse Hotel and Suites




$109.00-$129.00






2400 S Louise Ave
(includes breakfast)
Sioux Falls, SD 57106
(605) 361-8700

--------------------------------------------------------------------------


Ramkota Hotel




$95.99-$109.99
3200 West Maple
Sioux Falls, SD 57107
(605) 336-0650
Holiday Inn City Center
$ 79.00
100 West 8th Street
Sioux Falls, SD 57104
(605) 339-2000
Sheraton Sioux Falls Hotel
$ 99.00
1211 North West Avenue
Sioux Falls, SD 57104
(605) 367-9691
NTN home page