DyeStat News

Heartland Region
Yankton Trail Park, Sioux Falls SD
November 10, 2007

MN - ND - SD - NE - KS - MO - IA

click on event for results, photos and stories


Event
Winners
Boys Championship

HL#1 Wayzata MN 100, HL#3 Team Swanson KS (Shawnee Mission NW) 141, HL#2 University St. Louis MO 151, HL#10 Brainerd MN 155. Joash Osoro ND 15:40.

Girls Championship

HL#2 Dowling Catholic IA 67, HL#1 3-D Running SD (Yankton) 90, HL#3 Roosevelt Sioux Falls SD 95, HL#4 Burnsville MN 97. Katie Flood, Dowling Catholic 17:35

Boys Large School

Marshalltown 43; Colin Parrish, Grand Forks 16:17
Boys Small School

Adrian Roadrunners 41; Shaun Henderson SD 16:42
Girls Small School

Falls City 49; Kelsey Bean, Team Greeno 19:42
Boys JV

Pleasant Valley 48; Josh Hintz, Bismarck 17:35

Girls JV

3-D Running Club 26; Sara Watt, 3-D 21:10

Boys Frosh

Wayzata 15; Riley Coates, Douglas 17:21

Girls Frosh

Bismarck 15; Amanda Love, Bismarck 21:00





Individual champions: Dowling Catholic TC's Katie Flood and Bismarck TC's Joash Osoro. Photos by Inertia Sports Media






Yes, They Built It … Yes, They Came



By DyeStat News Editor SteveU

It was a memorable scene, one of the Sioux Falls NTN organizing committee members said, when she and a few others first opened the gates of Yankton Trail Park Saturday morning. It was not yet dawn, still more than two hours before the first race, and waiting to enter the park on this auspicious day was a winding stream of vehicles identifiable only by their headlights. "All I could think was that it was like "Field of Dreams," she said.




Dowling Catholic girls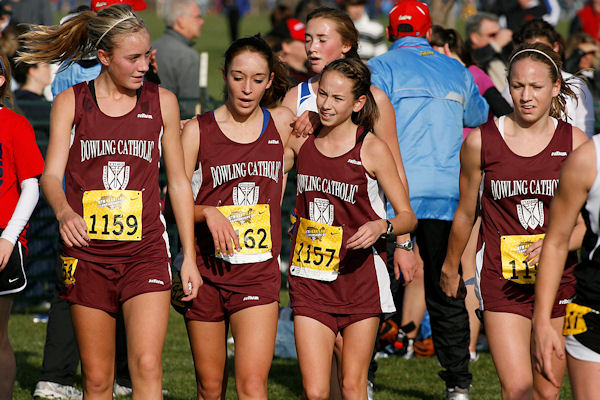 Katie Flood, Heather Tobias, Ashlie Decker and Tanelle Berard - Photo by Inertia Sports Media

It didn't matter that cars didn't belong to entrants in the races and their families (let alone people coming to pay and watch "the baseball players" like in the movie), but rather the volunteers. It was the feeling, which could hardly be more fitting. Meet director Kristi Rieger, her committee, and her volunteers had built the European and NTN-styled cross-country course, with its "whoop-dee-dos" and hay bales, where there wasn't one before, hoping "they would come." And come, they did.

By the time the NTN Heartland championship races rolled around in mid-afternoon at the park, the wind had died down, the skies had brightened, and the temperature had risen several degrees – from cold, windy, and cloudy to perfect. The crowd had grown to a swirling mass of several hundred people, surging back and forth across the course as runners raced around the 2000-meter circuits.

And this Field of Dreams, like the original, could have only been perfect with the "players" and their first-class performances. That began, during the day's finale, with sophomore Katie Flood and her Dowling Catholic TC (Des Moines IA) teammates leading the way in the Girls Championship race. They were one of three teams considered to have the best aspirations to nail down one of the two bids to NTN in Portland, along with 3-time national participant 3-D Running Club (Yankton SD), and host and 2-time qualifier Sioux Falls XC (Sioux Falls Roosevelt SD).

As in her previous foray in regional class racing at the Roy Griak Invitational – and probably every other race this year – Flood took the immediate lead. Millard North RC (Omaha NE) standout Emily Sisson didn't try and go right with her as she had in Minnesota, rather trying to stay close, but even that plan didn't work with the national championship contender. Flood burned through splits of 5:26 and 11:16, and crossed the line in 17:35, clearly an exceptional performance on the new course and 38 seconds ahead of Sisson.

Dowling Catholic's high school team, which had roared through its state meet with 32 points, was ranked behind Yankton's prep squad all season, but there was a prevailing feeling they'd been underrated, nationally and regionally. But with the solid depth of Betsy Flood, Tanelle Berard, and Heather Tobias to back up the 1-3 finish of Flood and Ashlie Decker (18:24), Dowling put up 67 points and a 19:03 average.

That was enough to turn back the top-flight opposition. The 3-D Running Club, paced by the 4-8 finish (team-scoring) of Mariah Hofer (18:52) and Megan Hilson (19:14), counted out 90, taking a tense battle for the second NTN qualifying spot. The 3-time qualifier to Portland will make it again. Sioux Falls XC, with Bailey Breems (7th in team, 19:12) and Erin Hargens (9th, 19:15) leading the effort, was 3rd with 95. Burnsville Skinnyski (Savage MN), whose Burnsville HS kids won the state title in Minnesota, used an incredible 3-second gap between their 1st and 4th runners (Erica Hett 15th in 19:27 and Maria Tinebra 19th in 19:30) to finish right behind with 97. They will have to wait and see if at-large bids come their way.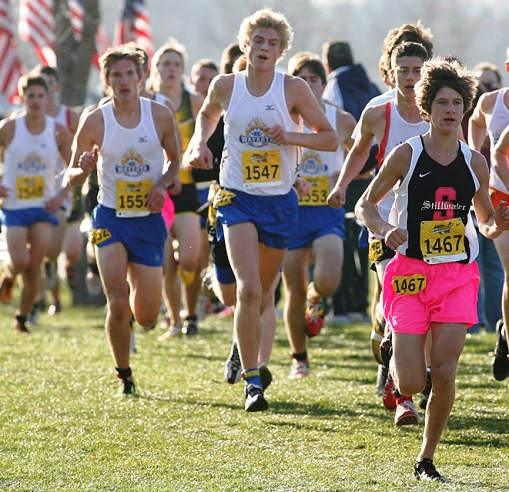 Wayzata's tight pack includes (from far left) Evan Day (1548), Peter Holmes (1552), Anders Bowman (1547) and Andrew Wasz (1553). Photo by Inertia Sports Media

The succeeding Boys Championship race saw a jacked-up group of guys absorb all the energy around them and hammer the first mile in a draining 4:45. And then Bismarck TC (Bismarck ND) jr Joash Osoro tried to break the field with a surge befitting a national-championship contender. But Joash isn't quite at that level yet, and neither were his pursuers, so the second half of the race was grueling for everyone.

Osoro slowed to 9:50 at 2M, but his lead was up to 16 seconds. He would lose more than half of it in the in final mile as the pain really took hold. Still, he won in a strong 15:40, with Rosemount TC's (Rosemount MN) Jordan Carlson outkicking Gillette, Wyoming unattached runner Dominick Robinson, 15:47-15:49.

The battle for the Portland bids took place further back – in fact, much further back in the early part of the race. During the regular season, Wayzata MN became notorious for taking the idea of come-from-behind running to new extremes. But they went undefeated en route to a 2A state title and their runners did the same thing here as the Wayzata XC Club (Plymouth MN). #1 man Jeremy Drenckhahn was barely in the top 40 at the mile and that was after some serious moving up.

He would keep catching people, though, and race all the way up to 8th (team-scoring) in 16:12. Wayzata's 2-3-4 finished within a 5-second span and Andrew Wasz would be the fastest 5th-man of the day to finish off a 100-point effort, 41 clear of 2nd.

Wayzata runners admitted they were rooting for either the Team Swanson (Shawnee KS) or Rosemount TC runners to join them in Portland. Why the Kansas bunch? Well, it turns out that during the high school season, Wayzata's kids and their families have hosted Team Swanson's Shawnee Mission NW kids during their annual trip to Griak, a tradition that began after respective high-school coaches Bill Miles (Wayzata) and Van Rose (SMNW) became fast friends at an academic conference. At this year's Griak, Wayzata and SMNW went 1-2 on a crack field.

It turned out what happened there several weeks ago was rather portentous. With an even-tighter 17-second pack that ran between 20th (Jared Ellsworth 16:31) and 37th (Sterling Spencer 16:48), Team Swanson scored 141 and fought off St. Louis TC (University High, St. Louis MO) at 151 and Brainerd XC Club (Brainerd MN) at 155, to grab the other automatic bid.

The long day of action ended with daylight leaving Yankton Trail Park, by the time everything was broken down, and the departing volunteers again were noted as a stream of headlights. But there's a good chance "they will come" back to this "Field of Dreams" for many years to come.



Prior Years - Yankton SD has contributed four NTN finals teams - the girls all 3 years and the boys in 2005. The girls have one of the best 3-year showings of anyone, finishing 3-5-5.



This is the first Heartland regional championship meet for Nike Team Nationals. In previous years, regional representatives were selected by a committee. This year the decisions will be settled on the course. The top two teams here (both boys and girls) will qualify for the 4th national championship race at Portland Meadows race track, Portland OR, on December 1.





Heartland News Log




Schedule





Friday, November 9



12pm-5pm - Packet pick-up at Clubhouse Suites

12pm-4pm - Course open for run-throughs

6pm-7:30pm - Pre-meet dinner –Information
Click here to register for pre-meet dinner.



Saturday, November 10



8:45 am Community Race - Register online
10:30 am Jr. Varsity Girls
11:10 am Jr. Varsity Boys
11:50 am Small School Girls (under 1000 students in school)
12:30 pm Small School Boys (under 1000 students in school)
1:10 pm Boys Large School Race
2:00 pm Championship Girls
2:45 pm Championship Boys
3:30 pm Awards (all divisions)


** All races are 5,000 meters



NTN meet index | NTN news on DyeStat |