Simplot set to sizzle again
National record hopes in the girls WT and boys 1600 SMR
Meet Preview by Dave Devine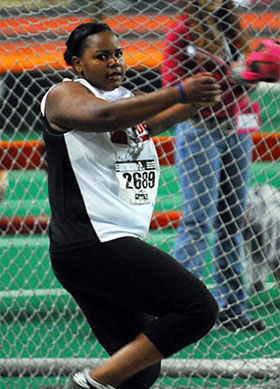 For an indoor track meet tucked away in the Northwest part of the country, well outside a major metropolitan area, the Simplot Games in Pocatello, Idaho, has an uncanny ability to draw national-level talent and generate national record performances. Staged on a thunderous banked wooden track in the cavernous Holt Arena, the 31 year-old meet shows no signs of age with another stellar lineup prepared to take the runways, circles and starting blocks in 2009. If the last two years are any indication, fans should expect something truly special over the course of the three-day weekend. In 2007, Bianca Knight of Mississippi electrified the crowd with a still-standing 22.97 US record in the girls 200. Last year, Knoxville, Tennessee hurdler Jackie Coward won a showdown of barrier stars, topping Californian Vashti Thomas with an 8.16 US record in the 60 meter hurdles which improved on her own existing mark.

While there is always the possibility of a surprise, a breakout performance or a sudden star emerging with an all-time mark, 2009 offers at least two tangible—and tantalizing—possibilities for national records.



National record threats



The distance between Atlanta GA and Pocatello ID is nearly 2,000 miles, but the two cities may as well be next door to one another, so comfortable have the throwers from the Georgia-based Throw1Deep club made themselves at the annual Simplot meet. The talented throws crew has dominated the weight event results in Pocatello the last few years, with the Throw1Deep uniforms and logos ubiquitous on the awards stand. In 2008, Throw1Deep star Lauren Chambers (left, photo by John Dye) won both the shot put and the weight throw, and she carries a two-year win streak in the weight throw into weekend. More importantly, her best mark this season is a mere 7 inches from Victoria Flowers' 2008 national WT record of 62-02.00, tagging her as a legitimate threat to break that record in the opening session of the Games on Thursday evening. While Chambers seems a near lock for the win in the weight throw, her chances of repeating in the shot put are far less certain. There, Chambers will have to contend with 2008 US discus leader and World Junior teammate Anna Jelmini of California. While Jelmini was better-known outdoors for her exploits with the platter, she brings a PR in the shot of 50-04, and will be a serious challenge to Chambers' ambitions to repeat her throws sweep of 2008. Meanwhile, Chambers' Throw1Deep teammate Patrice Gates, who set the sophomore class record in the weight throw last year at Simplot, will be hunting the loftier junior mark of 60-10.50 set by Pocatello's own Maureen Griffin in 1997.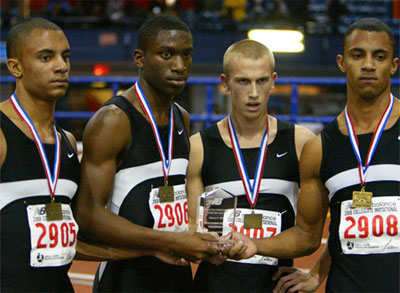 If the initial national record chase will take place somewhat outside the spotlight on Thursday evening, the second legitimate threat should unfold center stage on Saturday afternoon. Let's just say, if you were planning a hotdog run around lunchtime Saturday, 12:50 pm would be a bad time to take it. You'd be well-advised to turn your attention instead to the starting line of the Boys 1600 Sprint Medley Relay. The versatile stick squad from New Bern NC has been rearranging the all-time relay lists throughout the winter, most recently taking down Muir HS of California's 1996 4x400 national record of 3:13.34 with a 3:13.06 clocking at the New Balance Collegiate meet in New York two weeks ago (right, photo by John Nepolitan). At Simplot, the same New Bern lineup will draw a bead on another Muir mark, this one the 3:24.69 sprint medley national record from 1997. As good as New Bern has been in the 4x200 and the 4x400 this year, many have speculated that their diverse strengths would be best applied to an assault on the medley relay record. On Saturday, they'll get that shot. Challenging will be a squad from Transit Tech NY which already has a 3:22.57 4x400 and 7:52.43 4x800 to their name this winter. When those two teams hook up, with a host of other speedsters in their wake and the crowd surely into the effort, it could be lights out for the twelve year-old Muir record.



California girls look to ignite the straights and runways



The Golden State has no real indoor season to speak of, with the recently added Fresno Run for the Dream meet the one major event on the calendar. Faced with a shortage of undercover opportunities, Californians have traditionally made the trek up to Pocatello for some mid-winter rust-busting. This year is no exception, with the sprint and hurdle fields once again dominated at the top end by some of Cali's finest. Current US leaders and E.O.Y.D.C. teammates Ashton Purvis and Trinity Wilson have to be considered favorites, but they'll get stiff competition from fellow Californians and others throughout the region. Purvis leads the country at 55 and 200 meters; at Simplot she'll contest the 60m dash and the 200. She's the defending champion in both, and will look to add the junior class 200 record to the sophomore and freshman records she already holds. Only a ninth grader, Wilson is US#1 in 55m hurdles; here she'll race the slightly longer 60m hurdles, where Jasmin Stowers SC is currently the US leader.

The runways along the sidelines will be bursting with Golden State talent too, as horizontal jump specialists Karynn Dunn, Allison Reaser and Ciarra Brewer tangle with Curtis WA senior Andrea Geubelle, (competing for the Flying AJ's). Geubelle has already reached 19-06.75 and 39-08.00 this season, defeating top Californian Alitta Boyd last weekend at the University of Washington Open in both events.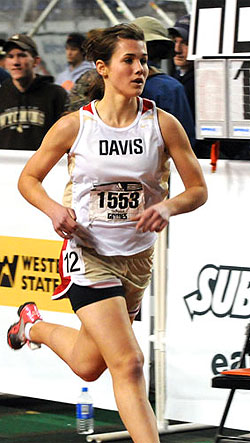 In addition to the short sprints, three of California's leading 400-meter talents arrive in Pocatello to contest that distance over two laps. Turquoise Thompson, Angelica Weaver and Thandi Stewart are all among the top 10 returners in California, and their collective presence stamps that event as one to watch.

The sprints on the boys side are highlighted by current US#1 in the 200 meters (21.39), Fuquawn Greene of New Bern NC. He'll be bearing relay responsibilities too, but will surely be prepared to take on all comers in the one-lap contest. Skyline Utah's Jeff Daw is a 47.91 performer in the 400 meters, and will face Littleton CO/ATS Elite star Kyle Macintosh, among others. Macintosh is also one of the top seeds in the 60m hurdles, an event where Coloradans have done well in past Simplots. He'll be joined over the sticks by Colorado rivals Tashaun and Tarique Hill, and Wyoming barrier talents Taylor Villegas and Brandon Douglass.



Steady Eddy goes for 3 in 4 years



If there's a name on the girls side synonymous with the Simplot 1600 in the past four years, it would have to be Davis UT senior Candace Eddy (left, photo by John Dye). Eddy first won the eight-lap race as a freshman way back in 2006, and then finished as a runner-up in 2007 to Utah rival Samantha McMillan. In 2008, Eddy was back to her winning ways, dispensing with the field by covering the first half in 2:32.3 and then negative splitting a 2:22.3 for a winning time of 4:54.57. She appears to be the prohibitive favorite, though '08 runner-up Chelsea Graham (Edmonton Thunder CAN) returns, and sub-5 sophomore Shanna St. Laurent of California joins the fray.

The boys 3200 also offers the possibility of a repeat champion, with 2008 winner Wes Rickman of Colorado returning to defend his title. Rickman roared away to a 9:16.39 victory last year, which opened eyes to his talent, then dropped jaws a month later with his 9:00.38 two-mile clocking at Nike Indoor Nationals. If his fitness is anywhere close to last winter he'll be hard to beat, but leading distance stars from several states stand ready to give it a shot. Jon Nelson of Utah was a state champ in cross country and an NXN individual finalist, where he finished 32nd. Barak Watson of Idaho was also a state XC champion, runner-up by a hair at the NXN Northwest Regional, and a 27th-place finisher at the NXN Final in Portland. Nevada's Wade Meddles was the small school XC champion from his state, recording the fastest time of the day, and barely missed a ticket to Foot Locker with an 11th place finish at FL West. Dominick Robinson of Wyoming was also a state cross country champ, ran 9:07 for 3200 last spring at Golden West, and is the top returner after Rickman from last year's Simplot Games. All of which makes for a captivating clash of distance talents from multiple states in the region.

Other defending champs returning in 2009 as top seeds to defend their titles include 50-foot triple jumper Omar Craddock TX, 2:07 800 talent—and current US#1 at 600m—Charlene Lipsey NY, and 13-10 pole vaulter Shade Weygandt, making her 2009 competitive debut after skipping the 2008 outdoor post-season.