Winners Table and Event Details - Day 1 - Day 2 - Day 3 -
Simplot 2007: a Knight to Remember
Bianca Knight's USR, Trenton Guy's back to back double, and a whole lot more. See Day 3 story and pix by Rich Gonzalez and John Dye.
Day 3 Saturday -
Bianca Knight 22.97 USR !!!
Ridgeland MA senior smashes national indoor 200 meter record of 23.14 set by Allyson Felix in 2003. 60m champ Jeneba Tarmoh ran second in 23.65, placing her eighth on the all-time US high school list. More on the 200s, including Trenton Guy's second straight sprint double.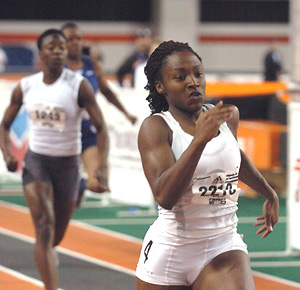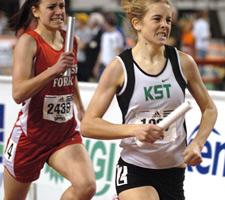 PHOTO ALBUM -
70 action shots by John Dye
left, Girls Sprint Medley - anchor leg - Kryptonite CO's Leigh Ann Ganzar (1937) and Spanish Fork's Nachelle Stewart (2439) waged a seesaw battle with several lead changes. Ganzar had the last surge in the home stretch to win the battle, 2:09 to 2:10, and the war, 4:01.21 to 4:01.52.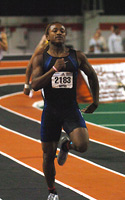 Day 2 Friday - Friday prelims leave plenty of fast girls (and one special Guy) ready to fly on Saturday. Girls 60 meter specialists were the most intense.

National 55m leader Trenton Guy NC (left) runs 21.91 200m US#3 and 6.82 60m US#4 in heats without spikes.
Day 1 Thursday
Bigger Is Always Better, Say Georgia Girls - Throw 1 Deep club crowds girls weight throw award stand (below) with top 5. Not to be outdone, the club's boys swept the top 6 places. photos by John Dye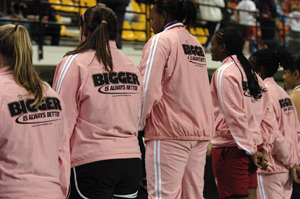 Volcano set to erupt this weekend
Simplot Games fields again oozing with talent
Mountain states welcome some of the nation's best athletes at Idaho State University's Holt Arena, an indoor football stadium. The old wooden banked track is very fast, as evidenced by the national boys 400m indoor record (45.92 by Elzie Coleman 3 years ago).
See Doug Speck preview video for top athletes entered. Broadband recommended