2008 U.S. Olympic Trials



University of Oregon, Hayward Field - Eugene OR
June 27 - July 6, 2008



DyeStat Alums






by John Dye
7/7/2008 - Many Olympic stars shine first in high school. Thirty members of the 2008 US Olympic track and field team came to prominence on the pages of DyeStat since 1999, including shot putter Michelle Carter, who with her father Michael Carter forms one of only three parent-child pairs ever to compete in the Olympics in track and field for the US.
Carter family produces 3rd parent-child pair for US Olympic team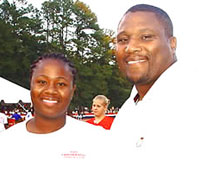 Both Michael Carter and his daughter Michelle (left, photo by Donna Dye at 2002 adidas Outdoor in Raleigh) hold US high school national records in shot put.

Michelle threw 54-9.5 indoors and 54-10.75 outdoors, both in 2003. Michael's throw of 81-3.5 in 1979 is one of the oldest in the book (see Jack Shepard's HIGH SCHOOL TRACK). Michael dominates the record book like no one else, with 9 of the longest throws ever. The tenth (76-2 by Brent Noon in 1990) is 5 feet behind the record. Records are made to be broken, they say, but one is tempted to say this one will stand forever.

Michael went on to win a silver medal at the 1984 Olympic Games in Los Angeles with a throw of 69-2.5. In college at Southern Methodist, he won 4 outdoor and 3 indoor NCAA shot put titles. Then he was a stalwart nose tackle with the San Francisco 49er's for 9 years, winning three Super Bowls and going to three Pro Bowls. He is the only athlete ever to win an Olympic medal and a Super Bowl ring in the same year.

In a preview for the 2003 US high school outdoor championships, Pete Cava wrote:

"Michael and Michelle Carter are the only parent-child national record holders in US high school track and field. They may become only the third parent-child combination in US Olympic history.

"In more than a hundred years of American Olympic track and field history there have been just two parent-child combinations. The first was Alice Arden and her son Russ Hodge. Arden was a high jumper at the 1936 Olympics in Berlin while Hodge competed in the decathlon at the Tokyo Games in 1964. Next came Charlie Jenkins, a gold medallist in the 400 and 4x400 relay events of the 1956 Olympics in Melbourne. In 1992 his son, Chip, won gold as a member of the U.S. 4x400 meter relay at the Barcelona Olympics.

"Will Michael and Michelle Carter become the next members of this elite cadre? "

The answer, of course, is yes. Michelle Carter won the shot put at the US Olympic Trials Saturday with a throw of 18.85m (61-10.25).




Andra Manson and Jesse Williams go at it again








Jesse Williams
by Donna Dye at 2002
AOC in Raleigh.


In 2002, Andra Manson and Jesse Williams took turns winning the high jump in three straight high school championships: Andra won at Golden West, Jesse won at adidas Outdoor, and Andra won at US Junior Nationals. A few days later in Jamaica at the World Junior Championships, Manson went on an epic run of no misses all the way through 7-7 for a new US high school record. At the Trials, they were 1-2 again (photos below by Vic Sailer) and will go to Beijing.




Andra Manson
by John Dye at 2002
Golden West in Sacramento

| | |
| --- | --- |
| | |
Future Olympians from Texas
Diana Pickler (heptathlon) and Erica McLain (triple jump) were winners
in Lincoln NE in 2002 at the Midwest Indoor Track Classic.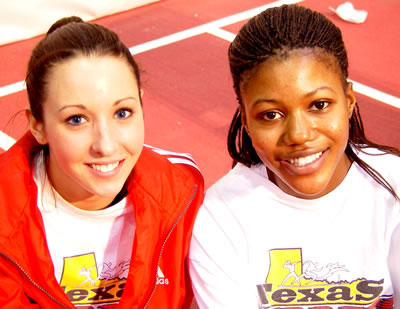 Olympic Trials index page