The Rebirth of the NY Relays
by Dr. Norb Sander
April 19, 2005 - The New York Relays will return this weekend, April 22nd-23rd to the Big Apple and what better place to start again than at the magnificent new Icahn Stadium on Randall's Island.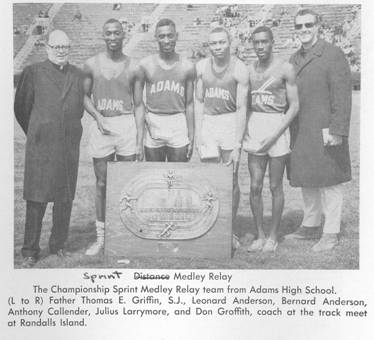 Friday afternoon and evening will be dedicated to the college section directed by the Armory's Robert Hill, who expects over 20 teams from the Northeast. The Grand Opening is scheduled for 12:00pm on Saturday, when over 2,500 high school athletes will test the Olympic quality facilities built by the Randall's Island Sports Foundation headed by Chairman Richard Davis, Karen Cohen, Aimee Boden and the tireless Pinky Keehner, who have together created one of the finest sports facilities for track and field in North America. Adrian Benepe, the New York City Commissioner of Parks and Recreation has also played a pivotal role and is responsible, in cooperation with the New York City Sports Commissioner Ken Podziba and Deputy Sports Commissioner Andy Gould, for the rebirth of the Mayor's Cup High School Series that just completed a banner championship this past Saturday at Randall's Island.

For track fans, the New York Relays has a curious history. Founded by Joe Fox of Fordham Prep and several other Catholic High School Association coaches in the late 1960s, the New York Relays first launched at Downing Stadium on Randall's Island the exact same weekend as the Penn Relays. Fox felt that New York schools were underappreciated at Penn and decided to go head to head with them. With some gentle arm-twisting, many New York City schools stayed home and the first New York Relays sponsored by the New York Daily News was a tremendous success with over 10,000 spectators in attendance. The riff with Penn was quickly healed and Penn regained its importance over the years by sending the New York Relays into the same general decline as the aging Downing Stadium itself, a sad commentary to the site of the 1936 Olympic Trials when the peerless Jesse Owens qualified for the team, later reaching Olympian mythological heights with his victories in Berlin. Several organizations including the New York Road Runners and the Metropolitan Athletic Congress tried to keep the meet afloat, but were always handicapped by crumbling facilities.
Enter the Randall's Island Sports Foundation and one of New York City's most passionate sports fans, Mayor Michael Bloomberg and in miraculous fashion we have the rebirth of the New York Relays and the renaissance of outdoor track and field in this entire region.


-Norb Sander, MD