New York Relays
legendary meet is revived at new Icahn Stadium

DyeStat on-site coverage with John Dye, Donna Dye and John Nepolitan
Day 2 Saturday - Detailed Results
Collegiate NY boys 17:26,
South Shore NY boys 41.05
beautiful sunny day at Icahn Stadium

left, South Shore runs fastest 4x100
in the US this season.



right, Chris Williams splits 4:14
on anchor for Collegiate.





Dylan Dombrowski 6101 and Marisa Kefalides 3596 win decathlon and heptathlon.




| | | |
| --- | --- | --- |
| East Side apartment towers loom across the river. | Marisa Kefalides | Dylan Dombrowski |
| | | |
| | | |
| --- | --- | --- |
| Boys | Event | Girls |
| Stephen McLean, Transit 54.84 | 400H | Leslie Njoku, Academic 1:02.21 |
| I. Weinstein, Dalton 9:49.75 | 3200/3000 | Katie Sullivan, Ursuline 10:48.31 |
| Zack Price, Warwick Valley 9:57.07 | Steeple | Kaylin Gilmartin-Donohue, White Plains 7:21.78 |
| South Shore 41.05 | 4x100 | Middle College 47.47 |
| Newburgh 3:18.88 | 4x400 | Boys and Girls 3:48.45 |
| Danbury CT 8:01.83 | 4x800 | Bronxville 9:18.79 |
| Collegiate 17:26.46 | 4x1600 | Sayville 21:20.80 |
| Iona Prep 3:29.35 | SMR | Bellport 4:04.45 |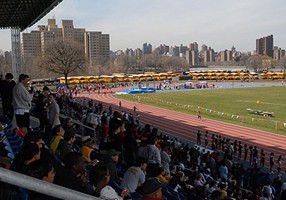 Donna on the Side - 210 photos of the sideline scenes at Icahn Stadium

Day 1 Friday
Leslie Njoku and Stephen McLean set meet and stadium records
in 400H as great weather returns to NYC
Dylan Dombrowski leads decathlon after five events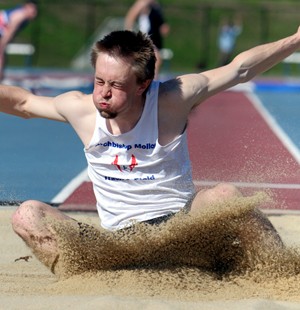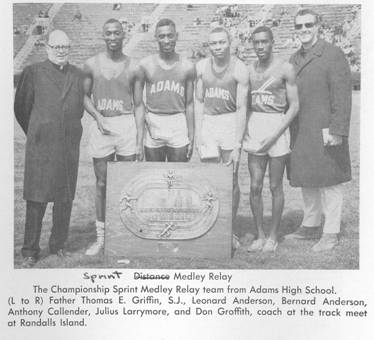 this meet has history
The New York Relays started in the 1960s at Downing Stadium on Randalls Island. More than 10,000 fans attended in a pouring rain. The meet declined along with old Downing Stadium and was discontinued. Now, with the track rebuilt as Icahn Stadium, with sparkling new stands facing Manhattan Island, the meet has been revived. See Dr. Norb Sander's history of NY Relays

More info: Randalls Island Sports Foundation - Icahn Stadium -






















3,000 athletes from 111 teams expected.

Teams

Invitational events:
4x1600, SMR, steeple, PV, Jav, DT, multi
Invitational Entries

Randall's Island is the home of top track meets again
with the construction of Icahn Stadium, facing Manhattan Island