Vena unloads 67-8 1/4 to smash NJ state shot put record

Morristown phenom also breaks his own national sophomore record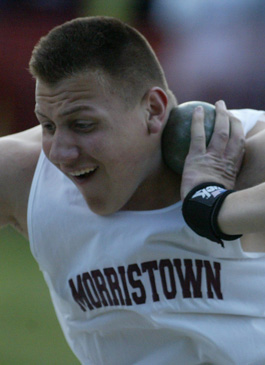 December 29, 2008- Nick Vena's assault on the shot put record book continued when the sophomore throwing sensation at Morristown bombed a New Jersey state indoor record 67-8 ¼ on his final attempt at the 29th Passarelli Invitational at Drew University in Madison.
Vena's 67-8 ¼ shattered the state indoor mark of 67-3 set in 1998 by Kevin DiGiorgio of Bayonne, and broke his own national indoor sophomore mark of 66-9 ½ that he set on Dec. 18 at the Lid Lifter meet at Drew.
Only five throwers in U.S. high school history have thrown the shot put further indoors than Vena.
``I was only five inches away from it (the state record) at my first meet, so I knew it something I could get and I was going for it,'' said Vena.
Vena said he didn't have a good feeling about the record breaking throw when he let it go.
``It didn't even feel like a great throw at first,'' said Vena. ``I felt like it kind of slipped off my fingers. But I've been working hard on my technique lately and it turned out pretty good.''
So what's the next goal for Vena?
``I'm just going to keep trying to heave it as far as I can everytime I go out there,'' he said. ```I feel I have it me to go for 68, 69 and maybe 70. I want to keep breaking the records I set.''
Vena will be in action at Drew again tomorrow when he competes at the 11th Pietrewicz Polar Bear Inviational. The meet starts at 9 a.m.
Here is Vena's series:
Preliminary round
1-62-5
2-64-5 ¾
3-64-6 ½
Finals
1-65-3 ¾
2-62-3 ¼
3-67-8 ¼