29th Passarelli Invitational

Vena breaks NJ state record in shot put with a 67-8 1/4 bomb



December 29, 2008 - Drew University, Madison, N.J.






Results

- Boys - Girls
courtesy of Morris County Track Coaches Assocation
200 meter flat track



Morristown phenom also breaks his own national sophomore record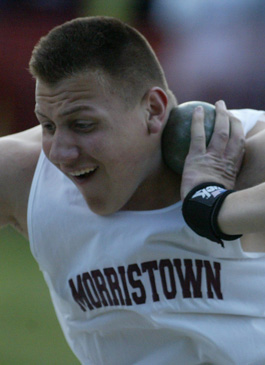 December 29, 2008- Nick Vena (photo left by John Nepolitan) continued his assault on the shot put record book when the sophomore throwing sensation at Morristown bombed a New Jersey state indoor record 67-8 ¼ on his final attempt at the 29th Passarelli Invitational at Drew University in Madison.
Vena's 67-8 ¼ shattered the state indoor mark of 67-3 set in 1998 by Kevin DiGiorgio of Bayonne, and broke his own national indoor sophomore mark of 66-9 ½ that he set on Dec. 18 at the Lid Lifter meet at Drew.
Only five throwers in U.S. high school history have thrown the shot put further indoors than Vena.
``I was only five inches away from it (the state record) at my first meet, so I knew it something I could get and I was going for it,'' said Vena.
Vena said he didn't have a good feeling about the record breaking throw when he let it go.
``It didn't even feel like a great throw at first,'' said Vena. ``I felt like it kind of slipped off my fingers. But I've been working hard on my technique lately and it turned out pretty good.''
So what's the next goal for Vena?
``I'm just going to keep trying to heave it as far as I can everytime I go out there,'' he said. ```I feel I have it me to go for 68, 69 and maybe 70. I want to keep breaking the records I set.''
Vena will be in action at Drew again tomorrow when he competes at the 11th Pietrewicz Polar Bear Inviational. The meet starts at 9 a.m.


Here is Vena's series:

Trials
1-62-5
2-64-5 ¾
3-64-6 ½

Finals
1-65-3 ¾
2-62-3 ¼
3-67-8 ¼

AM Highlights
Nick Vena of Morristown throws 67-8 1/4 to break the state shot put record of 67-3 and improve his own naional soph. record.

David Cariello of Morristown clears 13-0 in pole vault to break the meet record.
Lucas Clyne wins the 600 in 1:25.75 and runs a leg on Morris Hills' winning 4x400 (3:40.79).
Ariann Neutts of Roxbury goes 3:00.40 to break meet mark in the 1,000 and she also takes the 600 title in 1:39.17.
Briana Feldhaus anchors Randolph to wins in the shuttle hurdles (33.70) and 4x400 (4:19.21)
PM Highlights

Brigitte Mania broke the meet record in the girls' 600 (1:37.13) and anchored Hunterdon Central's winning 4x400 relay
Union boys continued its torrid start to the season by piling up five gold medals. Bayaan Oluyadi (300) and Jon Jackson (600) led the way as each won a race and ran on the victorious 4x400 relay.
Joe Oliveri of Nutley gets over 13-0 to break meet mark in the boys pole vault.
Results
Boys

AM

Licensed to MCCATS - Contractor License
                                      HY-TEK's Meet Manager 12/29/2008 02:31 PM
                     Passarelli Invitational - 12/29/2008                      
                          Drew University Madison,NJ                           
                                    Results                                    
 
Event 2  Boys 4x55 Meter Shuttle Hurdle Varsity
============================================================================
 MEET RECORD: % 31.29  2003        Hillsborough, Hillsborough                  
                       T Flores, F Andreyko, M Barberio, J Morley        
    School                                               Seed     Finals  H#
============================================================================
Finals
  1 Delbarton  'A'                                                 32.84   1 
     1) Calotta, Nick SR                2) Rivera, Francis SR             
     3) Feeley, Brendan SR              4) Benvenuti, Mike SR             
  2 Whippany Park  'A'                                             33.26   2 
     1) Wang, Jimmy SR                  2) Mangino, Nick SR               
     3) Fritz, Mike SO                  4) Barnes, Stephen SR             
  3 Morris Hills  'A'                                              34.80   1 
     1) Clyne, Lucas SR                 2) Kimble, Matt SR                
     3) McClain, Eddie SR               4) Samsel, Adrian FR              
  4 Morristown  'A'                                                37.14   2 
     1) Cariello, David SR              2) Keefer, Zach SR                
     3) Ferm, Michael SO                4) Leon, Jesus SO                 
  5 Montville  'A'                                                 41.28   3 
     1) Meytrott, Hunter JR             2) Gamba, Jeff SO                 
     3) Schalles, Luke FR               4) Liu, Alex FR                   
 
Event 3  Boys 3200 Meter Run Varsity
=========================================================================
 MEET RECORD: % 9:21.82  12/31/2005  Ben Massam, Chatham                       
    Name                    Year School                  Seed     Finals 
=========================================================================
  1 Franklin, Michael         SR Mendham                        10:03.33  
  2 Savercool, Ryan           SR Mendham                        10:24.56  
  3 Farag, Hamer              JR Morristown                     10:26.38  
  4 Wenrich, William          JR Morristown                     10:27.46  
  5 Barraro, Joseph           SR Morris Hills                   10:31.85  
  6 Cunningham, Connor        SR Delbarton                      10:32.95  
  7 Schneider, Chris          JR Mount Olive                    10:40.97  
  8 Garrell, Jeremy           SO Morristown                     10:45.96  
  9 Miller, Zach              SO Mount Olive                    10:51.31  
 10 Acevedo, Hector           SR Jefferson                      11:08.90  
 11 Singh, Rajinder           SO Par Hills                      11:09.61  
 12 Savage, Tim               JR Morristown                     11:24.02  
 13 Caproni, Steve            SO Whippany Park                  11:29.81  
 14 Bystrak, Matthew          SO Jefferson                      11:42.56  
 
Event 4  Boys 1600 Meter Run Varsity
=========================================================================
 MEET RECORD: % 4:29.07  12/31/2007  Pat Schellberg, Delbarton                 
    Name                    Year School                  Seed     Finals 
=========================================================================
  1 Schellberg, Pat           JR Delbarton                       4:30.12  
  2 Herridge, Christian       SR Mendham                         4:47.02  
  3 Flyer, Kyle               JR Madison                         4:51.04  
  4 Orchard, Keith            SR Morris Hills                    4:52.15  
  5 Johannessen, Josh         SR Mount Olive                     4:54.85  
  6 Weiss, Jonathan           JR Mount Olive                     4:55.93  
  7 Baker, Josh               SR Chatham                         4:58.64  
  8 Gallagher, Ethan          JR Par Hills                       5:00.88  
  9 Bongo, Christopher        SR Morris Hills                    5:02.31  
 10 Gluck, Phillip            JR Morristown                      5:08.03  
 11 Singh, Sukhdeep           SO Par Hills                       5:08.17  
 12 Palacio, nthony           JR Whippany Park                   5:10.83  
 13 Fischlein, Ryan           11 Roxbury                         5:13.17  
 14 MacDonald, Matthew        JR Jefferson                       5:14.90  
 15 Wagner, Steve             SO Mount Olive                     5:15.69  
 16 Smullen, Richard          JR Mendham                         5:16.31  
 17 Moodie, Justin            SR Chatham                         5:16.34  
 18 Lichtenberg, Sam          10 Roxbury                         5:16.75  
 19 Baker, Charlie            SO Chatham                         5:17.78  
 20 Lanza, Michael            JR Mount Olive                     5:18.47  
 21 Hardie, Joseph            SR Par Hills                       5:20.44  
 22 Caproni, Robert           SR Whippany Park                   5:21.21  
 23 Kaiser, Michail           SO Chatham                         5:25.05  
 24 McLoughlin, Michael       JR Jefferson                       5:25.18  
 25 Potkay, Kyle              SO Whippany Park                   5:25.33  
 26 Richman, Jon              SO Morris Hills                    5:25.52  
 27 Artiglere, Michael        SO Mount Olive                     5:25.78  
 28 Lis, Eric                 SO Dover                           5:25.87  
 29 Ceres, Kyle               SR Madison                         5:25.89  
 30 Schenk, Darren            SO Montville                       5:25.91  
 31 Cook, Peter               SR Chatham                         5:28.45  
 32 Jacobs, Jamie             JR Morris Catholic                 5:29.40  
 33 O'Shea, Shawn             SO Morristown                      5:33.28  
 34 Khouri, Oliver            SR Morristown                      5:35.52  
 35 Quigley, Matt             JR Morris Catholic                 5:40.97  
 36 Hull, Ryan                SO Whippany Park                   5:41.98  
 37 Riegler, Don              11 Roxbury                         5:42.44  
 38 Rewick, Joseph            SO Morris Hills                    5:47.46  
 39 Melchionda, Ted           SO Whippany Park                   5:50.08  
 
Event 7  Boys 1600 Meter Run Freshmen
=========================================================================
 MEET RECORD: % 4:52.70  1997        Pete Cavalusso, Randolph                  
    Name                    Year School                  Seed     Finals 
=========================================================================
  1 Ehmann, Peter             FR Mendham                         5:08.02  
  2 Pacelli, Vincent          FR Delbarton                       5:14.91  
  3 Metzler, Robby            FR Mendham                         5:19.61  
  4 Fayerman, Alexander       FR Morris Hills                    5:22.07  
  5 Malatesta, Anthony        FR Chatham                         5:24.71  
  6 Patterson, Nick           FR Morris Hills                    5:26.52  
  7 Enterline, Austin         FR Jefferson                       5:29.67  
  8 Nemeth, Dan               FR Mount Olive                     5:33.12  
  9 Ilnitzki, Steve           FR Mendham                         5:35.29  
 10 Parrillo, Michael         FR Whippany Park                   5:37.28  
 11 Chiusano, Daniel          FR Morris Hills                    5:41.01  
 12 Whelan, Connor            FR Morris Hills                    5:43.01  
 13 Rice, Jim                 FR Morris Catholic                 5:45.28  
 14 Messing, Adam             FR Morristown                      5:45.42  
 15 Shah, Hemal               FR Morris Hills                    5:47.26  
 16 Freeman, Luke             FR Chatham                         6:12.11  
 17 Frei, Raymond             SO Jefferson                       6:13.03  
 18 Ebel, Bobbie              FR Par Hills                       6:15.86  
 19 Grasso, Ryan              FR Whippany Park                   6:19.06  
 20 Cabuhay, Ramoun           FR Morristown                      6:19.30  
 21 Farag, Ahmed              FR Morristown                      6:24.84  
 22 Koppenol, Spencer         FR Madison                         6:30.01  
 
Event 8  Boys 55 Meter Dash Varsity
============================================================================
 MEET RECORD: %  6.64  12/31/2005  Latif Brewer, Union                         
    Name                    Year School                  Seed    Prelims  H#
============================================================================
Preliminaries
  1 McGee, Alex               JR Whippany Park                      6.89q  1 
  2 Tamburello, Stephen       SR Mendham                            7.08q  1 
  3 Ramirez, Klancy           SR Dover                              7.09q  2 
  4 Wang, Jimmy               SR Whippany Park                      7.09q  3 
  5 Kimble, Matt              SR Morris Hills                       7.13q  2 
  6 Mitchell, Lilton          JR Morristown                         7.14q  2 
  7 Lewis, Chris              SO Morristown                         7.20q  7 
  8 DiSalvio, Dan             SR Chatham                            7.22   3 
  9 Riccardi, Brian           FR Mendham                            7.22   2 
 10 Briand, Gerard            JR Delbarton                          7.23   3 
 11 Hedinger, Robert          JR Morristown                         7.23   4 
 12 Thibault, Alec            FR Morristown                         7.24   3 
 13 Fritz, Mike               SO Whippany Park                      7.26   4 
 14 Rubenstein, Joshua        JR Par Hills                          7.27   2 
 15 Sternlicht, Michael       FR Morris Hills                       7.27   2 
 16 Bonanno, Peter            SR Mount Olive                        7.29   1 
 17 Gonzalez, Dawris          JR Dover                              7.34   1 
 18 castellanos, franklin     JR Dover                              7.37   4 
 19 Calvanelli, Peter         JR Delbarton                          7.38   4 
 20 Haye, Larry               JR Chatham                            7.40   5 
 21 Meytrott, Hunter          JR Montville                          7.41   5 
 22 Labracio, Pasquale        JR Whippany Park                      7.41   6 
 23 Ngai, Stanley             SR Par Hills                          7.42   4 
 24 Briand, Alphonse          SR Delbarton                          7.43   2 
 25 Shah, Shakel              JR Morris Hills                       7.44   1 
 26 Granade, Mike             JR Morristown                         7.44   5 
 27 Digennaro, Mark           JR Morris Hills                       7.47   1 
 28 Lin, Jon                  SR Whippany Park                      7.51   4 
 29 Pascual, Lawrence         JR Montville                          7.54   6 
 30 Ondish, Christopher       SO Jefferson                          7.57   3 
 31 Zuleta, David             FR Dover                              7.57   7 
 32 Valdebenito, Leonardo     JR Morris Hills                       7.57   3 
 33 Petrillo, John            JR Mendham                            7.59   7 
 34 Rios, Juan                FR Mount Olive                        7.60   7 
 35 Cosgrove, John            10 Roxbury                            7.65   4 
 36 Chen, Jesse               SR Chatham                            7.73   6 
 37 Cassilo, Stephen          JR Chatham                            7.75   6 
 38 Diaz, Federico            SR Dover                              7.80   6 
 39 Soto, Richard             JR Par Hills                          7.82   5 
 40 Pichalski, Theo           10 Roxbury                            7.86   3 
 41 Schillizzi, Matthew       SR Jefferson                          7.89   5 
 42 Dean, Timothy             SR Mendham                            7.93   6 
 43 Gatewood, Blair           JR Chatham                            7.94   6 
 44 Lindert, Sean             JR Montville                          7.98   7 
 45 Gil, Sebastian            JR Madison                            7.99   7 
 46 Cerda, Andrew             JR Mount Olive                        8.00   7 
 47 Theriault, Justin         11 Roxbury                            8.06   1 
 48 Alfaro, Steven            SO Mount Olive                        8.10   5 
 49 Hwang, Richard            JR Par Hills                          8.46   5 
 
Event 8  Boys 55 Meter Dash Varsity
=========================================================================
 MEET RECORD: %  6.64  12/31/2005  Latif Brewer, Union                         
    Name                    Year School               Prelims     Finals 
=========================================================================
Finals
  1 McGee, Alex               JR Whippany Park           6.89       6.86  
  2 Lewis, Chris              SO Morristown              7.20       6.96  
  3 Ramirez, Klancy           SR Dover                   7.09       7.04  
  4 Kimble, Matt              SR Morris Hills            7.13       7.08  
  5 Wang, Jimmy               SR Whippany Park           7.09       7.08  
  6 Mitchell, Lilton          JR Morristown              7.14       7.13  
  7 Tamburello, Stephen       SR Mendham                 7.08       7.14  
 
Event 10  Boys 55 Meter Dash Junior Varsity
============================================================================
 MEET RECORD: %  7.10  12/31/2005  Anthony Chierici, Montville                 
    Name                    Year School                  Seed     Finals  H#
============================================================================
  1 Iossa, Michael            JR Chatham                            7.47   1 
  2 Dilorenzo, Paolo          SR Morris Hills                       7.59   2 
  3 Davis, Lachlan            SO Chatham                            7.62   2 
  4 Orrala, Jonathan          SR Dover                              7.65   8 
  5 Gonzalez, Juan            FR Dover                              7.68   3 
  6 Milagrossa, Norman        SO Morristown                         7.71   4 
  7 Griffith, Robert          JR Morristown                         7.73   3 
  8 Russo, Michael            SO Jefferson                          7.77   1 
  9 Rodriguez, Chris          SO Mendham                            7.77   3 
 10 Papili, Michael           SO Mendham                            7.79   2 
 11 Basso, Peter              SO Chatham                            7.83   3 
 12 Mangino, Dom              SO Whippany Park                      7.83   5 
 13 Lobosco, Nick             12 Roxbury                            7.83   1 
 14 Stasiukevicius, Andrew    SO Chatham                            7.85   2 
 15 Sheehan, Ryan             FR Morris Catholic                    7.88   4 
 16 Hernandez, Pablo           9 Roxbury                            7.90   3 
 17 Leon, Jesus               SO Morristown                         7.91   4 
 18 Ciccone, Tom              JR Whippany Park                      7.91   5 
 19 LeMaire, Greg             JR Jefferson                          7.94   2 
 19 Yang, John                FR Madison                            7.94   4 
 21 Kuttner, Matt             SO Mendham                            7.96   6 
 22 Finelli, Jimmy            JR Madison                            7.98   5 
 23 Heitkamp, Patrick         JR Mount Olive                        8.05   4 
 23 Liu, Alex                 FR Montville                          8.05   6 
 25 Driesen, Kevin            SR Mendham                            8.09   6 
 26 Zieder, Ian               SO Morris Hills                       8.09   3 
 27 Noren, Vince               9 Roxbury                            8.09   3 
 28 Donegan, Sean             11 Roxbury                            8.13   1 
 29 Shah, Vivek               FR Morris Hills                       8.14   2 
 30 Kraemer, Daniel           SO Jefferson                          8.14   1 
 31 Wooster, Jason            JR Morris Hills                       8.15   1 
 32 Scudiere, Bryan           JR Morris Hills                       8.16   1 
 33 Hilbert, Doug             JR Whippany Park                      8.16   7 
 34 Wang, David               SO Whippany Park                      8.17   7 
 35 Mudgett, Andrew           SO Chatham                            8.24   5 
 36 Frei, Raymond             SO Jefferson                          8.27   2 
 37 Gamba, Jeff               SO Montville                          8.27   6 
 38 Ferm, Michael             SO Morristown                         8.30   7 
 39 Ashnault, Brian           SO Mendham                            8.38   6 
 40 Vaccarella, Aidan         FR Montville                          8.38   6 
 41 Reyes, Alex               SO Mount Olive                        8.39   5 
 42 Garcia, Ed                JR Mount Olive                        8.40   5 
 43 Bianco, Micael            FR Mendham                            8.44   7 
 44 Alvarado, Dario           FR Dover                              8.57   7 
 45 Shrestha, Ravi            SO Mount Olive                        8.57   4 
 46 Johnson, Brandon          SO Mount Olive                        8.63   4 
 47 Schalles, Luke            FR Montville                          8.64   7 
 48 Nackash, Yonni            FR Montville                          8.64   7 
 49 Fairfax, Blaise           SO Jefferson                          8.65   5 
 50 Pineda, Jonathan          SR Dover                              8.69   6 
 51 Rodriguez, Eddy           SO Dover                              8.83   8 
 52 Masker, Steven            SO Par Hills                          9.02   8 
 53 Levy, Marc                10 Roxbury                            9.18   8 
 54 Ennis, Danny              JR Madison                            9.31   8 
 55 Fullmore, Garrett         FR Par Hills                          9.60   8 
 
Event 12  Boys 600 Meter Run Varsity
============================================================================
 MEET RECORD: % 1:24.21  12/31/2005  Jason Apwah, Roxbury                      
    Name                    Year School                  Seed     Finals  H#
============================================================================
  1 Clyne, Lucas              SR Morris Hills                    1:25.75   1 
  2 Schellberg, Pat           JR Delbarton                       1:26.57   1 
  3 Chiusano, Vinny           SR Morris Hills                    1:26.58   1 
  4 Swersky, Robert           JR Par Hills                       1:30.30   2 
  5 alvarado, alexander       JR Dover                           1:30.47   1 
  6 Malandrino, Joe           10 Roxbury                         1:30.57   1 
  7 Messina, Erik             SR Mendham                         1:31.36   1 
  8 Smoot, Terell             SR Morristown                      1:32.22   3 
  9 Myers, Chris              SR Chatham                         1:32.60   1 
 10 Keefer, Zach              SR Morristown                      1:32.94   1 
 11 Clavijo, Dan              SR Whippany Park                   1:32.99   2 
 12 Kearney, Daniel           JR Delbarton                       1:33.34   2 
 13 Daggumati, Srihari        SO Par Hills                       1:33.37   2 
 14 Benvenuti, Mike           SR Delbarton                       1:33.41   2 
 15 Brueno, Michael           JR Whippany Park                   1:33.46   2 
 16 Sell, Mark                SR Morristown                      1:33.85   2 
 17 Hogan, Kevin              SR Delbarton                       1:34.04   2 
 18 Nguyen, Lap               SR Morris Hills                    1:34.26   2 
 19 Lee, Ben                  12 Roxbury                         1:34.36   1 
 20 Lopez, Juan               SR Madison                         1:36.78   3 
 21 Steinmetz, Jakob          JR Madison                         1:37.15   3 
 22 Raskin, Paul              SR Chatham                         1:38.11   3 
 23 Burtis, Ryan              10 Roxbury                         1:39.28   3 
 24 Lanza, Michael            JR Mount Olive                     1:41.34   3 
 25 Schunk, Alec              SO Morristown                      1:42.76   4 
 26 Diaz, Federico            SR Dover                           1:43.11   4 
 27 Bentrovato, David         SR Whippany Park                   1:43.22   4 
 28 Wagner, Steve             SO Mount Olive                     1:43.30   4 
 29 Phelan, Mike              JR Whippany Park                   1:43.92   4 
 30 Jacobs, Jamie             JR Morris Catholic                 1:44.26   4 
 31 Reed, Byron               SO Mount Olive                     1:47.56   3 
 
Event 14  Boys 600 Meter Run Junior Varsity
============================================================================
 MEET RECORD: % 1:33.13  12/31/2005  Anthony Chierici, Montville               
    Name                    Year School                  Seed     Finals  H#
============================================================================
  1 Irula, Rafael             SR Morris Hills                    1:36.80   1 
  2 Schrack, Connor           JR Morris Hills                    1:37.50   1 
  3 Dilorenzo, Paolo          SR Morris Hills                    1:37.64   1 
  4 Rennalls, Scott           FR Mount Olive                     1:37.68   1 
  5 Lobosco, Nick             12 Roxbury                         1:37.75   1 
  6 Bangs, Stephen            SO Chatham                         1:38.23   1 
  7 Simon, Tim                SO Whippany Park                   1:38.31   1 
  8 Enterline, Travis         JR Jefferson                       1:39.82   3 
  9 Wygera, Walter            SO Delbarton                       1:40.39   2 
 10 Rinaldi, Adam             SO Whippany Park                   1:40.74   2 
 11 Zuleta, David             FR Dover                           1:41.47   2 
 12 Kancans, Kristap          JR Chatham                         1:42.83   2 
 13 Campbell, Daniel          SO Mount Olive                     1:43.24   2 
 14 Coyle, Chris              JR Mount Olive                     1:43.36   2 
 15 Gupta, Sachin             SO Mount Olive                     1:43.42   1 
 16 Todd, Malcolm             SO Dover                           1:43.94   3 
 17 Hilll, Brendan            SO Morris Hills                    1:44.50   1 
 18 Donegan, Sean             11 Roxbury                         1:44.57   2 
 19 Wahba, Dustin             FR Morris Hills                    1:45.03   2 
 20 Uranyi, Kevin             FR Jefferson                       1:45.95   3 
 21 Keefer, Aidan             FR Morristown                      1:46.33   4 
 22 Hurt, Robert              SO Chatham                         1:46.92   3 
 23 Ferm, Michael             SO Morristown                      1:47.36   4 
 24 Pacelli, Vincent          FR Delbarton                       1:47.68   2 
 25 Wang, David               SO Whippany Park                   1:48.23   3 
 26 Parrillo, Michael         FR Whippany Park                   1:48.95   3 
 27 Elsman, Ryan              JR Delbarton                       1:48.98   3 
 28 Theriault, Justin         11 Roxbury                         1:49.27   3 
 29 Steinmetz, Austin         FR Madison                         1:49.41   4 
 30 Stephan, Christian        SR Chatham                         1:49.42   3 
 31 Kanouse, Andrew           JR Par Hills                       1:49.69   4 
 32 Burns, Calvin             JR Chatham                         1:51.91   4 
 33 Hundal, Manpreet          SO Morristown                      1:54.10   5 
 34 Nackash, Yonni            FR Montville                       1:57.53   5 
 35 Farag, Ahmed              FR Morristown                      1:57.67   4 
 36 Cook, Brian               JR Chatham                         1:58.51   4 
 37 Ebel, Bobbie              FR Par Hills                       1:59.02   5 
 38 Casadevall, Andrew        JR Morristown                      2:02.41   5 
 39 Tyler, Justin             11 Roxbury                         2:07.27   5 
 40 Redmond, Sean             SR Madison                         2:16.47   5 
 
Event 15  Boys 300 Meter Dash Varsity
============================================================================
 MEET RECORD: % 36.75  12/29/2003  Reggie Berry, Morristown                    
    Name                    Year School                  Seed     Finals  H#
============================================================================
  1 Gilson, Aeron             JR Mount Olive                       37.12   1 
  2 Persson, Kevin            SR Mount Olive                       37.78   1 
  3 Robinson, Jack            SR Mendham                           38.12   1 
  4 Tamburello, Stephen       SR Mendham                           38.70   1 
  5 Gonzalez, Dawris          JR Dover                             39.43   2 
  6 Swersky, Robert           JR Par Hills                         39.60   2 
  7 Ramirez, Klancy           SR Dover                             39.89   3 
  8 Valdebenito, Leonardo     JR Morris Hills                      40.27   3 
  9 Mendonca, Matthew         SR Mendham                           40.38   2 
 10 Riccardi, Brian           FR Mendham                           40.44   1 
 11 Lin, Jon                  SR Whippany Park                     40.56   3 
 12 Mead, Ian                 SR Mendham                           40.93   2 
 13 Rivera, Francis           SR Delbarton                         40.97   8 
 14 Shah, Shakel              JR Morris Hills                      41.08   3 
 15 Ngai, Stanley             SR Par Hills                         41.14   4 
 16 Calotta, Nick             SR Delbarton                         41.22   5 
 17 Davis, Lachlan            SO Chatham                           41.38   9 
 18 Calvanelli, Peter         JR Delbarton                         41.58   8 
 19 Nguyen, Lap               SR Morris Hills                      41.70   3 
 20 Labracio, Pasquale        JR Whippany Park                     41.72   4 
 21 Rios, Juan                FR Mount Olive                       41.98   2 
 22 Briand, Gerard            JR Delbarton                         42.33   8 
 23 Sternlicht, Michael       FR Morris Hills                      42.37   2 
 24 Stasiukevicius, Andrew    SO Chatham                           42.66   9 
 25 Gonzalez, Juan            FR Dover                             42.78   6 
 26 Rubenstein, Joshua        JR Par Hills                         42.81   4 
 27 Pichalski, Theo           10 Roxbury                           42.92   6 
 28 Orrala, Jonathan          SR Dover                             43.03   4 
 29 Demarco, Chris            SO Whippany Park                     43.04   9 
 30 Levine, David             SO Morristown                        43.08   6 
 31 Haye, Larry               JR Chatham                           43.18   7 
 32 Manuzzi, PJ               JR Whippany Park                     43.26   8 
 33 Meytrott, Hunter          JR Montville                         43.28   5 
 34 Soto, Richard             JR Par Hills                         43.39   6 
 35 Hernandez, Pablo           9 Roxbury                           43.66   5 
 36 Finelli, Jimmy            JR Madison                           44.59   6 
 37 Heitkamp, Patrick         JR Mount Olive                       44.64   4 
 38 Donegan, Sean             11 Roxbury                           44.65   8 
 39 Pascual, Lawrence         JR Montville                         44.75   8 
 40 Alfaro, Steven            SO Mount Olive                       44.81   4 
 41 Meyer, Jack               SO Chatham                           44.88   9 
 42 Russo, Michael            SO Jefferson                         45.28   9 
 43 Hwang, Richard            JR Par Hills                         45.70   5 
 44 Vaccarella, Aidan         FR Montville                         45.91   7 
 45 Liu, Alex                 FR Montville                         46.48   7 
 46 Steinmetz, Austin         FR Madison                           46.54   7 
 47 Noren, Vince               9 Roxbury                           47.65   6 
 48 Schalles, Luke            FR Montville                         49.22   7 
 49 Bonilla, Juan             SO Dover                             49.45   7 
 -- Ondish, Christopher       SO Jefferson                            DQ   3 
 -- Raskin, Paul              SR Chatham                              DQ   5 
 
Event 18  Boys 1000 Meter Run Varsity
=========================================================================
 MEET RECORD: % 2:35.94  2001        Brad Schmidt, Dover                       
    Name                    Year School                  Seed     Finals 
=========================================================================
  1 Farag, Hamer              JR Morristown                      2:45.77  
  2 Hendrickson, Tyler        SR Morris Hills                    2:48.76  
  3 Gallagher, Ethan          JR Par Hills                       2:50.85  
  4 Messina, Erik             SR Mendham                         2:52.17  
  5 Orihuela, Chris           JR Mount Olive                     2:53.08  
  6 Perkins, Blake            JR Mendham                         2:54.10  
  7 Zitelli, Greg             JR Madison                         2:56.96  
  8 Schneider, Chris          JR Mount Olive                     2:57.90  
  9 Carrara, Richard          JR Mendham                         2:58.70  
 10 Garrell, Jeremy           SO Morristown                      2:59.82  
 11 Keyes, Albert             JR Par Hills                       3:01.15  
 12 Wygera, Walter            SO Delbarton                       3:01.31  
 13 Clavijo, Dan              SR Whippany Park                   3:01.74  
 14 Mariani, Erik             SR Mendham                         3:02.21  
 15 Brueno, Michael           JR Whippany Park                   3:02.34  
 16 Palacio, nthony           JR Whippany Park                   3:02.93  
 17 Daggumati, Srihari        SO Par Hills                       3:03.23  
 18 Wenrich, William          JR Morristown                      3:03.39  
 19 Baker, Josh               SR Chatham                         3:04.67  
 20 Kveglis, Bryan            JR Mount Olive                     3:04.73  
 21 Singh, Rajinder           SO Par Hills                       3:05.13  
 22 Fischlein, Ryan           11 Roxbury                         3:05.66  
 23 Simon, Tim                SO Whippany Park                   3:06.76  
 24 Lichtenberg, Sam          10 Roxbury                         3:07.83  
 25 Singh, Sukhdeep           SO Par Hills                       3:09.39  
 26 Senjalia, Abhishek        SR Morris Hills                    3:10.03  
 27 Hardie, Joseph            SR Par Hills                       3:11.42  
 28 Schenk, Darren            SO Montville                       3:12.18  
 29 Richman, Jon              SO Morris Hills                    3:13.68  
 30 Lis, Eric                 SO Dover                           3:14.46  
 31 Lindert, Sean             JR Montville                       3:16.68  
 32 Ceres, Kyle               SR Madison                         3:16.99  
 33 Economy, Nikolas          SR Madison                         3:18.23  
 34 Joss, Alex                JR Mount Olive                     3:19.28  
 35 Rinaldi, Adam             SO Whippany Park                   3:20.92  
 36 Quigley, Matt             JR Morris Catholic                 3:23.20  
 37 Riegler, Don              11 Roxbury                         3:24.24  
 38 somma, anthony            SR Dover                           3:24.74  
 39 Rice, Jim                 FR Morris Catholic                 3:26.97  
 40 Lewis, Chris              SO Morristown                      3:37.65  
 41 Hopkins, Kevin            SO Mount Olive                     3:37.67  
 42 Tyler, Justin             11 Roxbury                         3:58.04  
 
Event 21  Boys 4x400 Meter Relay Varsity
============================================================================
 MEET RECORD: % 3:33.22  1997        , Elizabeth                               
    School                                               Seed     Finals  H#
============================================================================
  1 Morris Hills  'A'                                            3:40.79   1 
     1) Chiusano, Vinny SR              2) Clyne, Lucas SR                
     3) Hendrickson, Tyler SR           4) Digennaro, Mark JR             
  2 Mount Olive  'A'                                             3:43.07   1 
     1) Persson, Kevin SR               2) Orihuela, Chris JR             
     3) Bonanno, Peter SR               4) Gilson, Aeron JR               
  3 Morristown  'A'                                              3:44.70   1 
     1) Farag, Hamer JR                 2) Schunk, Alec SO                
     3) Keefer, Zach SR                 4) Smoot, Terell SR               
  4 Dover  'A'                                                   3:46.31   1 
     1) Ramirez, Klancy SR              2) alvarado, alexander JR         
     3) castellanos, franklin JR        4) Gonzalez, Dawris JR            
  5 Delbarton  'A'                                               3:46.39   1 
     1) Schellberg, Pat JR              2) Kearney, Daniel JR             
     3) Hogan, Kevin SR                 4) Rivera, Francis SR             
  6 Mendham  'A'                                                 3:47.08   1 
     1) Mendonca, Matthew SR            2) Barsa, Joey JR                 
     3) Picard, Jeffrey SR              4) Tamburello, Stephen SR         
  7 Roxbury  'A'                                                 3:51.46   1 
     1) Malandrino, Joe 10              2) Lobosco, Nick 12               
     3) Cosgrove, John 10               4) Lee, Ben 12                    
  8 Whippany Park  'A'                                           3:51.56   1 
     1) Wang, Jimmy SR                  2) Fritz, Mike SO                 
     3) McGee, Alex JR                  4) Lin, Jon SR                    
  9 Madison  'A'                                                 3:57.13   2 
     1) Lopez, Juan SR                  2) Zitelli, Greg JR               
     3) Steinmetz, Jakob JR             4) Flyer, Kyle JR                 
 10 Chatham  'A'                                                 4:02.22   1 
     1) Davis, Lachlan SO               2) Chen, Jesse SR                 
     3) Bangs, Stephen SO               4) Raskin, Paul SR                
 11 Morristown  'B'                                              4:03.68   1 
     1) Wenrich, William JR             2) Mitchell, Lilton JR            
     3) Savage, Tim JR                  4) Sell, Mark SR                  
 12 Mendham  'B'                                                 4:04.61   2 
     1) Dean, Timothy SR                2) Smith, Greg JR                 
     3) Petrillo, John JR               4) Papili, Michael SO             
 13 Mount Olive  'B'                                             4:05.17   2 
     1) Weiss, Jonathan JR              2) Rennalls, Scott FR             
     3) Reed, Byron SO                  4) Johannessen, Josh SR           
 14 Dover  'B'                                                   4:08.53   2 
     1) Zuleta, David FR                2) Diaz, Federico SR              
     3) Gonzalez, Juan FR               4) Orrala, Jonathan SR            
 15 Chatham  'B'                                                 4:13.17   2 
     1) Moore, Coleman SO               2) Baker, Charlie SO              
     3) Stasiukevicius, Andrew SO       4) Mudgett, Andrew SO             
 16 Roxbury  'B'                                                 4:13.56   2 
     1) Burtis, Ryan 10                 2) Pichalski, Theo 10             
     3) Theriault, Justin 11            4) Hernandez, Pablo 9             
 17 Morristown  'C'                                              4:14.34   2 
     1) Thibault, Alec FR               2) Farag, Ahmed FR                
     3) Keefer, Aidan FR                4) Cabuhay, Ramoun FR             
 18 Mendham  'C'                                                 4:19.10   2 
     1) Rodriguez, Chris SO             2) Meyers, Casey FR               
     3) Driesen, Kevin SR               4) Ashnault, Brian SO             
 19 Chatham  'C'                                                 4:34.51   2 
     1) Jennings, Robert FR             2) Freeman, Luke FR               
     3) Caggiano, Tim FR                4) Malatesta, Anthony FR          
 -- Dover  'C'                                                        DQ   2 
     1) Alvarado, Dario FR              2) Bonilla, Juan SO               
     3) Todd, Malcolm SO                4) Rodriguez, Eddy SO             
 
Event 23  Boys Shot Put Varsity
=========================================================================
 MEET RECORD: % 57-00  1981        Scott Vrabel, Elizabeth                     
    Name                    Year School                  Seed     Finals 
=========================================================================
  1 Vena, Nicholas            SO Morristown                     67-08.25% 
  2 McClain, Eddie            SR Morris Hills                   52-00.75  
  3 Holman, Jordan            12 Roxbury                        47-05.50  
  4 DiGiacomo, Nick           JR Par Hills                      46-03.50  
  5 Mehlig, Andrew            SR Mendham                        42-11.00  
  6 Beringer, Sean            SR Mendham                        41-06.50  
  7 Krake, Anthony            SR Whippany Park                  41-01.75  
  8 Gallagher, Matthew        JR Morristown                     39-08.00  
  9 Scudiere, Bryan           JR Morris Hills                   39-02.75  
 10 Ulinski, Albert           SO Morris Hills                   37-10.75  
 11 Wright, Tyler             JR Mount Olive                    37-07.50  
 12 Wooster, Jason            JR Morris Hills                   37-02.75  
 13 Caravaglia, Paul          SO Morristown                     36-10.50  
 14 Blewett, Tyler            12 Roxbury                        36-07.00  
 15 Salvatore, Matt           SR Whippany Park                  35-11.50  
 16 Busch, Robert             JR Montville                      34-07.75  
 17 Kautzmann, Robert         SO Delbarton                      33-09.75  
 18 Ciccone, Matt             JR Whippany Park                  32-09.75  
 19 Schofield, Michael        JR Mendham                        32-04.00  
 20 Lin, Kevin                SO Whippany Park                  32-03.50  
 21 Kristiansen, Pete         JR Delbarton                      32-02.00  
 22 Mura, Alex                10 Roxbury                        31-08.75  
 23 Victoria, Chris           SO Mount Olive                    31-06.00  
 23 Lolatte, Rob              SR Whippany Park                  31-06.00  
 25 Veech, Mark               JR Par Hills                      30-09.50  
 26 Higgins, David            JR Morristown                     30-00.00  
 27 Boemio, Nick              10 Roxbury                        28-11.25  
 28 Blumstein, Scott          JR Morristown                     27-11.00  
 29 Feldman, Chris            SO Mount Olive                    27-04.75  
 30 Scalera, Gregory          SO Delbarton                      26-10.00  
 31 Senft, Craig              SO Mendham                        25-06.00  
 32 Diaz, Federico            SR Dover                          25-03.50  
 33 Appel, Troy               SO Mendham                        22-08.00  
 34 LeSeur, Steve             10 Roxbury                        22-00.75  
 -- Wendt, Jim                SO Morris Hills                         ND  
 
Event 25  Boys High Jump Varsity
=========================================================================
 MEET RECORD: %  6-08  1991        Mike Lofton, North Hunterdon                
    Name                    Year School                  Seed     Finals 
=========================================================================
  1 Hengst, Max               SR Mendham                         5-08.00  
  2 Ferguson, William         JR Jefferson                      J5-08.00  
  3 McGee, Alex               JR Whippany Park                   5-06.00  
  3 Wang, Jimmy               SR Whippany Park                   5-06.00  
  3 Briand, Gerard            JR Delbarton                       5-06.00  
  6 Steinmetz, Jakob          JR Madison                         5-03.00  
  6 Iossa, Michael            JR Chatham                         5-03.00  
  8 Lobello, Vincent          SR Whippany Park                  J5-03.00  
  8 VanderPloeg, Bryan        JR Jefferson                      J5-03.00  
  8 Calotta, Nick             SR Delbarton                      J5-03.00  
 -- Mudgett, Andrew           SO Chatham                              NH  
 -- Rafferty, Bobby           SR Mendham                              NH  
 -- Flyer, Kyle               JR Madison                              NH  
 -- Fritz, Mike               SO Whippany Park                        NH  
 -- Calvanelli, Peter         JR Delbarton                            NH  
 -- Bongo, Christopher        SR Morris Hills                         NH  
 -- Samsel, Adrian            FR Morris Hills                         NH  
 -- Basso, Peter              SO Chatham                              NH  
 -- Alfaro, Steven            SO Mount Olive                          NH  
 -- Gatewood, Blair           JR Chatham                              NH  
 -- Scudiere, Bryan           JR Morris Hills                         NH  
 
Event 27  Boys Shot Put 4k Freshmen
=========================================================================
 MEET RECORD: % 44-09.50  1997        Matt Maitilasso, Morris Knolls           
    Name                    Year School                  Seed     Finals 
=========================================================================
  1 Bourgeois, Donnyell       FR Whippany Park                  43-02.25  
  2 Sternlicht, Michael       FR Morris Hills                   37-09.75  
  3 Alvine, Don               FR Delbarton                      36-07.75  
  4 Parisi, Robert            FR Mount Olive                    34-06.25  
  5 Yang, John                FR Madison                        32-01.50  
  6 Martinez, Ricky            9 Roxbury                        30-06.50  
  7 Goldstein, Jeremy         FR Whippany Park                  28-08.75  
  8 Southward, Andrew         FR Morris Hills                   27-10.25  
  9 Amspacher, Tyler          FR Delbarton                      26-03.25  
 10 Parra, Nick               FR Mount Olive                    24-07.50  
 11 Gamba, Jeff               SO Montville                      24-06.50  
 12 Iannaccone, Robert        FR Delbarton                      24-05.00  
 13 Miller, Zachary           FR Morris Hills                   24-04.25  
 14 Chavis, Demetrius         FR Dover                          23-02.00  
 15 Krsulic, Michael          FR Morris Hills                   23-01.25  
 
Event 28  Boys Pole Vault Varsity
=========================================================================
 MEET RECORD: % 12-00  12/31/2007  Sasha Killeen, Morris Hills                 
    Name                    Year School                  Seed     Finals 
=========================================================================
  1 Cariello, David           SR Morristown                     13-00.00% 
  2 Chowhan, Kyle             12 Roxbury                        12-06.00% 
  3 Ralli, Adam               SR Mendham                        12-00.00% 
  4 Skarbnik, Bryan           12 Roxbury                       J12-00.00% 
  5 Brennan, Andrew           SR Whippany Park                  11-00.00  
  6 Bosworth, Connor          JR Morristown                     10-00.00  
  7 Chowhan, Drew             10 Roxbury                         9-00.00  
  7 Ferguson, Zachery         JR Morris Hills                    9-00.00  
  7 Durkin, Charlie           SO Mendham                         9-00.00  
  7 Phelan, Mike              JR Whippany Park                   9-00.00  
 -- Pacheco, David            JR Morris Hills                         NH  
 -- Spector, Jesse            SO Morris Hills                         NH  
 -- Zitelli, Greg             JR Madison                              NH  
 -- Mehlig, Nick              SO Mendham                              NH  
 -- Rynearson, Pat            SO Whippany Park                        NH  
 -- Brueno, Michael           JR Whippany Park                        NH  
 -- Blewett, Michael          10 Roxbury                              NH  
 -- Levy, Marc                10 Roxbury                              NH  
 -- Miller, William           SO Mendham                              NH  
 -- Appel, Taylor             SO Mendham                              NH  
 -- Shah, Shakel              JR Morris Hills                         NH  
 -- Prebor, Eric              JR Morris Hills                         NH  
 -- Moodie, Andrew            JR Chatham                              NH  

Boys PM results

Licensed to MCCATS - Contractor License
                                      HY-TEK's Meet Manager 12/29/2008 05:54 PM
                     Passarelli Invitational - 12/29/2008                      
                          Drew University Madison,NJ                           
                                    Results                                    
 
Event 2  Boys 4x55 Meter Shuttle Hurdle Varsity
============================================================================
 MEET RECORD: % 31.29  2003        Hillsborough, Hillsborough                  
                       T Flores, F Andreyko, M Barberio, J Morley        
    School                                               Seed     Finals  H#
============================================================================
Finals
  1 Union  'A'                                                     32.82   1 
     1) Pluviose, Stanley 12            2) Prokopovich, Martin 12         
     3) Obamedo, Elyon 11               4) Obamedo, John 12               
  2 Livingston  'A'                                                32.97   1 
     1) Valdez, German SO               2) Leiwant, Michael SR            
     3) Jenkins, Ken SR                 4) Albanese, Francesco JR         
  3 Hunterdon Central  'A'                                         34.47   2 
     1) Kaplan, Steven 11               2) McGriff, Josh 12               
     3) Cunningham, Jack 10             4) Bramley, Mike 11               
  4 New Providence  'A'                                            37.16   2 
     1) Abrol, Shiv SR                  2) Lesnewich, Greg SR             
     3) Huang, Allen SR                 4) Betz, Brian SR                 
  5 Summit  'A'                                                    37.44   3 
     1) Jones, Mark SO                  2) Espy, Matt SO                  
     3) Sekulic, Kevin JR               4) Scheer, Matt FR                
  6 Scotch Plains  'A'                                             37.96   3 
     1) Parada, Michael SO              2) Bach, Nate SO                  
     3) Davis, Dilland JR               4) Burke, Mike JR                 
  7 Caldwell  'A'                                                  39.94   4 
     1) Bursese, Joe JR                 2) MACHI, Kevin SR                
     3) McMahon, James SR               4) Peter, Ryan SO                 
 
Event 3  Boys 3200 Meter Run Varsity
=========================================================================
 MEET RECORD: % 9:21.82  12/31/2005  Ben Massam, Chatham                       
    Name                    Year School                  Seed     Finals 
=========================================================================
  1 Sweeney, Martin           SR Scotch Plains                   9:50.68  
  2 Elkaim, Jeremy            SO Livingston                      9:55.58  
  3 Schneider, Jacob          SR Livingston                     10:03.44  
  4 Scrudato, Ryan            JR Westfield                      10:03.47  
  5 Sauer, Chris              SO Sparta                         10:16.89  
  6 Ashforth, Hank            11 Hunterdon Centra               10:19.36  
  7 Flores, Alex              SR Livingston                     10:20.39  
  8 Kirna, Andrew             SO Westfield                      10:21.08  
  9 Wheeler, Brandon          JR Scotch Plains                  10:58.39  
 
Event 4  Boys 1600 Meter Run Varsity
=========================================================================
 MEET RECORD: % 4:29.07  12/31/2007  Pat Schellberg, Delbarton                 
    Name                    Year School                  Seed     Finals 
=========================================================================
  1 Saparito, Michael         12 Hunterdon Centra                4:37.39  
  2 Zullo, Ryan               11 Hunterdon Centra                4:42.73  
  3 Kelley, Mike              JR Westfield                       4:44.97  
  4 Parola, Alex              11 Hunterdon Centra                4:49.61  
  5 Parker, Alex              SO Scotch Plains                   4:52.19  
  6 Lizmi, Zach               SO Westfield                       4:53.98  
  7 Crump, Philip             SR Caldwell                        4:58.40  
  8 Keene, Matt               SR Sparta                          5:04.17  
  9 Petrocca, Francis         11 West Essex                      5:04.22  
 10 David, Joe                SO Sparta                          5:04.61  
 11 Rauco, Anthony            SR Nutley                          5:05.28  
 12 Evans, Bobby              JR Scotch Plains                   5:07.84  
 13 Walsh, Brian              JR Scotch Plains                   5:08.29  
 14 Preston, Beau             JR Westfield                       5:11.90  
 15 White, Dylan              JR Caldwell                        5:16.72  
 16 McGovern, Brian           JR New Providence                  5:17.36  
 17 Coleman, David            SO Livingston                      5:17.60  
 18 Roche, Patrick            JR Nutley                          5:17.99  
 19 Lochan, Matt              SO Nutley                          5:19.27  
 20 Preston, Wade             JR Westfield                       5:19.33  
 21 Cubias, Anthony           12 Union                           5:24.15  
 22 Gould, Chris              SO New Providence                  5:24.74  
 23 Savell, Yannick           12 Union                           5:24.89  
 24 Cataliotti, Michael       SR Caldwell                        5:31.90  
 25 Drylewicz, Michael        10 Union                           5:32.27  
 26 Weissbach, Bryan          11 West Essex                      5:35.30  
 27 Pezzuti, Robert           11 West Essex                      5:39.97  
 28 Wilcox, Skylar            SR Caldwell                        5:40.50  
 29 Capriolo, Ryan            10 West Essex                      5:40.78  
 
Event 7  Boys 1600 Meter Run Freshmen
=========================================================================
 MEET RECORD: % 4:52.70  1997        Pete Cavalusso, Randolph                  
    Name                    Year School                  Seed     Finals 
=========================================================================
  1 Kirna, John               FR Westfield                       5:06.15  
  2 Vanacore, Christopher     09 Hunterdon Centra                5:21.63  
  3 Blauvelt, Dan             09 Hunterdon Centra                5:22.51  
  4 Kennedy, Sean             FR Summit                          5:32.16  
  5 Oliver, Jovan             09 Union                           5:39.52  
  6 Heller, Fred              FR Caldwell                        5:42.32  
  7 Brennan, Casey            FR Westfield                       5:52.51  
  8 Navia, Jet                 9 West Essex                      5:55.90  
  9 Dick, Andrew              FR Sparta                          6:03.54  
 10 Kimbaris, Thomas          FR Caldwell                        6:09.55  
 11 Crump, Ethan              FR Caldwell                        6:39.54  
 12 Patrick, Xia              FR Livingston                      6:49.89  
 
Event 8  Boys 55 Meter Dash Varsity
============================================================================
 MEET RECORD: %  6.64  12/31/2005  Latif Brewer, Union                         
    Name                    Year School                  Seed    Prelims  H#
============================================================================
Preliminaries
  1 Lucien, Ellison           12 Union                              6.75q  1 
  2 Highsmith, Andre          12 Union                              6.80q  2 
  3 Williams, Jhakyse         JR Westfield                          6.87q  1 
  4 Kaplan, Steven            11 Hunterdon Centra                   6.93q  1 
  5 Burney, Khalif            SR Nutley                             6.96q  2 
  6 Battaglia, Daniel         11 Hunterdon Centra                   6.98q  2 
  7 Spekhardt, Mike           JR Sparta                             7.15q  3 
  8 Rodrigues, Joseph         SR Caldwell                           7.18   3 
  9 Valdez, German            SO Livingston                         7.30   1 
 10 Pineda, James             SR Livingston                         7.30   3 
 11 Ballan, David             SO Westfield                          7.31   1 
 12 Garvin, Matt              SO New Providence                     7.34   2 
 13 Gasbarro, Tom             11 West Essex                         7.38   1 
 14 Albanese, Francesco       JR Livingston                         7.43   3 
 15 Boateng, Daniel           11 Union                              7.51   2 
 16 Wiedman, Douglas          JR Nutley                             7.57   4 
 17 Parada, Michael           SO Scotch Plains                      7.57   3 
 18 Ryder, Michael            SR Nutley                             7.58   4 
 19 Quinn, John               JR New Providence                     7.58   1 
 20 Grabowich, Ian            11 Hunterdon Centra                   7.59   4 
 21 Castaldi, Chris           JR Sparta                             7.70   2 
 22 Ferriola, Anthony         11 West Essex                         7.72   4 
 23 Burke, Mike               JR Scotch Plains                      7.74   3 
 24 Malloy, Brian             SR Caldwell                           7.76   4 
 25 Amato, Christopher        SR Nutley                             7.82   2 
 26 Huetter, Robert           11 West Essex                         7.98   3 
 27 Andrews, Ryan             SO Nutley                             8.09   4 
 
Event 8  Boys 55 Meter Dash Varsity
=========================================================================
 MEET RECORD: %  6.64  12/31/2005  Latif Brewer, Union                         
    Name                    Year School               Prelims     Finals 
=========================================================================
Finals
  1 Highsmith, Andre          12 Union                   6.80       6.82  
  2 Williams, Jhakyse         JR Westfield               6.87       6.91  
  3 Kaplan, Steven            11 Hunterdon Centra        6.93       6.95  
  4 Burney, Khalif            SR Nutley                  6.96       6.99  
  5 Battaglia, Daniel         11 Hunterdon Centra        6.98       7.05  
  6 Spekhardt, Mike           JR Sparta                  7.15       7.13  
 
Event 10  Boys 55 Meter Dash Junior Varsity
============================================================================
 MEET RECORD: %  7.10  12/31/2005  Anthony Chierici, Montville                 
    Name                    Year School                  Seed     Finals  H#
============================================================================
  1 Sekulic, Kevin            JR Summit                             7.16   1 
  2 Guest, Jordan             10 Union                              7.23   1 
  3 Gates, Andrew             JR Westfield                          7.28   1 
  4 Ferville, Steve           09 Union                              7.40   1 
  5 Fleischer, Jared          FR Caldwell                           7.65   2 
  6 Darnel, Thomas            SO Caldwell                           7.72   2 
  7 Kunyz, Nick               JR New Providence                     7.75   1 
  8 Maldonado, Justin         FR Scotch Plains                      7.80   2 
  9 Turkmen, Derek            SR Caldwell                           7.84   2 
 10 Whitley, Owen             SO Sparta                             7.97   3 
 11 Davis, Brion              JR Scotch Plains                      8.04   1 
 12 McCoy, Henry              FR Caldwell                           8.08   3 
 13 Scheer, Matt              FR Summit                             8.09   1 
 14 Mehta, Viraj              SO New Providence                     8.15   2 
 15 Nardelli, Adam            09 Hunterdon Centra                   8.21   2 
 16 Wasitowski, Andrew        11 Hunterdon Centra                   8.29   3 
 17 Wehner, Karl              JR New Providence                     8.49   2 
 18 Benz, Robert              09 Hunterdon Centra                   8.62   3 
 19 Aristizabal, Jacobo       FR Caldwell                           8.90   3 
 
Event 12  Boys 600 Meter Run Varsity
============================================================================
 MEET RECORD: % 1:24.21  12/31/2005  Jason Apwah, Roxbury                      
    Name                    Year School                  Seed     Finals  H#
============================================================================
  1 Jackson, Jon              12 Union                           1:25.03   1 
  2 Niang, Mamadou            12 West Essex                      1:25.18   1 
  3 Einbinder, Josh           SR Westfield                       1:28.27   1 
  4 Rodrigues, Joseph         SR Caldwell                        1:31.53   1 
  5 Chin, Thomas              SO Summit                          1:31.89   1 
  6 Tooley, Sam               SO Westfield                       1:31.97   1 
  7 Alfano, Matt              JR Scotch Plains                   1:32.95   2 
  8 Neikrie, Jeff             SR Livingston                      1:33.34   1 
  9 Salazar, Tomas            SR Summit                          1:33.59   1 
 10 Crump, Philip             SR Caldwell                        1:34.55   2 
 11 Therattil, Tony           SO New Providence                  1:37.13   2 
 12 Litichevskiy, Lev         SO New Providence                  1:37.43   2 
 13 Marks, Jeff               SO Scotch Plains                   1:37.75   2 
 14 Malik, Vidhan             SO Scotch Plains                   1:37.78   2 
 15 Ryder, Michael            SR Nutley                          1:37.99   3 
 16 Hantzaras, Christos       JR Summit                          1:39.06   1 
 17 McMahon, James            SR Caldwell                        1:39.64   3 
 18 Menzel, Matthew           12 West Essex                      1:39.98   2 
 19 Wiedman, Douglas          JR Nutley                          1:40.27   3 
 20 Hu, Derek                 SO New Providence                  1:40.74   3 
 21 Stegman, Peter            SR Sparta                          1:41.14   2 
 22 Amato, Christopher        SR Nutley                          1:41.34   3 
 23 Ferraro, Patrick          10 Hunterdon Centra                1:42.00   2 
 24 Delgado, Miguel           10 Hunterdon Centra                1:42.50   2 
 25 Minden, Zach              11 West Essex                      1:42.89   3 
 26 Bursese, Joe              JR Caldwell                        1:44.08   3 
 27 Andrews, Ryan             SO Nutley                          1:44.38   3 
 28 MACHI, Kevin              SR Caldwell                        1:44.61   3 
 29 Wilcox, Skylar            SR Caldwell                        1:46.84   3 
 30 Martinez, David           12 West Essex                      1:47.11   1 
 31 Mondella, Frank           09 Hunterdon Centra                1:58.54   3 
 
Event 14  Boys 600 Meter Run Junior Varsity
============================================================================
 MEET RECORD: % 1:33.13  12/31/2005  Anthony Chierici, Montville               
    Name                    Year School                  Seed     Finals  H#
============================================================================
  1 Schaffer, Michael         SR Summit                          1:38.50   1 
  2 DaSilva, Tyler            SO Livingston                      1:42.24   1 
  3 Isbit, Jason              FR Westfield                       1:42.30   1 
  4 Lazar, Michael            SO Livingston                      1:42.61   1 
  5 Leu, Matthew              SO Livingston                      1:43.19   1 
  6 McCoy, Henry              FR Caldwell                        1:45.00   2 
  7 Mancini, Max              FR Westfield                       1:45.17   1 
  8 Chapel, Nick              SO Westfield                       1:45.33   1 
  9 Goldfarb, Andrew          FR Westfield                       1:45.96   1 
 10 Zimmermann, Stephen       SO New Providence                  1:48.31   2 
 11 Staubach, William         09 Hunterdon Centra                1:50.14   2 
 12 Capriolo, Ryan            10 West Essex                      1:50.18   1 
 13 Huang, Allen              SR New Providence                  1:50.22   2 
 14 Meluso, Michael           SO Caldwell                        1:50.34   2 
 15 Chi, Dan                  FR Livingston                      1:50.41   1 
 16 De Tizio, Peter           SO New Providence                  1:54.37   2 
 17 Jemas, Jeremy                Caldwell                        1:54.88   2 
 18 Martorano, Nick           09 Hunterdon Centra                1:56.58   2 
 19 White, David              SO Caldwell                        1:58.18   2 
 20 Mazewski, Kyle            09 Hunterdon Centra                2:03.47   2 
 
Event 15  Boys 300 Meter Dash Varsity
============================================================================
 MEET RECORD: % 36.75  12/29/2003  Reggie Berry, Morristown                    
    Name                    Year School                  Seed     Finals  H#
============================================================================
  1 Oluyadi, Bayaan           11 Union                             37.48   1 
  2 Highsmith, Andre          12 Union                             37.94   1 
  3 Battaglia, Daniel         11 Hunterdon Centra                  39.41   1 
  4 Jones, Fazone             11 Union                             39.50   1 
  5 Spekhardt, Mike           JR Sparta                            39.52   1 
  6 Espy, Matt                SO Summit                            39.76   2 
  7 Valdez, German            SO Livingston                        39.77   1 
  8 Gates, Andrew             JR Westfield                         41.38   2 
  9 Babetski, David           SR Westfield                         41.39   2 
 10 Clark, Adam               SR Scotch Plains                     41.41   2 
 11 Gasbarro, Tom             11 West Essex                        41.48   3 
 12 Castaldi, Chris           JR Sparta                            42.43   3 
 13 Fleischer, Jared          FR Caldwell                          42.58   4 
 14 Albanese, Francesco       JR Livingston                        42.79   2 
 15 Darnel, Thomas            SO Caldwell                          42.98   4 
 16 Suriano, Alex             FR Scotch Plains                     43.34   3 
 17 Ferriola, Anthony         11 West Essex                        43.70   3 
 18 Martinez, David           12 West Essex                        43.93   4 
 19 Snedeker, Gregory         JR Caldwell                          44.18   4 
 20 Turkmen, Derek            SR Caldwell                          44.36   4 
 21 Howard, William           11 Hunterdon Centra                  44.62   4 
 22 Quinn, John               JR New Providence                    44.70   3 
 23 Malloy, Brian             SR Caldwell                          44.72   2 
 24 Burson, Arthur Paul       11 Hunterdon Centra                  45.95   4 
 25 Huetter, Robert           11 West Essex                        46.24   3 
 26 Kennedy, Sean             FR Summit                            46.63   3 
 27 Navia, Jet                 9 West Essex                        47.18   3 
 28 Chironna, Jon             SR Westfield                         48.62   4 
 29 Harnett, Matt             FR Scotch Plains                     51.83   4 
 
Event 18  Boys 1000 Meter Run Varsity
=========================================================================
 MEET RECORD: % 2:35.94  2001        Brad Schmidt, Dover                       
    Name                    Year School                  Seed     Finals 
=========================================================================
  1 Applebaum, Julian         SR Westfield                       2:43.77  
  2 Flores, Alex              SR Livingston                      2:46.14  
  3 Martoglio, Joey           SR Westfield                       2:48.91  
  4 Seltzer, Brian            SR Livingston                      2:49.32  
  5 Chin, Thomas              SO Summit                          2:50.88  
  6 White, Jerell             11 Union                           2:51.20  
  7 Ramos, Kevin              JR Westfield                       2:51.46  
  8 Salazar, Tomas            SR Summit                          2:51.68  
  9 Hantzaras, Christos       JR Summit                          2:53.39  
 10 Parola, Alex              11 Hunterdon Centra                2:54.11  
 11 Ashforth, Hank            11 Hunterdon Centra                2:54.77  
 12 Crump, Philip             SR Caldwell                        2:55.35  
 13 Sauer, Chris              SO Sparta                          2:57.69  
 14 Boyle, Jon                JR Sparta                          3:02.50  
 15 Barone, David             11 Union                           3:03.64  
 16 Jung, Andrew              SO Livingston                      3:05.52  
 17 David, Joe                SO Sparta                          3:06.21  
 18 Coleman, David            SO Livingston                      3:08.98  
 19 Schaffer, Michael         SR Summit                          3:11.82  
 20 Cataliotti, Michael       SR Caldwell                        3:20.06  
 21 Rottenberg, Sam           JR New Providence                  3:22.13  
 22 Pezzuti, Robert           11 West Essex                      3:24.42  
 23 Peter, Ryan               SO Caldwell                        3:29.69  
 24 Wilcox, Skylar            SR Caldwell                        3:33.91  
 
Event 21  Boys 4x400 Meter Relay Varsity
============================================================================
 MEET RECORD: % 3:33.22  1997        , Elizabeth                               
    School                                               Seed     Finals  H#
============================================================================
  1 Union  'A'                                                   3:40.03   1 
     1) Jackson, Jon 12                 2) Boateng, Daniel 11             
     3) Jones, Fazone 11                4) Oluyadi, Bayaan 11             
  2 Hunterdon Central  'A'                                       3:43.71   1 
     1) Kaplan, Steven 11               2) McGriff, Josh 12               
     3) Zullo, Ryan 11                  4) Saparito, Michael 12           
  3 Westfield  'A'                                               3:45.20   1 
     1) Williams, Jhakyse JR            2) Ballan, David SO               
     3) Einbinder, Josh SR              4) Tooley, Sam SO                 
  4 Sparta  'A'                                                  3:52.99   1 
     1) Keene, Matt SR                  2) Stegman, Peter SR              
     3) Castaldi, Chris JR              4) Spekhardt, Mike JR             
  5 West Essex  'A'                                              3:53.26   1 
     1) Petrocca, Francis 11            2) Minden, Zach 11                
     3) Weissbach, Bryan 11             4) Niang, Mamadou 12              
  6 Caldwell  'A'                                                3:53.77   2 
     1) Rodrigues, Joseph SR            2) Cratz, Neil SR                 
     3) Fleischer, Jared FR             4) Crump, Philip SR               
  7 Summit  'A'                                                  3:58.30   2 
  8 New Providence  'A'                                          3:59.05   2 
  9 Livingston  'A'                                              4:02.42   1 
 10 Scotch Plains  'A'                                           4:03.34   2 
 11 Caldwell  'B'                                                4:32.75   2 
 12 Hunterdon Central  'B'                                       4:34.57   2 
 13 Caldwell  'C'                                                5:15.09   2 
 
Event 23  Boys Shot Put Varsity
=========================================================================
 MEET RECORD: % 57-00  1981        Scott Vrabel, Elizabeth                     
    Name                    Year School                  Seed     Finals 
=========================================================================
  1 Yeung, Nelson             12 Hunterdon Centra               43-11.75  
  2 Osti, George              11 Union                          43-08.75  
  3 McQuoid, Matt             SR Scotch Plains                  42-08.25  
  4 Watts, Mike               JR Summit                         42-08.00  
  5 Larrow, Michael           12 Union                          41-09.00  
  6 Frauenpreis, Carl         JR Sparta                         41-07.25  
  7 Mase, Tyler               SR Westfield                      40-10.25  
  8 Galley, Matt              SO Sparta                         38-10.00  
  9 Kunnath, Kuriakose        11 Union                          37-06.25  
 10 Kreps, David              JR Scotch Plains                  36-07.50  
 11 Adjei, James              12 Union                          36-07.25  
 12 Johnson, Brian            SR Nutley                         35-04.50  
 13 McGrory, John             SR Westfield                      34-10.50  
 14 Wallace, Keith            12 Union                          33-08.50  
 15 Garita, Ruddy             SR Summit                         33-07.50  
 16 Naranjo, David            JR Summit                         32-05.25  
 17 Kaplan, Mark              SO Sparta                         31-10.75  
 18 Cronen, Will              SO Westfield                      31-05.00  
 19 Andrews, Jeff             SO Sparta                         31-03.50  
 20 Catani, Joseph            11 Hunterdon Centra               30-03.50  
 21 Forsell, Eric             SR Summit                         30-01.00  
 22 Gonzalez, Mike            SR Sparta                         29-07.00  
 23 Minden, Zach              11 West Essex                     26-10.50  
 24 Kenny, Matthew            11 West Essex                     26-02.50  
 25 Giacobbe, Joe             SO Sparta                         23-00.50  
 26 Bastianelli, Nick         12 West Essex                     21-00.00  
 
Event 25  Boys High Jump Varsity
=========================================================================
 MEET RECORD: %  6-08  1991        Mike Lofton, North Hunterdon                
    Name                    Year School                  Seed     Finals 
=========================================================================
  1 Jones, Mark               SO Summit                          6-02.00  
  2 Cratz, Neil               SR Caldwell                        6-00.00  
  3 Jenkins, Ken              SR Livingston                      5-10.00  
  4 Pluviose, Stanley         12 Union                          J5-10.00  
  5 Valdez, German            SO Livingston                      5-08.00  
  6 McGriff, Josh             12 Hunterdon Centra                5-06.00  
  6 Prokopovich, Martin       12 Union                           5-06.00  
  6 Sekulic, Kevin            JR Summit                          5-06.00  
  9 McKeon, Robert            JR Westfield                       5-03.00  
  9 Guest, Jordan             10 Union                           5-03.00  
  9 Jackson, Jon              12 Union                           5-03.00  
  9 Nam, Ryan                 SR Sparta                          5-03.00  
  9 Dlugosz, Alan             JR Scotch Plains                   5-03.00  
 -- Martinez, David           12 West Essex                           NH  
 -- Konel, Jonathan           JR Nutley                               NH  
 -- Larrow, Michael           12 Union                                NH  
 -- Kullar, Devind            FR New Providence                       NH  
 
Event 27  Boys Shot Put 4k Freshmen
=========================================================================
 MEET RECORD: % 44-09.50  1997        Matt Maitilasso, Morris Knolls           
    Name                    Year School                  Seed     Finals 
=========================================================================
  1 Elliot, Ryan              FR Westfield                      35-01.25  
  2 Umahon, Meldrick          FR Livingston                     30-05.50  
  3 Bigelow, Daniel           FR Westfield                      26-03.25  
  4 Osborne, Michael          FR Westfield                      21-10.25  
  5 Villane, Nicholas         FR Westfield                      21-06.75  
 
Event 28  Boys Pole Vault Varsity
=========================================================================
 MEET RECORD: % 12-00  12/31/2007  Sasha Killeen, Morris Hills                 
    Name                    Year School                  Seed     Finals 
=========================================================================
  1 Oliveri, Joseph           SR Nutley                         13-00.00% 
  2 Stetz, Gary               SR Livingston                     12-06.00% 
  3 Woods, Tim                SR Westfield                      11-06.00  
  4 Weiss, Andrew             SR Westfield                      11-00.00  
  5 Pineda, James             SR Livingston                     10-06.00  
  6 Zhang, Henry              SR Westfield                     J10-06.00  
  7 Yang, Kevin               SR Westfield                       9-00.00  
  8 Bahnsen, Connor           10 Hunterdon Centra               J9-00.00  
 -- Shanahan, Tim             10 Hunterdon Centra                     NH  
 -- Leu, Matthew              SO Livingston   
GIRLS AM Results
Licensed to MCCATS - Contractor License
                                      HY-TEK's Meet Manager 12/29/2008 02:32 PM
                     Passarelli Invitational - 12/29/2008                      
                          Drew University Madison,NJ                           
                                    Results                                    
 
Event 1  Girls 4x51.5 Meter Shuttle Hurdle Varsity
============================================================================
 MEET RECORD: % 33.53  12/31/2006  Ridge, Ridge                                
                       A Mikkilineni, C Bozzi, S Allen, J Kvist          
    School                                               Seed     Finals  H#
============================================================================
Finals
  1 Randolph  'A'                                                  33.70   1 
     1) Scheideler, Kara 10             2) Conway, Anna 11                
     3) Verrone, Rachael 11             4) Feldhaus, Briana 12            
  2 Morristown  'A'                                                34.07   1 
     1) Gordon, Whitney SR              2) Reilly, Annie JR               
     3) Osborne, Danielle SR            4) Ellis, Krystal JR              
  3 Mendham  'A'                                                   35.98   2 
     1) Byrne, Meredith SR              2) Robinson, Taylor SR            
     3) Broas, Stephanie SR             4) Trank, Caroline SR             
  4 Whippany Park  'A'                                             36.88   3 
     1) Davidek, Amanda SO              2) Sherrill, Andrea SR            
     3) Brennan, Caitlin SO             4) Brennan, Colleen JR            
  5 Villa Walsh  'A'                                               37.42   5 
     1) Zak, Robin JR                   2) O'Connor, Caroline SO          
     3) Anselmo, Mary SO                4) Leneveu, Margot JR             
  6 Jefferson  'A'                                                 37.69   2 
     1) Waite, Catherine SR             2) Carrera, Michelle SR           
     3) Waite, Elizabeth SO             4) Sundberg, Nicole SO            
  7 Morris Hills  'A'                                              37.79   4 
     1) Rewick, Lexi FR                 2) Jozwiak, Taylor SO             
     3) Collins, Kadian SR              4) Caruso, Lori SR                
  8 Mount Olive  'A'                                               37.84   4 
     1) Pastena, Gianna JR              2) Ford, Jacinta JR               
     3) Nimoh, Ingrid FR                4) Borowski, Jenna SR             
  9 Montville  'A'                                                 41.56   3 
     1) Danilack, Lindsey JR            2) Goldbereg, Vicky FR            
     3) Muhaw, Kristen FR               4) Zammit, Whitney SO             
 
Event 5  Girls 3200 Meter Run Varsity
=========================================================================
 MEET RECORD: % 11:02.05  12/31/2005  Jenn Ennis, Roxbury                      
    Name                    Year School                  Seed     Finals 
=========================================================================
  1 Vigilante, Laura          JR Mendham                        11:15.29  
  2 Fitzgerald, Corinne       SR Morris Hills                   11:52.19  
  3 Baldwin-LeClair, Abby     JR Morristown                     12:51.15  
  4 Polimeni, Kira            SO Morris Hills                   13:04.84  
  5 Decaro, Emily             SO Whippany Park                  13:16.84  
  6 Vassallo, Alyssa          FR Whippany Park                  13:37.64  
 
Event 6  Girls 1600 Meter Run Varsity
=========================================================================
 MEET RECORD: % 5:13.07  2000        Kristen Meyer, Hillsborough               
    Name                    Year School                  Seed     Finals 
=========================================================================
  1 Henricksen, Britt         11 Roxbury                         5:47.13  
  2 Paul, Carla               SR Madison                         5:52.77  
  3 Worthington, Erica        SO Madison                         5:55.24  
  4 Churchman, Michelle       SO Morris Hills                    5:56.39  
  5 Bass, Carly               SR Mount Olive                     6:01.91  
  6 Miller, Erin              FR Mount Olive                     6:04.06  
  7 Wardamasky, Tori          10 Roxbury                         6:04.61  
  8 Malanga, Tara             FR Chatham                         6:06.88  
  9 Angelbeck, Stacey         FR Chatham                         6:19.40  
 10 Miller, Caroline          JR Madison                         6:20.57  
 11 Kaler, Grace              JR Par Hills                       6:21.78  
 12 Bauer, Sara               SR Morris Catholic                 6:24.23  
 13 Thrun, Rachel             FR Mount Olive                     6:24.73  
 14 Hull, Ann                 SR Whippany Park                   6:25.85  
 15 McCarter, Katie           FR Madison                         6:28.66  
 16 Schneeberg, Alexandra     FR Mount Olive                     6:31.68  
 17 St John, Natalie          FR Mendham                         6:32.64  
 18 Vanderkooi, Jessica       SO Dover                           6:32.69  
 19 DeYoung, Shiela           JR Jefferson                       6:34.32  
 20 Fairman, Justine          FR Morris Catholic                 6:35.32  
 21 Caraballo, Nicole         SO Par Hills                       6:37.66  
 22 Neary, Casey              11 Randolph                        6:37.80  
 23 Traverso, Raquel          10 Randolph                        6:43.02  
 24 Lucero, Leticia           FR Dover                           6:48.60  
 25 Regan, Allyson            FR Mount Olive                     6:53.05  
 26 Schenkman, Nicole         FR Mendham                         6:56.24  
 27 Park, Ami                  9 Randolph                        7:01.95  
 28 Messina, Lindsay          SR Whippany Park                   7:21.97  
 
Event 9  Girls 55 Meter Dash Varsity
============================================================================
 MEET RECORD: %  7.34  1985        Renee Carr, Science                         
    Name                    Year School                  Seed    Prelims  H#
============================================================================
Preliminaries
  1 Vazquez, Nicole           JR Morris Hills                       7.87q  2 
  2 Danilack, Lindsey         JR Montville                          7.98q  3 
  3 Kearney, Erin             SR Jefferson                          8.00q  1 
  4 Kusik, Michelle           10 Randolph                           8.07q  1 
  5 Rizio, Julia              FR Montville                          8.08q  1 
  6 Osborne, Krystal          JR Morristown                         8.12q  2 
  7 Armero, Allison           JR Par Hills                          8.17q  2 
  8 O'Shea, Megan             JR Morristown                         8.25   1 
  9 Hatler, Samantha          SO Jefferson                          8.31   2 
 10 DiPiazza, Jackie          SO Montville                          8.34   3 
 11 Karovic, Katie            SO Whippany Park                      8.36   3 
 12 Alvarez, Carina           SR Dover                              8.41   4 
 13 Sullivan, Lisa            SR Par Hills                          8.44   3 
 14 Mendes, LaNija            SO Mount Olive                        8.48   3 
 15 Fano, Rebecca             JR Montville                          8.51   2 
 16 Zak, Robin                JR Villa Walsh                        8.52   1 
 17 Semeraro, Laura           SR Villa Walsh                        8.54   5 
 18 Cullin, Erin              SO Villa Walsh                        8.57   2 
 19 Kinsel, Beth              SR Mendham                            8.58   5 
 20 Cailliau, Allison          9 Randolph                           8.63   4 
 21 Clementi, Gina            JR Mount Olive                        8.64   3 
 22 Fuller, Brittany          SO Dover                              8.65   6 
 23 Brennan, Caitlin          SO Whippany Park                      8.66   5 
 24 Krieg, Erin               JR Morristown                         8.70   4 
 25 Businelli, Nicole         SR Villa Walsh                        8.71   5 
 26 DelPesce, Krystina        SO Mount Olive                        8.73   1 
 27 Caruso, Lori              SR Morris Hills                       8.73   2 
 28 Toche, Jenellie           SR Whippany Park                      8.74   6 
 29 Davidek, Amanda           SO Whippany Park                      8.75   6 
 30 Masiello, Jen             SR Mendham                            8.85   5 
 31 Jacques, Tania            SO Mount Olive                        8.87   3 
 32 Kobus, Genevieve          JR Morristown                         8.87   4 
 33 Knierim, Jess             10 Randolph                           8.88   4 
 34 Briscoe, Kaitlyn          10 Randolph                           8.90   5 
 35 Granat, Stefanie          SO Whippany Park                      8.91   4 
 36 Nyshay, Alex              SO Mendham                            8.95   7 
 37 Scangarello, Jade         SO Montville                          9.01   5 
 38 Castro, Silvya            11 Roxbury                            9.06   7 
 39 Kilponen, Stephanie       10 Randolph                           9.07   4 
 40 Castro, Cinthya           11 Roxbury                            9.14   7 
 41 Gallagher, Liz            SR Mendham                            9.23   6 
 42 Parker, Jocelyn           10 Roxbury                            9.44   7 
 43 Lett, Jennifer            SO Jefferson                         10.34   6 
 44 Carrera, Michelle         SR Jefferson                         13.68   1 
 
Event 9  Girls 55 Meter Dash Varsity
=========================================================================
 MEET RECORD: %  7.34  1985        Renee Carr, Science                         
    Name                    Year School               Prelims     Finals 
=========================================================================
Finals
  1 Vazquez, Nicole           JR Morris Hills            7.87       7.86  
  2 Kearney, Erin             SR Jefferson               8.00       7.93  
  3 Danilack, Lindsey         JR Montville               7.98       7.95  
  4 Osborne, Krystal          JR Morristown              8.12       7.96  
  5 Kusik, Michelle           10 Randolph                8.07       8.02  
  6 Rizio, Julia              FR Montville               8.08       8.05  
  7 Armero, Allison           JR Par Hills               8.17       8.10  
 
Event 11  Girls 55 Meter Dash Junior Varsity
============================================================================
 MEET RECORD: %  7.94  1997        Andrea Cortese, West Morris                 
    Name                    Year School                  Seed     Finals  H#
============================================================================
  1 Ehrenranz, Niki           SO Morristown                         7.98   1 
  2 Johnson, Ashley           SO Morristown                         8.23   8 
  3 Novak, Sarah              SO Montville                          8.31   3 
  4 Hirschfeld, Joelle        11 Randolph                           8.36   1 
  5 Savaiko, Marija            9 Randolph                           8.39   1 
  6 Arndt, Lindsay            SO Morristown                         8.47   2 
  7 Tedeschi, Amanda          JR Montville                          8.54   2 
  8 carmona, ivanna           JR Dover                              8.54   1 
  9 Nadler, Stephanie         JR Jefferson                          8.58   1 
 10 O'Connor, Cassie          FR Whippany Park                      8.67   3 
 11 Celauro, Serena           JR Whippany Park                      8.75   3 
 12 Mulcahy, Laine            SO Villa Walsh                        8.75   4 
 13 Goldbereg, Vicky          FR Montville                          8.75   4 
 14 Robey, Brooke             JR Montville                          8.76   3 
 15 Morrison, Caitlin         FR Morristown                         8.77   1 
 16 Sundberg, Nicole          SO Jefferson                          8.78   1 
 17 Carlucci, Cami            SO Montville                          8.80   4 
 18 Ioannou, Niki              9 Randolph                           8.84   2 
 18 Hubbard, Elizabeth        SO Madison                            8.84   6 
 20 Preston, Haley            SO Mendham                            8.88   6 
 21 Lazar, Paige               9 Randolph                           8.92   3 
 22 Hamulak, Taissa           JR Morris Hills                       8.99   3 
 23 Bentacur, Melissa         SR Dover                              9.00   2 
 24 Hanisko, Katie            SR Morris Catholic                    9.01   2 
 25 Laskowska, Alicia         11 Roxbury                            9.04   7 
 26 Tyler, Elisa              11 Roxbury                            9.04   7 
 27 Halikias, Danielle        FR Mount Olive                        9.05   3 
 28 DeGraw, Suzette            9 Roxbury                            9.08   7 
 29 Caggiano, Danielle        FR Whippany Park                      9.08   6 
 30 Ryan, Chelsea             SR Villa Walsh                        9.10   5 
 31 DiAntonio, Paige          JR Morristown                         9.12   2 
 32 Varner, Jillian           JR Jefferson                          9.15   5 
 33 Garcia, Maria              9 Randolph                           9.16   5 
 34 Leo, Haley                SO Mendham                            9.26   6 
 35 Burroughs, Tara           JR Chatham                            9.34   6 
 36 Weimersheiner, Zoe        FR Morris Hills                       9.35   6 
 37 DiGirolamo, Sarah         FR Villa Walsh                        9.37   4 
 38 D'Alliso, Lizzy           JR Villa Walsh                        9.39   6 
 39 MacKinnon, Rosalee        JR Mendham                            9.39   7 
 40 Chan, Kelly               FR Mount Olive                        9.54   5 
 41 Sandoval, Alyssa          JR Mount Olive                        9.58   4 
 42 Harris, Taische           SO Dover                              9.60   4 
 43 Lato, Daniela             FR Morris Hills                       9.67   7 
 44 Thomasses, Hannah         SO Mendham                            9.75   7 
 45 Munzial, Amanda           SO Whippany Park                      9.77   5 
 46 Markowitz, Casey          FR Mount Olive                        9.81   2 
 47 Chan, Vicki               SO Mount Olive                        9.93   5 
 48 Vides, Eva                SR Dover                              9.99   5 
 49 Soldana, Claudia          JR Par Hills                         10.09   7 
 50 Chen, Alice               FR Villa Walsh                       10.18   8 
 51 Hyder, Nicole             SO Jefferson                         10.23   4 
 52 Irula, Karina             FR Morris Hills                      10.43   8 
 53 Palmisano, Megan          FR Chatham                           10.67   8 
 54 Gargon, Libb              JR Whippany Park                     11.26   8 
 55 Patel, Shivani            SO Par Hills                         19.89   8 
 
Event 13  Girls 600 Meter Run Varsity
============================================================================
 MEET RECORD: % 1:37.18  2003        Erin Crawford, Hillsborough               
    Name                    Year School                  Seed     Finals  H#
============================================================================
  1 Neutts, Ariann            12 Roxbury                         1:39.17   1 
  2 DellaPia, Alexandra       JR Villa Walsh                     1:42.69   1 
  3 Osborne, Danielle         SR Morristown                      1:43.10   1 
  4 Kiss, Victoria            11 Randolph                        1:45.02   1 
  5 Stickle, Amy              12 Randolph                        1:45.03   1 
  6 Bischoff, Aimee           10 Roxbury                         1:45.24   1 
  7 Grimes, Kat               JR Chatham                         1:45.47   1 
  8 Migton, Mary              10 Roxbury                         1:45.52   1 
  9 McCann, Megan             SR Mount Olive                     1:47.30   1 
 10 Gordon, Whitney           SR Morristown                      1:48.70   2 
 11 Chapin, Katie             JR Villa Walsh                     1:48.74   2 
 12 Lavelle, Kathleen         JR Chatham                         1:50.96   2 
 13 Horowitz, Leah            SO Morristown                      1:51.88   2 
 14 McManus, Kelsey           SR Villa Walsh                     1:53.11   2 
 15 Palacio, Danica           JR Whippany Park                   1:56.08   3 
 16 Siegart, Callie           JR Villa Walsh                     1:56.63   2 
 17 Carretta, Pia             JR Morristown                      1:57.24   3 
 18 Hurt, Katie               SO Chatham                         1:57.66   2 
 19 Reilly, Annie             JR Morristown                      1:59.02   3 
 20 Socolow, Julie            FR Par Hills                       2:00.07   3 
 21 Wu, Joyce                 SR Madison                         2:00.28   3 
 22 Keller, Kiera             SO Whippany Park                   2:00.69   2 
 23 Jones, Jenna              11 Randolph                        2:01.24   3 
 24 Kaler, Grace              JR Par Hills                       2:01.46   2 
 25 Crigler, Danielle         SR Chatham                         2:02.65   3 
 26 Jackson, Julia             9 Randolph                        2:03.24   3 
 27 Crowley, Nicole           SO Mount Olive                     2:03.96   4 
 28 Bauer, Sara               SR Morris Catholic                 2:04.38   4 
 29 McCormick, Liz            JR Morris Catholic                 2:05.13   4 
 30 DuChemin, Katelyn         SO Mount Olive                     2:06.30   4 
 31 Angelbeck, Stacey         FR Chatham                         2:06.30   3 
 32 Hernandez, Danisleydis    JR Mount Olive                     2:06.58   4 
 33 Pierson, Christine        SR Morris Catholic                 2:08.88   4 
 34 Hyder, Jaclyn             JR Jefferson                       2:12.65   4 
 35 Manrique, cindy           JR Dover                           2:16.51   4 
 36 Hanisko, Katie            SR Morris Catholic                 2:34.83   4 
 
Event 16  Girls 300 Meter Dash Varsity
============================================================================
 MEET RECORD: % 42.17  12/31/2007  Ugonna Ndu, Union                           
    Name                    Year School                  Seed     Finals  H#
============================================================================
  1 Osborne, Danielle         SR Morristown                        46.02   1 
  2 Mosca, Jackie             SO Morris Hills                      46.28   3 
  3 Ellis, Krystal            JR Morristown                        46.52   1 
  4 Alston, Shamika           SR Mount Olive                       46.78   3 
  5 Gordon, Whitney           SR Morristown                        46.79   1 
  6 Vazquez, Nicole           JR Morris Hills                      46.83   4 
  7 Osborne, Krystal          JR Morristown                        47.06   2 
  8 Sullivan, Lisa            SR Par Hills                         47.13   2 
  9 Idler, Danielle           SR Morris Hills                      47.17   3 
 10 Nimoh, Ingrid             FR Mount Olive                       47.21   1 
 11 DelMauro, Mallory         SO Villa Walsh                       47.48   3 
 12 Leneveu, Margot           JR Villa Walsh                       47.83   3 
 13 Cruse, Nicole             SR Mount Olive                       47.84   4 
 14 Sundberg, Nicole          SO Jefferson                         48.00   1 
 15 Conway, Anna              11 Randolph                          48.03   4 
 16 Cullin, Erin              SO Villa Walsh                       48.42   4 
 17 Scheideler, Kara          10 Randolph                          48.46   3 
 18 Appel, Amy                SR Mendham                           48.54   2 
 19 Ford, Jacinta             JR Mount Olive                       48.55   1 
 20 Rewick, Lexi              FR Morris Hills                      48.72   4 
 21 Blair, Armani             FR Mount Olive                       49.38   2 
 22 Hatler, Samantha          SO Jefferson                         49.64   2 
 23 Caruso, Lori              SR Morris Hills                      49.85   2 
 24 Carretta, Pia             JR Morristown                        49.93   4 
 25 Hirschfeld, Joelle        11 Randolph                          49.94   5 
 26 Verrone, Rachael          11 Randolph                          50.09   5 
 27 Trank, Caroline           SR Mendham                           50.45   5 
 28 Businelli, Nicole         SR Villa Walsh                       51.02   5 
 29 Broas, Stephanie          SR Mendham                           51.65   5 
 30 McHugh, Eileen            SO Chatham                           51.76   5 
 31 Alvarez, Carina           SR Dover                             51.80   5 
 32 Masiello, Jen             SR Mendham                           52.84   5 
 
Event 17  Girls 300 Meter Dash Junior Varsity
============================================================================
 MEET RECORD: % 45.52  12/31/2005  Sara Harris, Morristown                     
    Name                    Year School                  Seed     Finals  H#
============================================================================
  1 Ehrenranz, Niki           SO Morristown                        48.37   1 
  2 Johnson, Ashley           SO Morristown                        48.79   1 
  3 Barron, Hannah            10 Randolph                          48.95   3 
  4 Mattsson, Kayla            9 Randolph                          48.95   2 
  5 Arndt, Lindsay            SO Morristown                        49.55   2 
  6 Armero, Allison           JR Par Hills                         49.58   1 
  7 Crowley, Laura            SO Morristown                        49.69   2 
  8 Rizio, Julia              FR Montville                         50.13   1 
  9 Mendes, LaNija            SO Mount Olive                       50.44   2 
 10 DiPiazza, Jackie          SO Montville                         50.66   1 
 11 Fuller, Brittany          SO Dover                             50.84   4 
 12 Robey, Brooke             JR Montville                         51.03   1 
 13 Ioannou, Niki              9 Randolph                          51.18   3 
 14 Carlucci, Cami            SO Montville                         51.36   3 
 15 Tighe, Meghan                Roxbury                           51.56   5 
 16 O'Connor, Cassie          FR Whippany Park                     51.70   6 
 17 Pierson, Christine        SR Morris Catholic                   51.72   4 
 18 Mulcahy, Laine            SO Villa Walsh                       51.76   4 
 19 carmona, ivanna           JR Dover                             51.80   2 
 20 Mariconda, Ashley          9 Randolph                          51.80   2 
 21 Nyshay, Alex              SO Mendham                           51.82   1 
 22 Gallagher, Julie          FR Mendham                           52.11   1 
 23 Clementi, Gina            JR Mount Olive                       52.11   2 
 24 Roche, Megan              10 Randolph                          52.16   3 
 25 DelPesce, Krystina        SO Mount Olive                       52.39   3 
 26 Morrison, Caitlin         FR Morristown                        52.60   2 
 27 Preston, Haley            SO Mendham                           52.87   1 
 28 Hastings, Jayne           FR Villa Walsh                       52.90   3 
 29 Fondots, Olivia           FR Mendham                           52.94   2 
 30 Hamulak, Taissa           JR Morris Hills                      53.22   4 
 31 Bentacur, Melissa         SR Dover                             53.35   5 
 32 Anselmo, Mary             SO Villa Walsh                       53.52   3 
 33 Ryan, Chelsea             SR Villa Walsh                       53.84   4 
 34 DiGirolamo, Sarah         FR Villa Walsh                       53.98   4 
 35 Halikias, Danielle        FR Mount Olive                       54.02   3 
 36 Jacques, Tania            SO Mount Olive                       54.08   3 
 37 Mathews, Corey            SO Whippany Park                     54.33   4 
 38 Caraballo, Nicole         SO Par Hills                         54.50   4 
 39 Castro, Cinthya           11 Roxbury                           54.78   5 
 40 DeGraw, Suzette            9 Roxbury                           54.84   5 
 41 Castro, Silvya            11 Roxbury                           54.91   5 
 42 Weimersheiner, Zoe        FR Morris Hills                      55.18   5 
 43 Leng, Danielle            10 Roxbury                           56.27   6 
 44 Kretz, Hannah             SO Whippany Park                     56.64   6 
 45 Harris, Taische           SO Dover                             59.69   4 
 46 Soldana, Claudia          JR Par Hills                       1:00.12   5 
 47 Irula, Karina             FR Morris Hills                    1:00.49   6 
 48 Lato, Daniela             FR Morris Hills                    1:01.05   5 
 49 Vides, Eva                SR Dover                           1:01.60   6 
 50 Patel, Shivani            SO Par Hills                       1:02.85   5 
 51 Gargon, Libb              JR Whippany Park                   1:05.02   6 
 
Event 19  Girls 1000 Meter Run Varsity
=========================================================================
 MEET RECORD: % 3:04.28  12/31/2005  Jenn Ennis, Roxbury                       
    Name                    Year School                  Seed     Finals 
=========================================================================
  1 Neutts, Ariann            12 Roxbury                         3:00.40% 
  2 Amaral, Joelle            10 Randolph                        3:06.96  
  3 Anthony, Natalie          11 Randolph                        3:09.54  
  4 Grimes, Kat               JR Chatham                         3:15.00  
  5 Migton, Mary              10 Roxbury                         3:16.35  
  6 Lieberman, Rebecca        12 Randolph                        3:21.74  
  7 McCann, Megan             SR Mount Olive                     3:25.29  
  8 Little, Juliane           11 Randolph                        3:26.66  
  9 Churchman, Michelle       SO Morris Hills                    3:28.02  
 10 Garcia, Casey             SO Mount Olive                     3:28.53  
 11 Metzler, Meghan           SR Mendham                         3:28.71  
 12 Baldwin-LeClair, Abby     JR Morristown                      3:28.87  
 13 Steinert, Cory            SR Morristown                      3:30.67  
 14 Paul, Carla               SR Madison                         3:33.42  
 15 Worthington, Erica        SO Madison                         3:33.90  
 16 Kinnaugh, Tara            SR Montville                       3:35.59  
 17 Lavelle, Kathleen         JR Chatham                         3:38.42  
 18 Goldberg-O'Neil, Sarah    SR Morristown                      3:41.36  
 19 O'Dell, Katie             SR Madison                         3:42.65  
 20 Miller, Caroline          JR Madison                         3:44.75  
 21 Palacio, Danica           JR Whippany Park                   3:46.68  
 22 Dean, Emily               FR Mendham                         3:49.02  
 23 Hull, Ann                 SR Whippany Park                   3:50.05  
 24 Freda, Jillian            SR Mendham                         3:54.71  
 25 Durkin, Mary              FR Mendham                         4:11.90  
 26 Peralta, Kimberly         JR Mendham                         4:29.69  
 
Event 20  Girls 1000 Meter Run Junior Varsity
=========================================================================
 MEET RECORD: % 3:27.20  1997        Rebecca Zeek, Roxbury                     
    Name                    Year School                  Seed     Finals 
=========================================================================
  1 Lerit, Marissa            FR Morristown                      3:29.96  
  2 McDonald, Alex            11 Randolph                        3:35.24  
  3 Whiting, Amelia            9 Randolph                        3:36.93  
  4 London, Emily             SO Montville                       3:38.35  
  5 Rohrbacker, Katie         JR Villa Walsh                     3:39.00  
  6 Phillips, Bridget         SO Mount Olive                     3:39.20  
  7 Bukowiecki, Brenda        10 Roxbury                         3:40.00  
  8 Messinger, Allyson        FR Mendham                         3:42.21  
  9 Scangarello, Jade         SO Montville                       3:45.40  
 10 Taylo, Victoria           SO Morristown                      3:46.27  
 11 McCarter, Katie           FR Madison                         3:46.31  
 12 Anderson, Kayla            9 Roxbury                         3:49.87  
 13 Soni, Stephanie           JR Montville                       3:49.90  
 14 Lopez, Stephanie          FR Mount Olive                     3:52.78  
 15 Broas, Jessica            FR Mendham                         3:55.32  
 16 Saito, Dia                SO Mount Olive                     3:58.81  
 17 Vanderkooi, Jessica       SO Dover                           3:59.01  
 18 Brezezinski, Stefanie     FR Mount Olive                     3:59.04  
 19 Peck, Maggie              FR Mendham                         3:59.08  
 20 Lucero, Leticia           FR Dover                           4:01.61  
 21 Lee, Maggie               SO Mount Olive                     4:02.49  
 22 McAloon, Erin             SO Madison                         4:05.50  
 23 Minogue, Cara             JR Madison                         4:06.21  
 24 Link, Bailey              FR Madison                         4:14.17  
 25 Merrill, Emily            FR Mendham                         4:24.57  
 26 Masiello, Nicole          SO Mendham                         4:26.06  
 27 Riegler, Francesca         9 Roxbury                         4:43.19  
 28 Larsen, Julie             SO Montville                       5:21.50  
 
Event 22  Girls 4x400 Meter Relay Varsity
============================================================================
 MEET RECORD: % 4:07.85  12/31/2005  Columbia, Columbia                        
                         A Newby, B Stewart, A Cruz, E Cooper              
    School                                               Seed     Finals  H#
============================================================================
  1 Randolph  'A'                                                4:19.21   1 
     1) Kusik, Michelle 10              2) Kiss, Victoria 11              
     3) Stickle, Amy 12                 4) Feldhaus, Briana 12            
  2 Montville  'A'                                               4:24.19   1 
     1) Novak, Sarah SO                 2) Tedeschi, Amanda JR            
     3) Zammit, Whitney SO              4) Danilack, Lindsey JR           
  3 Villa Walsh  'A'                                             4:24.78   1 
     1) DellaPia, Alexandra JR          2) DelMauro, Mallory SO           
     3) Leneveu, Margot JR              4) Chapin, Katie JR               
  4 Morris Hills  'A'                                            4:25.46   1 
     1) Fitzgerald, Corinne SR          2) Idler, Danielle SR             
     3) Mosca, Jackie SO                4) Jozwiak, Taylor SO             
  5 Morristown  'A'                                              4:27.23   1 
     1) Horowitz, Leah SO               2) Ehrenranz, Niki SO             
     3) Osborne, Krystal JR             4) Ellis, Krystal JR              
  6 Roxbury  'A'                                                 4:27.75   1 
     1) Neutts, Ariann 12               2) Lee, Eileen 11                 
     3) Bischoff, Aimee 10              4) Alexander, Kathleen            
  7 Mount Olive  'A'                                             4:29.11   1 
     1) Borowski, Jenna SR              2) Pastena, Gianna JR             
     3) Nimoh, Ingrid FR                4) Alston, Shamika SR             
  8 Montville  'B'                                               4:52.84   2 
  9 Mount Olive  'N'                                             4:53.74   2 
 10 Villa Walsh  'B'                                             4:54.26   2 
 11 Morristown  'B'                                              4:55.08   2 
 12 Morristown  'C'                                              5:00.90   2 
 13 Chatham  'A'                                                 5:02.75   2 
 14 Dover  'E'                                                   5:08.64   2 
 15 Madison  'D'                                                 5:13.38   2 
 
Event 24  Girls Shot Put Varsity
=========================================================================
 MEET RECORD: % 42-05.50  1981        Rena Antanelis, Randolph                 
    Name                    Year School                  Seed     Finals 
=========================================================================
  1 Marotta, Grace            JR Madison                        33-06.00  
  2 Passler, Melanie          SR Montville                      31-08.00  
  3 Dilzer, Lauren            JR Whippany Park                  31-08.00  
  4 Nabutete, Elena           SR Mount Olive                    31-06.00  
  5 Belcastro, Stephanie      11 Randolph                       31-04.00  
  6 Ford, Jacinta             JR Mount Olive                    30-00.00  
  7 Price, Kerri              12 Randolph                       29-10.50  
  8 Hubbard, Elizabeth        SO Madison                        29-09.00  
  9 Phelan, Heather           JR Morris Hills                   28-08.25  
 10 Dick, Amber               SR Montville                      27-06.00  
 11 Siegrist, Tayler          SR Madison                        27-02.00  
 12 Penney, Allison           11 Roxbury                        26-01.50  
 13 Collins, Kadian           SR Morris Hills                   26-01.00  
 14 Strafaci, Ariella         SR Mendham                        25-00.00  
 15 Colton, Hayley            SR Morris Hills                   24-09.50  
 16 Garbarino, Lauren         JR Par Hills                      24-08.50  
 17 Cadogan, Shannon          SO Madison                        24-07.00  
 18 Lherisson, Natalie        JR Whippany Park                  24-05.00  
 19 Walker, Chirstina         JR Whippany Park                  23-09.00  
 20 Dickinson, Brianna        JR Morris Hills                   23-01.50  
 21 Varner, Jillian           JR Jefferson                      22-04.00  
 22 Rivera, Cyrielle          SR Mount Olive                    21-11.50  
 23 Aspiazu, Lauren           SO Morris Hills                   21-10.50  
 24 Western, Hayley           SR Jefferson                      20-07.50  
 25 Brady, Taylor             SO Mendham                        20-07.00  
 26 Shrieks, Melissa          JR Jefferson                      20-04.75  
 27 McVann, Jacqueline        SR Mount Olive                    20-00.50  
 
Event 26  Girls High Jump Varsity
=========================================================================
 MEET RECORD: %  5-07  1984        Tanya Smolin, Randolph                      
    Name                    Year School                  Seed     Finals 
=========================================================================
  1 Karovic, Katie            SO Whippany Park                   5-02.00  
  2 Pastena, Gianna           JR Mount Olive                     5-00.00  
  3 Sherrill, Andrea          SR Whippany Park                   4-10.00  
  4 Waite, Elizabeth          SO Jefferson                       4-08.00  
  4 Scheideler, Kara          10 Randolph                        4-08.00  
  6 Kearney, Erin             SR Jefferson                      J4-08.00  
  7 Johnson, Molly            SR Madison                        J4-08.00  
  8 Borowski, Jenna           SR Mount Olive                    J4-08.00  
  9 Muhaw, Kristen            FR Montville                       4-06.00  
  9 Garbarino, Lauren         JR Par Hills                       4-06.00  
  9 Kasbohm, Jenn             SR Villa Walsh                     4-06.00  
 12 Ford, Jacinta             JR Mount Olive                     4-03.00  
 12 Briscoe, Kaitlyn          10 Randolph                        4-03.00  
 12 Alexander, Kathleen          Roxbury                         4-03.00  
 12 Kilponen, Stephanie       10 Randolph                        4-03.00  
 12 Semeraro, Laura           SR Villa Walsh                     4-03.00  
 12 Lee, Eileen               11 Roxbury                         4-03.00  
 12 Ellis, Krystal            JR Morristown                      4-03.00  
 12 Mosca, Jackie             SO Morris Hills                    4-03.00  
 12 Jozwiak, Taylor           SO Morris Hills                    4-03.00  
 -- Verrone, Rachael          11 Randolph                             NH  
 -- Markowitz, Casey          FR Mount Olive                          NH  
 
Event 29  Girls Shot Put Junior Varsity
=========================================================================
    Name                    Year School                  Seed     Finals 
=========================================================================
  1 Morrison, Caitlin         FR Morristown                     24-04.00  
  2 Sweeney, Shannon          SO Madison                        23-11.00  
  3 Darwin, Julie             FR Morristown                     23-08.00  
  4 Lobrovich, Becky          JR Montville                      22-11.25  
  5 Walsh, Jenny              12 Randolph                       22-09.25  
  6 Vose, Mary Ellen          SR Dover                          21-11.00  
  7 Celauro, Serena           JR Whippany Park                  21-06.25  
  8 Dempsey, Erin             FR Morristown                     20-08.50  
  9 Tabakin, Allie            12 Randolph                       20-06.00  
 10 Wesley, Tyler             10 Roxbury                        20-04.00  
 11 Kretz, Hannah             SO Whippany Park                  20-02.25  
 12 Lombardo, Jamie           JR Madison                        20-01.50  
 13 Montroy, Alexandra        FR Morristown                     19-09.00  
 14 MacKenzie, Samantha       11 Roxbury                        19-04.00  
 15 Short, Jennifer           JR Dover                          19-03.25  

Girls PM results
icensed to MCCATS - Contractor License
                                      HY-TEK's Meet Manager 12/29/2008 05:55 PM
                     Passarelli Invitational - 12/29/2008                      
                          Drew University Madison,NJ                           
                                    Results                                    
 
Event 1  Girls 4x51.5 Meter Shuttle Hurdle Varsity
============================================================================
 MEET RECORD: % 33.53  12/31/2006  Ridge, Ridge                                
                       A Mikkilineni, C Bozzi, S Allen, J Kvist          
    School                                               Seed     Finals  H#
============================================================================
Finals
  1 Union  'A'                                                     35.68   1 
     1) Ndu, Ugonna 12                  2) Animashaun, Omolara 12         
     3) Kemp, Kyra 11                   4) Jacob, Ennica 09               
  2 New Providence  'A'                                            36.57   2 
     1) DiNardo, Alessandra SR          2) Bisell, Heather SR             
     3) Boyle, Allison SO               4) Closs, Jennifer SO             
  3 Hunterdon Central  'A'                                         36.97   1 
     1) Bryant, Maria 11                2) Spiller, Colleen 11            
     3) Bernstein, Natalie 11           4) Calabro, Kristen 11            
  4 Livingston  'A'                                                39.11   2 
     1) Emering, Mariah SO              2) Keltos, Kelly SR               
     3) Beyer, Sarah Elizabeth SR       4) Brodsky, Jennifer JR           
  5 Hunterdon Central  'B'                                         40.66   3 
     1) Palis, Kelsey 11                2) Hatton, Samatha 10             
     3) Byrne, Kimberly 10              4) Byrne, Melanie 10              
 
Event 5  Girls 3200 Meter Run Varsity
=========================================================================
 MEET RECORD: % 11:02.05  12/31/2005  Jenn Ennis, Roxbury                      
    Name                    Year School                  Seed     Finals 
=========================================================================
  1 Payenski, Allison         10 Hunterdon Centra               11:49.98  
  2 Lederman, Sara            SR Livingston                     12:27.20  
  3 Hyppolite, Christelle     12 Union                          12:32.90  
  4 Leeper, Kathleen          SO Scotch Plains                  12:37.64  
  5 Racine, Kaitlin           SR Sparta                         12:57.43  
 
Event 6  Girls 1600 Meter Run Varsity
=========================================================================
 MEET RECORD: % 5:13.07  2000        Kristen Meyer, Hillsborough               
    Name                    Year School                  Seed     Finals 
=========================================================================
  1 Stecklow, Kelsey          10 Hunterdon Centra                5:38.84  
  2 Pierce, Erin              FR Scotch Plains                   5:39.60  
  3 Skellington, Carlie       09 Hunterdon Centra                5:44.22  
  4 Kelly, Shannon            FR Livingston                      5:45.43  
  5 Cusi, Eloissa             FR Livingston                      5:46.84  
  6 Toner, Caitlin            SO New Providence                  6:01.11  
  7 Tomlin, Kathleen          SR Sparta                          6:02.63  
  8 Zhou, amy                 JR Livingston                      6:07.01  
  9 Niang, Bineta             11 West Essex                      6:18.21  
 10 Kaluski, Arielle          SO Livingston                      6:20.96  
 11 Xia, Mary                 SO Livingston                      6:22.42  
 12 Ball, Caraugh             JR Westfield                       6:22.83  
 13 Garfinkel, Daryl          SR Westfield                       6:25.53  
 14 Pennington, Mae           SR Caldwell                        6:26.85  
 15 Lucid, Kristen            JR New Providence                  6:27.88  
 16 Meagher, Jennifer         FR New Providence                  6:28.35  
 17 Shulman, Melissa          SR Westfield                       6:35.24  
 18 Clinger, Michelle         09 Hunterdon Centra                6:37.98  
 19 MACHI, Serena             SO Caldwell                        6:52.04  
 20 Yen, Rachel               10 West Essex                      7:10.45  
 21 Magno, Michelle           12 West Essex                      7:34.46  
 -- Grogan, Aileen            SR Westfield                           DNF  
 
Event 9  Girls 55 Meter Dash Varsity
============================================================================
 MEET RECORD: %  7.34  1985        Renee Carr, Science                         
    Name                    Year School                  Seed    Prelims  H#
============================================================================
Preliminaries
  1 Ndu, Ugonna               12 Union                              7.68q  1 
  2 Kemp, Kyra                11 Union                              7.74q  2 
  3 Riley, Mia                SR Caldwell                           7.81q  1 
  4 Ruddy, Tara               JR Sparta                             7.86q  3 
  5 Canfield, Sarah           JR Scotch Plains                      8.00q  2 
  6 Bryant, Maria             11 Hunterdon Centra                   8.01q  2 
  7 Ake, Anne Maude           SR New Providence                     8.12q  2 
  8 Gellert, Anna Rose        JR New Providence                     8.16   1 
  9 Fay, Jenna                JR New Providence                     8.16   3 
 10 Crystal, Isabel           FR Scotch Plains                      8.21   1 
 11 Espy, Julia               SR Summit                             8.28   2 
 12 Wermert, Victoria         JR Sparta                             8.32   3 
 13 Handy, Camille            SO Scotch Plains                      8.33   3 
 14 Mc Donald, Lauren         10 West Essex                         8.33   2 
 15 Nagourney, Emily          SO Scotch Plains                      8.37   3 
 16 Chase, Christina          SR Sparta                             8.43   1 
 17 Barrett, Shereka          11 Union                              8.43   3 
 18 Denton, Olivia            11 Hunterdon Centra                   8.46   1 
 19 Viera, Renata                Caldwell                           8.70   4 
 20 Delorenza, Stephanie      SO Caldwell                           8.79   4 
 21 Rodrigues, Amanda         SO Caldwell                           8.93   4 
 22 Henry, Angelique          11 Hunterdon Centra                   8.94   4 
 23 D'Accampo, Krista         10 West Essex                         9.42   4 
 24 Conlon, Melissa           SR Caldwell                          10.30   4 
 
Event 9  Girls 55 Meter Dash Varsity
=========================================================================
 MEET RECORD: %  7.34  1985        Renee Carr, Science                         
    Name                    Year School               Prelims     Finals 
=========================================================================
Finals
  1 Ndu, Ugonna               12 Union                   7.68       7.58  
  2 Riley, Mia                SR Caldwell                7.81       7.71  
  3 Kemp, Kyra                11 Union                   7.74       7.72  
  4 Ruddy, Tara               JR Sparta                  7.86       7.78  
  5 Ake, Anne Maude           SR New Providence          8.12       8.05  
  6 Bryant, Maria             11 Hunterdon Centra        8.01       8.11  
  7 Canfield, Sarah           JR Scotch Plains           8.00       8.12  
 
Event 11  Girls 55 Meter Dash Junior Varsity
============================================================================
 MEET RECORD: %  7.94  1997        Andrea Cortese, West Morris                 
    Name                    Year School                  Seed     Finals  H#
============================================================================
  1 Stephens, Tiffaine        JR East Orange                        8.35   1 
  2 Depa, Makka               10 Union                              8.46   1 
  3 Williams, Fatima             East Orange                        8.46   2 
  4 Michels, Victoria         09 Hunterdon Centra                   8.51   3 
  5 Burke, Hallie             FR Summit                             8.57   2 
  6 Gellert, Christiana       FR New Providence                     8.75   1 
  7 Saitta, Nicole            FR New Providence                     8.77   1 
  8 Whitelaw, Amanda          10 Hunterdon Centra                   8.79   3 
  9 Blake, Karen              11 Union                              8.81   2 
 10 Diaz, Kelly               SO Summit                             8.85   5 
 11 Tabash, Nikki             FR Summit                             8.90   3 
 12 Orleans, Yveline          11 Union                              8.91   1 
 13 Arent, Olivia             FR New Providence                     8.98   1 
 14 Jiang, Lilly              10 West Essex                         9.01   4 
 15 Ciarrocca, Michelle       SO New Providence                     9.03   2 
 16 Lucin, Caroline           FR Caldwell                           9.05   4 
 17 McKenna, Kylie            JR Summit                             9.06   3 
 18 Meddick, Juliana          SO New Providence                     9.12   2 
 19 Somers, Sarah             FR Caldwell                           9.15   4 
 20 Wreh, Jasmaude            SR East Orange                        9.19   1 
 21 Marcianna, Judge          FR East Orange                        9.22   2 
 22 Gao, Geena                FR Westfield                          9.30   3 
 23 Antoniewicz, Gemma        FR Westfield                          9.36   3 
 24 Borr, Samantha            SO Westfield                          9.54   5 
 25 McMahon, Michaela         FR Caldwell                           9.56   5 
 26 Myagmardorj, Khulan       10 Hunterdon Centra                   9.58   4 
 27 Kirbas, Toni              SO Caldwell                           9.59   5 
 28 Murphy, Jennifer          FR Westfield                          9.62   2 
 29 Colvin, Molly             FR Westfield                          9.74   3 
 30 Gurriere, Jenna           SO Caldwell                          10.25   4 
 31 Navia, Alinoel            12 West Essex                        10.52   5 
 32 Radek, Mariel             FR Caldwell                          10.60   5 
 33 Song, Victoria            10 West Essex                        17.84   4 
 
Event 13  Girls 600 Meter Run Varsity
============================================================================
 MEET RECORD: % 1:37.18  2003        Erin Crawford, Hillsborough               
    Name                    Year School                  Seed     Finals  H#
============================================================================
  1 Mania, Brigitte           12 Hunterdon Centra                1:37.13%  1 
  2 McDonald, Kayla           SR Summit                          1:43.39   1 
  3 Lindner, Juliana          11 Hunterdon Centra                1:47.76   2 
  4 Allocco, Danielle         SR Summit                          1:47.88   1 
  5 Hallenborg, Nicola        JR Summit                          1:49.21   1 
  6 Vodopia, Katherine        09 Hunterdon Centra                1:49.43   3 
  7 Bruce, Laura              SO Scotch Plains                   1:49.70   1 
  8 Trinh, Lisa               SO Livingston                      1:49.89   1 
  9 Nehring, Lisa             JR Westfield                       1:51.22   2 
 10 Emering, Mariah           SO Livingston                      1:54.15   1 
 11 Veidis, Erika             SO Sparta                          1:54.24   3 
 12 Woolridge, Kayla          10 Union                           1:54.28   1 
 13 Crystal, Isabel           FR Scotch Plains                   1:55.09   1 
 14 McLeod, Megan             SO Caldwell                        1:55.77   4 
 15 Altman, Haley             FR Livingston                      1:55.81   2 
 16 Toumanios, Elizabeth      12 West Essex                      1:58.82   2 
 17 Peterson, Brittany        SO New Providence                  1:59.37   2 
 18 Brodsky, Jennifer         JR Livingston                      1:59.83   2 
 19 Niang, Bineta             11 West Essex                      1:59.96   2 
 20 Naspo, Katie              SO Caldwell                        2:01.03   3 
 21 Murray, Shannon           SR Westfield                       2:01.39   3 
 22 Lowenstein, Allie         SR Westfield                       2:01.65   3 
 23 Bulzacchelli, Lauren      JR New Providence                  2:04.71   2 
 24 Dennerlein, Liz           JR Westfield                       2:05.22   4 
 25 Miller, Carly             SR Caldwell                        2:07.11   4 
 26 Manwarren, Marissa        12 West Essex                      2:08.13   2 
 27 Izraeli, Sarah            FR Caldwell                        2:08.24   4 
 28 MACHI, Serena             SO Caldwell                        2:08.83   4 
 29 Wallace, Melissa          SO Caldwell                        2:10.86   4 
 30 Ekeanyanwu, Chika         10 Union                           2:11.26   3 
 31 Kuntz, Stephanie          JR Westfield                       2:11.66   4 
 32 Douranakis, Victoria      10 West Essex                      2:13.04   3 
 
Event 16  Girls 300 Meter Dash Varsity
============================================================================
 MEET RECORD: % 42.17  12/31/2007  Ugonna Ndu, Union                           
    Name                    Year School                  Seed     Finals  H#
============================================================================
  1 Ndu, Ugonna               12 Union                             42.94   1 
  2 McDonald, Kayla           SR Summit                            44.86   1 
  3 Ruddy, Tara               JR Sparta                            45.50   1 
  4 Tucker, Holly             SR New Providence                    45.98   1 
  5 Wermert, Victoria         JR Sparta                            46.75   2 
  6 Bryant, Maria             11 Hunterdon Centra                  46.91   1 
  7 Gellert, Anna Rose        JR New Providence                    47.04   1 
  8 Salituro, Alanna          JR Scotch Plains                     48.62   2 
  9 Chase, Christina          SR Sparta                            48.65   2 
 10 Denton, Olivia            11 Hunterdon Centra                  49.04   4 
 11 Mc Donald, Lauren         10 West Essex                        49.18   3 
 12 McGovern, Rachel          JR Westfield                         50.68   3 
 13 Burnett, Jackie           SR Sparta                            51.19   2 
 14 Sanders, Jennifer         JR Caldwell                          51.38   3 
 15 DiNardo, Alessandra       SR New Providence                    51.39   2 
 16 Delorenza, Stephanie      SO Caldwell                          51.40   3 
 17 Viera, Renata                Caldwell                          51.63   4 
 18 Pineda, Carena            JR Livingston                        51.76   3 
 19 Rodrigues, Amanda         SO Caldwell                          52.48   4 
 20 Naspo, Katie              SO Caldwell                          52.79   4 
 21 Murphy, Alexis            SO Westfield                         53.21   5 
 22 Gretsky, Emily            FR Westfield                         53.82   5 
 23 Gao, Geena                FR Westfield                         54.45   5 
 24 Bachman, Meghan           FR Westfield                         55.20   4 
 25 D'Accampo, Krista         10 West Essex                        56.00   3 
 26 Parcel, Hannah            09 Hunterdon Centra                  57.16   5 
 
Event 17  Girls 300 Meter Dash Junior Varsity
============================================================================
 MEET RECORD: % 45.52  12/31/2005  Sara Harris, Morristown                     
    Name                    Year School                  Seed     Finals  H#
============================================================================
  1 Paganessi, Marina         09 Hunterdon Centra                  47.67   1 
  2 Stephens, Tiffaine        JR East Orange                       48.27   1 
  3 Connolly, Courtney        FR New Providence                    49.49   1 
  4 Jacob, Ennica             09 Union                             49.83   1 
  5 Littlejons, Cora          09 Hunterdon Centra                  50.38   1 
  6 Williams, Fatima             East Orange                       50.50   4 
  7 Armstrong, Nicole         10 Union                             50.67   2 
  8 Saitta, Nicole            FR New Providence                    51.41   1 
  9 Depa, Makka               10 Union                             51.45   2 
 10 Burke, Hallie             FR Summit                            51.49   1 
 11 Arent, Olivia             FR New Providence                    52.02   1 
 12 Diaz, Kelly               SO Summit                            52.14   2 
 13 Wreh, Jasmaude            SR East Orange                       52.37   3 
 14 McKenna, Kylie            JR Summit                            52.53   2 
 15 Gellert, Christiana       FR New Providence                    52.64   1 
 16 Carter, Megan             10 Hunterdon Centra                  54.01   3 
 17 Brodsky, Jennifer         JR Livingston                        54.08   2 
 18 Marcianna, Judge          FR East Orange                       54.76   4 
 19 Fox, Katherine            FR Westfield                         55.63   3 
 20 McMahon, Michaela         FR Caldwell                          56.08   2 
 21 Wenta, Aimee              FR Westfield                         57.09   4 
 22 Antoniewicz, Gemma        FR Westfield                         57.71   3 
 23 Colvin, Molly             FR Westfield                         57.75   4 
 24 Valdes, Paula             JR Livingston                      1:00.11   4 
 25 Murphy, Jennifer          FR Westfield                       1:00.67   4 
 26 Gurriere, Jenna           SO Caldwell                        1:01.01   2 
 27 Conlon, Melissa           SR Caldwell                        1:01.87   3 
 28 Shultz, Kerry             SO Caldwell                        1:02.59   3 
 29 Radek, Mariel             FR Caldwell                        1:04.63   2 
 
Event 19  Girls 1000 Meter Run Varsity
=========================================================================
 MEET RECORD: % 3:04.28  12/31/2005  Jenn Ennis, Roxbury                       
    Name                    Year School                  Seed     Finals 
=========================================================================
  1 Hallenborg, Nicola        JR Summit                          3:16.05  
  2 Hyppolite, Christelle     12 Union                           3:18.70  
  3 Veeck, Brittney           SR Scotch Plains                   3:20.45  
  4 Skellington, Carlie       09 Hunterdon Centra                3:25.86  
  5 Allocco, Danielle         SR Summit                          3:28.24  
  6 Nehring, Lisa             JR Westfield                       3:28.65  
  7 Kelly, Shannon            FR Livingston                      3:29.55  
  8 Hatch, Alyssa             SO Westfield                       3:29.57  
  9 Racine, Kaitlin           SR Sparta                          3:32.14  
 10 Murray, Shannon           SR Westfield                       3:32.91  
 11 Zhou, amy                 JR Livingston                      3:34.38  
 12 Lowenstein, Allie         SR Westfield                       3:41.03  
 13 Kaufman, Samantha         JR Westfield                       3:41.43  
 14 Kane, Natalie             09 Hunterdon Centra                3:54.13  
 15 Tyrrell, Tara             SO Caldwell                        4:09.74  
 16 Wallace, Melissa          SO Caldwell                        4:19.16  
 17 Hawkins, Gabrielle        09 Hunterdon Centra                4:19.61  
 
Event 20  Girls 1000 Meter Run Junior Varsity
=========================================================================
 MEET RECORD: % 3:27.20  1997        Rebecca Zeek, Roxbury                     
    Name                    Year School                  Seed     Finals 
=========================================================================
  1 Watson, Katie             SO Summit                          3:16.25% 
  2 Diaz, Aleixa              FR Summit                          3:31.38  
  3 Altman, Haley             FR Livingston                      3:40.34  
  4 Cummings, Tierny          SO Westfield                       3:40.41  
  5 Frankel, Alex             SO Westfield                       3:43.96  
  6 Xia, Mary                 SO Livingston                      3:44.44  
  7 Richards, Emily           FR Summit                          3:44.70  
  8 Rebustes, Janelle         12 Union                           3:45.63  
  9 Bendall, Caitlynn         10 Hunterdon Centra                3:45.89  
 10 Grimes, Danielle          FR Westfield                       3:51.27  
 11 Kaluski, Arielle          SO Livingston                      3:51.83  
 12 Closs, Jennifer           SO New Providence                  3:52.94  
 13 Dzialo, Lauren            FR Summit                          3:54.19  
 14 Mooney, Shannon           SO Westfield                       3:57.16  
 15 Giugliano, Sam            JR Sparta                          3:58.31  
 16 Biner, Chana              SO Scotch Plains                   3:58.70  
 17 Turnquist, Paige          10 Hunterdon Centra                3:59.08  
 18 Izraeli, Sarah            FR Caldwell                        3:59.49  
 19 Fiedler, Mary Beth        FR Scotch Plains                   4:00.38  
 20 Ming, Joy                 SO Livingston                      4:01.45  
 21 Sands, Jessica            SO Sparta                          4:04.36  
 22 DeSimone, Alyssa          09 Hunterdon Centra                4:08.81  
 
Event 22  Girls 4x400 Meter Relay Varsity
============================================================================
 MEET RECORD: % 4:07.85  12/31/2005  Columbia, Columbia                        
                         A Newby, B Stewart, A Cruz, E Cooper              
    School                                               Seed     Finals  H#
============================================================================
  1 Hunterdon Central  'A'                                       4:18.36   1 
     1) Vodopia, Katherine 09           2) Payenski, Allison 10           
     3) Lindner, Juliana 11             4) Mania, Brigitte 12             
  2 New Providence  'A'                                          4:24.29   1 
     1) Tucker, Holly SR                2) Leonard, Sarah JR              
     3) Boyle, Allison SO               4) Ake, Anne Maude SR             
  3 Sparta  'A'                                                  4:28.37   1 
     1) Veidis, Erika SO                2) Wermert, Victoria JR           
     3) Chase, Christina SR             4) Ruddy, Tara JR                 
  4 Summit  'A'                                                  4:28.76   1 
     1) Allocco, Danielle SR            2) McDonald, Kayla SR             
     3) Hallenborg, Nicola JR           4) Ramirez, Elena SO              
  5 West Essex  'A'                                              4:44.70   2 
     1) Manwarren, Marissa 12           2) Niang, Bineta 11               
     3) Toumanios, Elizabeth 12         4) Mc Donald, Lauren 10           
  6 Union  'A'                                                   4:47.62   1 
     1) Kemp, Kyra 11                   2) Orleans, Yveline 11            
     3) Animashaun, Omolara 12          4) Barrett, Shereka 11            
  7 Livingston  'A'                                              4:48.44   2 
  8 Caldwell  'A'                                                4:55.99   2 
  9 Westfield  'A'                                               4:57.77   2 
 10 Summit  'B'                                                  5:02.45   1 
 11 Caldwell  'B'                                                5:10.76   2 
 12 Hunterdon Central  'B'                                       5:11.38   1 
 13 Caldwell  'C'                                                5:13.03   2 
 14 Westfield  'B'                                               5:16.33   2 
 15 Hunterdon Central  'C'                                       5:41.52   2 
 
Event 24  Girls Shot Put Varsity
=========================================================================
 MEET RECORD: % 42-05.50  1981        Rena Antanelis, Randolph                 
    Name                    Year School                  Seed     Finals 
=========================================================================
  1 Riley, Mia                SR Caldwell                       35-00.75  
  2 Vilsaint, Cristina        12 Union                          34-11.25  
  3 Butler, Jen               SR Summit                         32-06.50  
  4 Stanely, Edan             SO Sparta                         32-03.00  
  5 Alperin, Stephanie        SR Caldwell                       31-11.25  
  6 Lee, Eboni                12 Union                          31-01.75  
  7 Zakee, Imani              12 Union                          31-00.50  
  8 Wenson, Kim               JR Scotch Plains                  29-11.50  
  9 Onyegbule, Ozioma         12 Union                          29-03.50  
 10 Ciarrocca, Michelle       SO New Providence                 28-08.50  
 11 Ricks, Madison            SO New Providence                 26-03.50  
 12 Valdez, Ashley            JR Livingston                     25-10.00  
 13 Bjorlo, Brigette          11 Hunterdon Centra               23-00.00  
 14 Pate, Jill                JR Westfield                      22-10.25  
 15 Ewing, Amanda             10 Hunterdon Centra               22-05.00  
 16 Ribaudo, Brittany         10 Hunterdon Centra               22-04.00  
 17 Schweizer, Danielle       SO Scotch Plains                  20-05.00  
 
Event 26  Girls High Jump Varsity
=========================================================================
 MEET RECORD: %  5-07  1984        Tanya Smolin, Randolph                      
    Name                    Year School                  Seed     Finals 
=========================================================================
  1 Carson, Emily             SR Caldwell                        5-03.00  
  2 Spiller, Colleen          11 Hunterdon Centra                4-10.00  
  3 Canfield, Sarah           JR Scotch Plains                   4-08.00  
  4 Nagourney, Emily          SO Scotch Plains                  J4-08.00  
  5 Bisell, Heather           SR New Providence                  4-06.00  
  5 Ndu, Ugonna               12 Union                           4-06.00  
  7 Knott, Megan              JR Caldwell                       J4-06.00  
  7 Mijaljevic, Kristina      SO Caldwell                       J4-06.00  
  7 Irving, Kelly             JR Westfield                      J4-06.00  
  7 Burnett, Jackie           SR Sparta                         J4-06.00  
 11 Toumanios, Elizabeth      12 West Essex                      4-03.00  
 11 Kemp, Kyra                11 Union                           4-03.00  
 11 Kohanik, Megan            SO Caldwell                        4-03.00  
 11 Espy, Julia               SR Summit                          4-03.00  
 11 Hawkins, Alex             SO Westfield                       4-03.00  
 -- Reimlinger, Casey         SR Westfield                            NH  
 -- VanEpp, Sirena            SO Westfield                            NH  
 -- McMahon, Michaela         FR Caldwell                             NH  
 -- Porch, Jennifer           SO Westfield                            NH  
 -- Bernstein, Natalie        11 Hunterdon Centra                     NH  
 -- Boyle, Allison            SO New Providence                       NH  
 -- Cleary, Samantha          10 Hunterdon Centra                     NH  
 -- Beyer, Sarah Elizabeth    SR Livingston                           NH  
 
Event 29  Girls Shot Put Junior Varsity
=========================================================================
    Name                    Year School                  Seed     Finals 
=========================================================================
  1 O'Connor, Caroline        11 West Essex                     23-01.00  
  2 Benoit, Kelsey            09 Hunterdon Centra               22-05.50  
  3 Kujawski, Elaina          JR Westfield                      21-06.50  
  4 Beyer, Sarah Elizabeth    SR Livingston                     21-00.00  
  5 Lucas, Paige              SO Sparta                         20-11.00  
  6 Rodriguez, Daniela        SO Summit                         20-10.50  
  7 Posluszny, Lauren         JR Westfield                      20-03.50  
  8 Tabash, Nikki             FR Summit                         20-03.00  
  9 Goldin, Alexandra         SR Westfield                      20-00.50  
 10 Lyons, Paige              10 Hunterdon Centra               19-06.50  
 11 Ferrante, Nicole          11 West Essex                     18-06.50  
 12 Fagan, Lia                JR Westfield                      16-