Final event fireworks for champions

Andover boys get win, Manfield ties Newton South girls in 4x400
Top marks: Jones, Thomas, L-S girls 4x8, Murphy, McConnell





"Another amazing Friday night at Reggie"

- Meet Summary by John Carroll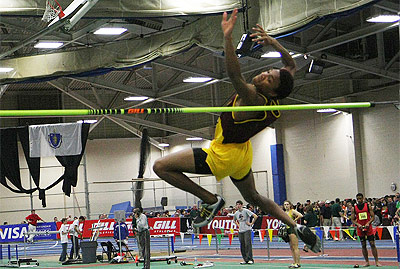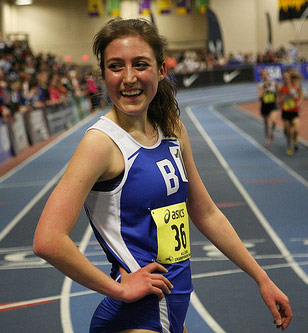 Corey Thomas (US#3 HJ/55H) and Emily Jones (US#1 2M) provided two major highlights - Photos by Jeannette Seckinger


Team Champs:
Highlights
Bromfield sr

Emily Jones

improves on her US#1 2-mile and breaks her own meet record with 10:29.57. Great battle for 2nd goes to Natick sr Rebecca White as 4 finish between 10:57-11:00

Lincoln-Sudbury girls

improve their US#2 4x800 with meet record 9:15.17 over Newton South's 9:18.98 (also under old meet record)
BC High sr and US#3 high jumper

Corey Thomas

leaps meet record 6-11 HJ, just off his PR, and doubles with 7.51 55H (repeat) victory
Framingham sr Camille Murphy steams to US#5 2:51.99 1k, with Lincoln-Sudbury sr Ellie Hylton 2nd in 2:52.37, leading a total of ten at 3:00 or better
Andover jr Christopher McConn zips to meet record 6.34 55 dash
North Attleboro sr Nick Wade rolls to meet record 1:20.89 600
Newton South sr Bridget Dahlberg wins her 3rd straight MIAA All-State mile with 4:56.16
Mansfield sr Dan Glavin sends the 12-pound ball 60-06.50 to win the shot put
Xaverian jr John Bleday suprises Charlestown sr Omar Abdi in the boys mile, 4:20.79-4:20.84, and runs leg on winning 4x800
Nashoba Regional sr Joe Doyle wins 1k in 2:29.16
Seekonk jr John Gregorek runs to 9:19.64 2M victory
Winchester sr Davis VanOpdorp nips Seekonk jr Casey O'Brien in boys 300, 35.68-35.69, with Lawrence jr Francesco Cuesta just .06 further back
Andover boys take both the 4x200 and 4x400
Mansfield sr Meghan Ferreira repeats as 55H champ and duplicates her '08 winning time of 8.36, with Westford Academy sr Cassandra Ryding 2nd in the same time.



Another amazing Friday night at Reggie





By John Carroll



What do you do on Friday night? Football night in Texas; dance night, or most likely date night in most areas. For the Massachusetts H.S. track and field athletes it is "Friday 'Date' night at Reggie!" Many league meets, State Class Meets, State Meet, and next weekend the New England Champs are all on Friday nights at Reggie. It IS the place to be.

Last week the top athletes battled through a mid-winter vacation and class meets to get to the State Meet. This week, back in school, they showed up at Reggie on Friday for the State Championships. There were some secure picks, however, some of them were not to follow the seed lists.


Girls High Jump
This turned out to be a great event with eight girls clearing 5'04". The winner was the Oliver Ames-No. Easton senior Laura Weeks clearing 5'06" on her first attempt. Laura was clean all the way to 5'6". Algonquin Reg. soph Haley Laird slipped to second when she had to go to her third jump at 5'6". They were the only two jumping at 5'06". Weeks, since having a cast removed from her left wrist has been jumping well in the last several weeks. She broke the wrist early in the season – yep, you guessed it – high jumping.
5'0 5'2" 5'4" 5'6" 5'8
1.Laura Weeks, Oliver Ames o o o o xxx
2.Haley Laird, Algonquin o o o xxo xxx
3.Jessica Wagner, Plymouth So o o xo xxx
4. Molly Hurkett, Woburn o o xxo xxx
5. Lucille Cancre, Lexington p xo xxo xxx
6. Emily Matson, Shelperd Hill o xxo xxo xxx
6. Alish Hanly, Westford Acad. xo xo xxo xxx
6. Adrianna Davis, Chelmsford o xxo xxo xxx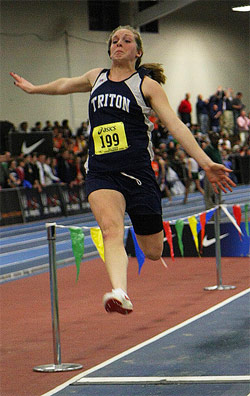 Girls Shot Put
This was sort of an upset when Newton South sr Nalis Mbianda hit her PR and won the shot throwing 41'09.25". This bested defending champion Emmaline Berg (Holliston), whose best throw was 41'03.50" Kelly McCabe of Mansfield was third with 40' 08.75. Lauren Berg, Central Catholic-Lawrence also hit her PR going 40'00.5"

1.Mbianda, NS 39'8.25 / 41'9.25 / 37'11 / / 40'2.75 / 40'6.25 / 39'7.25
2.Berg, Holliston 40'9.75 / 40'3.5 / 39'11.75 / / 41'3.5 / 40'7 / 40'6.75
3.McCabe, Mansfield 38'3.25 / F / 40'8.75 // F / 39' 00.25 / 40'04
4.Berg, Cent. Cath. 36'6.5 / 38'10.25 / 38'10.75 / / 40'0.25 / 38'0
5.Foster, New Leadershp 36'3.3 / 36'11.25 / 39'2.5 / / F / 37'3/5 / F
6.Chauvin, Seekonk F / 37'0.75 / 35'4.25 / / 35'4.75 / 35'0 / 36'4.25


Girls Long Jump
The question of the week in the G LJ was would Deanna Latham (right) be well enough to jump? At the Class meet she won, but a pulled muscle forced her to scratch from the Hurdle final. What about States? Latham warmed up and put it all behind her. Her first jump went 17'09.75", her third was the winner. Then she passed her remaining three jumps.
Bridgewater-Raynham senior Melanie Frazier was second and Mansfield junior Julie McCauley was third in 17' 02.75.

1.Latham, Triton Reg. 17'9.75 / 17' 9.75 / 18' 2.5 / / p / p / p
2.Frazier, Bridge-Rayn 17' 7" / 17'6.5 / F / 16'10.25 / 17'3.5 / F
3.McCauley, Mansfield 16'9 / 16' 9.25 / 17' 1 / / 16'4.25 / 17'2.75 / 16' 5.25
4.Boyce, Hopkinton 17' 1.25 / 16' 9 / 16' 8.75 / / F / 16'8 / 16' 3.25
5.Mercure, Holyoke Cath. 16' 0 / 16'10 / 16'0 / / 15'11 / 15'7.25 / 15'9.5
6.Nathan, Randolph 16'8.5 / p / p / / p / p / p


The girls field events saw Newton South come up with an unexpected winner and emerge with 10 points. Mansfield got two thirds and scored 12 points in the field events.


Boys High Jump
This was the premier field event, on center floor, with all watching. BC High senior (Stonehill bound) Corey Thomas broke the 1992 meet record of 6'10.5 (Kopp, St. John's HS-Shrewsbury). Corey was the only one left at the high heights. He finished the H.S. season undefeated in the HJ (and 55 Hurdles). Unknown jr Corey Fairflield, Millis, was second; Mike Blair, Wellesley senior, third; and Sutton senior Trent Baltzell fourth as all cleared 6'05"
5'11 6'1 6'3 6'5 6'7 6'9 6'11 7'1
1.Thomas, BC High o o o xo o p o xxx
2. Fairfield, Millis o o o xo xxx
3. Blair, Wellesley o xo o xxo xxx
4. Baltzell, Sutton o xo o xxo xxx
5. Conklin, Wellesley xo o o xxx
6. Higgins, Bourne o o xo xxx
6. Grimble, No. Andover o o xo xxx
6. Guarente, Saugus o o xo xxx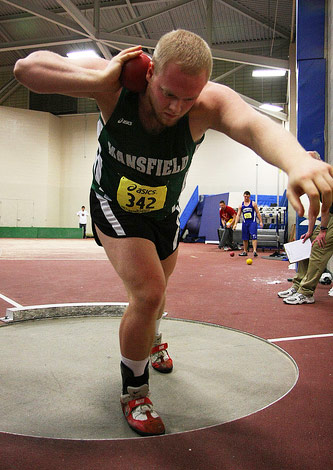 Boys Shot Put
The boys SP produced the number one upset in the field events. Mansfield's Dan Glavin (left), runner up to his teammate last year, hit his PR on his second throw, 60'03", and then hit the winner, 60' 6.5 on his last throw. The first throw unnerved the rest of the field, and Glavin claimed the gold medal. Falmouth junior Sam Bombaugh, the event favorite claimed second, a couple of feet below his season best, while Mike Murphy, BC High, was third.

Glavin, Mansfield 59'3 / 60'3 / 58'2.5 / / 57'11 / 58'2 / 60'6.5
Bombaugh, Falmouth F / F / 51'9 / / 56' 9.5 / F / F
Murphy, BC High 52'9.75 / 54'3.25 / 53'2 / / 53'7 / F / 52'10.25
Davila, Lowell F / F / 50'10.5 / / F / 51'11.75 / 52'5.75
Peter, No. Andover 51'11.25 / F / 47'3.5 / / 51'5.75 / 50'10.5 / 47'6.75
Marsen, Peabody 48'5 / 50'5.75 / 51'9.25 / / 50'6.25 / F / 48'10.25



Boys Long Jump
The boys jumped after the girls and that would mean they would have to leave the event to do some running trials, or even a final. Gondre (NB) had to go from the Dash final right to the already underway Long Jump final. However, his teammate, New Bedford junior Jon Williams, hit the winning jump on his first jump, 21'09.75. That certainly pressured the field. Runner-up sophomore Craig Langes, Woburn, had two fouls, then hit the # 2 jump 21'09" on the last jump of the first round. Gondre's third place came after he ran the dash final.




1. Williams, New Bedford 21' 09.75 / 20'4.5 / 20'6 / / 20'9.5 / F / 19'11.5
2. Langes, Woburn F / F / 21'9" / / 18' 1.5 / 20'4 / F
3. Gondre, New Bedford F / 21'4" / p / / 20'10.5 / 20'8.75 / 21'7.75
4. Jaquite, Madison Park 21'6.5 / 20'6 / 20'10.5 / / 21'3 / F / 21'2
5. Pereira, No. Quincy F / 21'3 / 21' 1 / / 17' 6.5 / 21'5 / 20'6
6. Bojanic, Con-Carlisle 20'8 / F / 20'4 / / 20'9 / 21'0.75 / 20.5.5

At the end of the Boys field events Boston College HS had 16 points and a good chance at a state title.


Girls Mile
Swampscott junior Lindsay Walsh used a very strong kick to win the first section in a PR 5:10.49. But all eyes were on the fast second section. Oliver Ames junior Jenna Davidner took the pace out with the field tightly bunched behind her. They passed halfway in about 2:30, and then Newton South's Bridget Dahlberg went to the front. Bridget applied pressure the next two laps and built up a secure lead of about 15 yards, and won her third straight title in 4:56.15 while Davidner dipped under 5 for the first time at 4:59.94. Lincoln-Sudbury soph Andrea Keklek was third 5:02.78. Monica Adler (Beverly jr) PR'd in fourth with 5:03.50. Alanna Poretta (Pentucket Reg. jr) hit her indoor PR in fifth with a 5:05.67.

The courage award went to sixth placer, Weymouth soph Jillian Corcoran. Jill fell just a couple of yards before the finish and dropped out of the top three, but she pulled, crawled, rolled across the line to be timed in 5:06.40 for sixth.


Boys Mile
The overall favorite was Omar Abdi, Charlestown, who had run 4:14 earlier in the season. But at states, all bets are off. Abdi built up about a 6-10 yard lead halfway through. At first, the chase group seemed content to battle amongst themselves for second. Just after 880, Xaverian Brothers-Westwood's John Bleday moved out and made a bid to catch Abdi as he slowed in the third 400. With about 350 to go, Bleday pulled alongside Abdi and moved. Everyone expected a huge sprint, but that did not happen as Bledey used "family experience" – his brother was a several time state champ – and held on to win the title in 4:20.79. Abdi made a big run but fell short in 4:20.84.

D-Y junior Max Darrah PR'ed in third with 4:21.71. Alex Kramer (No. Andover) 4:22.35, Paul Taft (Whitman-Hanson) 4:22.78 and Andrew Ryan (Gloucester) 4:22.79 rounded out the placers. Byron Jones, Westborough jr., ran 4:23.01 to win section one and eventually finish sixth.


Girls 600
The third section winner, Bishop Feehan-Attleboro jr Jen Thomas, put a PR 1:37.70 on the board. She was chased to the line by Bishop Stang jr Katie Darmody, who also PR'd in 1:38.54. That would mean the fourth section would have to get down to business. Courtney Baldwin, Lowell sr, would take care of that as she set the early pace. However, no matter what pace you set this winter, the outcome always ends in P-A-I-N-(E). Natalia Paine, Northampton jr., has not lost yet this winter. She came around the outside and became a clear winner in 1:36.14. Baldwin was second in 1:36.74 and Thomas ended up third from the third section. Star Nathan, Randolph sr, was third in a PR 1:37.74. Mansfield jr Michelle Jenssen was firth in 1:37.85. Darmody, from section three, held on to get sixth


Boys 600
No mistakes here as the final section made sure that anyone not in the race on the track would stay off the award platform. North Attleboro's Nick Wade moved to the front just before 400 and led the field home as he set a state meet record of 1:20.89 (No. 9 US). (Old record 1:21.08 C. Bonner, Xaverian, 2002). Chelmsford's Dave Brown dropped down to the 600 this year and was second in 1:21.81. Milton sr. Paul Conner, the outdoor 400 champ, was close in 1:21.94. Nick DelGiudice, Leominster sr. was fourth in 1:22.57. Tyler Cumberlander (Westfield sr) was fifth in 1:23.24, while Steve Souza, Durfee jr, was sixth in 1:24.39.


Girls 300
All the placers emerged from the fast section. It was anyone's race until the home straight, when Mansfield soph Emily Broyles went wide to capture the win in 40.46. She nipped Foxborough sr. Shannon Cunningham, who ran 40.69. Third went to Haverhill sr. Samantha Stabile, who just edged Boston Latin jr Meisha Brooks and Nashoba Reg. Alee Wade 41.20 to 41.21 and 41.21. Sixth place went to Bromfield sr. Katherine Finnegan who clocked 41.68.


Boys 300
The boys placers were all over the place. Heat two winner Burlington sr. Shane Faria ran 36.06 and placed fourth. Third heat winner Seekonk jr Casey O'Brien ran 35.69 and was fast enough for second. In the fourth section, Winchester sr Davis VanOpdorp won in 35.68. Francesco Cuesta, Lawrence jr placed third in 35.75, while Jared Kadich, St. John's Prep jr was fifth in 36.11 and Brockton sr. Jimm Guerrier was sixth in 36.30.


Girls 1000
The second section was fast – six girls under 3:00. It was fast thanks to Columbia-bound Framingham sr Camille Murphy, who wanted to control the race and her own destiny and went to the front. Control she did, win she did, run fast she DID! Murphy won in 2:51.99. She needed to run the 5th best in the US. Why? The 2-3-4 runners also put up marks that moved into the top 10 US list. Second was Ellie Hylton, Lincoln-Sudbury sr, in 2:53.37 (# 6 US); third was Newton North soph Margo Gillis in 2:52.91 (# 8 US); fourth was Newton South soph Kathy O'Keefe in 2:52.94 (# 10 US); Newton North sr. Carolyn Ranti was fifth in 2:57.17, while Pentucket Reg. sr April O'Brien was sixth in 2:59.60.

Super race! This race was dominated by two leagues, the Bay State League (Murphy, Gillis and Ranti) and the Dual County League (Hylton and O'Keefe).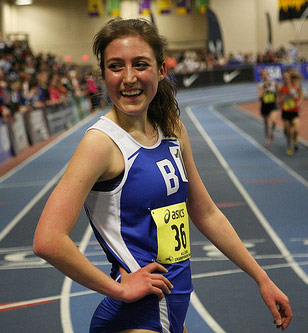 Boys 1000
No defending champ was in the race, but it was a senior class field. Nashoba Reg-Dalton senior Joe Doyle wanted the title, and it showed as he went right to the front and ran to win. Win he did, as he clocked 2:29.16 for a convincing victory. Hamilton-Wenham sr. Luke Vance and Shrewsbury sr. Athony Frissora chased Doyle to the line, Vance in second with 2:30.43 and Frissora just back in 2:30.70. Mike Masse, St. John's Prep., was fourth in 2:31.16, just ahead of Hudson's Luke Doherty-Munro in 2:31.43. Xaverian sr. Andrew Stillman was sixth in 2:32.19.


Girls Two Mile
And now for the race of the day: Call it "Keeping up with the Jones." In Mass. that is Bromfield's Emily Jones (right). Last week, Emily ran a nation-leading 10:32 for two miles. She held the state meet record (10:30.41-2008) and a win would be three titles in a row. Emily was all business as she went right out at the gun. She quickly settled into a strong pace that lead her to lap most of the field by the mile. As the race reached four laps to go, she began lapping the other placers, and with each runner passed the crowd grew louder. She had lapped all but the next four with 500 to go. She kept a strong pace, and spurred on the by the crowd crossed the finish line in a new meet record, the No. 1 time in the US, 10:29.57. The Georgetown-bound Jones' time is superior to the # 1 3200 and 3000 US leading times.

The rest of the field ran very well in a great battle for the other top placings. The top five moved into the US top 10. Natick sr. Rebecca White dipped under 11, 10:57.46 for her PR and # 4 US. Beverly jr. Millie Chapman PR'd in 10:57.50 (# 5 US); fourth was Newton South jr Kelsey Karys in 10:58.03 (# 6 US); Holliston sr. Rosie Keogh also PR'd and moved to # 7 US with her 10:59.84. Ali Simeone, Stoneham sr was sixth in 11:13.92.


Girls Hurdle Trials
Heat winners: Chelmsford sr. Adrianna Davis won the first section in 8.60; while Attleboro sr. Dara Edge won the second in 8.55; and defending champ, Mansfield sr. Megan Ferreira, won the third in 8.42.

Boys Hurdle Trials
Jay Moore, Natick sr won heat one in 7.83; Julien Rodney, Stoughton sr won heat two in 7.91; and BC High sr. Cory Thomas, who has not lost a hurdle race all year, won the third in 7.66.

Girls Dash Trials
Molly O'Dea of Hingham won heat one in 7.33, her season PR. Jillian Vannes, Agawam sr. won the second section in 7.35 and Hannah Janeczak, Doherty-Worcester, jr. had the fastest heat winner running 7.31.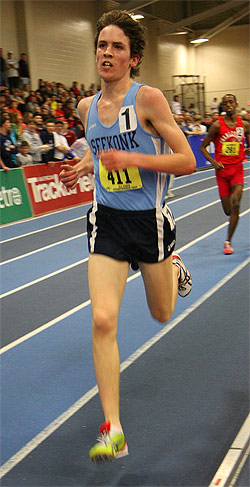 Boys Dash Trials
Quinn Ryder, Oliver Ames jr, won heat one in 6.60; Phito Gondre, New Bedford soph won heat two in 6.58; while the defending champ, Andover jr. Chris McConnell, ran 6.38 to equal the meet record from 93', 96, '07.


Boys Two Mile Run
A number of runners had run fast times this season, but the race lost the top runner when Mike Moverman, Oliver Ames sr, and Foot Locker Finalist, withdrew to an injury. But then it depends on who you talk to on who was the favorite. The hottest distance runner at this time of the season was Johnny Gregorek (left), Seekonk junior.

Gregorek comes from a great familty. His dad was a national champ from Long Island and Georgetown grad. His mom was a two tine NCAA champ while at Georgetown. He has the genes, much to the dismay of the other distance runners in Mass. Ahmed Ali, Charlestown sr went out early and established a 20-25 yard lead.

That lasted until 6 laps to go when the field brought him back. The top six finishers were very comfortable and rather closely bunched until five laps to go. Go was the word. That is just what Gregorek did. From that point on it was "See Johnny Run!!!" Gregorek moved away from the field As the lanky junior opened up his stride, so did the distance on the rest of the field. Johnny powered away and had to crowd in awe as he just blasted the field. His winning time was 9:19.64 (# 2 US). He has also run 4:20.57 in the mile and 2:36.2 1000 (on a 160 flat floor).

Second was Conor Grogan, Hudson sr., in 9:26.14, # 2 MA. Third was Antony Taylor, Arlington jr. in 9:26.91, # 3 MA; four was Dawit Gleays, Cambridge Ridge and Latin sr in 9:29.65, # 6 MA; fifth went to Pat Mullarkey, Nipmuc Reg. sr. in 9:31.27; and Jonathan Gault, Bedford sr, was sixth in 9:33.05.

Boys Hurdle Final
BC High senior Corey Thomas won again, this time running 7.51, equal to the # 15 US time. Cho Yong-Hyun (Newton South) was second in 7.67 and Conor Magee, Nashoba Reg. was third in 7.76. Rounding out the field was Tommy Brandt, Natick sr, in 7.85; Weslee Galloway, Brockton sr., in 7.91; and sRodney Julian, Stoughton sr. in 7.95

After this event BC High was the leading team with 26 points. The eventual champion Andover had yet to score – but wait.

Girls Hurdle Final
Meghan Ferreira, Mansfield sr. was the defending champion. She had won all her races this season. The state is supposed to be the tough test, and it was. Ferreria and Westford Academy sr. Cassandra Ryding raced to the line and dipped at the same time. Both ran 8.36, with Ferreira given the win 8.357 to Ryding's 8.359. Liz Monty, Sheherd Hill jr was third in 8.54. Attleboro sr Dara Edge was fourth in 8.55. Adrianna Davis of Chelmsford was 5th in 8.58 and Cecily Boyce, Hopkinton jr, was sixth in 8.63.


Girls Dash Final
The women's dash field was experienced, and amongst them they had won numerous titles during this winter. Janeczek was the hottest of late. Hannah and Molly O'Dea (Hingham) were out quickly and had the clear shot at the win. The two junior leaned at the same time. Picture please! It was O'Dea given the nod over Janeczek as both were timed in 7.28, fastest in MA this season. Third went to soph Mirian Mboya, New Leadership Charter, Springfield, in 7.34, her best of the year. Julianne Cappadona, No. Attleborough senior was fourth in 7.38 (PR), while Agawam sr Jillian Vanness was fifth in 7.38 and Olivia Grant, Boston Latin jr. was sixth in 7.40.


Boys Dash Final
Andover junior Chris McConnell equaled the meet record (6.38) in the trials. It was now time for Chris to put on "the show." McConnell left no doubt he intended to win his second title as he got out very well, and moved away from the field to win in a new meet record of 6.34 (# 1 MA/ # 3 Northeast / # 6 US). Quinn Ryder (Oliver Ames) was 2nd in 6.58; Phito Gondre (New Bedford) third in 6.58; Kyle LeBlanc, Newburyport jr fourth in 6.66; Josh Adams, Methuen sr. fifth in 6.68 and sixth was Matt Johnson, Hopkinton sr. in 6.69.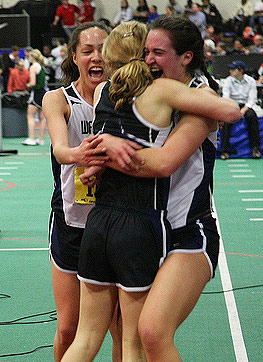 Andover now had their first points of the day. BC High had 26. Relays were up next.


Girls 4 x 800 Relay
This proved to be another inter-league battle between Newton South and Lincoln-Sudbury. They know each other from XC, Nike Cross Nationals meet, the Dual Country league, the State Relays, the Class Meet, where they ran # 2 and # 3 in US and now the state final 4x800.

South's Juliet Ryan-Davis and Kathy O'Keefe ran great opening legs. Lincoln-Sudbury ran Claire Arthur and Jess Griffin and was 30 yards back. Too much to make up? Don't tell that to L-S's Ellie Hylton as she split a 2:13 carry to catch NS Melanie Fineman. A five-yard lead for LS soph Andrea Keklak might not be enough to hold off NS's Bridget Dahlberg. Keklek went out slow enough to let Dahlberg catch up, and then accelerated away from her to win the race. 9:15.17 a new meet record for Lincoln-Sudbury (right) and # 2 in the US. Newton South second at 9:18.98 was also under the old record, and is # 3 in the US. Third was Newton North (Konetsky, Gluch, Randi, Gillis) in 9:28.81 and fourth went to Weymouth (Corcoran, Jaklitisch, Connolly and Kimball) in 9:36.40. Camille Murphy made up big ground to bring Framingham into fifth 9:36.57, while Tewskbury was sixth in 9:37.56.

Team scoring leaders at this point were Newton South 38, Mansfield 28, Lincoln Sudbury 25.


Boys 4 x 800 Relay
Can you say "Bleday the giant killer?" Yep, he led his Xaverian quartet to a win in the 4x800. Xaverian with Andrew Stillman, John Fisher and Peter Dolan put Bleday in a great position, in the middle of four other teams as they began the anchor legs. Weymouth (Bob Keegan, Chris Dooley and Sean Galligan) put anchor Steve Sollowin right up front. St. John's HS, Shrewsbury was leader for a title (with Kevin Turner, Chris and Cam Tieulli), so anchor Ben Perron had the chance to win. But the win went to Bleday and he came around teams on the home straight to log another relay title for the Xaverian team. Xaverian won in 8:07.40. Weymouth was second in 8:08.00. St. John's (S) was third in 8:08.79. Newton South (8:09.94), Lowell (8:10.99) and Whitman-Hanson (8:11.12) rounded out the top six teams.

Team scoring leaders now were BC High 26, New Bedford 22 and Xaverian 21.


Girls 4 x 200 Relay
The defending champion team was North Attleborough. They returned the same four from last year. Guess what? They won again, just like they always do – with a strong anchor leg. The N.A. team of Christy Deininger, Carolyn Udal and Lauren Goldberg left anchor leg Julianne Cappadona with a bit more to make up this time.

In the past Cappadona has been closer, but no matter. Taking the stick some 8 yards back she charged past two teams on the back straight. Keeping up the speed on the last corner, Cappadona inched by Attleboro and Boston Latin to defend the N.A. title. N.A. won in 1:45.29. Attleboro (Gulino, Ouellette, Johnston and Edge) ran 1:45.95 for second, just edging Boston Latin (Grant, Reid, Williams and Brooks) who also ran 1:45.95. Shrewsbury was fourth 1:46.87, Reading fifth 1:47.26 and Hingham was sixth in 1:47.33.


Boys 4 x 200 Relay
Andover's motto "McConnell (Speed) kills!" That has held all season. A state champ on the opening leg is tough. McConnell IS tough. Chris opened up with a great carry and a perfect pass to Brendan Crawford put Andover into a ten-yard lead. They could smell victory after 300 meters. Crawford had a great carry and a perfect pass to Mark Vetere. Another superb carry by Vetere, to Kerrick Stevens, who brought the team home in 1:31.70. Second went to Central Catholic-Lawrence in 1:32.73. Sharon placed third, winning the third section in 1:33.21. Randolph placed fourth, winning the first section in 1:33.30 . Woburn third in with 1:33.52 placed fifth. And Westford Academy fourth in section four was sixth in 1:33.69

Andover now had 20 points, but were still 6 back of leader BC High's 26.

Good things come to those who wait. We save the best for last. All those nice trite phrases could be used for the 4x4 relays. The team titles in both boys and girls depended on what happened in the 4x4. Fitting.


Girls 4 x 400 Relay
In the third section, Bromfield put up an impressive 4:04.42. The marker was down, and what would be the response? Mansfield had been unbeaten all year but they had problems on their first pass, Meghan Ferreira to Emily Broyles. Chelmsford was the leader with DeKontee Chea, Stephanie Okpoebo and Alanah Busby providing the nail-biting runs. Andover's Vanessa Singleton, Melissa Knapp and Jessica Salley were chasing.

Mansfield's Katie Jenkins worked hard and brought her team closer. Now it was up to Michelle Jennsen to catch up. Andover's Colleen Shannon and Chelmsford's Annie Cassidy were not going to give in. Jennsen kept digging and all her effort paid off as she fought clear entering the last straight and gave Mansfield an undefeated season. Mansfield 4:02.04. Andover 4:02.79, Chelmsford 4:03.31. Weymouth placed fourth, fifth on time with 4:04.41, and Lexington was 4:04.67 for sixth place.

Mansfield's win, worth 10 points gave them 38 points and a tie with Newton South. Lincoln-Sudbury was third with 24.


Boys 4 x 400 Relay
Nothing like a good 200 warm-up before your 4x4. Remember Andover's motto – speed kills. It kills everyone else when you double half of your winning 4x2 team back in the 4x4. This race was never in doubt, although the time was pretty close. Andover, knowing they needed 6 to tie, 8 to win, wasted no time. Mark Vetere (doubling back from 4x2) gave the lead to Connor O'Neil, who gave the lead to Brendan Crawford (doubling back from 4x2), who gave the lead to Rob Martin.

Martin blasted out to about 20 yards, but slowed a bit, but crossed in 3:25.34. Andover had won two relays, and won the Boys title via the speed kills route. St. John's Prep, with great chase legs from Chris Crosby, Sean Hanlon, Jared Kadich and Mike Masse were close for second in 3:25.82. Randolph's 3:26.58 was third. Woburn, winner of heat three was fourth in 3:28.64. Reading was fifth in 3:29.40 and North Attleborough, from heat three, was sixth in 3:29.96.

So Andover won the boys title with 30 points, BC High in second with 26 and New Bedford third with 22.


The top six athletes and relay teams, if they want to compete, qualify for the New England H.S. meet at Reggie Lewis. When is the meet? F-R-I-D-A-Y, of course. The top boys and girls from Mass., Conn., N.H., R.I., Vt. and Maine gather at 4 p.m. for next series of great New England running.


Northeast Index