Reebok Boston Indoor Games





Reggie Lewis Center, Boston





Sat

urday, February 7, 2009



Mac Fleet was true to his word
The Californian said he was ready to go fast, made sure it happened, and pulled it out in the end
By SteveU
Photos John Dye and Jeannette Seckinger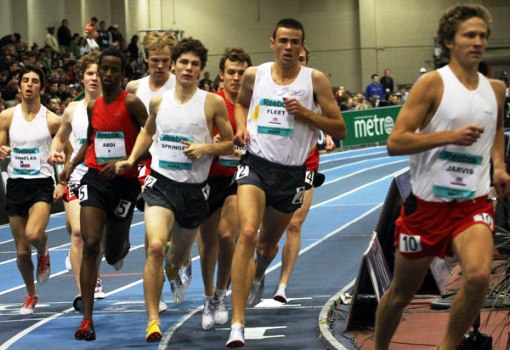 Early going: Jarvis leads Fleet and Springer, with (from left) Ornelas, Dunbar, Abdi, Butler and Johnson close at hand.


Coming into the Reebok Boston Indoor Games boys junior mile, most of the entrants – especially those who hadn't been racing – were taking the lightweight, conservative approach in pre-race conversations. They were out there to run well and compete, but also to have fun and just get out there and see what happens. No heavy expectations, no heavy predictions.

But here comes this Californian, also not having raced since cross-country, saying he was ready to break his PR (4:08 1600), was ready to help make a fast pace, and basically talking like something you'd only expect – if at all – from someone in championship form for a championship race. And this was a guy who was hanging on to a 2-year-old PR, a guy whose last race (Foot Locker West) had been miserable, a guy who in 2008 had finished last here in Boston.

Well, it turns out that Mac Fleet knew what he was talking about, after all.

Fleet never shied away from the lead pack and spent some time in the lead as the pace increased steadily throughout. While he would say later that he let others get by him in the final lap "too easily," it was clear that his own kick was the best timed, even if it only left him clear by a tenth of a second.

Fleet not only won, but he put away that old 1600 meter PR from his sophomore year, just like he said he could. His 4:09.06 led four under 4:10, and nine under 4:14, both new standards for indoor miling, according to historian Jack Sheperd.

There is always more than just one story in a loaded field like this; here, there's also the tale of the previous U.S. leader who was caught at the tape, the Alabama standout who continued his strong big-meet mile performances and buried the memory of his last XC race, the road-weary but expectation-free Texans who again made the Lone Star State shine here, and a few of the season's indoor stars who could not find the magic on this night.

But first, there's Fleet, who made waves in the pre-race interviews. Talking with DyeStatCal's Rich Gonzalez (who would later say he was "shocked" by Fleet's proclamation), the University City CA sr said he thought he was ready, in his first race since Foot Locker West in early December, to run a time superior to his 4:08.09 1600 PR, a mark which was indeed the best of any soph in 2007, but that he had not surpassed since.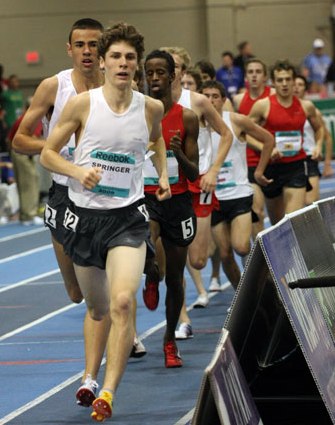 End of 5th lap: Springer leads Fleet. Notice McGregor still well toward the back.


"This past month has been the best training of my life so far," he told Gonzalez. "Last week, especially, has been the best week. I ran about 85 miles, mostly on singles, and have just felt great."

Many in Fleet's position might find it hard to harbor such confidence. Coming off surgery and weight gain ("I was running around track at 185 pounds, which is a whole story in itself") when he came here last year, the Californian was last in the mile with 4:28.19. Then in cross-country, after winning the D3 state title, he was 35th at Foot Locker West. On the other hand, Fleet has never been one to back down from saying exactly what he thinks, whether on the DyeStat message boards or in interviews

"I've just started to get into meat of training," he continued, "but comparing to what kind of shape I was in sophomore year, when I ran 4:08/3:50, I feel like I'm in better shape."

At the start of Saturday's race, Fleet immediately started making good on his words, tucking in behind fellow San Diegan Collin Jarvis. While it appeared there might be some sort of team tactics going on, Fleet said there was no such thing planned – though he was glad Jarvis indeed grabbed the pace.

By 400, passed in 64, Fleet was ready to take over, picking things up for the next two laps in about 62. Jarvis stayed close at first, but would gradually fall off. Meanwhile, Westerly RI senior Andrew Springer was always close to the lead, tucking in behind Fleet, and the other two of top indoor performers of the season in the race – Charlestown MA sr Omar Abdi and Ocean City NJ sr Brett Johnson – moved into the top five and things were really shaping up, form-wise.

Springer took over at 800, in 2:06.1, and one wondered if it would be the decisive move for the favorite, but there was no breakaway. In the next three laps (2:38.3, 3:09.0, 3:41.5), Southlake Carroll TX sr CJ Brown would make a big move into third, while The Woodlands TX seniors Drew Butler and Reed Connor, and Hoover AL sr Patrick McGregor, would begin to gain confidence and gather themselves for a crazy final 200.

Butler's race, in particular, was amazing to watch as on the penultimate lap he surged his way through the pack in fits and starts, as if testing himself, realizing he could indeed move up another spot, then testing himself again. By 200 to go, he had run out of people to pass and took the lead.

On the backstretch, however, Butler's head started going up and down and it was clear he had started to go into the red. Springer, far from spent, powered back ahead into the final turn. McGregor, meanwhile, had moved up gradually from his early position in last, and had passed Fleet at the bell. On the backstretch, he was sprinting behind Springer and into the homestretch he passed Butler and got side-by-side with the Rhode Islander. In the final 30 meters, though, his kick finally lost some steam and Springer pulled back ahead. It seemed victory would go to the US leader.

But a moment after McGregor pulled alongside Springer, Fleet launched his final move from a seemingly hopeless fourth place. When it appeared Springer was moving ahead for the final time, Fleet was moving faster than anyone on the outside. It was just a matter if he would have enough real estate.

"I saw them tying up with 50 meters to go and I was still cruising," he told Gonzalez in the post-race interview. "I wasn't breathing too hard, got my form together and just kind of lit it on fire the last 50 meters.

"The last 20 feet, Springer and (McGregor) actually kind of pulled up a little bit. I saw that out of the corner of my eye. (My coach and I) had a talk yesterday about not letting up and that went through my mind in five seconds. (It was a) lean, and sweet victory."

That victorious time, 4:09.06, was just .10 ahead of Springer, who was pleased with the PR, but certainly would have liked the outcome to be different. "When I saw the finish, I thought I had it, but he came in very fast," he said. "There's always somebody that comes in with a hard finish."

Of course, even if Springer had a rear view mirror, he wouldn't have been able to see Fleet until the last possible instant, as McGregor was behind him and to his right.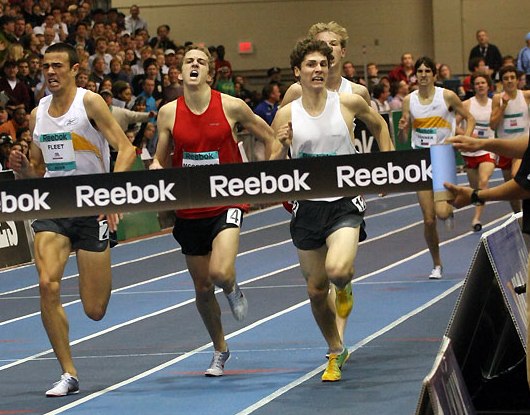 A few feet from the finish: Springer is just becoming aware of Fleet on the outside.


Otherwise, Springer was happy with the way the race unfolded. Moving in front halfway was no burden for him, as it would be some who prefer to sit off the pace until the last possible time. "(The first few laps) was the first time I haven't been in the lead from the get go (this season)," he said. "I'm comfortable in the front … I don't' really like being jostled around by everybody. That's just kind of my style."

He was also undeterred when Butler passed him with a lap to go. "He went by … the crowd got really loud when he passed me, so I just used that energy to accelerate by him again."

Meanwhile, McGregor had rediscovered the formula that enabled him to perform well at the biggest meets last track season: Not thinking too much during the race and, as he noted to Gonzalez, pushing hard enough to make himself sick at the end of the race – and to run a PR 4:09.41.

"I was just staying back the whole way; they were running really fast the first half mile," he said. "I was thinking, 'I'm on a good pace and they'll come back,' and they did."

When McGregor saw Connor move up, he moved up with him and when he got to the bell lap, he found himself in position and with a decision to make. Even knowing that Fleet "has got some wheels when it comes down to the last 150 meters," he went ahead and passed into third, knowingly making a gamble, he said.

"I figured that Mac would not come back, and I was wrong." In the last stretch, he admitted, he had thoughts of "I'm gonna win!" then (imitating the sensation of an unstoppable force rushing past him) "WHOA! … He flew like a bat out of hell, man."

Still, McGregor, who was 2nd at NIN and 5th at NON last year, both times in PRs, ran yet another lifetime best in his first race of the year – just like Fleet – and showed he should again be a force in the championships.

With the exception of Springer, the runners with the most indoor experience this winter had a tough time. Johnson, who was 2nd at Millrose the week before, hit an indoor PR 4:13.00 for 7th, but wanted much more and said he had nothing left in his legs. Abdi had leg problems, too, but it was from cramping late in the race and he wound up 12th in 4:22.28.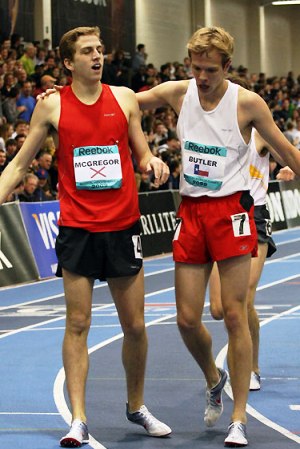 Butler congratulates McGregor on a race well run.


As for the 2009 first-time racers, it was not only Fleet and McGregor who excelled and signaled potentially great things for the year ahead. The possibilities displayed by the next two finishers, in fact, were truly scary. It was a wild ride for Butler and Connor, The Woodlands TX seniors who were 4th and 5th. Neither had done anything resembling track and speed work … and both were exhausted from having been on a whirlwind of college visits for several weeks ("I've been gone now five straight weekends," said Butler).

On the other hand, neither felt any pressure to perform. "I stepped on the line and, rather than being nervous, I kind of embraced all the energy from the crowd, and played off that, and really had some fun," said Butler.

Amazingly, the Texas 5A 800 runner-up in 2008 (1:52.67 PR earlier) had run few big miles before, with a 1600 PR of just 4:19. When he rolled a 9:01 3200 this fall in one of Coach Danny Green's time trials, there was an almost laughable hole in his resume between the fine 800 and 3200 PRs that created lots of anticipation for what Butler might do this year. But no one could have predicted a 10-second PR 4:09.62 right off the bat.

"I had that burst of energy the whole time and I had to convince myself to get up there and try," he said. "(The pace) lagged a little bit at 300 (to go), so I figure why not go for it and, if anything, I'll get some air time.

"So I went for it, and with 200 to go, I started slowing down a little bit, but I just hung on as best I could."

Connor's PR 4:11.26 was frightening in its own way. There's no doubt that the Wisconsin signee, who also won the Gatorade XC national Athlete of the Year award last week, is a long distance runner. For him to run a time like that early in the year suggests great things for his deuce, with sub-8:50 looming tantalizingly in the future.

Connor, Butler and the rest of The Woodlands' crew are said to be considering competing in the 4 x 1 Mile and other events at Nike Indoor. Springer and McGregor are likely to be at NIN, too. As for Fleet? He suggests there's several weeks of hard training ahead – he says he's had just three so far – and that by Arcadia, he should be ready for something really big.

While a race like this, early in the year, can foretell exciting things for the future, this race – one of the best finishes of any mile ever and the deepest prep mile ever – stands on its own. For Mac Fleet, it came out just like he said it would.


Meet Index Page