Reebok Boston Indoor Games




Reggie Lewis Center, Boston -

Sat

urday, February 7, 2009




Best high school milers in the US and Canada meet in Beantown



PHOTOS




Race sequence

: Boys - Girls


HS Albums:

Boys - Girls


Album:

College and Pros


Donna on the Side

:
Visit to Reebok - Race Day


Schedule
Meet's Own Web Site

PRIOR YEARS on DyeStat
2008 - 2007 - 2006 - 2005




Mac Fleet lives up to name in a barnburner

Playing into her hands

- How the field obliged Parry's hopes for a slow pace -

SteveU story

True to his word

- What the boys race meant for Fleet and other top finishers -

SteveU storySteveU Story

:

Fleet's flying finish, Parry's waiting game are keys to victory

.

San Diego sr comes from 4th in last 50 meters! Four leaders on last lap! Four runners under 4:10!See video and race sequence pix of the most exciting race of this season and many seasons


Mac Fleet (left) 4:09.06, Andrew Springer 4:09.16, Patrick McGregor (red) 4:09.41, Drew Butler (hidden) 4:09.62.
photo by Jeannette Seckinger



Jessica Parry CAN 4:51.62

kicks at the bell to win a tightly contested girls race.


photo by John Dye



Boys Results




Girls Results



1. Mac Fleet CA

4:09.06
2. Andrew Springer RI 4:09.16
3. Patrick McGregor AL

4:09.41
4. Drew Butler TX

4:09.62
5. Reed Connor TX 4:11.26
6. Jeremy Rae CAN 4:12.70
7. Brett Johnson NJ 4:13.00
8. Trevor Dunbar AK 4:13.19
9. Collin Jarvis CA 4:13.57
10. C.J. Brown TX 4:14.29
11. Zachary Ornelas TX 4:20.15
12. Omar Abdi MA 4:22.28


1. Jessica Parry CAN 4:51.62
2. Emily Lipari NY

4:53.29
3. Stephanie Brown IL

4:54.87
4. Cory McGee MS

4:55.88
5. Amanda Winslow GA 4:57.46
6. Shelby Greany NY 5:00.60
7. Bridget Dahlberg MA 5:02.70
8. Brianna Welch NY 5:08.45
9. Brittany Koziara FL 5:17.41
10. Alyssa Allison MO 5:17.71
DNF Emily Jones MA





Fleet's flying finish, Parry's waiting game keys to victory



by SteveU

First, it looked like it was going to be Texan Drew Butler, who jumped the field with a lap to go. Then it appeared it would be mid-race leader Andrew Springer, who retook command around the final turn. On that turn, though, it was Patrick McGregor of Alabama who also roared past Butler, moving even faster than Springer, and drew to the Rhode Islander's side into the stretch. Finally, it was Springer again, holding off McGregor and rolling into the tape, looking every bit the champion of this amazing Boys Junior Mile Saturday night at the Reebok Boston Indoor Games.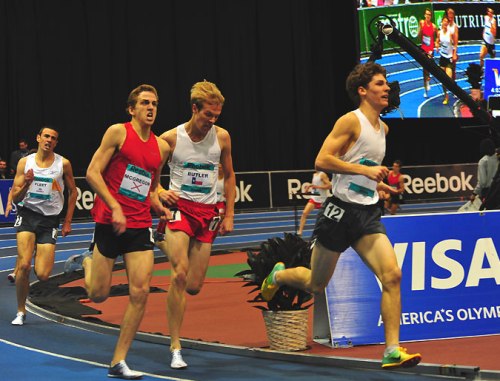 The final turn: Springer leads McGregor and Butler, with Fleet seemingly out of it.
Photo John Dye


Springer even raised his arm in triumph – but it was a split second too soon.

Because at the last possible moment, "it" was Mac Fleet … Mac Fleet who watched each of the other players make their moves … Mac Fleet, the tanned Californian who looked like a college senior among preps, charging like a bull down the final 50 yards, passing Butler and McGregor before you even realized he was there … Mac Fleet who finally pipped Springer at the last possible moment, causing him to throw his head back in disbelief and frustration when he realized he had finished not first, but second.

It was Mac Fleet who put the final, finishing touch on what was arguably the best race of the entire night. His 4:09.06 was just a tenth ahead of Springer, with McGregor (4:09.41) and Butler (4:09.62) also under 4:10. Just 5.23 seconds, in fact, separated Fleet and 10th-placer CJ Brown (4:14.29) in this deepest of finishes.

"I feel pretty confident in my kick," said Fleet. "I always feel I have a shot at the end of a race."

"The last couple of steps he leaned in front of me and got it," said Springer. "It was bittersweet; I PR'd, but to get beat like that is tough."

The Girls Junior mile may not have featured the brutal, last gasp finish of the boys race, but it had plenty of brutal jostling as the pace turned slow and strategic in the middle laps.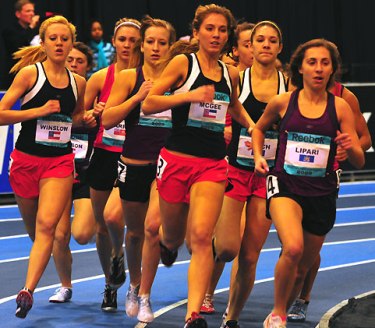 Early going: Lipari leads (from left) Winslow, Parry, Brown, McGee, and Welch. Photo by John Dye


Said Emily Lipari, whose scratched-up legs bore the most obvious signs of the battle: "When I sat down to change my shoes, I looked down at my knee and I thought, 'That must be someone else's blood.' Then I looked further down my leg, and I'm like, 'There's blood all over the place!'"

The New Yorker had taken the early lead, but had allowed it to slow when no one else was willing to share the load. Cory McGee of Mississippi finally took over after halfway, but was unable to shake things up. Lipari retook the lead with two laps to go, fighting out of a box, then it was Stephanie Brown – the 2:08 800 runner from Illinois – taking advantage of the slow tempo and launching a kick with just over 300 to go.

But Canadian Jessica Parry had covered every move, and was just biding her time. In winning as she pleased in the final lap – despite having been under the weather this week – she was every bit as worthy a champion as Fleet. Of course, despite her 4:51.62 Parry cannot claim US#1 mark as Fleet does, but it's the fastest North American girls mile of the year and fastest on American soil.

"I felt great, like I had a lot left," said Parry of her last lap (32 seconds). "It's a good first mile of the year for me."

Lipari caught Brown in the final straight for 2nd, 4:53.29 to 4:54.87, and McGee was 4th in 4:55.88.

And while Parry has completed her eligibility for this race – she was 2nd to Jillian Smith in 2008 - don't be surprised if some day she comes back here as one of Reebok's featured athletes. In the finish interviews, she proudly held high a pair of the shoe company's spikes that she donned in victory, saying, "I wore this same pair of spikes last year. I love them."

Fleet echoed what every athlete basically said about the weekend: "I don't want to sound like a broken record, but it's a fantastic four days … they treat you like a 5-star athlete. Great crowd, great race, it doesn't get any better."






Previews





Who's going to win?

- See SteveU's top five choices. Prediction Panel of Rich Gonzalez and Doug Speck with broadcasters Tony Reavis and Lewis Johnson gives major props to Andrew Springer RI and Jessica Parry CAN, with Omar Abdi MA, Emily Jones MA, Mac Fleet CA and Cory McGee MS in the running.

Donna on the Side goes to Reebok the day before the meet.





Last Year

:

Luke Puskedra UT

and

Colby Lowe TX

battled to the wire (

below left

),

and

Jillian Smith NJ

won with authority (

below right

).

Photos by John Nepolitan
Schedule
| Time | Event |
| --- | --- |
| 5:15 | Men's Masters' Mile |
| 5:25 | Men's College 800 Meters |
| 5:35 | MBTA Men's 200 Meters |
| 5:40 | Youth Relay |
| 5:45 | Men's Masters' 200 Meters |
| 5:50 | Nutrilite Women's Pole Vault |
| 5:55 | METRO Women's 800 Meters |
| 6:05 | Reebok Men's 60 Meters Hurdles |
| 6:10 | Women's 3000 Meters |
| 6:25 | MBTA Men's 400 Meters |
| 6:30 | Reebok Girls' Junior Mile |
| 6:40 | Nutrilite Women's 60 Meters |
| 6:50 | Reebok Women's Mile |
| 7:00 | Reebok Men's Pole Vault |
| 7:00 | Men's College Mile |
| 7:10 | Visa Men's 60 Meters |
| 7:10 | Women's Long Jump |
| 7:15 | Reebok Boys' Junior Mile |
| 7:25 | Men's 2 Mile |
| 7:40 | Visa Women's 200 Meters |
| 7:45 | Nutrilite Men's 1000 Meters |
| 7:55 | Women's 5000 Meters |
| 8:15 | Men's Mile |