36th annual meet: October 11, 2008 at Van Cortlandt Park, New York NY.



Donna on the Side




by Donna Dye



Part 1 - The Scene
Part 2 - Boys Races
Part 3 - Girls Races
Part 4 - On the Side
Part 5 - The Wave Part 1
Part 6 - The Wave Part 2
Part 7 - Workerbees


| | |
| --- | --- |
| We're in New York City.....Yes!!!!!!!!! It's true..... | |
A stop in Central Park sets a relaxed tone and readies us for cross country in Van Cortlandt Park, now all unsettled by construction efforts.
| | |
| --- | --- |
| Welcome to Central Park | |
| | |

Now onto another park, Van Cortlandt, and the Manhattan College Invitational

You have to go all the way to 242nd street....just about out of New York City to find Van Cortlandt Park. It is 1,146 acres atop the ridges and valleys of the Bronx and is New York City's fourth largest park.The park is full of places to play and relax in forested areas, a lake, and wet lands. The park is home to the country's first public golf course and the oldest house in the Bronx.
| | |
| --- | --- |
| | |
| | |
| The Van Cortlandt House Museum | Tibbett's Wetlands |
| | |

Van Cortlandt Lake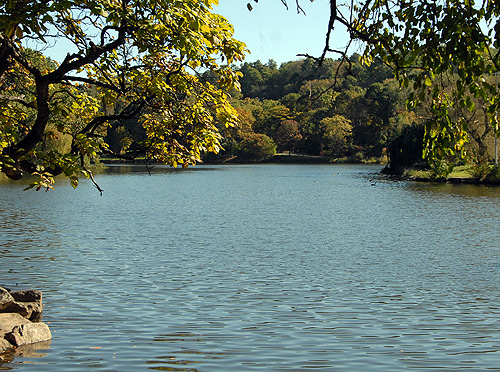 While the Manhanttan College provides its name, there are no college races. And, that is probably a good thing, for the invitational might not have been able to have one more race. All in all there were 12,400 athletes with 400 schools and 630 teams. Yes, there were a lot of people out there, perhaps as many as 35 - 40 thousand.




Part 1 - The Scene
Part 2 - Boys Races
Part 3 - Girls Races
Part 4 - On the Side
Part 5 - The Wave Part 1
Part 6 - The Wave Part 2
Part 7 - Workerbees