34th Great Southwest Classic


June 4-6, 2009
at U. of New Mexico, Albuquerque NM



Donna on the Side


by Donna Dye

The Great Southwest Scene



The Great Southwest---in the Land of Enchantment
New Mexico calls itself the "Land of Enchantment." It's the ancient cultures, multi cultures, food, climate and scenery that enchant and please the senses. Albuquerque and the Great Southwest Classic are set in this enchanting environment. The largest city in New Mexico, Albuquerque contributes significantly to the state's enchantment. Albuquerque is a multi-cultural city formed from Indian, Spanish and Anglo heritages. It offers history, cultures, food and popular sights.
Albuquerque is over 300 years old. It was founded in 1706 by Spanish explorers on the banks of the Rio Grande River. The name was taken from a small village in Spain. The city embraces old west history, distinctive architecture, and leading edge science and technology. There are hot air balloons, chile peppers, adobe styled buildings, Sandia mountains, Sandia tram, indians and pottery. An hour's drive north is Santa Fe, with arts and crafts and fine dining galore. There's a lot of fun and good times to have as part of the the Great Southwest Classic scene.
Lifelike scenes depecting the early day of Spanish settlement
are depicted outside of the Albuquerque Museum of Art and History





| | |
| --- | --- |
| | |
| San Felipe de Neri Church--Old Town | Festivities in Old Town |
| | |
| A shady spot for conversations | The sidewalk bazaar |
| | |



Albuquerque is also know for it's balloon festival



The Balloon Museum is the place to learn about the lofty balloon history in New Mexico and beyond.



The Albuquerque Balloon Museum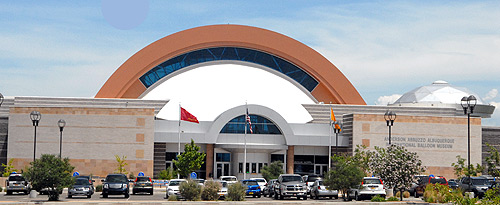 The more dramatic north side of the Museum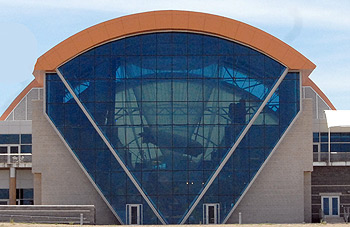 And if you are interested in ballooning and have time this summer, check out the
Hot Air Balloon Camp at the Balloon Museum.

The Great Southwest Meet
Originally conceived as a post-season invitational for the states of Arizona, New Mexico, and Texas, the Great Southwest Classic debuted in 1930 and was conducted until the Depression caused the meet to close in 1933. An organization of coaches and track officials resurrected the meet in 1978 with 125 invited athletes from the states of Arizona, New Mexico, and Utah. In 30 years the meet has grown to include over 500 invited athletes from the states of Arizona, Colorado, New Mexico, Nevada, Oklahoma, Texas, Utah, Kansas and Missouri. Elite athletes from around the country are also invited to compete against the Southwestern athletes. Presently the Great Southwest Classic is recognized as one of the top postseason meets in the nation.

2009 is the 34th edition. The meet includes 3 days of competition, with multi events on Thursday and Friday and all other events on Saturday.

A number of Southwest Classic alums have gone on to compete in the Olympic Games, US Olympic Trials, and the NCAA Championships. Learn more about the
GSW
.
The flags of the Great Southwest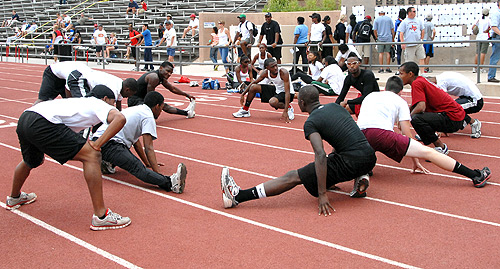 Now, on to the meet.