Southwest Region
Kiwanis Park, Tempe AZ November 17, 2007

Donna on the Side

by Donna Dye
Part 1 - heading for Portland
Part 2 - the scene
Part 3 - the wave
Part 4 - on the side
Part 5 - the races
Part 6 - awards
Heading for Nike Team Nationals--Be Fast or Be Afraid!
There have been three great Nike Team Nationals (NTN): 2004, 2005 and 2006. And Nike Team National 2007 will be as great or better. But NTN 2007 is different because getting there means rankings are out and face to face is in. There are eight regional championships that will determine the teams for NTN 2007. Donna on the Side roamed the sidelines at the Southwest Regional..
Tempe--Home of the Southwest Regional
Tempe is in the center of Phoenix, Arizona suburbs. It's one of the largest cities in Arizona and has about 160,000 population. It's history goes back to 1865 when the
U.S. Army set up Fort McDowell. With the Army cavalry came pioneers that included Jack Swiling, who directed the renovation of the Hohakam canals and town "founder" Charles Trumbull Hayden, who build a flour mill and began a ferry service across the Snake River. Back then, Tempe was known as "Hayden's Ferry." The town grew and was eventually renamed Tempe after an English traveler who compared the area to the beautiful Vale of Tempe in Greece. The area and city continued to grow and eventually expanded city boundries to accomodate the post World War II Baby Boom.
Located in the heart of Tempe is Arizona State. Once a teacher's college, Arizona State is now a major university with several campuses in the Tempe area. As of 2006, the Tempe campus was the second largest university campus in terms of student enrollment in the US with a student body of 51,234.
There are many attractions in Tempe including, Arizona State University Art Museum, shopping at Arizona Mills and for the largest IKEA in the US, watch a film at the IMAX Theatre Tempe or a show at the Arizona State Gammage Auditorium or have some laughs at the Tempe Improv Comedy Club. There are also parks and recreation at the Tempe Town Lake, Tempe Beach Park. One of the best places for a good time is the Mill Avenue District, a 2 mile area for outdoor recreation like kayaking, sailing, rowing, jogging, skating and lots of restaurants, cafes and bars.
(Thanks to Wipedia and the Tempe Arizona Convention and Visitors Bureau for info about Tempe.)
Team Championship - Heading for Portland
Girls
1st Place

Fort Collins CO celebrate....we're going to NTN Finals

All smiles from Fort Collins

2nd Place

YES, YES.....WE DID IT!!!!!!

Davis celbrate the news that they have the second automatic place at NTN finals.

Davis Utah girls.

"Bah Ram... You" say the Ft. Collins Lambkins. And, they are the only Lambkins in the country.


"We are proud to be the only Lambkins in the country! Although the sheep raising industry in our area is not what it used to be, this humble mascot is a century old and translates into fiercely competitive co-curricular and athletic programs. Looks can be deceiving!"
Boys
1st Place
ABQ Running Club NM is off to Portland and NTN finals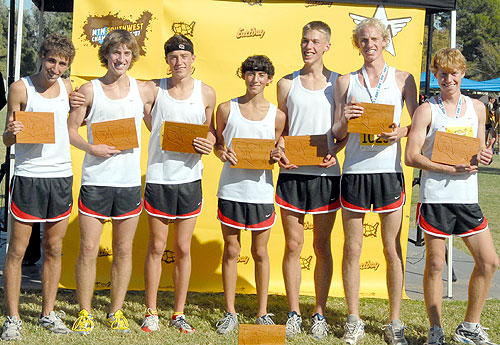 Yes, we did it. Awesome Experience!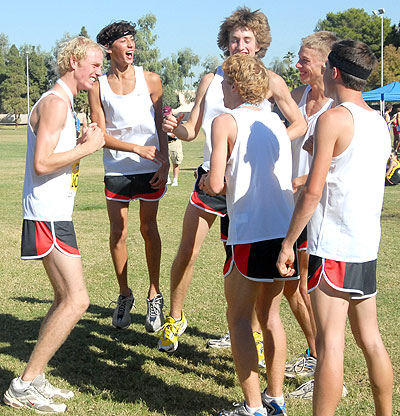 6th man gets applause - ABQ XC's #6, Damon Campbell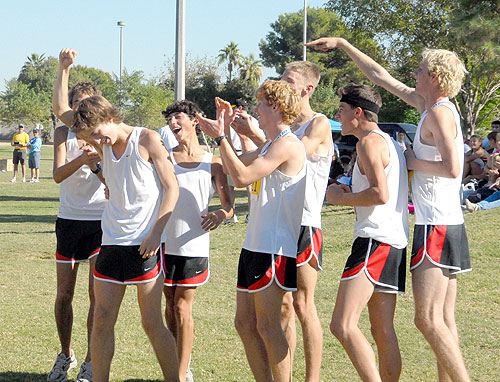 2nd Place
Los Alamos NM-- an automatic to Portland NTN finals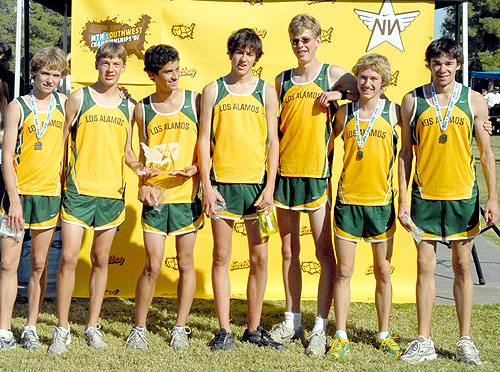 NTN Finals here we come!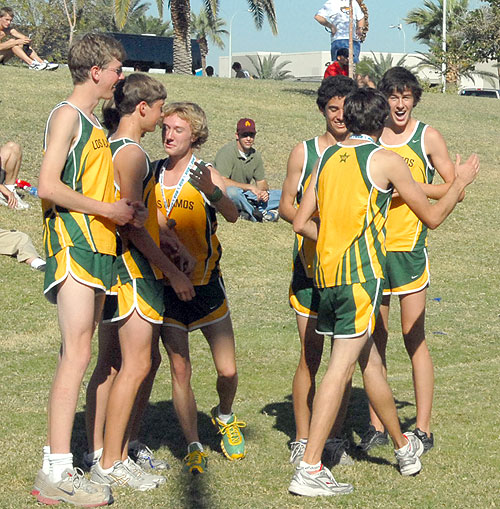 DONNA ON THE SIDE
at NTN Southwest Regional
Part 1 - heading for Portland
Part 2 - the scene
Part 3 - the wave
Part 4 - on the side
Part 5 - the races
Part 6 - awards