Distance Medley Relay
Madera CA 10:19.21, Corona del Mar CA 11:51.66

Benny Madrigal

brings it home for

Madera

Anne St. Geme

anchors for

Corona del Mar

. Earlier in the evening, she was third in the mile. Splits for CDM: 3:39.3, 55.6, 2:16.6 and 5:00.2.
Results
Boys
Madera and Ridgewood NJ matched strides through the last 5 laps of the race
until Madera's Madrigal pulled away on the backstretch of the last lap.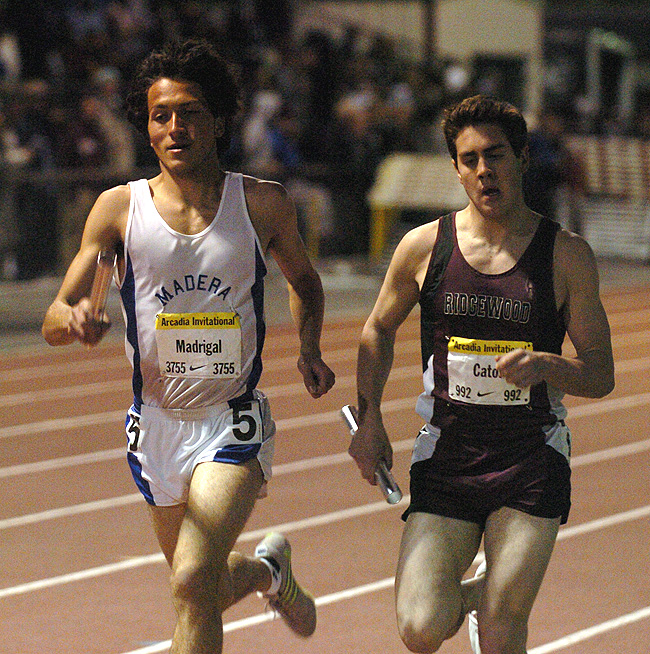 Men Distance Medley Invitational
================================================================
    School                                               Finals 
================================================================
Section  1  
  1 Madera High School Coyotes  'A'                    10:19.21  
     1) 3755 Madrigal, Benny 12         2) 3736 Moreno, Claudio 12        
     3) 3750 Pulido, Tony 12            4) 3744 Richardson, Nathaniel 10  
  2 Ridgewood High School  'A'                         10:21.18  
     1) 995 Williams, Byron 11          2) 4324 Schmidt, Jeremy           
     3) 993 Buckley, Niall 10           4) 992 Cator, Mike 11             
  3 Camarillo HS  'A'                                  10:25.11  
     1) 202 Garcia, Jose 12             2) 200 Bork, Kevin 11             
     3) 201 Sanchez, Chris 11           4) 207 Price, Ted 11              
  4 Rancho Bernardo High School  'A'                   10:26.40  
  5 La Sierra High  'A'                                10:28.75  
     1) 2380 Sidoti, Adam 12            2) 2379 Jones, Ennis 11           
     3) 2381 Knight, Dylan 10           4) 2378 Knight, Spencer 10        
  6 Servite High School  'A'                           10:28.90  
     1) 3270 Robie, Peter 11            2) 3281 Mendoza, Andrew 12        
     3) 3273 Baclig, Chris 12           4) 3277 Chavez, Nick 12           
  7 Upland High School  'A'                            10:29.23  
  8 Buchanan HS  'A'                                   10:31.97  
     1) 590 Geis, Brandon 11            2) 579 Barlocker, Josh 12         
     3) 593 Farnsworth, Taylor 10       4) 584 Mccurly, James 12          
  9 Shenendehowa High School  'A'                      10:32.76  
     1) 2742 Benson, Andrew 12          2) 2740 Gonyo, Chris 12           
     3) 2737 McManamon, Dan 11          4) 2741 Wysocki, Matt 12          
 10 Dana Hills High School  'A'                        10:33.12  
     1) 440 Gonzalez, Jorge 11          2) 443 Lindahl, Cade 11           
     3) 439 Grimes, Darron 12           4) 446 Smith, Scott 12            
 11 Monsignor Farrell  'A'                             10:33.50  
     1) 2215 Cannavo, Vito 11           2) 2210 Szelazek, Maciej 12       
     3) 2209 Carbonella, Jeff 11        4) 2216 Lewis, Dan 11             
 12 El Toro High School  'A'                           10:33.84  
     1) 1223 Haji, Abdow 10             2) 1220 Sanders, Ryan 11          
     3) 1226 Norwood, Kai 11            4) 1225 Bethke, Brandon 12        
 13 Santa Margarita (Boys)  'A'                        10:34.49  
     1) 3962 Stromberg, Scott 12        2) 3963 Schmit, Colin 12          
     3) 3968 Cruz, Nick 12              4) 3959 DeRubira, Julian 11       
 14 Shaker High School  'A'                            10:36.26  
     1) 3039 Belokopitsky, Joe 12       2) 3036 Kippins, Mike 11          
     3) 3038 Jupin, Jared 12            4) 3040 Maloy, John 11            
 15 Damien High School  'A'                            10:37.51  
     1) 2959 Totari, Waleed 12          2) 2965 DeSantiago, Derek 11      
     3) 2973 Gutierrez, Justin 12       4) 2960 Livas, John 12            
 16 Marina High School  'A'                            10:38.31  
     1) 3457 Guadagnini, Tony 12        2) 3474 Peck, Robert 11           
     3) 3469 Morrill, Jesse 11          4) 3479 McNair, Shea 12           
 17 Don Lugo High School  'A'                          10:38.88  
     1) 3385 Gonzales, Alfred 11        2) 3386 Vaca, David 11            
     3) 3383 Mercado, Alex 11           4) 3387 Tesfa, Fitsum 12          
 18 Davis High School  'A'                             10:40.76  
     1) 2266 Adams, Josh 12             2) 2259 Frischknecht, Seth 11     
     3) 2272 Heder, Caleb 12            4) 2264 Willoughby, Jake 12       
 19 Long Beach Poly High School  'A'                   10:44.73  
     1) 3574 Chaney-Waller, Sean 11     2) 3563 Williams, Deondray 12     
     3) 3592 Ramos, Pedro 12            4) 3606 Durham, Ethan 11          
 20 Ayala HS  'A'                                      10:48.08  
     1) 1683 Noble, Westley 11          2) 4331 Soria, Alex               
     3) 1673 Porter, Stephen 12         4) 1675 Cooper, Nicholas 11       
 21 Oakmont High School  'A'                           11:03.22  
     1) 3632 Infausto, Garrett 11       2) 3645 Chavez, Anthony 11        
     3) 3634 Jeffrey, Clary 11          4) 3630 Arreygue, Erik 12         
 22 Lakewood High School  'A'                          11:04.40  
     1) 1696 Collins, Jammie 10         2) 1701 Espinoza, Alberto 12      
     3) 1709 Anderson, Johnathan 11     4) 1704 Ramirez, Alex 12          
 23 Maria Carrillo High School  'A'                    11:06.60  
     1) 3321 Aldridge, Ryan 11          2) 3322 Karman, Anton 10          
     3) 3307 Roth, Andrew 12            4) 3317 Brew, Michael 11          
 24 Carmel High School  'A'                            11:10.18  
     1) 3490 Dally, Matt 12             2) 3491 Fitzpatrick, Dylan 12     
     3) 3494 Hannon, John 12            4) 3493 Shea, Nick 12             
 -- Rancho Cucamonga High  'A'                              DNF  

Girls
Women Distance Medley Invitational
================================================================
    School                                               Finals 
================================================================
Section  1  
  1 Corona Del Mar High School  'A'                    11:51.66  
     1) 2311 May, Hilary 10             2) 2305 Swigert, Melissa 12       
     3) 2306 Damon, Allison 09          4) 2309 St. Geme, Anne 11         
  2 Bishop O'Dowd High School  'A'                     12:05.01  
     1) 472 Pappas, Lexi 09             2) 451 Maciedo, Madeira 12        
     3) 455 Clark, Brazile 09           4) 449 Wright, Ari 11             
  3 Irvine Woodbridge High School  'A'                 12:08.93  
     1) 3849 Toberty, Sarah 09          2) 3844 Gallion, Denise 12        
     3) 3847 Yadlin, Roni 11            4) 3848 Babcock, Jesse 11         
  4 Ventura High School  'A'                           12:11.60  
     1) 550 Ricketts, Lauren 10         2) 548 Bryant, Jessica 12         
     3) 543 Bailey, Molly 10            4) 545 Spiker, Emily 11           
  5 West Torrance High School  'A'                     12:13.95  
     1) 1183 Ruiz, Mellissa 09          2) 1174 Henricks, Nadine 11       
     3) 1187 Stoakley, Alison 11        4) 1186 Kielty, Alison 12         
  6 Pope John Paul II High School  'A'                 12:15.02  
     1) 1437 Redfearn, Jenna 11         2) 1434 Emde, Dina 10             
     3) 1435 Mascaro, Andrea 10         4) 1436 Schappert, Nicole 12      
  7 La Costa Canyon High School  'A'                   12:18.50  
     1) 3116 McCann, Kelly 12           2) 3110 Marquis, Catherine 12     
     3) 3114 Fitch, Gillian 11          4) 3117 Maffucci, Laura 09        
  8 Fountain Valley  'A'                               12:20.41  
     1) 3761 Reed, Crystal 10           2) 3767 Wells, Jennifer 11        
     3) 3779 Nakashima, Merisa 11       4) 3765 DiSiena, Anja 09          
  9 Scripps Ranch High School  'A'                     12:22.57  
     1) 2327 Beatty, Mandy 12           2) 2334 Robbins, Katherine 12     
     3) 2325 Chukwueke, Jasmine 11      4) 2331 Apgar, Sarah 12           
 10 San Lorenzo Valley High School  'A'                12:24.67  
     1) 2295 Hamilton, Stephanie 12     2) 2301 Long, Kelly 11            
     3) 2303 Deane, Kelli 12            4) 2283 Johnson, Taylor 09        
 11 Placer High School  'A'                            12:25.56  
     1) 2247 Crouch, Kim 12             2) 2240 Ramirez, Megan 12         
     3) 2232 Gillming, Amanda 12        4) 2241 Elmgren, Amy 12           
 12 Buchanan HS  'A'                                   12:26.81  
     1) 586 Alverez, Victoria 09        2) 589 Cucuk, Tatiana 11          
     3) 580 Layous, Danielle 10         4) 588 Motte, Leann 11            
 13 Harvard-Westlake High School  'A'                  12:27.59  
     1) 621 Wick, Julia 10              2) 634 Ferry, Jackie 12           
     3) 633 Meadors, Laura 09           4) 641 Farias-Eisner, Anna 12     
 14 Oakton High School  'A'                            12:27.68  
     1) 2607 Light, Danielle 12         2) 2604 Smith, Allegra 12         
     3) 2611 Tighe, Meredith 10         4) 2612 Young, Amber 11           
 15 Edison HS Huntington Bch  'A'                      12:28.35  
 16 Fairfield High School  'A'                         12:32.24  
     1) 3654 Bradshaw, Caprice 11       2) 3669 Jackson, Dominique 10     
     3) 3651 Piatkiewiez, Danielle 10   4) 3676 Khalid, Sekayi 12         
 17 Oak Park High School  'A'                          12:32.63  
     1) 761 Camacho, Tatiana 12         2) 756 Connor, Kelsey 11          
     3) 767 Barton, Michelle 11         4) 770 Lightfoot, Courtney 09     
 18 University City High School  'A'                   12:35.11  
     1) 1296 Anderson, Brooke 12        2) 1305 Anderson, Dayna 10        
     3) 1300 Tam, Rowena 11             4) 1292 Lott, Shakara 12          
 19 Mater Dei  'A'                                     12:41.92  
     1) 339 Costantini, Samantha 12     2) 325 Leimkuhler, Jessie 09      
     3) 316 Davis, Lauren 09            4) 324 Aguilar, Andrea 11         
 20 Maria Carrillo High School  'A'                    12:42.77  
     1) 3309 Wentz, Jaqui 11            2) 3308 Robinson, Amy 12          
     3) 3314 Fladseth, Kristin 12       4) 3318 Lowder, Jenna 11          
 21 El Toro High School  'A'                           12:48.12  
     1) 1228 Pierson, Molly 12          2) 1221 Albee, Erin 11            
     3) 1209 Meade, Leigh 12            4) 1211 Hampton, Whitney 12       
 22 Davis High School  'A'                             12:50.12  
     1) 2267 Cannon, Ashlee 11          2) 2269 Marler, Shaylee 12        
     3) 2271 Brown, Hailey 11           4) 2260 Schiess, Jennifer 12      
 23 Brea Olinda High School  'A'                       12:53.94  
     1) 929 Hancock, Vanessa 09         2) 930 Rogers, Holly 11           
     3) 931 Bradley, Shelby 10          4) 927 Kronquist, Amanda 11       
 24 Miramonte High School  'A'                         13:01.03  
     1) 1105 Bergren, Jenny 10          2) 1114 Smith, Amanda 12          
     3) 1109 Brewer, Allison 11         4) 1107 Williams, Summer 09     
Arcadia Invitational index page