4x400 Relay
Dorsey LosAngeles 3:11.49, West Catholic PA 3:42.52
Results - text and photos by John Dye
A great anchor duel was won by West Catholic sr Nicole Leach, who scratched from the open 400, where she would have been favored, 2.5 hours earlier and watched Sade Williams win it and then the 200. Leach inherited a 5 meter lead and heard footsteps on the backstretch as Williams charged up to her heels. But Leach bore down on the last turn and won comfortably, splitting 53.0 to Williams' 54.1.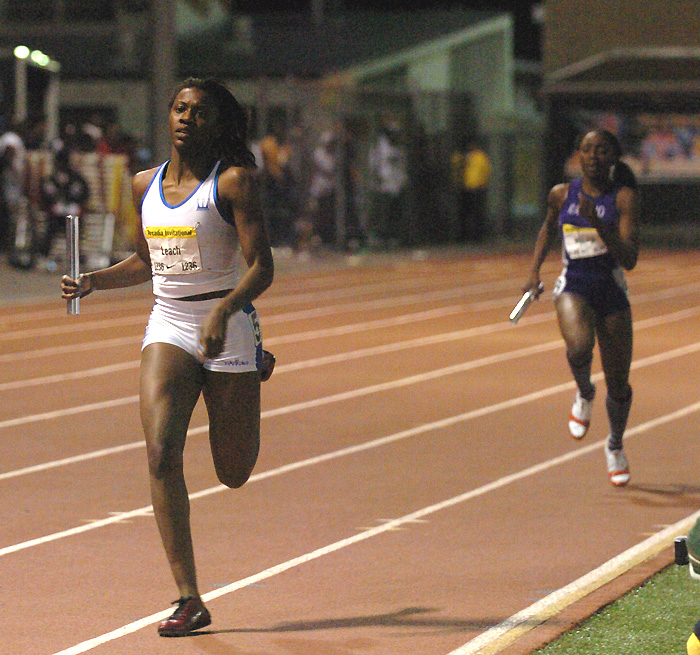 Results
Boys
Dorsey anchor David Gettis inherited a lead
and blew the race open with a 45.8 split, also sealing MVP honors.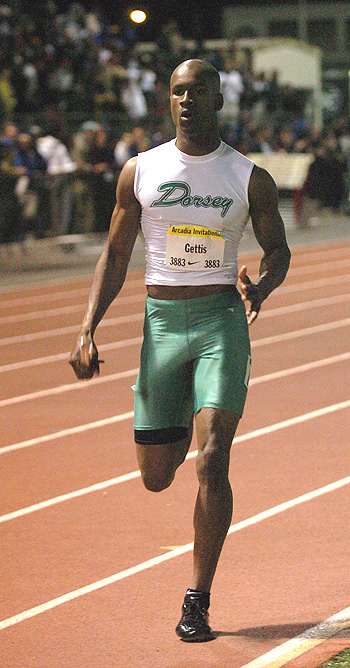 Men 4x400 Meter Relay Invitational
================================================================
    School                                               Finals 
================================================================
  1 Dorsey  'A'                                         3:11.49  
     1) 3883 Gettis, David 12           2) 3887 Charles, Marquise 12      
     3) 3884 Williams, Courtney 12      4) 3886 Prudhomme, Vannie 12      
  2 Dominguez H.S.  'A'                                 3:15.82  
     1) 1271 Wesson, Monoah 09          2) 1270 Hall, D'Andre 11          
     3) 1275 Wesson, Eligah 11          4) 1278 Hamilton, Ramon 12        
  3 Long Beach Poly High School  'A'                    3:17.90  
     1) 3598 Orywal, Szymon 12          2) 3574 Chaney-Waller, Sean 11    
     3) 3586 Green, Isaiah 10           4) 3593 Nellum, Bryshon 10        
  4 Rancho Cucamonga High  'A'                          3:19.39  
     1) 4254 Foreman, Kenny             2) 4255 Torres, Robert            
     3) 4256 Smith, C                   4) 4257 Smith, D                  
  5 Notre Dame High School SO  'A'                      3:22.26  
     1) 1969 Cervantes, Richard 12      2) 1975 Jackson, Sean 10          
     3) 1982 Glass, Rodney 11           4) 1980 Harris, Cary 12           
  6 Cypress High School  'A'                            3:24.39  
  7 Huber Heights Wayne  'A'                            3:28.94  
     1) 2002 Mickens, Mike 12           2) 2013 Orton, Greg 12            
     3) 2000 Jackson, Kamiron 12        4) 2010 Traylor, James 12         
 -- Los Alamitos High School  'A'                            DQ   Running On Line
 -- William Howard Taft High Schoo  'A'                      DQ   Running in Lane 3
     1) 2041 Frances, Nigel 11          2) 2042 Haywood, Jason 12         
     3) 2039 Wells, Elijah 12           4) 2037 Smith, Malcolm 10     
Girls
 
Women 4x400 Meter Relay Invitational
================================================================
    School                                               Finals 
================================================================
Section  1  
  1 West Catholic High School  'A'                      3:42.52  
     1) 1234 Lawson, Ciarra 12          2) 1233 Ali, Nia 11               
     3) 1236 Leach, Nicole 12           4) 1232 Taylor, Christiana 11     
  2 Rancho Cucamonga High  'A'                          3:44.26  
  3 Fairfield High School  'A'                          3:51.01  
     1) 3655 Colbert, Vanice 11         2) 3654 Bradshaw, Caprice 11      
     3) 3676 Khalid, Sekayi 12          4) 3649 Lofton, Sharrina 11       
  4 James Logan High School  'A'                        3:51.03  
     1) 740 Castle, Careese 09          2) 743 Ward, Tierra 11            
     3) 727 Hardy, Jami 09              4) 715 Humphrey, Victoria 10      
  5 Long Beach Poly High School  'A'                    3:53.27  
     1) 3597 Apelar, Krizia 09          2) 3566 Smith, Lakeisha 09        
     3) 3594 Peggese, Seqoiya 12        4) 3609 Allen, Samantha 12        
  6 Merrill West High School  'A'                       3:54.64  
     1) 1640 Quinley, Shevell 12        2) 1649 Daniels, Brittany 12      
     3) 1645 Garrido, Miranda 12        4) 1636 Lewis, Dannielle 11       
  7 Vallejo  H.S.  'A'                                  4:00.31  
     1) 248 Dilworth, Sherrelle 12      2) 253 Williams, Charmaine 11     
     3) 249 Tansil, Samantha 11         4) 255 Mcliechey, Derrhea 10      
 
Women 4x400 Meter Relay Seeded
================================================================
    School                                               Finals 
================================================================
  1 John Muir High School  'A'                          3:59.09  
     1) 1385 Wallace, Amber 11          2) 1379 Williams, Jalisa 10       
     3) 1387 Griffin, Ashlie 12         4) 1383 Snailgro, Daniel 12       
  2 Birmingham high School  'A'                         3:59.58  
     1) 2549 Deason, Jatana 12          2) 2532 Dove, Chanelle 11         
     3) 2537 Valenzuela, Grecia 11      4) 2535 Joseph, Monique 10        
  3 Gardena High School  'A'                            4:01.17  
     1) 4284 Parker, Shayna             2) 4285 Parker, Shetara           
     3) 4286 Houston, Champagne         4) 4287 Johnson, Mallory          
  4 Mt. Pleasant High School  'A'                       4:02.18  
  5 Lynwood High School  'A'                            4:02.93  
     1) 2577 Barfield, Jessica 11       2) 2570 Brown, Chelsea 11         
     3) 2557 Sexton, Brandi 11          4) 2596 Allen, Blair 09           
  6 Gahr High School  'A'                               4:04.90  
     1) 2349 Austin, Shannan 10         2) 2347 Wesley, Sha' Ron 12       
     3) 2346 Bradshaw, Jenesa 12        4) 2355 Mitchell, Shakia 11       
  7 L.B. Wilson  'A'                                    4:20.06  
     1) 1323 Collins, Ebony 11          2) 1315 Cooper, Angele 09         
     3) 1328 Johnson, Kiana 09          4) 1325 Parker, Paula 11          

Arcadia Invitational index page