Pole Vault
Boys - Girls - Elite performances in blue
Mary Saxer NY 14-2 USR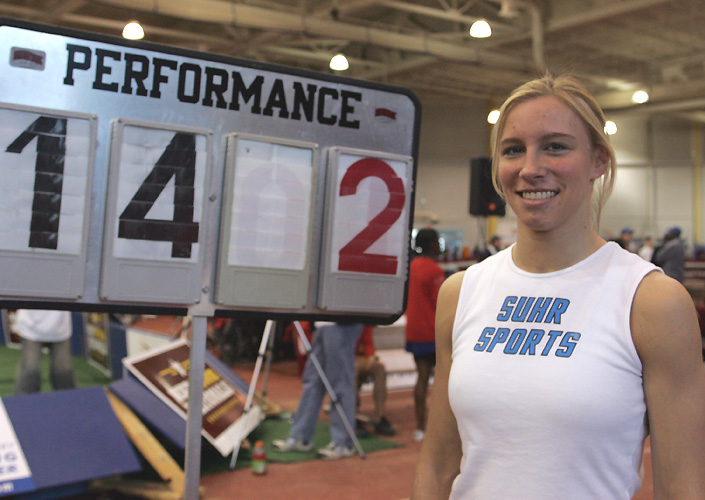 photo by Vic Sailer / PhotoRun
Mary Saxer NY 14-2 USR
above, Saxer, who broke the national record at Dartmouth in January with the first 14-foot jump ever, came in at 12-9.5, which proved to be the runner-up height. She cleared two more heights to erase the meet record (13-1.5 by Samantha Shepard in 2002) and then went for a new national record at 4.28m 14-0.5. After two misses, Saxer cleared to a big roar from the crowd. Next was 4.32m 14-2, which Saxer made on her second attempt to even louder applause. It was a half-inch better than Amy Linnen's NCAA championship mark at U. Arkansas the night before.


Eric Sparks PA 16-0
left, Sparks gave Hickory PA its second straight Nike Indoor champion, following Andrew Rademacher's win last year. Sparks had a miss at 15-6.25, putting him third going to 16 feet. But Sparks cleared on his second try as Jordan Scott GA and Michael Morrison VA, who were US#1 and US#2 coming in. Like Rademacher, Sparks won the PA state indoor meet but he has two more championships to win to match Rademacher's 2004 -- Penn Relays and PA outdoor state meet.
Boys
Eric Sparks is another winner from Hickory PA
by Elliott Denman
Nike National pole vault fans may have been spoiled. They'd seen such great leaps as Tommy Skipper's 17-3 ¾ for Sandy, Oregon in 2003, Sage Thomas' 17-0 for Frenship of Texas in 2001, and Andrew
Rademacher's 16-8 for Hickory, Pa. last year.
Nothing like that transpired in 2005. But Eric Sparks, from the same school as Rademacher, . kept the Nike title in the Keystone State with a 16-foot PR clearance.
Michael Morrison of Chesapeake, Va. - no relation to the former Nike high/long jump champion of the same name from Willngboro, NJ - shared the silver at 15-6 ¼ with Jordan Scott of Watkinsville, Ga., each with an identical card, no misses on the way up, but three NGs at 16-0.
"Yeah, 16 feet has been a goal since last year and I've been struggling
with it a little bit this year. I did want to go a little bit higher, but I
can't ask for too much.", Sparks said.
"I definitely wanted 16-00. I didn't care what place it got me."
He cleared 16 on second attempt.
"I was definitely pumped, knowing the jump was for the
championship of the meet. I was definitely pumped from the beginning."
He missed three at 16-4 before calling it a day.
"I was on the biggest pole I've ever been on today," he said. "I just need
to work on some top end stuff."
College? "I'm thinking Air Force Academy, Arizona or Purdue."
C.F.P.I. Timing & Data 
           2005 Nike Indoor Nationals - 3/12/2005 to 3/13/2005            
                 Prince Georges Sports & Learning Complex                 
                            Landover, Maryland                            
 
Event 27  Boys Pole Vault
==========================================================================
 14-0.5, 14-6.25, 15-0.25, 15-6.25, 16-0, 16-4, 16-8, 17-0                
    National: N 17-06.50  3/8/1986    Pat Manson, Aurora, CO              
        Meet: M 17-03.75  3/15/2003   Tommy Skipper, Sandy, OR            
    Freshman: (    15-06  1978        Bill Lange, Martinsville, NJ        
   Sophomore: R    16-09  1994        Jacob Davis, Orangefield, TX        
      Junior: J    17-03  1995        Jacob Davis, Orangefield, TX        
      Senior: $ 17-06.50  3/8/1986    Pat Manson, Aurora, CO              
    Name                    Year School                  Finals           
==========================================================================
Finals                                                                    
  1 Eric Sparks               05 hermitage, PA            4.88m   16-00.00
     4.28 4.43 4.58 4.73 4.88 4.98                                        
        P    P    O   XO   XO  XXX                                        
  2 Michael Morrison          06 Chesapeake, VA           4.73m   15-06.25
     4.28 4.43 4.58 4.73 4.88                                             
        P    P    O    O  XXX                                             
  2 Jordan Scott              06 Watkinsville, GA         4.73m   15-06.25
     4.28 4.43 4.58 4.73 4.88                                             
        P    P    O    O  XXX                                             
  4 Spencer McCorkel          07 Bryant, AR               4.58m   15-00.25
     4.28 4.43 4.58 4.73                                                  
       XO    O    O  XXX                                                  
  5 Casey Herndon             05 Franklin Springs, G     J4.58m   15-00.25
     4.28 4.43 4.58 4.73                                                  
        P    P   XO  XXX                                                  
  6 Dutch Perryman            05 Phoenix, AZ              4.43m   14-06.25
     4.28 4.43 4.58                                                       
        O    O  XXX                                                       
  6 Donell Hill               05 Mobile, AL               4.43m   14-06.25
     4.28 4.43 4.58                                                       
        O    O  XXX                                                       
  8 Jeff McClurg              05 Chagrin Falls, OH       J4.43m   14-06.25
     4.28 4.43 4.58                                                       
       XO    O  XXX                                                       
  9 Chris Spear               06 Hoover, AL              J4.43m   14-06.25
     4.28 4.43 4.58                                                       
        O  XXO  XXX                                                       
  9 Ron Walters               05 Pittsburgh, PA          J4.43m   14-06.25
     4.28 4.43 4.58                                                       
        P  XXO  XXX                                                       
 11 Jeremy Willis             05 Pearcy, AR              J4.43m   14-06.25
     4.28 4.43 4.58                                                       
       XX  XXO  XXX                                                       
 12 Bryant Wilson             05 Hale, MI                 4.28m   14-00.50
     4.28 4.43                                                            
        O  XXX                                                            
 -- Anthony Abitante          05 Berkeley Heights, N         NH           
     4.28                                                                 
      XXX                                                                 
 -- John Vellenoweth          05 wheeling, WV                NH           
     4.28                                                                 
      XXX                                                       
Girls
All Mary Saxer's show, and quite a show it was
by Elliott Denman
From beginning to end, this was Mary Saxer's show.
The Lancaster, N.Y. sensation, who'd raised the National record to 14 feet in
a January meet, was determined to add something to that in her final indoor
outing as a high school athlete.
She lived up to all her billing- and more.
As the others went to the sidelines, Saxer (who'd won at the NY Armory en
route here) went up and up and up.
She cleared first-jump efforts at 3.90 meters/ 12 feet, 9 ½;
4.00 meters / 13-1 ½, and 4.10 meters / 13-5 ¼,
Reality set in when she missed her first two at 4.28 meters / 14 feet and
half an inch. But she rallied on third jaunt down the runway and cleared - to the
roar of the crowd - for a National HSand Nike record, as well as a world and
National junior (19-and-under) mark.
Next bar was 4.32 meters/ 14-2.
After a miss, she went up and over, to even louder roars of approval.
Only at 4.40 meters / 14-5 ¼, did Saxer fail to clear.
After her National freshman outdoor record of 12-8 in 2004, and her sophomore
outdoor record-equaling 13-4 clearance last week, Allison Stokke of Newport
Beach Harbor, had big hopes, too.
Along with Lindsey Regan of the Easton, Pa. Area Track Club, second placer at
Nike in 2004, Stokke went 12-9 ½.
But the silver went to Regan on a clear card until three misses at 12-9 ½.
"I don't know what the height was, but I really wanted to get over
14-there (in NYC.) I didn't, so I was kind of upset. My coach asked if my legs felt
OK, so we decided to drive down here. It's like 3 hours."
"Yes, I was (excited about vaulting again.) I was more pumped up today to
vault well. I was upset about yesterday. I've gone over 14-00 in practice, but
I wanted to show everyone I could do it more than once, if you know what I
mean."
So it ended up being a great day.
"Definitely," said Saxer. "I set two goals. Jump over 14-00 again. I jumped
14-00.50. I was really happy with that. Finally. The other was 14- which is
the world record for my age. That was the other goal. I was really happy for
that.
Her best before 2005 was around 12-6.
"Last year during competition, it was 12-5 and a half, or a quarter. In the
summer, we had a few meets and I did 12-6 there. That was my best."
What's been the big difference?
"Over the summer, training with Rick three days a week. Earlier this year,
I didn't play field hockey which I had done in the past. I just trained with
Rick in the fall so that definitely helped. I came out my first meet and
cleared 13-5 this year so that was a good start.
"Field hockey, I love. It was so much fun. I liked pole vault, too. It's a
new thing and I saw I could have a lot of success at it too. So I gave up
field hockey.
"I did gymnastics for eight years. From when I was 4 until I was 13. That
definitely helped."
In warmups, did she feel a 14-00 mark was going to happen?
"Yeah, I was hoping for it. I actually felt really good today. I was a
little sore from yesterday. I felt a little faster on this runway than at the
Armory. I am kind of surprised about that. The crowd here was pretty good. It
helped me get over those bars, too."
She cleared with air to spare.
"The 14-00.50, I cleared by quite a bit. As I went up more, I was getting
tired. Even though I know I can clear those heights, when you are the only
vaulter, you can only take so much time in between vaults and stuff. I was
getting tired and not doing as well."
Her attempts at 14-5.25? "They were decent at times, but like I was saying,
I was getting tired. Little things were going on in the vault."
Does she like all the attention coming her way?
"I enjoy it," she said. "I don't want to get cocky, you know. I'm just like
a normal person at the same time. I'm really enjoying it. Living in the
moment."
Stacy Dragila is a World and Olympic Champion. Yelena Isinbayeva of Russia
is the current world record holder. Do she see herself as being like them
someday?
"I didn't really know Isinbayeva's name, actually. There are a lot of
references and comparisons like that. Like when I was at the Millrose Games, I got
to meet Stacy. She gave me good advice and everything. Honestly, now I look at
both of them and think 'Wow, they're amazing.' I guess after a meet like
today, I can see it being in my future. It's kind of cool to look up to them.
Bound for Notre Dame, her Nike vault would have won the NCAA gold (and
placed 12th at the Athens Olympics.
"My coach just told me," she said. "I couldn't believe it. That's cool.
Now, I have to decide to go to (National) juniors and maybe go to (Junior)
worlds or whatever. This summer is going to be shorter. I don't get out of
school until June. I'm going to be getting ready for college so I don't know if I
want to be traveling everywhere. You do want to take some time to be a kid,
too."
Bottom line question: "All these people going pro, sprinters, etc. What if
NIKE or someone came up to you and said, 'we want you to turn pro?' Her
answer: " Right now, I'm going to go to college no matter what. So, I can't do that.
Maybe in a few years, I'll see where I am at."
 C.F.P.I. Timing & Data 
           2005 Nike Indoor Nationals - 3/12/2005 to 3/13/2005            
                 Prince Georges Sports & Learning Complex                 
                            Landover, Maryland                            
 
Event 28  Girls Pole Vault
==========================================================================
 11-1.75, 11-7.75, 12-1.5, 12-5.5, 12-9.5, 13-1.5, 13-5.25                
    National: N    14-00  1/8/2005    Mary Saxer, Lancaster, NY           
        Meet: M 13-01.50  3/10/2002   Samantha Shepard, Weston, MA        
    Freshman: ( 12-07.50  1999        Samantha Shepard, Weston, MA        
   Sophomore: R 13-00.25  2000        Samantha Shepard, Weston, MA        
      Junior: J 13-03.50  2001        Samantha Shepard, Weston, MA        
      Senior: $    14-00  1/8/2005    Mary Saxer, Lancaster, NY           
    Name                    Year School                  Finals           
==========================================================================
Finals                                                                    
  1 Mary Saxer                05 Lancaster, NY            4.32m   14-02.00
     3.40 3.55 3.70 3.80 3.90 4.00 4.10 4.28 4.32 4.40                    
        P    P    P    P    O    O    O  XXO   XO  XXX                    
  2 Lindsay Regan             06 Easton, PA               3.90m   12-09.50
     3.40 3.55 3.70 3.80 3.90 4.00                                        
        P    O    O    O    O  XXX                                        
  3 Allison Stokke            07 Newport Beach, TN        3.90m   12-09.50
     3.40 3.55 3.70 3.80 3.90 4.00                                        
        O    O    O  XXO   XO  XXX                                        
  4 Caitlin Hewitt            06 Greensburg, PA           3.80m   12-05.50
     3.40 3.55 3.70 3.80 3.90                                             
       XO    O  XXO    O  XXX                                             
  5 Jessica Trujillo          05 Arlington, TX            3.80m   12-05.50
     3.40 3.55 3.70 3.80 3.90                                             
        O    O   XO   XO  XXX                                             
  6 Mallory Peck              05 Sioux Falls, SD          3.70m   12-01.50
     3.40 3.55 3.70 3.80                                                  
      XXO  XXO    O  XXX                                                  
  7 Julianne Toto             05 Red Bank, NJ             3.70m   12-01.50
     3.40 3.55 3.70 3.80                                                  
        O    O  XXO  XXX                                                  
  8 Jacquelyn Perryman        06 Phoenix, AZ              3.55m   11-07.75
     3.40 3.55 3.70                                                       
        O    O  XXX                                                       
  9 Erin Ferut                05 Medina, OH               3.55m   11-07.75
     3.40 3.55 3.70                                                       
      XXO  XXO  XXX                                                       
 10 Robin Friedman            06 Hillsborough, NJ         3.40m   11-01.75
     3.40 3.55                                                            
        O  XXX                                                            
 11 Lauren Cruzan             06 Peoria, AZ               3.40m   11-01.75
     3.40 3.55                                                            
       XO  XXX                                                            
 12 Kristen Hafford           06 Washington, NJ           3.40m   11-01.75
     3.40 3.55                                                            
      XXO  XXX                                                            
 -- Melissa Gale              06 Heislerville, NJ            NH           
     3.40                                                                 
      XXX                                                                 
 -- Alexandra Acker           07 Findley Lake, NY            NH           
     3.40                                                                 
      XXX                                                                 
 -- Jessica Kloss             05 Moorestown, NJ              NH           
     3.40                                                                 
      XXX                                                                 
 -- Aly Goldfarb              06 Mountain Brook, AL          NH           
     3.40                                                                 
      XXX