DONNA ON THE SIDE IN HAWAII
Pasta Party
In celebration of the meet, there is a pasta party at the host school, the Iolani School. Runners meet and greet , have a good time learnng how to hula and just plain clowning around. It's a mix and mingle affair--get to know some new people.
Leaving the sponsor hotel for the pasta party.

The Iolani High School is in Honolulu outside of Waikiki, across the Ala Wai canal.

Iolani School has its roots on Maui where it was founded as a small mission school for young men.in 1863. When church personnel changed, in 1870, the school was transferred to Honolulu and given the new name of Iolani or "heavenly bird," by Queen Emma.

The school remained open to boys only until 1979 when girls were admitted for the first time. Today, Iolani has grown into one of the largest independent schools in the nation. More than 1,700 students of diverse racial and religious heritage currently attend the school's thirteen grades (K-12).

The school is related by tradition to the Episcopal Church, and the Clergy of the faculty are ordained Episcopal priests. Iolani, however, accepts boys and girls of any religious background. The requirements for admission are scholastic ability, good character, and the promise of leadership.
The Party Scene
The Nike Scene

The pasta party was livened up with some cool motivational videos of past cross country running, quizzes with tough questions on running facts and figures and some neat prizes, all provided by Nike. Elyse Kopecky, Nike representatiave and mistress of ceremonies provided a rundown on the new cross country team effort, NTN (Nike Team Nationals) and with a little help from John Dye ran the competition for the prizes.
Learning the rules of the game: Elyse Kopecky outlines the rules for winning the prizes.

I can answer that.....

Winning Smiles
Let the Dancing Begin

Dancers from Iolani High School entertain the group with the hula.
Learning the Hula.....

s

Best Coach Hula Dancers: Four coaches were selected as the best hula dancers of the night. Phil Wilder (Moreau CA) Bill Sumner (Auburn Riverside WA), Stan Morgan (Midlothian VA) and Mike Mangan (Lake Braddock VA)
a good time was had by all
Beverly Hills CA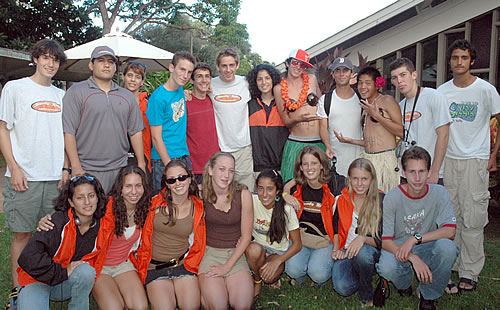 Midlothian VA: (from left top) Heather Mella, M.C. Miller, Jessica Oakley, Amanda Patterson, Christian Selander (bottom left) Christine Balckburn, Erin Stehle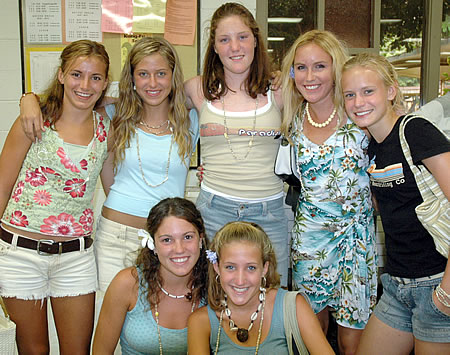 Midlothian VA: (from left top) Jonathan Mellis, Jason Witt, Mike Waite,
Billy D'Amoto, Patrick Gold (below) Kurt Witt and ryan Call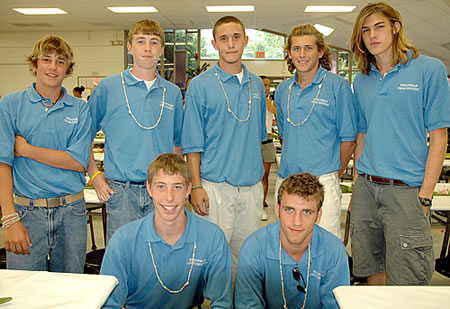 Snohomish WA: (from left top) Dan McDuff, Tim Potts, Shea Parker, Cale McCulloch , Bobby Carlson (below left) Dan Baus, Marcus Bastian, John Pedack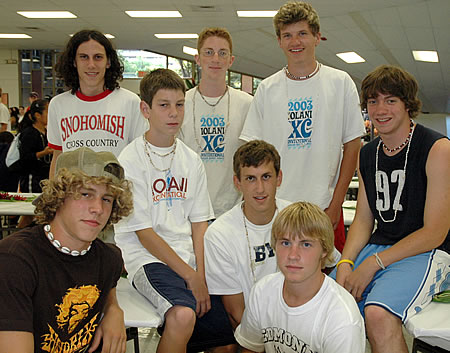 Florin CA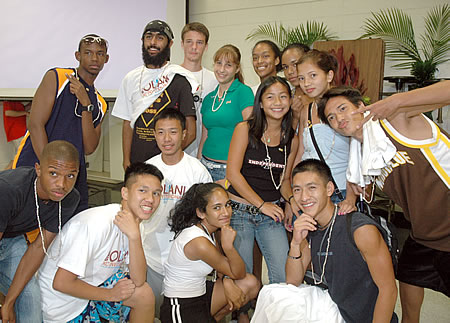 From Long Beach Poly CA coaches wives: Amy Fillispow and Debbie Hughes. So as not to be forgotten, these lovely ladies came with the team and their coaching husbands rather than stay behind.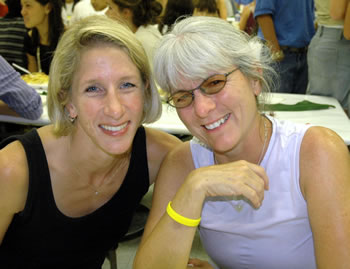 Lake Braddock VA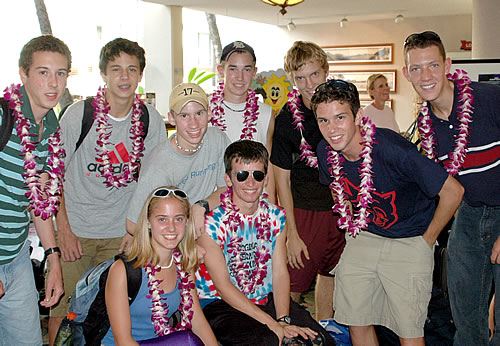 The Dyes: Natalie, John, Derek, Donna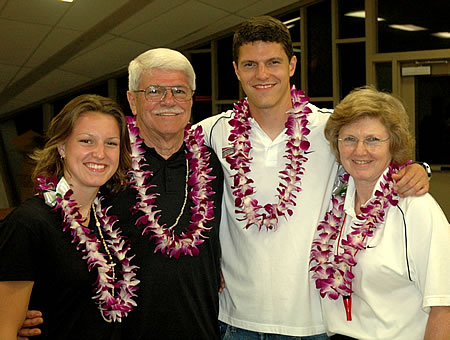 Iolani Invitational index page