Results - Pix - Donna on the Side
Boys - Dewitt Clinton 3:22.70 4x400 wins team title - Hakon Devries 9:20.78 2 mile - Uniondale 1:30.01 4x200 - Kyle Calvo 6-10 - Felipe Reyes 23-11.5 - CBA 8:04.18 4x800.
Girls - Nicole Leach and Janine Davis hit all time top 10 in 600 meters - Natasha Hastings 38.46 300m and 3:52.22 4x400 with A.P. Randolph - Lauren Biscardi 5-9 - Heather Iatauro 4:59.93 mile - Brittany Criscuolo 11:08.73 2 miles - Latavia Thomas 2:58.12 1000m leads West Catholic Philadelphia to team title - Tiffany Nesfield MD 8.09 55H.
Boys 2 mile - Hakon Devries (287) wins with late kick.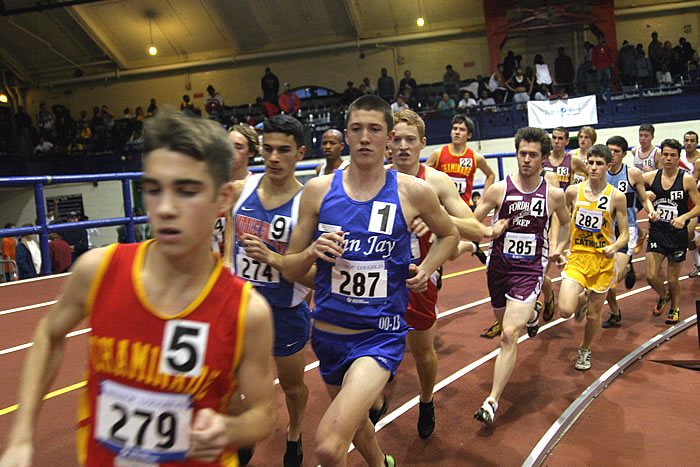 Leach and Davis hit all time top 10 in 600 meters
Two swift juniors joined the all time top 10 performers list in the girls 600 meters at the New York Armory. West Catholic Philadelphia PA's Nicole Leach streaked to 25.8 and 55.9 splits through two laps and held off fast closing Janine Davis, of Queen of Peace NJ at the end. Leach finished in 1:31.58 and Davis 1:31.91.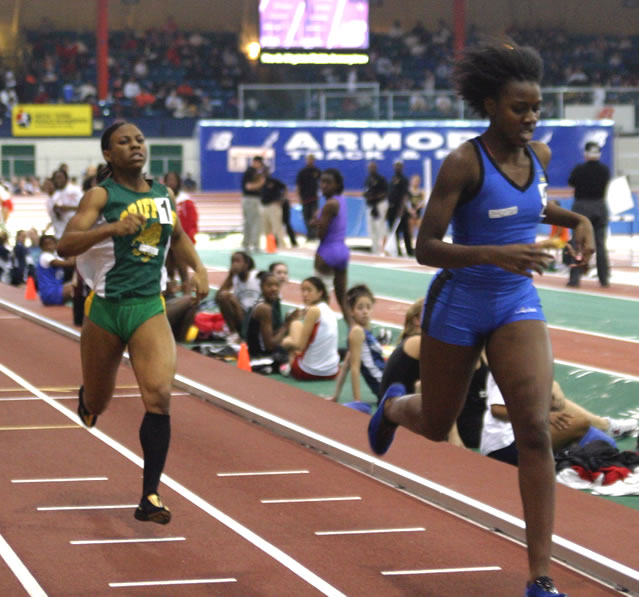 | | |
| --- | --- |
| | Girls 300 - Natasha Hastings 38.46 - A.P. Randolph NY senior wins easily, and is named most outstanding female track performer of the meet. |
Girls Mile

-
Tri Valley NY sr Heather Iatauro 4:59.93 -
Iatauro overhauled St. Hubert PA sr Amy Kelly 5:01.87 on the seventh lap. Towson MD freshman Devon Williams 5:06.65 was third.


Girls 55H

- C.H. Flowers MD sr Tiffany Nesfeld 8.09

Girls 55D -East Orange NJ sr Shana Jackson 7.10 (lane 4, blue and red)


Boys 2 Mile - John Jay NY sr Hakon Devries 920.78 won going away by 6 seconds over Mike Tilger, Archbishop Carroll. Devries said he planned to run an even first mile and kick late, but when Tilger moved out with 1000 meters to go Devries had to respond. He did with a vengeance and won decisively with a 65-second last lap. Devries will next aim for the New Balance mile January 24 to try for the automatic qualifier for the Millrose Games high school mile.
left, Devries takes early lead

below, 281 Tilger takes lead in second mile, and 286 Carlos Jamieson of North Rockland and Brian McCabe of Fordham Prep (purple) move up to make it a four-man race.

| | |
| --- | --- |
| Devries wins. | |
Results
results from ArmoryTrack.com - Girls
50TH ANNUAL BISHOP LOUGHLIN GAMES
20TH DECEMBER 2003 168TH STREET ARMORY
EVENT- 3200 Meter Run
Boys
PL.
FIRST NAME
LAST NAME
SCHOOL
TIME
1
Hakon
DeVries
John Jay
9:20.78
2
Mike
Tiljays
Carroll
9:26.89
3
Brian
McCabe
Fordham Prep
9:27.29
4
Carlos
Jamieson
North Rockland
9:27.65
5
Kevin
McDermott
Chaminade
9:46.45
6
David
Alfaro
West Orange
9:46.63
7
Brandon
Cartica
Arlington
9:48.48
8
Andre
Silva
Middle County
9:48.89
9
Bunda
Wallkill
10:02.93
10
Evan
Geilich
Bernards
10:04.34
11
Kevin
Treadway
Colonie
10:05.25
12
Jim
Butcher
Garden City
10:07.52
13
Mike
Harbus
Collegiate
10:09.34
14
G
Segni
Brooklyn International
10:07.52
15
Dach
Danbury
10:09.29
16
Chris
Jimenez
St. Francis
10:10.66
17
Dan
Brown
MSGR Farrell
10:14.88
18
Conor
Hampel
Chaminade
10:21.88
19
Farrell
Denby
Syosset
10:22.42
EVENT- 1000 Meter Run
Boys
PL.
FIRST NAME
LAST NAME
SCHOOL
TIME
1
John
Mueller
Burnt Hills
2:38.78
2
Mike
Weiss
Chaminade
2:38.94
3
Luis
German
South Hampton
2:39.12
4
Tom
Whelem
HTHS
2:39.37
5
Jared
Julius
Boys & Girls
2:40.36
6
Fred
Munk
Poly Prep
2:41.45
7
Dwight
Sucue
Transit
2:42.20
8
Mike
Dimaiuti
Middle County
2:42.32
EVENT- 55 Meter Dash
Boys
PL.
FIRST NAME
LAST NAME
SCHOOL
TIME
1
Anthony
Wiseman
DeMatha Catholic
6.42
2
Sherron
Bullock
Camden
6.45
3
Dominic
Berger
DeMatha Catholic
6.50
4
Thomas
Dilworth
St. Rays HS
6.58
5
Jaleel
Davis
Boys & Girls
6.59
6
Jermaine
Artwell
Uniondale
6.60
7
Lewitt
Boyd
Mount Vernon HS
6.612
8
Kevin
Okolie
Half Hollow Hills East
6.615
EVENT- 55 Hurdles
Boys
PL.
FIRST NAME
LAST NAME
SCHOOL
TIME
1
Saidu
Ezike
Port Richmond
7.61
2
Reuben
McCoy
Woodrow Twnp
7.67
3
Ian
Morgan
Amittiville
7.84
4
Dwayn
Joseph
Willingboro
7.85
5
Kyle
Caluo
Somerville
7.86
6
Marcus
Lewis
Nanuet
8.01
7
Carldon
Murry
Dewitt Clinton
8.12
8
Eric
Sheppard
North Rockland
8.14
EVENT- 600 Meter Run
Boys
PL.
FIRST NAME
LAST NAME
SCHOOL
TIME
1
Afolabi
Amamire
C H Flowers
1:21.16
2
Greg
Gomez
Franklin HS
1:23.17
3
Dwight
Crooks
Dewitt Clinton
1:23.22
4
D.
Griffith
South Shore
1:23.61
5
Todd
Lovett
Boys & Girls
1:24.08
6
Pierre
Ville
Paul Robeson
1:24.12
7
Craig
Meekins
Chaminade
1:24.48
8
Kais
Roper
DeMatha Catholic
1:24.81
EVENT- Pole Vault
Boys
PL.
FIRST NAME
LAST NAME
SCHOOL
DIS
1
Andy
Rademacher
Hickory
15 Ft 0 In*
2
Nick
Jones
Shenendehowa
14 Ft 6 In
3
Eric
Sparks
Hickory
14 Ft 0 In
4
Brian
Zubradt
Henrick Hudson
13 Ft 6 In
4
Ian
Cassidy
Molloy
13 Ft 6 In
6
Jared
O'Connor
Shenendehowa
13 Ft 6 In
7
Shawn
Kushman
Redbank
13 Ft 6 In
8
Caleb
Stewart
Toms River North
13 Ft 0 In
*NEW MEET RECORD
EVENT- 1 Mile Run
Boys
PL.
FIRST NAME
LAST NAME
SCHOOL
TIME
1
Jon
Anderson
Cinnaminson
4:20.71
2
Brian
Scotland
St. Benedicts
4:24.15
3
Bill
Ceriello
Arlington
4:24.29
4
Joe
Kingsbery
Red Bank Regional
4:24.75
5
Phil
Roach
Shenendehowa
4:24.78
6
Ryan
McCann
Glen Rock
4:25.18
7
Oskar
Nordenbring
MKA
4:25.27
8
Juan
Caceres
Bishop Loughlin
4:32.97
EVENT- Long Jump
Boys
PL.
FIRST NAME
LAST NAME
SCHOOL
DIS
1
Felipe
Reyes
CBA Albany
23 Ft 11. 5 In
2
Marcus
Lewis
Nanuet
22 Ft 1.5 In
3
Kyle
Calvo
Sommervile
22 Ft 1.25 In
4
Shaun
Pascal
Boys & Girls
21 Ft 10.25 In
5
Troy
Williams
Manhassett
21 Ft 6 In
6
Carl
Smith
Camden
21 Ft 3 In
7
Julian
Ahye
Poly Prep
21 Ft 3 In
EVENT- Shot Put
Boys
PL.
FIRST NAME
LAST NAME
SCHOOL
DIS
1
Sean
Calichio
Xaverian
54 Ft 1.5 In
2
Rob
Allen
Old Bridge
50 Ft 1.25 In
3
Bryun
Holland
LaSalle
49 Ft 10.5 In
4
Mike
Williams
Christiano
49 Ft 1.5 In
5
Stefano
Petraglia
Farrell
48 Ft 10 In
6
Philip
Wondolwski
St. Peters
47 Ft 4.25 In
7
Jason
Hilliman
Franklin
45 Ft 11.5 In
EVENT- 300 Meter Dash
Boys
PL.
FIRST NAME
LAST NAME
SCHOOL
TIME
1
Drew
Harrison
Westbury
35.10
2
Jamel
Williams
Dewitt Clinton
35.20
3
Dave
DePalma
Old Bridge
35.35
4
Scott
Facey
Uniondale
35.39
5
Rob
McRae
Shenendehowa
35.76
EVENT- High Jump
Boys
PL.
FIRST NAME
LAST NAME
SCHOOL
DIS
1
Kyle
Calvo
Sommerville
6 Ft 10 In
2
Rahmel
Huffman
Uniondale
6 Ft 4 In
3
Mark
Stephan
LaSalle
6 Ft 4 In
4
Anthony
Soars
Van Buren
6 Ft 2 In
5
Caldon
Murray
Dewitt Clinton
6 Ft 2 In
6
Harrison
Newman
Styvesant
6 Ft 2 In
7
Adam
Frisbee
Greenwich Central
6 Ft 0 In (Tie
7
Pat
Martin
Greenwich Central
6 Ft 0 In (Tie
EVENT- 3200 Meter Relay
Boys
PL.
SCHOOL
TIME
1
CBA-NJ
8:04.18
Greg Leach, Peter Glackin, Brett Fiorovanti, Will Molofchik
2
SHENENDEHOWA
8:16.13
3
KELLENBERG
8:21.22
4
ARLINGTON
8:21.84
5
XAVERIAN
8:25.43
6
FARRELL
8:26.83
7
ST. PETERS
8:29.16
8
ST. JOHNS
8:29.30
EVENT- Triple Jump
Boys
PL.
FIRST NAME
LAST NAME
SCHOOL
DIS
1
Kimon
Evans
A Lincoln
44 Ft 3 In
2
Shaquaan
Been
Mount St. Michael
43 Ft 6.25 In
3
Matt
Branche
New Rochelle
43 Ft 4 In
4
Glen
Roche
North Rockland
42 Ft 11.5 In
5
Terron
Hardy
Westbury
42 Ft .25 In
6
Will
Early
Kellenberg
42 Ft .25 In
EVENT- 800 Meter Relay
Boys
PL.
SCHOOL
TIME
1
UNIONDALE
1:30.01
Michael Wright, Jermaine Artwell, Rahmel Hoffman, Scott Facey
2
TRANSIT TECH
1:31.23
3
DEMATHA CATHOLIC
1:31.84
4
ST. RAYMONDS
1:32.30
5
LAKEWOOD
1:32.87
6
WILSON TOWNSHIP
1:34.23
EVENT- 1600 Meter Relay
Boys
PL.
SCHOOL
TIME
1
DEWITT CLINTON
3:22.70
Lowery Rhoden, Jeremy Alvarez, Jemel Williams, Dwight Crooks
2
BOYS & GIRLS
3:26.43
3
WILLINGBORO
3:28.31
4
SOUTHH SHORE
3:28.87
5
SHENENDEHOWA
3:29.10
6
ERASMUS
3:29.72
7
WINSLOW
3:30.04
8
DEMATHA
3:30.46
TEA M SCORES
POINTS
1
DEWITT CLINTON
14
2
UNIONDALE
12
3
DEMATHA MD
12
MOST OUTSTANDING FIELD PERFORMER
ANDY RADEMACHER
HICKORY
MEET RECORD IN THE POLE VAULT
MOST OUTSTANDING TRACK PERFORMER
Afolabi
Amamire
C H Flowers
1:21.16 600M
Girls
50TH ANNUAL BISHOP LOUGHLIN GAMES
20TH DECEMBER 2003 168TH STREET ARMORY
2 MILE RUN
GIRLS
PL.
FIRST NAME
LAST NAME
SCHOOL
TIME
1
Brittney
Criscuolo
East Meadow
11:08.73
2
Kara
McKenna
Suffern
11:28.82
3
Brittney
Sheffey
Bellport
11:39.82
4
Kristina
Pfeifer
Holy Trinity
11:41.22
5
Suejin
Ahn
Ward Mellville
11:49.09
6
Megan
O'Leary
Cherokee
11:50.33
7
Brianna
Shewan
Ward Mellville
11:50.60
8
Jenna
Naglieri
North Rockland
11:51.78
9
EynaZ
Spence
Newark
11:55.60
10
Carol
Jefferson
Perkiomen Valley
12:02.31
11
E.
Vollmoth
Bayport
12:11.30
12
Amy
Rhein
South Brunswick
12:22.19
13
Lisa
Mascalli
Manhasset
12:32.19
14
Shelby
Greany
Suffern
12:34.69
1000 Meter Run
Girls
PL.
FIRST NAME
LAST NAME
SCHOOL
TIME
1
Latavia
Thomas
West Catholic
2:58.12
2
Adrenee
Sterrett
Boys and Girls
2:59.71
3
Kristin
Farley
Poly Prep
2:59.88
4
Janean
Morris
Bishop Loughlin
3:00.42
5
Selena
Sappleton
A.P Randolph
3:02.41
6
Melissa
Salerno
Rocy Point
3:02.99
7
J.
Dunbar
Boys and Girls
3:04.99
8
Chanelle
McGregor
Boys and Girls
3:05.03
EVENT - 600 Meter Run
Girls
PL.
FIRST NAME
LAST NAME
SCHOOL
TIME
1
Nicole
Leach
West Catholic
1:31.58
2
Janine
Davis
Queen Of Peace
1:31.91
3
Dede
Richemond
Suffern
1:35.22
4
Elizabeth
Bergold
Bronxville
1:35.87
5
Jesse
Carlin
St. Joe Sea
1:37.54
6
Aisha
Billal-Mack
East Orange
1:39.92
7
Emily
Lewek
Burnt Hills
1:40.15
8
Jananah
Freeman
Pleasantville
1:40.35
EVENT- 55M Hurdles
Girls
PL.
FIRST NAME
LAST NAME
SCHOOL
TIME
1
Tiffany
Nesfield
N H Flowers
8.09
2
Jamillah
Nock
Woodrow Wilson
8.40
3
Danete
Wright
Dewitt Clinton
8.43
4
Angelica
Reed
A P Randolph
8.55
5
Saleena
Rasheed
Bishop Loughlin
8.561
6
Yvana
Hepburn
North Rockland
8.562
7
Shana
Brown
Murry Bergtraum
8.62
8
Leigh
Lumford
Tottenville
8.88
EVENT- Pole Vault
Girls
PL.FI RST NAME
LAST NAME
SCHOOL
HT
1
Corina
Hengen
Pine Plains
11Ft 0 Inches
2
Alysha
Rodriguez
Bayport Blue Pt
9Ft 0 Inches
3
Joan
Buck
New Rochelle
8Ft 0 Inches
4
Cheryl
Vigliotta
Christiana
7Ft 6 Inches
5
Andrea
Asimolou
Toms River South
7Ft 6 Inches
EVENT- 55 Meter Dash
Girls
PL.FI RST NAME
LAST NAME
SCHOOL
TIME
1
Shanda
Jackson
East Orange
7.10
2
Lynne
Layne
New Rochelle
7:16
3
Jessica
Clarke
Murry Bergtraum
7.17
4
Khaya
Brown
Potomac
7.22
5
Jessica
Retelny
Scarsdale HS
7.32
6
Tiffany
Nesfield
C H Flowers
7.350
7
Jamillah
Nock
Wilson
7.356
8
Channel
Hamilton
Willingboro
7.36
EVENT- 1 Mile Run
Girls
PL.FI RST NAME
LAST NAME
SCHOOL
TIME
1
Heather
Iatauro
Tri Valley
4:59.93
2
Amy
Kelly
St. Hubert
5:01.87
3
Devon
Williams
Towson Catholic
5:06.65
4
Rolanda
Bell
Sacred Heart
5:13.07
5
Sarah
Roberts
Perliomen Valley
5:16.25
6
Anna
Jankowski
Colonie
5:18.03
7
Ellen
Dougherty
Riverhead
5:18.06
8
Katie
DiCamillo
HTHS
5:18.43
EVENT- Long Jump
Girls
PL.FI RST NAME
LAST NAME
SCHOOL
DIS
1
Collette
DeBenedette
Mountain Lakes
18 Ft 2.25 In
2
Kerry Ann
White
Roberson
17 Ft 7.50 In
3
Lynn
Layne
New Rochelle
17 Ft 1.75 In
4
Jordan
Truber
Nazereth
17 Ft 1 In
5
Danay
Spencer
St. John Bayport
16 Ft 8.25 In
6
Bianca
Fang
North Babylon
16 Ft 5 In
7
Angelica
Reed
A P Randolph
16 Ft 1.25 In
EVENT- 300 Meter Dash
Girls
PL.FI RST NAME
LAST NAME
SCHOOL
TIME
1
Natasha
Hastings
A P Randolph
38.46
2
Jessica
Clarke
Murry Bergtraum
39.61
3
Candace
Holness
Benjamin Cardoza
39.89
4
Kharya
Brown
Potomac HS
40.77
5
Natasha
Emmanuel
A P Randolph
40.81
6
Joy
Henry
Benjamin C ardoza
40.93
EVENT- Shot Put
Girls
PL.FI RST NAME
LAST NAME
SCHOOL
DIS
1
Felicia
Yearwood
Freeport
39 Ft 4 In
2
Lena
Tankeng
Sacred Heart
38 Ft 1 In
3
Vanessa
Michael
Jackson HS
37 Ft 1.5 In
4
Kadine
Johnson
New Rochelle
36 Ft 1.50 In
5
Asha
Stokes
Jackson HS
35 Ft 2.50 In
6
Skaakica
West
Jackson HS
35 Ft 1 In
7
Stephanie
Daniels
Rancucas Valley
33 Ft 4 In
EVENT- High Jump
Girls
PL.FI RST NAME
LAST NAME
SCHOOL
DIS
1
Lauren
Biscardi
Shoreham Wading River
5 Ft 9 In*
2
Christina
Smith
Winslow Township
5 Ft 4 In
3
Yvanna
Hepburn
North Rockland
5 Ft 2 In
4
Leigh
Lumford
Tottenville
5 Ft 2 In
4
Jessica
Matthews
TRN
5 Ft 2 In
6
Carin
Knight
New Rochelle
5 Ft 0 In
7
Selena
Singleton
Townsend Harris
5 Ft 0 In
8
Brittany
Dexter
Burnt Hills
5 Ft 0 In
8
Kersten
Kalinowsky
Clarkston South
5 Ft 0 In
S
**NEW RECORD
EVENT- Triple Jump
Girls
PL.
FIRST NAME
LAST NAME
SCHOOL
DIS
1
Jordan
Teuber
Nazareth
35 Ft 8 In
2
Tisha
Hinda
Clar Barton
36 Ft .5 In
3
Danay
Spencer
St. John Baptist
34 Ft 9.75 In
4 Jes sica
Picha
Shorham Wading River
34 Ft 9.75 In
5 Ker ry
Ojeda
Middle Contry
34 Ft 4.5 In
6
Valerie
Maignan
Molloy
33 Ft 11 In
EVENT- 3200 Meter Relay
Girls
PL.
SCHOOL
TIME
1
BRONXVILLE
9:42.94
Kate Kearney, Helen Millson, Dana Mitchell, Elizabeth Bergold
2
W & LEE
9:54.09
3
ROCKY POINT
9:56.20
4
DEWITT CLINTON
10:01.51
5
HOLY TRINITY
10:02.51
6
TRUMAN
10:07.20
7
SUFFERN
10:10.01
8
BOYS AND GIRLS
10:11.14
EVENT- 800 Meter Relay
Girls
PL.
SCHOOL
TIME
1
EAST ORANGE
1:42.92
Racquel Vassel, Aisha Bilal-Mack, Yolanda Sabb-Cooper, Shanda Jackson
2
WEST CATHOLIC
1:45.16
3
CLINTON
1:46.55
4
SUFFERN
1:46.60
5
HEMPSTEAD
1:47.19
6
WOODRWO WILSON
1:49.55
EVENT- 1600 Meter Relay
Girls
PL.
SCHOOL
TIME
1
A P RANDOLPH "A"
3:52.22
Angelica Reed, Salena Sappleton, Natasha Emmanuel, Natasha Hastings
2
BOYS AND GIRLS
3:56.94
3
BISHOP LOUGHLIN
3:59.46
4
CARDOZA
4:05.97
5
CAMDEN
4:06.05
6
NEW ROCHELLE
4:08.13
7
A P RANDOLPH "B"
4:10.30
8
CLARA BARTON
4:10.65
MOST OUTSTANDING FIELD PERFORMER
LAUREN BISCARDI SHOREHAM WADING RIVER
Meet Record in the High Jump 5 Ft 9 In
MOST OUTSTANDING TRACK PERFORMER
Natasha
Hastings
A P Randolph
38.46 300M