| Results | Quotes | Pix | PhotoRun's South region photo album - 28 shots from A to W
Boys
Brian Sullivan TX 14:46 leads four Texas buddies into the national finals with third best time ever at McAlpine Park;
Tennessee's James Strang comes back from anemia
Brian Sullivan and Erik Stanley lead the Texas charge in Charlotte.
Third is the South region surprise, James Strang.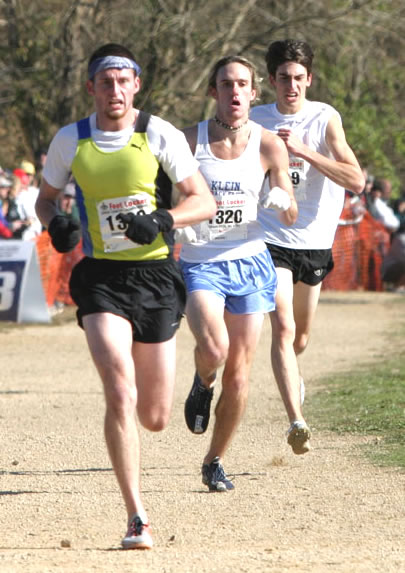 photo by Debbie Harris
Brian Sullivan hits the tape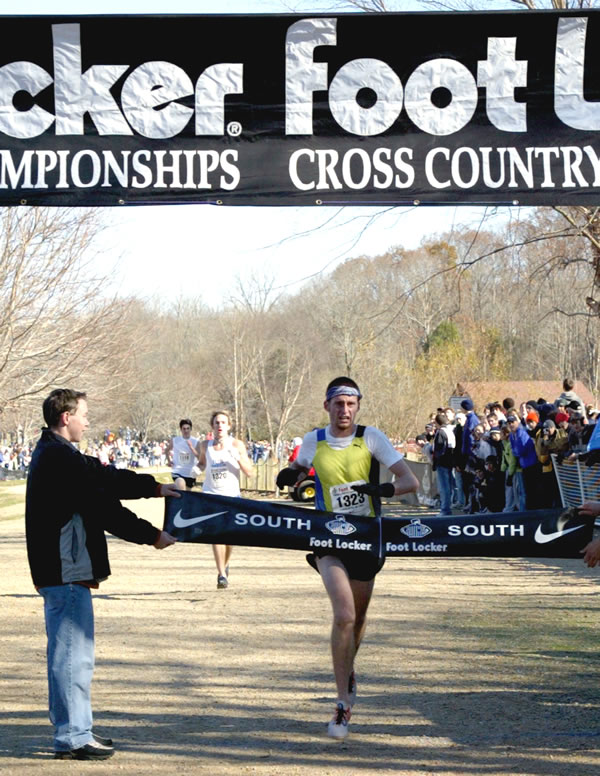 photo by Brian J. Myers, PhotoRun
Ricky Quintana's Quotes
Brian Sullivan 1 st place
Brian Sullivan: It went awesome. I had a lot of fun out in this race. I wasn't too nervous beforehand. I think that really helps.

RQ: Down the hill, you looked great. It was impressive.
Sullivan: I knew in order to win to a least have shot at winning, I would have to make my move before two miles. I knew the perfect spot would be coming out of the woods coming down the hill when everyone is around, pushing you. Everybody's cheering you. That's a perfect spot. I knew beforehand that I had to do it there.

RQ: You led. Was that your strategy here?
Sullivan: I wanted to go out a little conservatively the first half mile because everyone goes out extremely fast., but then coming up the hill, I wanted to at least be in the lead pack or leading by myself. I knew if I could do that and all I had to do is push the next mile and I'd be done.

RQ: They were really pressing you that last half mile.
Sullivan: The guy who ended up getting third, James Strang, came up on me with 400m left and he turns to me and says "We got this baby, come on!" and I was like "All right man!" So he started going and we passed the two mile marker and I started going a little bit and he started coming with me just a little bit and then fell back. I guessed he got nipped by Erik Stanley at the line.

RQ: You were looking back a lot in the last bit.
Sullivan: Ah man. I just wanted to make sure that I had enough of a lead to where if I faltered just a little bit, it wouldn't hurt me or cost me the whole race. Also, to make sure how my team was doing, The Texas guys did awesome today. I'm really proud of that.

RQ: Were you pleased with your 14:47?
Sullivan: I wanted to get that record really bad. Alan Webb is a deserving guy. He can keep it.

RQ: Did you ever imagine running that fast?
Sullivan: Ahh man, no. I remember when I was a freshman, seeing Webb run that, that was just unbelievable. Just being able to run near that fast. It feels pretty good.

RQ: Did you think that's what it would take to win it?
Sullivan: Oh yeah. Just like last year, there was going to be a ton of guys vying for the top eight spots. The winner was going to have to run extremely fast in order to win. I knew that that was what it was going to have to take. Definitely, in the lead pack, there were some really really tough guys that could run under 14:50 any day. I knew it was definitely going to take a top five, top ten all time performance to win.

RQ: I know last year, you didn't reach your goals. Last Foot Locker nationals was pretty disappointing for you.
Sullivan: Yeah.

RQ: What are you looking at this year?
Sullivan: Improvement. That's all. Don't get last again. That's all, man. I don't think a top fifteen performance there is unrealistic. I definitely want to make All American. That's the goal I had last year. I didn't accomplish that at all. I was nowhere near it. I think this year, it will be more realistic.

RQ: I guess you and the Texas boys communicate a lot.
Sullivan: Yeah, I race against all these guys every week. We've been talking about the track season. This cross country season. This race. We're really pumped up about this year at Texas Relays. We're going to get a bunch of guys to go after the state two mile record. It's run at night. It would be a pretty good weather. I think Andy Biladeau is going to run that too. I think Charles Hampton from Phoenix is going to end up coming over too. If we get all those guys and all the Texas guys over there, then, its going to be an awesome thing.

RQ: How do you feel this year compared to last for nationals?
Sullivan: Last year, we raced at like noon. I didn't eat at all before the race. I think I'm definitely going to do that. I'll definitely eat before that. I think this year, I'm going in more confident. Especially with this win. Last year, I just happened to be there, pretty much. I didn't really think too much about it. This year, I'm more focused and more confident, definitely. I have a really good shot at reaching my goals.

Erik Stanley, 2 nd place

RQ: How did the race go?
Erik Stanley: It was a lot of fun. It was really fast. We went out fast. There was a lot of guys up there so I just tried to...not go out too fast and get too worried and start thinking about it too much. And then, a lot of Texas guys started to come around and surrounded me and that made me feel comfortable. I just tried to stay with guys that I knew that were trying to do well also. I just tried to go with them and move up.

RQ: Did you think you had a chance at Brian and them? He was looking around an awful lot.
Stanley : At that part of the race, I hadn't decided if I was going to race two more weeks or I was going to drop off and let it go. I think that's what I've done the last couple of races, but this one I made sure I didn't do that. I just kept the pace going and ended up right behind him and stay close to him. Who knows. He had a great race. I'm really excited for him.

RQ: Did the coolness bother you much?
Stanley : No, I don't think too much in the race. I love this coolness. I had some stuff to wear, but I ended up not wearing it. It wasn't too bad. It was cool this morning, but it was perfect for the race.

RQ: Any predictions for Footlocker?
Stanley : I just want to do something similar to today. Just run my race and do what I'm capable of doing. It's going to be a great experience. I'm excited to go.

James Strang 3 rd place
RQ: Can you go over that story you were telling me earlier?
James Strang: Earlier in the season, back in August, Baylor (his high school) requires everyone to go in for a physical. I went in, I got my physical taken, got my finger pricked. They looked at my blood and said "something's up, something's not right." So I went in I got more blood tests and they found out I had iron anemia. So that was a big shock. My first 5k race of the season, I ran 17 minutes. It was slower than my freshman year. Slowly, I kept with it and told myself " I'm going to do this, I'm going to get over this." So, come city, I go out, I hadn't raced for like four weeks. I win the race and run like a 15:28. I blew everybody out of the water by like 30 seconds. A week later I go out and run 15:00 at the region. State, I go out and run a 15:09 and get third in the state. The past four weeks, I've been training for this one saying, "I'm going to do it. I'm going to do it." I come out here and go out hard. I wasn't going to back down. I actually ended up duking it out with Brian for a little while around the lake. I got third. I'm pumped. I'm psyched. I've never been to California before so I'm pretty excited.

RQ: Did you have any notion that you could do this?
Strang: I just kept telling myself, " It's all mental. I've done everything." For four years, I've been training. This past year, I've put in a tremendous amount of work. So much, that it made me iron anemic. I worked so hard. I came up here and thought there is no reason that I shouldn't come up here and win this thing. I came out here and duked it out and came in third. It's awesome.

RQ: What's your previous best in track?
Strang: In track, I haven't done so much. My freshman year, I did both track and soccer. Sophomore year, I did kind of the mile thing, 4:40 or so. Nothing really big. Actually, last year, I just did swimming. I swam in the winter. It will be exciting to see what happens this spring in track.

RQ: When you were running up here with those guys, did you have any doubts that you could run with those guys?
Strang: No, I was just like, " I'm not going to let my mind play doubts with me. Just try to get away and keep going and going."

RQ: Did you know who you were running with?
Strang: Kind of. On the sides, other people were saying things. I was like, ok, I know who they are, but I really try to block all that out and just run. Just keep going. So that's what I did.

Scott MacPherson, 4 th place

Scott MacPherson: It started just like I expected. It was pretty fast. I was noticing that ahead of me were a couple of Texas guys, so I know we were doing pretty good. Once we made the u-turn into the woods, it was pretty tough. There was a lot of pushing and shoving. I got spiked a couple of times. I tried to stay in the top ten, top fifteen. I wanted to keep the front guys in my sights so I could make a move later on. I was talking to Andy earlier. He said, don't lead around the pond if you can help it so I didn't do that. I just tried to stay behind Sullivan. By the pond, I was in second; we had gone over the hill. Back in the woods, the guy from Tennessee caught me and said, "Hey, let's go do it!" So we started gaining on Sullivan. He caught up to him. I was a little further back. Erik Stanley caught up to me as we were coming out of the woods. He passed me, caught up to Sullivan. Going around the pond, I was giving everything I had. I knew I had a good chance of making it. I was hoping that nobody would catch me from behind. I felt pretty good.

RQ: Do you think this course favored your style of running?
MacPherson: Uh-huh. Especially, this race. I tend to go out really fast in my races. So the fact that we went out in a 4:30 or something like that, I think that helped a lot because I was used to it and that could have been a disadvantage to a lot of the other guys.

RQ: Did you feel the effects of your Texas state meet?
MacPherson: I had a week off in between, so I had the chance of putting a couple of more miles on and then I could take off the miles and focus on more speed. The weather was definitely a lot different from Texas and that took some getting used to. I got here two days earlier so I could kind of get used to breathing it and running in it a couple of times so I felt good about it.

RQ: Overall, how are you feeling about your effort?
MacPherson: Awesome. I gave everything I could. I was tightening up in the end. I think the cold just got to me a little bit. I feel great. I'm extremely happy with what I did.

RQ: All these Texas boys are going to have a little team.
MacPherson: Of yeah. We're pumped. The first thing we said after we finished at state.... we were in the finishing chute and I turned around and saw Sullivan and Stanley, I said "Foot Locker, let's do it! It's time." We were getting pumped up even back then. We were really excited about it.

RQ: Did you all talk about strategy before the race?
MacPherson: We knew we wanted to run as a team. We knew we had a deep Texas field. We knew if we ran together and tried to help each other, we could do it. During the race, I found Sullivan on the hill and we kind of helped each other through the hill. Stanley and me kind of helped each other in the back woods. We tend to do that. Even at state and regional, we find each other at the beginning of the race and just go. We knew we could do it together better than separately. It worked out.

RQ: That's kind of unusual. You figure In Texas, you think big rivalries.
MacPherson: Oh no man. You're always out for the win, but you're happy for the other guys because there is so much Texas pride. You can't get better than that.

Andrew Bumbalough, 5 th place

Andrew Bumbalough: It went really well. I was really excited about qualifying.

RQ: You were one of the favorites. Did you feel any pressure?
Bumbalough: I thought about it a little bit. I definitely wanted to qualify. I thought I maybe had a chance to pull out the win. The main goal was qualifying so I was really happy with that.

RQ: What was your strategy?
Bumbalough: I wanted to go out and have a chance. Just stay on the leaders. I didn't want to take it out ridiculously fast. I went out in 4:40. That's what I was comfortable with. I was happy with that. I just continued and the pace stayed the same and I was just happy with how it ended.

RQ: You did very well at Great American. That's a pretty tough course and the nationals is a pretty tough course. What do you think about that?
Bumbalough: I definitely like a tough course. I think it puts a little more pressure on some other people. I'm used to it. In Tennessee, there's rolling hills. I definitely like the hills.

RQ: What do you think about two Tennesseans making it?
Bumbalough: That's huge. James is a nice guy. I raced him at state. We're pretty good friends. I'm pretty excited about him making it as well.

RQ: Are you pleased with your time?
Bumbalough: Definitely. It's huge PR for me. I went through at 14:23 for three miles. I ran 14:44 at state so it's a huge improvement for me.

RQ: You've made a huge improvement this year. What do you credit that to?
Bumbalough: I put in a lot more miles this year. I just kept consistent with my training. I think that's paid off for me this year.

RQ: What does it mean to be one of the top 32 in the country?
Bumbalough: It's exciting, definitely. You can take it two ways. You can put a lot of pressure on your self or you can remain relaxed and prepare for the national race.

RQ: Any predictions for the national race?
Bumbalough: I don't know I'm just going to race as hard as I can. I'm not going to make any predictions or anything like that. I'm just going to go out. I know there are going to be a lot of good guys there

Erick Mack, 6 th place

Erick Mack: It was pretty tough. We went out fast, but that's what you can expect on this course. There was a lot of pushing and shoving. My legs got pretty battered.(Pointing to his bloody knee) I took a knee once and went down and took a couple of spikes. It's all about heart here. I'll tell you that

RQ: Did your brother have any advice to offer you?
Mack: You know, I sort of thought of myself as an underdog and he ended up telling me to get out hard and just hang on and you can do it.

RQ: That last bit around the lake was pretty impressive. You passed four people or so.
Mack: I always have a nice kick. But you know when you are going to leave 35 degree weather and head into to 65 degree weather in California , you'll do a lot to get there. I just had to give it all I had.

RQ: Did you expect to be up there like that?
Mack: I figured I had as good a shot as most of the kids. You had to just get out in the front. Once you get out in the front, you stay out in the front here.

RQ: Your time was a big improvement over state time.
Mack: Yeah, sub 15 compared to a 16:24. I just PR'ed by about 50 seconds. I was really happy about that.

RQ: What was the difference between state and this race?
Mack: Bad day and good day. I had a bad race at state. I had to just shake it off. Everyone was really encouraging. I did some great workouts and I had the confidence. I had to get right back into it.

RQ: So, two Mack brothers into the finals in successive years. Does that mean a lot to you?
Mack: Yes, it does. My parents are happy, my coach is happy. Me and my brother are really happy. I just want to continue the success.

.Nick Hutchins, 7 th place

RQ: you seemed really primed for this race. Did you have high expectations?
Hutchins: Yeah, top eight was my goal. My legs were feeling a little nervous. I had some tension, but I got out there and basically made top eight. That was my goal all year.
RQ: Knowing this course.........
Hutchins: It's a huge advantage to know where to make my moves. All the guys have run it before. It's a huge advantage. I'm just glad I made it.

RQ: 15:12 you ran earlier this year, must have given you tremendous confidence.
Hutchins: Last year, at Footlocker, I finished 67th in the seeded race. That was a learning experience for me. So to run good on this course, by myself, was a big mental.... I needed that real bad. I'm just glad.

RQ: Was it intimidating being around some of the guys you were running with?
Hutchins: No, I knew I could run with these guys. I had a great track season last year and I won states. So, I knew I could run with these guys. I wasn't intimidated at all.

RQ: What are your expectations for Footlocker nationals?
Hutchins: I haven't really thought about it that much. My coach and I were thinking top sixteen;hopefully, All-American. That would be great. I would love to get that. I'm just glad I made it. That was my goal all year to make it. Anything at nationals is fine with me.

Kyle Miller, 8 th place

Kyle Miller: It went really really well. Last year, I didn't do too well. I think I started out really fast. This year, I started out kind of conservative in the middle of the pack and worked my way up about a mile and half into. The third mile, that's probably where I made my biggest move. I was coming around the lake and someone said I was in eighth so I kicked as hard as I could. I got eighth by less than a second I think. I'm very very happy.

RQ: Texas state meet didn't go that well for you. Did that weigh on your mind?
Miller: Yeah, it did a lot. I didn't have a very good day at state so of course training for this, I was thinking I had to make up for state. Come out here and do the best I can. It's my senior year. I'm really pleased. I'm really pleased with how I did.

RQ: This has been a goal of yours for a long time.
Miller: Exactly. It feels great to finally do it. Last year, I didn't have my best race, of course, but this year, even though I got eighth, I'm really excited to go to nationals.

RQ: Do you think you have a big race waiting for you in San Diego ?
Miller: I think I do. I feel like I haven't peaked yet. I feel like I still have a couple of workouts left in me. I think I have one more race in me. I'm going to give it all I got.

RQ: Any predictions?
Miller: I don't know. I want to get top fifteen. I've never been before so I'm going to guess top fifteen.

Andy Biladeau, 16 th place

Andy Biladeau: It went pretty well. I had a good day, I think. Things went out pretty quick and it kind of didn't suit my style, but I did what could. I'm pretty happy with it. I pride myself on doing well in big races and I think I did respectable. I won't go too unhappy. I have a state title and I was the top Florida guy, so I can't be too unhappy, but you always want more.

RQ: Did you expect the race to be as quick as it was?
Biladeau: Not really. I thought it would thin out a little sooner than it did. It took a while for it to thin out. When it did, I was too far back to get back into contact. I did as well as I could. I think I got nine guys in the last mile or so. It's not too bad.

Pix
Results



2003 Foot Locker South Regional
Seeded Boys Results

November 29, 2003
McAlpine Greenway
Charlotte, NC

Seeded Boys Results
3.10 Miles, 5.00 Kilometers 



1    Brian Sullivan (12)               Spring, TX               14:46
2    Erik Stanley (12)                 Spring, TX               14:48
3    James Strang (12)                 Signal Mountain, TN      14:51
4    Scott MacPherson (11)             Plano, TX                14:56
5    Andrew Bumbalough (11)            Brentwood, TN            14:58
6    Eric Mack (12)                    Winston Salem, NC        14:59
7    Nicholas Hutchins (12)            Raleigh, NC              15:02
8    Kyle Miller (12)                  Katy, TX                 15:02
9    Hari Mix (12)                     Charlottesville, VA      15:03
10   Christo Landry (12)               Falls Church, VA         15:07
11   Robert Longoria (12)              Hope Mills, NC           15:16
12   Alejandro Ruiz (12)               Elgin, TX                15:19
13   Aaron Snyder (12)                 Oklahoma City, OK        15:20
14   Leonel Manzano (12)               Macdona, TX              15:20
15   Logan Sherman (12)                Dallas, TX               15:22
16   Andy Biladeau (11)                Lutz, FL                 15:22
17   Bryce Iverson (11)                Manassas, VA             15:23
18   Justin Smith (12)                 Spring, TX               15:24
19   Alex Miletich (12)                Tallahassee, FL          15:25
20   Jack Bolas (10)                   Chapel Hill, NC          15:25
21   Steven Tobin (12)                 Springfield, VA          15:25
22   Christian Wilder (12)             Versailles, KY           15:26
23   Michael Chapa (10)                Glen Allen, VA           15:27
24   Odon Villegas (12)                Holly Springs, NC        15:28
25   John Brigham (12)                 Mobile, AL               15:29
26   Jesus Rojas (12)                  Angier, NC               15:30
27   Sam Bryfczynski (11)              Marietta, GA             15:30
28   David Groff (12)                  Centreville, VA          15:31
29   Jeff Rhodes (11)                  Florence, AL             15:31
30   Bryan Sharkey (11)                Miami, FL                15:31
31   Brian Gosnell (12)                Tahlequah, OK            15:32
32   Dane Hurtubise (12)               Spring, TX               15:34
33   Derrick Robbins (11)              Newport News, VA         15:36
34   Ryan Curran (11)                  Winston Salem, NC        15:36
35   Charles Slick (12)                Atlanta, GA              15:36
36   Nicholas Stephens (11)            Atlanta, GA              15:37
37   Nathaniel Blank  (12)             Frakes, KY               15:37
38   Jacob Jones (12)                  TX                       15:37
39   Kevin Ondrasek (11)               North Richland Hills, TX 15:38
40   Jeremy Criscione (11)             Interlachen, FL          15:38
41   Christopher Mocko (12)            Mc Lean, VA              15:38
42   Jake Morse (12)                   Arlington, TX            15:39
43   Denton Jones (12)                 Knoxville, TN            15:39
44   Daniel Gerber (10)                Spring, TX               15:39
45   Robert Bedsole (11)               Bessemer, AL             15:40
46   Reid Wilson (11)                  Columbia, SC             15:40
47   Steven Bell (10)                  Land O Lakes, FL         15:42
48   Chris Mullaney (11)               Neptune Beach, FL        15:42
49   Ben Schulz (11)                   Spring, TX               15:42
50   Brett Olson (12)                  Flower Mound, TX         15:45
51   John Compton (12)                 Matthews, NC             15:45
52   Andrew Press (12)                 Knoxville, TN            15:46
53   Ricardo Estremera (12)            Trujillo Alto, PR        15:46
54   Matt Bierlein (12)                Orlean, VA               15:46
55   Bryan Christian (12)              Altamonte Springs, FL    15:47
56   Trever Beesley (12)               Greenwood, SC            15:48
57   Scott Gemberling (12)             Grafton, WV              15:48
58   Ryley Miller (12)                 Snellville, GA           15:49
59   Sandy Roberts (10)                Raleigh, NC              15:49
60   Enoch Nadler (12)                 Keystone Heights, FL     15:50
61   Tedla Fanta (12)                  Houston, TX              15:51
62   Paul Longoria (12)                Hope Mills, NC           15:51
63   Shane Young (12)                  Reston, VA               15:52
64   Thad Schroeder (12)               Lexington, KY            15:52
65   Patterson Wilhelm (10)            Lynchburg, VA            15:52
66   Javier Herrera (12)               Pharr, TX                15:53
67   Nicholas Sunseri (12)             Raleigh, NC              15:55
68   Nathan Krah (12)                  Bradenton, FL            15:55
69   Denides Velez (12)                Arecibo, PR              15:55
70   Brian Raymond (12)                Columbia, SC             15:56
71   Wallace Campbell (12)             Montgomery, AL           15:56
72   Michael Eaton (10)                Bowling Green, KY        15:56
73   Brad Clark (11)                   Burke, VA                15:57
74   Hernandez Luis (12)               San Juan, TX             15:57
75   Will Williams (12)                Lexington, VA            15:57
76   Ryan Basler (12)                  Winston Salem, NC        15:58
77   James Scheiner (12)               Centreville, VA          15:58
78   Mathew Van Der Meer (12)          Lexington, KY            15:59
79   Stephen Largen (12)               Chapel Hill, NC          15:59
80   Matt Roberson (12)                Lawrenceville, GA        16:00
81   Matt Manly (12)                   Leander, TX              16:02
82   Steve Curley (11)                 Orlando, FL              16:02
83   Robert Scribner (12)              Tupelo, MS               16:03
84   Josh Pawlik (11)                  Birmingham, AL           16:03
85   Stephan Smith (12)                Miccosukee Cpo, FL       16:04
86   Scott Hans (12)                   Middleburg, FL           16:04
87   Kenny Blount (12)                 Lawrenceville, GA        16:05
88   Paul Fitzpatrick (12)             Ocala, FL                16:06
89   Colby Keithan (12)                Katy, TX                 16:07
90   Michael Hanson (12)               Keller, TX               16:07
91   Chris Miller (12)                 Carrollton, TX           16:08
92   Kinsey Dinnel (12)                Loranger, LA             16:08
93   Alex Ray (12)                     Oak Ridge, NC            16:08
94   Jacob Simmons (12)                Houma, LA                16:09
95   Garrett Jones (12)                Spring, TX               16:09
96   Burt Hicks (12)                   Hot Springs, AR          16:09
97   Chase Eckard (11)                 Granite Falls, NC        16:10
98   Kyle Lewis (12)                   Bay Saint Louis, MS      16:10
99   Eric Harris (11)                  Conway, AR               16:10
100  Ryan Jank (12)                    Spartanburg, SC          16:10
101  Patrick Morgan (11)               Danville, KY             16:11
102  Asmeron Desta (12)                Old Fort, NC             16:11
103  Jody Broccoli Hickey (12)         Tomball, TX              16:12
104  Kurt Able (12)                    Zephyrhills, FL          16:12
105  Eric Mayes (11)                   Pensacola, FL            16:12
106  Dustin Whitlow (12)               Gainesville, VA          16:13
107  Lawson Yow (12)                   Marietta, GA             16:13
108  Saji Girvan (11)                  Atlanta, GA              16:13
109  Ben Smith (12)                    Chapel Hill, NC          16:14
110  Dustin Joubert (12)               Coppell, TX              16:14
111  Corey Ray (11)                    Coppell, TX              16:15
112  Danel Slaydon (12)                Ridgeway, VA             16:15
113  Patrick Daly (11)                 Louisville, KY           16:15
114  Andrew Grant (12)                 Athens, GA               16:17
115  Drew Midland (11)                 Virginia Beach, VA       16:18
116  Andrew Felts (11)                 Lewisville, NC           16:19
117  Andrew Waring (12)                Waterford, VA            16:19
118  Daniel Howard (12)                Richmond, VA             16:19
119  Lex Hultquist (11)                Knoxville, TN            16:20
120  Eduardo Colon Reyes (12)          Cayey, PR                16:20
121  Matt Hernandez (12)               San Antonio, TX          16:20
122  Nicholas Stump (12)               Cary, NC                 16:21
123  Brandon Jones (11)                Charlotte, NC            16:21
124  Donald Gies (12)                  Owasso, OK               16:22
125  Lief Thomason (12)                Satellite Beach, FL      16:22
126  Alex Hoeg (12)                    Friendswood, TX          16:23
127  Casey Gramling (11)               Roswell, GA              16:23
128  Ryan Workman (10)                 Chapel Hill, NC          16:24
129  Kevin Schwab (9)                  Mustang, OK              16:25
130  Andrew Montes (11)                Colleyville, TX          16:25
131  David Forry (12)                  Lutz, FL                 16:26
132  Ryan McClay (12)                  Lawrenceville, GA        16:27
133  Keith Knapp (12)                  Florence, KY             16:27
134  Thomas Christiansen (12)          Cedar Park, TX           16:27
135  Joel Hanlon (12)                  Winchester, VA           16:28
136  Brad Mouse (12)                   Moodys, OK               16:28
137  Justin Harbor (10)                Melbourne, FL            16:31
138  Chase Wilson (11)                 Paducah, KY              16:31
139  Andy Florek (10)                  Kenner, LA               16:31
140  Bradley Morris (11)               Peachtree City, GA       16:32
141  Timothy McLeod (11)               Jacksonville, FL         16:32
142  Aaron Greer (11)                  Round Rock, TX           16:32
143  Mitchell Graw (10)                Raleigh, NC              16:33
144  Justin Adams (12)                 Patrick Springs, VA      16:33
145  Beck Mitchell (11)                Highland Village, TX     16:33
146  Danny Howick (12)                 Burke, VA                16:34
147  Jared Carson (12)                 Smyrna, GA               16:34
148  Jeremy Hyder (12)                 Hickory, NC              16:34
149  David Guerdan (12)                Raleigh, NC              16:35
150  Brian Dugan (11)                  Goshen, KY               16:37
151  William Bailey (12)               Wendell, NC              16:37
152  Sinai Lopez (11)                  Pharr, TX                16:38
153  Jacen Lanclos (12)                Prairieville, LA         16:38
154  Matthew Weingardt (12)            Pewee Valley, KY         16:39
155  Joffroi Holcombe (12)             Alexandria, LA           16:39
156  Travis Hunnicutt (12)             Madison, VA              16:39
157  Jacob Fortney (12)                Central City, KY         16:40
158  Clint Breland (12)                West Monroe, LA          16:40
159  Marcus Coleman (11)               Jacksonville, FL         16:41
160  Matt Gordon (12)                  Dacula, GA               16:41
161  Vidal Ruiz Jr (10)                Mission, TX              16:42
162  Nelson Walker (11)                Woodstock, GA            16:42
163  Chris Bruce (12)                  Atlanta, GA              16:43
164  David Pleines (12)                Guyton, GA               16:43
165  Joshua Carson (12)                Smyrna, GA               16:43
166  Kelly Watt (11)                   Charlottesville, VA      16:44
167  Jonathan Barrow (12)              Bradenton, FL            16:44
168  David Conerly (11)                Hattiesburg, MS          16:44
169  Buck Walton (11)                  Richmond, VA             16:45
170  Dan Gura (10)                     Chapel Hill, NC          16:45
171  Will McGee   (12)                 Scottsboro, AL           16:46
172  Zack McKee (10)                   Morganton, NC            16:46
173  Zaven O'Bryant (12)               Douglasville, GA         16:47
174  Michael Hague (12)                Lilburn, GA              16:48
175  Perry Morris (11)                 Leander, TX              16:48
176  Zachary Koehler (11)              Union, KY                16:49
177  Ricki Semones (12)                Louisville, KY           16:50
178  Neil Waldron (12)                 Columbus, NC             16:50
179  Christopher Bankhead (12)         Baton Rouge, LA          16:52
180  Robert Loerke (12)                Marietta, GA             16:52
181  Michael Raidt (12)                Louisville, KY           16:53
182  James Printz Jr, (12)             Cross Junction, VA       16:53
183  Jim Hurder (11)                   Murfreesboro, TN         16:54
184  Patrick Eggleston (11)            Nokesville, VA           16:54
185  Nicholas Sterghos (11)            Cornelia, GA             16:55
186  Robby Stevens (12)                Metairie, LA             16:55
187  Emmanuel Lopez (12)               Sullivan City, TX        16:55
188  Ron Duncan (10)                   Flemingsburg, KY         16:56
189  Brad O'Neil (12)                  Stuarts Draft, VA        16:56
190  Jonathan Gest (11)                Cypress, TX              16:56
191  Xavier Rutz (12)                  Cary, NC                 16:57
192  Jake Wilke (12)                   Pompano Beach, FL        16:57
193  Travis Brotherton (10)            Cullowhee, NC            16:57
194  Christopher Brown (12)            Memphis, TN              16:58
195  Brian Doyle (12)                  Jacksonville, FL         16:58
196  Adam Dickerson (12)               Boones Mill, VA          16:59
197  Patrick Aucoin (11)               New Orleans, LA          16:59
198  Hunter Willis (12)                Mount Pleasant, SC       16:59
199  Mitchell Haas (12)                Broadway, NC             17:00
200  Michael McCullough (11)           Rogers, AR               17:00
201  Travis Cansler (11)               Austin, TX               17:00
202  Greg Johnson (11)                 Alpharetta, GA           17:01
203  Dan Newsom (11)                   West Monroe, LA          17:01
204  John Taggart (11)                 Atlanta, GA              17:01
205  Daniel Gormley (11)               Acworth, GA              17:02
206  Harrison Meadows (12)             Atlanta, GA              17:03
207  Hunter Carswell (11)              Ruston, LA               17:03
208  Matthew Tower (12)                Stillwater, OK           17:03
209  Brad Orr (12)                     Piedmont, SC             17:04
210  Lelund Marzell (12)               Baton Rouge, LA          17:04
211  Michael Demarest (12)             Lawrenceville, GA        17:04
212  Brett Wrigley (11)                Snellville, GA           17:05
213  Christopher Barchet (12)          Clifton, VA              17:05
214  Patrick Canfield (12)             Titusville, FL           17:05
215  Adam Banks (12)                   Spring, TX               17:07
216  Zachary Hines (12)                Rogers, AR               17:07
217  Patrick McRay (12)                Aiken, SC                17:09
218  Stefan Mueller (11)               Rogers, AR               17:10
219  Kyle Wolpert (10)                 Durham, NC               17:10
220  Merritt Pearson (11)              Atlanta, GA              17:13
221  Thomas Sullivan (12)              Lewisville, NC           17:14
222  John Lindquist (12)               Smithfield, NC           17:15
223  Michael Hutchison (12)            Orlando, FL              17:16
224  Scott Novack (11)                 Birmingham, AL           17:16
225  Hunter Garner (12)                Roanoke, TX              17:16
226  Timothy Scott Sharp (12)          Rockwall, TX             17:17
227  Al Matheny (12)                   Gainesville, FL          17:19
228  Trent Johnson (11)                Spring, TX               17:21
229  Robert Shreve (12)                Mobile, AL               17:22
230  Brandon Whittaker (12)            Newport, NC              17:24
231  Brandon White (10)                Roswell, GA              17:25
232  Miguel Mota (11)                  Appling, GA              17:26
233  Edgar Lopez (10)                  Los Ebanos, TX           17:26
234  Jared Rice (12)                   Weddington, NC           17:26
235  Kyle Lester (12)                  Bluefield, WV            17:27
236  Taylor Nilan (11)                 Atlanta, GA              17:27
237  Chad Holt (12)                    Sarasota, FL             17:28
238  Tommy Moore (11)                  Memphis, TN              17:29
239  Jordan Conley (12)                Rogers, AR               17:30
240  James Taylor (11)                 Cumming, GA              17:31
241  Jeff Adolph (12)                  Kenner, LA               17:31
242  Marcus Dunn (12)                  Fayetteville, NC         17:32
243  Luis Flores (11)                  Rogers, AR               17:33
244  Graham Thompson (11)              Louisville, KY           17:36
245  Matt Strick (12)                  Blythewood, SC           17:39
246  Cody Bellamy (12)                 Scottsboro, AL           17:40
247  Adam Becker (12)                  Little Rock, AR          17:40
248  Jesse Thill (12)                  Fayetteville, AR         17:42
249  Zachary Willenbrink (12)          Louisville, KY           17:44
250  Tyler Hayden (11)                 Evans, GA                17:44
251  George Petree (11)                Pfafftown, NC            17:46
252  Scott Sherrill (12)               Atlanta, GA              17:46
253  Drew Woods (12)                   Kennesaw, GA             17:47
254  Aaron Jefferson (11)              Rogers, AR               17:48
255  Jacob Barwick (12)                Mauldin, SC              17:48
256  Brian Pyles (12)                  Louisville, KY           17:50
257  Chris Johnson (10)                Morrisville, NC          17:51
258  Joshua Houser (10)                GA                       17:51
259  Chris Bishop (11)                 Rome, GA                 17:55
260  Paul Leak (11)                    Durham, NC               18:01
261  Logan Dean (12)                   Quantico, VA             18:08
262  Nate Flieg (12)                   Lilburn, GA              18:13
263  Steven Craig (12)                 Piedmont, SC             18:17
264  Jacob Deal (11)                   Morganton, NC            18:18
265  Ryan Morgan (12)                  Lawrenceburg, KY         18:20
266  Brett Carter (11)                 Tulsa, OK                18:25
267  Idilio Campos (11)                TX                       18:27
268  Clayton Hofstra (12)              Largo, FL                18:27
269  Brandon Hudgins (11)              Rock Hill, SC            18:28
270  Andrew Miller (12)                Spring, TX               18:29
271  Matthew Phillips (11)             Birmingham, AL           18:55
272  Reed Jackson (11)                 Mooresville, NC          18:56
273  Ryan Robertson (12)               Little Rock, AR          19:03
274  Addison Sanford (11)              Atlanta, GA              19:10
275  Nathan Roten (12)                 Rogers, AR               19:20
276  Paul Fullmer (12)                 Spring, TX               19:31
277  Sebastian Barahona (12)           Lawrenceville, GA        19:42
278  John Palumbo (12)                 Swansboro, NC            20:13
279  Jason Hendrix (12)                Palmetto, GA             25:12