PennTrackXC.com 2nd Annual Last Gasp Classic
Saturday, November 18, 2006 - Rose Tree Park, Media PA
Report and results from Don Rich from pa.milesplit.com

Girls Results - Boys Results - Summary
Clubs for Coatesville boys, Radnor girls dominate event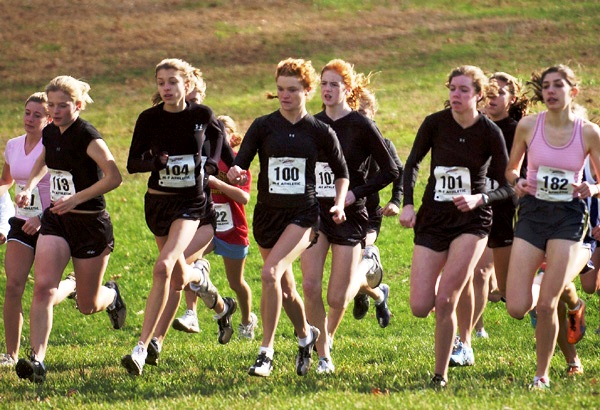 Coatesville (below, Bridgetown TC) and Radnor (above, Legit TC) early in their races.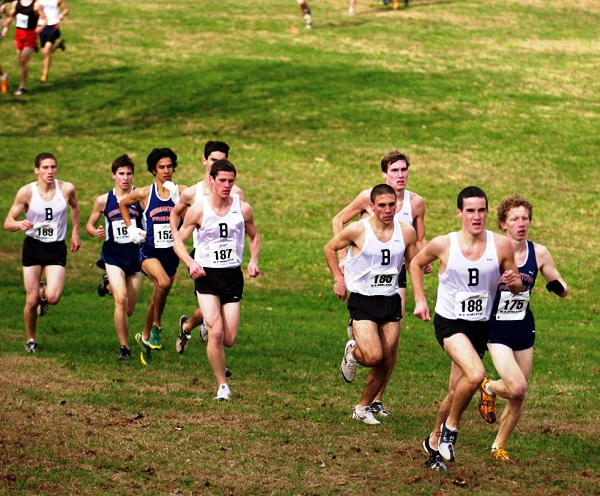 Note: The course had been redesigned for a fourth time this season due to construction of a new water system, and runners were forced to navigate five former dig areas, some with heavy equipment tracks and rocks... not exactly cross country, but an interesting addition to the somewhat muddy conditions due to Thursday's torrential rains.
Those obstacles aside... The Bridgetown Track Club tried out a new name, a new meet and a new course, figuratively and literally, but their results at the 2006 LAST GASP CLASSIC had a similar ring. The boys from the town of Coatesville were once again victorious. Kyle Dawson travelled the often muddy, and sometimes treacherous construction-riddled course in 15:58.05 to beat a strong challenge from Germantown Friends #1 man Max Kaulbach, 2nd in 16:02.01.
But following that incursion came four more Bridgetown harriers, Owen Dawson, 3rd in 16:14.08, Tom Pannulla, 4th in 16:18.92, Sean Ward, 5th in 16:25.56, and Jason Leonard 6th in 16:39.76. Their 19 points easily outdistanced Germantown Friends, 19-42. The team average was 16:19.28.
Recovering from an illness earlier in the week, Liz Milewski of the Legit Track Club, fought off fatigue to finish 3rd in the race, leading her teammates from Radnor in taking five of the top nine spots. In the race behind Milewski's 19:50.39 came Frosh Kelyn Freedman, 4th in 19:55.91, Hannah Granger, 5th in 19:57.01, Shannon Holm, 8th in 20:21.7, and June Farley, 9th in 20:26.10.
Coatesville's Kristina Kubala, a PIAA state medalist, led from the gun and held off a challenge from Cecilia Davis-Hayes of Germantown Friends 19:42.56 to 19:49.04. Bob Rimkis won the Open race in 17:58.02. Brittany Franks, a Philadelphia middle schooler, was the first female, going 22:42.96 for 4th.
 Philadelphia Catholic League - Organization License                Hy-Tek's Meet Manager

                             Last Gasp Classic - 11/18/2006                              

                               PennTrackXC.com 2nd Annual                                

                                     Rose Tree Park                                      

                                  Last Completed Event                                   

 

Girls 5k Run CC

      Comp#  Name                            School                           Time Points

=========================================================================================

    1   127  Kubala, Kristina                Unattached                   19:42.56       

    2   119  Davis-Hayes, Cecilia            Unattached                   19:49.04       

    3   105  Milewski, Liz                   Legit TC                     19:50.39       

    4   104  Freedman, Kelyn                 Legit TC                     19:55.91       

    5   109  Granger, Hannah                 Legit TC                     19:57.01       

    6   115  Woodruff, Alicia                Unattached                   19:59.14       

    7   118  Kaulbauch, Jasia                Unattached                   20:08.53       

    8   113  Holm, Shannon                   Legit TC                     20:21.78       

    9   100  Farley, June                   Legit TC                     20:26.10       

   10   121  Lewis, Shatievah                Unattached                   20:27.10       

   11   101  Lally, Katie                    Legit TC                     20:47.84       

   12   117  Worley, Danielle                Unattached                   21:12.93       

   13   120  Miller, Amy                     Unattached                   21:48.92       

   14   182  Tabas, Melissa                  Unattached                   22:08.09       

   15   125  Heckman, Emily                  Irish Road Track Club        22:25.95       

   16   122  Rustad, Lauren                  Unattached                   22:31.50       

   17   111  Doroski, Claire                 Legit TC                     22:38.51       

   18   124  O'Neill, Molly                  Irish Road Track Club        22:50.08       

   19   112  Erkis, Nicole                   Legit TC                     22:55.62       

   20   123  Sikora, Kyra                    Irish Road Track Club        22:58.55       

   21   126  Smith, Riydah                   Unattached                   23:05.55       

   22   103  Glen, Jillian                   Unattached                   23:14.14       

   23   107  Dyroff, Annie                   Legit TC                     23:28.63       

   24   116  Hausman, Kathy                  Unattached                   26:32.89       

   25   102  Rodriguez, Eliana               Unattached                   26:48.84       

   26   106  Washington, Lynell              Unattached                   28:08.18       

   27   110  Zingley, Jessica                Unattached                   31:10.37       


 


Boys

Philadelphia Catholic League - Organization License        Hy-Tek's Meet Manager

                         Last Gasp Classic - 11/18/2006                          

                           PennTrackXC.com 2nd Annual                            

                                 Rose Tree Park                                  

                              Last Completed Event                               

 

Event 3  Boys 5k Run CC

=======================================================================          

    Name                    Year School                  Finals  Points          

=======================================================================          

  1 Dawson, Kyle                 Bridgetown TC         15:58.05    1             

  2 Kaulbauch, Max               Friends A             16:02.01    2             

  3 Dawson, Owen                 Bridgetown TC         16:14.08    3             

  4 Pannulla, Tom                Bridgetown TC         16:18.92    4             

  5 Ward, Sean                   Bridgetown TC         16:25.56    5             

  6 Leonard, Jason               Bridgetown TC         16:39.76    6             

  7 McKenzie, Jake               Friends A             17:01.76    7             

  8 DeSabato, Patrick            Unattached            17:03.85                  

  9 Furman, Bob                  Unattached            17:06.05                  

 10 Rosato, Chris                Bridgetown TC         17:07.04    8             

 11 Mahoney, Andrew              Bridgetown TC         17:11.20    9             

 12 McKenzie, Gus                Friends A             17:15.66   10             

 13 Ortiz, Isaac                 Friends A             17:28.59   11             

 14 Sneff Nanni, Jasper          Friends A             17:32.64   12             

 15 Walton, George               Unattached            17:36.02                  

 16 McDonnell, Chris             Unattached            17:40.56                  

 17 Trama, Scott                 Unattached            17:49.79                  

 18 Seglias, Cameron             Irish Road            17:50.72                  

 19 Ryan, Mike                   Unattached            17:54.70                  

 20 Farrell, Marty               Unattached            18:03.61                  

 21 Macri, Alex                  Unattached            18:13.68                  

 22 Herron, Mike                 Irish Road            18:16.73                  

 23 Korus, Max                   Friends B             18:17.93   13             

 24 Hoffman, Fenn                Friends B             18:24.40   14             

 25 Waterman, Tom                Friends A             18:24.67   15             

 26 Herring, Matt                Unattached            18:30.88                  

 27 Einbender-Luks, Eddie        Friends A             18:36.05   16             

 28 McCullough, Matt             Unattached            18:40.15                  

 29 Derhammer, Chad              Unattached            19:04.29                  

 30 Allen, Christopher           Friends B             19:04.60   17             

 31 Butler, Samuel               Friends B             19:04.95   18             

 32 Adkins, Jovan                Unattached            19:12.49                  

 33 Wistar, Ross                 Friends B             19:13.33   19             

 34 Berrodin, Andrew             Unattached            19:20.50                  

 35 Machado, Mario               Unattached            19:34.46                  

 36 DeMascole, Zach              Unattached            19:36.15                  

 37 Schupper, Alex               Unattached            19:47.07                  

 38 Houser, Ryan                 Unattached            19:59.51                  

 39 Myshko, Joseph               Unattached            20:01.92                  

 40 Ebert, Sam                   Friends B             20:06.07   20             

 41 Gross, Eric                  Unattached            20:11.85                  

 42 Werley, Steven               Unattached            20:14.40                  

 43 Xebley, Justin               Chichester TC         20:20.63   21             

 44 Finkel, Ben                  Friends B             20:42.50   22             

 45 Muraska, Jake                Chichester TC         20:56.19   23             

 46 Wittenberg, Mike             Chichester TC         20:56.77   24             

 47 Trofa, Frank                 Chichester TC         21:22.04   25             

 48 Evans, Alon                  Chichester TC         21:57.16   26             

 49 Ferrara, Mike                Chichester TC         22:11.25   27             

 50 Malone, Joe                  Chichester TC         22:30.72   28             

 51 Sonet, Rob                   Chichester TC         22:52.40                  

 52 Hardy, John                  Chichester TC         23:28.17                  

 53 Emmel, Jason                 Chichester TC         24:35.45                  

                                                                                 

                                   Team Scores                                   

=================================================================================

Rank Team                      Total    1    2    3    4    5   *6   *7   *8   *9

=================================================================================

   1 Bridgetown TC                19    1    3    4    5    6    8    9          

      Total Time:  1:21:36.37                                                    

         Average:    16:19.28                                                    

   2 Germantown Friends A         42    2    7   10   11   12   15   16          

      Total Time:  1:25:20.66                                                    

         Average:    17:04.14                                                    

   3 Germantown Friends B         81   13   14   17   18   19   20   22          

      Total Time:  1:34:05.21                                                    

         Average:    18:49.05                                                    

   4 Chichester TC               119   21   23   24   25   26   27   28          

      Total Time:  1:45:32.79                                                    

         Average:    21:06.56