| Spiked Shoe at Penn State | Monocacy Park | Lebanon Valley | Centaur | Upper Dublin | Forest Hills | Behrend |
Start of the Boardman Spartan Invitational (OH) - James O'Toole of Mount Lebanon PA crossed the border to win in 15:51, the 5th best course time ever on a tract used as a regional qualifier for the Ohio State Meet.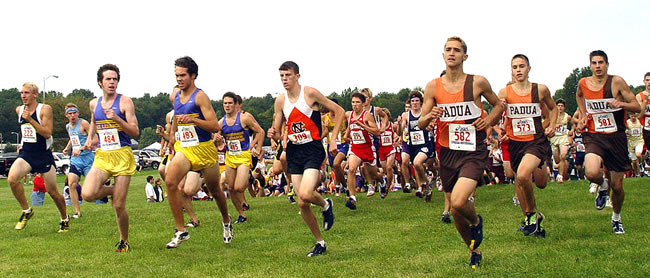 photo by Bill Rex for PennTrackXC.com
Koons breaks Janelle Thomas record
Frances Koons, Allentown Central Catholic, is one of the top returning
harriers in PA, and on 9/8 faced a legend and a XC newcomer who left
field hockey behind to take to the trails, breaking the legend's course
record and showing the newcomer how it's done.
Koons won in the 2nd fasted 5K in the US this young season. The 17:44 5K
also broke the Monacacy Park course record at Liberty High School's home
course, held by former PA star Janelle Thomas. Thomas ran 17:54 there in
1996.
In their first match-up, Koons prevailed over Lauretta DeZubay of
Freedom. DeZubay won the AAA 1600 in outdoor in the 2nd fastest time in
PA last season. Koon's Allentown Central Catholic team won 19-44.
DuZubay was 2nd in 18:43.
9/13-O'Neill a repeat winner @ rainy Lebanon Valley 5100 meters:
Tim O'Neill won for the 2nd year in a row with a time of 16:31.80 on the
5100 meter course. Like most of PA on Saturday, they didn't escape the
rain. O'Neill led his St. Joseph's Prep team to a win with 59 points
(1-7-12-16-23), 27 better tha Upper Darby with 86 (4-9-15-21-37) in a
field of 17 teams. Twin Valley captured the girls title with 63 points,
five better than Conrad Weiser, behind the 6th place finish of Mere
Beaton in 21:17. Central Dauphin's Maria Truskey was 1st in 19:48.
9/13-Hatboro-Horsham wins both team titles @ Centaur 5K:
Hatboro-Horsham captured both the girls' and boys' team titles, despite
placing only one girl and two boys in the top ten. Freedom's Lauretta
Dezubay continued her first XC season in excellent form, taking first in
19:37, while Council Rock North's Buddy Davis won the individual crown
in 16:43 by just two seconds over East Stroudsburg's Brian Cullin. Frosh
Kerry Swayne again led Hatboro-Horsham, going 19:58 for 4th. Dan
Forgeng led Hatboro-Horsham with a 17:01, good enough for 5th. Senior
Mike Kenny was 10th in 17:19.
9/13-CB West wins Co-Ed Invitational @ Upper Dublin (3.0 miles) behind
Kearins:
Liz Kearins, the Central Bucks West freshman who burst onto the scene
with a win at the Viiking Invitational August 30th, won again, holding
off Lauren Bowles of host Upper Dublin by 20 seconds, in 18:30 over the
3 mile course. Matt Lawson and Eric Bowles took first and second for
Upper Dublin in the boys' race, going 15:42 and 15:56, respectively. CB
West won the combined team title with 68 points, taking both the boys
and girls titles with 37 and 31 points, respectively.
9/13-Strayer sets 5k course record @ Forest Hills Invitational:
Jake Strayer breaks the meet record, Bishop McCort girls and Central
Cambria boys win team titles at the 9th Forest Hills Invitational.The
Forest Hills senior was never challenged in his 56-second victory over
runnerup Frank Eanes of Westmont Hilltop. (Westmont's Dave Mock was in
State College winning one of the two boy's varsity races.) Freshmen
Megan Elder from Berlin Brothers Valley won the girls race in 20:22. In
the team competition, Bishop McCort placed 3 girls in the top 7 to out
distance runnerup Westmont Hilltop by 10 points. Seniors Brianne
Constable(3rd)and Candace Hay (7th) and sophomore Shannon Yingling (5th)
led the Lady Crushers. Central Cambria won the boys race with 75
points. The Red Devils were led by sophomore Zachary Seymour (11th) and
senior James Tickerhoof (12th). (Summary by Tom Hunter:Head XC Coach,
Forest Hills)
9/13-McDowell dominates boys/girls 5k races at Penn State-Behrend:
Erin Richard continued her first XC season with another win, going
19:31 to lead her team to a win with just 38 points. The McDowell boys
didn't have first, but came in 5th through 11th for 25 points and
the easy team win behind Brandon Balwick's 17:18. Fort Leboeff's Bruce
Hordusky was 1st in 16:40.
9/13-O'Toole runs top five course all-timer @ Boardman Spartan (OH)
Invitational:
Mount Lebanon's James O'Toole led his team to a 3rd place showing behind
two Ohio teams, Wooster and Hoover. His 15:51 was good for a 13-second
victory, making him the 3rd fastest all time in Invite race history
and 5th fastest course all time moving him past fellow Pennsylanian Mike
McWilliams, Grove City/Notre Dame. In the Division One girls' race, the
Sr from Greensburg Salem, Nikki Bielick, finished 3rd in 19:56, and
Sassi Karpedejev SOPH and Tori Caruso SR of Pittsburgh's Allderdice, ran
well, going 7th and 10th. Tom Slosky, Highlands, who was winning the
Gateway Invite by 200m near the finish before falling due to the muddy
conditions, finished second to last year's race winner and Ohio State
Champ Mike Buzik of St Vincent-St Mary, in Division Two. Sammantha
Howard of Moon did well in the girls Division Two, getting 4th.
MEET SITE: http://www.ohiochallengeseries.com