two soggy duels won by Laura Cummings and Chris Spooner
| | | |
| --- | --- | --- |
| RACE | TEAM | INDIVIDUAL |
| | Bay Shore NY 42 | Laura Cummings, Bay Shore 18:10 |
| | North Allegheny PA 65 | Kate Papenberg, Red Lion PA 18:55 |
| | Carlisle PA 65 | Chris Spooner, Lewisburg PA 15:53 |
| | Red Lion PA 92 | Dave Mock, Westmont Hilltop 16:10 |
| | Penn State 30 | Dan Mazzocco, Penn State 26:06 |
| | Penn State 15 | Molly Landreth, Penn State 21:20 |
Laura Cummings led from the start of girls Blue race

Call it the "alphabet invitational" (divisions were created in alphabetical order)
by Don Rich, PennTrackXC.com, the site for PA news.
The Spiked Shoe should now be known as the Alphabetical Invite, as every
varsity team was divided by the first letter of their school name, given
the OK to race more kids, and placed in races many of the coaches and
athletes found less than acceptable. Two athletes in particular were
left without the competition they came to race. The other two races were
much closer.
Frances Koons of Allentown Central Catholic, who earlier this week
broke the course record of a PA legend, Janelle Thomas, was disappointed
to learn that one of the nation's top teams, Saratoga Springs, NY, would
not be competing at this year's race, as they did in 2002. Koons was
looking forward to the test against Nicole Blood. (By the alpha system,
they wouldn't have raced anyway.) But two days before the race she
learned about a team that comes pretty close. "Bay Shore is a pretty
good substitute, especially with Laura Cumming." (Bay Shore is ranked #2
in the Northeast pre-season by The Harrier, and Cummings was 4th at Foot
Lockers in 2002 in 17:47.) So the race was on, and Koons gave it a great
effort, going 18:18 on the water-logged, slippery course, to Cumming's
18:09. Bay Shore easily won the "Blue" team title, placing five in
the top fifteen for 42 points. Governor Mifflin (which beat Wyomissing
in a meet earlier this week for the first time in four years) was 2nd
with 80 points.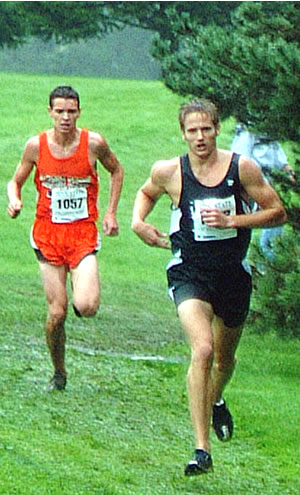 In the boys' "Blue" race, Brian Soder, Harbor Creek, (orange at left) and defending AA champ Chris Spooner, Lewisburg, (black at left) knew they had a race. Spooner had run a bad race in 2002 on this course, and wanted to make amends. Soder was coming off a course record which erased one of Andy Weilacher marks, and wanted a repeat of 2002 where he beat Spooner. But with under a mile to go, and Soder and Spooner running together, Soder took a big spill on the side of a sand trap. He made up the ground, but "the effort took its toll, and I was knocked out of my rhythm." Spooner went on to run 15:52 for the win, with Soder 13 seconds back. Carlisle, behind the gutsy races of Nick and Stephen Brousse, who went 3rd and 6th, took the team title with 65 points.
Dave Mock of Westmont Hilltop, and Kate Papenberg of Red Lion, weren't as lucky. Both came to race everyone at the meet. Both were left with partially hollow wins. Mock said the only reason he entered the race was "to race against some of the guys I see at States." He went 16:09 for the win. Red Lion took the team title in the boys' "white" race with 92 points.
In the girls' "white" race, Kate Papenberg had an early lead, and cruised to an 18:54 win. Teammate Erin Zeller, a junior, was 3rd in 19:25. North Allegheny won the team title with 65 points behind the veteran leadership of senior Amy Ruffolo, 2nd in 19:14, and sophomore Kelley O'Brien, 4th in 19:25.
Results
| Girls Blue | Girls White | Boys Blue | Boys White | College Men | College Women |
	Event 2  Girls 5k Run CC Blue
==================================================================================
    Name                    Year School                Avg Mile     Finals  Points
==================================================================================
  1 Cummings, Laura           11 Bay Shore               5:50.8   18:09.64    1
  2 Koons, Frances            12 Central Catholic PA     5:53.6   18:18.45    2
  3 Topper, Jess              10 Governor Mifflin        6:09.9   19:09.20    3
  4 Giacometti, Lisa          10 Dallas                  6:11.0   19:12.37    4
  5 Squier, Jessica           11 Elk Lake                6:12.7   19:17.84
  6 Lamparter, Marie          09 Carlisle                6:14.2   19:22.57    5
  7 Monks, Maria              10 Hazleton Area           6:14.6   19:23.66    6
  8 Berryman, Claire          11 Morgantown (Wv)         6:15.2   19:25.66    7
  9 McCurdy, Mary Liz         11 Bay Shore               6:16.3   19:28.99    8
 10 Schmidt, Lauren           10 Bay Shore               6:19.3   19:38.20    9
 11 O'Sullivan, Pam           11 Bay Shore               6:23.8   19:52.15   10
 12 Edwards, Brenae           09 Hazleton Area           6:25.3   19:56.95   11
 13 Rittenhouse, Alyssa       10 Governor Mifflin        6:28.8   20:07.70   12
 14 Brickley, Liz             10 Greater Latrobe         6:29.7   20:10.53   13
 15 Hoffman, Ryann            12 Bay Shore               6:30.2   20:12.17   14
 16 Grindel, Heidi            12 Abington Heights        6:32.5   20:19.45   15
 17 Hutchinson, Rachel        09 Governor Mifflin        6:33.4   20:22.14   16
 18 Gilbert, Ashley           12 Carlisle                6:33.6   20:22.86   17
 19 Adams, Whitney            12 Dallas                  6:35.1   20:27.52   18
 20 Sheehan, Allyson          10 Baldwin                 6:36.7   20:32.50   19
 21 Sobrinski, Marcie         10 Central Catholic PA     6:37.4   20:34.64   20
 22 Radishofski, Amanda       09 Hazleton Area           6:38.3   20:37.29   21
 23 Jones, Jessica            11 Dallas                  6:39.3   20:40.29   22
 24 Mooney, Caitlin           12 Governor Mifflin        6:41.4   20:46.92   23
 25 Newell, Sandy             10 Elk County Catholic     6:41.7   20:48.00   24
 26 Stanish, Jamie            12 Dallas                  6:42.1   20:49.07   25
 27 Lins, Megan               10 Governor Mifflin        6:43.5   20:53.49   26
 28 Cook, Jessica             12 Bishop McDevitt         6:43.9   20:54.79   27
 29 Yasko, Julie              10 Baldwin                 6:44.6   20:56.85   28
 30 Brickett, Carly           10 Baldwin                 6:46.3   21:02.32   29
 31 Markowitz, Kathryn        10 Central Catholic PA     6:46.9   21:03.98   30
 32 Kane, Bridget             11 Central Catholic PA     6:47.7   21:06.69   31
 33 Fowler, Becky             12 Carlisle                6:48.8   21:10.10   32
 34 Spatz, Sarah              10 Governor Mifflin        6:49.0   21:10.71   33
 35 Buches, Lauren            10 Greater Latrobe         6:50.3   21:14.57   34
 36 Beezup, Trisha            12 Abington Heights        6:51.5   21:18.20   35
 37 Burns, Meghan             10 Central Catholic PA     6:52.1   21:20.36   36
 38 Maile, Christina          12 Central Catholic PA     6:52.5   21:21.54   37
 39 Robinson, Liz             12 Carlisle                6:52.8   21:22.39   38
 40 Talamo, Alexa             12 Hempfield Area          6:53.1   21:23.32   39
 41 Hughes, Katie             11 Bay Shore               6:53.8   21:25.53   40
 42 Hench, Erin               09 Carlisle                6:54.9   21:28.99   41
 43 Lacko, Chelsea            10 Bishop McDevitt         6:55.2   21:29.83   42
 44 Zino, Carissa             10 Bay Shore               6:55.8   21:31.79   43
 45 Razawich, Robin           10 Dallas                  6:56.0   21:32.42   44
 46 Gavigan, Colleen          09 Abington Heights        6:56.5   21:33.83   45
 47 Dalzot, Maria             10 Morgantown (Wv)         6:56.7   21:34.55   46
 48 Kerestes, Kenslie         09 Dallas                  6:57.4   21:36.66   47
 49 Hewitt, Caitlin           10 Greater Latrobe         6:58.4   21:39.83   48
 50 Newell, Maureen           11 Elk County Catholic     6:58.6   21:40.40   49
 51 DiPietro, Kaitlin         11 Bay Shore               6:59.3   21:42.52
	....Event 2  Girls 5k Run CC Blue
 52 Stone, Lara               12 Morgantown (Wv)         7:00.0   21:44.89   50
 53 Chabitnoy, Abby           11 Bishop McDevitt         7:00.5   21:46.28   51
 54 Hewitt, Amanda            12 Greater Latrobe         7:01.0   21:47.76   52
 55 Ruhl, Christina           11 Carlisle                7:01.6   21:49.85   53
 56 Chyko, Christine          11 Bloomsburg              7:02.1   21:51.28   54
 57 Werth, Sara               11 Central Catholic PA     7:02.3   21:51.90   55
 58 McFadden, Sheila          09 Central Catholic PA     7:02.6   21:52.70
 59 McFadden, Margaret        09 Central Catholic PA     7:03.1   21:54.30
 60 Adams, Hillary            10 Dallas                  7:03.2   21:54.83   56
 61 Croft, Brittany           12 Clearfield              7:03.5   21:55.54   57
 62 Buches, Leigh             10 Greater Latrobe         7:04.1   21:57.54   58
 63 Clark, Christine          10 Greater Latrobe         7:05.7   22:02.45   59
 64 Gettemy, Christine        11 Greater Latrobe         7:05.9   22:03.05   60
 65 Ciabattoni, Steph         12 Governor Mifflin        7:06.0   22:03.52   61
 66 Cifrese, Alison           12 Governor Mifflin        7:06.4   22:04.75
 67 Burgess, LeighAnn         12 Governor Mifflin        7:07.5   22:07.93
 68 Bellott, Nikki            09 Governor Mifflin        7:07.8   22:08.96
 69 Blair, Ali                09 Governor Mifflin        7:09.0   22:12.79
 70 Murray, Elizabeth         10 Greater Latrobe         7:09.4   22:13.86
 71 Brazinski, Erica          10 Elk County Catholic     7:09.5   22:14.20   62
 72 Viglietta, Christina      10 Bishop McDevitt         7:09.8   22:15.33   63
 73 Farnish, Jessica          11 Baldwin                 7:10.7   22:17.87   64
 74 Herbst, Nicole            10 Abington Heights        7:11.3   22:19.95   65
 75 Pryor, Kaely              09 Abington Heights        7:12.7   22:24.13   66
 76 Lordi, Megan              10 Greater Latrobe         7:13.2   22:25.75
 77 O'Sullivan, Jessica       12 Bay Shore               7:14.1   22:28.64
 78 Peterson, Abigail         10 Abington Heights        7:14.6   22:30.08   67
 79 Aikman, Kaely             12 Abington Heights        7:14.7   22:30.44   68
 80 Arthurs, Erica            10 Morgantown (Wv)         7:16.2   22:35.11   69
 81 Wilkins, Jenny            11 Carlisle                7:16.5   22:36.10   70
 82 Dalton, Kylene            12 Lewistown               7:17.8   22:40.06   71
 83 Lord, Dana                11 Aquinas Institute       7:19.1   22:44.01   72
 84 Davis, Kayleigh           11 Morgantown (Wv)         7:19.8   22:46.24   73
 85 Slaybaugh, Beth           11 Bishop McDevitt         7:20.7   22:49.09   74
 86 Kimmet, Haley             12 Central Catholic PA     7:21.0   22:50.03
 87 Rogan, Jenn               10 Bay Shore               7:21.4   22:51.12
 88 Knapp, Caitlin            09 Bay Shore               7:22.0   22:53.22
 89 Fedele, Katherine         10 Greater Latrobe         7:22.3   22:54.04
 90 Latze, Leslie             10 Bishop McDevitt         7:23.7   22:58.33   75
 91 Goetz, Megan              10 Elk County Catholic     7:23.8   22:58.79   76
 92 Best, Kelly               09 Baldwin                 7:24.4   23:00.62   77
 93 Bosco, Lauren             12 Greater Latrobe         7:24.6   23:01.08
 94 Crowe, Jessica            10 Elk County Catholic     7:24.9   23:02.10   78
 95 Parisi, Kate              10 Aquinas Institute       7:25.1   23:02.64   79
 96 Steel, Lauren             10 Greater Latrobe         7:25.5   23:04.09
 97 Hurd, Dani                11 Hempfield Area          7:25.9   23:05.27   80
 98 Yasko, Kaitlin            12 Baldwin                 7:26.2   23:06.10   81
 99 Ehrensberger, Kate        12 Elk County Catholic     7:26.4   23:06.65   82
100 Wert, Alyssa              09 Central Catholic PA     7:27.1   23:09.06
101 Cochran, Danielle         10 Morgantown (Wv)         7:27.3   23:09.63   83
102 Patterson, Nicole         12 Central Catholic PA     7:28.2   23:12.36
103 Burley, Megan             10 Bay Shore               7:29.1   23:15.08
104 Toomey, Erin              12 Hempfield Area          7:29.5   23:16.55   84
105 Bradley, Whitney          12 Bishop McDevitt         7:30.0   23:18.05   85
	....Event 2  Girls 5k Run CC Blue
106 Naponic, Randi            12 Hempfield Area          7:30.1   23:18.36   86
107 Ferry, Maria              11 Hempfield Area          7:31.9   23:23.97   87
108 Krieger, Lindsey          12 Hazleton Area           7:32.8   23:26.65   88
109 Gowell, Meredith          11 Abington Heights        7:33.3   23:28.27
110 Hoy, Leah                 11 Carlisle                7:33.7   23:29.56
111 Friday, Dana              11 Chichester              7:34.0   23:30.29
112 Long, Rachel              11 Lewistown               7:34.8   23:32.92   89
113 Gilligan, Katie           09 Dallas                  7:35.0   23:33.36
114 Sterdis, Michaela         12 Hempfield Area          7:35.2   23:34.13   90
115 Miller, Carla             11 Indian Valley           7:35.8   23:36.07   91
116 Detsch, Kelsey            10 Elk County Catholic     7:36.0   23:36.68   92
117 O'Neill, Ellie            12 Bishop McDevitt         7:36.3   23:37.61
118 Longenberger, Stacy       12 Bloomsburg              7:36.5   23:38.21   93
119 Lussier, Courtney         10 Aquinas Institute       7:36.8   23:39.14   94
120 Stroup, Rachel            10 Indian Valley           7:37.1   23:40.17   95
121 Godula, Hillary           11 Hempfield Area          7:37.6   23:41.49   96
122 McDonald, Kelly           09 Carlisle                7:42.5   23:56.85
123 Henrie, Aly               12 Bloomsburg              7:43.1   23:58.78   97
124 Walters, Jessica          09 Indian Valley           7:43.4   23:59.47   98
125 Carsia, Ashley            10 Hazleton Area           7:44.2   24:02.09   99
126 Miszler, Beverly          11 Elk Lake                7:44.5   24:02.92
127 Dougherty, Kelsey         11 Abington Heights        7:45.2   24:05.21
128 Cunningham, Kelly         11 Elk County Catholic     7:45.4   24:05.92
129 Molinaro, Kim             11 Indian Valley           7:46.8   24:10.02  100
130 Gregory, Rachel           10 Elk County Catholic     7:46.9   24:10.44
131 Miszler, Brenda           10 Elk Lake                7:49.1   24:17.39
132 Brennan, Caitlyn          09 Aquinas Institute       7:49.7   24:19.06  101
133 Fotta, Meredith           12 Morgantown (Wv)         7:51.7   24:25.26  102
134 Gassaway, Tricia          11 Elk Lake                7:54.9   24:35.27
135 Shimmel, Kristen          12 Clearfield              7:55.1   24:35.87  103
136 Bloam, Chelsea            09 Elk County Catholic     7:55.2   24:36.33
137 Kujat, Brittany           11 Hazleton Area           7:55.5   24:37.14  104
138 Plevich, Eva              12 Morgantown (Wv)         7:56.4   24:39.84
139 Wagner, Amanda            11 Lewistown               7:58.1   24:45.19  105
140 Feathers, Jennah          12 Lewistown               7:58.2   24:45.48  106
141 Clark, Taylor             09 Lewistown               7:58.7   24:47.03  107
142 Smith, Tina               10 Morgantown (Wv)         7:58.8   24:47.38
143 Harder, Anne              09 Morgantown (Wv)         7:58.9   24:47.62
144 John, Carrie              11 Carlisle                8:00.1   24:51.62
145 Spicher, Lindsey          11 Indian Valley           8:01.6   24:56.21  108
146 Alexander, Julia          09 Indian Valley           8:02.4   24:58.69  109
147 Lewis, Ahna               09 Morgantown (Wv)         8:03.3   25:01.43
148 Basso, Ashley             10 Aquinas Institute       8:03.6   25:02.34  110
149 Fazio, Sarah              11 Baldwin                 8:05.5   25:08.15  111
150 Brockman, Nicole          10 Carlisle                8:06.2   25:10.52
151 Paisley, Nicole           09 Hazleton Area           8:06.7   25:12.07  112
152 Good, Elizabeth           11 Hazleton Area           8:06.9   25:12.53
153 Collins, Sarah            10 Indian Valley           8:08.0   25:16.17  113
154 Walter, Kristina          11 Hempfield Area          8:09.3   25:19.97
155 Gilden, Megan             11 Carlisle                8:13.6   25:33.54
156 Gregory, Marisa           12 Bloomsburg              8:14.5   25:36.08  114
157 Nemanic, Cara             10 Hempfield Area          8:17.7   25:46.14
158 Polmounter, Sarah         11 Hazleton Area           8:25.1   26:09.21
159 Walters, Danielle         11 Indian Valley           8:26.6   26:13.69
	....Event 2  Girls 5k Run CC Blue
160 Hostetler, Carli          10 Indian Valley           8:27.8   26:17.43
161 Sopic, Annie              11 Clearfield              8:28.3   26:18.97  115
162 Calandrelli, Emily        11 Morgantown (Wv)         8:31.9   26:30.24
163 Feldbauer, Abby           11 Elk County Catholic     8:32.6   26:32.43
164 Hite, Karisa              11 Bloomsburg              8:34.2   26:37.38  116
165 Boring, Shannah           12 Indian Valley           8:34.3   26:37.79
166 Phoebe, Amanda            11 Baldwin                 8:38.3   26:50.16
167 Kienzle, Caitlin          12 Baldwin                 8:51.6   27:31.62
168 Coombs, Erin              09 Bloomsburg              8:55.9   27:44.98  117
169 Mulhollem, Cassie         10 Clearfield              9:19.7   28:58.71  118
170 Antonio, Stephanie        10 Elk County Catholic     9:20.4   29:01.05
171 Liegey, Marlaina          09 Clearfield              9:21.8   29:05.42  119
172 Perks, Kerry              11 Clearfield              9:25.0   29:15.24  120
173 Chamuris, Marguerite      12 Bloomsburg              9:32.7   29:39.05  121
174 Hubler, Tara              10 Clearfield              9:33.7   29:42.35  122
175 Grzandziel, Laura         11 Baldwin                 9:37.0   29:52.47
176 Kaczprak, Desiree            North West Area         9:41.4   30:06.13
177 Haney, Christina          11 Baldwin                 9:42.1   30:08.44
178 Yearick, Shawna           09 Indian Valley           9:42.6   30:10.03
179 Stoner, Kimbra            10 Indian Valley           9:50.5   30:34.60

                                   Team Scores
=================================================================================
Rank Team                      Total    1    2    3    4    5   *6   *7   *8   *9
=================================================================================
   1 Bay Shore                    42    1    8    9   10   14   40   43
      Total Time:  1:37:21.15
         Average:    19:28.23
   2 Governor Mifflin             80    3   12   16   23   26   33   61
      Total Time:  1:41:19.45
         Average:    20:15.89
   3 Dallas                      113    4   18   22   25   44   47   56
      Total Time:  1:42:41.67
         Average:    20:32.34
   4 Central Catholic PA         119    2   20   30   31   36   37   55
      Total Time:  1:42:24.12
         Average:    20:28.83
   5 Carlisle                    133    5   17   32   38   41   53   70
      Total Time:  1:43:46.91
         Average:    20:45.39
   6 Greater Latrobe             205   13   34   48   52   58   59   60
      Total Time:  1:46:50.23
         Average:    21:22.05
   7 Baldwin                     217   19   28   29   64   77   81  111
      Total Time:  1:47:50.16
         Average:    21:34.04
	....Event 2  Girls 5k Run CC Blue
   8 Hazleton Area               225    6   11   21   88   99  104  112
      Total Time:  1:47:26.64
         Average:    21:29.33
   9 Abington Heights            226   15   35   45   65   66   67   68
      Total Time:  1:47:55.56
         Average:    21:35.12
  10 Morgantown (Wv)             245    7   46   50   69   73   83  102
      Total Time:  1:48:06.45
         Average:    21:37.29
  11 Bishop McDevitt             257   27   42   51   63   74   75   85
      Total Time:  1:49:15.32
         Average:    21:51.07
  12 Elk County Catholic         289   24   49   62   76   78   82   92
      Total Time:  1:50:43.49
         Average:    22:08.70
  13 Hempfield Area              376   39   80   84   86   87   90   96
      Total Time:  1:54:27.47
         Average:    22:53.50
  14 Aquinas Institute           456   72   79   94  101  110
      Total Time:  1:58:47.19
         Average:    23:45.44
  15 Bloomsburg                  474   54   93   97  114  116  117  121
      Total Time:  2:01:41.73
         Average:    24:20.35
  16 Lewistown                   478   71   89  105  106  107
      Total Time:  2:00:30.68
         Average:    24:06.14
  17 Indian Valley               492   91   95   98  100  108  109  113
      Total Time:  2:00:21.94
         Average:    24:04.39
  18 Clearfield                  512   57  103  115  118  119  120  122
      Total Time:  2:10:54.51
         Average:    26:10.91

 
	Event 1  Girls 5k Run CC White
==================================================================================
    Name                    Year School                Avg Mile     Finals  Points
==================================================================================
  1 Papenberg, Kate           12 Red Lion Area           6:05.3   18:54.70
  2 Ruffolo, Amy              12 North Allegheny         6:11.6   19:14.53    1
  3 Zellers, Erin             11 Red Lion Area           6:15.1   19:25.39
  4 O'Brien, Kelley           10 North Allegheny         6:17.5   19:32.75    2
  5 Hinish, Sonja             12 Bishop Guilfoyle        6:21.1   19:43.92
  6 Mason, Meghan             11 State College           6:27.0   20:02.08    3
  7 Guenter, Lindsay          11 Wilson                  6:27.4   20:03.52    4
  8 Levy, Michelle               Wooten                  6:30.1   20:11.92
  9 Klunk, Samantha           09 Red Lion Area           6:30.4   20:12.69
 10 Scheller, Lindsay         10 Shikellamy              6:32.5   20:19.31    5
 11 Burkey, Alicia            11 Williamsport Area       6:33.8   20:23.39    6
 12 Luden, Rachel             10 Seneca                  6:36.8   20:32.59    7
 13 Byrne, Erin               12 Scranton Prep           6:37.2   20:33.98    8
 14 niebel, cassie            11 Penns Valley            6:38.5   20:38.06    9
 15 Schmiedel, Lindsay        11 North Allegheny         6:39.2   20:40.21   10
 16 Dunlap, Ashleigh          10 Tulpehocken             6:39.6   20:41.27   11
 17 Jacquel, Mary             10 Seneca                  6:39.9   20:42.16   12
 18 Thomas, Cortney           11 Tulpehocken             6:40.8   20:45.03   13
 19 Arnold, Ashley            12 South Western           6:42.0   20:48.84   14
 20 Plevin, Julie             11 Walt Whitman            6:42.9   20:51.58   15
 21 Brozewicz, Lisa           12 Seneca                  6:43.8   20:54.54   16
 22 Dreabit, Megan            11 Wyoming Valley West     6:44.0   20:55.20   17
 23 Kisenwether, Katie        11 State College           6:44.3   20:55.83   18
 24 Laura, Regensburg         11 West Potomac            6:44.7   20:57.24   19
 25 Light, Brandi             12 Tulpehocken             6:45.8   21:00.52   20
 26 Sikora, Maggie            11 State College           6:45.9   21:00.90   21
 27 Wiedwald, Kelly           11 Wyoming Valley West     6:46.6   21:02.98   22
 28 Bojarski, Mary Kay        10 North East              6:47.0   21:04.23
 29 Gallagher, Katie          11 State College           6:47.1   21:04.67   23
 30 Moravec, Allie            09 North Allegheny         6:47.7   21:06.48   24
 31 Karish, Talesha           10 Tulpehocken             6:48.1   21:07.86   25
 32 Cyphert, Aubrey           11 Seneca                  6:52.1   21:20.09   26
 33 Mellor, Caroline          11 Walt Whitman            6:52.5   21:21.30   27
 34 LeDonne, Sarah            10 North Allegheny         6:53.0   21:23.09   28
 35 Baxter, Katie             12 North Allegheny         6:53.8   21:25.55   29
 36 Kristina, Dahmann         10 West Potomac            6:54.1   21:26.52   30
 37 Ward, Katherine           09 State College           6:54.7   21:28.44   31
 38 Laura, Glace              12 Springfield - DelCo     6:55.1   21:29.47
 39 McConnell, Kelly          11 North Allegheny         6:56.3   21:33.32   32
 40 Kim, Wagner               12 West Potomac            6:56.8   21:34.91   33
 41 Albertine, Kacey          10 Walt Whitman            6:57.1   21:35.71   34
 42 Blessing, Lorin           10 Shikellamy              6:57.6   21:37.25   35
 43 kobb, anna                11 Penns Valley            6:58.1   21:38.91   36
 44 foor, kendra              11 Penns Valley            7:03.0   21:54.13   37
 45 Ross, Pamela              09 Wilson                  7:03.5   21:55.58   38
 46 Diana, Burk               10 West Potomac            7:03.6   21:56.03   39
 47 Ryan, Hannah              12 State College           7:04.1   21:57.37   40
 48 Crossett, Meagan          11 Mifflinburg             7:05.0   22:00.27
 49 Knable, Kelly             12 North Allegheny         7:05.6   22:02.10
 50 Leland, Ashley            10 Wyoming Valley West     7:06.2   22:04.06   41
 51 Hill, Shirley             10 Seneca                  7:06.6   22:05.19   42
	....Event 1  Girls 5k Run CC White
 52 Emily, Macklin            10 West Potomac            7:07.4   22:07.61   43
 53 Crowe, Edel               09 State College           7:08.3   22:10.41   44
 54 Manbeck, Vanessa          10 Tulpehocken             7:08.7   22:11.72   45
 55 Dorn, Elizabeth           10 Scranton Prep           7:08.8   22:12.18   46
 56 Musser, Laura             11 North Allegheny         7:09.0   22:12.86
 57 Rettger, Stephanie        10 Seneca                  7:09.2   22:13.32   47
 58 Warren, Leslie            11 Wyoming Valley West     7:09.4   22:13.97   48
 59 Beebe, Ashley             10 Wyalusing Valley        7:09.7   22:14.74   49
 60 Shinko, Jasmine           09 Seneca                  7:10.2   22:16.46   50
 61 Tarkoff, Sarah            11 North Allegheny         7:11.1   22:19.11
 62 Popovich, Alissa          12 State College           7:12.4   22:23.41
 63 Galizia, Anna             10 Sayre                   7:12.6   22:23.80
 64 Hickey, Elicia            10 Scranton Prep           7:12.7   22:24.23   51
 65 McGregor, Grace           10 Scranton Prep           7:12.8   22:24.63   52
 66 Allen, Gretchen           10 Red Lion Area           7:13.6   22:27.12
 67 Cook, Erika               11 Wyalusing Valley        7:14.0   22:28.11   53
 68 Sanders, Brittany         12 South Western           7:16.3   22:35.32   54
 69 Poropatich, Kate          12 Walt Whitman            7:17.6   22:39.29   55
 70 Weber, Abby               11 North East              7:18.5   22:42.14
 71 Hirsh, Sarah              11 South Western           7:19.6   22:45.74   56
 72 Van Oudenaren, Laura      10 Walt Whitman            7:20.8   22:49.28   57
 73 Jessie, Bauer             11 West Potomac            7:21.4   22:51.34   58
 74 Fronczkiewicz, Marisa     11 Wyoming Valley West     7:21.6   22:51.94   59
 75 Uhar, Emily               10 Walt Whitman            7:21.8   22:52.45   60
 76 Harnish, Lindsay          12 Wyalusing Valley        7:22.0   22:53.11   61
 77 Nawrocki, Marci           11 Wilson                  7:22.2   22:53.65   62
 78 Kopec, Sara               11 Wyoming Valley West     7:22.5   22:54.70   63
 79 Minora, Leslie            12 Scranton Prep           7:22.9   22:55.82   64
 80 Elise, Bender             10 West Potomac            7:23.6   22:57.94   65
 81 Potter, Colleen           10 Wyalusing Valley        7:24.6   23:01.26   66
 82 Chang, Jeannette          12 Walt Whitman            7:27.8   23:11.11   67
 83 Horin, Cynthia            12 Walt Whitman            7:28.3   23:12.73
 84 Shinko, Jade              10 Seneca                  7:28.5   23:13.31
 85 Conron, Kelly             11 State College           7:28.9   23:14.60
 86 Verbyla, Sarah            10 Wyoming Valley West     7:30.1   23:18.13   68
 87 Divers, Autumn            12 North Allegheny         7:31.6   23:22.80
 88 Jackie, Diamond           12 Springfield - DelCo     7:33.0   23:27.29
 89 Alam, Lyla                12 Walt Whitman            7:33.9   23:30.17
 90 Maloney, Ellen            11 Scranton Prep           7:34.5   23:31.86   69
 91 brown, cammy              11 Penns Valley            7:35.0   23:33.65   70
 92 Rowlands, Amanda          12 Wilson                  7:35.9   23:36.26   71
 93 Natalie, Megan            12 West Branch Area        7:36.1   23:36.97
 94 Sweeney, Rita             12 Wilson                  7:36.3   23:37.52   72
 95 Smith-Gary, Laura         12 Wyalusing Valley        7:36.5   23:38.08   73
 96 Granahan, Lara            10 Scranton Prep           7:37.2   23:40.29   74
 97 Knabel, Katie             12 Scranton Prep           7:37.6   23:41.48
 98 Reynolds, Laura           10 Walt Whitman            7:38.7   23:45.04
 99 Tieman, Teresa            11 Wilson                  7:38.9   23:45.54   75
100 Willham, Kendra           10 Wilson                  7:40.3   23:49.81   76
101 Megan, Bauer              09 Springfield - DelCo     7:40.6   23:50.89
102 smith, samantha           09 Penns Valley            7:41.9   23:55.00   77
103 Michaels, Jennifer        11 Wyoming Valley West     7:42.4   23:56.57
104 Stefanides, Nicole        11 Wyoming Valley West     7:43.2   23:59.11
105 Grandinetti, Sarah        12 Wilson                  7:45.9   24:07.36
	....Event 1  Girls 5k Run CC White
106 Dickinson, Melissa        10 Scranton Prep           7:47.1   24:11.10
107 Schira, Brandi            11 Williamsport Area       7:47.6   24:12.62   78
108 Hesse, Arielle            09 State College           7:52.8   24:28.68
109 Harrity, Judy             11 South Western           7:54.7   24:34.75   79
110 Irish, Kelly              11 State College           7:55.4   24:36.90
111 Raney, Michelle           10 State College           7:55.6   24:37.37
112 Creveling, Michelle       09 Williamsport Area       8:01.1   24:54.62   80
113 Siegfried, Megan          09 Tulpehocken             8:02.8   24:59.78   81
114 Colombo, Carmen           09 Walt Whitman            8:03.1   25:00.85
115 Cornejo, Chrissy          11 Wilson                  8:07.3   25:13.73
116 Kurutz, Amy               11 Shikellamy              8:09.0   25:19.26   82
117 Wheeler, Carley           09 Seneca                  8:10.9   25:24.90
118 evans, rachel             11 Penns Valley            8:11.1   25:25.67   83
119 McCabe, Maggie            12 Walt Whitman            8:11.4   25:26.50
120 Gaustad, Alex             12 Wyalusing Valley        8:12.5   25:29.98   84
121 Beseda, Melissa           10 Scranton Prep           8:13.5   25:33.06
122 Zangari, Tali             09 Shikellamy              8:14.3   25:35.64   85
123 Stafford, Kelly           12 Wilson                  8:15.5   25:39.27
124 Lenig, Kristen            09 Shikellamy              8:17.5   25:45.41   86
125 Axt, Nicole               10 Wilson                  8:23.1   26:02.80
126 Westlake, Tova            12 Wyalusing Valley        8:24.6   26:07.54   87
127 Guthrie, Becky            12 Wilson                  8:26.7   26:14.02
128 Finnegan, Marie           12 South Western           8:27.0   26:15.07   88
129 Bubb, Diana               11 Shikellamy              8:32.6   26:32.39   89
130 Schramm, Katya            10 Williamsport Area       8:47.5   27:18.73   90
131 Dolph, Monica             09 Williamsport Area       8:52.7   27:34.93   91
132 Wright, Meredith          10 Scranton Prep           8:55.5   27:43.68
133 Denial, Katie             10 Seneca                  8:57.4   27:49.53
134 Booth, Missy              11 Shikellamy              8:59.9   27:57.41   92
135 Torrance, Melissa         10 North East              9:32.5   29:38.65
136 Lorson, Haley             10 Williamsport Area       9:44.8   30:16.92   93
137 Pifer, Brandie            09 Seneca                 10:25.1   32:21.82
138 Garman, Nicole            11 Shikellamy             10:36.8   32:58.17

                                   Team Scores
=================================================================================
Rank Team                      Total    1    2    3    4    5   *6   *7   *8   *9
=================================================================================
   1 North Allegheny              65    1    2   10   24   28   29   32
      Total Time:  1:41:57.06
         Average:    20:23.42
   2 State College                96    3   18   21   23   31   40   44
      Total Time:  1:44:31.92
         Average:    20:54.39
   3 Seneca                      103    7   12   16   26   42   47   50
      Total Time:  1:45:34.57
         Average:    21:06.92
	....Event 1  Girls 5k Run CC White
   4 Tulpehocken                 114   11   13   20   25   45   81
      Total Time:  1:45:46.40
         Average:    21:09.28
   5 West Potomac                164   19   30   33   39   43   58   65
      Total Time:  1:48:02.31
         Average:    21:36.47
   6 Wyoming Valley West         187   17   22   41   48   59   63   68
      Total Time:  1:49:08.15
         Average:    21:49.63
   7 Walt Whitman                188   15   27   34   55   57   60   67
      Total Time:  1:49:17.16
         Average:    21:51.44
   8 Scranton Prep               221    8   46   51   52   64   69   74
      Total Time:  1:50:30.84
         Average:    22:06.17
   9 Penns Valley                229    9   36   37   70   77   83
      Total Time:  1:51:39.75
         Average:    22:19.95
  10 Wilson                      247    4   38   62   71   72   75   76
      Total Time:  1:52:06.53
         Average:    22:25.31
  11 South Western               291   14   54   56   79   88
      Total Time:  1:56:59.72
         Average:    23:23.95
  12 Shikellamy                  293    5   35   82   85   86   89   92
      Total Time:  1:58:36.87
         Average:    23:43.38
  13 Wyalusing Valley            302   49   53   61   66   73   84   87
      Total Time:  1:54:15.30
         Average:    22:51.06
  14 Williamsport Area           345    6   78   80   90   91   93
      Total Time:  2:04:24.29
         Average:    24:52.86


	Event 4  Boys 5k Run CC Blue
==================================================================================
    Name                    Year School                Avg Mile     Finals  Points
==================================================================================
  1 Spooner, Chris            12 Lewisburg Area          5:06.7   15:52.72    1
  2 Soder, Brian              12 Harbor Creek            5:10.9   16:05.86    2
  3 Brousse, Nick             12 Carlisle                5:14.4   16:16.52    3
  4 Squier, Robert            12 Elk Lake                5:21.8   16:39.68    4
  5 Bateman, Noel             10 Aquinas Institute       5:22.6   16:42.10    5
  6 Brousse, Stephen          12 Carlisle                5:23.2   16:43.91    6
  7 Haines, Jeff              12 Baldwin                 5:24.2   16:47.20    7
  8 Moreau, Chris             12 Lewisburg Area          5:26.0   16:52.79    8
  9 Brooker, Judson           11 Penns Valley            5:26.5   16:54.31    9
 10 Gibson, Dan               12 Carlisle                5:27.2   16:56.46   10
 11 Edwards, Brent            12 Hazleton Area           5:27.4   16:56.96   11
 12 McFadden, Kevin           11 Central Catholic PA     5:27.9   16:58.59   12
 13 Brown, Max                10 North Allegheny         5:29.1   17:02.39   13
 14 Gearhart, Trevor          12 Clearfield              5:30.1   17:05.45   14
 15 Brickley, Mack            12 Greater Latrobe         5:30.8   17:07.76   15
 16 Snyder, Jesse             12 North Allegheny         5:31.3   17:09.22   16
 17 Fritz, Caleb                 North West Area         5:31.4   17:09.61   17
 18 Howanski, Mike            11 Chichester              5:32.7   17:13.64   18
 19 Caputo, Ryan              10 Abington Heights        5:33.1   17:14.91   19
 20 Place, Ryan               12 Elk Lake                5:33.5   17:15.97   20
 21 Walter, Chris             12 Bishop McDevitt         5:33.9   17:17.16   21
 22 Cogan, Dan                11 Carlisle                5:34.1   17:17.82   22
 23 Edstrom, Matt             12 Hazleton Area           5:34.5   17:19.19   23
 24 Rice, Andrew              12 Carlisle                5:35.4   17:21.86   24
 25 Boujoukos, John           10 North Allegheny         5:37.4   17:28.11   25
 26 Schoenfelder, Kevin       11 Lewisburg Area          5:37.9   17:29.74   26
 27 Fritz, Josh                  North West Area         5:38.5   17:31.64   27
 28 McGuire, Luke             12 Lewisburg Area          5:38.9   17:32.88   28
 29 Cumbo, Brett              12 Aquinas Institute       5:39.5   17:34.53   29
 30 Savory, Matt              11 North Allegheny         5:40.0   17:36.22   30
 31 Phillips, Timothy         11 Baldwin                 5:40.7   17:38.46   31
 32 Badolato, Chris           12 Bay Shore               5:41.5   17:40.84   32
 33 Baker, Will               11 Carlisle                5:43.3   17:46.48   33
 34 Hubert, P.J.              12 Abington Heights        5:43.9   17:48.46   34
 35 Leuschel, Steve           12 Elk County Catholic     5:44.1   17:48.94   35
 36 Orbison, Eric             10 Lewisburg Area          5:44.3   17:49.64   36
 37 Bartoli, Pat              12 Carlisle                5:45.0   17:51.82   37
 38 Wallander, William        11 Baldwin                 5:46.0   17:54.83   38
 39 Meade, Michael            10 Baldwin                 5:46.9   17:57.77   39
 40 Cady, Matt                12 North East              5:47.1   17:58.28   40
 41 Loht, Ben                 10 Indian Valley           5:47.7   18:00.20   41
 42 Harrison, J.P.            11 Lewisburg Area          5:48.0   18:01.04   42
 43 Baxter, Patrick           10 North Allegheny         5:48.1   18:01.52   43
 44 Evans, Nate               12 Hempfield Area          5:48.3   18:02.07   44
 45 Thompson, Jesse           09 Bay Shore               5:48.9   18:03.85   45
 46 Barrick, Justin           11 Carlisle                5:49.3   18:05.21
 47 Varner, Chris             12 Carlisle                5:50.8   18:09.73
 48 Pyne, John                11 Bishop McDevitt         5:51.2   18:11.10   46
 49 LaFuria, Dan              12 North East              5:51.5   18:12.04   47
 50 Fox, Max                  12 Carlisle                5:51.6   18:12.37
 51 Powell, Bobby             10 Baldwin                 5:51.8   18:12.72   48
	....Event 4  Boys 5k Run CC Blue
 52 Calnon, Tim               11 Aquinas Institute       5:52.0   18:13.49   49
 53 Costenbader, Dan          11 Central Catholic PA     5:52.3   18:14.55   50
 54 Maas, Zach                10 North East              5:52.6   18:15.27   51
 55 Frederick, Mike           12 Greater Latrobe         5:52.7   18:15.66   52
 56 Alexander, Derek          12 Indian Valley           5:52.8   18:16.10   53
 57 Hiscox, Mike              12 Dallas                  5:53.0   18:16.49   54
 58 Abbey, Mike               11 Harbor Creek            5:53.1   18:16.88   55
 59 Burry, Collin             10 North Allegheny         5:53.2   18:17.25   56
 60 Gallagher, Pat            11 Central Catholic PA     5:53.6   18:18.49   57
 61 Smith, Derek              12 Bloomsburg              5:53.8   18:19.02   58
 62 Butson, Grant             11 North Allegheny         5:54.0   18:19.61   59
 63 Drab, Jamie               10 North East              5:54.3   18:20.78   60
 64 Stover, Josh              11 Penns Valley            5:54.5   18:21.29   61
 65 Godwin, Jon               09 Morgantown (Wv)         5:54.9   18:22.42   62
 66 Ahn, Dan                  12 Central Catholic PA     5:55.4   18:24.08   63
 67 Fuller, Mike              10 North East              5:56.4   18:27.27   64
 68 Higley, Alex              09 Abington Heights        5:56.7   18:28.23   65
 69 McDonough, Eamon          11 Greater Latrobe         5:57.4   18:30.28   66
 70 Remick, Chris             10 Abington Heights        5:58.0   18:32.25   67
 71 Kelly, Charles            11 Baldwin                 5:58.5   18:33.66   68
 72 Waigula, Billy            10 North East              5:58.6   18:34.07   69
 73 Mariano, Lucas            11 Hazleton Area           5:58.7   18:34.41   70
 74 Thompson, Jonathan        12 Indian Valley           5:59.0   18:35.15   71
 75 Belden, Alejandro         11 Morgantown (Wv)         5:59.2   18:35.92   72
 76 Gavigan, Brendan          11 Abington Heights        5:59.4   18:36.43   73
 77 Oberst, Kevin             11 Aquinas Institute       5:59.6   18:37.02   74
 78 Gray, Brandon             09 North East              5:59.7   18:37.54   75
 79 Krivoniak, Joey           12 Greater Latrobe         5:59.9   18:37.96   76
 80 Saunders, Dan             10 North East              6:00.1   18:38.53
 81 Ferrari, Tyler            10 Greater Latrobe         6:00.3   18:39.39   77
 82 Koontz, Joshua            10 Indian Valley           6:01.3   18:42.52   78
 83 Stewart, Tyler            09 Greater Latrobe         6:01.6   18:43.28   79
 84 Conti, Matt               09 North Allegheny         6:02.3   18:45.35
 85 Licata, Anthony           10 North East              6:02.5   18:46.02
 86 Brown, Matthew            10 Penns Valley            6:02.6   18:46.49   80
 87 Scheidemantel, Garth      10 North Allegheny         6:03.0   18:47.69
 88 Thoma, Andrew             11 Carlisle                6:03.3   18:48.62
 89 Lampart, Ryan             12 Hazleton Area           6:03.6   18:49.58   81
 90 Helble, Andy              12 Hempfield Area          6:03.8   18:50.03   82
 91 Nicosia, Vince            10 Penns Valley            6:03.9   18:50.50   83
 92 Lilly, Ryan               11 North East              6:04.4   18:52.04
 93 Bryan, Jimmy              11 Greater Latrobe         6:04.7   18:52.95   84
 94 Long, Matthew             09 Morgantown (Wv)         6:05.0   18:53.92   85
 95 Hoon, Scott               11 Carlisle                6:05.2   18:54.41
 96 Elers, Pete               12 Greater Latrobe         6:05.4   18:54.97
 97 Reeger, Eric              11 Hempfield Area          6:05.6   18:55.82   86
 98 Wagner, Phil              11 Central Catholic PA     6:05.8   18:56.22   87
 99 Woodrum, Charles          12 Morgantown (Wv)         6:05.9   18:56.57   88
100 Rector, Phil              10 Central Catholic PA     6:06.2   18:57.61   89
101 Higley, Nathan            12 Abington Heights        6:06.6   18:58.94   90
102 Gil, Sean                 09 North Allegheny         6:07.0   18:59.95
103 Fairall, Brian            12 Hazleton Area           6:07.5   19:01.57   91
104 Bush, Dathen              12 Clearfield              6:07.6   19:01.96   92
105 Thompson, Paul            11 Clearfield              6:07.7   19:02.31   93
	....Event 4  Boys 5k Run CC Blue
106 Prokop, Marty             11 Elk County Catholic     6:08.1   19:03.50   94
107 Pearson, Nathan           10 Morgantown (Wv)         6:08.3   19:04.22   95
108 Siddle, Dustin            12 Hempfield Area          6:08.5   19:04.60   96
109 Williamson, Kent          12 Morgantown (Wv)         6:09.8   19:08.90   97
110 Roble, Dan                12 Greater Latrobe         6:10.0   19:09.34
111 Falkenstine, Evan         11 Morgantown (Wv)         6:10.1   19:09.73   98
112 Licata, Dave              11 North East              6:10.4   19:10.61
113 Wize, Steve               11 North Allegheny         6:11.0   19:12.46
114 Arzamendi, Vince          12 Lewistown               6:11.6   19:14.36   99
115 Hennessy, Sean            12 Greater Latrobe         6:12.3   19:16.50
116 Simbeck, Mark             12 Elk County Catholic     6:12.5   19:17.05  100
117 Sobkin, Max               12 North Allegheny         6:12.7   19:17.88
118 Ehrensberger, Frank       10 Elk County Catholic     6:13.4   19:20.10  101
119 Yurko, Jesse              10 Hazleton Area           6:13.8   19:21.37  102
120 Aldrich, Matt             12 Harbor Creek            6:14.1   19:22.26  103
121 Flood, Charlie            11 Bay Shore               6:14.4   19:22.95  104
122 Edwards, Vincent          10 Baldwin                 6:15.3   19:25.90  105
123 Mills, David              11 Greater Latrobe         6:15.4   19:26.25
124 Ritenour, Miles           10 Greater Latrobe         6:15.5   19:26.53
125 Tax, Mike                 11 Central Catholic PA     6:16.0   19:27.96  106
126 Skocik, Corey             10 Bishop McDevitt         6:16.2   19:28.83  107
127 Litvinov, Mike            11 Hazleton Area           6:16.6   19:30.02  108
128 Cammilleri, Nick          10 Aquinas Institute       6:17.0   19:31.21  109
129 Crilly, Dan               10 Aquinas Institute       6:17.6   19:33.10  110
130 Metzgar, Jeff             11 Indian Valley           6:18.2   19:34.88  111
131 Farrell, Sean             10 Bishop McDevitt         6:18.3   19:35.31  112
132 Davis, Brett              12 Clearfield              6:18.7   19:36.32  113
133 Brazill, Greg             12 Chichester              6:18.8   19:36.70  114
134 Jepson, Adam              10 Penns Valley            6:18.9   19:37.10  115
135 Barth, Mike               12 Lewisburg Area          6:19.1   19:37.55  116
136 Boyle, Kerry              11 Hazleton Area           6:19.2   19:38.04
137 Hiscox, Harry             11 Dallas                  6:19.6   19:39.21  117
138 Mathesz, Mike             12 Central Catholic PA     6:19.8   19:39.93
139 Savitts, Jake             12 Indian Valley           6:20.1   19:40.67  118
140 Sferra, Deron             11 Hempfield Area          6:20.7   19:42.77  119
141 Rengert, Brian            11 Bishop McDevitt         6:21.3   19:44.47  120
142 Higley, Andrew            09 Abington Heights        6:21.5   19:45.17  121
143 Sayers, Ryan              11 Clearfield              6:21.8   19:45.94  122
144 Bobby, Wiard              10 Hazleton Area           6:22.3   19:47.52
145 Godshalk, Kevin           11 Aquinas Institute       6:22.4   19:48.01  123
146 Joseph, Travis            10 Lewisburg Area          6:22.6   19:48.52
147 Meholic, Brad             09 Elk County Catholic     6:22.7   19:49.00  124
148 Griffis, Brandon          12 Elk Lake                6:23.0   19:49.79  125
149 Conroy, Tim               11 Penns Valley            6:23.5   19:51.44  126
150 Zarger, Alex              09 Harbor Creek            6:23.7   19:51.89  127
151 Aaron, Nathan             09 Baldwin                 6:24.0   19:52.92
152 Beberus, Ryan             11 Dallas                  6:24.2   19:53.51  128
153 Mounce, Chris             12 Dallas                  6:25.5   19:57.63  129
154 Bishop, Jordan            12 Hempfield Area          6:25.7   19:58.19  130
155 Ament, Josh               09 Hempfield Area          6:25.8   19:58.60  131
156 Campbell, William         10 Lewistown               6:26.6   20:00.89  132
157 Yaklich, Jesse            11 Hempfield Area          6:27.6   20:04.12
158 Sandy, Mark               12 Hazleton Area           6:27.9   20:04.94
159 Oschman, Nick             10 Dallas                  6:28.0   20:05.37  133
	....Event 4  Boys 5k Run CC Blue
160 Barker, Evan              11 Central Catholic PA     6:28.2   20:06.01
161 Ferry, Eric               09 Hempfield Area          6:28.9   20:08.02
162 Warman, Zachary           10 Morgantown (Wv)         6:29.3   20:09.40
163 Mensch, Nick              10 Bloomsburg              6:29.5   20:09.86  134
164 Vargo, Charles            09 Baldwin                 6:29.6   20:10.29
165 Ekema-Agbaw, Mike         12 Bloomsburg              6:29.8   20:10.95  135
166 Rinkus, Daniel            12 Hazleton Area           6:29.9   20:11.29
167 Anderson, Morgan          12 Dallas                  6:30.1   20:11.95  136
168 Levenduski, Franco        10 Elk County Catholic     6:30.8   20:13.91  137
169 VanSock, Jesse               North West Area         6:31.2   20:15.35  138
170 Rose, Josh                09 Lewistown               6:31.5   20:16.22  139
171 Gleixner, Dan             11 Elk County Catholic     6:31.9   20:17.31  140
172 Madsen, Dane              10 Bay Shore               6:32.1   20:18.04  141
173 Parker, Sean              11 Aquinas Institute       6:32.2   20:18.50
174 Hiscox, Brandon           09 Dallas                  6:32.4   20:18.90  142
175 McClung, Dave             10 Chichester              6:32.5   20:19.25  143
176 Mensch, Colin             10 Bloomsburg              6:32.8   20:20.21  144
177 Kelly, Shane              12 Clearfield              6:34.3   20:24.99  145
178 Ford, Billy               09 Penns Valley            6:35.2   20:27.58  146
179 Stark, John               12 Lewisburg Area          6:35.4   20:28.22
180 Shaw, Kevin               12 Chichester              6:37.1   20:33.60  147
181 Shafranich, Andrew        10 Lewistown               6:38.8   20:38.86  148
182 Junod, Anthony            11 Lewistown               6:39.4   20:40.64  149
183 Armstrong, Sean           11 Chichester              6:39.7   20:41.80  150
184 Berger, Stephen           12 Central Catholic PA     6:40.0   20:42.49
185 Van Wagner, Greg          10 Bishop McDevitt         6:40.4   20:43.80  151
186 Bowman, Eric                 North West Area         6:41.0   20:45.63  152
187 Franklin, Chad            10 Indian Valley           6:42.4   20:49.93  153
188 White, Adam               10 Indian Valley           6:42.7   20:50.95
189 Laky, T.J.                10 Central Catholic PA     6:42.8   20:51.34
190 Steel, Alexander          11 Morgantown (Wv)         6:42.9   20:51.69
191 Young, Eric               10 Lewistown               6:43.1   20:52.28  154
192 Pietropaolo, Adam         09 Indian Valley           6:44.1   20:55.25
193 Sferra, Bryan             12 Hempfield Area          6:44.5   20:56.52
194 Flatau, Ben               11 Chichester              6:45.2   20:58.70  155
195 Monroe, Nathan            12 Penns Valley            6:45.6   20:59.97
196 Stephens, Justin          09 Bloomsburg              6:46.5   21:02.79  156
197 Bura, Nick                11 Bay Shore               6:46.7   21:03.28  157
198 Flanagan, Liam            11 Lewisburg Area          6:47.5   21:05.85
199 Extein, Pat               11 Harbor Creek            6:47.7   21:06.43  158
200 Harley, Scott             11 Hempfield Area          6:47.9   21:07.19
201 Davis, Evan               10 Clearfield              6:48.0   21:07.52  159
202 Cram, Dan                 12 Indian Valley           6:50.0   21:13.83
203 Stitt, Jason              12 Lewistown               6:50.8   21:16.14  160
204 Lang, Albert              09 Harbor Creek            6:50.9   21:16.59  161
205 White, Aaron              10 Indian Valley           6:51.2   21:17.38
206 Drumheller, Daniel        11 Hazleton Area           6:52.0   21:19.83
207 Miller, Jesse             09 Lewisburg Area          6:52.4   21:21.11
208 Gliganic, Dan             09 Bay Shore               6:53.3   21:24.02  162
209 Yablonski, Josh           10 Bloomsburg              6:54.3   21:27.20  163
210 Moore, Michael            09 Elk County Catholic     6:55.0   21:29.15
211 Peterson, Phil            11 Elk Lake                6:56.1   21:32.69  164
212 Diskin, Ian               10 Bishop McDevitt         6:56.6   21:34.05  165
213 Walter, Nate              10 Bishop McDevitt         6:56.7   21:34.44
	....Event 4  Boys 5k Run CC Blue
214 Brazinski, Ben            11 Elk County Catholic     6:56.9   21:34.99
215 Fisher, Mark              12 Baldwin                 6:58.4   21:39.69
216 Mazzocco, Joseph          09 Baldwin                 6:59.3   21:42.69
217 Pilon, Eric               12 Morgantown (Wv)         6:59.4   21:42.89
218 Peterson, Nick            11 Elk Lake                7:00.3   21:45.74  166
219 Sabol, Jermy              11 Central Catholic PA     7:00.5   21:46.41
220 Brochyus, Josh            09 Bloomsburg              7:00.8   21:47.20  167
221 Wills, Jordan             11 Hempfield Area          7:01.0   21:47.81
222 Aikman, Brooks            09 Abington Heights        7:02.0   21:50.82
223 Schrader, Fred            10 Bloomsburg              7:02.9   21:53.69
224 Musser, Jordan            09 Bloomsburg              7:03.3   21:55.09
225 Meholic, Chad             09 Elk County Catholic     7:04.4   21:58.35
226 Kerstetter, Alan          11 Lewistown               7:05.3   22:01.20
227 Mayo, Nick                11 Harbor Creek            7:09.8   22:15.24  168
228 Mazzocco, Nick            12 Baldwin                 7:10.4   22:17.20
229 Kuznicki, Ben             10 Bloomsburg              7:12.2   22:22.53
230 Jimenez, Roberto          12 Indian Valley           7:13.5   22:26.62
231 Hoffman, Thomas           10 Clearfield              7:13.9   22:27.93
232 Wilding, Dave             11 Chichester              7:23.3   22:57.23  169
233 Root, Branden             11 Clearfield              7:25.9   23:05.33
234 Fritz, Matt               09 Elk County Catholic     7:28.0   23:11.88
235 Freeburg, Jared           10 Elk County Catholic     7:29.2   23:15.36
236 Daltroff, Terence            North West Area         7:32.2   23:24.92  170
237 Vetere, Tim               12 Morgantown (Wv)         7:35.7   23:35.58
238 Feathers, Brady           09 Lewistown               7:40.3   23:50.03
239 McGarvey, Ryan            12 Bay Shore               7:48.2   24:14.42  171
240 Killeen, Mike             10 Bay Shore               7:49.9   24:19.81
241 Elahi, Imam               11 Bloomsburg              7:50.8   24:22.54
242 Swartzman, Toby           11 Bloomsburg              7:51.1   24:23.57
243 Ferrara, Mike             09 Chichester              7:51.6   24:25.01
244 Bishop, Caldwell          11 Morgantown (Wv)         7:58.4   24:46.28
245 Croft, David              11 Clearfield              8:05.3   25:07.77
246 Richardson, Keith            North West Area         9:50.3   30:34.00  172

                                   Team Scores
=================================================================================
Rank Team                      Total    1    2    3    4    5   *6   *7   *8   *9
=================================================================================
   1 Carlisle                     65    3    6   10   22   24   33   37
      Total Time:  1:24:36.57
         Average:    16:55.32
   2 Lewisburg Area               99    1    8   26   28   36   42  116
      Total Time:  1:25:37.77
         Average:    17:07.56
   3 North Allegheny             127   13   16   25   30   43   56   59
      Total Time:  1:27:17.46
         Average:    17:27.50
	....Event 4  Boys 5k Run CC Blue
   4 Baldwin                     163    7   31   38   39   48   68  105
      Total Time:  1:28:30.98
         Average:    17:42.20
   5 Abington Heights            258   19   34   65   67   73   90  121
      Total Time:  1:30:40.28
         Average:    18:08.06
   6 North East                  262   40   47   51   60   64   69   75
      Total Time:  1:31:13.64
         Average:    18:14.73
   7 Aquinas Institute           266    5   29   49   74  109  110  123
      Total Time:  1:30:38.35
         Average:    18:07.67
   8 Central Catholic PA         269   12   50   57   63   87   89  106
      Total Time:  1:30:51.93
         Average:    18:10.39
   9 Hazleton Area               276   11   23   70   81   91  102  108
      Total Time:  1:30:41.71
         Average:    18:08.35
  10 Greater Latrobe             286   15   52   66   76   77   79   84
      Total Time:  1:31:11.05
         Average:    18:14.21
  11 Penns Valley                348    9   61   80   83  115  126  146
      Total Time:  1:32:29.69
         Average:    18:29.94
  12 Indian Valley               354   41   53   71   78  111  118  153
      Total Time:  1:33:08.85
         Average:    18:37.77
  13 Morgantown (Wv)             402   62   72   85   88   95   97   98
      Total Time:  1:33:53.05
         Average:    18:46.61
  14 Bishop McDevitt             406   21   46  107  112  120  151  165
      Total Time:  1:34:16.87
         Average:    18:51.38
  15 Hempfield Area              427   44   82   86   96  119  130  131
      Total Time:  1:34:35.29
         Average:    18:55.06
  16 Clearfield                  434   14   92   93  113  122  145  159
      Total Time:  1:34:31.98
         Average:    18:54.40
  17 Harbor Creek                445    2   55  103  127  158  161  168
      Total Time:  1:34:43.32
         Average:    18:56.67
  18 Elk County Catholic         454   35   94  100  101  124  137  140
      Total Time:  1:35:18.59
         Average:    19:03.72
  19 Bay Shore                   479   32   45  104  141  157  162  171
      Total Time:  1:36:28.96
         Average:    19:17.80
  20 Elk Lake                    479    4   20  125  164  166
      Total Time:  1:37:03.87
         Average:    19:24.78
  21 North West Area             504   17   27  138  152  170  172
      Total Time:  1:39:07.15
         Average:    19:49.43
	....Event 4  Boys 5k Run CC Blue
  22 Dallas                      561   54  117  128  129  133  136  142
      Total Time:  1:37:52.21
         Average:    19:34.45
  23 Chichester                  572   18  114  143  147  150  155  169
      Total Time:  1:38:24.99
         Average:    19:41.00
  24 Bloomsburg                  627   58  134  135  144  156  163  167
      Total Time:  1:40:02.83
         Average:    20:00.57
  25 Lewistown                   667   99  132  139  148  149  154  160
      Total Time:  1:40:50.97
         Average:    20:10.20


	Event 3  Boys 5k Run CC White
==================================================================================
    Name                    Year School                Avg Mile     Finals  Points
==================================================================================
  1 Mock, Dave                12 Westmont Hilltop        5:12.0   16:09.31
  2 Connolly, Mike            12 Strongsville (Oh)       5:16.4   16:22.97    1
  3 Dennish, Matt             12 Red Lion Area           5:17.6   16:26.59    2
  4 Thompson, Steve           11 Shikellamy              5:19.5   16:32.47    3
  5 Moore, Shawn              12 Twin Valley             5:22.5   16:41.85    4
  6 Bailey, Travis            11 Red Lion Area           5:24.5   16:47.93    5
  7 Roehrig, Matt             12 Wyalusing Valley        5:25.9   16:52.54    6
  8 Winterhalter, Andrew      11 Wilson                  5:26.2   16:53.31    7
  9 Kaiser, Adam                 Cathedral Prep          5:26.7   16:54.77    8
 10 Snyder, Mike              12 West Chester East       5:28.2   16:59.57    9
 11 Magyar, Marcus            12 Wyoming Area            5:29.3   17:02.92   10
 12 Carnes, Curtis            11 Williamsport Area       5:29.9   17:04.95   11
 13 Kareis, A.J.              10 Red Lion Area           5:30.7   17:07.24   12
 14 DiLuzio, Eric                Cathedral Prep          5:32.7   17:13.63   13
 15 Deibler, Jentre           12 Shikellamy              5:33.1   17:14.70   14
 16 Lyon, Jeff                12 Walt Whitman            5:33.4   17:15.70   15
 17 Holmes, Patrick           12 Scranton Prep           5:33.9   17:17.34   16
 18 Kopec, Ed                 12 Wyoming Valley West     5:34.5   17:19.09   17
 19 Handelman, Mark           11 Walt Whitman            5:36.2   17:24.39   18
 20 Manbeck, Nate             12 Tulpehocken             5:36.7   17:25.98   19
 21 Caputo, Andy              11 Strongsville (Oh)       5:37.8   17:29.49   20
 22 Smith, Jon                12 Waverly (Ny)            5:38.6   17:31.75   21
 23 Gough, Ian                10 West Chester East       5:38.7   17:32.19   22
 24 Greco, Patrick            11 Scranton Prep           5:39.2   17:33.73   23
 25 Stockholm, Adam           12 Tulpehocken             5:39.4   17:34.37   24
 26 Ramsey, Joe               12 Shikellamy              5:40.7   17:38.28   25
 27 Stockley, Jimmy           12 Twin Valley             5:41.2   17:39.97   26
 28 Baum, Geoffrey            12 Red Lion Area           5:41.5   17:40.76   27
 29 Simonetti, Matt           12 Twin Valley             5:42.6   17:44.36   28
 30 Rollison, Alex            12 Scranton Prep           5:42.8   17:44.86   29
 31 Jachowski, Nick              Wooten                  5:43.3   17:46.31
 32 Thoman, Andy              11 Strongsville (Oh)       5:43.9   17:48.25   30
 33 Doherty, Jack             10 Scranton Prep           5:44.1   17:48.88   31
 34 Trieber, Josh             10 Strongsville (Oh)       5:44.4   17:49.85   32
 35 Czerwinski, Jason            Cathedral Prep          5:44.9   17:51.58   33
 36 Siegfried, David          11 Tulpehocken             5:45.4   17:53.03   34
 37 Delaplaine, David         12 Walt Whitman            5:45.8   17:54.16   35
 38 Faerber, Kyle             10 Strongsville (Oh)       5:46.1   17:55.17   36
 39 Hoberg, Danny             10 Twin Valley             5:47.0   17:58.06   37
 40 Zimmerman, Matt           11 South Western           5:47.2   17:58.71   38
 41 Ketterer, Drew            11 Tulpehocken             5:47.5   17:59.66   39
 42 Rachow, Pat               09 Strongsville (Oh)       5:48.3   18:01.93   40
 43 Overman, Mike             10 Wilson                  5:48.7   18:03.26   41
 44 DeVar, Frank              10 West Potomac            5:48.9   18:03.75   42
 45 Clark, Dan                11 West Branch Area        5:49.1   18:04.34   43
 46 J R, Johnson              12 State College           5:49.2   18:04.79   44
 47 Rogers, David             11 West Chester East       5:49.4   18:05.39   45
 48 Snyder, Kevin             10 Red Lion Area           5:49.8   18:06.71   46
 49 Caputo, John              09 Strongsville (Oh)       5:50.2   18:07.85   47
 50 John, Phil                12 West Potomac            5:50.3   18:08.28   48
 51 Jared, Bender             12 State College           5:50.5   18:08.92   49
	....Event 3  Boys 5k Run CC White
 52 Ferretti, Andrew          10 Wilson                  5:50.7   18:09.31   50
 53 Dolan, Darin              12 Waverly (Ny)            5:50.8   18:09.61   51
 54 Templin, Mike             12 Strongsville (Oh)       5:50.8   18:09.87
 55 Griffin, Tim              11 Strongsville (Oh)       5:50.9   18:10.20
 56 Paneghetti, Charles          Cathedral Prep          5:51.0   18:10.51   52
 57 Robson, Brian                Cathedral Prep          5:51.4   18:11.53   53
 58 Matt, Kisenwether         09 State College           5:52.5   18:15.02   54
 59 Read, Corey               11 Tunkhannock Area        5:52.7   18:15.69   55
 60 Meier, Jared              09 Tulpehocken             5:52.9   18:16.23   56
 61 Kulway, James             11 Strongsville (Oh)       5:53.4   18:17.95
 62 Cognetti, Matt            11 Scranton Prep           5:53.6   18:18.38   57
 63 Gray, Tyler               10 West Potomac            5:54.1   18:19.90   58
 64 Peter, Crowe              12 State College           5:54.2   18:20.40   59
 65 Moore, Jimmy              10 Twin Valley             5:54.5   18:21.13   60
 66 Yost, Stew                11 Tulpehocken             5:54.8   18:22.12   61
 67 John, Dan                 10 West Potomac            5:54.9   18:22.52   62
 68 Trama, Luke               09 West Chester East       5:55.3   18:23.66   63
 69 Kelly, Caleb              11 Williamsport Area       5:55.5   18:24.28   64
 70 Tyler, Hall               12 State College           5:55.6   18:24.59   65
 71 Matt, Smith               12 State College           5:55.7   18:24.89   66
 72 Alexander, Brian          11 Walt Whitman            5:55.8   18:25.20   67
 73 Hawkins, Brent            11 West Potomac            5:56.3   18:26.85   68
 74 Hughes, Eric              10 Waverly (Ny)            5:56.5   18:27.61   69
 75 Rick, Koubek              09 State College           5:56.9   18:28.62   70
 76 Martin, Josh              10 Walt Whitman            5:57.0   18:29.04   71
 77 Gernsheimer, Graham       09 Tulpehocken             5:57.2   18:29.69   72
 78 Fritz, Ben                12 Wilson                  5:57.3   18:30.07   73
 79 Bredbenner, Kyle          11 Tulpehocken             5:57.6   18:31.02
 80 Hildebrand, Andy          11 Tunkhannock Area        5:57.9   18:31.88   74
 81 Tookmanian, Jaryd         12 West Chester East       5:58.0   18:32.19   75
 82 Hills, Kyle               11 Wilson                  5:58.1   18:32.55   76
 83 Sorcek, Brian             09 Strongsville (Oh)       5:58.2   18:32.88
 84 Puusalu, Jacob            11 Waverly (Ny)            5:58.3   18:33.15   77
 85 Bob, Spence               12 Springfield - DelCo     5:58.6   18:33.85   78
 86 Trama, Scott              09 West Chester East       5:58.9   18:34.83   79
 87 Shultz, Ben               12 Tulpehocken             5:59.0   18:35.29
 88 Perry, Joe                11 Wyoming Area            6:00.4   18:39.57   80
 89 Rohrbaugh, Chris          12 South Western           6:00.6   18:40.23   81
 90 Redcay, Matt              11 Wilson                  6:00.7   18:40.55   82
 91 Oleszewski, Burke         11 Walt Whitman            6:00.9   18:41.02   83
 92 Booth, Alex               11 Walt Whitman            6:01.0   18:41.34   84
 93 Fowler, Josh              11 Twin Valley             6:01.2   18:41.97   85
 94 Corcoran, Brendan         12 West Potomac            6:01.7   18:43.55   86
 95 Flynn, Patrick            11 Scranton Prep           6:03.0   18:47.79   87
 96 Van Jura, Matt            12 Strongsville (Oh)       6:03.1   18:48.13
 97 Van Oudenaren, Dan        12 Walt Whitman            6:03.3   18:48.47
 98 Kalivoda, Kevin              Cathedral Prep          6:03.6   18:49.55   88
 99 Coughlin, Dan                Cathedral Prep          6:04.1   18:51.15   89
100 Pragger, Jesse            12 Walt Whitman            6:04.4   18:51.94
101 Zangari, Carmen           11 Shikellamy              6:04.8   18:53.17   90
102 Macklin, Drew             11 West Potomac            6:05.1   18:54.19   91
103 Bross, Adam               09 Tulpehocken             6:05.3   18:54.79
104 Roberts, Stephen          12 Seneca                  6:05.6   18:55.75   92
105 Paulhamus, Marc           10 Williamsport Area       6:06.6   18:58.81   93
	....Event 3  Boys 5k Run CC White
106 Totleben, Dan                Cathedral Prep          6:06.7   18:59.24
107 Weidner, James            12 Tunkhannock Area        6:07.1   19:00.55   94
108 Orshal, Jeremy            11 Waverly (Ny)            6:07.3   19:01.03   95
109 Emenheiser, Jacob         11 Red Lion Area           6:07.4   19:01.47   96
110 Koval, Mark               11 Scranton Prep           6:07.7   19:02.15   97
111 Wes, Hall                 10 State College           6:08.4   19:04.58
112 Barbeau, Jim              11 West Chester East       6:08.8   19:05.70   98
113 Konzman, Brian            12 Scranton Prep           6:09.1   19:06.49
114 Matt, Lanagan             09 State College           6:09.2   19:06.99
115 Hawthorne, Steve          10 Waverly (Ny)            6:09.5   19:07.82   99
116 Lacovich, Dan                Cathedral Prep          6:09.7   19:08.52
117 Sherman, Brad             11 Waverly (Ny)            6:10.0   19:09.33  100
118 Gair, Frank               12 Williamsport Area       6:10.3   19:10.31  101
119 Burns, Robert             11 Scranton Prep           6:10.4   19:10.75
120 Rigg, Jason               11 Twin Valley             6:11.0   19:12.50  102
121 Bickhart, Nick            11 Shikellamy              6:11.4   19:13.89  103
122 T J, Rodgers              11 State College           6:12.0   19:15.65
123 Wallace, Brian            12 West Chester East       6:12.9   19:18.49
124 Andrew, Grim              11 State College           6:14.6   19:23.73
125 Puusalu, Mike             10 Waverly (Ny)            6:14.7   19:24.13
126 Bower, Brian              09 Tulpehocken             6:15.1   19:25.14
127 Oriko, Joe                10 West Chester East       6:15.2   19:25.61
128 Butterworth, Jeff         10 West Chester East       6:15.6   19:26.68
129 Slusser, Adam             12 South Western           6:16.0   19:27.93  104
130 Bill, Quinn               12 Springfield - DelCo     6:16.2   19:28.59  105
131 Eddy, Shawn               11 Waverly (Ny)            6:17.0   19:31.07
132 Hume, Chad                10 Twin Valley             6:17.7   19:33.28
133 Gallo, Dan                10 Wilson                  6:17.9   19:34.03  106
134 Walker, Brendan           10 Scranton Prep           6:18.1   19:34.44
135 Leitzel, Kurt             10 Shikellamy              6:18.2   19:34.80  107
136 Noecker, David            11 Tulpehocken             6:18.3   19:35.17
137 Dan, Greenberg            11 State College           6:18.7   19:36.42
138 Desobry, Joey             10 Walt Whitman            6:19.5   19:38.85
139 Azpiazu, Aaron            11 Wyalusing Valley        6:20.5   19:41.94  108
140 Ryan, Feehry              09 Springfield - DelCo     6:22.4   19:47.90  109
141 Talen, Devrin             12 Walt Whitman            6:22.9   19:49.61
142 Smith, Pat                   Cathedral Prep          6:23.5   19:51.27
143 Burns, Matt               10 Scranton Prep           6:23.8   19:52.40
144 Ovalle, Juan              12 Scranton Prep           6:24.1   19:53.19
145 Coble, Sean               11 West Branch Area        6:24.4   19:54.15  110
146 Dugan, Conner             10 Sayre                   6:24.7   19:55.21
147 Carroll, Conor            11 Wilson                  6:24.9   19:55.69
148 Lehman, Matt              12 Shikellamy              6:25.1   19:56.36  111
149 Gonzalez, Chris           11 Williamsport Area       6:25.5   19:57.57  112
150 Stevens, Clay             11 Wyalusing Valley        6:25.6   19:57.91  113
151 Gormont, Brian            12 West Branch Area        6:25.7   19:58.25  114
152 Rutt, Tyler               12 Wilson                  6:25.8   19:58.64
153 Schrum, Caleb             10 South Western           6:26.0   19:59.02  115
154 Chris, McCusker           11 Springfield - DelCo     6:27.4   20:03.61  116
155 Howard, Derek             10 Wyalusing Valley        6:27.7   20:04.25  117
156 Adzema, Charles           12 Wyoming Valley West     6:28.1   20:05.72  118
157 Bonsall, Pete             10 Wilson                  6:28.8   20:07.69
158 Ireson, Josh              10 West Chester East       6:29.0   20:08.52
159 Stephens, Grant           11 Red Lion Area           6:30.0   20:11.68  119
	....Event 3  Boys 5k Run CC White
160 Voelker, Jeremy           11 Sayre                   6:30.3   20:12.50
161 Keagel, Mark              10 Red Lion Area           6:31.1   20:15.12
162 Mummert, Tristan          09 Red Lion Area           6:31.6   20:16.59
163 Smith-Gary, Grant         09 Wyalusing Valley        6:32.4   20:19.08  120
164 Shoaf, Jamie              09 West Chester East       6:32.9   20:20.43
165 John, McMenamin           12 Springfield - DelCo     6:33.2   20:21.43  121
166 McNamara, Andy            11 Waverly (Ny)            6:33.3   20:21.90
167 Gilkinson, Stephen        12 Seneca                  6:33.4   20:22.26  122
168 Snavely, Zach             11 Wyalusing Valley        6:33.6   20:22.62  123
169 Hughes, Tom               12 Wyalusing Valley        6:34.1   20:24.29  124
170 Friedman, Zach            09 Walt Whitman            6:35.7   20:29.19
171 Cole, Ryan                10 Seneca                  6:36.3   20:31.16  125
172 Ely, Chad                 11 Wyalusing Valley        6:38.4   20:37.64
173 Ilnicki, Josh             12 Sayre                   6:38.8   20:39.00
174 Woods, Kevin              10 Seneca                  6:39.0   20:39.56  126
175 Yanovitch, Michael        09 South Western           6:41.9   20:48.44  127
176 Culver, Nate              10 Waverly (Ny)            6:43.8   20:54.53
177 Miller, Derek             09 South Western           6:45.7   21:00.32  128
178 Moser, Cody               11 Shikellamy              6:46.4   21:02.44
179 Arnold, Alex              09 South Western           6:46.9   21:04.04  129
180 Dietrich, Josh            09 South Western           6:48.8   21:09.92
181 Wang, Pei                 11 Wilson                  6:49.7   21:12.60
182 Borton, Karl              12 Wyoming Valley West     6:50.4   21:14.91  130
183 Goble, Ryan               11 Tunkhannock Area        6:52.1   21:20.29  131
184 Baird, Kyle               10 Waverly (Ny)            6:52.3   21:20.87
185 Woods, Kyle               12 Seneca                  6:53.8   21:25.42  132
186 Dunkleberger, Leif        09 Shikellamy              6:57.3   21:36.40
187 Hahn, Frank               10 West Branch Area        6:57.6   21:37.27  133
188 Paneghetti, Tom              Cathedral Prep          6:57.7   21:37.75
189 Wisinski, Jeff               Cathedral Prep          6:58.0   21:38.49
190 Davis, David              12 Wyoming Valley West     6:58.1   21:38.89  134
191 Stroka, Michael           11 Tunkhannock Area        7:02.4   21:52.34  135
192 Keiser, Jacob             09 Williamsport Area       7:03.4   21:55.36  136
193 Wonder, Cory              11 South Western           7:06.8   22:05.78
194 Mleczko, Jeff             11 Red Lion Area           7:07.0   22:06.44
195 Christensen, Bryan        10 West Branch Area        7:08.2   22:10.38  137
196 Bell, Ian                 09 Shikellamy              7:09.6   22:14.43
197 Krause, Brandon           11 West Branch Area        7:10.6   22:17.84  138
198 Buckingham, Matthew       10 Tunkhannock Area        7:11.2   22:19.54  139
199 Bisko, Nik                11 West Branch Area        7:15.0   22:31.44  140
200 Barnhart, Jackson         09 South Western           7:17.2   22:38.21
201 Yatchik, Justin           12 West Branch Area        7:18.9   22:43.38
202 Ickiewicz, Joe            12 Seneca                  7:20.6   22:48.77  141
203 Roehrig, Patrick          11 Wyalusing Valley        7:22.7   22:55.18
204 Reichart, Brett           12 South Western           7:22.9   22:55.92
205 Stump, Kevin              12 Wilson                  7:24.6   23:01.16
206 Spak, Richard             11 Wyoming Area            7:25.2   23:03.19  142
207 Kenny, Robert             11 Wyoming Area            7:27.2   23:09.13  143
208 Trey, Twigg               09 Sayre                   7:27.8   23:11.09
209 Coble, Paul               11 West Branch Area        7:28.1   23:12.17
210 Loner, Sean               10 Williamsport Area       7:34.3   23:31.17  144
211 Miller, Matt              09 Wyalusing Valley        7:35.4   23:34.61
212 Duliba, Robert            10 Wyoming Area            7:48.1   24:14.35  145
213 Wade, Spencer             10 Williamsport Area       7:55.3   24:36.66
	....Event 3  Boys 5k Run CC White
214 Baumgardner, Kyle         10 West Branch Area        7:58.0   24:44.98
215 Calabrese, Sam            09 Wyoming Area            8:08.7   25:18.14  146
216 Rozelle, Andrew           11 Wyoming Area            8:11.6   25:27.30  147
217 Tejani, Viral             12 Wyoming Valley West     8:36.0   26:43.10  148

                                   Team Scores
=================================================================================
Rank Team                      Total    1    2    3    4    5   *6   *7   *8   *9
=================================================================================
   1 Red Lion Area                92    2    5   12   27   46   96  119
      Total Time:  1:26:09.23
         Average:    17:13.85
   2 Strongsville (Oh)           119    1   20   30   32   36   40   47
      Total Time:  1:27:25.73
         Average:    17:29.15
   3 Twin Valley                 155    4   26   28   37   60   85  102
      Total Time:  1:28:25.37
         Average:    17:41.08
   4 Scranton Prep               156   16   23   29   31   57   87   97
      Total Time:  1:28:43.19
         Average:    17:44.64
   5 Cathedral Prep              159    8   13   33   52   53   88   89
      Total Time:  1:28:22.03
         Average:    17:40.41
   6 Tulpehocken                 172   19   24   34   39   56   61   72
      Total Time:  1:29:09.27
         Average:    17:49.86
   7 Walt Whitman                206   15   18   35   67   71   83   84
      Total Time:  1:29:28.49
         Average:    17:53.70
   8 West Chester East           214    9   22   45   63   75   79   98
      Total Time:  1:29:33.00
         Average:    17:54.60
   9 Shikellamy                  235    3   14   25   90  103  107  111
      Total Time:  1:29:32.51
         Average:    17:54.51
  10 Wilson                      247    7   41   50   73   76   82  106
      Total Time:  1:30:08.50
         Average:    18:01.70
  11 State College               271   44   49   54   59   65   66   70
      Total Time:  1:31:13.72
         Average:    18:14.75
  12 West Potomac                278   42   48   58   62   68   86   91
      Total Time:  1:31:21.30
         Average:    18:16.26
  13 Waverly (Ny)                313   21   51   69   77   95   99  100
      Total Time:  1:31:43.15
         Average:    18:20.63
	....Event 3  Boys 5k Run CC White
  14 Williamsport Area           381   11   64   93  101  112  136  144
      Total Time:  1:33:35.92
         Average:    18:43.19
  15 Wyalusing Valley            464    6  108  113  117  120  123  124
      Total Time:  1:36:55.72
         Average:    19:23.15
  16 South Western               465   38   81  104  115  127  128  129
      Total Time:  1:36:54.33
         Average:    19:22.87
  17 Tunkhannock Area            489   55   74   94  131  135  139
      Total Time:  1:39:00.75
         Average:    19:48.15
  18 Wyoming Area                520   10   80  142  143  145  146  147
      Total Time:  1:46:09.16
         Average:    21:13.84
  19 Springfield - DelCo         529   78  105  109  116  121
      Total Time:  1:38:15.38
         Average:    19:39.08
  20 West Branch Area            537   43  110  114  133  137  138  140
      Total Time:  1:41:44.39
         Average:    20:20.88
  21 Wyoming Valley West         547   17  118  130  134  148
      Total Time:  1:47:01.71
         Average:    21:24.35
  22 Seneca                      597   92  122  125  126  132  141
      Total Time:  1:41:54.15
         Average:    20:22.83



	Event 2  Men 5.2 Mile Run CC
==================================================================================
    Name                    Year School                Avg Mile     Finals  Points
==================================================================================
  1 Mazzocco, Dan             SO P S U                   5:00.4   26:01.95    1
  2 Gleason, Ryan             SR Susquehanna             5:03.5   26:17.85    2
  3 Stallings, Mark              Unattached              5:05.8   26:29.78
  4 Pool, Kevin               JR Allegheny               5:06.2   26:31.94    3
  5 Foster, Christopher       JR P S U                   5:06.8   26:34.90    4
  6 Sanko, Steve              JR Elizabethtow            5:08.9   26:45.89    5
  7 Bender, Ryan              JR Duquesne                5:08.9   26:46.23    6
  8 Pruitt, Christopher       SR P S U                   5:09.5   26:49.42    7
  9 Moceri, Joel              JR P S U                   5:09.6   26:49.95    8
 10 Buzek, Nick               JR Youngstown St.          5:10.0   26:51.95    9
 11 Cavanaugh, Shawn          SO P S U                   5:10.9   26:56.33   10
 12 Michaelis, Kurt           SR Youngstown St.          5:11.2   26:57.87   11
 13 Orcena, Anthony              Youngstown St.          5:11.4   26:58.86   12
 14 Cummings, Chris           FR Mansfield               5:12.1   27:02.46   13
 15 End, Nick                 SO Carnegie Mellon         5:12.5   27:04.93   14
 16 Petrick, Ryan             SO Youngstown St.          5:13.0   27:07.48   15
 17 Rockwell, Matt            JR Elizabethtow            5:13.1   27:08.14   16
 18 Wooten, Josh              JR Mansfield               5:13.3   27:09.15   17
 19 Conroy, Jeff              JR Allegheny               5:14.5   27:14.96   18
 20 Meurer, Matt              SR Carnegie Mellon         5:14.8   27:16.78   19
 21 Helfrick, Dan             SO Shippensburg            5:15.2   27:18.59   20
 22 Goldberg, Benjamin        SR P S U                   5:15.5   27:20.37   21
 23 Durianick, David          SR Clarion                 5:15.6   27:20.93   22
 24 Berseth, Kyle             JR P S U                   5:15.7   27:21.59   23
 25 Deichert, Daniel          FR P S U                   5:15.8   27:22.11
 26 Dosch, Justin             JR Bloomsburg U            5:15.9   27:22.55   24
 27 Wetzel, Greg              SO Elizabethtow            5:16.1   27:23.58   25
 28 Robinette, Paul           SR Youngstown St.          5:16.3   27:24.43   26
 29 Rossi, Mike                  Carnegie Mellon         5:16.7   27:26.72   27
 30 Lincoln, Matthew          SO P S U                   5:16.8   27:27.40
 31 Somers, John              SO Shippensburg            5:17.0   27:27.94   28
 32 Robertson, Eric           FR Duquesne                5:17.1   27:28.74   29
 33 Thomas, Dustin            JR Califonia - PA          5:17.4   27:30.34   30
 34 Malinko, Gary             SO Duquesne                5:17.5   27:30.66   31
 35 Munro, Scott              SR P S U                   5:17.9   27:33.13
 36 Dorman, Zack              SO Duquesne                5:18.0   27:33.65   32
 37 Shepherd, Justin          FR Bloomsburg U            5:18.2   27:34.22   33
 38 Riehm, Jeremy             JR Youngstown St.          5:18.2   27:34.49   34
 39 Borrelli, Kevin           SO Duquesne                5:18.3   27:35.10   35
 40 Teeter, Steven            SR Califonia - PA          5:18.9   27:38.24   36
 41 Herdman, Bryan            SO Duquesne                5:19.0   27:38.69   37
 42 Irrer, Dana               SO Carnegie Mellon         5:19.1   27:39.09   38
 43 Mulcahy, Sean             SR Elizabethtow            5:19.2   27:39.55   39
 44 Walker, Tim               SR P S U                   5:19.3   27:40.11
 45 Moyer, Steve              JR Duquesne                5:19.9   27:43.11   40
 46 Carrier, Chris            SO Allegheny               5:20.1   27:44.16   41
 47 Gruchacz, Keith              Kutztown                5:20.5   27:46.41   42
 48 McDonald, Dorian          SO P S U                   5:21.0   27:49.19
 49 Fisher, Patrick           SR Carnegie Mellon         5:21.1   27:49.29   43
 50 Horvat, Chris             FR Duquesne                5:21.2   27:49.82
 51 Carroll, Chris            JR Carnegie Mellon         5:21.2   27:50.13   44
	....Event 2  Men 5.2 Mile Run CC
 52 Brazunas, Eamon           JR Unattached              5:21.3   27:50.68
 53 LaFergola, Richard        FR P S U                   5:21.5   27:51.34
 54 Terry, Chuck              JR Suny Cortland           5:21.6   27:51.99   45
 55 Horton, Mark              FR P S U                   5:22.4   27:56.02
 56 Ganey, Gerard                Kutztown                5:22.4   27:56.52   46
 57 Hine, Chris               JR Youngstown St.          5:22.6   27:57.15   47
 58 Smith, Joel                  Kutztown                5:22.7   27:57.60   48
 59 Markowitz, Jarod          SR Carnegie Mellon         5:22.7   27:58.03   49
 60 Williams, Sean            SO Clarion                 5:22.8   27:58.38   50
 61 Holmes, Steve             SR Unattached              5:23.0   27:59.61
 62 Woodard, Curtis           JR Bloomsburg U            5:23.2   28:00.50   51
 63 Coffey, Ethan             JR Carnegie Mellon         5:23.9   28:04.10
 64 Deibler, Jadrien          SO Susquehanna             5:24.2   28:05.42   52
 65 Miranda, Jose             JR Elizabethtow            5:24.6   28:07.55   53
 66 Paullin, Matt             JR Youngstown St.          5:25.0   28:09.78
 67 Hardenbrook, Kyle         JR Shippensburg            5:25.1   28:10.31   54
 68 Woodruff, Justin          FR Shippensburg            5:25.2   28:10.92   55
 69 Rogus, Brent              FR Duquesne                5:25.3   28:11.51
 70 Erny, Dan                 FR Unattached              5:25.8   28:13.83
 71 Wu, Tim                   JR Duquesne                5:26.1   28:15.34
 72 Wolfgang, Eric            SR Bloomsburg U            5:26.5   28:17.85   56
 73 Williams, Chris           JR Elizabethtow            5:28.2   28:26.33   57
 74 Cartwright, Shane         SO Susquehanna             5:28.5   28:28.19   58
 75 Moore, Nate               JR Elizabethtow            5:28.6   28:28.61   59
 76 Snyder, Kyle              FR Susquehanna             5:28.9   28:29.97   60
 77 Mourer, Ben               FR Allegheny               5:29.1   28:30.96   61
 78 Boyle, Dan                FR Unattached              5:29.2   28:31.39
 79 Pryde, Allen              FR Shippensburg            5:29.2   28:31.77   62
 80 Carnes, Charles           FR Bloomsburg U            5:29.3   28:32.30   63
 81 Palmer, Brandon           JR Bloomsburg U            5:29.8   28:34.75   64
 82 Bridenbaugh, Mike         FR Carnegie Mellon         5:29.9   28:35.12
 83 Lobianco, Stephen         FR Shippensburg            5:29.9   28:35.52   65
 84 Donovan, Patrick          FR Elizabethtow            5:30.5   28:38.57
 85 Joslyn, C Fred            SO Suny Cortland           5:30.9   28:40.51   66
 86 Washousky, David          JR Allegheny               5:31.0   28:40.89   67
 87 Tidey, Dave                  Kutztown                5:31.2   28:41.82   68
 88 Landis, Brent             FR Elizabethtow            5:31.5   28:43.34
 89 Popowicz, Matt            JR Allegheny               5:31.5   28:43.82   69
 90 Otterson, Erinn           JR P S U                   5:31.6   28:44.12
 91 Bresnahan, Dave           FR Elizabethtow            5:31.7   28:44.67
 92 Schaffner, Matt              Youngstown St.          5:32.1   28:46.46
 93 Roth, Andy                SR Unattached              5:32.2   28:47.33
 94 Ives, Jason               FR Elizabethtow            5:32.5   28:48.89
 95 Gardiner, Paul            SO Bloomsburg U            5:32.6   28:49.50   70
 96 New, Steve                FR Duquesne                5:32.8   28:50.19
 97 Beaber, Aaron             JR Carnegie Mellon         5:32.9   28:51.00
 98 Beltz, Ryan               JR Elizabethtow            5:33.3   28:52.79
 99 Espinosa, Mike            JR Bloomsburg U            5:33.8   28:55.45
100 Correll, Rich             SO Mansfield               5:34.2   28:57.78   71
101 Boardman, Ed                 Unattached              5:34.2   28:57.78
102 Mayernik, AJ              SR Clarion                 5:34.2   28:57.78   72
103 Crowley, ED               JR Suny Cortland           5:34.2   28:57.78   73
104 Israel, Ben               FR Mansfield               5:34.2   28:57.78   74
105 Wiegand, Chris            SO Susquehanna             5:34.2   28:57.78   75
	....Event 2  Men 5.2 Mile Run CC
106 Sulai, Ibrahim            SR Allegheny               5:34.2   28:57.78   76
107 Murphy, Patrick           SR Unattached              5:34.2   28:57.78
108 Frankenfield, Dan         FR Shippensburg            5:34.2   28:57.78   77
109 Wilde, Dan                   Kutztown                5:34.2   28:57.78   78
110 Shepardson, Bill          SO Bloomsburg U            5:34.2   28:57.78
111 Ezzi, Dan                 FR Bloomsburg U            5:34.2   28:57.78
112 Horan, Shaun              JR Suny Cortland           5:34.2   28:57.78   79
113 Kerekes, John             JR Califonia - PA          5:34.2   28:57.78   80
114 Hoerger, Chris            SO Unattached              5:34.2   28:57.78
115 Cohen, David              FR Elizabethtow            5:34.2   28:57.78
116 Eisenhuth, Kent              Kutztown                5:34.2   28:57.78   81
117 Hoover, Matt                 Kutztown                5:34.2   28:57.78   82
118 Haughey, Joe                 Kutztown                5:34.2   28:57.78
119 Wagner, Justin            FR Shippensburg            5:34.2   28:57.78
120 Coyne, Pat                   Kutztown                5:34.2   28:57.78
121 Schmidt, Christian        FR Altoona (Psu)           5:34.2   28:57.78   83
122 Neely, David              FR Altoona (Psu)           5:34.2   28:57.78   84
123 McGuire, Ryan             SR Susquehanna             5:34.2   28:57.78   85
124 Weiss, Greg               FR Shippensburg            5:34.2   28:57.78
125 Daniels, Mark             FR Mansfield               5:34.2   28:57.78   86
126 Reeves, Nic               JR Califonia - PA          5:34.2   28:57.78   87
127 Giambra, Dan              FR Shippensburg            5:34.2   28:57.78
128 Patterson, Nick           SO Elizabethtow            5:34.2   28:57.78
129 Luscan, Harry                Kutztown                5:34.2   28:57.78
130 Andresassi, Matt          SO Clarion                 5:34.2   28:57.78   88
131 Scwhab, Paul              FR Clarion                 5:34.2   28:57.78   89
132 Misselwitz, Michael       FR Altoona (Psu)           5:34.2   28:57.78   90
133 Hiller, Brad              FR Elizabethtow            5:34.2   28:57.78
134 Davis, Marc               JR Shippensburg            5:34.2   28:57.78
135 Dozzi, Marco              FR Allegheny               5:34.2   28:57.78
136 DeRusso, Tom              FR Suny Cortland           5:34.2   28:57.78   91
137 Rodems, James             SO Allegheny               5:34.2   28:57.78
138 Berry, Paul               JR Bloomsburg U            5:34.2   28:57.78
139 Crommarty, Dion           FR Bloomsburg U            5:34.2   28:57.78
140 Tierson, Joel             JR Califonia - PA          5:34.2   28:57.78   92
141 Haines, Doug              FR Susquehanna             5:34.2   28:57.78   93
142 Fulton, Kevin             SO Suny Cortland           5:34.2   28:57.78   94
143 Apgar, Jeremy             JR Susquehanna             5:34.2   28:57.78
144 Neely, Aaron              SO Clarion                 5:34.2   28:57.78   95
145 Piper, Heath              SO Califonia - PA          5:34.2   28:57.78   96
146 Densmore, Tom             SR Bloomsburg U            5:34.2   28:57.78
147 Dresser, Christopher      SO Altoona (Psu)           5:34.2   28:57.78   97
148 Flinn, Jeremy             FR Altoona (Psu)           5:34.2   28:57.78   98
149 Donaldson, Kyle           FR Shippensburg            5:34.2   28:57.78
150 Wilson, Ryan              JR Califonia - PA          5:34.2   28:57.78   99
151 Masterone, Paul           FR Clarion                 5:34.2   28:57.78  100
152 Hathorn, Jeff             SO Allegheny               5:34.2   28:57.78
153 Corridoni, Matt           FR Bloomsburg U            5:34.2   28:57.78
154 DeLauter, Ronnie          SO Califonia - PA          5:34.2   28:57.78
155 Palmer, Richard           FR Allegheny               5:34.2   28:57.78
156 Gould, Patrick            FR Altoona (Psu)           5:34.2   28:57.78  101
157 Keefer, Alan              FR Shippensburg            5:34.2   28:57.78
158 South, Jason              FR Clarion                 5:34.2   28:57.78
159 Fenstermacher, Jared      FR Bloomsburg U            5:34.2   28:57.78
	....Event 2  Men 5.2 Mile Run CC
160 Williams, Jim             FR Suny Cortland           5:34.2   28:57.78  102
161 Bennett, Rick             FR Shippensburg            5:34.2   28:57.78
162 Merritts, Richard         FR Altoona (Psu)           5:34.2   28:57.78  103
163 Cypert, Travis            SO Clarion                 5:34.2   28:57.78
164 Pearlman, Sean            FR Shippensburg            5:34.2   28:57.78
165 Bond, Alex                FR Mansfield               5:34.2   28:57.78  104
166 Jordanhazy, Ryan          SO Allegheny               5:34.2   28:57.78
167 Miller, Matt              JR Elizabethtow            5:34.2   28:57.78
168 Kijewski, Mike            FR Unattached              5:34.2   28:57.78
169 Michael, Dan              SO Unattached              5:34.2   28:57.78
170 Losorelli, Anthony        SO Susquehanna             5:34.2   28:57.78
171 Helion, Jeff              FR Suny Cortland           5:34.2   28:57.78
172 Allison, Brandon          FR Altoona (Psu)           5:34.2   28:57.78
173 Higginbotham, Nick        FR Califonia - PA          5:34.2   28:57.78
174 Seiler, Chris             JR Susquehanna             5:34.2   28:57.78
175 Staier, Adam              SO Mansfield               5:34.2   28:57.78  105
176 Norton, Joseph            FR Altoona (Psu)           5:34.2   28:57.78
177 Trapani, Joe              FR Mansfield               5:34.2   28:57.78
178 Shunk, Bryant             FR Altoona (Psu)           5:34.2   28:57.78
179 Fagan, Michael            JR Clarion                 5:34.2   28:57.78
180 Higgins, Michael          FR Altoona (Psu)           5:34.2   28:57.78
181 Keir, Adam                SO Mansfield               5:34.2   28:57.78
182 Alianiello, David         SO Altoona (Psu)           5:34.2   28:57.78
183 Botchie, Keith            FR Altoona (Psu)           5:34.2   28:57.78
184 Jacob, Alan               FR Altoona (Psu)           5:34.2   28:57.78

                                   Team Scores
=================================================================================
Rank Team                      Total    1    2    3    4    5   *6   *7   *8   *9
=================================================================================
   1 P S U                        30    1    4    7    8   10   21   23
      Total Time:  2:13:12.55
         Average:    26:38.51
   2 Youngstown St.               73    9   11   12   15   26   34   47
      Total Time:  2:15:20.59
         Average:    27:04.12
   3 Duquesne                    133    6   29   31   32   35   37   40
      Total Time:  2:16:54.38
         Average:    27:22.88
   4 Elizabethtown College       138    5   16   25   39   53   57   59
      Total Time:  2:17:04.71
         Average:    27:24.95
   5 Carnegie Mellon             141   14   19   27   38   43   44   49
      Total Time:  2:17:16.81
         Average:    27:27.37
   6 Allegheny                   190    3   18   41   61   67   69   76
      Total Time:  2:18:42.91
         Average:    27:44.59
	....Event 2  Men 5.2 Mile Run CC
   7 Shippensburg                219   20   28   54   55   62   65   77
      Total Time:  2:19:39.53
         Average:    27:55.91
   8 Bloomsburg University       227   24   33   51   56   63   64   70
      Total Time:  2:19:47.42
         Average:    27:57.49
   9 Susquehanna                 247    2   52   58   60   75   85   93
      Total Time:  2:20:19.21
         Average:    28:03.85
  10 Mansfield                   261   13   17   71   74   86  104  105
      Total Time:  2:21:04.95
         Average:    28:12.99
  11 Kutztown                    282   42   46   48   68   78   81   82
      Total Time:  2:21:20.13
         Average:    28:16.03
  12 Clarion                     321   22   50   72   88   89   95  100
      Total Time:  2:22:12.65
         Average:    28:26.53
  13 Califonia - PA              325   30   36   80   87   92   96   99
      Total Time:  2:22:01.93
         Average:    28:24.39
  14 Suny Cortland               354   45   66   73   79   91   94  102
      Total Time:  2:23:25.85
         Average:    28:41.17
  15 Altoona (Psu)               452   83   84   90   97   98  101  103
      Total Time:  2:24:48.90
         Average:    28:57.78


Event 1 Women 6k Run CC

==================================================================================
    Name                    Year School                Avg Mile     Finals  Points
==================================================================================
  1 Landreth, Molly           JR P S U                   5:43.3   21:19.67    1
  2 Lenge, Chelsea            JR P S U                   5:50.5   21:46.64    2
  3 Hillard, Katy             SR P S U                   5:50.6   21:46.96    3
  4 Thomas, Maureen           JR P S U                   5:50.7   21:47.19    4
  5 Brauksieck, Tracey        SO P S U                   5:53.3   21:56.95    5
  6 Stevens, Jenny            SO P S U                   5:53.6   21:58.28    6
  7 Johnson, Tara             SR P S U                   5:54.1   21:59.83    7
  8 Matrunick, Kayla          JR P S U                   5:54.2   22:00.31
  9 Davies, Lisa              FR Youngstown St.          5:55.2   22:04.03    8
 10 Kramer, Danielle          SO Bloomsburg U            5:56.6   22:09.38    9
 11 Beck, Anna                SO Clarion                 5:58.1   22:14.76   10
 12 Stewart, Kelly            SR Shippensburg            5:59.2   22:18.91   11
 13 Clark, Lauren             SR P S U                   6:00.6   22:24.13
 14 Schultz, E Betsy          SR Suny Cortland           6:01.0   22:25.79   12
 15 Curran, Kate              JR P S U                   6:01.7   22:28.32
 16 Rohl, Michelle               Unattached              6:03.2   22:33.85
 17 Lare, Molly               FR Kutztown                6:05.0   22:40.81   13
 18 Riden, Jess               SR P S U                   6:05.4   22:42.26
 19 Wale, Michelle            JR P S U                   6:06.7   22:46.83
 20 Scottoline, Lindsay       JR P S U                   6:06.8   22:47.22
 21 Hucko, Carrie             SR Duquesne                6:07.3   22:49.35   14
 22 Flynn, Michelle           JR Duquesne                6:07.5   22:49.99   15
 23 Ciofani, Leigh            JR Allegheny               6:08.1   22:52.35   16
 24 Bacher, Mary              SO Bloomsburg U            6:08.4   22:53.33   17
 25 Kotulka, Karli            JR P S U                   6:08.7   22:54.40
 26 Wojciak, Lindsay          JR Youngstown St.          6:09.3   22:56.67   18
 27 Graham, Elizabeth         SO Duquesne                6:10.7   23:02.06   19
 28 Shouey, Leah              JR Allegheny               6:11.0   23:02.96   20
 29 Ewart, Katy               SO P S U                   6:11.6   23:05.43
 30 Benson, Chelsea           SR Allegheny               6:11.9   23:06.44   21
 31 Pisano, Amanda            SO Bloomsburg U            6:13.4   23:12.10   22
 32 Tucker, Amy               JR Duquesne                6:15.6   23:20.04   23
 33 Glanz, Marielle           FR Youngstown St.          6:15.7   23:20.73   24
 34 Jendre, Kim               FR Youngstown St.          6:15.9   23:21.38   25
 35 Connell, Colleen          JR P S U                   6:16.1   23:22.19
 36 Lambert, Brienna          SO Shippensburg            6:16.5   23:23.35   26
 37 McFadden, Sarah           JR P S U                   6:16.5   23:23.64
 38 Shouey, Lindsey           JR Allegheny               6:16.7   23:24.28   27
 39 Copeland, Maureen         SR Allegheny               6:17.1   23:25.67   28
 40 Terri, Sutherland         FR Bloomsburg U            6:17.3   23:26.64   29
 41 Govern, Lindsey           SO Shippensburg            6:18.5   23:30.93   30
 42 Gerlach, Tara             SO Duquesne                6:18.6   23:31.40   31
 43 Glass, Rashelle           FR Allegheny               6:20.0   23:36.59   32
 44 Gilliland, Megan          JR P S U                   6:20.5   23:38.48
 45 Rodgers, Sarah            JR Clarion                 6:20.6   23:38.95   33
 46 Hayes, Lindsey            SR Allegheny               6:21.9   23:43.60   34
 47 Graham, Scarlett          FR Allegheny               6:22.4   23:45.35
 48 Chadwick, Kelly           FR P S U                   6:22.6   23:46.11

 49 Buchanan, Alison          JR Duquesne                6:22.7   23:46.53   35
 50 Bardy, Andrea             SR Youngstown St.          6:23.0   23:47.81   36
 51 Bounds, Sarah             FR Bloomsburg U            6:24.6   23:53.74   37
	....Event 1  Women 6k Run CC
 52 Capasso, Brianne          SO Suny Cortland           6:25.1   23:55.72   38
 53 Hall, Rachel              FR Mansfield               6:25.7   23:57.99   39
 54 Grant, Amanda             JR Kutztown                6:25.9   23:58.75   40
 55 Peiffer, Erin             SR Kutztown                6:26.4   24:00.26   41
 56 Adams, Niya               SR Kutztown                6:27.2   24:03.35   42
 57 Golightly, Michelle       SR Shippensburg            6:27.4   24:04.11   43
 58 Stearns, Rebecca          SO Duquesne                6:28.1   24:06.92   44
 59 Van Dyke, Shannon         FR P S U                   6:28.3   24:07.52
 60 Bower, Desiree            FR Kutztown                6:28.7   24:08.90   45
 61 Frontz, Lindsay              Youngstown St.          6:29.8   24:13.04   46
 62 Conlon, Katie             SO Bloomsburg U            6:29.9   24:13.40   47
 63 Knupp, Heather            FR Allegheny               6:30.2   24:14.49
 64 Hughes, Kati              SR P S U                   6:30.6   24:15.91
 65 Spence, Jessie            SR Kutztown                6:30.9   24:17.28   48
 66 Patterson, Madonna        FR Kutztown                6:31.1   24:17.78   49
 67 Cheman, Kristen           SR Allegheny               6:31.5   24:19.37
 68 Stefursky, Anne           FR Bloomsburg U            6:32.9   24:24.59   50
 69 Laine, Heather            SR Kutztown                6:33.2   24:25.89
 70 Hause, Karen              FR Bloomsburg U            6:33.7   24:27.83
 71 Roberts, Sarah            SO Allegheny               6:34.2   24:29.42
 72 Harkins, Melissa          JR Clarion                 6:34.3   24:29.87   51
 73 Resovich, Elena           SO Duquesne                6:34.4   24:30.41
 74 Scott, Brianne            SO Duquesne                6:35.9   24:36.03
 75 Bivona, Stephanie         SO Shippensburg            6:36.1   24:36.44   52
 76 Brogen, Angela            FR Suny Cortland           6:36.2   24:36.89   53
 77 Sweet, Rachel             FR Suny Cortland           6:36.4   24:37.58   54
 78 Rice, Hilary              FR Bloomsburg U            6:38.2   24:44.27
 79 Bolduc, Jordan            SR Susquehanna             6:38.6   24:46.01   55
 80 Reed, Joelle              FR Kutztown                6:40.1   24:51.42
 81 Chaudrue, Megan           FR Bloomsburg U            6:40.2   24:51.93
 82 Rumfield, Marcie          SO Bloomsburg U            6:40.7   24:53.69
 83 Standridge, Kristin       FR Bloomsburg U            6:42.7   25:01.11
 84 Billingsby, Jessica       SO Bloomsburg U            6:43.5   25:04.25
 85 Ellis, Evelynn               Pony Express Nvtc       6:43.6   25:04.71   56
 86 Melnick, Annesa           JR Suny Cortland           6:43.8   25:05.13   57
 87 Scialabba, MaryBeth       JR Califonia - PA          6:44.0   25:05.96
 88 Horigan, Hannah           SR Suny Cortland           6:44.3   25:07.04   58
 89 Weller, Kristin           FR Mansfield               6:44.6   25:08.19   59
 90 Wynosky, Meghan           JR Kutztown                6:44.8   25:08.87
 91 Mavrikis, Gina            SO Youngstown St.          6:44.9   25:09.57   60
 92 Maillet, Jacqueline          Pony Express Nvtc       6:45.6   25:12.07   61
 93 Confer, Emilie            FR Susquehanna             6:46.1   25:13.87   62
 94 Snyder, Hillary           FR Califonia - PA          6:46.3   25:14.72
 95 Smith, Mary               JR Clarion                 6:46.4   25:15.13   63
 96 McQuiade, Jamie           SO Shippensburg            6:46.6   25:15.73   64
 97 Burton, Misty             FR Shippensburg            6:47.3   25:18.29   65
 98 Garrity, Deidre           JR Califonia - PA          6:47.4   25:18.81
 99 Phillips, Jenna           FR Mansfield               6:48.2   25:21.71   66
100 Wheatley, Tasha           FR Clarion                 6:48.4   25:22.46   67
101 Lynch, Jessie             SO Suny Cortland           6:49.6   25:26.89   68
102 Reese, Sarah              JR Clarion                 6:50.9   25:31.75   69
103 Stefursky, Lisa           SR Bloomsburg U            6:51.1   25:32.60
104 Jarzab, Katie                Clarion                 6:51.3   25:33.35   70
105 Davanzati, Bethany        JR Kutztown                6:51.7   25:34.89
	....Event 1  Women 6k Run CC
106 Tylenda, Kassi            SR Susquehanna             6:53.0   25:39.47   71
107 Simmons, Autumn           JR Bloomsburg U            6:53.3   25:40.69
108 Spect, Gayle              SR Clarion                 6:54.5   25:45.25
109 Tweed, Heather            FR Shippensburg            6:54.7   25:45.82
110 Schmidt, Dana             SO Shippensburg            6:54.8   25:46.38
111 Kendrick, Amanda          JR Mansfield               6:55.4   25:48.65   72
112 Welker, Christine         SO Shippensburg            6:55.5   25:49.09
113 Sardo, Bridgett              Clarion                 6:57.3   25:55.56
114 Stanford, Theresa         SR Mansfield               6:57.5   25:56.26   73
115 Hughes, Jessica           FR Altoona (Psu)           6:57.6   25:56.70   74
116 Walsh, Bernadette         SO P S U                   6:58.1   25:58.73
117 Giammaria, Marisa         SO Duquesne                6:59.2   26:02.69
118 Boehm, Lauren             SO Duquesne                6:59.9   26:05.17
119 Doyle, Katie                 Pony Express Nvtc       7:00.4   26:07.25   75
120 Tierney, Ashley           SO Mansfield               7:00.7   26:08.20   76
121 Silay, Jessica            FR Altoona (Psu)           7:02.1   26:13.55   77
122 Phillips, Amanda          SR Susquehanna             7:03.1   26:17.32   78
123 Belfield, Caitlin         FR P S U                   7:07.0   26:31.97
124 Rich, Courtney            JR Shippensburg            7:07.4   26:33.43
125 Courage, Abigail          FR Shippensburg            7:07.9   26:35.20
126 Shaffer, Autumn           FR Clarion                 7:08.5   26:37.28
127 Daniels, Ella             FR Bloomsburg U            7:10.4   26:44.32
128 Asciolla, Katrina         FR Shippensburg            7:10.7   26:45.49
129 Czeriwins, Megan          FR Clarion                 7:11.8   26:49.63
130 Chmil, Nadya              FR Susquehanna             7:13.6   26:56.35   79
131 Wendle, Tori              FR Shippensburg            7:15.5   27:03.39
132 Hocker, Candace           JR Shippensburg            7:15.6   27:03.93
133 Treece, Erin              SR Youngstown St.          7:15.8   27:04.52
134 Kowal, Lindsey            SO Youngstown St.          7:16.2   27:05.92
135 Brunelle, Erin            SR Mansfield               7:21.5   27:26.02   80
136 Gasper, Kim                  Pony Express Nvtc       7:22.5   27:29.62   81
137 Abiola, Evelyn               Clarion                 7:22.6   27:30.13
138 Molczan, Aliah            SO Altoona (Psu)           7:22.8   27:30.85   82
139 Breunig, Debbie           SO Youngstown St.          7:23.4   27:32.96
140 Julie, Williams           FR Bloomsburg U            7:24.7   27:37.81
141 Hammond, Lindsey          JR Youngstown St.          7:26.1   27:43.16
142 Pettengill, Jessica       JR Susquehanna             7:31.2   28:02.17   83
143 Hannold, Jacklyn          FR Mansfield               7:33.9   28:12.25
144 Cadwell, Stephanie        SR Mansfield               7:35.9   28:19.62
145 Witmer, Tara              SR Shippensburg            7:37.7   28:26.43
146 Young, Amy                FR Mansfield               7:38.6   28:29.71
147 Kirkpatrick, Kara         FR Clarion                 7:44.3   28:50.90
148 Lentz, Alison             FR Altoona (Psu)           7:46.1   28:57.66   84
149 Milazzo, Christina        SR Altoona (Psu)           7:52.3   29:20.78   85
150 McCardell, Wendy          SO Susquehanna             7:54.4   29:28.42   86
151 George, Monica            JR Altoona (Psu)           8:00.7   29:51.83   87
152 Heasley, Shelley             Pony Express Nvtc       8:11.3   30:31.61   88
153 Gibbs, Christine          FR Altoona (Psu)           8:24.3   31:20.14   89
154 Falzone, Helena           SO Susquehanna             8:26.6   31:28.62
155 Johnson, Kacey            FR Susquehanna             8:26.7   31:29.01
156 Shively, Teri                Pony Express Nvtc      10:17.0   38:20.00   90
157 Swope, Michelle              Pony Express Nvtc      10:18.3   38:25.00   91

	....Event 1  Women 6k Run CC
                                   Team Scores
=================================================================================
Rank Team                      Total    1    2    3    4    5   *6   *7   *8   *9
=================================================================================
   1 P S U                        15    1    2    3    4    5    6    7
      Total Time:  1:48:37.41
         Average:    21:43.49
   2 Duquesne                    102   14   15   19   23   31   35   44
      Total Time:  1:55:32.84
         Average:    23:06.57
   3 Youngstown St.              111    8   18   24   25   36   46   60
      Total Time:  1:55:30.62
         Average:    23:06.13
   4 Allegheny                   112   16   20   21   27   28   32   34
      Total Time:  1:55:51.70
         Average:    23:10.34
   5 Bloomsburg University       114    9   17   22   29   37   47   50
      Total Time:  1:55:35.19
         Average:    23:07.04
   6 Shippensburg                162   11   26   30   43   52   64   65
      Total Time:  1:57:53.74
         Average:    23:34.75
   7 Kutztown                    181   13   40   41   42   45   48   49
      Total Time:  1:58:52.07
         Average:    23:46.42
   8 Suny Cortland               214   12   38   53   54   57   58   68
      Total Time:  2:00:41.11
         Average:    24:08.23
   9 Clarion                     224   10   33   51   63   67   69   70
      Total Time:  2:01:01.17
         Average:    24:12.24
  10 Mansfield                   309   39   59   66   72   73   76   80
      Total Time:  2:06:12.80
         Average:    25:14.56
  11 Susquehanna                 345   55   62   71   78   79   83   86
      Total Time:  2:08:53.02
         Average:    25:46.61
  12 Pony Express Nvtc           361   56   61   75   81   88   90   91
      Total Time:  2:14:25.26
         Average:    26:53.06
  13 Altoona (Psu)               402   74   77   82   84   85   87   89
      Total Time:  2:17:59.54
         Average:    27:35.91