Kathryn Anderson 4:24.04
Anderson alone in the homestretch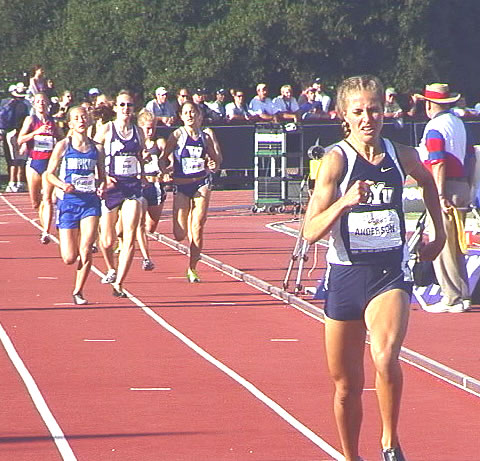 Brigham Young freshman Kathryn Anderson held off the youth movement of a sensational high school underclass trio -- freshman Chantelle Dron NH, sophomore Shannon Bergstedt MN, and junior Kristina Smith AK. Anderson won comfortably in 4:24.04, with Bergstedt 2nd in 4:30.25 at the front of six runners who hit the finish in a pack. Smith was 5th in 4:30.98 and Dron, who ran 2nd much of the way, was 6th in 4:31.16. Starkville MS sr Julia Cathcart finished a fine post season at 7th in 4:32.36 and will now go to France to study for a year before returning to run at William and Mary.
Lap 2 - Anderson leads but is closely pursued by a pack that includes 3 Dron and 4 Bergstedt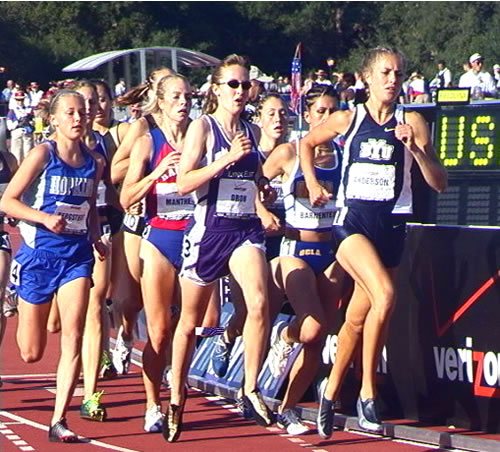 | | | |
| --- | --- | --- |
| | Dron loomed large in the stretch of lap 3 (left) - note Dron and Andersen are sharing lane 1. As they hit the first turn of the bell lap (below), things got very crowded. | After some European style bumping, Dron was unable to get the lead and Andersen held the rail. |
Women 1500 Meter Run

================================================================

World Junior: W 3:51.34  1997        Yinglai Lang (CHN)

American Jr.: A 4:09.10  1987        Suzy Favor

        Meet: M 4:18.1h  1977        Lynn Jennings

   WJr Qual.: ! 4:24.00

    Name                    Year Team                    Finals

================================================================

Finals

  1 Kathryn Andersen             BYU                    4:24.04

  2 Shannon Bergstedt            Hopkins HS             4:30.25

  3 Brianna Carstensen           Azusa Pacif.           4:30.91

  4 Lindsey Egerdahl             Washington             4:30.93

  5 Kristina Smith               Team Alaska            4:30.98

  6 Chantelle Dron               Lynx Elite             4:31.16

  7 Julia Cathcart               Starkville H           4:32.36

  8 Megan Manthe                 Kansas                 4:33.62

  9 Alejandra Barrientos         UCLA                   4:33.79

 10 Theresa Fath                 Wake Forest            4:35.14

 11 Keira Carlstrom              Oakton HS              4:35.92

 12 Bridget Duffy                St Mary's HS           4:39.86








Prelims
Startling performances by high school undergraduates. Manchester Central NH freshman Chantelle Dron ran with top seed Kathryn Anderson, a freshman at Brigham Young University, to the wire, with Anderson 4:29.02 the fastest qualifier and Dron 4:30.92 second fastest. Anchorage AK junior Kristina Smith continued her fine post-season in third at 4:33.26. In the other section, University of Washington freshman Lindsey Egerdahl 4:33.46 needed the entire distance to catch Hopkins MN sophomore Shannon Bergstedt 4:34.34 late..
| | |
| --- | --- |
| Heat 1 - Andersen leads Maclise and Dron at the bell | Heat 2 - Bergstedt and Carlstrom led until late |







Event 136  Women 1500 Meter Run

================================================================

12 Advance:  Top 3 Each Heat plus Next 6 Best Times

World Junior: W 3:51.34  1997        Yinglai Lang (CHN)

American Jr.: A 4:09.10  1987        Suzy Favor

        Meet: M 4:18.1h  1977        Lynn Jennings

   WJr Qual.: ! 4:24.00

    Name                    Year Team                   Prelims

================================================================

  1 Kathryn Andersen             BYU                    4:29.02Q

  2 Lindsey Egerdahl             Washington             4:33.46Q

  3 Chantelle Dron               Lynx Elite             4:30.92Q

  4 Shannon Bergstedt            Hopkins HS             4:34.34Q

  5 Kristina Smith               Team Alaska            4:33.26Q

  6 Keira Carlstrom              Oakton HS              4:34.76Q

  7 Bridget Duffy                St Mary's HS           4:34.29q

  8 Megan Manthe                 Kansas                 4:34.60q

  9 Theresa Fath                 Wake Forest            4:34.70q

 10 Brianna Carstensen           Azusa Pacif.           4:36.79q

 11 Alejandra Barrientos         UCLA                   4:37.23q

 12 Julia Cathcart               Starkville H           4:37.49q

 13 Cassie Hunt                  N. Putnam HS           4:37.73

 14 Lindsey Maclise              Cal                    4:38.28

 15 Jennifer McPherson           Team Idaho             4:39.01

 16 Amanda Thornberry            Heritage TC            4:39.71

 17 Lauren Graham                Georgetown             4:39.77

 18 Kelly McCarty                Houston                4:39.90

 19 Desiree Davila               Arizona St.            4:40.61

 20 Celeste Tyson                RR McNeil HS           4:41.60

 21 Lindsay Scottoline           Penn State             4:42.67

 22 Caroline Mullen              Bronxville             4:42.78

 23 Rachel Barber                Jenks Amer.            4:43.22

 24 Teresa McWalters             Unattached             4:43.93

 25 Sarah Damen                  Belmont U.             4:45.29

 26 Rachel Nelson                Valparaiso             4:45.85

 27 Jennifer Davis               W. Virginia            4:46.38

 28 Chelsea Lenge                Penn State             4:46.43

 29 Elisabeth Goshu              Unattached             4:46.97

 30 Angela Talarico              CSU-Northrid           4:47.03

 31 Erin Demchko                 Pearl Riv HS           4:47.57

 32 Erin O'Brien                 Wheaton Coll           4:47.88

 33 Angela Pichardo              Unattached             4:57.98

 
USA Junior Nationals Event Index