Boys - Girls - results by Ed Scullion
Bryce Ruiz, Jamestown, 8:35.02 3000m broke Seneca Lassiter's meet record (8:36.38) Friday.
Ruiz doubled in the mile Saturday in 4:18.13 (Brendan Fennell 4:18.34).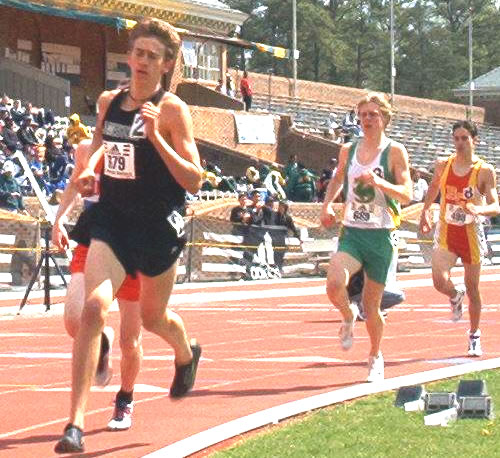 photo by Bert Jacoby

Highlights
by Don Rich, PennTrackXC
Subject: Colonial Relays PA and results
Colonial Relays: Results courtesy of Ed Scullion Timing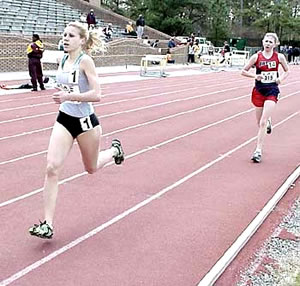 PA Girls: DAY ONE: Angie Saterstad running unattached, conquered a very
strong field in the girls 3000 (photo above by Ed Saterstad)
at the Colonial Relays in Williamsburg, VA. Running a 10:16.34, she beat
NY soph Heather Iatauro of Tri-Valley by three seconds, and PA's Kim
Malcolm of Villa Maria, by almost six. Also in the race was NJ star
Jesse Mizzone of Passaic Valley. Two other PA girls were also victorious
on Day One, as Great Valley's Jen Williams won the High Jump, clearing
5-5 (Megant Burke, State College, T5 5-0); and Denise Tegkowski of
Archbishop Ryan, won the Long Jump, going 18-02.25. Other top 5 finishes
for PA athletes included Cardinal O'Hara's 4x800, 3rd in 9:43.61, and
Great Valley, 4th in 9:49.28. Chrissy Cook of O'Hara, was 3rd in the
Shot Put with a toss of 34-06.75.
DAY TWO: Archbishop Prendergast ran a nationally elite DMR time of
12:42.20 to win by over 11 seconds over Cardinal O'Hara (12:53.69).
Villa Maria was 3rd and Henderson, 4th. PA had success in the shorter
relays, as Archbishop Ryan took the 4x100 in 49.33. O'Hara was 2nd
(49.69), and Great Valley 5th (50.58). Kim Malcolm notched another 3rd,
going 5:10.79 in the Mile. Henderson SR Daina Hunt was 6th in the 100
Hurdles (16.62). After scratches by Ryan, O'Hara and Henderson from the
4x400 finals, the 2nd fastest qualifer from Day One, Great Valley, would
finish 3rd in 4:04.86. Triple Jumper Denise Tegkowski of Ryan, captured
2nd with a leap of 36-01.75.
PA Boys: DAY ONE: Segun Adewumi of State College, was 2nd with his throw
of 49-07 in the Shot Put. Upper Dublin's Nehemiah Leary landed 3rd in
the Long Jump, going 21-11.25 (Great Valley's Galen Rivers-ND). Pat
Clark, a Cedar Crest JR, was 4th in a fast 3000 in 8:50.36. In the Pole
Vault, Brian Walls, State College, cleared 12-6 for 3rd, while Paul Ohm,
Penncrest, was 4th at the same height. O'Hara's boys took 4th in the
4x800 (8:08.20), while Upper Dublin, LaSalle and Great Valley went
6-7-8. In the High Jump, CJ Burman was 4th, clearing 6-2.
DAY TWO: Rivers fared much better in the Triple Jump, taking top honors
with a 44-01.25 effort. Blake Williams of State College was 5th
(41-07.50). Williams' teammate, Mick Rehring, a sophomore, was 2nd in
the Discus with a toss of 132-01.00. Upper Dublin had qualified for the
finals of the 4x400, but scratched, as top PA qualifier O'Hara finished
8th in 3:34.78. Upper Dublin concentrated on putting a big effort into
the DMR and came within two seconds of the win, going 10:35.39. Great
Valley (10:44.57) and Henderson (10:44.94) were 6th and 7th,
respectively. In the 4x100, Penncrest was 4th with their 44.91. Ted
Segal, Great Valley, and Steve Nichols, Penncrest, went 2-3 in the 110
Hurdles (15.37/15.58) in different heats. PA runners were 6-7-8 in the
mile (Joe Francisco, O'Hara 4:31.16/Kyle Barnum, Great Valley, 4:31.25,
Steve Hallinan, O'Hara, 4:33.09).

Boys
 

              40th ANNUAL COLONIAL RELAYS - 4/5/2002 to 4/6/2002               

                       WILLIAM & MARY, WILLIAMSBURG, VA.                       

                                    Results                                    

 

Boys 1 Mile Run High School

=========================================================================

 National HS: @ 3:55.3h  1965        JIM RYUN, EAST, WICHITA, KS               

    Name                    Year School                  Seed     Finals 

=========================================================================

  1 Ruiz, Bryce                  JAMESTOWN            4:15.50    4:18.13  

  2 Fennell, Brendan          JR PEAR RIVER H         4:13.60    4:18.34  

  3 Alizzi, Mark              JR SYOSSET              4:23.30    4:25.85  

  4 Piersol, John             SR MAGGIE WALME         4:19.24    4:26.39  

  5 Sinkowitz, Ken            JR BERGEN CATH          4:24.98    4:29.88  

  6 Francisco, Joe            SR CARDINAL O'H         4:26.04    4:31.16  

  7 Barnum, Kyle              SR GREAT VALLEY         4:29.74    4:31.25  

  8 Hallinan, Steve           SE CARDINAL O'H         4:26.29    4:33.09  

  9 Jarrett, Bryan               MILLS GODWIN         4:30.46    4:34.51  

 10 Davila, Tony              SR JAMESTOWN            4:35.24    4:35.15  

 11 Brickhouse, Tony          JR WALSINGHAM A         4:26.34    4:35.95  

 12 Murphy, Ryan              SO NO. CALVERT          4:25.24    4:39.06  

 13 Pauley, Eric              JR GAITHERSBURG         4:26.24    4:39.52  

 14 Glover, Frank             SR CALVERT HALL         4:23.24    4:39.62  

 15 Ward, Christopher         SO HICKORY HIGH         4:32.24    4:44.19  

 16 Price, Jordan             FR DENBIGH B. C         4:45.24    4:47.33  

 17 Palermo, ED               SR BAY SHORE            4:21.74    4:47.35  

 18 Snyder, Michael           SO WEST CHESTER         4:39.44    4:48.31  

 19 James, Levert             JR OSBOURN PARK         4:40.24    4:49.51  

 20 Smith, Adrian             FR TABB                 4:46.24    4:53.26  

 21 Stitzer, Jordan           JR GREAT VALLEY         4:32.94    4:55.46  

 22 Rice, Donny                  GRAFTON              5:00.24    5:04.57  

 23 Garlow, Bradon               GRAFTON              5:00.24    5:09.09  

 24 Woodruff, Justin          JR WEST CHESTER         4:23.24    5:09.62  

 

Boys 3000 Meter Run High School

=========================================================================

        Meet: * 8:36.38  1995        SENECA LASSITER, LAFAYETTE                

 National HS: @ 8:05.8h  1986        JOHN TRAUTMANN, MONRO-WOODBURY, NJ        

    Name                    Year School                  Seed     Finals 

=========================================================================

  1 Ruiz, Bryce                  JAMESTOWN            8:48.24    8:35.02* 

  2 Keally, Matt              SR OCEAN LAKES          8:45.24    8:40.78  

  3 Piersol, John             SR MAGGIE WALME         8:40.24    8:49.18  

  4 Clark, Pat                JR CEDAR CREST          8:50.24    8:50.36  

  5 Wolak, Matthew               MILLS GODWIN         9:30.14    8:56.97  

  6 Merrick, Mike             JU HENDERSON HS         9:00.24    9:03.11  

  7 Patchak, Bill             SR GREAT VALLEY         8:59.44    9:06.46  

  8 Gravelle, Vince           JR CARDINAL O'H         9:14.00    9:11.39  

  9 McAuliffe, Gene           SR LOYOLA HS            9:02.24    9:12.87  

 10 Panza, Domenic            SR LASALLE C. H         9:11.54    9:19.75  

 11 Ali, Maksudul             SR GAITHERSBURG         9:10.24    9:22.40  

 12 Forbes, Craham            JR COLLEGIATE H         9:50.24    9:24.26  

 13 Kerrigan, Neal            SR GREAT VALLEY         9:11.74    9:30.71  

 14 Price, Jordan             FR DENBIGH B. C         9:19.24    9:31.95  

 15 Cherry-Wood, Bryant          LASALLE OF N                    9:32.02  

 16 Rivera, Carlos               LASALLE OF N                    9:32.09  

 17 Snyder, Michael           SO WEST CHESTER         9:30.24    9:33.87  

 18 Gygi, Daivd               JR LINGANORE HS        10:12.24    9:34.83  

 19 UY, Chad                  JR SYOSSET              9:30.24    9:35.69  

 20 Cahill, Sean              SR XAVIER HS            9:29.74    9:37.91  

 21 Allen, Scott              FR MCDONOGH HS          9:48.24    9:37.99  

 22 Keogh, Timothy            JR FARMING DALE         9:21.04    9:45.86  

 23 Kent, Ryan                SO TABB                10:00.24    9:49.40  

 24 Woodruff, Justin          JR WEST CHESTER         8:59.44    9:58.53  

 25 Williams, Trent           JR YORK HS              9:20.24   10:00.01  

 26 Arena, Anthony            JR OSBOURN PARK         9:22.59   10:13.12  

 

Boys 110 Meter Hurdles High School

=================================================================================

    Name                    Year School                  Seed     Finals  Wind H#

=================================================================================

  1 Callender, Andre          JR SETON HALL P           13.91      14.75  -2.3  1 

  2 Segal, Ted                SR GREAT VALLEY           15.34      15.37  -1.5  2 

  3 Nichols, Steve            SR PENNCREST              14.54      15.58  -2.3  1 

  4 Charles, Joe              SR BERGEN CATH            15.14      15.83  -2.3  1 

  5 Duntzee, Chris            SR UPPER DUBLIN           15.24      16.01  -1.5  2 

  6 DeAngelo, Robert          SR XAVIER HS              15.44      16.04  -1.5  2 

  7 Wharton, Greg             SR HENDERSON HS           15.14      16.07  -1.5  2 

  8 Canaday, Devin            SR JAMESTOWN              14.73      16.12  -2.3  1 

  9 Penneli, George           SO CALVERT HALL           14.94      16.17  -2.3  1 

 10 Burke, Keith              JR SETON HALL P           14.79      16.20  -2.3  1 

 11 Sipe, Dave                SR PENNCREST              15.04      16.23  -2.3  1 

 12 Porter, Dwight               MENCHILLE              14.70      16.36  -2.3  1 

 13 Logan, Omar               SR AMITYVILLE H           15.74      16.36  -0.1  3 

 14 Boneza, Emmanuel          SR STATE COL AR           15.74      16.82  -1.5  2 

 15 Crew, Sintell             SR LAFAYETTE HI           15.14      17.43  -1.5  2 

 16 Gregg, Emmanuel           JR NORFOLK ACAD           16.24      17.47  -0.1  3 

 17 McGlensey, Ryan           SR WEST CHESTER           15.74      17.71  -0.1  3 

 18 Doxey, Bill               JR BAY SHORE              15.94      17.77  -0.1  3 

 19 Morgan, Ian               SO AMITYVILLE H           15.54      18.50  -1.5  2 

 20 Spence, Sanjay            JR WEEQUAHIC HS           15.94      19.62  -0.1  3 

 21 Kitson, Pat               JR XAVIER HS              15.74      20.00  -1.5  2 

 

Boys 4x100 Meter Relay High School

=========================================================================

        Meet: * 41.8h              BLADENSBURG '79 & PLAINFIELD '80            

 National HS: @ 39.76  1998        WYATT, FT. WORTH, TEXAS                     

    School                                            Prelims     Finals 

=========================================================================

Finals

  1 SETON HALL PREP  'A'                                43.88      42.92  

  2 GWYNN PARK HIGH SCHOOL  'A'                         43.68      43.76  

  3 BAY SHORE  'A'                                      44.64      44.57  

  4 PENNCREST HIGH SCHOOL  'A'                          44.74      44.91  

  5 KECOUGHTAN HIGH SCHOOL  'A'                         44.88      44.97  

  6 CALVERT HALL  'A'                                   45.39      45.27  

  7 JAMESTOWN  'A'                                      45.16      45.34  

  8 AMITYVILLE HIGH SCHOOL  'A'                         43.86      49.39  

 

Boys 4x100 Meter Relay High School

============================================================================

Top 8 Advance by Time

        Meet: * 41.8h              BLADENSBURG '79 & PLAINFIELD '80            

 National HS: @ 39.76  1998        WYATT, FT. WORTH, TEXAS                     

    School                                               Seed    Prelims  H#

============================================================================

Preliminaries

  1 GWYNN PARK HIGH SCHOOL  'A'                         43.24      43.68q  3 

  2 AMITYVILLE HIGH SCHOOL  'A'                         42.64      43.86q  2 

  3 SETON HALL PREP  'A'                                42.24      43.88q  1 

  4 BAY SHORE  'A'                                      45.84      44.64q  3 

  5 PENNCREST HIGH SCHOOL  'A'                          43.74      44.74q  1 

  6 KECOUGHTAN HIGH SCHOOL  'A'                         43.72      44.88q  3 

  7 JAMESTOWN  'A'                                      45.14      45.16q  2 

  8 CALVERT HALL  'A'                                   43.74      45.39q  2 

  9 LAFAYETTE HIGH SCHOOL  'A'                          44.14      45.69   2 

 10 UPPER DUBLIN HIGH SCHOOL  'A'                       44.74      45.71   3 

 11 COLLEGIATE HIGH SCHOOL  'A'                         46.24      45.91   1 

 12 FATHER JUDGE HIGH  'A'                              44.64      46.11   3 

 13 WEEQUAHIC HIGH SCHOOL  'A'                          44.04      46.42   1 

 14 CARDINAL  O'HARA  'A'                               44.74      46.74   2 

 15 STATE COLLEGE AREA HS  'A'                          44.94      46.75   1 

 16 HENDERSON HIGH SCHOOL  'A'                          44.74      46.88   1 

 17 BERGEN CATHLOIC  'A'                                46.04      46.98   2 

 18 GRAFTON HIGH SCHOOL  'A'                            49.04      47.73   2 

 19 SYOSSET HIGH SCHOOL  'A'                            46.64      48.42   2 

 20 NORFOLK ACADEMY  'A'                                47.74      48.62   3 

 21 MOORE CATHOLIC  'A'                                 46.24      49.61   1 

 22 FARMING DALE HIGH SCHOOL  'A'                                  49.71   1 

 23 XAIVER HIGH SCHOOL  'A'                             46.74      51.19   3 

 24 MONSIGNOR BONNER  'A'                               45.24    1:00.59   3 

 

Boys 4x400 Meter Relay High School

============================================================================

        Meet: * 3:15.4h  1984        DENBIGH                                   

 National HS: @ 3:07.40  1985        HAWTHORNE, CALIFORNIA                     

    School                                            Prelims     Finals  H#

============================================================================

Finals

  1 BAY SHORE  'A'                                    3:26.19    3:25.22   1 

  2 METUCHEN HIGH SCHOOL  'A'                         3:32.30    3:25.25   2 

  3 LAFAYETTE HIGH SCHOOL  'A'                        3:28.22    3:28.44   1 

  4 TABB HIGH  'A'                                    3:28.36    3:30.92   1 

  5 LINGANORE HIGH SCHOOL  'A'                        3:32.80    3:31.82   2 

  6 AMITYVILLE HIGH SCHOOL  'A'                       3:33.48    3:32.29   2 

  7 SETON HALL PREP  'A'                              3:27.05    3:32.67   1 

  8 CARDINAL  O'HARA  'A'                             3:29.28    3:34.78   1 

  9 BERGEN CATHLOIC  'A'                              3:30.01    3:36.10   2 

 

Boys 4x400 Meter Relay High School

============================================================================

Top 10 Advance by Time

        Meet: * 3:15.4h  1984        DENBIGH                                   

 National HS: @ 3:07.40  1985        HAWTHORNE, CALIFORNIA                     

    School                                               Seed    Prelims  H#

============================================================================

Preliminaries

  1 BAY SHORE  'A'                                    3:27.84    3:26.19q  4 

  2 SETON HALL PREP  'A'                              3:24.24    3:27.05q  3 

  3 LAFAYETTE HIGH SCHOOL  'A'                        3:25.44    3:28.22q  5 

  4 TABB HIGH  'A'                                    3:28.24    3:28.36q  1 

  5 CARDINAL  O'HARA  'A'                             3:26.35    3:29.28q  5 

  6 BERGEN CATHLOIC  'A'                              3:28.24    3:30.01q  2 

  7 UPPER DUBLIN HIGH SCHOOL  'A'                     3:24.24    3:30.87q  4 

  8 METUCHEN HIGH SCHOOL  'A'                         3:23.24    3:32.30q  1 

  9 LINGANORE HIGH SCHOOL  'A'                        3:35.24    3:32.80q  1 

 10 AMITYVILLE HIGH SCHOOL  'A'                       3:24.24    3:33.48q  2 

 11 PENNCREST HIGH SCHOOL  'A'                        3:35.44    3:33.96   2 

 12 GWYNN PARK HIGH SCHOOL  'A'                       3:34.24    3:34.60   3 

 13 MCDONOGH HIGH SCHOOL  'A'                         3:29.24    3:34.81   2 

 14 JAMESTOWN  'A'                                    3:31.24    3:35.36   5 

 15 FATHER JUDGE HIGH  'A'                            3:28.24    3:37.11   1 

 16 ST. PETER.S PREP  'A'                             3:36.24    3:37.48   4 

 17 COLLEGIATE HIGH SCHOOL  'A'                       3:34.24    3:38.53   2 

 18 HENDERSON HIGH SCHOOL  'A'                        3:28.24    3:40.09   3 

 19 WEEQUAHIC HIGH SCHOOL  'A'                        3:32.24    3:40.41   5 

 20 SYOSSET HIGH SCHOOL  'A'                          3:35.24    3:40.43   1 

 21 CALVERT HALL  'A'                                 3:30.24    3:41.06   3 

 22 KECOUGHTAN HIGH SCHOOL  'A'                       3:30.64    3:42.10   4 

 23 ABP. RYAN HIGH SCHOOL  'A'                        3:36.74    3:42.64   5 

 24 MONSIGNOR BONNER  'A'                             3:40.24    3:42.77   3 

 25 GRAFTON HIGH SCHOOL  'A'                          3:58.24    3:43.89   5 

 26 STATE COLLEGE AREA HS  'A'                        3:38.24    3:44.03   4 

 27 MOORE CATHOLIC  'A'                               3:36.74    3:44.16   5 

 28 BENEDICTINE HS  'A'                               3:44.24    3:44.19   2 

 29 NORFOLK ACADEMY  'A'                              3:54.24    3:47.51   3 

 30 WEST CHESTER EAST  'A'                            3:45.24    3:47.77   2 

 31 ST. JOHN'S PREP  'A'                              3:36.24    3:48.34   3 

 32 LASALLE COLLEGE HS  'A'                           3:45.24    3:51.23   1 

 33 TRI-VALLEY  'A'                                   3:55.24    4:02.88   4 

 34 OCEAN LAKES  'A'                                  3:45.24    4:04.74   1 

 -- XAIVER HIGH SCHOOL  'A'                           3:33.54         DQ   4 

 

Boys 4x800 Meter Relay High School

=========================================================================

        Meet: * 7:43.5h  1982        MENCHVILLE                                

 National HS: @ 7:34.1h  2000        YORK, ELMHURST, ILLINOIS                  

    School                                               Seed     Finals 

=========================================================================

  1 SAINT PETER'S BOYS HIGH  'A'                      7:59.74    8:01.43  

  2 MCDONOGH HIGH SCHOOL  'A'                         8:08.24    8:02.74  

  3 MOORE CATHOLIC  'A'                               8:02.64    8:06.29  

  4 CARDINAL  O'HARA  'A'                             8:10.64    8:08.20  

  5 METUCHEN HIGH SCHOOL  'A'                         8:05.24    8:10.07  

  6 UPPER DUBLIN HIGH SCHOOL  'A'                     8:05.24    8:10.96  

  7 LASALLE COLLEGE HS  'A'                           8:01.14    8:14.15  

  8 GREAT VALLEY HIGH SCHOOL  'A'                     8:10.44    8:15.93  

  9 LINGANORE HIGH SCHOOL  'A'                        8:15.24    8:16.57  

 10 MONSIGNOR BONNER  'A'                             8:08.86    8:18.87  

 11 SYOSSET HIGH SCHOOL  'A'                          8:15.24    8:24.44  

 12 LAFAYETTE HIGH SCHOOL  'A'                        8:40.24    8:25.08  

 13 FATHER JUDGE HIGH  'A'                            8:09.24    8:26.19  

 14 ST. PETER.S PREP  'A'                             8:10.24    8:27.06  

 15 ABP. RYAN HIGH SCHOOL  'A'                        8:13.24    8:27.94  

 16 PENNCREST HIGH SCHOOL  'A'                        8:27.84    8:28.94  

 17 BAY SHORE  'A'                                    8:15.84    8:29.13  

 18 TABB HIGH  'A'                                    8:15.24    8:29.25  

 19 HENDERSON HIGH SCHOOL  'A'                        8:12.24    8:30.08  

 20 SETON HALL PREP  'A'                              8:18.24    8:31.57  

 21 JAMESTOWN  'A'                                    8:08.24    8:32.59  

 22 ST. JOHN'S PREP  'A'                              8:12.24    8:37.91  

 23 COLLEGIATE HIGH SCHOOL  'A'                       8:40.24    8:40.73  

 24 GWYNN PARK HIGH SCHOOL  'A'                       9:00.24    8:42.78  

 25 WEST CHESTER EAST  'A'                            8:48.24    8:46.71  

 26 BERGEN CATHLOIC  'A'                              8:29.24    8:47.54  

 27 STATE COLLEGE AREA HS  'A'                        8:40.24    8:47.95  

 28 OCEAN LAKES  'A'                                  8:40.24    8:51.62  

 29 LOYOLA HIGH SHOOL  'A'                            8:45.24    8:56.52  

 30 GRAFTON HIGH SCHOOL  'A'                          9:13.24    9:02.47  

 31 BENEDICTINE HS  'A'                               8:50.24    9:03.14  

 32 XAIVER HIGH SCHOOL  'A'                           8:09.44    9:09.35  

 33 TRI-VALLEY  'A'                                   9:05.24    9:10.56  

 34 NORFOLK ACADEMY  'A'                              9:15.24    9:11.31  

 35 KECOUGHTAN HIGH SCHOOL  'A'                      10:15.24    9:20.95  

 36 AMITYVILLE HIGH SCHOOL  'A'                       8:24.24    9:23.42  

 37 FARMING DALE HIGH SCHOOL  'A'                                9:34.15  

 

Boys Distance Medley High School

=========================================================================

        Meet: * 10:10.1h  1979        BERNARDS                                 

 National HS: @  9:53.31  1987        MCCULLOUGH, THE WOODLANDS, TX            

    School                                               Seed     Finals 

=========================================================================

  1 MCDONOGH HIGH SCHOOL  'A'                        10:38.24   10:34.11  

  2 UPPER DUBLIN HIGH SCHOOL  'A'                    10:35.24   10:35.39  

  3 KELLENBERG MEMORIAL HIGH  'A'                    10:29.24   10:37.75  

  4 XAIVER HIGH SCHOOL  'A'                          10:31.74   10:43.15  

  5 SAINT PETER'S BOYS HIGH  'A'                     10:20.57   10:43.66  

  6 GREAT VALLEY HIGH SCHOOL  'A'                    10:33.44   10:44.57  

  7 HENDERSON HIGH SCHOOL  'A'                       10:41.24   10:44.94  

  8 MOORE CATHOLIC  'A'                              10:27.24   10:45.23  

  9 LINGANORE HIGH SCHOOL  'A'                       11:20.24   10:55.63  

 10 CARDINAL  O'HARA  'A'                            10:22.74   11:01.89  

 11 PENNCREST HIGH SCHOOL  'A'                       11:17.34   11:02.28  

 12 LASALLE COLLEGE HS  'A'                          10:53.84   11:04.43  

 13 MONSIGNOR BONNER  'A'                            11:01.39   11:05.64  

 14 WESTERN ALBEMARLE HS  'A'                        10:50.24   11:06.11  

 15 ABP. RYAN HIGH SCHOOL  'A'                       11:04.24   11:08.03  

 16 SETON HALL PREP  'A'                             10:59.24   11:10.63  

 17 ST. PETER.S PREP  'A'                            10:59.24   11:12.18  

 18 OCEAN LAKES  'A'                                 11:28.24   11:26.29  

 19 STATE COLLEGE AREA HS  'A'                       11:15.24   11:37.02  

 20 CALVERT HALL  'A'                                11:25.24   11:39.45  

 21 WEST CHESTER EAST  'A'                           11:40.24   11:39.74  

 22 FATHER JUDGE HIGH  'A'                           10:47.24   11:41.07  

 23 SYOSSET HIGH SCHOOL  'A'                         11:05.24   11:49.15  

 24 BAY SHORE  'A'                                   10:50.94   11:51.00  

 25 FARMING DALE HIGH SCHOOL  'A'                               11:58.50  

 26 COLLEGIATE HIGH SCHOOL  'A'                      11:30.24   11:58.86  

 27 NORFOLK ACADEMY  'A'                             11:50.24   12:08.96  

 28 GWYNN PARK HIGH SCHOOL  'A'                                 12:12.91  

 29 TRI-VALLEY  'A'                                  11:58.24   12:27.87  

 

Boys High Jump High School

===================================================================================

 STARTING HEIGHT 6'0" - 2" increments

        Meet: *  7-00  1994        J.GREEN 1ST COL. & K. COLEMAN COATESVIL     

 National HS: @  7-06  1983        DOTHEL EDWARDS, CEDAR SHOALS, ATHENS,GA     

    Name                    Year School                  Seed     Finals           

===================================================================================

  1 Birden, Dwayne            SR CALVERT HALL         6-08.00    6-08.00      2.03m 

  2 Burns, Markus             SR BERGEN CATH          6-03.00    6-02.00      1.87m 

  3 Philogene, Dan            SR BAY SHORE            6-02.00   J6-02.00      1.87m 

  4 Burman, CJ                JR STATE COL AR         6-03.00   J6-02.00      1.87m 

 -- Byrd, Will                SO NORFOLK ACAD         6-02.00         NH            

 

Boys Pole Vault High School

===================================================================================

 Starting Height 11'6" - 6" increments

        Meet: *    15-08  1992        LAWRENCE JOHNSON, GREAT BRIDGE           

 National HS: @ 18-02.25  1999        ERIC ESHBACH, ORANGEFIELD, TX            

    Name                    Year School                  Seed     Finals           

===================================================================================

  1 Sullivan, David           SR CENTERVILLE         15-09.00   15-00.00      4.57m 

  2 Probst, Kevin             SR FARMING DALE        13-03.00   12-06.00      3.81m 

  2 Walls, Brian              SR STATE COL AR        13-06.00   12-06.00      3.81m 

  4 Ohm, Paul                 SO PENNCREST           12-06.00  J12-06.00      3.81m 

  5 Byrd, Will                SO NORFOLK ACAD        12-06.00  J12-06.00      3.81m 

  6 Lewis, David              SO WESTFIELD           13-00.00   12-00.00      3.65m 

  6 Smith, Mike               SR UPPER DUBLIN        13-00.00   12-00.00      3.65m 

  8 Wenck, Bretin             JR CALVERT HALL        13-00.00   11-06.00      3.50m 

  9 Zweig, Dave               SR STATE COL AR        12-09.00  J11-06.00      3.50m 

  9 Jordan, Chris                FATHER JUDGE        12-06.00  J11-06.00      3.50m 

 -- Andrews, Ken              SR OCEAN LAKES         12-00.00         NH            

 -- Williams, James           JR HICKORY HIGH        12-00.00         NH            

 -- Breen, Phil               SR ABP. RYAN           12-00.00         NH            

 -- Henfey, Matt                 FATHER JUDGE        12-00.00         NH            

 -- Buckson, Jim              SR PENNCREST           13-06.00         NH            

 -- Manthas, Max              JR BAY SHORE           12-00.00         NH            

 -- Nicoll, Ross              SR WESTERN ALBE        13-00.00         NH            

 -- Lewis, David              JR CENTERVILLE         13-00.00         NH            

 -- Zebert, Mike              JR HENDERSON HS        12-00.00         NH            

 

Boys Long Jump High School

========================================================================================

 No Measurement under 19' 6"

        Meet: * 24-03.75  1993        THOMAS THOMPSON, ST. JOHN THE BAPT.      

 National HS: @ 26-09.25  1989        DION BENTLEY, PENN HILLS, PITT, PA       

    Name                    Year School                  Seed     Finals  Wind          

========================================================================================

  1 Taylor, Shomasi           SR MCDONOGH HS         22-10.00   22-06.50   NWI     6.87m 

  2 Crew, Sintell             SR LAFAYETTE HI        22-04.00   22-00.00   NWI     6.70m 

  3 Leary, Nehemiah           SR UPPER DUBLIN        23-07.00   21-11.25   NWI     6.68m 

  4 Taylor, Rayon             JR SETON HALL P        21-08.00   21-09.75   NWI     6.64m 

  5 Southerland, CJ           SR BAY SHORE           21-02.00   21-08.25   NWI     6.61m 

  6 Hawkins, Larry               GWYNN PARK H        22-00.00   21-05.00   NWI     6.52m 

  7 Porter, Dwight               MENCHILLE           21-00.00   21-04.25   NWI     6.50m 

  8 Jackson, David            SR AMITYVILLE H        22-00.00   20-10.50   NWI     6.36m 

  9 Burke, Keith              JR SETON HALL P        21-09.00   20-05.50   NWI     6.23m 

 10 Brooks, Narada            SR AMITYVILLE H        22-02.00   20-02.75   NWI     6.16m 

 11 Burns, Markus             SR BERGEN CATH         21-01.00   20-01.25   NWI     6.12m 

 12 Heygood, Anthony          SO CARDINAL O'H        21-08.00   19-10.25   NWI     6.05m 

 -- Moll, Bryan               SO LAFAYETTE HI        22-01.00         ND   NWI           

 -- Donahue, Brian            SR NORFOLK ACAD        21-00.00         ND   NWI           

 -- McLean, Lion              SR NORFOLK ACAD        21-00.00         ND   NWI           

 -- Mendoza, William          SR XAVIER HS           21-05.00         ND   NWI           

 -- Williams, Todd            SR WEEQUAHIC HS        21-02.00         ND   NWI           

 -- Rivers, Galen             JR GREAT VALLEY        21-05.00         ND   NWI           

 

Boys Triple Jump High School

========================================================================================

 NORTH PIT

 No measurement under 41' (Board 40')

        Meet: * 49-05.75  1981        AL TOON, MENCHVILLE                      

 National HS: @ 53-11.25  1998        GREG YELDELL, N ROWAN, SPENCER, NC       

    Name                    Year School                  Seed     Finals  Wind          

========================================================================================

  1 Rivers, Galen             JR GREAT VALLEY        46-03.00   44-01.25   NWI    13.44m 

  2 Brooks, Narada            SR AMITYVILLE H        45-11.00   43-07.00   NWI    13.28m 

  3 Canaday, Devin            SR JAMESTOWN           45-06.00   43-05.50   NWI    13.24m 

  4 Crew, Sintell             SR LAFAYETTE HI        44-10.00   42-03.25   NWI    12.88m 

  5 Williams, Blake           JR STATE COL AR        43-07.00   41-07.50   NWI    12.68m 

  6 Lee, Branden              SR JAMESTOWN           40-03.00   40-04.00   NWI    12.29m 

  7 Lee, Thabiti              JR AMITYVILLE H        44-06.00   39-00.00   NWI    11.88m 

  8 Orman, Miles              SR BERGEN CATH         43-04.00  J39-00.00   NWI    11.88m 

 -- Jackson, Shorni           SO BAY SHORE           43-04.00         ND   NWI           

 

Boys Shot Put High School

===================================================================================

 No Measurement under 40'

        Meet: *    60-07  1987        PHIL CARAHER, NORTH ROCKLAND             

 National HS: @ 81-03.50  1979        MICHAEL CARTER, JEFFERSON, DALLAS, TX    

    Name                    Year School                  Seed     Finals           

===================================================================================

  1 Hoye, Chad                SR HICKORY HIGH        47-00.00   50-03.50     15.32m 

  2 Adewumi, Segun            SR STATE COL AR        52-04.00   49-07.00     15.11m 

  3 Williams, Steven             GWYNN PARK H        48-05.00   49-04.50     15.04m 

  4 Marrone, James            SR ST. PETER'S         46-05.50   47-09.50     14.56m 

  5 Pohlot, Bruce             JR LASALLE C. H        49-11.00   47-01.50     14.36m 

  6 Shifflett, Derek          SR OSBOURN PARK        48-10.50   45-04.00     13.81m 

  7 Fischer, Brian            SR BERGEN CATH         49-02.00   45-00.50     13.72m 

  8 Nase, Ryan                   FATHER JUDGE        49-09.75   44-08.25     13.62m 

  9 Norgriff, Derrick         SR LOYOLA HS           48-06.00   43-07.50     13.29m 

 10 Rhue, David               JR PRINCESS ANN        46-06.00   43-03.00     13.18m 

 11 Rehring, Mick             SO STATE COL AR        48-03.00   41-11.50     12.78m 

 12 DeGregorio, Nick          JR BERGEN CATH         50-01.00   41-10.25     12.75m 

 13 Lynch, Andrew             SR CARDINAL O'H        47-03.00   41-06.75     12.66m 

 14 Siteram, Joe              SR BAY SHORE           47-09.00  J41-06.75     12.66m 

 15 Davidson, Ben             SR PULASKI CO.                    41-00.00     12.49m 

 -- Cook, Matt                SR TRI-VALLEY          44-01.00         ND            

 

Boys Discus Throw High School

===================================================================================

 No Measurement under 120'

        Meet: * 190-11  1999        NICK WELIHOZKY, WEST SPRINGFIELD           

 National HS: @ 225-02  1987        KAMY KESHMIRI, RENO, NV                    

    Name                    Year School                  Seed     Finals           

===================================================================================

  1 Casseri, Mike             SO PULASKI CO.         40-02.00  138-03.00     42.13m 

  2 Rehring, Mick             SO STATE COL AR        33-04.00  132-01.00     40.25m 

  3 Pohlot, Bruce             JR LASALLE C. H        36-07.00  131-11.00     40.20m 

  4 Rhue, David               JR PRINCESS ANN        35-00.00  130-03.00     39.70m 

  5 Fischer, Brian            SR BERGEN CATH         48-00.00  125-06.00     38.25m 

  6 Parson, Matt              JR NO. CALVERT         35-00.00  121-08.00     37.08m 

  7 Williams, Steven             GWYNN PARK H        35-00.00  118-09.00     36.19m 

 -- Heim, Corey               SR GREAT VALLEY        33-06.00         ND            


Girls
 

              40th ANNUAL COLONIAL RELAYS - 4/5/2002 to 4/6/2002               

                       WILLIAM & MARY, WILLIAMSBURG, VA.                       

                                    Results                                    

 

Girls 1 Mile Run High School

=========================================================================

 National HS: @ 4:35.24  1982        POLLY PLUMER, UNIVERSITY, IRVINE, CA      

    Name                    Year School                  Seed     Finals 

=========================================================================

  1 Iatauro, Heather          SO TRI-VALLEY           5:03.48    5:08.55  

  2 Robinson, Ashley             HALF HALLOW          5:06.24    5:08.99  

  3 Malcolm, Kim              SR VILLA MARIS          5:09.24    5:10.79  

  4 Campbell, Jen             SR FARMING DALE         5:01.64    5:14.92  

  5 Ellis, Ginna              FR NORFOLK ACAD         5:10.24    5:21.31  

  6 Hixon, Kate               SO NORFOLK ACAD         5:12.24    5:28.80  

  7 Wieroniey, Anastasia      FR NO. CALVERT          5:27.24    5:36.04  

  8 O'Brien, Moriah           SR OSBOURN PARK         5:23.12    5:36.11  

  9 Chadwick, Kelly           JR STATE COLLEG         5:26.04    5:36.64  

 10 Thomas, Lindsay           JR WOODROW WILS         5:11.24    5:38.23  

 11 Alizzi, Beth              FR SYOSSET              5:47.24    5:40.20  

 12 Blevins, Melissa          SO TABB                 5:45.24    5:52.74  

 13 Lambert, Valerie             GRAFTON              6:00.24    6:13.92  

 14 Moore, Nicole                GRAFTON              6:00.24    6:35.20  

 

Girls 3000 Meter Run High School

=========================================================================

        Meet: * 9:43.0h  1994        JANELLE THOMAS, LIBERTY                   

 National HS: @ 9:08.6h  1975        LYNN BJORKLUND, LOS ALAMOS, NM            

    Name                    Year School                  Seed     Finals 

=========================================================================

  1 Saterstad, Angie          JR HERSEY HS           10:10.24   10:16.34  

  2 Iatauro, Heather          SO TRI-VALLEY          10:22.24   10:19.56  

  3 Malcolm, Kim              SR VILLA MARIS         10:26.24   10:22.12  

  4 Cummings, Laura           FR BAY SHORE           10:12.05   10:29.19  

  5 Mizzone, Jesse            JR PASSAIC VALL        10:14.24   10:30.30  

  6 Ellis, Ginna              FR NORFOLK ACAD        11:10.24   10:34.97  

  7 Donovan, Katelynn         SO HALF HALLOW         10:59.24   10:59.76  

  8 Hulme, Emily              SR CEDAR CREST         11:15.24   11:02.22  

  9 Alizzi, Beth              FR SYOSSET             11:17.24   11:11.67  

 10 Ventura, Laura            SO STATE COLLEG        11:29.74   11:26.82  

 11 Irwis, Katie              SO CARDINAL O'H        11:25.24   11:37.93  

 12 Lloyd, Kristen            SO OCEAN LAKES         11:45.24   11:42.83  

 13 Agnolutto, Amy            JR NO. CALVERT         11:38.24   11:55.23  

 14 Trautman, Danielle        SO OCEAN LAKES         11:30.24   11:57.41  

 15 Delorenzo, Marcy          SR ABP. RYAN           11:10.24   12:03.43  

 16 Terry, Julianne           SO YORK HS             12:00.24   12:04.23  

 17 Estes, Rachelle           JR TABB                12:02.24   12:52.51  

 -- Lee, Chris                JR YORK HS             12:00.24        DNF  

 

Girls 100 Meter Hurdles High School

=================================================================================

    Name                    Year School                  Seed     Finals  Wind H#

=================================================================================

  1 Quick, Jelyn                 MENCHILLE              14.20      14.98  -2.9  1 

  2 Fletcher, Tiara              GWYNN PARK H           14.95      15.63  -2.9  1 

  3 Knight, Kelly             SR TABB                   16.04      15.64  -1.9  2 

  4 Falokner, Victoria           MENCHILLE              14.90      15.96  -2.9  1 

  5 Ashe, Keshia              SO KECOUGHTAN             15.74      15.97  -2.9  1 

  6 Hunt, Daina               SR HENDERSON HS           15.94      16.62  -2.9  1 

  7 Ramirez, Valerie          JR ABP. RYAN              16.04      16.67  -1.9  2 

  8 Barrett, Nikkia           SR TRENTON CENT           15.14      16.90  -2.9  1 

  9 Rainey, Sara              SO NORFOLK ACAD           16.04      17.40  -1.9  2 

 10 Gill, Laura               SR PULASKI CO.            16.24      17.62  -1.9  2 

 11 Scifo, Nicole             FR BAY SHORE              16.24      17.83  -2.0  3 

 12 Falvey, Kkatherine        SO YORK HS                16.84      18.05  -2.0  3 

 13 Barron, Stefanie          SR WOODROW WILS           14.84      18.62  -2.9  1 

 14 Bucco, Margaret           SR GREAT VALLEY           16.04      18.72  -1.9  2 

 15 Cincotta, Laura           JR MOORE CATHOL           15.84      19.22  -2.9  1 

 16 Fox, Cassie                  WALL                   17.04      36.81  -2.0  3 

 -- Adams, Kristina           JR HALF HALLOW                         DNF  -2.0  3 

 

Girls 4x100 Meter Relay High School

=========================================================================

        Meet: * 42.9h  1999        PLEASANTVILLE                               

 National HS: @ 44.70  1997        ST. BERNARD, PLAYA dEL RAY, CA.             

    School                                            Prelims     Finals 

=========================================================================

Finals

  1 ABP. RYAN HIGH SCHOOL  'A'                          49.41      49.33  

  2 CARDINAL  O'HARA  'A'                               49.64      49.69  

  3 MOUNT VERNON HIGH SCHOOL  'A'                       49.35      49.93  

  4 WOODROW WILSON  'A'                                 49.88      50.07  

  5 GREAT VALLEY HIGH SCHOOL  'A'                       50.90      50.58  

  6 AMITYVILLE HIGH SCHOOL  'A'                         51.02      51.02  

  7 MENCHVILLE  'A'                                     50.33      53.13  

  8 KECOUGHTAN HIGH SCHOOL  'A'                         51.71      54.75  

 

Girls 4x100 Meter Relay High School

============================================================================

Top 8 Advance by Time

        Meet: * 42.9h  1999        PLEASANTVILLE                               

 National HS: @ 44.70  1997        ST. BERNARD, PLAYA dEL RAY, CA.             

    School                                               Seed    Prelims  H#

============================================================================

Preliminaries

  1 MOUNT VERNON HIGH SCHOOL  'A'                                  49.35q  1 

  2 ABP. RYAN HIGH SCHOOL  'A'                          50.04      49.41q  2 

  3 CARDINAL  O'HARA  'A'                               49.74      49.64q  3 

  4 WOODROW WILSON  'A'                                 48.41      49.88q  3 

  5 MENCHVILLE  'A'                                     48.24      50.33q  2 

  6 GREAT VALLEY HIGH SCHOOL  'A'                       49.74      50.90q  4 

  7 AMITYVILLE HIGH SCHOOL  'A'                                    51.02q  2 

  8 KECOUGHTAN HIGH SCHOOL  'A'                         49.54      51.71q  4 

  9 STATE COLLEGE HIGH  'A'                             50.54      51.93   1 

 10 BAY SHORE  'A'                                      51.74      52.19   3 

 11 HENDERSON HIGH SCHOOL  'A'                          51.44      52.20   2 

 12 ARCHBISHOP PRENDERGAT  'A'                          52.44      52.57   3 

 13 FARMING DALE HIGH SCHOOL  'A'                                  53.24   1 

 14 HALF HALLOW HILLS HS  'A'                           52.24      53.39   4 

 15 YORK HIGH SCHOOL  'A'                               53.34      53.71   2 

 16 TRENTON CENTRAL HS  'A'                             47.84      53.72   1 

 17 PULASKI CO. HIGH SCHOOL  'A'                        51.34      53.89   1 

 18 VILLA MARIA ACADEMY  'A'                            52.14      54.25   4 

 19 WEEQUAHIC HIGH SCHOOL  'A'                          53.74      54.82   1 

 20 NORFOLK ACADEMY  'A'                                55.24      55.64   2 

 21 ST. ANTHONY'S HIGH  'A'                             56.34      56.45   4 

 22 GWYNN PARK HIGH SCHOOL  'A'                         51.24      56.56   4 

 23 MOORE CATHOLIC  'A'                                 56.24      57.21   3 

 24 GRAFTON HIGH SCHOOL  'A'                            59.42      57.99   2 

 25 TRI-VALLEY  'A'                                     58.94      58.20   3 

 26 LAFAYETTE HIGH SCHOOL  'A'                          54.04      58.69   1 

 27 ST. DOMINIC ACADEMY  'A'                            57.74    1:00.75   4 

 

Girls 4x400 Meter Relay High School

=========================================================================

        Meet: * 3:47.7h  1996        WILLIAM PENN                              

 National HS: @ 3:36.32  1998        WILSON, LONG BEACH, CA                    

    School                                            Prelims     Finals 

=========================================================================

Finals

  1 WOODROW WILSON  'A'                               4:09.71    4:00.86  

  2 BAY SHORE  'A'                                    4:03.82    4:04.09  

  3 GREAT VALLEY HIGH SCHOOL  'A'                     4:04.69    4:04.86  

  4 MENCHVILLE  'A'                                   4:05.24    4:09.54  

  5 TRENTON CENTRAL HS  'A'                           4:07.49    4:14.22  

 

Girls 4x400 Meter Relay High School

============================================================================

Top 8 Advance by Time

        Meet: * 3:47.7h  1996        WILLIAM PENN                              

 National HS: @ 3:36.32  1998        WILSON, LONG BEACH, CA                    

    School                                               Seed    Prelims  H#

============================================================================

Preliminaries

  1 BAY SHORE  'A'                                    3:59.53    4:03.82q  5 

  2 GREAT VALLEY HIGH SCHOOL  'A'                     3:57.44    4:04.69q  4 

  3 MENCHVILLE  'A'                                   3:56.24    4:05.24q  2 

  4 ABP. RYAN HIGH SCHOOL  'A'                        4:05.44    4:06.49q  1 

  5 KECOUGHTAN HIGH SCHOOL  'A'                       3:59.24    4:06.58q  5 

  6 TRENTON CENTRAL HS  'A'                           3:56.24    4:07.49q  3 

  7 CARDINAL  O'HARA  'A'                             4:01.24    4:08.56q  4 

  8 HENDERSON HIGH SCHOOL  'A'                        4:04.24    4:09.28q  2 

  9 WOODROW WILSON  'A'                               3:56.04    4:09.71   1 

 10 MOUNT VERNON HIGH SCHOOL  'A'                                4:09.92   4 

 11 AMITYVILLE HIGH SCHOOL  'A'                                  4:10.86   3 

 12 HALF HALLOW HILLS HS  'A'                         4:08.24    4:12.73   1 

 13 OSBOURN PARK HIGH  'A'                            4:15.14    4:13.67   5 

 14 LINGANORE HIGH SCHOOL  'A'                        4:10.24    4:13.85   3 

 15 MCDONOGH HIGH SCHOOL  'A'                         4:16.24    4:15.15   5 

 16 STATE COLLEGE HIGH  'A'                           4:03.24    4:15.47   3 

 17 COLLEGIATE HIGH SCHOOL  'A'                       4:20.24    4:16.12   2 

 18 ST. ANTHONY'S HIGH  'A'                           4:10.24    4:17.82   2 

 19 VILLA MARIA ACADEMY  'A'                          4:17.24    4:20.96   3 

 20 ARCHBISHOP PRENDERGAT  'A'                        4:12.94    4:21.37   4 

 21 TABB HIGH  'A'                                    4:18.24    4:23.38   1 

 22 JAMESTOWN  'A'                                    4:16.54    4:29.04   4 

 23 FARMING DALE HIGH SCHOOL  'A'                                4:35.65   2 

 24 TRI-VALLEY  'A'                                   4:37.24    4:37.87   2 

 25 GWYNN PARK HIGH SCHOOL  'A'                       4:30.24    4:41.61   5 

 26 WEEQUAHIC HIGH SCHOOL  'A'                        4:35.24    4:44.08   3 

 27 ST. DOMINIC ACADEMY  'A'                          4:30.24    4:44.24   5 

 28 NORFOLK ACADEMY  'A'                              4:30.24    4:45.09   4 

 29 OCEAN LAKES  'A'                                  4:32.24    4:46.01   5 

 30 WALL  'A'                                         4:25.24    4:46.56   3 

 31 MOORE CATHOLIC  'A'                               4:31.24    4:52.88   4 

 32 GRAFTON HIGH SCHOOL  'A'                          5:11.24    4:57.74   1 

 33 HAMPTON ROADS ACADEMY  'A'                        4:50.24    5:05.91   1 

 

Girls 4x800 Meter Relay High School

=========================================================================

        Meet: * 9:21.8h  1985        BERNARDS                                  

 National HS: @ 7:54.88  1997        COLUMBIA, MAPLEWOOD, NJ                   

    School                                               Seed     Finals 

=========================================================================

  1 BAY SHORE  'A'                                    9:16.68    9:38.65  

  2 WOODROW WILSON  'A'                               9:24.24    9:41.80  

  3 CARDINAL  O'HARA  'A'                             9:28.24    9:43.61  

  4 GREAT VALLEY HIGH SCHOOL  'A'                     9:28.54    9:49.28  

  5 HALF HALLOW HILLS HS  'A'                        10:00.14    9:52.94  

  6 OCEAN LAKES  'A'                                 10:00.24    9:57.69  

  7 HENDERSON HIGH SCHOOL  'A'                       10:12.24    9:58.27  

  8 NORFOLK ACADEMY  'A'                             10:15.24   10:06.28  

  9 FARMING DALE HIGH SCHOOL  'A'                               10:10.38  

 10 ARCHBISHOP PRENDERGAT  'A'                        9:40.12   10:21.05  

 11 LINGANORE HIGH SCHOOL  'A'                       10:15.24   10:25.22  

 12 MENCHVILLE  'A'                                  10:15.24   10:26.44  

 13 JAMESTOWN  'A'                                   10:12.24   10:29.62  

 14 OSBOURN PARK HIGH  'A'                            9:57.34   10:30.36  

 15 TRENTON CENTRAL HS  'A'                          10:20.24   10:31.62  

 16 STATE COLLEGE HIGH  'A'                          10:10.24   10:37.47  

 17 MCDONOGH HIGH SCHOOL  'A'                        10:35.24   10:47.07  

 18 VILLA MARIA ACADEMY  'A'                         10:10.24   10:47.80  

 19 ABP. RYAN HIGH SCHOOL  'A'                       10:30.24   10:53.17  

 20 ST. JOHN'S PREP  'A'                             10:30.24   10:56.24  

 21 COLLEGIATE HIGH SCHOOL  'A'                      10:50.24   10:57.28  

 22 ST. DOMINIC ACADEMY  'A'                         10:25.24   11:03.21  

 23 GRAFTON HIGH SCHOOL  'A'                         11:32.24   11:10.94  

 24 TRI-VALLEY  'A'                                  11:40.24   11:45.88  

 

Girls Distance Medley High School

=========================================================================

        Meet: * 12:25.8h  1999        ARCHBISHOP PRENDERGAST                   

 National HS: @ 11:41.28  2000        SAN LORENZO VALLEY, FELTON, CA           

    School                                               Seed     Finals 

=========================================================================

  1 ARCHBISHOP PRENDERGAT  'A'                       12:30.17   12:42.20  

  2 CARDINAL  O'HARA  'A'                            13:04.24   12:53.69  

  3 OCEAN LAKES  'A'                                 13:00.24   13:05.28  

  4 VILLA MARIA ACADEMY  'A'                         12:40.24   13:12.26  

  5 HENDERSON HIGH SCHOOL  'A'                       13:37.24   13:12.99  

  6 HALF HALLOW HILLS HS  'A'                        12:37.24   13:20.51  

  7 STATE COLLEGE HIGH  'A'                          13:05.24   13:26.40  

  8 BAY SHORE  'A'                                   13:00.24   13:28.88  

  9 ST. ANTHONY'S HIGH  'A'                          12:50.24   13:32.90  

 10 JAMESTOWN  'A'                                   13:35.24   13:36.40  

 11 COLLEGIATE HIGH SCHOOL  'A'                      13:30.24   13:45.20  

 12 LINGANORE HIGH SCHOOL  'A'                       13:00.24   13:45.95  

 13 GREAT VALLEY HIGH SCHOOL  'A'                    13:25.74   14:07.48  

 14 ABP. RYAN HIGH SCHOOL  'A'                       13:55.24   14:17.03  

 15 MCDONOGH HIGH SCHOOL  'A'                        13:50.24   14:25.86  

 16 ST. DOMINIC ACADEMY  'A'                         13:50.24   14:27.70  

 17 NORFOLK ACADEMY  'A'                             12:57.24   14:49.47  

 18 MENCHVILLE  'A'                                  12:30.24   15:04.77  

 19 TRI-VALLEY  'A'                                  14:50.24   16:09.45  

 20 HAMPTON ROADS ACADEMY  'A'                       14:40.24   16:23.24  

 

Girls High Jump High School

===================================================================================

 STARTING HEIGHT 4'10" - 2" increments

        Meet: * 5-08.50  1998        SHARI MOORE, MCDONOUGH                    

 National HS: @    6-04  1993        AMY ACUFF, CALALLEN, CORPUS CHRISTI, TX   

    Name                    Year School                  Seed     Finals           

===================================================================================

  1 Williams, Jen             SR GREAT VALLEY         5-06.00    5-05.00      1.65m 

  2 Warren, Alison            JR MT. VERNON H         5-04.00    5-02.00      1.57m 

  2 Nembhard, Adecia          JR MT. VERNON H         5-04.00    5-02.00      1.57m 

  4 Blevins, Brenna           JR PULASKI CO.          5-03.00   J5-02.00      1.57m 

  5 Walsh, Megan                 RISING SUN           5-04.00    5-00.00      1.52m 

  5 Burke, Megant             SR STATE COLLEG         5-02.00    5-00.00      1.52m 

  7 McBride, Erica            JR KECOUGHTAN           5-02.00   J5-00.00      1.52m 

  8 Willberg, Sarah           SR WALL                 5-01.00    4-10.00      1.47m 

  8 McGuire, Danielle         JR ABP. RYAN            5-01.00    4-10.00      1.47m 

  8 Birminghamn, Julia        JR HENDERSON HS         5-04.00    4-10.00      1.47m 

 11 Strouse, Amber            JR STATE COLLEG         5-02.00   J4-10.00      1.47m 

 -- Anderson, Leslie          FR PULASKI CO.          5-03.00         NH            

 -- Webber, Stepanie          SO BAY SHORE            5-01.00         NH            

 -- Wofford, Tia              SO FARMING DALE         5-01.00         NH            

 -- Mullins, Janielle         SO ST. DOMINIC          4-10.00         NH            

 

Girls Pole Vault High School

===================================================================================

 Starting Height 8'0" - 6" increments

        Meet: * 11-00  2000        CHARLOTTE LAROCHE, CENTERVILLE              

 National HS: @ 13-04  2000        STACIE MANUEL, WILMAR, MINNESOTA            

    Name                    Year School                  Seed     Finals           

===================================================================================

  1 Laroche, Alicia           SR CENTERVILLE         11-07.00   11-01.00*     3.37m 

  2 Pettine, Kathryn          JR WESTFIELD           11-01.75   10-06.00      3.20m 

  3 Claussen, Kerri           SO CENTERVILLE         10-06.00   10-00.00      3.04m 

  4 Daly, Jenna               SR ST. ANTHONY'        10-00.00    9-06.00      2.89m 

  5 Mazzella, Christine       SR NO. CALVERT         10-00.00   J9-06.00      2.89m 

  6 Walsh, Megan                 RISING SUN          10-06.00    9-00.00      2.74m 

  7 Belinsky, Lori            JR ABP. RYAN            9-00.00    8-06.00      2.59m 

  8 Corse, Lauren             JR VILLA MARIS          8-06.00   J8-06.00      2.59m 

 -- Scanlin, Katie            JR LAFAYETTE HI         9-00.00         NH            

 -- Douglass, Jess            SR ABP. RYAN           10-03.00         NH            

 

Girls Long Jump High School

========================================================================================

 No Measurement under 16'6"

        Meet: * 20-02  1984        CLAIR CONNOR, RAHWAY                        

 National HS: @ 22-03  1976        KATHY MCMILLAN, HOKE COUNTY, RAEFORD,NC     

    Name                    Year School                  Seed     Finals  Wind          

========================================================================================

  1 Tetkowski, Denise         JR ABP. RYAN           17-10.50   18-02.25   NWI     5.54m 

  2 Williams, Shauna          SR MT. VERNON H        19-06.00   18-02.00   NWI     5.53m 

  3 Nembhard, Adecia          JR MT. VERNON H        17-06.00   18-01.75   NWI     5.53m 

  4 Modest, Mara              JR STATE COLLEG        17-05.50   16-11.00   NWI     5.15m 

  5 Staton, Shayna            SR BAY SHORE           17-06.00   16-09.25   NWI     5.11m 

  6 Blevins, Brenna           JR PULASKI CO.         17-03.50   16-06.75   NWI     5.04m 

  7 Starace, Jess             SO ABP. RYAN           17-04.00  J16-06.75   NWI     5.04m 

  8 Rainey, Sara              SO NORFOLK ACAD        17-00.00   16-06.25   NWI     5.03m 

 -- Jester, Candance             MENCHILLE           15-00.00         ND   NWI           

 -- Striggles, Myisha         SR TABB                16-09.00         ND   NWI           

 -- Anderson, Leslie          FR PULASKI CO.         17-01.00         ND   NWI           

 -- Jester, Corrita              MENCHILLE           15-05.00         ND   NWI           

 -- Barrett, Nikkia           SR TRENTON CENT        18-04.00       FOUL   NWI           

 

Girls Triple Jump High School

========================================================================================

 SOUTH PIT

 No Measurement under 32' (board 30')

        Meet: * 37-01.50  2000        MICHANNE CAMPBELL, MT. VERNON            

 National HS: @ 44-00.50  1991        JULIANA YENDORK, WALNUT, CA              

    Name                    Year School                  Seed     Finals  Wind          

========================================================================================

  1 Williams, Shauna          SR MT. VERNON H        37-00.00   36-08.00   NWI    11.17m 

  2 Tetkowski, Denise         JR ABP. RYAN           37-01.00   36-01.75   NWI    11.01m 

  3 Wilson, Sashoye           SO FARMING DALE        35-07.50   34-08.50   NWI    10.57m 

  4 Knight, Kelly             SR TABB                33-00.00   33-06.00   NWI    10.21m 

  5 Flournoy, Brandice        JR OSBOURN PARK        35-06.00   33-03.75   NWI    10.15m 

  6 Rainey, Sara              SO NORFOLK ACAD        34-10.00   33-02.00   NWI    10.10m 

  7 Blevins, Brenna           JR PULASKI CO.         35-01.00   32-07.50   NWI     9.94m 

  8 Kennedy, Kelly            SR VILLA MARIS         32-10.00   32-02.00   NWI     9.80m 

 -- Burke, Megan                 STATE COLLEG        33-05.50       FOUL   NWI           

 

Girls Shot Put High School

===================================================================================

 No Measurement under 30'

        Meet: * 46-01.75  2001        LINDSAY NEUBERGER, F.W. FOX              

 National HS: @ 53-07.75  1983        KATALIE KAAIAWAHIA, FULLERTON, CA        

    Name                    Year School                  Seed     Finals           

===================================================================================

  1 Wilson, Nicola            SR TRENTON CENT        45-06.75   39-07.00     12.06m 

  2 Brisbane, Manesa          SR MT. VERNON H        35-06.00   36-10.00     11.22m 

  3 Cook, Chrissy             SR CARDINAL O'H        37-00.00   34-06.75     10.53m 

  4 Showker, Jennifer         JR SPOTSWOOD HS        36-07.00   34-06.25     10.52m 

  5 Tesoriero, Krista         SR SYOSSET             35-09.00   32-05.50      9.89m 

  6 Tesoriero, Kara           SR SYOSSET             33-08.00   31-09.00      9.67m 

  7 Staton, Shaquana          FR BAY SHORE           34-06.00   31-06.00      9.60m 

  8 Irby, Shani               JR FARMING DALE        33-01.00   31-01.00      9.47m 

 -- Thompson, Kati            SR STATE COLLEG        33-06.00         ND            

 -- Davis, Hannah                JAMESTOWN           33-09.00         ND            

 -- Wheeler, April            SR STATE COLLEG        33-02.00         ND            

 -- Jones, Ricky              JR NORFOLK ACAD        33-10.00         ND            

 -- Ratz, Kaitlin             SR WALL                33-00.00         ND            

 

Girls Discus Throw High School

===================================================================================

 No Measurement under 80'

        Meet: * 144-05  1996        CHRISTY MARTIN, ROBINSON                   

 National HS: @ 188-04  1994        SUZY POWELL, MODESTO, CA                   

    Name                    Year School                  Seed     Finals           

===================================================================================

  1 Wilson, Nicola            SR TRENTON CENT        23-05.00  131-02.00     39.97m 

  2 Haker, Liz                SR PULASKI CO.         33-09.00  121-08.00     37.08m 

  3 Showker, Jennifer         JR SPOTSWOOD HS        18-00.00  115-11.00     35.33m 

  4 Tesoriero, Kara           SR SYOSSET             02-09.00  104-00.00     31.69m 

  5 Jones, Ricky              JR NORFOLK ACAD        08-00.00  101-01.00     30.81m 

  6 Tesoriero, Krista         SR SYOSSET             01-07.00   99-00.00     30.17m 

  7 Ratz, Kaitlin             SR WALL                15-00.00   98-00.00     29.87m 

  8 Klaus, Steph              SR STATE COLLEG        04-04.00   91-04.00     27.83m 

  9 Hallett, Cathy            SR VILLA MARIS         04-10.00   88-01.00     26.84m 

 10 Ireland, Heather          SO NORFOLK ACAD        00-00.00   87-08.00     26.72m 

 11 D'Amore, Kristen          SR GREAT VALLEY        01-03.00   84-00.00     25.60m 

 12 Rainone, Marcell          SR ST. ANTHONY'        00-00.00   82-06.00     25.14m 

 -- O'Sullivan, Katie         SR TRI-VALLEY          00-00.00         ND            

 -- Ramirez, Valerie          JR ABP. RYAN           05-02.00         ND