Girls 2-Mile - Boys 2-Mile -
Friday Open Races
Welcome to the Huddle House
The longest girls' individual race at the adidas Outdoor Championships Friday night was the quickest to be decided. From the opening strides it was clear that the 2-mile was going to be Molly Huddle's personal showcase and, for a few minutes – well, 10 minutes and 1.08 seconds, to be exact – the Notre Dame (Elmira, N.Y.) HS senior owned Paul Derr track at NC State University in Raleigh.
Huddle blazed the first lap in 69.8 seconds and was nearly 100 meters clear by the mile (4:53.8). While runner-up Kara Scanlin made up a little ground on the 6th and 7th laps, the winner finished well with a 72.2 final circuit. While the 10:01.08 was called a national record, given that it exceeded the all-time 2-mile best of 10:03.2 by Mary Shea from 1979, Kim Mortensen's 9:48.59 3200m from 1996 is the best 8-lapper of all time.
While Huddle was shooting for at least sub-10, she was "definitely happy" about the result. "I wanted to see how low I could go," she said. "I knew I had to take it out fast. I was hoping someone would go with me, but in the last mile … in the first mile I figured they would think I was taking it out too fast -- which I was -- but I figured I'd get some pushing in the end."
But no, unlike last year, when Huddle WAS pushed (and beaten) at AOC after taking it out too fast, she was by far the superior runner; her winning margin of 26-plus seconds is probably the biggest ever in a national 8-lapper. Therein, however, lay the mild disappointment of this race. Colorado's Megan Kaltenbach, who had emerged as the other best 2-miler in the country, figured Huddle was emphasizing the 1500/mile this spring, and chose to run the 3200 at Golden West and just the mile here. After Kaltenbach blazed her winning 10:03.35 last weekend and Huddle her 9:21 3000 at New York state, a clash for the ages seemed to loom until Kaltenbach made her decision. The event overall for 2002 had enormous potential, but had fizzled somewhat with superstars Amber Trotter, Erika Odlaug and Alison Tubbs all suffering season-ending injuries.
So Huddle ran alone. "But the crowd helped a lot and knowing the caliber of the race helped, too," she said. "I was hoping to break 10, but I knew if I had an off day, and I was alone, it'd be real tough. I was happy to get as close to 10 as I did."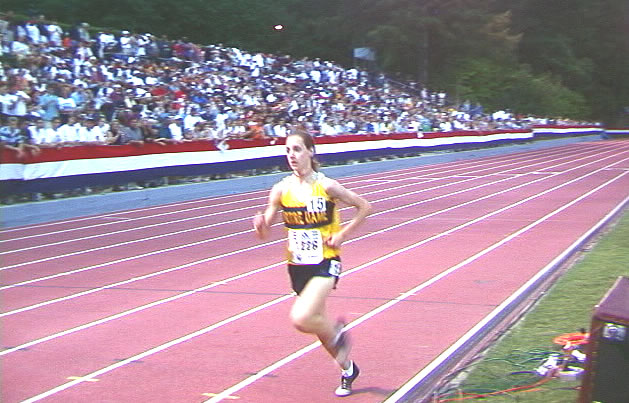 An unabashed Prefontaine fan, she shrugged off that wildly fast start last year as something that if it was good enough for Pre, then it was good enough for her. Now that she truly has the game to back up such aspirations, does she still hold true to such maxims? "Yeah, especially at this point in my running, at the end of high school," she said. "I want to give everything. If' I died, I died; if I didn't, I'd get a good time.
"You have to learn … just to find something to push yourself, really," she continued. "I think it's going to be kind of a disadvantage next year, because I kind of panic when there's people around me. I think I have to learn not to do that in a pack, because when you run alone, you have total control; it's more relaxing. With people around you, you tend to not run your race as much."
Meanwhile, Scanlin (Ponte Verde Beach, Fla.) broke away at about 3.5 laps from a pack that included Amanda Trotter, Michelle Sikes, Nikki Bohnsack and Laura Stanley. She finished in a PR 10:27.25, ahead of Trotter's 10:32.81 and the rest of the 16-runner field.
"It was really 'mental' track," said Scanlin. "It was such a hard move for me."
The senior was also gratified since she had been trying to stay sharp after a state meet that was over a month ago. "It was really tough, especially mentally; like a few weeks ago, I started to get really unmotivated. I just had to hang in there. I've been training the whole season for this."
Lockhart Can Kick, Too
Tim Moore said the pace would have to be "brutal" for him to win. Bobby Lockhart talked of breaking 8:50. Brian Dalpiaz hardly wanted a kicker's race, either.
Yet a slow pace is what all of these favorites got in Friday night's 2-mile at the AOC – which seemed to play into the hands of the biggest favorite, list-leader Chris Solinsky, who was regarded the best kicker and the only of these four running the mile on Saturday. Yet Solinsky was left holding the silver medal at the end because another runner was prepared to win no matter what the pace.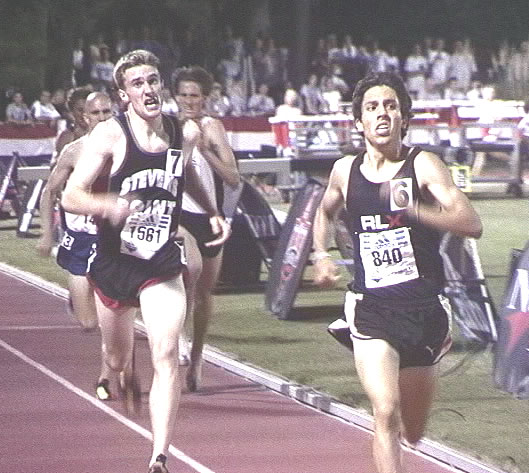 6 Lockhart (right) outkicks 7 Solinsky
Perhaps the least likely to let it come down to a sprint, Lockhart sat and made the decisive move with about 200 to go, turning a 59-second last lap and defying any reply. His 8:59.19 was 0.73 better than Solinsky's 8:59.92, with Moore (9:01.50) third and Dalpiaz (9:01.90) fourth.
So the John Handley (Winchester, Va.) HS senior, once having a bad rap in important races, closed his career with wins in three of his last four big ones. "It was the first time I'd tried (that strategy), and it worked," Lockhart admitted. "My dad said if you're going to make a move, make it to win. I was right there and it felt good."
While Lockhart may not have surprised his dad (who would later say, "Bobby said he was going to win in a different way than we'd ever seen him do before."), he stunned his coach. "I can't believe it," said Mark Stickley. "The last few weeks have been about working on speed, but as far as I'm concerned, I was a little scared when it came down to that kick, knowing what these other guys can unleash. But this is the time of year to work on 100s, 200s, 300s … obviously, it's been working."
And it didn't work for the rest of the contenders. "I thought it was my race, but I guess next year," said Solinsky. "I wanted it to go out slow; I was hoping it was going to be a kicker's race, but I thought I had it."
Moore and Dalpiaz really needed the fast tempo, not the 70s that started things out the first two circuits. "You know, it's no fun leading and getting kicked down at the end," said Moore. "So no one really wants to be aggressive and take the lead. I thought the only way I could win was if I kept the pace solid. I can't kick like these guys. So that's why I took the lead."
Still, there was never a lap faster than 66.7 until the last one. Dalpiaz didn't want it either, and, like some of the others, was forced to be philosophical. "I wasn't happy with that first mile (4:36). But I wasn't about to take it; I didn't want to waste anything. I guess I'm happy with the race I ran, considering what happened."


adidas Outdoor Championship home page