Auburn WA 7:32.89 - National Record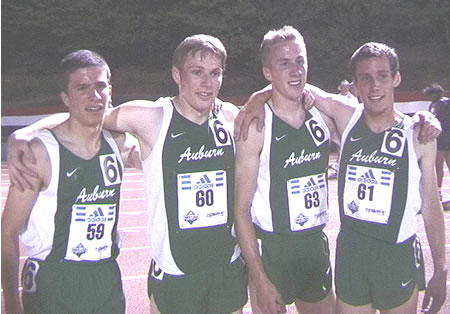 Auburn's record-setting team: 59 Tyler Campbell, 60 Mike Dickson, 63 Adam Vogt, and 61 Chris Lukezic.
Lukezic's 1:49.4 third leg blew open the race and Vogt's anchor sealed the win.
Same four boys won the DMR Saturday night, just missing another national record.
RALEIGH, N.C., June 14, 2002 -- An all-senior cast gave Auburn, Wash., the title in meet-record time of 7:32.89. Mike Dixon opened with a 1:54.4 split, followed by Tyler Campbell's 1:57.1. Campbell handed off to Chris Lukezic, who ran a swift 1:49.4 third leg. Adam Vogt closed with a 1:51.5 anchor leg to break the year-old meet record of 7:35.53 by South Lakes of Reston, Va.

"Our first objective was to win," said Lukezic. "Second was the get the record. Three weeks ago, our time combined was 7:38. I came in kind of knowing we could get the record. But more important, we wanted a win."

Campbell said his time was a personal best. "I was just thinking, 'get as close as I can to the front. That's my PR in the 800. It was awesome."

Dixon's appraisal was self-effacing. "I was just trying to run as hard as I could to get Tyler in a good spot," he said. "I didn't feel I had my best, but Tyler really made up for it. I'm excited! There's nothing more I can say."
Second was North Penn (Lansdale, Pa.) in 7:41.32, with Liberty (Mo.) third in 7:41.62..
| | |
| --- | --- |
| Chris Lukezic hands off a lead to anchor Adam Vogt | Vogt finishes the job |
Final Results
Boys 4x800 Meter Relay

================================================================

    National: ! 7:34.1h  5/2000      York, Elmhurst, IL                        

    National: { 7:35.60  6/7/1966    Jackson, Queens, NY (yards)               

        Meet: @ 7:35.53  2001        South Lakes, Reston, VA                   

    National: & 7:35.60              Boys, Brooklyn, NY (yards)                

    School                                               Finals 

================================================================

Section  1  

  1 ESPERANZA-CA  'A'                                   7:57.67  

     1) STAYMATES, SEAN 02              2) MARVIN, STEPHEN 04             

     3) CHAVEZ, MICHAEL 03              4) CARY, ANDREW 02                

  2 SALESIANUM-DE  'A'                                  8:01.30  

     1) MEANY, PJ 03                    2) HAMILL, RYAN 03                

     3) ZEBERKIEWICZ, MIKE 03           4) LORD, TOM 03                   

  3 CORNWALL-NY  'A'                                    8:01.70  

     1) HELPERN, JOSEPH 02              2) GOTAY, JEREMY 03               

     3) LASH, ALEC 02                   4) CALABRO, ANTHONY 02            

  4 SOUTHEAST RALEIGH-NC  'A'                           8:02.22  

     1) ROSS, ALTON 04                  2) BROWNE, CHRISTIAN 04           

     3) BIZZELL, OMAR 03                4) MUHAIMIN, JAMIL 02             

  5 FRANKLIN-MA  'A'                                    8:03.00  

     1) NEWMAN, ERIC 03                 2) FERGUSON, KEITH 02             

     3) FERGUSON, DARREN 02             4) NTELICES, ADAM 02              

  6 MOORE CATHOLIC-NY  'A'                              8:04.24  

     1) BATISTA, JOHNNY 03              2) RENDEIRO, LOU 02               

     3) FINNEGAN, BILLY 02              4) BELLOUNY, LEIGH 02             

  7 FW SNIDER-IN  'A'                                   8:05.40  

     1) HANNIE, CODY 03                 2) HEDIN, JEFF 02                 

     3) REYNOLDS, RYAN 04               4) SANDERS, JOEL 04               

  8 RIDGEFIELD-CT  'A'                                  8:06.03  

     1) MUCCHETTI, STEVE 02             2) WILSON, JEFF 03                

     3) FLEMING, ALDACE 02              4) ROSENFELD, JASON 03            

  9 BISHOP EUSTACE PREP-NJ  'A'                         8:09.51  

     1) PEROCHO, JASON 03               2) STEVENSON, PATRICK 02          

     3) REDMOND, JAMES 04               4) HELLWARTH, MATT 02             

 10 GOSHEN CENTRAL-NY  'A'                              8:10.75  

     1) CAREY, DAVID 02                 2) CANNARIATO, TOM 04             

     3) FURST, STEPHEN 03               4) DOMBROWSKI, ROSS 03            

 11 WILBUR CROSS-CT  'A'                                8:27.76  

     1) RODRIQUEZ, JOSE 03              2) WILSON, JULIAN 02              

     3) CARDONA, XADIEL 03              4) RAMOS, TIEMARCIE 02            

 12 CARDINAL O'HARA-PA  'A'                             8:30.37  

     1) BRACONNIER, JACK 04             2) KAZANJIAN, PAUL 03             

     3) RENDLER, BERNIE 03              4) O'BRIEN, TOM 03                

Section  2  

  1 DON BOSCO PREP-NJ  'A'                              7:53.54  

     1) HORESTA, MATT 02                2) MCKAY, ROBERT 02               

     3) SWIFT, SEAN 03                  4) BATTERSBY, FRANK 02            

  2 COLONIAL FORGE-VA  'A'                              7:57.08  

     1) LEYH, SEAN 03                   2) PORTER, MICHAEL 03             

     3) SWECKER, BRANDON 02             4) HOEHNE, JOHN 03                

  3 WESTFORD WARHAWKS-MA  'A'                           7:58.44  

     1) HANEBERRY, SHAWN 02             2) SMITH, TRAVIS 02               

     3) STEINHAVEER, CHADD 04           4) SEVERO, TOM 02                 

  4 WARD MELVILLE-NY  'A'                               7:58.90  

     1) DAVITIAN, MIKE 03               2) ZUMMO, PATRICK 03              

     3) WALSH, GREG 02                  4) DE LUCA, RYAN 02               

  5 COLTS NECK-NJ  'A'                                  8:01.41  

     1) VENTURA, JORGE 02               2) PAYAN, ISRAEL 02               

     3) GAIRIES, DAVE 03                4) LEIMHACH, ANDREW 03            

  6 MIDLOTHIAN-VA  'A'                                  8:04.05  

     1) WITT, RYAN 04                   2) TERRELL, JOHN 04               

     3) MATTHEWS, TAYLOR 03             4) BAKER, ANDREW 03               

  7 LEE DAVIS-VA  'A'                                   8:04.60  

     1) CANCRO, TIMOTHY 03              2) CRIDER, BENJAMIN 02            

     3) FLETCHER, CHRISTOPHER 02        4) MOHN, STEVEN 03                

  8 THOMAS JEFFERSON-NY  'A'                            8:05.11  

     1) GRAY, DARIUS 03                 2) PATTERSON, DORSETT 04          

     3) GONZALES, JAMIE                 4) ECCLESTON, SHIMRON 02          

  9 XAVIER-CT  'A'                                      8:05.64  

     1) FLYNN, SEAN 02                  2) PAUL, GREG 02                  

     3) PUGLIESE, DAN 02                4) MCKENNA, OWEN 03               

 10 WARWICK VALLEY-NY  'A'                              8:07.36  

     1) BAXTER, DAVE 07                 2) LAROE, JAKE                    

     3) KOMOROWSKI, JOHN 02             4) CONNOLLY, NICK 03              

 11 PINE BUSH-NY  'A'                                   8:10.75  

     1) MUESSIG, PETER 02               2) MORSTATT, JOESPEH 02           

     3) KOLZE, KARL                     4) CONKLINE, JOSHUA 02            

 12 PINECREST-NC  'A'                                   8:14.00  

     1) ANDREWS, DOULGAS 02             2) STAPLES, MICHAEL 02            

     3) WHITE, GEORGEW 03               4) MRTIN, SCOTT 04                

 13 EC GLASS-VA  'A'                                    8:15.14  

     1) ROSSER, DUSTIN 02               2) THOMAS, BRENNAN 02             

     3) HACKWORTH, JOPHER 03            4) THOMAS, LUKE 02                

Section  3  

  1 NOTRE DAME-NJ  'A'                                  7:48.96  

     1) ZODDA, JEFF 02                  2) OLIVERAS, ESTEBAN 02           

     3) DICOLE, JERRY 02                4) NAPIECEK, DAN 03               

  2 MIDWOOD-NY  'A'                                     7:50.26  

     1) SAGNAN, GREG 02                 2) SKARBUSKAS, MARIUS 02          

     3) DESIRE, TCHEDLY 02              4) MCDONALD, NATHANIEL 02         

  3 BOWIE-MD  'A'                                       7:52.81  

     1) ROBINSON, RYAN 02               2) PATTERSON, JASON 02            

     3) RAMDIAL, PETER 03               4) CHARLES, KAREEM 02             

  4 WILLINGBORO-NJ  'A'                                 7:54.71  

     1) RICTHERFORD, AHMAD 03           2) DIXON, BRIAN 03                

     3) LEE, RASHARD 03                 4) MUHAMMED, SHAREEF 03           

  5 COLUMBIA-FL  'A'                                    7:55.75  

     1) DANIELS, PHILLIP 02             2) COOPER, ROBERT 02              

     3) MARSHALL, MARCUS 03             4) SMITH, DUSTY 02                

  6 ADMIRALS TC-NY  'A'                                 7:55.98  

     1) SENKIER, SCOTT 03               2) WOOD, JULIUS 03                

     3) VIRGIIO, JOSEPH 03              4) SEFCIK, MATTHEW 02             

  7 DOUGLAS FREEMAN-VA  'A'                             7:59.69  

     1) KEARNEY, GRAHAM 02              2) REASOR, BRIAN 02               

     3) VICK, DUNCAN 02                 4) ESBACH, MICHAEL 02             

  8 LAWRENCE FREE STATE-KS  'A'                         8:04.04  

     1) BHAKTA, HIRAL 03                2) LUDWIG, ADRIAN 03              

     3) WHITE, JUSTIN 03                4) HARDEN, DAMIAN 02              

  9 MCDONOGH-MD  'A'                                    8:11.79  

     1) PERRY, JOSH 02                  2) TAYLOR, SHOMARI 02             

     3) STEWART, LUKE 03                4) TAUBENFELD, DREW 03            

 10 FMR TC-TX  'A'                                      8:15.12  

     1) SOSA, PAULO 03                  2) SPEAR, ERIC 02                 

     3) FLORES, FRANKIE 02              4) MAGNESS, STEVE 03              

 11 LOCKHART-TX  'A'                                    8:17.64  

     1) HARKIN, DONANVAN 02             2) WEST, CHRIS 05                 

     3) RODRIGUIZ, HECTOR 05            4) GUTIERREZ, ANDREW 03           

Section  4  

  1 AUBURN-WA  'A'                                      7:32.89! 

     1) LUKEZIC, CHRIS 02               2) CAMPBELL, TYLER 02             

     3) DICKSON, MIKE 02                4) VOGT, ADAM 02                  

  2 NORTH PENN-PA  'A'                                  7:41.32  

     1) THOMAS, ADAM 03                 2) KRUM, MATT 04                  

     3) MICHAEL, DAN 02                 4) CRAIG, STEVE 02                

  3 LIBERTY-MO  'A'                                     7:41.62  

     1) PERKINS, ADAM 03                2) MACK, TRAVIS 02                

     3) HATFIELD, DAVID 03              4) GRAYBILL, BRIAN 04             

  4 WEST PLAINS-MO  'A'                                 7:41.99  

     1) ROE, BRIAN 03                   2) PLOCHER, LUCAS 02              

     3) HARPER, JOSH 03                 4) BROWN, MATT 03                 

  5 ELYRIA-OH  'A'                                      7:43.37  

     1) INGE, MIKE 02                   2) YOUNG, JOSH 03                 

     3) ARMSTRONG, RAY 03               4) BROWN, NICK 04                 

  6 MONA SHORES-MI  'A'                                 7:45.05  

     1) KAIJALA, TIMOTHY 04             2) VANDERBERG, LANCE 02           

     3) KUTCHES, JAMES 03               4) CARUTHERS, ERIC 02             

  7 SOUTH SHORE-NY  'A'                                 7:45.89  

     1) LEE, MARK 02                    2) EVANS, CHRISTOPHER 02          

     3) GRIFFITHS, DWAYNE 02            4) MCKENZIE, CHASE 02             

  8 EDWARDSVILLE-IL  'A'                                7:46.27  

     1) PIFER, STPEHEN 03               2) PEPPER, NATHAN 02              

     3) KELLER, TIMON                   4) GARRISON, BRYAN                

  9 MOTOR CITY-MI  'A'                                  7:46.34  

     1) MARSHAL, ISAIH                  2) ROUNDS, DANIEL 02              

     3) JONES, JIMMIE 03                4) JONES, HOISEA 02               

 10 NORTHPORT-NY  'A'                                   7:54.40  

     1) CORRIGAN, FRANK 02              2) BAMBERGER, MICHAEL 03          

     3) TSHIRHART, KEVIN 05             4) QUINN, BRYAN 03         

 
Heats
  

Event 43  Boys 4x800 Meter Relay

===============================================================================

Friday 6/14/02 - 09:30 PM

    National:  7:34.1h  5/2000      York, Elmhurst, IL                         

    National:  7:35.60  6/7/66      Jackson, Queens, NY (yards)                

        Meet:  7:35.53  2001        South Lakes, Reston, VA                    

    National:  7:35.60              Boys, Brooklyn, NY (yards)                 

     School

===============================================================================

Section 1  Timed Finals

  1  FRANKLIN-MA  'A'                                             

  2  WILBUR CROSS-CT  'A'                                         

  3  FW SNIDER-IN  'A'                                            

  4  SALESIANUM-DE  'A'                                           

  5  CORNWALL-NY  'A'                                             

  6  GOSHEN CENTRAL-NY  'A'                                       

  7  CARDINAL O'HARA-PA  'A'                                      

  8  RIDGEFIELD-CT  'A'                                           

  9  MOORE CATHOLIC-NY  'A'                                       

 10  POPE JOHNXX111-NJ  'A'                                       

 11  SOUTHEAST RALEIGH-NC  'A'                                    

 12  ESPERANZA-CA  'A'                                            

 13  BISHOP EUSTACE PREP-NJ  'A'                                  

Section 2  Timed Finals

  1  WARWICK VALLEY-NY  'A'                                       

  2  COLONIAL FORGE-VA  'A'                                       

  3  DON BOSCO PREP-NJ  'A'                                       

  4  MIDLOTHIAN-VA  'A'                                           

  5  WESTFORD WARHAWKS-MA  'A'                                    

  6  COLTS NECK-NJ  'A'                                           

  7  LEE DAVIS-VA  'A'                                            

  8  XAVIER-CT  'A'                                               

  9  WARD MELVILLE-NY  'A'                                        

 10  EC GLASS-VA  'A'                                             

 11  PINE BUSH-NY  'A'                                            

 12  PINECREST-NC  'A'                                            

 13  THOMAS JEFFERSON-NY  'A'                                     

Section 3  Timed Finals

  1  FMR TC-TX  'A'                                               

  2  MCDONOGH-MD  'A'                                             

  3  WILLINGBORO-NJ  'A'                                          

  4  BOWIE-MD  'A'                                                

  5  COLUMBIA-FL  'A'                                             

  6  ADMIRALS TC-NY  'A'                                          

  7  LAWRENCE FREE STATE-KS  'A'                                  

  8  MIDWOOD-NY  'A'                                              

  9  NOTRE DAME-NJ  'A'                                           

 10  LOCKHART-TX  'A'                                             

 11  SAINT PETER'S BOYS-NY  'A'                                   

 12  DOUGLAS FREEMAN-VA  'A'                                      

Section 4  Timed Finals

  1  LIBERTY-MO  'A'                                              

  2  ELYRIA-OH  'A'                                               

  3  EDWARDSVILLE-IL  'A'                                         

  4  NORTH PENN-PA  'A'                                           

  5  WEST PLAINS-MO  'A'                                          

  6  AUBURN-WA  'A'                                               

  7  NORTHPORT-NY  'A'                                            

  8  MONA SHORES-MI  'A'                                          

  9  SOUTH SHORE-NY  'A'                                          

 10  MOTOR CITY-MI  'A'
adidas Outdoor Championship home page