Molly Huddle NY 10:01.08 - National Record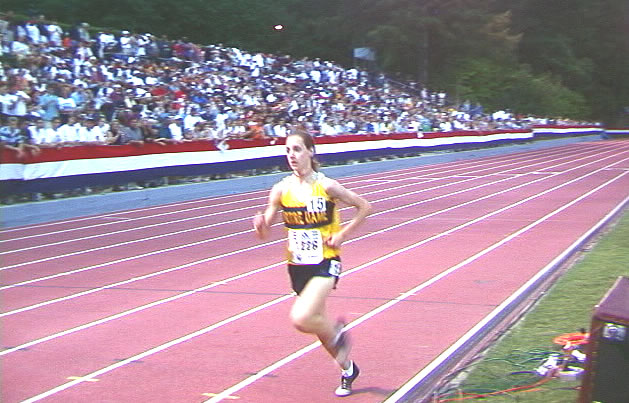 Molly Huddle was truly all alone in this race, grabbing the lead on the first turn,
building up a 100-meter lead by mid-race, and winning by 26 seconds.

Molly Huddle of Elmira, N.Y. erased all girls U.S. records in the two-mile run to post a rousing 10:01.08 exclamation point on the first day of action at the 12th annual adidas Outdoor Track and Field Championships at North Carolina State University's Paul Derr Track and Field Stadium.
Huddle, a senior at Notre Dame Academy in Elmira, will attend – where else? – the University of Notre Dame this fall and seems destined for a sizzling future. Raleigh's own Mary Shea – who went on to stardom at NC State - had set the existing national mark of 10:03.20 back in 1979.
The only huddle here was on the starting line. Then Molly Huddle ran for daylight.
The Elmiran left no doubts, exploding away from the field at the gun and zooming to a huge triumph. Across the track, there was Kara Scanlin of Ponte Vedra Beach, Fla., running to a 10:27.25 second place. Amanda Trotter of New Jersey's Amanda Trotter claimed third in 10:32.81.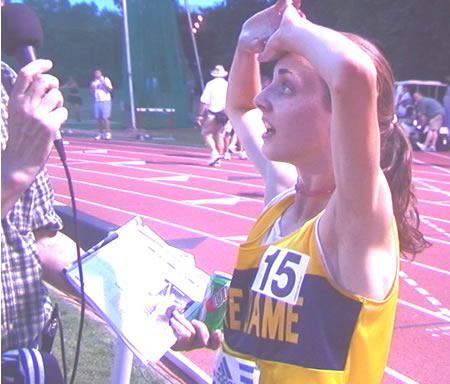 Molly Huddle is interviewed after the race.
"I hurt the last two laps, but went for it anyway," said Huddle. She loved the scene here – "it was night, the sun was gone" meaning an optimal situation.
"I'm definitely happy."
Runner-up Scanlin was happy, too.
"I haven't been on the national stage," she said. "I haven't gone to any big meets. I felt really comfortable, too comfortable. I was worried about the kickers. I knew I had to push."

Final Results
Girls 2 Mile Run

=========================================================================

    National: ! 10:03.20  1979        Mary Shea, CardinalGibbon RaleighNC      

      Senior: = 10:03.20  1979        Mary Shea, CardinaGibbonsRaleighNC       

        Meet: @ 10:12.46  2001        Anita Siraki, Hoover, Glendale, CA       

       Frosh: # 10:20.69  1979        Vicki Cook, Alemany, CA (3200yards)      

        Soph: $ 10:09.0h  1981        Patty Matava, Bellevue, WA (3200m)       

      Junior: % 10:03.0h  1984        Suzie Tuffey, Bergan Peoria, IL 3200m    

      Senior: *  9:48.59  1996        Kim Mortensen, Thousand Oaks, CA 3200m   

    Name                    Year School                  Seed     Finals 

=========================================================================

Section  1  

  1 CATHCART, JULIA           02 Starkville, MS      10:59.14   10:51.07  

  2 SELBY, SARAH              03 Shelbyville, IL     11:00.79   10:51.56  

  3 RAUEN, CAROLYN            04 Cincinnati, OH      10:56.80   10:53.81  

  4 PISHNY, ELLE              03 Stilwell, KS        10:56.20   10:57.31  

  5 HUGHES, MEGHAN            03 Moorestown, NJ      10:54.81   10:57.78  

  6 GOSE, KATIE               04 Camarillo, CA       11:04.14   11:00.00  

  7 RANDALL, COREY            03 Cincinnati, OH      10:57.40   11:00.39  

  8 ABBOTT, CONNIE            04 Overland Park, KS   11:05.63   11:04.39  

  9 STUBIC, LISA              02 Waterbury, CT       10:58.00   11:12.65  

 10 FLAUTE, KATIE             02 Beavercreek, OH     11:02.00   11:21.34  

 11 HUSS, AMY                 03 Wyomissing, PA      11:04.43   11:23.51  

 12 STEWARDSON, LANDRA        02 Bagwell, TX         10:54.79   11:28.19  

 13 SWAIN, KELLY              03 Fairfax Station, VA 11:05.00   11:30.97  

 14 ELLIS, GINNA              05 Virginia Beach, VA  10:58.30   11:38.20  

 15 DERUSSO, KATIE            03 Fairport, NY        10:57.86   11:39.74  

 16 CROSS, TIFFANY            02 Mechanicsville, VA  10:54.27   12:18.04  

Section  2  

  1 HUDDLE, MOLLY             02 Elmira, NY          10:01.37   10:01.08% 

  2 SCANLIN, KARA             02 Ponte Verde Beach,  10:44.48   10:27.25  

  3 TROTTER, AMANDA           03 Little Silver, NJ   10:36.53   10:32.81  

  4 SIKES, MICHELLE           03 Lakewood, OH        10:47.00   10:38.69  

  5 BOHNSACK, NIKKI           04 Rockford, MI        10:48.20   10:39.80  

  6 MC LEOD, BRIANNA          03 Jenks, OK           10:50.35   10:45.05  

  7 STANLEY, LAURA            02 Fletcher, NC        10:42.37   10:45.80  

  8 HARPER, AMBER             03 OREM, UT            10:48.00   10:51.61  

  9 HASTINGS, AMY             02 LEAVENWORTH, KS     10:47.48   10:57.92  

 10 BOYD, JENNIFER            03 Chesapeake, VA      10:52.83   10:58.79  

 11 LAMBERT, MEREDITH         02 West Grove, DE      10:50.26   10:59.12  

 12 WILLY, CATHLEEN           02 Pembroke Pines, FL  10:50.00   11:02.93  

 13 CUMMINGS, LAURA           05 Bay Shore, NY       10:52.07   11:04.85  

 14 JOHNSON, EMILY            03 Newton, MA          10:50.87   11:12.42  

 15 SPARKS, SHANNA            03 Carson City, NV     10:50.33   11:16.30  

 16 HARRISON, EMILY           04 Front Royal, VA     10:50.50   11:46.06  

 
Heats
  Event 12  Girls 2 Mile Run

===============================================================================

Friday 6/14/02 - 07:45 PM

    National:  10:03.20  1979        Mary Shea, CardinalGibbon RaleighNC       

      Senior:  10:03.20  1979        Mary Shea, CardinaGibbonsRaleighNC        

        Meet:  10:12.46  2001        Anita Siraki, Hoover, Glendale, CA        

       Frosh:  10:20.69  1979        Vicki Cook, Alemany, CA (3200yards)       

        Soph:  10:09.0h  1981        Patty Matava, Bellevue, WA (3200m)        

      Junior:  10:03.0h  1984        Suzie Tuffey, Bergan Peoria, IL 3200m     

      Senior:   9:48.59  1996        Kim Mortensen, Thousand Oaks, CA 3200m    

     Name                        Year School

===============================================================================

Section 1  Timed Finals

  1  CROSS, TIFFANY                02 Mechanicsville,             

  2  STEWARDSON, LANDRA            02 Bagwell, TX                 

  3  STUBIC, LISA                  02 Waterbury, CT               

  4  PISHNY, ELLE                  03 Stilwell, KS                

  5  HUSS, AMY                     03 Wyomissing, PA              

  6  RAUEN, CAROLYN                04 Cincinnati, OH              

  7  RANDALL, COREY                03 Cincinnati, OH              

  8  CATHCART, JULIA               02 Starkville, MS              

  9  DERUSSO, KATIE                03 Fairport, NY                

 10  ABBOTT, CONNIE                04 Overland Park, K            

 11  FLAUTE, KATIE                 02 Beavercreek, OH             

 12  SWAIN, KELLY                  03 Fairfax Station,            

 13  GOSE, KATIE                   04 Camarillo, CA               

 14  ELLIS, GINNA                  05 Virginia Beach,             

 15  HUGHES, MEGHAN                03 Moorestown, NJ              

 16  SELBY, SARAH                  03 Shelbyville, IL             

Section 2  Timed Finals

  1  BOHNSACK, NIKKI               04 Rockford, MI                

  2  CUMMINGS, LAURA               05 Bay Shore, NY               

  3  HARRISON, EMILY               04 Front Royal, VA             

  4  HASTINGS, AMY                 02 LEAVENWORTH, KS             

  5  STANLEY, LAURA                02 Fletcher, NC                

  6  SPARKS, SHANNA                03 Carson City, NV             

  7  WILLY, CATHLEEN               02 Pembroke Pines,             

  8  HARPER, AMBER                 03 OREM, UT                    

  9  TROTTER, AMANDA               03 Little Silver, N            

 10  JOHNSON, EMILY                03 Newton, MA                  

 11  SIKES, MICHELLE               03 Lakewood, OH                

 12  LAMBERT, MEREDITH             02 West Grove, DE              

 13  BOYD, JENNIFER                03 Chesapeake, VA              

 14  MC LEOD, BRIANNA              03 Jenks, OK                   

 15  HUDDLE, MOLLY                 02 Elmira, NY                  

 16  SCANLIN, KARA                 02 Ponte Verde Beac            
adidas Outdoor Championship home page