Events - Everything about the event on one page - start lists, results, photos, and analysis.
Best HS Marks - DyeStat Elite performances by US athletes
Highlights and Stories
News Reports

World Junior Lists by IAAF - Women: Lashinda Demus and Tiffany Ross are 1-2 in 400H. Allyson Felix is #1 in 200 and #3 in 100m. US is 1-2-3 in 400m (Sanya Richards, Lashinda Demus, Monique Henderson). Lacy Janson is #3 in PV. Laura Gerraughty is #4 in SP and #3 in DT. Men: US has 6 of top 10 in 100, 7 of top 10 in 200m, and 6 of top 10 in 400m. (Lists are not up to date through USA Nationals)
This section has on-site stories and photos by the NSSF team: Jim Spier, Mike Byrnes and Joy Kamani.
USA 38.92
the record that almost wasn't
On July 21, 2002, at the IAAF World Junior Championships in Kingston, Jamaica, the US team of Ashton Collins, Wes Felix, Ivory Williams and Willie Hordge, ran 38.92 for the World Junior Record in the 4x100 meter relay. Collins, Williams and Hordge had not planned on running at the USATF Junior Championships (the qualifying event for the World Junior team) until five days before the meet. And, even if they had planned to, it is unlikely that they would have had the means to be able to travel from Texas (Williams, Hordge) or Louisiana (Collins) to Stanford, especially with such short notice. How NSSF got 3 of 4 relay runners to Stanford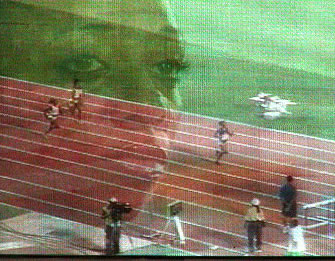 Lashinda Demus -- In the awards ceremony Thursday, they played video of her world junior record 400H and superimposed Lashinda watching the video.
Best Marks - performances qualifying for DyeStat Elite 2002 outdoor national ranking
This only includes high school athletes and events that are ranked in DyeStat Elite.
| | | | | |
| --- | --- | --- | --- | --- |
| Event | Pos | Mark | Notes | Name |
| B-100 | 6 | 10.23 | +1.6 p | Christian, Brendan, 2002, Aus Reagan TX |
| B-100 | 3 | 10.25 | +3.9 p | Hordge, Willie, 2003, Forest Brook Hou TX |
| B-200 | 2 | 20.74 | +0.9 | Christian, Brendan, 2002, Aus Reagan TX |
| B-800 | | 1:50.17 | p | Smith, Richard, 2002, South Lakes VA |
| B-1500 | 11 | 3:46.01 | | Lukezic, Chris, 2002, Auburn WA |
| B-110H | 5 | 13.91 | +2.6 | Ferguson, Kenneth, 2002, Mumford Det MI |
| B-400H | 2 | 49.38 | USR | Ferguson, Kenneth, 2002, Mumford Det MI |
| B-400H | 3 | 50.00 | | Jackson, Bershawn, 2002, Central Mia FL |
| B-HJ | 1 | 7' 7 | | Manson, Andra, 2002, Brenham TX |
| B-HJ | 2 | 7' 3 | | Williams, Jesse, 2002, Broughton NC |
| G-100 | 3 | 11.48 | -0.2 | Hooker, Marshevet, 2003, Southwest S Ant TX |
| G-200 | 3 | 23.09 | -0.2 | Richards, Sanya, 2002, St. T Aquinas FL |
| G-200 | 5 | 23.48 | -0.2 | Felix, Allyson, 2003, LA Baptist CA |
| G-400 | 2 | 51.49 | | Richards, Sanya, 2002, St. T Aquinas FL |
| G-100H | 4 | 13.36 | +3.4 | Williams, Ashlee, 2002, Bishop Dunne TX |
| G-HJ | | 5' 10.75 | p | Wagner, Kaylene, 2002, Dos Pueblos CA |
| G-HJ | | 5' 8.75 | p | Robbins, Ashley, , McMullen Co TX |
| G-LJ | 12 | 20' 3.75 | p | McLain, Erica, 2004, Clarke Plano TX |
| G-TJ | | 42' 0.5 | +0.4 p | Gordon, Sheena, 2002, McDowell PA |
| G-PV | | 12' 0.5 | p | Bailey, Julene, 2003, Skyview Nampa ID |
National Stadium, Kingston Jamaica,
was rebuilt this year and has a new Mondo track.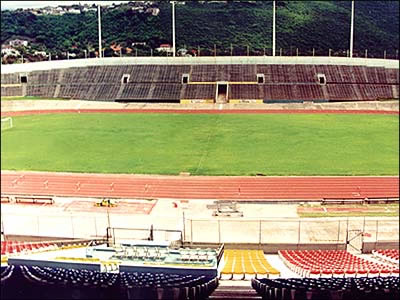 News Reports
Links to the Jamaica Observor's stories on
"the biggest sporting event ever in Jamaica"
NSSF support bolsters US World Junior team
The National Scholastic Sports Foundation funded the travel of 26 athletes to the recently concluded USA Junior Nationals. Seventeen of these athletes, including Sanya Richards, made Team USA for the World Junior Championships in Jamaica next month. More
IAAF: World Youth champs move on to World Juniors
11 July 2002 - Monte Carlo - When the 2002 IAAF/Coca Cola World Junior Championships get started next week in Kingston, Jamaica, some of the youngsters who will compete on the brand new Mondo track will already have an IAAF World Championships title in their resume.
Indeed, most of the athletes who were crowned World Youth Champions last year in Debrecen, Hungary will start as favourites for their respective World Junior titles next week in Kingston. The 2001 World Youth Championships of Debrecen were only the second edition of this championships but crowned athletes from a total of 16 different countries.
So how many of these youths will manage to follow their World Youth Championships gold with a World Junior title? In Santiago 2000, the previous edition of the World Junior Championships, no fewer than seven World Youth Champions managed to win gold in their respective disciplines.
Russia's Yelena Isinbayeva was the first to achieve this double when she cleared a new Championships record of 4.20 in the pole vault. She was subsequently joined by Great Britain's Mark Lewis-Francis (100m), Jamaica's Veronica Campbell (100m), Kenya's Nicolas Wachira (800m) and Cornelius Chrichir (1500m) South Africa's Jacques Freitag (high jump) and Australia's Jana Pittman (400m hurdles).
The 100m reigning Youth champion, Trinidad and Tobago's Darrel Brown lowered his personal best to 10.18 last weekend and seems set to outclass the rest of the field in Kingston. Brown, who finished an excellent fourth in Santiago two years ago aged just 16 was also a member of the bronze medal winning 4x100m relay squad last year in Edmonton.
Another athlete who first experienced glory in Debrecen last year and is in good shape to battle for gold in Kingston is Brazil's Thiago Jacinto Carahyba Dias. In 2001, Jacinto – as he prefers to be called – found the strength and concentration to leap 7.72m with his very last attempt to win the long jump competition in style. The following day he returned to the track but could only manage a disappointing – by his standards – 4th place in the 110m hurdles. Jacinto will double up again in Kingston and leads a Brazilian squad which includes 28 athletes.
IAAF: this is first ever World Athletic Series event in Jamaica
10 July 2002 - Monte Carlo - The 2002 IAAF/Coca Cola World Junior Championships which will take place in Kingston from 16 to 21 July will be the first ever World Athletic Series event to be held in Jamaica.
160 countries have already confirmed their participation in the Championships, with a total of 680 men and 460 women athletes scheduled to compete on the brand new Mondo track of Kingston's National Stadium.
The organising country has a great tradition and can claim the only junior athlete to win four gold medals in two consecutive junior championships with Gillian Russell who won the 100m hurdles in 1990 and 1992. Russell was also part of the 4x100m squad that snatched gold at those same editions. More recently Jamaica's Veronica Campbell highlighted the 2000 edition of the world junior championships with victories at both 100m and 200m.
This year, the US women sprinters have already set high standards for the competition. South Carolina's Lashinda Demus ran a new World Junior record time of 54.85 on 31 May in Louisiana and is a clear favourite for the title. With the right competition, she may well become the first athlete to break a world junior record at a World Junior Championship since Tereza Marinova in Sydney 1996 (14.62 in the triple jump).
The last World Junior record for men was set by Great Britain's Steve Smith in Seoul 1992 when he jumped 2.37m (equalling Dragutin Topic's mark set two years before).
The US team also includes the three fastest 400m runners of the year with Sanya Richards (50.69 - a new American record), Demus (51.24) and Monique Henderson (51.33). With Tiffany Ross - a 55.22 400m hurdles runner - the USA 4x400m team could well challenge the long-standing world record set by Germany's Grit Breuer and company back in 1988.
The IAAF/Coca Cola World Junior Championships are the launch pad for future champions to make their debut on the international scene. Athletes of the calibre of Colin Jackson, Derartu Tulu, Haile Gebrselassie or Gabriela Szabo all started their careers with a world junior gold medal.
More recently, the last two winners of the World junior 100m championships title, Mark Lewis Francis (winner in 2000) and Christian Malcolm (winner in 1998) - who jointly hold the championships record with 10.12 - or Cuba's Osleidys Menedez (who won the Junior javelin title in 1998 and 2000) have quickly progressed on the senior circuit and proven how motivating a World Juniors gold medal can be.