Detailed Results on Event Pages
Stories
Highlights
Carolina Kluft of Sweden 6,470 hep
is new world junior record - Kluft finished a 2-day tour de force by winning the closing 800 meters in 2:13.55, a personal best and just enough to break the world junior record by 4 points with an overall total of 6,470 points. She won five of the seven events and had five personal best marks in the competition.
Carolina Kluft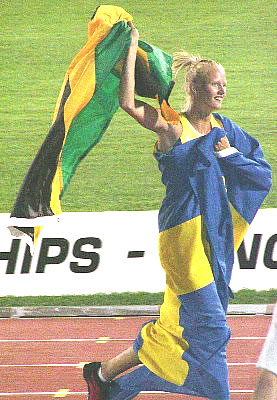 photo by Joy Kamani, NSSF team
Relay prelims are smoking!
M 4x400: USA 3:03.56 (world #1) is fastest finalist (Jamaica 3:05.82)
W 4x400: Another country heard from. Russia 3:31.64 edges Jamaica 3:32.20, with USA winning other heat in 3:35.84
W 4x100: two sub-44s - Jamaica 43.85, USA 43.92
M 4x100: 7 sub-40s - Heat 1: Jamaica 39.38, Trinidad & Tobago 39.50, France 39.93. Heat 2: USA 39.18 (world #1), Brazil 39.75, Japan 39.82, Germany 39.85. (7 of 8 finalists ran sub-40)
| | |
| --- | --- |
| USA women's 4x400 "photo shoot" | USA men's 4x100 |
| | |
| photos by Joy Kamani, NSSF team | |
Kenneth Ferguson USA is only the second male athlete and third of any sex to make both hurdle finals at a World Junior championship. Plus he ran a 45.9 leadoff leg on the 4x400 relay team in the semis.
A world junior record men's 1500 was run this week, but not in Kingston. Running in the Golden League meet in Monaco Friday, Cornelius Chirchir finished in 3:30.24 for fourth behind world men's record holder Hicham El Gherrouj 3:27.34, Bernard Lagat 3:27.91 and Rui Silva 3:30.07.
Day 5 highlights in Kingston
Time Event Round Status
16:30 W LONG JUMP HEPTATHLON - Carolina Kluft SWE continued her torrid march toward the world junior record by winning with a jump of 6.19 20-3.75 +0.0, her fourth win in the first five events of the heptathlon. This increased her lead overall to 483 points. With only two events left, she has 4758 points; the world junior record is 6466. Diana Pickler USA moved up to 9th place with a jump of 5.54 18-0.5 +0.5 for an overall total of 3972 points.
17:10 W HAMMER THROW FINAL - Ivana Brkljacic CRO 65.39 214-6.
17:45 W HIGH JUMP FINAL - Blanka Vlasic CRO was way the best at 1.96 6-5.
18:00 W 4 X 100 METRES HEATS - The gauntlet is down. First heat: Jamaica 43.85. Second heat: USA 43.92. Jamaica ran with Simpson Sherone, Palmer Nadine, Stewart Kerron, Facey Simone. USA ran with Williams Lauryn, Felix Allyson, Hooker Marshevet, Solomon Shalonda and plans to come back in the finals with Sanya Richards in Solomon's slot.
18:20 M 4 X 100 METRES HEATS - 7 of 8 finalists go sub-40 led by USA 39.18 (Collins Ashton, Felix Wes, Williams Ivory, Hordge Willie), #4 all time world juniors and only 0.18 off the world junior record (USA 39.00 in 1983). Also smoking were Jamaica 39.38 (Hutton Winston, Nicely Orion, Plummer Yhann, Bolt Usain) and Trinidad & Tobago 39.50 (Simpson Chevon, Burns Marc, Holder Kevon, Brown Darrel).
18:40 M 3000 METRES STEEPLECHASE FINAL - Michael Kipyego KEN 8:29.54
18:45 W JAVELIN THROW HEPTATHLON A - Carolina Kluft SWE managed a personal best 46.83 156-11 for 799 points, bringing her to 5557 points with one event to go. That meant she needs 910 points (requiring 2:13.81) in the closing 800 meters to break the world junior record.
18:55 M TRIPLE JUMP FINAL - David Giralt CUB 16.68 54-8.75. Team USA's Rafeeq Curry couldn't get it going and fouled on all three attempts. Photo
19:00 M 10000 METRES FINAL - Ethiopia goes 1-2 with Gebre Gebremariam winning in 29:02.71.
19:15 W SHOT PUT FINAL - Valerie Adams NZL won gold with her first throw of 17.73 58-2. Laura Gerraughty USA got the bronze medal with a throw of 16.62 54-6.5. Photo
19:50 W 100 METRES HURDLES HEATS - Ashlee Williams USA advanced to the finals by winning heat 2 in a season best 13.44 +0.3, but she was only the sixth fastest finalist as Ana Tejada CUB 13.07 +0.1 and Agnieszka Frankowska POL 13.24 +0.4 won much faster heats. Tiffany Ross USA 13.78 missed advancing by 0.06 second.
20:15 M 110 METRES HURDLES SEMI-FINAL - Team USA swept the semifinal heats behind Antwon Hicks 13.59 +0.5 and Kenneth Ferguson 14.01 +0.2, with Hicks the fastest finalist. But two more runners behind Hicks were faster than Ferguson -- Shamar Sands BAH 13.67 and Dongpeng Shi CHN 13.81. Photos
20:30 W 800 METRES HEPTATHLON - Carolina Kluft SWE finishes a tour de force by winning the closing event in 2:13.55, a personal best and just enough to break the world junior record by 4 points with an overall total of 6,470 points. She won five of the seven events and had five personal best marks in the competition.
20:50 W 4 X 400 METRES HEATS - Another country heard from. Russia 3:31.64 (Mygunova Yelena, Dryakhlova Mariya, Gushchina Yuliya, Popova Tatyana) edges Jamaica 3:32.20 (Prendergast Davita, Robinson Carlene, Stewart Kerron, Morgan Sheryl), with USA (Hardeman Christina, Henderson Monique, Richards Sanya, Demus Lashinda) winning other heat in 3:35.84.
21:10 M 4 X 400 METRES HEATS - USA (Ferguson Kenneth, Williamson Darold, Jackson Bershawn, Fortenberry Jonathan) romps to 3:03.56 win over Jamaica 3:05.82 (Myers Jermaine, Clarke Sékou, Plummer Yhann, Gonzales Jermaine).
Jim Spier's event by event analysis
Men
10000m - Final
A somewhat predictable final, with 2 Ethiopians (Gebre-egziabhe Gebremariam and Sileshi Sihine) and 1 Kenyan (Solomon Busiendigh) vying over the last third of the race. The sprint began with a bit less than a lap to go, the Ethiopians having significantly greater leg speed than Busiendigh. Gebremariam (29:02.71) and Sihine (29:03.74) took the gold and silver "going away" with the Busiendigh third (29:05.96). The race was hindered by the somewhat oppressive heat and humidity.
110m Hurdles - Semi-Final (First four in each heat advance to the final)
Heat 1 The battle was supposed to be between Kenneth Ferguson (USA) and Thiago Jacinto Dias (Brazil). But Richard Philips (Jamaica) was on his home turf. Ferguson and Phillips battled out over the entire race with a photo finish determining the place. Ferguson was the winner, 14.01 to 14.02 (+0.2). Ferguson becomes only the second male and third person in the history of this event to make the finals in both hurdles. Emilio Valle of Cuba was third in the 110 hurdles and the winner of the 400 hurdles in 1986 in Athens. Sun Hongwei of China was second in the women's 100 hurdles and third in the 400 hurdles in Annecy in 1998. Coincidentally, both of these athletes won a pair of medals as well; but no one else has ever made the top eight in both events over the 16 years of these championships. We'll see how Ferguson can hold up. He has a silver in the long hurdles. He is favored to win some sort of medal in the highs tomorrow.
Heat 2 It was supposed to be between the Chinese Dongpeng Shi and Antwon Hicks of the US. But Hicks was second to Shamar Sands (Bahamas) after five hurdles, with Shi third. Hicks made his charge and finished the victor, equalling his PR (13.59), with Sands at 13.67, a Bahamian junior record. Shi was third in 13.81.
3000m Steeplechase - Final
For non-Kenyan athletes, this event always seems to be a race for third. With a lap to go, it was the Kenyans one (Michael Kipyego) and three (David Kirwa), sandwiching Abubaker Ali Kamal of Qatar. Kirwa was about 10 meters behind Kamal, and Kipyego a like distance ahead of the Qatarian. Down the backstretch, Kirwa overtook Kamal, and increased his distance from him, though not gaining on the ultimate winner Kipyego. Kipyego clocked 8:29.54 to Kirwa's 8:31.44.
4x100 - Semi-Final
Heat 1 A great race between Jamaica and Trinidad, with Jamaica ahead for the entire race. But they had a battle on their hands with Trinidad. Marc Burns and Darrel Brown ran legs 2 and 4. In between, they are "hurting". Burns made up tremendous ground on Orion Nicely of Jamaica. Kevon Holder (Trinidad) held his own against Jamaica's Yhann Plummer, with Trinidad trailing slightly. Now it was the 100 meter champion Brown against the 200 meter champion Usain Bolt. Brown started to gain, Bolt responded and Brown wisely strided in to secure second place and an automatic qualifying spot. Jamaica's time of 39.38 a world junior leader, with Trinidad's 39.50, a National Junior record.
Heat 2 Japan had the early lead passing off first. Ashton Collins of the US passed off to late replacement Wes Felix (in place of Rashaad Allen) who gave the baton to Ivory Williams with the lead. Williams ran a great turn, increasing the US lead slightly. Though it was a less than perfect pass to Willie Hordge, Hordge's acceleration down the homestretch guaranteed the US win. And it was a world leader, at 39.18, #7 on the all-time world list. Brazil in second at 39.75, set a South American junior record.
4x400 - Semi-Final
Heat 1 The US team was comprised of four medallists from this week. The 2 long hurdle runners, Kenneth Ferguson and Bershawn Jackson, and the gold and silver medallists in the 400, Darold Williamson and Jonathan Fortenberry. Ferguson led off with an incredible 45.9 (this after trials and finals in the 400 hurdles, and heats and semis in the 110 hurdles), then Williamson really opened it up with a leg of 45.4, followed by Bershawn Jackson's 45.7 and Fortenberry's 46.5, for a world leading 3:03.56. Jamaica's Jermaine Gonzales closed on Fortenberry on the anchor, but Fortenberry responded nicely. Jamaica finished in second at 3:05.82.
Heat 2 A good fight between Japan (3:07.35), France (3:07.58) and Germany, with Japan emerging the winner despite a great French anchor.
Triple Jump - Final
A disappointing event for the lone American, Rafeeq Curry. He failed to get a legal mark. The event was won by the Cuban David Giralt at 54-8.75, only .75" better than second placer Yanxi Li of China. Giralt got his jump in the second round with Li having his big jump in round 5. Here are the top finishers:
1. David Girald Cuba 54-8.75
2. Yanxi Li China 54-8
3. Aleksandr Sergeyev Russia 54-4.75
4. Alexandr Petrenko Russia 53-2.75
5. Davy Manga France 52-5.5
6. Nelson Evora Portugal 52-0.75
7. Osniel Tosca Cuba 51-7
8. Leonardo Elisario Dos Santos Brazil 51-2.25
Women
100m Hurdles - Semi-Final (First 2 in each heat and those with the next 2 fastest times overall advance to the final)
Heat 1 Tiffany Ross (USA) did not have the greatest of starts and paid dearly. The race was between Elisabeth Maurer of Austria, Angieszka Frankowska of Poland and Olga Samylova of Russia, with Ross fourth in 13.78. The first three came across the line virtually together, with Frankowska bursting through within the last 2 meters to win in 13.24 (-0.4). Samylova was second in 13.29 and Maurer third in 13.31.
Heat 2 Melanie Walker, the Penn Relays 400m hurdles champion (and silver medallist in that event here yesterday), got a terrific start and led significantly for the first half of the race. Out in lane 5, 4 lanes outside of Walker, Ashlee Williams (USA) was steadily gaining, finally catching Walker over the last hurdle, and winning in 13.44 to Walker's 13.51. It was a seasonal best and U.S. high school lead for Williams.
Heat 3 Woah! Anay Tejeda (Cuba) validated her 12.93 seasonal best by winning in 13.07 (+0.1). Second and not far behind in 13.20 was Germany's Tina Klein. With Tiffany Ross not making the final, Ashlee Williams of the US will have "her work cut out for her" in gaining a medal tomorrow.
4x100 - Semi-Final
Heat 1 Jamaica and France were the big guns here, but Jamaica's handoffs were near flawless, coming across the line well ahead of the Vernicha James-anchored Great Britain team. Jamaica clocked 43.85 with team members Serone Simpson, Nadine Palmer, Kerron Stewart and Simone Facey (Anneisha Mc Laughlin will likely anchor in the finals).
Heat 2 The USA team of Lauryn Williams, Allyson Felix, Marshevet Hooker and Shalonda Solomon handled the batons admirably to bring their team well ahead of second place Germany, 43.92 to 45.77. There is late word that both Allyson Felix and Sanya Richards may have slight injuries and may not compete in the finals. Shalonda Solomon is slated to replace Felix, and it is unknown if Richards will be replaced and who it would be. The likely candidate may be hurdler Ashlee Williams.
4x400 - Semi-Final
Heat 1 What a battle between Russia and Jamaica! Swapping leads every lap, the stamina of the Russian women down the homestretch prevailed as the won, 3:31.64 to Jamaica's 3:32.20. Those times rank 1-2 in the world this year.
Heat 2 An easy win for the US, each runner preserving their energy. The team of Christina Hardeman (54.2), Monique Henderson (51.9), Sanya Richards (55.2) and Lashinda Demus (54.5). The US team ran 3:35.84 to Great Britain's 3:38.49. After this race it was learned that Sanya Richards MAY have strained ligaments and may not run in the final tomorrow. The question is, who will that be if, indeed, that is the case. Stay tuned.
High Jump - FINAL
What a great day for the Croatians! First the hammer gold (see below), now the high jump. Blanka Vlasic cleared 6-5 on her second attempt to win by 3 ½ inches over Anna Ksok of Poland. Ksok and Vlasic were even through 6-1.5. Vlasic made 6-2.25 on her second attempt while Ksok missed on all three tries. Vlasic made 6-5 on her second attempt, then tried for a competition record of 6-6.75, but missed thrice. Here are the top finishers:
1. Blanka Vlasic Croatia 6-5
2. Anna Ksok Poland 6-1.5
3. Petrina Price Australia 6-1.5
4. Elena Meuti Italy 6-0.75
5. Renata Medgyesova Slovakia 6-0.75
6. Peaches Roach Jamaica 6-0
7. Aileen Herrmann Germany 6-0
8. Levern Spencer St. Lucia 6-0
Shot Put - FINAL
Hammer Throw - FINAL
Ivana Brkljacic (Croatia) led from round 1 and never relinquished the lead. She threw 209-4 in that round, fouled on her second attempt, increased her throws on each of the next 3 throws: 212-6, 213-10 and 214-6. Jennifer Dahlgren, who will be a senior at Klein High School in Texas next year, representing Argentina, becomes the U.S. high school leader, finishing fifth at 195-2. Here are the top placers:
1. Ivana Brkljacic Croatia 214-6
2. Martina Danisova Slovakia 209-8
3. Yuliya Rozenfeld Russia 199-7
4. Gabrielle Neighbour Australia 197-5
5. Jennifer Dahlgren Argentina (Klein HS, TX) 195-2
6. Stephanie Falzon France 192-8
7. Nataliya Zolotukhina Ukraine 191-10
8. Karin Engstrom Sweden 187-0
Heptathlon Long Jump
It will be difficult for Carolina Kluft to get the World Junior Record. Though she had a best of 21-1 in this event, she could manage "only" 20-3.75 here, thanks in part to a noncooperative wind. Diana Pickler jumped 18-2 and is in 9th place with 2 events to go. Twin Julie jumped 18-0.5 and is in 11th place.
Heptathlon Javelin
What do you think of an individual that can high jump 6-3, run 200m in 23.59, long jump 20-3? Add a javelin throw of 153-7 and you have a near complete heptathlete. Carolina Kluft is on her way to a world junior record.

Heptathlon 800m
Needing 2:13.88 to get the world junior record, with the help of the supportive crowd and public address announcer Scott Davis' astute race call, Carolina Kluft got it!!! Running about 31 seconds for her first 200 meters, and 65 for 400 meters, with the crowd screaming, she ran 2:13.55. Then the victory lap. Draped with a Swedish flag and carrying a Jamaican flag, Kluft ran around the track, stopping every 20 meters to bow to the crowd, dipping the Jamaican flag as if she were a toreador. The new World Junior record: 6470 points.
"toreador" Kluft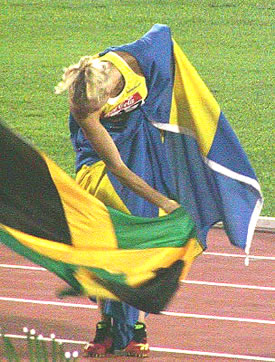 the recruiting wars at World Juniors
by Mike Byrnes
Alabama, Auburn, Gardner-Webb, Kansas, K-State, Southern Miss, Ole Miss, New Mexico, Miami and Florida, Tennessee, USC, other USC, UCLA, Washington and Washington State, UNC, Maryland, LSU, Texas, Texas A&M, Baylor, Abilene Christian, Minnesota, Coastal Carolina, Baylor, BYU, and this just scratches the list. The list of American college coaches in Kingston to "see" the meet. Just as President Clinton had trouble defining "is" so do these many coaches have problems with the word "see." In this instance the word can be defined as "recruiting." And each coach sees his colleague as a competitor, a vicious competitor.
Rumors abound concerning alleged 'dirty tricks.' One of the most vicious concerns the use of a "lady of the night" to gain favor with a foreign country. Now that's probably not true. Most recruiting is done in an honest and honorable manner. Recruiting here is big business. Championships at every level are on the line. If the winner of the 400mH, Louis Van Zyl, Republic of South Africa, wasn't a mere high school junior don't think there wouldn't be 25 or more coaches clamoring to get close to the coach. Landing a prize such as Van Zyl can also land an individual NCAA championship as well as ten points towards a team title. Bring in 4-5 super foreigners and you could bring home the biggest prize in collegiate track, the NCAA championships.
But there's a downside to all this foreign fascination. Due to the NCAA's draconian policy in re track and field scholarships, colleges are only permitted 12.5 scholarships. These must include cross-country as well. Every time a scholarship is awarded to a foreign athlete, one is denied an American kid. Usually that youngster drops out of the sport. Since many athletes don't mature until their late twenties or so, we have no idea as to the cost to our international teams.
Here's how one collegiate coach, who insisted on anonymity, defended the practice; (I'm paraphrasing) 'It's not my job to develop the Olympic program of the United States, that's the job of the USOC. My AD's main concern is winning the Conference title and making a good showing at the NC's (NCAA). If I can do that my job's secure; if not, I may be looking for a new one.'
Not very patriotic but recruiting isn't about patriotism, it's about winning. Remember, that's the good old USA way of doing business.
How do you feel about this situation? Let us hear from you. Write Mike Byrnes or DyeStat..
Seated in press row are many of the world's leading t&f writers. Covering for the Salt Lake City Tribune is PATRICK "SCOOP" SHANE; HARVEY "COPYBOY" GLANCE reporting for the Auburn Eagle and for the Columbia Globe CURTIS "ACE" FRYE.
The NSSF team bringing you all the info seen on dyestat.com is compromised of Editor Jim "Meet your deadline" Spier, Mike "Has anyone seen…" Byrnes and Joy "Flash" Kamani.

Gerraughty grabs bronze at World Junior Champs
USATF release
KINGSTON – Laura Gerraughty (North Carolina) claimed the bronze medal in the
women's shot put on day five of the IAAF World Junior Track & Field
Championships in Kingston, Jamaica. Gerraughty avenged her fourth place
finish at the 2000 World Junior Championships when she threw 16.62 meters/54
feet, 6.5 inches on her third attempt. Teammate Briona Reynolds (UCLA)
finished 12th in the finals with a mark of 14.86m/48-9.
Team USA stepped onto the track to run the semi finals in both the 4x100 and
4x400m relays. Leading the way were the men's 4x100 and 4x400m relay squads,
both running world junior leading times to win their heats. The 4x100m relay
team of Ashton Collins (Clark (LA) HS), Wes Felix (Southern California),
Ivory Williams (Central (TX) HS) and Willie Hordge (Forest Brook (TX) HS)
clocked a time of 39.18 in heat two, edging the team from Brazil. Kenneth
Ferguson (Mumford (MI) HS), Darold Williamson (Baylor), Bershawn Jackson
(Central (FL) HS) and Jon Fortenberry (South Carolina) made up 4x400m team
that ran a world junior leading time of 3:03.56. The foursome held off a
late surge by host Jamaica to win their heat.
For the ladies, the 4x100m team was comprised of Lauryn Williams (Miami),
Allyson Felix (LA Baptist (CA) HS), Mashevet Hooker (Southwest (TX) HS) and
Shalonda Solomon (Long Beach Poly (CA) HS). The foursome ran 43.92 to easily
win their heat and advance to the final. In the 4x400m, Christina Hardeman
(Wilcox (CA) HS), Monique Henderson (UCLA), Sanya Richards (St. Thomas
Aquinas (FL) HS) and Lashinda Demus (South Carolina) easily advanced to
Sunday's final with a time of 3:35.84. In an anxious moment during the women
's 4x400m, 2-time World Junior medalist Sanya Richards, running the third
leg, tripped over the railing after successfully handing off to anchor
Lashinda Demus. Richards was taken off the track on a stretcher to be
evaluated. Initial reports were a sprain to her right ankle. She will be
observed by Team USA medical staff overnight and will be re-evaluated on
Sunday.
Also on the track on Saturday were the semis of the sprint hurdles for men
and women. Antwon Hicks (Mississippi) and Kenneth Ferguson (South Carolina)
both won their heats to advance to Sunday's final. Hicks clocked a personal
best time of 13.59 to led all runners in the semis. Ferguson, the 2002 World
Juniors 400H silver medalist, ran 14.01 to advance to the finals and became
only the third athlete in World Junior history to qualify for the finals in
both the short and long hurdles. Ashlee Williams (Bishop Dunne (TX) HS) won
her heat in the women's 100H to advance to the finals, running 13.44 in heat
two. In the first heat of the 100H, Tiffany Ross (South Carolina), suffering
from a nagging hamstring injury, finished 4th (13.78) and did not advance to
the finals.
In other finals on Saturday, Rafeeq Curry (Miami, FL) fouled on all three
attempts in the men's triple jump and did not record a mark. In the women's
heptathlon, twins Julie and Diana Pickler (Rowlett (TX) HS) finished 12th
and 15th respectively. Julie accumlimated 5,097 points, while Diana racked
up 4,539 for the two-day event.
With 16 total medals after five days of competition, including Gerraughty's
bronze medal on Saturday, Team USA tops the medal count and leads the point
standings. Team USA is just one medal shy of tying the best ever medal count
at a World Junior Championships for Team USA. The U.S. record 17 medals were
won at the 1994 World Junior Championships in Lisbon, Portugal. Sunday's
finals will see men's 100H (Hicks and Ferguson), women's 110H (A. Williams),
men's 1500m (Lukezic), women's 5000m (Zinn and Zeigle) and all four relay
events.
It's Croatia's day in Kingston
IAAF release
20 July 2002 – The timetable of the IAAF/Coca Cola World Juniors Championships was such that the women's hammer throw and the women's high jump contests were held virtually at the same time and on the same side of the field.
This meant that Croatia's best chances of winning gold Ivana Brkljacic and Blanka Vlasic would be competing at the same time and a mere 20 metres apart. Both women were in Santiago two years ago and both won gold in Chile. Brkljacic won the hammer throw with 62.22 two days before Vlasic cleared 1.91 for Croatia's second gold of the history of the championships.
The hammer throw, which started tonight 35 minutes before the high jump was finished when the bar was raised at 1.85m. And by then Brkljacic already knew she would be the 2002 World Junior Champion.
"I am so happy tonight. You know these are my third world juniors. I was in Annecy in 1998, in Santiago in 2000 and here in Kingston in 2002."
Brkljacic didn't not qualify for the final in Annecy but made up two years later with a surprising gold medal effort. It was a different story this year as everyone was expecting her to win.
"There was so much pressure on my shoulders tonight. They all wanted me to win and it is not easy to handle it."
The competition may have looked easy to the spectators but from the inside it wasn't. "I feared the Slovakian and the Chinese. They both are excellent throwers. The Chinese didn't qualify but the Slovakian was very threatening."
Brkljacic is a veteran of the circuit and finished 8th in Edmonton with an effort of 65.43. She will now head towards Munich where she says her objective is to make it through to the final.
Brkljacic had a touching thought for Josef Hrovat, last year's World Youth hammer throw champion who couldn't make the trip to Kingston this year.
"About two months ago during a competition in Slovenia, Josef was hit by one of my throws. Because of this accident he is not in Kingston today. I dedicate my gold medal to him. I will make sure that it is sent to him so he can keep it with him," said Brkljacic.
Vlasic was ensured of her gold medal some thirty minutes after her friend and roommate Brkljacic. When Australia's Petrina Price failed at 1.87, Vlasic was left alone in the contest and the gold medal looked easier than two years ago. Vlasic subsequently cleared 1.89 and 1.96 for a new personal best and world junior leading mark.
Vlasic who was 6th in Edmonton unsuccessfully attempted a 2-metre height. "This was the first time I tried the 2-metre mark. That would have been a bonus. Today what matters is the gold. I am very happy I retained my world junior title. It was a fantastic night. I love Jamaica, I really enjoyed being here."
Vlasic who had ran her lap of honour with a Craotian and a Jamaican flags – the same Brkljacic had used earlier – thanked the crowd for their support.
"This is a great day for Croatia, I don't think I'll ever forget it."
Croatia had already won a gold medal earlier this week with shot putter Edis Elkasevic.
Donovan Bailey: The future of track and field is here in Kingston
IAAF release
20 July 2002 - Former 100m Olympic champion and World record holder Donovan Bailey, who ran his last race in Edmonton a year ago, is already thinking about getting back into the sport.
"Since last August, I have focused on building up my two businesses – in the fields of investment consultancy and real estate – and I now have more than 128 staff working for me. The most sport I have done is on the golf course, but I do miss athletics. I was excited to be invited to visit the IAAF World Junior Championships, and took the opportunity to meet President Diack and discuss some ideas on how to promote the sport in the future."
Bailey, who like another Olympic 100m champion Linford Christie was born in Jamaica, has been impressed by the level of competition in Kingston, and paid particular attention to the men's 100m final.
After watching the race from the VIP stand, Bailey made a point of personally congratulating Darrel Brown and Marc Burns, the gold and silver medallists.
"Congratulations guys, you have just done something awesome."
Winner of the World Youth Championships in Debrecen last year, Brown powered to the finish line of the men's 100m final to clock a new Championships record of 10.09. There had been pre-race speculations about a possible World Junior record but, because of the slight headwind or the pressure of the occasion, that didn't materialise.
"Darrel is still young, explained Bailey. He has time in hands. He's only 18 and can still break the World Junior record next year. But what he has to understand is that a sprinter's career can be very long if one learns how to take one step at a time. I had been around for ages before I made my breakthrough at the 1995 World Championships. And a year later I was Olympic champion and world record holder."
It was clear that Brown and Burns, who will both attend the University of Auburn, Alabama, were paying careful attention to Bailey's precious advice.
"I think that they will be the future of track and field. At the moment we are witnessing a very powerful breakthrough of sprinters from Great Britain. Dwain Chambers is doing well and I'm sure he'll keep on running fast. But there is also Mark Lewis-Francis and Christian Malcolm who both emerged from these championships. I admire the way Lewis-Francis is taking it a little step at a time – [he declined the chance to compete in the Sydney Olympics] and this has been paying off. I think Darrel and Marc have the potential to do great things in the future, they just need to avoid burning all their energy at such a young age."
Bailey is ready to make a comeback in athletics – but has learnt from business that meticulous planning is the key to success.
"For the time being I enjoy being back here in Jamaica. It is good to have time to see my old friends before I head back to Toronto for the next round of business meetings."

Day 5 - World Junior record for Carolina Kluft
IAAF release by David Martin (PA)
20 July 2002 - Sweden's Caroline Kluft defended her World Junior Championships heptathlon title in the best possible style of any great champion when smashing the world record in Kingston.
In the final contest of the seven events competition, Kluft was set a target of running 2:13.88 or quicker to break the 1983 mark of 6465 points achieved by East German Sybille Thiel when winning the European junior title in Schwechat.
After a stunning competition where she set two personal best performances on each day, Kluft rose brilliantly to what was a tough challenge. Hitting the front almost immediately she covered the first lap in 65.45.
Then racing against the clock, this year's European Indoors senior bronze medallist, made history when crossing the finishing line in 2:13.55 and amassing the new record score of 6470 points. Second with a score of 5727pts was Kazakhstan's Olga Alekseyeva with Russia's Olga Levenkova third on 5712 points.
Kluft who started the Championships with a personal best tally of 6274 points, worked tirelessly in both sessions. After achieving personal bests for the 100m hurdles, high jump - with a national junior record of 1.92m on day one, she excelled again in the javelin and more importantly, the 800m.
Her incredible victory in the harsh heat and humidity, saw Kluft follow in the footsteps of Svetla Dimitrova. The Bulgarian won the first two championship crowns beginning in 1986.
Kruft insisted she hadn't planned attacking the world record. "I didn't know anything about it until after the first day. I came here to take the gold medal and improve my personal record."
Admitting she was nervous before tackling the vital two track circuits, Kruft said: "I just wanted the crowd to help me do it. I'm very good when people scream at me and make lots of noise."
Ten years after Haile Gebrselassie won the World Junior 10000 metres title - after being punched in the back by a disillusioned rival in the finishing straight - there was another authorative Ethiopian victory.
After winning this year's World junior cross country title, no one doubted, as is the tradition, much more would be heard of Gebre-egziabhe Gebremariam, another awesome Ethiopian teenager.
In a style reminiscent of the great "Emperor Haile" himself, Gebremariam - who only once and very briefly put his nose at the front of the field with four laps remaining - won a second global gold medal with a searing sprint finish, in 29:02.71.
The 10,000m debutant and his team mate Sileshi Sihine, waited until the final circuit before destroying the challenge of Solomon Busiendigh who had for almost the final 3000 metres, towed them around their 25 laps encounter.
First Sihine hit Busiendigh with a hurtful burst which silenced any hopes of a third successive Kenyan win. Then he himself had nothing left in the tank when his more able colleague burst for the finishing line at the beginning of the final straight.
Sihine finished in 29:03.74 with Busiendigh clocking 29:05.96 - good running in the intense heat and humidity of Jamaica's National Stadium. Tonight belonged to Ethiopia. But after nine championships, Kenya still lead by a score of 5-4.
Earlier there had been success for Kenya. The two fastest men in the race, Michael Kipyego and David Kirwa easily achievd a one-two in the 3000m steeplechase after shaking off the challenge of Abubaker Ali Kamal around the last lap.
Kipyego won easily from his team mate in 8:29.54. Kirwa clocked 8:31.44 ahead of Kamal who, if not virtually stopping when misjudging the last barrier, would have ran an even faster Qatar record of 8:33.67.
Ivana Brkljacic repeated her hammer victory of two years ago in Santiago de Chile. The Croatian raised her championship record by almost three metres to 65.39m. Second was this year's world leader Martina Danislova of Slovakia who threw 63.91m. The bronze medal was claimed by Russia's Yuliya Rozenfeld wit a personal best 60.83m.
Blanka Vlasic defended her title in great style. The Croatian lifted her world leading junior mark for this year by two centimetres to 1.96m. In a low key event the silver medal was claimed by Poland's Anna Ksok who jumped 1.87m beating the Australian Petrina Price on countback.
There was an Oceania record for shot put winner Valerie Adams. The New Zealander claimed the gold medal with her opening throw of 17.73m. Ying Zhang of China and Laura Gerraughty from the US were second and third with bests of 16.76m and 16.62m.
Thre triple jump was won by David Giralt. The Cuban's winning jump of 16.68m came in the second round. Runner-up was China's Li Yanxi only two centimetres behind with a personal best. The bronze medal went to Russia's Aleksandr Sergeyev who cleared 16.55m.
Sunday night's 4x100m relays promise to be superb races. In the men's the United States produced the fastest time of the semi finals running a world leader of 39.18.
The previous best of 39.95 had already been beaten in the first race. Jamaica held off Trinidad and Tobago both Caribbean nations setting national records of 39.38 and 39.50.
Brazil also made progress with a South American record time of 39.75 with Germany producing their fastest this year with a 39.85.
The women's races contests were equally impressive. Three times gold medallists Jamaica ran a world leading 43.85. Then there was also a slick performance from the US quartet, winner of their heat in 43.92.