Sprint fireworks in South Carolina - Troy Williamson 10.35 +0.4 -NC football star (signed for South Carolina) grabs US#1. US#1 Xavier Carter 21.02 +1.3 (Mike Loyd 21.12) and 47.64.
Boys - Matt Debole 4:15.46 mile. Roy Cheney hurdle double: 13.83 +3.1 and 54.13 400H. Chase Shealy 16-7 PV US#2.
Girls - Julia Lucas 5:00.39 mile and 10:31.43 3200m. Kemesha Whitmire 19-6.25 and 38-6.25 LJ/TJ.
Chase Shealy clears 16-7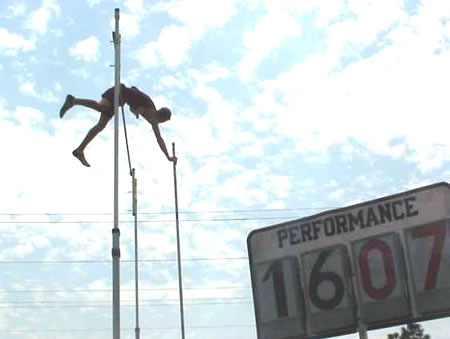 photo by Lauren Simms
Highlights
by Jim Spier
The meet, now over a dozen years old, had its best year ever. High
temperatures (91 degrees) helped mostly the sprinters, but the middle
distance runners set several meet records on both the boys and girls side,
the heat nothwithstanding.
Men
The big surprise here was senior Troy Williamson (Silver Bluff, Aiken, NC)
with a nation-leading 10.35 (+.4). Freshman J-Mee Samuels (Mt. Tabor,
Winston-Salem, NC) was second in 10.65. Samuels, born May 20, 1987, missed
Curtis Johnson's age 14 record by .01. Williamson, a big time football
player, will play that sport and run track next year at U. of South Carolina.
He made the crowd pay attention earlier with his 10.50 in the prelims (+.1).
Samuels was the second fastest qualifier overall in his heat (10.76, -.8).
The 200 was a battle between soph Xavier Carter (Palm Bay, Melbourne, FL) and
senior Mike Loyd (Mt. Tabor, Winston-Salem, NC). Loyd had a great start and
let Carter through 180 meters, with Carter ultimately the winner over Loyd
21.02 to 21.12 (+1.3). Samuels was third in 21.62, only .07 off Curtis
Johnson's 21.55 age 14 mark. Carter ran 21.44 in the prelims. Second
fastest in the prelims was Nathan Breeland (Walterboro, NC) with a 21.87
clocking. Breeland false-started in the finals.
Carter had an easy time of it in the 400, winning by a second or so in 47.64.
The 800 was won by junior Ragan Clay (North Forsyth, Winston-Salem, NC) in
1:54.42, with senior Shawn Cunningham (Hilton Head, SC) second in 1:54.89.
Matt Debole, the junior from Mt. Tabor (Winston-Salem, NC) won the mile (the
full distance) in 4:15.46. Debole split 61.9, 2:07.2, 3:13.1 (final 400
62.4).
Senior Roy Cheney (Evans, GA) was a double hurdle winner. He won the highs
in the only wind-aided sprint/hurdle race of the day (+3.1) in 13.83.
Jonathan Walker, the junior from Southwest De Kalb (Decatur, GA) and member
of the U.S. World Youth team last summer, was second in 13.90, with Mike Loyd
third in 14.00. Loyd had just finished anchoring his team's 4x100 winning
team (41.86), before he went to the hurdle starting line. All had legal
marks in the prelims: Loyd 14.28 (+1.8), Cheney 14.31 (+.2) and Walker 14.38
(+2.0).
It was Cheney the winner in the 400h (54.13), with senior Rashad Gardner
(Oscar Smith, Chesapeake, VA) second in 54.33. Cheney's time is #2 US thus
far in this early season.
Xavier Carter anchored his team to a 3:19-mid victory only to have an earlier
runner disqualified for a lane violation. Mt. Tabor became the winner in
3:20.86 (48.8 Mike Loyd anchor).
Junior Chase Shealy (Brookland-Cayce, SC) moved into second in the US in the
vault with a big 16-7 jump. He had a very near miss at 17-1 on his final
attempt. That height seems "doable" by the end of the season. Mark Johnson
(North Myrtle Beach, SC) was second at 15-6.
Mitchell Pope, a senior from South Caldwell HS (Hudson, NC) won the shot in
with a toss of 60-2.75.
WOMEN
The women's side was not quite as spectacular as that of the men, but there
were some significant marks.
Senior Quan Fields (Battery Creek, SC) won the 200 in 24.80 (+1.0) with
junior Tiffany Roberts (Southwest Guilford, High Point, NC) second in 24.96.
Shayna Staton (Bay Shore, NY) edged Shermika Bennett (Tilden, Brooklyn, NY)
in the 800, 2:18.09 to 2:18.86.
Julia Lucas (Myers Park, Charlotte, NC) had a big meet. She seemed to be the
"Queen of Negative Splits). The NC State-bound Lucas won the (full) mile in
5:00.39 (2:34, 2:26) and the 3200m in 10:31.43 (5:21, 5:10!). Duke-bound
Laura Stanley was second in both events (5:05.63 and 10:42.61). Lucas and
Stanley passed 3000m in 9:54.8 and 10:11.2, respectively.
Ebony Brown of Eau Claire, SC won the 400h over Kellie Castro (Bay Shore,
NY), 64.25 to 65.35.
Bay Shore, NY was the 4x800 victor. Shayna Staton anchored in 2:18.1 in
leading her team to the 9:33.96 victory. Carolina Day (Asheville, NC) was
second (9:38.49) with Laura Stanley anchoring in 2:18.0. Mt. Tabor
(Winston-Salem, NC) was third in 9:41.90.
Kemesha Whitmire (Spartanburg, SC) won both horizontal jumps (legal wind),
leaping 19-6.25 and 38-6.25. Soph Vonteena Knotts (Butler, Mathews, NC) was
second in the long jump at 19-3.5 (legal wind).
Jim Spier