Results - Performance List - John Carroll highlights - James Breen's report
158 Best Marks - qualifying for DyeStat Elite national rankings
Freshman girls star
Dennis-Yarmouth MA freshman

Kate Sherman

completes her double (41.28 300m and 5-8 HJ)

Manchester Central NH freshman

Chantelle Dron

4:53.15 stuns veteran field in 1600. Six girls under 5:00, all break old meet record.
Kate Sherman clears 5-8 easily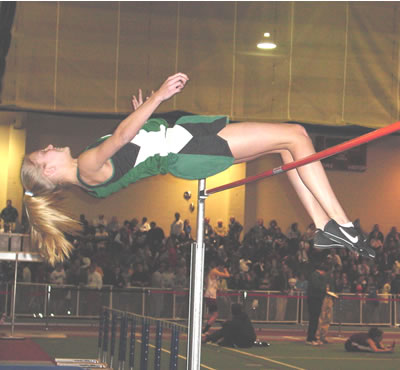 photos by Mike Boucher

Undefeated Christopher Bonner is US#1 in 600 meters
by John Carroll
BONNER RUNS FAST
Christopher Bonner (Xaverian Bros. H.S./ Westwood) ran his way into history
as he capped an h.s. undefeated season winning the N.E. 600 meters in
1:20.11. Bonner's time was a meet record, a N.E. HS best ever 600m, the # 1
600 in the U.S., and the # 6 performance on the All-time U.S. list.
Bonner took the lead right away building up about 4 yards at 400. He then
held his lead as other cut it inch by inch. By the distance ran out and
Bonner ran into history. Russel Brown (Hanover, NH) ran 1:20.82 (# 3 US);
John Doherty Jr (Dartmouth, MA) ran 1:21.71 for third; Aaron Reed (Wayland,
MA) was 4th in 1:21.37.
1000m: Logan Jones won as he pleased building up a big lead and then coasting
home in 2:32.59.
1600m: Joe Mohn (Immaculate, CT) kicked in big time to win in 4:18.39 for a
five yard win over Steve DeWitt (Ellsworth, ME) who ran 4:19.18.
3200m: David Murphy (Bish. Hendrickon, RI) ran away from the field with an
800 to go. His last three laps made the field look like they were running in
quicksand. Murply was very impressive in the last 300 meters opening up a
large gap.
4 x 400 Relay: Newton North (MA) kept it's streak alive as is battled for
first in a season quick time of 3:23.97. St. John's (Shrewsbury, MA) and
Dartmouth (MA) ran PR's by more than several seconds with St. John's at
3:24.45 and Dartmouth in 3:24.74.
4 x 800 Relay: St. John's Prep (Danvers, MA) and Franklin (MA) staged a
classic battle with both teams separated by less than a second. The Prep
winning in 8:04.01 and Franklin at 8:04.99.
GIRLS
SHOT PUT: Megan Frederick (Ipswich, MA) had the early lead with a 41'05"
throw in round two, while winner Lacey-Ann Parker (Ledyard, CT) threw
41'06.5" on her third throw. On the her last throw Allison Bradshaw
(Pomoraug, CT) split them with a toss of 41'06"
LONG JUMP: Aquila Judge won the event with her 18' 11" jump. Kara Dickham
Jr. (Westborough, MA) also hit 18'11" on her first jump. Judge was awarded
first based on her 18' 9.75" jump in round four.
HIGH JUMP/300m: Dennis-Yarmouth (MA) freshman Kate Sherman began a good day
as she cleared 5' 8" on her second attempt to win the meet. She had two good
attempts at 5'10. About an hour later Kate won the 300m in a quick :41.28 to
win by three yards.
1000m: Framingham (MA) Jen Perry had her way with the 1000 field as she
cruised to an easy four second victory in 2:58.52
1600m: Chantelle Dron (Central-Manchester, NH) kicked big time to get abreast
with Megan Owen (Killingly, CT) and the two battled right to the wire. The
NH frosh was the winner in 4:53.15, with Owen 2nd in 4:53.50. Dron's
teammate Villanova bound Liz Gesel was 3rd in 4:57.00. Catie Markesich
(Weymouth, MA) was 4th in 4:59.04, and Bromfield's Ari Lambie (running 60
minutes after anchoring her Bromfield 4x800 team –2:13.6) was 5th in 4:59.05.
Sixth was Oliver Ames (MA) Jr. Sara Powell (younger sister to Stanford's
Andy) in 5:01.31. Dron held the lead at 200 and did not get back there again
until the last several meters. The first five were not more than five meters
apart the whole race.
Leaders: Gesel :72.2-2:28.2-3:43.9
3200m: Lindsay Vieira (North Kingstown, RI) lead all the way. Lindsay
passed the 1600 in 5:22, and then increased her tempo to opened up the big
lead .
4 x 800 Relay:
The 4 x 8 was the 2nd event in the program and Bromfield School (Harvard, MA)
left no doubt of their intentions – go for the record. Nora Sullivan
(Cambridge, MA) moved to the lead with a 2:19.5 first leg. Bromfield's Pam
Rosato ran 2:22.1 and the race was on. Yanlowski blasted into the lead with
her PR of 2:20.8 and Bromfield was on the way to a fast time. Diane Morse
kept up the pressure with her solo 2:21.3. Morse gave Jr. Ari Lambie a 30
yard lead. Lambie took off, hitting her 400 in 65 and lapped four teams as
she split a 2:13.6. Bromfield's time – 9:18.17 - was a meet record, a N.E.
best, and the # 3 time in the U.S. this winter. (#1 and # 2 were also run
tonight in NY). Cambridge was 2nd thanks to a 2:15.2 anchor split by Jr Sara
Isbitz.
4 x 400 Relay:
Ispwich kept up there winning ways as they dipped under four minutes with a
quick 3:59.01. The team split: 59.9 – 58.7 – 60.7 – 59.2.

Best Marks - qualifying for DyeStat Elite national rankings
Event Mark By
BOYS
B-55 6.49 Walker, Kenneth, , Bloomfield CT
B-55 6.5 Groce,. Eric, 2002, Rutland VT
B-55 6.59 Harding, Timothy, 2003, Rindge-Latin Cam MA
B-300 35.61 Saltzman, Dan, 2003, Foxboro MA
B-300 35.66 Barber, Jameson, 2002, New Bedford MA
B-300 35.66 Greigre, Hafiz, 2003, Attleboro MA
B-300 35.97 Swift, Doug, 2002, Souhegan NH
B-600 1:20.11 MR Bonner, Christopher, 2002, Xaverian MA
B-600 1:20.82 Brown, Russell, 2003, Hanover NH
B-600 1:21.17 Doherty, John, 2003, Dartmouth MA
B-600 1:21.37 Reed, Aaron, 2003, Wayland MA
B-600 1:21.5 Stoddard, Marc, 2002, King Philip MA
B-600 1:21.83 Karngor, Emmanuel, 2002, Shea RI
B-600 1:22.89 Ramos, Tiemarcie, 2002, Wilbur Cross CT
B-600 1:23.74 Koestner, Eric, , Immaculate CT
B-600 1:24.54 Laguerre, Brian, , Griswold CT
B-600 1:24.83 Torres, Elias, , E. Hartford CT
B-1000 2:32.59 Jones, Logan, 2002, Weston MA
B-1000 2:34.33 Fortin, Matt, , N. Yarmouth ME
B-1000 2:34.34 Rigali, Chris, 2002, Holyoke MA
B-1000 2:34.72 Wright, Christopher, 2002, S. Kingstown RI
B-1000 2:34.9 Drake, Don, 2003, Deering Port ME
B-1000 2:36.16 Walsh, Colin, , NotreDame W.H. CT
B-1000 2:36.19 Helveston, Blake, , E. Hampton CT
B-1000 2:36.96 Scully, Chris, 2002, Malden Cath MA
B-Mile 4:19.89 c Mohn, Joe, 2002, Immaculate Heart CT
B-Mile 4:20.68 c Dewitt, Steven, 2002, Ellsworth ME
B-Mile 4:23.82 c Bloom, Alex, 2002, Guilford CT
B-Mile 4:24.89 c Anastasia-Murphy, Sean, 2002, Gloucester MA
B-Mile 4:24.98 c Hughson, David, 2002, N. Middlesex MA
B-Mile 4:25.83 c Walsh, Steve, 2003, Bish Hendricken RI
B-Mile 4:25.88 c Morasse, Patrick, 2002, Lowell MA
B-Mile 4:26.98 c Courchesne, Bill, 2002, Manchester Mem NH
B-Mile 4:27 c Goodman, Nicholas, 2003, Watertown MA
B-2Mile 9:22.77 c Murphy, David, 2003, Bish Hendricken RI
B-2Mile 9:26.71 c Burnham, David, 2002, Mohawk Trail MA
B-2Mile 9:27.71 c Laboy, Andre, 2002, Danbury CT
B-2Mile 9:28.2 c Abdi, Abdulgani, 2002, Brockton MA
B-2Mile 9:31.57 c Norton, Aaron, 2002, Morse Bath ME
B-2Mile 9:32.72 c Haji, Ahmed, 2004, Conard CT
B-2Mile 9:33.75 c Critzer, Eric, 2003, Falmouth MA
B-2Mile 9:34.34 c Killian, Dermot, 2002, Cheverus ME
B-2Mile 9:35.52 c O'Loughlin, Danny, 2002, Danbury CT
B-2Mile 9:36.46 c Truax, Tony, 2002, Dover NH
B-2Mile 9:39.62 c Mandelburg, Jon Paul, , Norwich Free MA
B-2Mile 9:40.38 c Coombs, Gavin, 2004, Griswold CT
B-55H 7.41 Moreira, Luis, 2002, Somerville MA
B-55H 7.44 Kretschmer, Cody, 2002, Pinkerton NH
B-55H 7.57 Fontaine, Eliot, 2003, Watertown MA
B-LJ 22' 3.25 Chan, Kevin, 2002, Wilton CT
B-LJ 22' 1 Hall, Tristan, 2002, Londonderry NH
B-LJ 22' 0 Ludwig, Jesse, 2002, S. Portland ME
B-LJ 21' 11.5 Golembeski, Adam, , Torrington CT
B-SP 54' 4 Hutchinson, Sean, 2002, Billerica Mem MA
B-SP 53' 11.5 Mitchell, Jim, 2002, Londonderry NH
B-SP 52' 8 Bell, David, 2002, Newton N. MA
B-SP 52' 3.5 Robinson, Justin, 2002, Lowell MA
B-SP 52' 1.25 Bowen, Buddy, 2002, Dennis-Yarmouth MA
B-4x200 1:31.36 Boys Relay, , Bridgewater-Raynham MA
B-4x200 1:31.68 Boys Relay, , New Bedford MA
B-4x400 3:23.97 Boys Relay, , Newton North MA
B-4x400 3:24.45 Boys Relay, , St. John's Shrew MA
B-4x400 3:24.74 Boys Relay, , Dartmouth MA
B-4x400 3:26.09 Boys Relay, , Wayland MA
B-4x400 3:28.17 Boys Relay, , Hall W. Hart CT
B-4x800 8:04.01 Boys Relay, , St. John's Dan MA
B-4x800 8:04.99 Boys Relay, , Franklin MA
B-4x800 8:08.52 Boys Relay, , Manchester Cen. NH
B-4x800 8:08.63 Boys Relay, , Xavier CT
B-4x800 8:11.96 Boys Relay, , Ridgefield CT
B-4x800 8:12.06 Boys Relay, , Westford Acad MA
B-4x800 8:14.23 Boys Relay, , Newton North MA
B-4x800 8:14.61 Boys Relay, , Xaverian MA

GIRLS
G-55 7.24 Kimbrel, Jordine, 2002, Boston Latin MA
G-300 41.28 Sherman, Kate, 2005, Dennis-Yarmouth MA
G-300 42 Stevenson, Natasha, 2003, Haverhill MA
G-600 1:35.45 Brown, Daviann, 2002, SilverLake Reg MA
G-600 1:36.26 Kelley, Kristen, 2002, Wachusett MA
G-600 1:36.4 Heitkamp, Mary, 2004, Fair Haven Union VT
G-600 1:37.23 Shea, Erica, 2002, Ipswich MA
G-600 1:37.77 Haggerty, Chantelle, , Hermon ME
G-600 1:37.79 Cloutier, Karen, 2002, Quabbin MA
G-600 1:39.07 Sloan, Caroline, , Farmington CT
G-600 1:39.47 Rodgers, Vanessa, 2003, N. Reading MA
G-600 1:39.75 Lima, Katie, 2005, Westerly RI
G-1000 2:58.52 Perry, Jen, 2002, Framingham MA
G-1000 3:02.17 Hicks, Amy, 2002, Woodstock CT
G-1000 3:02.76 Hevenor, Allison, 2002, N. Kingstown RI
G-1000 3:03.6 Leenhouts, Meredith, 2004, Franklin MA
G-1000 3:03.8 Lewis, Livy, , Conard W. Hart CT
G-1000 3:04.24 Harrington, Rachel, , Fitch CT
G-1000 3:04.31 Chapman, Abby, 2004, Greely ME
G-Mile 4:54.85 c-MR Dron, Chantel, 2005, Manchester Cen NH
G-Mile 4:55.2 c Owen, Meghan, 2003, Killingly CT
G-Mile 4:58.7 c Gesel, Liz, 2002, Manchester Cen NH
G-Mile 5:00.74 c Markesich, Catie, 2003, Weymouth MA
G-Mile 5:00.75 c Lambie, Ari, 2003, Bromfield MA
G-Mile 5:03.01 c Powell, Sara, 2003, Oliver Ames MA
G-Mile 5:06.6 c Sadowski, Abbey, 2003, Griswold CT
G-Mile 5:07.38 c Flinn, Jessica, 2003, Timberlane NH
G-Mile 5:11.86 c Clark, Heather, 2003, Brewer ME
G-Mile 5:13.98 c Kovacs, Justine, , Stamford CT
G-Mile 5:16 c Anderson, Emily, 2002, Westerly RI
G-Mile 5:16.9 c Sanborn, Kathleen, 2004, Rutland VT
G-2Mile 10:49.37 c Vieira, Lindsay, 2002, N. Kingstown RI
G-2Mile 10:57.79 c Bryson, Catherine, 2003, Hanover NH
G-2Mile 11:06.27 c Schorr, Melanie, 2002, Suffield CT
G-2Mile 11:09.07 c Stublic, Lisa, 2002, Crosby CT
G-2Mile 11:11.87 c Buckley, Kaitlin, 2002, N. Kingstown RI
G-2Mile 11:16.89 c Duffy, Katie, , Masuk CT
G-2Mile 11:21.5 c Iannacci, Jessica, 2002, Lunenburg MA
G-2Mile 11:26.36 c Frash, Margaret, 2003, Newburyport MA
G-2Mile 11:27.62 c Duffy, Annie, , Masuk CT
G-2Mile 11:28.07 c Cunningham, Nimah, , Branford CT
G-55H 8.21 Serdakowski, Mary, 2002, Chariho RI
G-55H 8.28 Judge, Aquila, 2002, Scituate MA
G-55H 8.45 McDevitt, Chrissy, 2003, Nonnewaug CT
G-55H 8.46 Riel, Tianna, 2004, Hopkinton MA
G-55H 8.61 Souviney, Katie, 2002, Winslow ME
G-HJ 5' 8 Sherman, Kate, 2005, Dennis-Yarmouth MA
G-HJ 5' 6 Harlow, Jen, 2003, E. Bridgewater MA
G-HJ 5' 4 Thompson, Emily, 2002, Billerica MA
G-HJ 5' 4 Rossini, Shawna, 2003, Holliston MA
G-HJ 5' 4 Hatch, Erin, 2003, Thornton Acad ME
G-HJ 5' 4 Coughlin, Tricia, 2002, Merrimack Val NH
G-LJ 18' 11 MR Judge, Aquila, 2002, Scituate MA
G-LJ 18' 11 Dickman, Kara, 2003, Westboro MA
G-LJ 18' 3 Brooks, Andrea, 2002, Merrimack NH
G-LJ 18' 1 Riel, Tianna, 2004, Hopkinton MA
G-LJ 18' 1 Wood, Deborah, 2002, O'Bryant Rox MA
G-LJ 17' 11.75 Egbert, Stacey, , Danbury CT
G-LJ 17' 8.25 Trout, Latoya, 2002, E. Boston MA
G-SP 41' 6.5 Parker, Lacey-Ann, , Ledyard CT
G-SP 41' 6 Bradshaw, Allison, 2002, Pomperaug CT
G-SP 41' 5 Fredrick, Megan, 2002, Ipswich MA
G-SP 40' 8.5 Jeffers, Stephanie, 2003, Barnstable MA
G-SP 39' 1.5 Griggs, Allison, 2002, East Lyme CT
G-SP 39' 1.5 Moore, Erin, 2002, Nashua NH
G-4x200 1:46.39 Girls Relay, , Hopkinton MA
G-4x200 1:46.79 Girls Relay, , Notre Dame-Hing MA
G-4x200 1:47.48 Girls Relay, , Natick MA
G-4x200 1:47.82 Girls Relay, , Cen Cath Lawr MA
G-4x200 1:47.99 Girls Relay, , N. Reading MA
G-4x400 3:59.01 Girls Relay, , Ipswich MA
G-4x400 4:05.01 Girls Relay, , Dennis-Yarmouth MA
G-4x400 4:05.51 Girls Relay, , Danbury CT
G-4x400 4:06.1 Girls Relay, , Westerly RI
G-4x400 4:06.89 Girls Relay, , Wachusett MA
G-4x400 4:08.27 Girls Relay, , New Canaan CT
G-4x400 4:09.15 Girls Relay, , Tollgate RI
G-4x800 9:18.17 MR Girls Relay, , Bromfield MA
G-4x800 9:35.31 Girls Relay, , Cambridge R&L MA
G-4x800 9:44.35 Girls Relay, , Chelmsford MA
G-4x800 9:49.85 Girls Relay, , Deering Port ME
G-4x800 9:51.39 Girls Relay, , New Canaan CT
G-4x800 9:55.02 Girls Relay, , Danbury CT
G-4x800 9:56.72 Girls Relay, , Wachusett MA
G-4x800 9:56.92 Girls Relay, , Greely Cumb ME
By: James Breen (mohawkrunner)
The 15th Annual New England Indoor Track and Field Championships were held Friday, March 1, at the Reggie Lewis Track and Athletic Center in Boston. The regional meet drew athletes from the six New England State: MA, CT, RI, VT, NH, and ME.
The meet started with the Girls 3200. Going into the race Natasha Roetter was seeded first, but she did not check in, so the race was between Lindsey Vieira of North Kingston, Rhode Island and Catherine Bryson of Hanover, New Hampshire. Bryson led the race for the first half-mile, then Vieira took the lead. At the mile mark Vieira started to open the gap and had a commanding lead from that point on. The battle was now for second place with Bryson moving into third behind Melanie Schorr of Suffield, CT. With 1 lap left, Bryson out kicked Schorr for second place.
1 Vieira, Lindsey 12 NORTH KINGSTOWN HS (RI) 10:45.57 2
2 Bryson, Catherine 11 HANOVER HS (NH) 10:53.99 2
3 Schorr, Melanie SUFFIELD HS (CT) 11:02.47 2
4 Stublic, Lisa CROSBY HS -WATERBURY (CT) 11:05.27 2
5 Buckley, Kaitlin 12 NORTH KINGSTOWN HS (RI) 11:08.07 2
6 Duffy, Katie MASUK HS - MONROE (CT) 11:12.89 2
The Boys 3200 was a very tactical race. David Burnham Mohawk Trail (MA) led the race from lap 4 to lap 14, with a chase pack behind him up till the mile mark. After going through the mile in 4:42, Burnham and Abdulgani Abdi of Brockton (MA) started to pull away from the field. With a half-mile to go the chase pack of Tony Truax of Dover (NH), Andre Laboy of Danbury (CT), and David Murphy of Hendricken (RI) joined Burnham and Abdi. With 600m to go Laboy started to kick and Abdi went with him, followed by Burnham and Murphy. Burnham then surged by them and took the lead. With 500 to go Murphy surged again and started to pull away from the pack. It looked like the race might have been over but with 400 left, Burnham caught Murphy and it came down to who could run the quickest 400. Burnham hung on for a little bit before Murphy started to pull away. Murphy kicked the last 400 in 60 and Burnham kicked it in about 64. Murphy won in 9:19.57 followed by Burnham in 9:23.51, Laboy in 9:24.51, and Abdi in 9:25.00. This was a very tactical race, coming down to the kick. The following is an interview with David Murphy:
JB: How did you feel going into the race?
Murphy: I felt really nervous and had butterflies since it was my first NE experience
JB: with a mile to go Burnham and Abdi started to pull away, did you feel you still had enough to catch them?
Murphy: no, my coach was pretty pissed. He told me the "race was up there"
JB: With 500 to go you caught Laboy, Burnham, and Abdi and you made a surge and took control of the race. Did you feel the race was yours after that?
Murphy: yeah, I just hung on for dear life and sprinted
JB: you kicked the last 400 in 60. Did you expect to do so, and did that give you more confidence for future races?
Murphy: I didn't expect to go that fast, but I knew, if I had any hope at all, that I would have won the race in a kick. So hopefully, that will help for future races
JB: is this whole experience a bit over whelming with you being a junior?
Murphy: yea, pretty much
JB: what type of training have you been doing to prepare your-self for this race?
Murphy: um, our team does a lot of high mileage, varied speed workouts of 400's and 800's, and then tapered the week prior to states
JB: your going to NSIC right? What are you planning to run there?
Murphy: yeah, well, I wanna see if I can break 920 in the two mile
JB: come outdoor season are you going to stick with the 2-mile or move down to the mile?
Murphy: combination of both, my coach thinks, because of my kick, I can run a real good mile
JB: do you have a special routine you do before your races?
Murphy: nope, I think its funny to watch people do push ups and stuff…makes me laugh
JB: I noticed that you wear the harembees. Do you like them?
Murphy: actually, that's the first time i've worn them besides dual meets, I usually wear the ventulus, but I heard they were not allowed on the track.

1 Murphy, David 11 BIS.HENDRICKEN-WARWCK(RI) 9:19.57 2
2 Burnham, David 12 MOHAWK TR/SHLBRNFALLS(MA) 9:23.51 2
3 Laboy, Andre DANBURY HS (CT) 9:24.51 2
4 Abdi, Abdulgani 12 BROCKTON HS (MA) 9:25.00 2
5 Norton, Aaron 12 MORSE HS - BATH (ME) 9:28.37 2
6 Haji, Ahmed CONARD HS-W.HARTFORD (CT) 9:29.52 2
After the first 3 legs of the boy's 4x800, Manchester Central of New Hampshire had built a commanding lead over the field, with the battle for second place between St. Johns Prep of MA and Franklin MA. But in the last leg, Central dropped back and was soon caught by Franklin and Prep. Coming around the last turn Prep led but Franklin was gaining. Prep was able to hold of Franklin though, finishing in 8:04.01 and 8:04.99. I was able to speak with the Prep boys after the race. When asked if they thought they could catch Central who had such a commanding lead after the first 3 legs, they replied, "We knew that we could do it," "we felt we could catch them." "We felt very relaxed." They said that running an 8:04.01 after running 8:10 last weekend at the MA All-State Meet was, "a big surprise, but we knew we could do it." Look for The Prep team at NSIC in the 4x800, 4x1600, and the SMR. Also Franklin improved from 8:15 at the MA all-state meet to 8:04 this weekend.
1 SJPR ST.JOHN'S PREP-DANVRS(MA) 8:04.01 2
2 FRKL FRANKLIN HS (MA) 8:04.99 2
3 MNCE MANCHESTER CENTRAL HS(NH) 8:08.52 2
4 XAVC XAVIER HS-MIDDLETOWN (CT) 8:08.63 2
5 RIDG RIDGEFIELD HS (CT) 8:11.96 2
6 WSAC WESTFORD ACADEMY (MA) 8:12.06 2
The Bromfield girl's 4x800 team put on quite a show, winning in a meet record time of 9:18.17, ousting the second place finisher by 17 seconds, and beating the old meet record by 9 seconds. Also Bromfield Miler Ari Lambie (5th in the mile) ran an astounding 2:13 split for the winners. MA took the top 3 spots in this race.
1 BROM BROMFIELD SCH-HARVARD(MA) 9:18.17 # 2
2 CAMB CAMBRIDGE R & L HS (MA) 9:35.31 2
3 CHEL CHELMSFORD HS (MA) 9:44.35 2
4 DEER DEERING HS -PORTLAND (ME) 9:49.85 1
5 NCAN NEW CANAAN HS (CT) 9:51.39 2
6 DANB DANBURY HS (CT) 9:55.02 2

In the boys 1000m Logan Jones of Weston, MA led from the gun, going through the 400 in 59 and the half-mile in 2:00. Matt Fortin of North Yarmouth Academy in Maine followed Jones in second place. With a lap to go Jones had a safe lead and, although he fell off pace by 3 seconds, was still able to hold the lead for the win in a time of 2:32.59. In an exciting battle for second, Chris Rigali (Holyoke, MA) kicking from 5th at the bell, missed second-place Fortin by .01 sec. Places 2-5 were all within .57 seconds of each other in a very close race. "I felt pretty confident going into the race" Jones said, and "I just wanted to run the race Lap to Lap," "I went out and did what I wanted to do." Logan will be running at NIC in the 800.
1 Jones, Logan 12 WESTON HS (MA) 2:32.59 3
2 Fortin, Matt NORTH YARMOUTH ACAD. (ME) 2:34.33 3
3 Rigali, Chris 12 HOLYOKE HS (MA) 2:34.34 3
4 Wright, Chris 12 SOUTH KINGSTOWN (RI) 2:34.72 3
5 Drake, Don 11 DEERING HS -PORTLAND (ME) 2:34.90 3
6 Walsh, Colin NOTRE DAME-WEST HAVEN(CT) 2:36.16 3
The Girls 1000m featured returning Champion Jen Perry from Framingham, MA. Coming off a meet record of 2:49.97 at the MA All-State Meet last weekend, she led from the gun, winning in 2:58.52.
1 Perry, Jen 12 FRAMINGHAM HS (MA) 2:58.52 2
2 Hicks, Amy WOODSTOCK ACADEMY (CT) 3:02.17 2
3 Hevenor, Allison 12 NORTH KINGSTOWN HS (RI) 3:02.76 2
4 Leenhouts, Meredith 10 FRANKLIN HS (MA) 3:03.60 2
5 Lewis, Livy CONARD HS-W.HARTFORD (CT) 3:03.80 2
6 Harrington, Rachel FITCH HS -GROTON (CT) 3:04.24 1
The Girls 1600 was an amazing race. High School mile leader Ari Lambie was the favorite, but with Foot Locker Finalist Liz Gesel from Manchester Central, NH also in the field a hard fought race was expected. Gesel took the lead from the start, the rest of the field staying a few yards back. With 2 laps left, Gesel's teammate, freshmen Chantelle Dron, started pulling away from the field. Coming around the final turn Meghan Owen of Killingly-Danielson, CT caught Dron and looked strong, but Dron put on a last minute surge and held on to win in 4:53.15 a US#4 time. "I felt really good" Dron said, "I just wanted to run my best." The top six finishers in this race bested the old meet record of 5:02.56 by Liz Gesel, including Sara Powell sister of Stanford runner and high school mile standout Andy Powell. Dron will be competing at the Nike Indoor Classic next weekend.
1 Dron, Chantelle 09 MANCHESTER CENTRAL HS(NH) 4:53.15 # 2
2 Owen, Meghan KILLINGLY-DANIELSON (CT) 4:53.50 # 2
3 Gesel, Liz 12 MANCHESTER CENTRAL HS(NH) 4:57.00 # 2
4 Markesich, Catie 11 WEYMOUTH HS (MA) 4:59.04 # 2
5 Lambie, Ari 11 BROMFIELD SCH-HARVARD(MA) 4:59.05 # 2
6 Powell, Sara 11 OLIVER AMES-NO.EASTON(MA) 5:01.31 # 2
The Boys 1600 was called back after Joe Mohn (Immaculate, CT) fell in the first turn. Following a clean start, Mohn stayed back through the first turn, and then moved up on the back straightaway. Pat Morrasse (Lowell, MA) lead for the first 400 going through in 60. As he started to drop back, Alex loom (Guilford, CT) took the lead followed by Morasse and Mohn. At the half, Mohn took the lead while Morasse began to fade. With 3 laps remaining, Steve Dewitt of Ellsworth, ME moved up from the chase pack and challenged Mohn for the lead. In the end Mohn was able to out kick Dewitt for the victory winning 4:18.39 to 4:19.18, with Bloom finishing in 4:22.32. "I was happy with my time," Mohn said. Regarding mental state after the trip up he said, "I new I could do it, I just had to clear my head and think of it as a brand new race." Mohn will be running at NSIC this coming weekend. Placing 4th from a slower heat was Sean Anastasia-Murphy of Gloucester, MA in 4:23.39.
1 Mohn, Joe IMMACULATE HS-DANBURY(CT) 4:18.39 3
2 DeWitt, Steve 12 ELLSWORTH HS (ME) 4:19.18 3
3 Bloom, Alex GUILFORD HS (CT) 4:22.32 3
4 Anastasia-Murph, Sean 12 GLOUCESTER HS (MA) 4:23.39 2
5 Hughson, David 12 NO MIDDLESEX-TOWNSEND(MA) 4:23.48 3
6 Walsh, Steve 11 BIS.HENDRICKEN-WARWCK(RI) 4:24.33 3
I wasn't able to cover all of the sprints and jumps, but of note are: Christopher Bonner of Xaverian in Westwood, MA won the 600 in a US #1 time and New England best of 1:20.11 followed by Hanover, NH Junior Russell Brown in 1:20.82. The top 6 in this race were all under 1:22, which put them all in the top 10 on the Dyestat Elite. Also, Kate Sherman, a freshmen from Dennis-Yarmouth HS, MA, won the high jump in 5-8, which ties her for 4th in the country, this season, and the 300 in a time of 41.28. She is the sister of New England standout Melissa Sherman. Mary Serdakowski of Chario HS in Richmond, RI won the 55 hurdles in 8.21 to place her 8th in the US. Luis Miguel Moreira won the men's 55 hurdles in 7.41, a US#5 time.
I would just like to thank all the Athletes that allowed me to interview them. Everybody ran very good races and I apologize if I left out any of the top performers. I also tried to get equal coverage of boys and girls. I was not able to cover many of the sprints and field events, and I apologize. Congratulations to everybody who ran!