by John Dye
Willingboro NJ jr Michael Morrison again made 7 feet look routine. Waiting until all other jumpers went out (at 6-2), Morrison raised the bar to 6-4 for his opening jump. He cleared that as a warmup and swiftly worked through 6-8, 6-10 and 7-0, with only one miss in the series. Then he raised the bar to 7-2 to try to break his own Armory record of 7-1, set just 12 days ago in the Bishop Loughlin games. It wasn't there today, but he left observors thinking it is just a matter of time before Morrison combines his tremendous spring with the right form and timing and joins the all-time top 10 list of 7-3 or better indoors. The US indoor record is 7-5 by Gail Olson, Sycamore IL, 1978.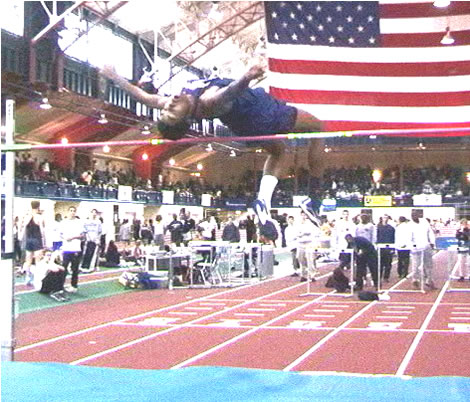 Here is Morrison's jumping sequence.
Read these from right to left, and be aware that not all are from the same jump.
| | |
| --- | --- |
| 5 | 4 |