by John Dye
Stacey Ann Livingston's senior year is turning into a playful romp. After the first month of the indoor season, the Boys and Girls NY star from Jamaica leads the nation in four events from 600 meters to 1500, with her margin over 2nd best showing she is in a class by herself.
EVENT

TIME

MARGIN
over 2nd best

COMMENT

600

1:30.20

2.5 sec

may beat the listed US record of 1:30.1h

800

2:09.64

5.9

1000

2:50.37

3.2

US#8 all time

1500

4:42.82

2.4
Today, it was the 800 meters. With Brown winner Nana Hanson-Hall, New Rochelle, and A.P. Randolph sr Kelly Wallace in the field, it figured to be a least a little challenging. Wallace set the pace for two laps and then Livingston took command. With no one near, she closed with a 32-second last lap to win by 6.6 seconds over Hanson-Hall 2:16.21. Livingston ran nearly even splits of 64 and 65 seconds. Stacey Ann's Boys & Girls teammate Akilah Vargas 2:16.56 caught Wallace 2:16.72 for 3rd. The first eight girls finished under 2:20.
Afterward, Livingston was asked whether she planned to let Wallace lead for two laps. "I didn't plan, I just ran," Livingston said. "I don't worry about who is in the race; I just run my race."
Then Stacey Ann startled reporters with her goals for the 800, her favorite race, this year: 2:05 indoors and 2:00 outdoors. She also has special plans for the Evian Mayor's Meet on February 23, her birthday. Livingston says she will run under 1:30, eliminating any ambiguity over the national record.
In the evening, Livingston ran a leisurely 2:15 anchor leg for Boys and Girls' winning 4x800 relay. The first three splits were Keziah Fernandez 2:19, Sheanna Belmar 2:29, and Akilah Vargas 2:21.
Wallace and Livingston are 1-2 through 2 laps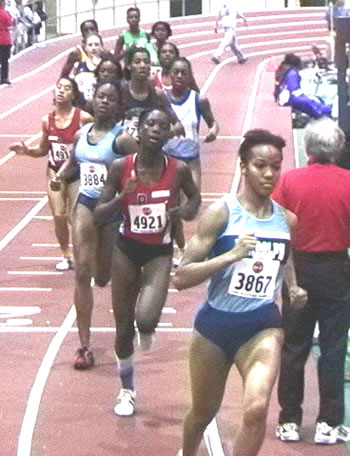 Livingston takes Wallace
on lap 3 backstretch,
starts bell lap with daylight, and finishes all alone.
left, close finish for 2-3-4 in 800, with
Vargas (red) lunging past Wallace for 3rd.


4x800: Fernandez hands off to Belmar
after solid opening leg of 2:18.6.
| | |
| --- | --- |
| | 4919 Akilah Vargas and Stacey Ann Livingston - teammates on and off the track. |