by John Dye
Jamestown VA sr Bryce Ruiz came a long way for the Hispanic Games and he had a busy day. First up
was the 3200, where he was in and out of the lead until the bell lap. A couple of hours later he was honored in the Leaders of Tomorrow ceremony, but couldn't bask in the glory long because the mile was ready to start. Stripping down to his running uniform, Ruiz rushed to the starting line and led early before fading to 8th in 4:30.
In the 3200, Ruiz appeared poised to win before John Jay East Fishkill soph Hakon Devries kicked on the bell lap and won impressively (left) in 9:24.30 for his second straight victory at the Armory. (12/15 Bishop Loughlin 9:36.57). "I've got to work on that," said Ruiz about his own kick.
Ruiz led the first half of the race with splits of 2:22 and 4:45. Then, Brewster sr Frank Macreery, just accepted to Princeton, moved up to challenge and take the lead on lap 11. Macreery and Ruiz see-sawed for 4 more laps, but Devries was closing on lap 15 and struck decisively at the bell.
| | |
| --- | --- |
| Ruiz sets the pace for the first half | Macreery takes lead on lap 11 |
It's a 3-man race late between Ruiz, Macreery, and Devries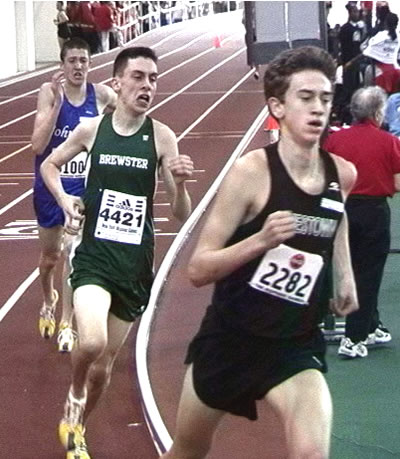 | | |
| --- | --- |
| | Hakon Devries wins |
Ruiz breaks on top in mile in his last chore of the day