by John Dye
Jeannie Sousa of Bend, Oregon followed on the Internet as her son, Anton, ran in the Great Race of the Great Bay in San Francisco September 8 (he was 12th in Varsity Boys section 2). Three days later, electronic images of the opposite kind came from New York and Washington. She wrote about her feelings:
Dear John,
My name is Jeannie Sousa, my son "Anton Sousa" who just turned 18 this month, ran in the "Great Race of the Bay" San Francisco race last Saturday Sept 8th. It was a day I shall never forget as I could not be there to cheer him on at Golden Gate Park. I live in Bend, Or. However, my Mom (Antons Grandma) who lives in the Bay Area was at the finish line, with a cell phone in hand so I could speak to him after the race. With tears of excitement I was able to congratulate him from afar. He was the 12th runner to cross the finish line.
I was so desperate to feel closer to him on that Saturday morning that after about a half hour of searching I came upon your site and began to feel so much more connected to this event, what the course looked like, etc. I was so excited as your site continued to post results and photos of this event.
On Tue Sept 11th, three days later, I, I'm sure just like you and everyone else in our Country had our attention and excitement turn to sorrow as we all watched the Twin Towers burn and fall to the ground in New York City.
In the midst of this tragedy, I just want you to know that I so appreciate your site and want to thank you and your wife for all your hard work and support of so many kids across the United States.
My prayers go out to all the families that are suffering loss. I prayed today for all the kids on the "results list" that they will not have to use their athletic abilities on the battle fields.
Thanks again for your time...

God bless you and your family.
Jeannie Sousa
PS:
Yesterday Anton ran in Port Angeles WA. at "The Salt Creek Invitational". His time was 15.17, he came in 2nd out of 280 runners! I am so proud of him and all the others in our country who continue to stay in the race despite all the obstacles.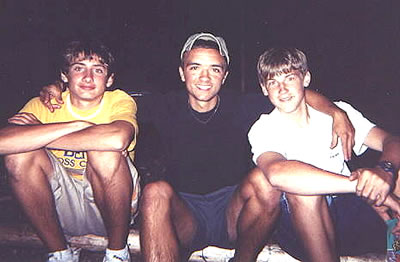 Anton Sousa and Bend OR teammates
Return to Great Race of the Great Bay