ORLANDO FL 12/7/01 - Friday at Finals is a nice, relaxed day with course walk, light running, and a Magic Kingdom parade. At the course walk, there was a lot of conversation among runners, coaches, parents and friends. All is optimism. Everyone has hopes of a good race tomorrow. Everyone is still basking in the glow of making the elite group of 64 runners who got this far.
Adding to the special ambience were the 10 Olympic class athletes that Nike brought to Disney World for the event. Michael Johnson and Stacy Dragila (below) are not distance runners, but their star power made everyone feel they were at a special event.
The other eight Nike athletes present are distance runners, and they are serving as captains of the four regional teams. (pix below)
Bob Kennedy (R) with West girls Felicia Guliford (L) and Amber Trotter

Suzy Favor-Hamilton (L) loosened up Northeast girls (

from L

) Tracey Brauksieck, Molly Huddle, and Natasha Roetter, along with Northeast staffer Kathleen Zodda.
Another function of Friday at Finals was to practice the runner introductions, so announcer Mike Caldwell worked with the runners (below) to get the correct pronunciations of their names. Wouldn't want your name mispronounced on national television.
| | |
| --- | --- |
| NE boys (from L): Peter Meindl (with his hair trimmed a bit), Brian Dalpiaz (with a stocking cap protecting his bald head), Marc Pelerin, and Mint Henk. | West and Midwest girls |
West boys move out for the course walk. From right: Nurani Sheikh, Jesse Fayant (behind Leal), Yong-Sung Leal, Billy Nelson, and, looking the other way, Carl Dambkowski and Tim Nelson.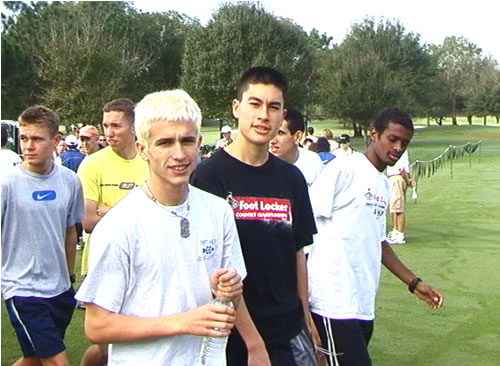 FLCCC national coordinator Max Mayo gives directions on the course walk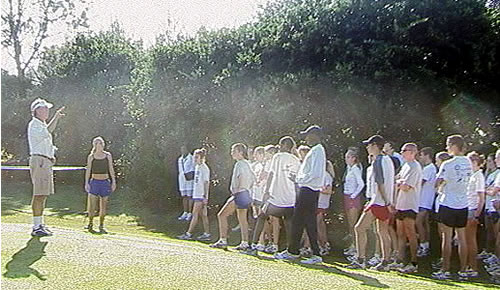 Friday at Finals is also a day for media to find out how the athletes feel on the eve of the race. Marc Bloom, publisher and editor of The Harrier, asks for a minute of Indiana champion Nef Araia's time after he finishes stretching.