Marc Sylvester wire-to-wire
Before the deluge, Marc Sylvester led from the start to win the boys 800 in 1:48.76, with Jonathan Johnson
inexplicably never in contention and fading to last in the seeded section.
Trent Rider MN (1004) 1:49.30 closed strong to nose out James Hatch CO 1:49.60 for second.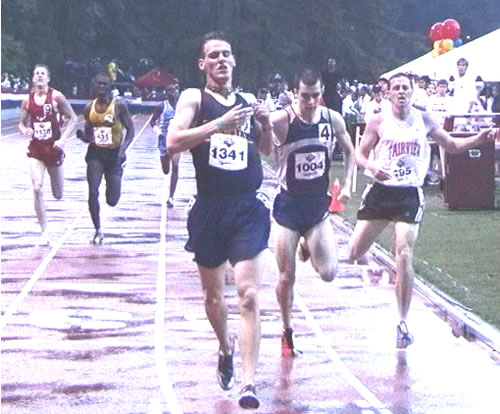 Pre-race favorite Jonathan Johnson walks off afterward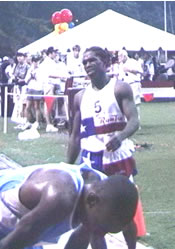 Shannon Rowbury CA 2:12.00 nosed out Adrianne Anderson MN 2:12.01 in a downpour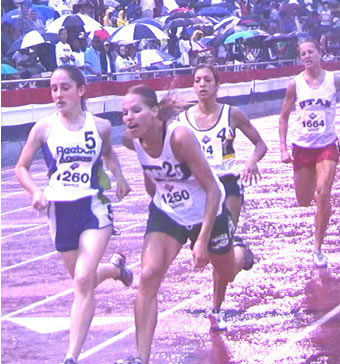 Also finishing before the evening's program was postponed:
Tawana Watkins NJ broke Sheena Johnson's year-old record with a time of 57.48. Second place Tiffany Ross FL ran 57.91..
Erica Whipple 23.66 +0.0 and Daniel Johnson NJ 21.15 nwi (Brendan Christian 21.16 -0.1) were the fastest qualifiers in the 200 meters.
J.W. North, Riverside CA won the girls 4x100 in 45.96
Derrick Williams OH 51.23 in the 400H.
Forest Brook TX 40.70 beat O.D. Wyatt TX 40.80 in a furious stretch duel.
Michael Freeman RI 201-00 beat US leader John-Paul Smolenski 199-4 in the hammer.
Bobby Smith NJ 222-0 won the javelin.
Detailed Results
BOYS
 Adidas Outdoor Championships                              Hy-Tek's MEET MANAGER

                                 adidas Outdoor                          Page 1

                          Track & Field Championships                          

  Raleigh, North Carolina @ NC State University - Fri 06/15/01 to Sat 06/16/01 

                                                                               

                         COMPLETE RESULTS - ALL ROUNDS        



                          Event 3 Boys 200 Meter Dash                          

                                                                               

       ! National: 20.13 Roy Martin, Roosevelt, Dallas, TX       05/11/85      

       *     Meet: 20.83 Pat Johnson, Redland, CA                    1994      

       #    FROSH: 21.15 Warren Rogers Serra CA-Marshall TX 20.8     1997      

       $     SOPH: 20.78 Brendan Christian, Reagan, Austin, TX       2000      

       %   JUNIOR: 20.28 Roy Martin, Roosevelt, Dallas, TX           1984      

       ^   SENIOR: 20.13 Roy Martin, Roosevelt, Dallas, TX       05/11/85      

                                                                               

                        Final to be held Saturday 7:50pm                       

                                                                               

                   Preliminaries - Results  - Saturday 06/16/01                

               9 Advance: Top 1 Each Heat Plus Next 5 Best Times               

                                                                               

  PLACE ATHLETE NAME              YR HOMETOWN                  TIME         HT 

  ===== ========================= == ========================= ============ == 

      1 Johnson, Daniel           01 Rahway, NJ                21.15 #  NWI  4 

      2 Christian, Brandon        02 Austin, TX                21.16   -0.1  1 

      3 Amoo, Seth                01 Palmdale, CA              21.53   -0.6  2 

      4 McFadden, Glenn           01 New Haven, CT             21.58   -0.1  3 

      5 Gay, Tyson                01 Lexington, KY             21.54   -0.6  2 

      6 Kittleson, Ben            01 Lagrange, KY              21.57    NWI  4 

      7 Bain, Travarious             Miami, FL                 21.78   -0.1  3 

      8 Loyd, Mike                02 Winston-Salem, NC         21.92    NWI  4 

      9 Davis, Calvin             01 Iowa City, IA             21.94   -0.1  1 

     10 Marion, Kevin                St. Petersburg, FL        22.00   -0.1  3 

     11 Felix, Wes                01 Santa Clara, CA           22.04   -0.1  1 

     12 Lewis, Thomas             01 Fayetteville, NC          22.06   -0.6  2 

     13 Day, Terrance             01 Philadelphia, PA          22.11   -0.1  3 

     14 Scott, Darrin             01 Willingboro, NJ           22.20    NWI  4 

     15 Hill, Tye                 01 St. George, SC            22.21   -0.1  1 

     16 Fortenberry, Jonathan     01 Marietta, GA              22.43   -0.6  2 

     17 Summers, Andre            01 Washington, DC            22.61   -0.1  3 

     18 Adighibe, Anthony         01 Maplewood, NJ             22.70   -0.1  1 

     19 Hope, Brian               02 Raleigh, NC               22.71   -0.6  2 

     20 Mitchell, Royal           03 Spartanburg, SC           22.75   -0.6  2 

     21 Stewart, Jody             01 Columbus, OH              22.94   -0.1  1 

     22 Tucker, Johnny            02 Spartanburg, SC           22.97    NWI  4 

     23 March, Chris                 Salem, OR                 23.05    NWI  4 

     24 Davis, Chris              03 St. Petersburg, FL        23.28   -0.6  2 

     25 Ethridge, Rashad          05 St. Petersburg, FL        23.70   -0.1  3 

     26 Duckett, Brandon          03 Baltimore, MD             23.74    NWI  4 

     27 Wiggins, Kenneth          03 St. Petersburg, FL        23.93   -0.1  1 

      - Mott, Martell             03 St. Petersburg, FL          DNF    NWI  4 



                                                                               

                           Event 7 Boys 800 Meter Run                          

                                                                               

      ! National: 1:46.45 Mike Granville, Bell Gardens, CA        05/31/96     

      *     Meet: 1:48.51 Moses Washington, Carol City, Miami, FL     1997     

      #    FROSH: 1:51.03 Granville                                   1993     

      $     SOPH: 1:48.98 Granville                                   1994     

      %   JUNIOR: 1:47.96 Granville                                   1995     

      ^   SENIOR: 1:46.45 Mike Granville, Bell Gardens, CA        05/31/96     

                                                                               

               Sections 1,2,3 will be contested 3:15pm, Saturday               

                                                                               

                      Finals - Results  - Saturday 06/16/01                    

                                                                               

    PLACE ATHLETE NAME              YR HOMETOWN                  TIME      HT  

    ===== ========================= == ========================= ========= ==  

        1 Sylvester, Marc           01 Cleveland, OH             1:48.76 $  5  

        2 Riter, Trent              01 Shoreview, MN             1:49.30 #  5  

        3 Hatch, James              01 Boulder, CO               1:49.60 #  5  

        4 Taylor, Michael           01 Portage, IN               1:50.63 #  5  

        5 Ahmed, Said               01 Boston, MA                1:50.65 #  5  

        6 Asafo-Agyei, Raphael      02 Chino, CA                 1:50.70 #  5  

        7 Soule, Daniel             01 Pensacola, FL             1:51.45    5  

        8 Cross, Paul               03 Pembroke Pines, FL        1:52.23    5  

        9 Glackin, Nathanael        01 Middletown, NJ            1:52.99    4  

       10 Gaeta, Phil               02 Herndon, VA               1:53.59    3  

       11 Iannamorelli, Derrick     01 Canton, OH                1:53.83    2  

       12 Lewis, Marvin             01 Willingboro, NJ           1:53.91    3  

       13 Schmidt, Bradley          01 Mine Hill, NJ             1:54.27    3  

       14 Joh, Papis                01 Cleveland, OH             1:54.73    3  

       15 Rauguth, Brandon          01 North Canton, OH          1:55.11    4  

       16 Ventura, Jorge            02 Howell, NJ                1:55.31    2  

       17 Ramos, Tiemarcie          02 New Haven, CT             1:55.65    2  

       18 Holden, James             01 Bridgeton, NJ             1:55.76    4  

       19 Harrison, Mark            01 Philadelphia, PA          1:55.84    4  

       20 Jones, Logan              02 Dorchester, MA            1:55.93    4  

       21 Snyder, Leon              01 Upper Marlboro, MD        1:56.07    1  

       22 McBridge, Zach            02 Medford, NJ               1:56.28    1  

       23 Arnold, John              02 Katy, TX                  1:56.34    3  

       24 Redden, Michael           01 Fork Union, VA            1:56.48    4  

       25 Johnson, Jonathan         01 Abilene, TX               1:56.83    5  

       26 Felton, Cam               01 Douglas, WY               1:56.89    2  

       27 Carlson, Stephen          02 Louisa, VA                1:57.45    1  

       28 Foley, John               02 Fredrick, MD              1:57.53    3  

       29 Albertson, Ryan           01 Pensacola, FL             1:57.87    4  

       30 Mims, Jeremy              01 Iowa City, IA             1:57.92    2  

       31 Pagano, Mike              01 Wellingford, PA           1:58.42    3  

       32 Mc Gugan, Adam            01 Greensboro, NC            1:59.47    1  

       33 Jackson, Bruce            01 Seattle, WA               2:00.30    2  

       34 Rocha, Phil               01 Bellevue, NE              2:00.35    1  

       35 Reshamwala, Sajid         01 Cary, NC                  2:05.43    1  

       36 Wilborn, Jeryl            01 Milton, PA                2:07.91    4  



                                                                               

                      Event 15 Boys 400 Meter Int Hurdles                      

                                                                               

       ! National: 50.02 Patrick Mann, Gar-Field, Woodbridge VA  06/24/84      

       ! National: 49.8h Bob Bornkessel, Shawnee Mission, KS     08/31/68      

       *     Meet: 50.72 James Graham,Northwestern,HyattsvilleMD     1999      

       #    FROSH: 53.94 Michael Roberts, Tower Hill, DE             1995      

       $     SOPH: 51.62 Ricky Harris, Centreville, Clifton, VA      1998      

       %   JUNIOR: 50.63 Ricky Harris, Centreville, Clifton, VA      1999      

       ^   SENIOR: 50.02 Patrick Mann, Gar-Field, Woodbridge VA  06/24/84      

                                                                               

                      Finals - Results  - Saturday 06/16/01                    

                                                                               

     PLACE ATHLETE NAME              YR HOMETOWN                  TIME    HT   

     ===== ========================= == ========================= ======= ==   

         1 Williams, Derrick         01 Canton, OH                51.23 $  4   

         2 Smith, Azim               01 Port Norris, NJ           51.82 #  4   

         3 Findlay, Adrian           01 Philadelphia, PA          52.60 #  4   

         4 Moore, Ian                01 Mt. Laurel, NJ            53.28 #  4   

         5 Sanders, Steven           01 Cleveland, OH             53.46 #  2   

         6 Wise, Dermillo.           02 St. Petersburg, FL        53.48 #  4   

         7 Larkins, Eddie            01 Dayton, OH                53.67 #  3   

         8 Turner, Lenairis          01 Charlotte, NC             53.93 #  3   

         9 Guy, Halihl               01 El Sorrante, CA           53.99    4   

        10 Gardner, Rashad           02 Chesapeake, VA            54.29    3   

        11 Martin, Quinn                Newark, DE                54.48    2   

        12 Williams, Charone         01 Jacksonville, FL          54.62    4   

        13 Wright, Nicholas          01 Baltimore, MD             54.67    3   

        14 Stout, Nicholas           01 Lake Orion, MI            54.95    2   

        15 Young, Maurice            02 Camden, NJ                54.96    4   

        16 Chambers, Seann           01 Winchester, VA            55.03    1   

        17 James, Brian              01 Auburn Hills, MI          55.13    3   

        18 Curran, Tim               01 Media, PA                 55.62    1   

        19 Johnson, Harold           01 Lanham, MD                55.90    2   

        20 McClure, Christopher      01 Trumansburg, NY           56.15    1   

        21 Cheney, Roy               02 Grovetown, GA             56.33    3   

        22 Keziah, Ryan              01 Raleigh, NC               57.04    2   

        23 Erling, Chad              01 Bellevue, NE              57.22    1   

        24 Spear, Charles            02 Spring, TX                58.45    3   

        25 Garner, Steven            01 Manassas, VA              59.62    2   

        26 Corbin, Arsenio           02 St. Petersburg, FL        59.63    3   

         - Garrison, Jeffrey         01 Riverside, CA               DNF    4   



                                                                               

                           Event 49 Boys 4 Mile Relay                          

                                                                               

             ! National: 17:06.6h South Eugene, Eugene, OR 05/07/76            

             *     Meet: 17:21.57 Rockford, MI             06/17/00            

                                                                               

                 Section 1 first than sections 2 & 3 to follow.                

                                                                               

                      Finals - Results  - Saturday 06/16/01                    

                                                                               

            PLACE  RELAY     AFFILIATION               TIME       HT           

            =====  =================================== ========== ==           

                1  NOMI      Novi-MI                   17:20.92 *  1           

                2  ROMI      Rockford-MI               17:37.39    1           

                3  CRIN      Carmel-IN                 17:54.68    1           

                4  EVIL      Evanston Township-IL      17:58.13    1           

                5  SRNY      Saratoga Springs-NY       17:58.78    1           

                6  DUMD      Dulaney-MD                17:59.09    1           

                7  HDNJ      Haddonfield-NJ            17:59.17    1           

                8  RICT      Ridgefield-CT             18:00.21    1           

                9  FMTC      Fmr Track Club-TX         18:02.36    2           

               10  BTNY      Bayport-Blue Point-NY     18:03.39    2           

               11  LAIN      Lawrence North-IN         18:05.65    1           

               12  CNCA      Canyon Country-CA         18:09.32    1           

               13  BIRI      Bishop Hendricken-RI      18:09.46    2           

               14  MANH      Manchester-NH             18:15.08    2           

               15  BENE      Bellevue West-NE          18:18.69    1           

               16  LOTX      Lockhart-TX               18:19.35    2           

               17  CBNJ      Christian Brothers Aca-NJ 18:19.67    1           

               18  ACMN      Holy Angels, Academy ofMN 18:21.59    1           

               19  HUNJ      Hunterdon Reg-NJ          18:26.61    3           

               20  DACT      Danbury-CT                18:28.36    2           

               21  TOMA      Towns Concord/Carlisle MA 18:35.74    2           

               22  WIWI      Wisconsin Lutheran-WI     18:36.85    3           

               23  THVA      Thomas Jefferson-VA       18:38.25    3           

               24  CONY      Collegiate-NY             18:44.03    3           

               25  CAPA      Cardinal O'Hara-Pa        18:48.14    2           

               26  FRKS      Lawrence Free State-KS    18:50.37    3           

               27  WANY      Warwick Valley-NY         18:56.55    1           

               28  ELCT      Ellington-CT              19:03.62    3           

               29  WANY "B"  Warwick Valley-NY         19:12.35    3           

               30  COGA      Collins Hill-GA           19:29.31    3           

               31  XACT      Xavier-CT                 19:33.89    3           

               32  OAVA      Oakton-VA                 19:48.95    3           

                -  MCOR      McKay-OR                       DNF    2           



                                                                               

                        Event 37 Boys 4x100 Meter Relay                        

                                                                               

             ! National: 39.76 O.D. Wyatt, Fort Worth, TX 05/16/98             

             *     Meet: 39.80 O.D. Wyatt, Fort Worth, TX     1998             

                                                                               

                    Final will be contested Saturday 6:15pm                    

                                                                               

                      Finals - Results  - Saturday 06/16/01                    

                                                                               

               PLACE  RELAY     AFFILIATION               TIME                 

               =====  =================================== =======              

                   1  FETX      Forest Brook-TX           40.70                

                   2  FOTX      O.D. Wyatt-TX             40.80                

                   3  PONY      Poly Prep-NY              42.12                

                   4  THNY      Thomas Jefferson-NY       42.43                

                   5  STCA      St. Mary's-CA             42.76                

                   6  GIFL      Gibbs-FL                  42.84                

                   7  DODE      Dover-DE                  42.94                

                   8  SPSC      Spartanburg-SC            43.08                

                   -  DIFL      Dixie Hollins-FL            DNF                

                                                                               

                           Event 35 Boys Hammer Throw                          

                                                                               

  ! National: 253'03.00" (77.19m) Jacob Freeman, Bishop Hendrickson, RI   1999 

  *     Meet: 242'09.00" (73.99m) Jacob Freeman, Bishop Hendrickson, RI   1999 

  #    FROSH: 182'04.00" (55.58m) Anthony Strackaluse, Deaf, ProvidenceRI 1970 

  $     SOPH: 208'10.00" (63.65m) Alvin Jackson, Classical, Providence RI 1970 

  %   JUNIOR: 226'08.00" (69.09m) Jacob Freeman, Bishop Hendrickson, RI   1998 

  ^   SENIOR: 253'03.00" (77.19m) Jacob Freeman                             99 

                                                                               

                      Finals - Results  - Saturday 06/16/01                    

                                                                               

     PLACE ATHLETE NAME            YR HOMETOWN            MARK                 

     ===== ======================= == =================== ========             

         1 Freeman, Michael        02 E. Greenwich, RI    61.26m # 201'00.00   

         2 Smolenski, John-Paul    01 New Hyde Park, NY   60.76m # 199'04.00   

         3 Duffy, Jeremy           02 Cumberland, RI      59.08m # 193'10.00   

         4 Myers, Terrance         02 Providence, RI      55.40m   181'09.00   

         5 Hamilton, Adam          02 Milford, NH         55.08m   180'08.00   

         6 Helm, Zach              02 Snellville, GA      54.66m   179'04.00   

         7 Chobanian, Paul         02 Providence, RI      54.48m   178'09.00   

         8 Godin, Daniel           03 Coventry, RI        53.56m   175'09.00   

         9 Palazzo, Nick           02 Providence, RI      53.10m   174'02.00   

        10 Maknoxa, Oudom          01 Providence, RI      52.58m   172'06.00   

        11 Wright, Adrian          01 Marietta, GA        52.08m   170'10.00   

        12 Gabrault, Adam          02 Warwick, RI         51.98m   170'06.00   

        13 Cambras, Jonathan       01 Stratford, CT       51.26m   168'02.00   

        14 Taylor, Barclay         01 Atlanta, GA         51.06m   167'06.00   

        15 Dzwilefsky, Matt        01 Poughkeeepsie, NY   50.16m   164'07.00   

        16 Rodriguez, Santos       02 Ellenville, NY      49.36m   161'11.00   

        17 Chihoski, Jonathan      01 Warwick, RI         48.90m   160'05.00   

        18 Stewart, Mires          01 Monroe, NY          48.40m   158'09.00   

        19 Gianfrancesco, Joseph   02 Providence, RI      46.92m   153'11.00   

        20 Palazzo, Richard        02 Providence, RI      46.28m   151'10.00   

        21 Peterson, Robert        02 W. Warwick, RI      46.16m   151'05.00   

        22 Hengrasmy, Anthony      02 Providence, RI      45.66m   149'10.00   

        23 DeGaetano, Christopher  01 S. Huntington, NY   44.78m   146'11.00   

        24 Kippel, Rob             01 Chester, NY         42.80m   140'05.00   

         - Dodd, Roman             02 Wakefield, RI         FOUL               

                                                                               

                          Event 33 Boys Javelin Throw                          

                                                                               

 ! National: 259'10.00" (79.20m) Art Skipper, Sandy, OR                05/28/88

 *     Meet: 239'09.00" (73.08m) Troy Burkholder, Cocalico, Denver, CO 06/14/95

 #    FROSH: 210'07.00" (64.19m) Marlin Van Horn, Selinsgrove, PA          1973

 $     SOPH: 242'07.00" (73.94m) Craig Stiles, Malta, MT                   1969

 %   JUNIOR: 244'10.00" (74.63m) Stiles                                    1970

 ^   SENIOR: 259'10.00" (79.20m) Art Skipper, Sandy, OR                05/28/88

                                                                               

                      Finals - Results  - Saturday 06/16/01                    

                                                                               

     PLACE ATHLETE NAME            YR HOMETOWN            MARK                 

     ===== ======================= == =================== ========             

         1 Smith, Bobby            01 Hopatcong, NJ       67.66m # 222'00.00   

         2 Friedrich, Jonah        01 Springfield, OR     61.56m   202'00.00   

         3 Scheer, Josh            01 Garden Plain, KS    60.68m   199'01.00   

         4 Skeper, Timothy         02 Hamden, CT          58.34m   191'05.00   

         5 Finneran, James         01 Kittery, ME         58.28m   191'02.00   

         6 Smith, Andy             01 Raleigh, NC         57.34m   188'01.00   

         7 Bass, Derrick           02 Brooklyn, NY        55.46m   181'11.00   

         8 Heiges, Dick            01 Montgomery, PA      55.30m   181'05.00   

         9 Naclerio, Steve         01 White Plains, NY    55.02m   180'06.00   

        10 Francis, Ben            03 Wilber, NE          54.22m   177'11.00   

        11 Duffy, Kevin            02 Chatham, NJ         54.10m   177'06.00   

        12 Jordan, Thomas          03 Lebanon, PA         53.82m   176'07.00   

        13 Moore, Jeffrey          01 Norton, MA          53.62m   175'11.00   

        14 Tanucci, Joe            01 Stratford, CT       52.88m   173'06.00   

        15 Cerr, Mike              01 Rehoboth, MA        52.02m   170'08.00   

        16 Maffuci, Jeff           02 Manasquan, NJ       49.68m   163'00.00   

        17 Avila, Keith            02 E. Providence, RI   49.62m   162'09.00   

        18 Curran, John            01 Carmel, NY          49.50m   162'05.00   

        19 Dickson, Timothy        01 Branford, CT        49.24m   161'06.00   

        20 Funderburg, Drew        01 New Haven, CT       47.42m   155'07.00   

        21 Zapesnik, Bruce         01 Rehoboth, MA        47.18m   154'09.00   

        22 Rouse, Adam             01 Danbury, CT         45.94m   150'09.00   

        23 Lugo, Joselito          01 Manchester, NH      41.70m   136'10.00   

        24 Ludwig, Michael         02 Patterson, NY       41.40m   135'10.00   

        25 Smith, Bruce            03 Raleigh, NC         37.86m   124'02.00                    

                                                                               


GIRLS
                           Event 4 Girls 200 Meter Dash                         

                                                                               

         ! National: 22.58 Marion Jones, Thousand Oaks, CA    06/28/92         

         *     Meet: 23.32 Marion Jones, Rio Mesa, Oxnard, CA     1991         

         #    FROSH: 23.28 Tracee Thomas, North, Riverside CA     1999         

         $     SOPH: 22.76 Marion Jones, Rio Mesa, Oxnard, CA     1991         

         %   JUNIOR: 22.58 Marion Jones, Thousand Oaks, CA        1992         

         ^   SENIOR: 22.89 Chandra Cheeseborough, Ribault, FL     1977         

                                                                               

                        Final to be held Saturday 7:45pm                       

                                                                               

                   Preliminaries - Results  - Saturday 06/16/01                

               9 Advance: Top 1 Each Heat Plus Next 5 Best Times               

                                                                               

  PLACE ATHLETE NAME              YR HOMETOWN                  TIME         HT 

  ===== ========================= == ========================= ============ == 

      1 Whipple, Erica            01 West Palm Beach, FL       23.66    0.0  4 

      2 Perkins, Angel            02 Cerritos, CA              23.92    0.7  2 

      3 Felix, Allyson            03 North Hills, CA           23.99   -0.7  1 

      4 Broaddus, Juanita         03 Philadelphia, PA          24.11    0.0  3 

      5 Hooker, Marshevet         02 San Antonio, TX           24.29    0.0  3 

      6 Bailey, Danielle          01 Newark, DE                24.71    0.0  3 

      7 Cox, Shana                03 Westbury, NY              24.76    0.7  2 

      8 Towns, Ara                01 Hampton, VA               24.82    0.0  3 

      8 Williams, Lauryn          01 Rochester, PA             24.82    0.0  4 

     10 Davis, Chinela            01 Haverstraw, NY            24.85    0.0  4 

     11 Washington, Bernadette    01 Winston-Salem, NC         24.99   -0.7  1 

     12 Rooks, Cynetheia          03 Garysburg, NC             25.04    0.0  3 

     13 Arthur, Candace           01 Locust Valley, NY         25.13    0.0  4 

     14 Lyles, Kimberly           01 Somerset, NJ              25.25   -0.7  1 

     15 Benson, Latoya            02 Sewell, NJ                25.26    0.0  3 

     16 Franklin, Natashia           Austin, TX                25.33    0.7  2 

     17 Miller, Jamie             03 Pageland, SC              25.36    0.0  4 

     18 Salaam, Kamilah           03 Wilmington, DE            25.37    0.7  2 

     19 Ingram, Talonda           02 Pompano Beach, FL         25.86    0.0  3 

     20 Samuel, Jackie            04 St. Petersburg, FL        26.13    0.0  4 

     21 Gamble, Lavonda           04 Sumter, SC                26.30    0.0  4 

     22 Townes, Cecelia           02 Sumter, SC                26.88    0.0  3 

     23 Nixon, Tiesha             01 Denton, MD                26.90   -0.7  1 

     24 Jackson, Shoneka          05 St. Petersburg, FL        26.99    0.7  2 

     25 McFarlane, Janel          03 Silver Spring, MD         27.31    0.7  2 



                                                                               

                          Event 8 Girls 800 Meter Run                          

                                                                               

      ! National: 2:00.07 Kim Gallagher, Upper Dublin, Ft.Wash,PA 07/24/82     

      *     Meet: 2:04.55 Tameika Grizzle, Washington, NYC, NY        1996     

      #    FROSH: 2:02.40 Robin Campbell, Eastern, Washington, DC     1974     

      $     SOPH: 2:02.29 Mary Decker, Orange, CA                     1974     

      %   JUNIOR: 2:01.82 Kim Gallagher, Upper Dublin, Ft.Wash,PA     1981     

      ^   SENIOR: 2:00.07 Kim Gallagher, Upper Dublin, Ft.Wash,PA 07/24/82     

                                                                               

                        Sections 1 will be contested 3pm                       

                                                                               

                      Finals - Results  - Saturday 06/16/01                    

                                                                               

    PLACE ATHLETE NAME              YR HOMETOWN                  TIME      HT  

    ===== ========================= == ========================= ========= ==  

        1 Rowbury, Shannon          02 San Francisco, CA         2:12.00    3  

        2 Anderson, Adrianne        01 Roseau, MN                2:12.01    3  

        3 Feldkamp, Theresa         01 Lorain, OH                2:12.33    3  

        4 Andersen, Kassi           01 Alpine, UT                2:12.90    3  

        5 Rodgers, Danielle         02 Yeadon, PA                2:13.41    2  

        6 Austin, Andrea            01 Hallandale, FL            2:14.54    3  

        7 Rhinehart, Francine       01 Madison, OH               2:16.65    2  

        8 Egnatuk, Tracy            01 Albion, MI                2:16.82    2  

        9 Wagenseller, Jordan       02 Louisville, KY            2:16.99    2  

       10 Rademacher, Megan         02 Spring, TX                2:17.07    3  

       11 Manthe, Megan             01 Andover, MN               2:17.91    2  

       12 Patten, Ashley            02 Clarkston, MI             2:18.06    3  

       13 Carter, Christine         02 Littleton, MA             2:18.54    1  

       14 Courtney, Michaela        02 Dodgeville, WI            2:18.63    2  

       15 Staton, Shayna            02 Bay Shore, NY             2:19.01    3  

       16 Radermacher, Shannon      02 Spring, TX                2:19.72    2  

       17 Anderson, Nelly           01 Charlotte, VA             2:20.70    1  

       18 Gregory, Anjelica         04 White Plains, NY          2:20.87    1  

       19 Miller, Lauren            02 Apex, NC                  2:21.00    1  

       20 Akajie, Temi              02 Upper Marlboro, MD        2:22.56    1  

       21 Gibbs, Shaquita           03 St. Petersburg, FL        2:27.80    2  

       22 Harper, Gorgeous          01 Philadelphia, PA          2:28.08    1  

       23 Lewis, Lauren             04 Waretown, NJ              2:29.27    2  



                                                                               

                      Event 16 Girls 400 Meter Int Hurdles                     

                                                                               

       ! National: 55.20 Leslie Maxie, Mills, Millbrae, CA       05/26/84      

       *     Meet: 57.55 Sheena Johnson Gar-Field, Woodbridge VA 06/17/00      

       #    FROSH: 58.82 Tiffany Abney, Merion Mercy, Merion, PA     2000      

       $     SOPH: 57.04 Lashinda Demus, Wilson, Long Beach, CA      1999      

       %   JUNIOR: 55.20 Leslie Maxie, Mills, Millbrae, CA       05/26/84      

       ^   SENIOR: 56.82 Sheena Johnson Gar-Field, Woodbridge VA     2000      

                                                                               

                      Finals - Results  - Saturday 06/16/01                    

                                                                               

    PLACE ATHLETE NAME              YR HOMETOWN                  TIME      HT  

    ===== ========================= == ========================= ========= ==  

        1 Watkins, Tawana           02 Paterson, NJ                57.48 *  3  

        2 Ross, Tiffany             01 Miami, FL                   57.91 #  3  

        3 Smith, Shauna             01 Sheridan, WY                59.70    3  

        4 Myricks, Danielle         01 Willingboro, NJ           1:01.78    3  

        5 Smith, Beth               01 Lakeville, MA             1:02.03    2  

        6 Radziminski, Amanda       02 Sewell, NJ                1:02.55    3  

        7 Thomas, Tyeshia           02 Philadelphia, PA          1:02.57    3  

        8 Worth, Jenny              02 Gales Ferry, CT           1:02.75    1  

        9 Kitton, Fara              01 Bellmore, NY              1:03.27    2  

       10 Tucker, Elizabeth         01 Mount Vernon, NY          1:03.97    1  

       11 Moore, Dawnita            02 Spartanburg, SC           1:04.07    2  

       12 Duncan, Jericka           01 Aurora, OH                1:04.82    2  

       13 Pfeiffer, Jaci            02 Hillsborough, NJ          1:05.05    2  

       14 Kloss, Lauren             03 Hillsborough, NJ          1:05.14    1  

       15 Whittaker, Symone         01 Ft. Lauderdale, FL        1:05.28    3  

       16 Onychie, Chuku            01 Upper Marlboro, MD        1:05.40    1  

       17 McFaydon, Kianna          02 Lauderhill, FL            1:05.48    1  

       18 Castro, Kellie            03 Bay Shore, NY             1:05.55    2  

       19 Ramos, Ebony              01 Hackensack, NJ            1:05.82    3  

       20 Simmonds, Pamela          01 Reston, VA                1:06.81    2  

       21 Byrd, Jennifer            01 Virginia Beach, VA        1:06.96    1  

       22 Hovatter, Alesia          01 Mt. Jackson, VA           1:07.97    1  

       23 Coleclough, Lindsay       03 Sumter, SC                1:08.71    2  

       24 Finley, Edra              03 Mobile, AL                1:09.70    2  

       25 Dutch, Ashley             01 Clayton, NC               1:10.11    1  

                                                                               

                          Event 50 Girls 4 Mile Relay                          

                                                                               

                   ! National: 20:30.57 Rockford, MI 06/17/00                  

                   *     Meet: 20:30.57 Rockford, MI 06/17/00                  

                                                                               

                 Section 1 first than sections 2 & 3 to follow.                

                                                                               

                      Finals - Results  - Saturday 06/16/01                    

                                                                               

            PLACE  RELAY     AFFILIATION               TIME       HT           

            =====  =================================== ========== ==           

                1  ROMI      Rockford-MI               20:24.34 *  1           

                2  CRIN      Carmel-IN                 21:03.38    1           

                3  SRNY      Saratoga Springs-NY       21:12.77    1           

                4  SONJ      Southern Reg-NJ           21:12.95    1           

                5  IOIA      Iowa City-IA              21:14.51    1           

                6  SROH      Strongsville-OH           21:15.21    1           

                7  JEVA      Jefferson Forest-VA       21:29.10    2           

                8  VONJ      Voorhees-NJ               21:30.27    1           

                9  SRNY "B"  Saratoga Springs-NY       21:41.66    2           

               10  ROMI "B"  Rockford-MI               21:46.53    1           

               11  MAMO      Marquette-MO              22:04.73    1           

               12  MONC      Mount Tabor-NC            22:10.25    2           

               13  SRNY "C"  Saratoga Springs-NY       22:16.10    3           

               14  DACT      Danbury-CT                22:17.24    2           

               15  DUMD      Dulaney-MD                22:25.45    2           

               16  NOVA      Norfolk Academy-VA        22:29.21    3           

               17  BEOH      Beaumont-OH               22:31.09    3           

               18  FRKS      Lawrence Free State-KS    22:34.89    3           

               19  NWMA      Newburyport-MA            22:35.03    3           

               20  THVA      Thomas Jefferson-VA       22:38.20    3           

               21  WAMD      Walter Johnson-MD         22:52.49    2           

               22  TOMA      Towns Concord/Carlisle MA 22:55.01    3           

               23  LAOH      Lancaster-OH              23:00.30    2           

               24  BIMA      Bishop Feehan-MA          23:15.63    3           

               25  TUVA      Turner Ashby-VA           23:17.16    2           

               26  STNY      St. Anthony's-NY          23:27.65    3           

                                                                               

                        Event 38 Girls 4x100 Meter Relay                       

                                                                               

           ! National: 44.70 St. Bernard, Playa del Rey, CA 06/07/97           

           *     Meet: 45.89 JW North, Riverside CA         06/17/00           

                                                                               

                    Final will be contested Saturday 6:10pm                    

                                                                               

                      Finals - Results  - Saturday 06/16/01                    

                                                                               

               PLACE  RELAY     AFFILIATION               TIME                 

               =====  =================================== =======              

                   1  JWCA      J.W. North-CA             45.96                

                   2  PBLK      Palm Beach Lakes-FL       46.07                

                   3  MOIL      Morgan Park-IL            46.50                

                   4  PANY      Paul Robeson-NY           46.52                

                   5  FRTC      Franklin Tc-Nj            46.93                

                   6  RETX      Reagan-TX                 46.93                

                   7  COOH      Collinwood-OH             47.19                

                   8  WICT      Wilbur Cross-CT           47.86                

                   9  TRNJ      Trenton Central-NJ        47.94                






Return to adidas Outdoor Championships page