South Lakes
From left: Alan Webb, Justin Smyser, Richard Smith, Kanda Karmo, and Coach Raczko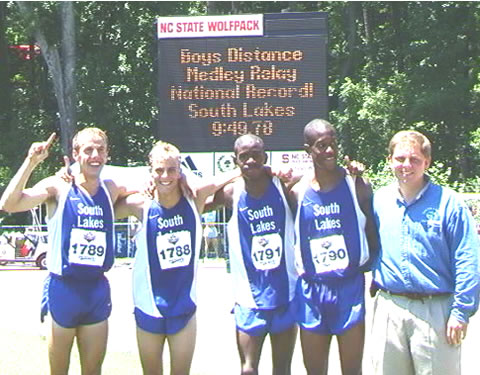 South Lakes VA ended the adidas Outdoor Championship on a rousing note by taking 3.53 seconds off the old national record set in 1987 by McCullough of The Woodlands TX. Richard Smith set the stage for South Lakes to reverse two prior losses to Atlantic FL by running only 1.5 seconds behind Sean Jefferson of Atlantic in the opening 1200 meter leg, 301.7 to 303.2. That contrasted with 5-6 second margins in the two prior meetings. Justin Smyser made up ground for South Lakes with a 50.2 second leg to Preston Bean's 51.4 for Atlantic. Then came another key to victory: Kanda Karmo ran 1:56.6 to Ken Schappert's 1:59.2 in the 800 meter third leg. That meant that megastar anchor Alan Webb got the baton with the lead instead of trying to make up 6 seconds or more on Atlantic anchor John Jefferson. Webb settled into a methodical pace and Jefferson actually passed Webb on their first lap, but Webb reclaimed the lead on the backstretch of lap 2 and steadily pulled away in a split of 3:59.8. Final times: South Lakes 9:49.78, Atlantic 10:04.63, Novi MI 10:08.00, Cardinal O'Hara PA 10:11.24, John Jay NY 10:17.23, Cumberland Valley PA 10:18.71.
It was the last high school race for Webb, who became the fastest high school miler in US history last month. He is now off to Eugene for the USA Nationals next week as his post-prep career officially starts. Coach Scott Raczko was asked if he ever considered holding Webb out of today's race to save him for Eugene. "Never," said Raczko. "The team is too important to Alan." Webb showed that as he was given the microphone in the awards ceremony and gave credit for the record to Richard Smith for "a huge 6 second PR." Smith returns for South Lakes next year as Webb moves on to the University of Michigan.
Boys & Girls NY anchor Tameka Johnson
catches Rockford MI anchor Linsey Blaisdell
in the home stretch to give the victory to Boys & Girls in a near national record time of 11:43.58, with Rockford 2 seconds behind in 11:45.05. Then came Rockford's B team, anchored by Nikki Bohnsack, in 11:51.21 and Red Bank NJ 11:55.41.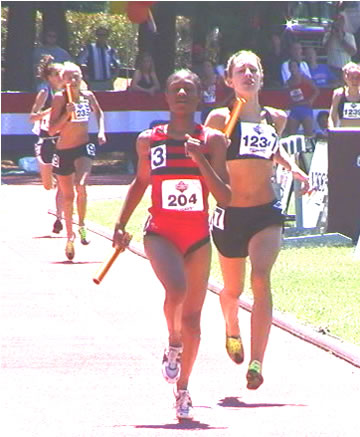 Also of note in the rain-delayed final session, which was marked by absences of several top names:
Reminiscent of her Penn Relays mile victory, Erin Donohue NJ hung close to Alicia Craig's fast pace and launched a killer kick with 300 meters to go to win in 4:42.96, a meet record and the fastest girls mile in the US this year. It was Donohue's 2nd mile championship in three years here. And she will be returning to the Triangle area in the fall to attend the University of North Carolina.
Ryan Hall did not show for the boys mile, and Nick Schneider MN survived two lead changes in the last lap to beat Shane Stroup MD, 4:09.42 to 4:10.61.
Angel Perkins CA 23.65 +0.2 won the 200 as Erica Whipple was a no show.
Jerrika Chapple TX 53.10 in the 400 over Sanya Richards FL 53.47.
Laura Paul NY surprised Tiffany Ross in the 100 hurdles, 14.21 +0.2 to 14.22.
J.W. North CA won the 4x400 in 3:38.86 (William Penn PA 3:39.70) to make it three relay victories in this meet and four golds for Chaunte Howard, who also won the high jump.
Camden NJ 3:09.91 blitzed the 4x400 relay field to win by nearly 4 seconds in the fastest HS time in several years.

Detailed Results ("Day 2" Saturday night and Sunday Morning)

BOYS

                           Event 3 Boys 200 Meter Dash                          

                                                                               

       ! National: 20.13 Roy Martin, Roosevelt, Dallas, TX       05/11/85      

       *     Meet: 20.83 Pat Johnson, Redland, CA                    1994      

       #    FROSH: 21.15 Warren Rogers Serra CA-Marshall TX 20.8     1997      

       $     SOPH: 20.78 Brendan Christian, Reagan, Austin, TX       2000      

       %   JUNIOR: 20.28 Roy Martin, Roosevelt, Dallas, TX           1984      

       ^   SENIOR: 20.13 Roy Martin, Roosevelt, Dallas, TX       05/11/85      

                                                                               

                        Final to be held Saturday 7:50pm                       

                                                                               

                   Preliminaries - Results  - Saturday 06/16/01                

               9 Advance: Top 1 Each Heat Plus Next 5 Best Times               

                                                                               

  PLACE ATHLETE NAME              YR HOMETOWN                  TIME         HT 

  ===== ========================= == ========================= ============ == 

      1 Johnson, Daniel           01 Rahway, NJ                21.15 #  NWI  4 

      2 Christian, Brandon        02 Austin, TX                21.16   -0.1  1 

      3 Amoo, Seth                01 Palmdale, CA              21.53   -0.6  2 

      4 McFadden, Glenn           01 New Haven, CT             21.58   -0.1  3 

      5 Gay, Tyson                01 Lexington, KY             21.54   -0.6  2 

      6 Kittleson, Ben            01 Lagrange, KY              21.57    NWI  4 

      7 Bain, Travarious             Miami, FL                 21.78   -0.1  3 

      8 Loyd, Mike                02 Winston-Salem, NC         21.92    NWI  4 

      9 Davis, Calvin             01 Iowa City, IA             21.94   -0.1  1 

     10 Marion, Kevin                St. Petersburg, FL        22.00   -0.1  3 

     11 Felix, Wes                01 Santa Clara, CA           22.04   -0.1  1 

     12 Lewis, Thomas             01 Fayetteville, NC          22.06   -0.6  2 

     13 Day, Terrance             01 Philadelphia, PA          22.11   -0.1  3 

     14 Scott, Darrin             01 Willingboro, NJ           22.20    NWI  4 

     15 Hill, Tye                 01 St. George, SC            22.21   -0.1  1 

     16 Fortenberry, Jonathan     01 Marietta, GA              22.43   -0.6  2 

     17 Summers, Andre            01 Washington, DC            22.61   -0.1  3 

     18 Adighibe, Anthony         01 Maplewood, NJ             22.70   -0.1  1 

     19 Hope, Brian               02 Raleigh, NC               22.71   -0.6  2 

     20 Mitchell, Royal           03 Spartanburg, SC           22.75   -0.6  2 

     21 Stewart, Jody             01 Columbus, OH              22.94   -0.1  1 

     22 Tucker, Johnny            02 Spartanburg, SC           22.97    NWI  4 

     23 March, Chris                 Salem, OR                 23.05    NWI  4 

     24 Davis, Chris              03 St. Petersburg, FL        23.28   -0.6  2 

     25 Ethridge, Rashad          05 St. Petersburg, FL        23.70   -0.1  3 

     26 Duckett, Brandon          03 Baltimore, MD             23.74    NWI  4 

     27 Wiggins, Kenneth          03 St. Petersburg, FL        23.93   -0.1  1 

      - Mott, Martell             03 St. Petersburg, FL          DNF    NWI  4 

                                                                               

                      Finals - Results  - Saturday 06/16/01                    

                                                                               

    PLACE ATHLETE NAME              YR HOMETOWN                  TIME          

    ===== ========================= == ========================= ============  

        1 Johnson, Daniel           01 Rahway, NJ                21.25   -0.2  

        2 Loyd, Mike                02 Winston-Salem, NC         22.07   -0.2  

        3 Davis, Calvin             01 Iowa City, IA             22.47   -0.2  

                                                                               

                           Event 5 Boys 400 Meter Run                          

                                                                               

        ! National: 44.69 Darrell Robinson, Wilson, Tacoma, WA 07/24/82        

        *     Meet: 45.74 Brandon Couts, Greenville, TX        06/14/97        

        #    FROSH: 46.55 William Reed, Central, Phila PA          1985        

        $     SOPH: 45.14 Obea Moore, Muir, Pasadena CA            1995        

        %   JUNIOR: 45.17 Reed                                     1987        

        ^   SENIOR: 44.69 Darrell Robinson, Wilson, Tacoma, WA 07/24/82        

                                                                               

                      Finals - Results  - Saturday 06/16/01                    

                                                                               

     PLACE ATHLETE NAME              YR HOMETOWN                  TIME    HT   

     ===== ========================= == ========================= ======= ==   

         1 Williamson, Darold        01 San Antonio, TX           46.88    2   

         2 Williams, Raymond         02 Scotch Plains, NJ         47.15    2   

         3 Frelow, Rob               01 White Plains, NY          47.21    2   

         4 Richmond, Domonick        01 Hampton, VA               47.71    2   

         5 Seely, Eric               02 Melville, NY              48.20    1   

         6 Fortenberry, Jonathan     01 Marietta, GA              48.22    1   

         7 Morris, John              01 Camden, NJ                48.49    2   

         8 Bonner, Christopher       02 Stoughton, MA             48.57    2   

         9 Richards, Ron                Alexandria, VA            48.66    1   

        10 Hinnant, Keith            04 Bay Shore, NY             48.95    1   

        11 Lolagne, Chris            01 Suffern, NY               48.98    2   

        12 Scherer, Matt             02 Sumner, IL                49.06    2   

        13 Satchell, Marcus.         02 Hampton, VA               49.24    2   

        14 Stuart, Rodney            01 Freeport, MA              50.19    1   

        15 Harper, Charles           01 Millville, NJ             50.24    1   

        16 Schmidt, Michael          04 Claymont, DE              51.54    1   

        17 Walker, Keldon            01 Bay Shore, NY             53.11    1   

                                                                               

                           Event 7 Boys 800 Meter Run                          

                                                                               

      ! National: 1:46.45 Mike Granville, Bell Gardens, CA        05/31/96     

      *     Meet: 1:48.51 Moses Washington, Carol City, Miami, FL     1997     

      #    FROSH: 1:51.03 Granville                                   1993     

      $     SOPH: 1:48.98 Granville                                   1994     

      %   JUNIOR: 1:47.96 Granville                                   1995     

      ^   SENIOR: 1:46.45 Mike Granville, Bell Gardens, CA        05/31/96     

                                                                               

               Sections 1,2,3 will be contested 3:15pm, Saturday               

                                                                               

                      Finals - Results  - Saturday 06/16/01                    

                                                                               

    PLACE ATHLETE NAME              YR HOMETOWN                  TIME      HT  

    ===== ========================= == ========================= ========= ==  

        1 Sylvester, Marc           01 Cleveland, OH             1:48.76 $  5  

        2 Riter, Trent              01 Shoreview, MN             1:49.30 #  5  

        3 Hatch, James              01 Boulder, CO               1:49.60 #  5  

        4 Taylor, Michael           01 Portage, IN               1:50.63 #  5  

        5 Ahmed, Said               01 Boston, MA                1:50.65 #  5  

        6 Asafo-Agyei, Raphael      02 Chino, CA                 1:50.70 #  5  

        7 Soule, Daniel             01 Pensacola, FL             1:51.45    5  

        8 Cross, Paul               03 Pembroke Pines, FL        1:52.23    5  

        9 Glackin, Nathanael        01 Middletown, NJ            1:52.99    4  

       10 Gaeta, Phil               02 Herndon, VA               1:53.59    3  

       11 Iannamorelli, Derrick     01 Canton, OH                1:53.83    2  

       12 Lewis, Marvin             01 Willingboro, NJ           1:53.91    3  

       13 Schmidt, Bradley          01 Mine Hill, NJ             1:54.27    3  

       14 Joh, Papis                01 Cleveland, OH             1:54.73    3  

       15 Rauguth, Brandon          01 North Canton, OH          1:55.11    4  

       16 Ventura, Jorge            02 Howell, NJ                1:55.31    2  

       17 Ramos, Tiemarcie          02 New Haven, CT             1:55.65    2  

       18 Holden, James             01 Bridgeton, NJ             1:55.76    4  

       19 Harrison, Mark            01 Philadelphia, PA          1:55.84    4  

       20 Jones, Logan              02 Dorchester, MA            1:55.93    4  

       21 Snyder, Leon              01 Upper Marlboro, MD        1:56.07    1  

       22 McBridge, Zach            02 Medford, NJ               1:56.28    1  

       23 Arnold, John              02 Katy, TX                  1:56.34    3  

       24 Redden, Michael           01 Fork Union, VA            1:56.48    4  

       25 Johnson, Jonathan         01 Abilene, TX               1:56.83    5  

       26 Felton, Cam               01 Douglas, WY               1:56.89    2  

       27 Carlson, Stephen          02 Louisa, VA                1:57.45    1  

       28 Foley, John               02 Fredrick, MD              1:57.53    3  

       29 Albertson, Ryan           01 Pensacola, FL             1:57.87    4  

       30 Mims, Jeremy              01 Iowa City, IA             1:57.92    2  

       31 Pagano, Mike              01 Wellingford, PA           1:58.42    3  

       32 Mc Gugan, Adam            01 Greensboro, NC            1:59.47    1  

       33 Jackson, Bruce            01 Seattle, WA               2:00.30    2  

       34 Rocha, Phil               01 Bellevue, NE              2:00.35    1  

       35 Reshamwala, Sajid         01 Cary, NC                  2:05.43    1  

       36 Wilborn, Jeryl            01 Milton, PA                2:07.91    4  

                                                                               

                            Event 9 Boys 1 Mile Run                            

                                                                               

        ! National: 3:53.43 Alan Webb, South Lakes, Reston, VA  05/27/01       

        *     Meet: 4:02.01 Sharif Karie, West Springfield, VA      1997       

        #    FROSH: 4:15.5h Doug Smith, West JHS, Sioux City IA     1965       

        $     SOPH: 4:06.94 Alan Webb, South Lakes, Reston, VA      1999       

        %   JUNIOR: 3:59.0h Jim Ryun, East, Wichita, KS             1964       

        ^   SENIOR: 3:53.43 Alan Webb, South Lakes, Reston, VA  05/27/01       

                                                                               

                    Sections 1 & 2 will be contested 4:45pm                    

                                                                               

                      Finals - Results  - Saturday 06/16/01                    

                                                                               

    PLACE ATHLETE NAME              YR HOMETOWN                  TIME      HT  

    ===== ========================= == ========================= ========= ==  

        1 Schneider, Nick           01 Victoria, MN              4:09.42 #  4  

        2 Stroup, Shane             02 Highland, MD              4:10.61 #  4  

        3 Rhodenbaugh, Jesse        01 Oxford, OH                4:10.71 #  4  

        4 Jensen, Ty                01 Marlboro, NJ              4:12.53 #  4  

        5 Curtis, Bobby             03 Louisville, KY            4:12.60 #  4  

        6 Smitson, Robert           01 Carmel, IN                4:12.92 #  3  

        7 Gregory, Ben              01 Racine, WI                4:13.06 #  3  

        8 Fennell, Brendan          03 Pearl River, NY           4:13.60 #  3  

        9 Steier, Rolf              02 Temple Terrace, FL        4:14.34 #  4  

       10 Vidal, David              01 Kalispell, MT             4:15.69    4  

       11 Snead, L.A.               01 Fairfax, VA               4:16.51    3  

       12 Cronin, Ian               01 Lincolnshire, IL          4:17.14    4  

       13 McGovern, Brian           01 Newtown, CT               4:17.62    3  

       14 Richardson, John          03 Tuckahoe, NJ              4:18.63    3  

       15 Solinsky, Chris           03 Stevens Point, WI         4:18.81    2  

       16 Marlowe, Kurtis           01 Richland, MI              4:19.05    2  

       17 Wiechnicki, Drew          02 Sandisfield, MA           4:19.51    2  

       18 Hyde, Bruce               01 Waterbury, VT             4:20.81    1  

       19 Glaz, Dan                 01 Palos Hills, IL           4:20.83    2  

       20 Carr, Allen               01 Yorktown, VA              4:20.96    1  

       21 Smith, Brian              01 Rockford, MI              4:21.19    3  

       22 Perkins, Adam             03 Liberty, MO               4:21.48    4  

       23 Clayton, Alex             03 Virginia Beach, VA        4:21.70    1  

       24 Stern, Ben                02 Potomac, MD               4:22.26    1  

       25 Cable, Trevor             01 Frewsburg, NY             4:22.39    3  

       26 Leach, Tarn               01 East Jordan, MI           4:22.92    2  

       27 Mackenzie, Sam               Groton, NY                4:22.94    2  

       28 Jeffrey, Gosselin         02 Cornelius, NC             4:23.11    1  

       29 Wolak, Matthew            02 Richmond, VA              4:24.48    1  

       30 Garcia, Arturo            01 Chino, CA                 4:25.23    2  

       31 Rappole, Jesse            01 Bemus Point, NY           4:28.77    1  

       32 Shepherd, Steven          03 Pleasantview, UT          4:34.21    2  

       33 Shive, Steve              01 East Hartford, CT         4:36.27    1  

       34 Howard, Willie            01 Fort Lauderdale, FL       4:39.43    1  

                                                                               

                      Event 13 Boys 110 Meter High Hurdles                     

                                                                               

       ! National: 13.30 Chris Nelloms, Dunbar, Dayton, OH       05/26/90      

       ! National: 13.22 Arthur Blake, Haines City, FL           05/11/84      

       ! National: 12.9h Renaldo Nehemiaah, Scotch Plains, NJ    05/30/97      

       *     Meet: 13.32 Ricardo Moody, Harrison, CO. Springs,CO     1999      

       #    FROSH: 14.16 Jason Stanley, Planatation FL               1998      

       $     SOPH: 13.67 Ricky Harris, Centreville, Clifton VA       1998      

       %   JUNIOR: 13.34 Terrance Trammell, SW De Kalb, Dectr,GA     1996      

       ^   SENIOR: 13.30 Chris Nelloms, Dayton, OH               05/26/90      

                                                                               

                             Final Saturday 7:40pm                             

                                                                               

                      Finals - Results  - Saturday 06/16/01                    

                                                                               

    PLACE ATHLETE NAME              YR HOMETOWN                  TIME          

    ===== ========================= == ========================= ============  

        1 Williams, Derrick         01 Canton, OH                13.85 # -0.8  

        2 Boulware, Robert          01 Charlotte, NC             13.99 # -0.8  

        3 Stephens, Christopher     01 Palinfield, NJ            14.00 # -0.8  

        4 Daux, Emmanuel            01 Linden, NJ                14.08 # -0.8  

        5 Hancock, Bernard          01 Lynchburg, VA             14.17   -0.8  

        6 Smith, Azim               01 Port Norris, NJ           14.23   -0.8  

        7 Garrison, Jeffrey         01 Riverside, CA             14.30   -0.8  

        8 Akers, Cameron            01 Raleigh, NC               14.37   -0.8  

        9 Wickard, Justin           01 Gering, NE                14.38   -0.8  

                                                                               

                      Event 15 Boys 400 Meter Int Hurdles                      

                                                                               

       ! National: 50.02 Patrick Mann, Gar-Field, Woodbridge VA  06/24/84      

       ! National: 49.8h Bob Bornkessel, Shawnee Mission, KS     08/31/68      

       *     Meet: 50.72 James Graham,Northwestern,HyattsvilleMD     1999      

       #    FROSH: 53.94 Michael Roberts, Tower Hill, DE             1995      

       $     SOPH: 51.62 Ricky Harris, Centreville, Clifton, VA      1998      

       %   JUNIOR: 50.63 Ricky Harris, Centreville, Clifton, VA      1999      

       ^   SENIOR: 50.02 Patrick Mann, Gar-Field, Woodbridge VA  06/24/84      

                                                                               

                      Finals - Results  - Saturday 06/16/01                    

                                                                               

     PLACE ATHLETE NAME              YR HOMETOWN                  TIME    HT   

     ===== ========================= == ========================= ======= ==   

         1 Williams, Derrick         01 Canton, OH                51.23 $  4   

         2 Smith, Azim               01 Port Norris, NJ           51.82 #  4   

         3 Findlay, Adrian           01 Philadelphia, PA          52.60 #  4   

         4 Moore, Ian                01 Mt. Laurel, NJ            53.28 #  4   

         5 Sanders, Steven           01 Cleveland, OH             53.46 #  2   

         6 Wise, Dermillo.           02 St. Petersburg, FL        53.48 #  4   

         7 Larkins, Eddie            01 Dayton, OH                53.67 #  3   

         8 Turner, Lenairis          01 Charlotte, NC             53.93 #  3   

         9 Guy, Halihl               01 El Sorrante, CA           53.99    4   

        10 Gardner, Rashad           02 Chesapeake, VA            54.29    3   

        11 Martin, Quinn                Newark, DE                54.48    2   

        12 Williams, Charone         01 Jacksonville, FL          54.62    4   

        13 Wright, Nicholas          01 Baltimore, MD             54.67    3   

        14 Stout, Nicholas           01 Lake Orion, MI            54.95    2   

        15 Young, Maurice            02 Camden, NJ                54.96    4   

        16 Chambers, Seann           01 Winchester, VA            55.03    1   

        17 James, Brian              01 Auburn Hills, MI          55.13    3   

        18 Curran, Tim               01 Media, PA                 55.62    1   

        19 Johnson, Harold           01 Lanham, MD                55.90    2   

        20 McClure, Christopher      01 Trumansburg, NY           56.15    1   

        21 Cheney, Roy               02 Grovetown, GA             56.33    3   

        22 Keziah, Ryan              01 Raleigh, NC               57.04    2   

        23 Erling, Chad              01 Bellevue, NE              57.22    1   

        24 Spear, Charles            02 Spring, TX                58.45    3   

        25 Garner, Steven            01 Manassas, VA              59.62    2   

        26 Corbin, Arsenio           02 St. Petersburg, FL        59.63    3   

         - Garrison, Jeffrey         01 Riverside, CA               DNF    4   

                                                                               

                     Event 17 Boys 2,000 Meter Steeplechase                    

                                                                               

        ! National: 5:43.90 Steve Guerrini, Santa Rosa, CA          1991       

        *     Meet: 5:49.92 Steve Slattery, Mt. Olive, Flanders, NJ   98       

                                                                               

                      Finals - Results  - Saturday 06/16/01                    

                                                                               

    PLACE ATHLETE NAME              YR HOMETOWN                  TIME      HT  

    ===== ========================= == ========================= ========= ==  

        1 Thorne, Joe               02 Chamblee, GA              5:56.98    2  

        2 Romaniuk, Justin          01 Suffern, NY               5:58.13    2  

        3 Mayne, Floyd              01 Uniondale, NY             5:59.48    2  

        4 Martin, Collin            01 Huntington, NY            6:00.76    2  

        5 Laboy, Ramon              01 Danbury, CT               6:00.98    2  

        6 Brazunas, Eamon           01 Wayne, PA                 6:02.75    2  

        7 Sullivan, Brendan         02 Port Jefferson, NY        6:05.00    2  

        8 Henk, Mint                02 Braintree, VT             6:07.31    2  

        9 Wilkinson, Kalib          02 Huntersville, NC          6:08.98    2  

       10 Mammone, Chris            01 Valley Stream, NY         6:14.69    2  

       11 Ritchie, Mike             01 Mt. Laurel, NJ            6:16.50    1  

       12 Blaich, Andrew            01 Staten Island, NY         6:17.83    1  

       13 Badstein, Robert          02 Harriman, NY              6:22.58    1  

       14 Gutierrez, Dennis         03 Haverstraw, NY            6:24.97    1  

       15 McLelland, Colin          01 Lakewood, OH              6:27.82    1  

       16 Amdisen, Erik             02 West Hills, CA            6:27.96    2  

       17 Iannamorelli, Derrick     01 Canton, OH                6:32.57    1  

       18 Berkowitz, Ben            02 Boca Raton, FL            6:32.77    1  

       19 Platt, Chris              03 Haddonfield, NJ           6:38.60    1  

       20 Mosely, Anderson          01 Cambria Heights, NY       6:41.99    1  

       21 Mitchell, Michael         02 Huntersville, NC          6:43.27    1  

       22 Roughton, Matt               Alexandria, VA            6:47.56    2  

       23 Baer, David               01 Fairfax, VA               6:57.77    1  

       24 Han, Earl                 02 Syosset, NY               7:03.67    1  

       25 Connells, Andrew             Alexandria, VA            7:19.81    1  



                                                                               

                           Event 49 Boys 4 Mile Relay                          

                                                                               

             ! National: 17:06.6h South Eugene, Eugene, OR 05/07/76            

             *     Meet: 17:21.57 Rockford, MI             06/17/00            

                                                                               

                 Section 1 first than sections 2 & 3 to follow.                

                                                                               

                      Finals - Results  - Saturday 06/16/01                    

                                                                               

            PLACE  RELAY     AFFILIATION               TIME       HT           

            =====  =================================== ========== ==           

                1  NOMI      Novi-MI                   17:20.92 *  1           

                2  ROMI      Rockford-MI               17:37.39    1           

                3  CRIN      Carmel-IN                 17:54.68    1           

                4  EVIL      Evanston Township-IL      17:58.13    1           

                5  SRNY      Saratoga Springs-NY       17:58.78    1           

                6  DUMD      Dulaney-MD                17:59.09    1           

                7  HDNJ      Haddonfield-NJ            17:59.17    1           

                8  RICT      Ridgefield-CT             18:00.21    1           

                9  FMTC      Fmr Track Club-TX         18:02.36    2           

               10  BTNY      Bayport-Blue Point-NY     18:03.39    2           

               11  LAIN      Lawrence North-IN         18:05.65    1           

               12  CNCA      Canyon Country-CA         18:09.32    1           

               13  BIRI      Bishop Hendricken-RI      18:09.46    2           

               14  MANH      Manchester-NH             18:15.08    2           

               15  BENE      Bellevue West-NE          18:18.69    1           

               16  LOTX      Lockhart-TX               18:19.35    2           

               17  CBNJ      Christian Brothers Aca-NJ 18:19.67    1           

               18  ACMN      Holy Angels, Academy ofMN 18:21.59    1           

               19  HUNJ      Hunterdon Reg-NJ          18:26.61    3           

               20  DACT      Danbury-CT                18:28.36    2           

               21  TOMA      Towns Concord/Carlisle MA 18:35.74    2           

               22  WIWI      Wisconsin Lutheran-WI     18:36.85    3           

               23  THVA      Thomas Jefferson-VA       18:38.25    3           

               24  CONY      Collegiate-NY             18:44.03    3           

               25  CAPA      Cardinal O'Hara-Pa        18:48.14    2           

               26  FRKS      Lawrence Free State-KS    18:50.37    3           

               27  WANY      Warwick Valley-NY         18:56.55    1           

               28  ELCT      Ellington-CT              19:03.62    3           

               29  WANY "B"  Warwick Valley-NY         19:12.35    3           

               30  COGA      Collins Hill-GA           19:29.31    3           

               31  XACT      Xavier-CT                 19:33.89    3           

               32  OAVA      Oakton-VA                 19:48.95    3           

                -  MCOR      McKay-OR                       DNF    2           

                                                                               

                        Event 37 Boys 4x100 Meter Relay                        

                                                                               

             ! National: 39.76 O.D. Wyatt, Fort Worth, TX 05/16/98             

             *     Meet: 39.80 O.D. Wyatt, Fort Worth, TX     1998             

                                                                               

                    Final will be contested Saturday 6:15pm                    

                                                                               

                      Finals - Results  - Saturday 06/16/01                    

                                                                               

               PLACE  RELAY     AFFILIATION               TIME                 

               =====  =================================== =======              

                   1  FETX      Forest Brook-TX           40.70                

                   2  FOTX      O.D. Wyatt-TX             40.80                

                   3  PONY      Poly Prep-NY              42.12                

                   4  THNY      Thomas Jefferson-NY       42.43                

                   5  STCA      St. Mary's-CA             42.76                

                   6  GIFL      Gibbs-FL                  42.84                

                   7  DODE      Dover-DE                  42.94                

                   8  SPSC      Spartanburg-SC            43.08                

                   -  DIFL      Dixie Hollins-FL            DNF                

                                                                               

                        Event 41 Boys 4x400 Meter Relay                        

                                                                               

             ! National: 3:07.40 Hawthorne, CA             04/06/85            

             *     Meet: 3:11.12 Northwestern, Hyattsville     1999            

                                                                               

        Section 5 will be run at 10:35pm.  Sections 1 through 4 will be        

        run at 8:50pm as scheduled.                                            

                                                                               

                      Finals - Results  - Saturday 06/16/01                    

                                                                               

             PLACE  RELAY     AFFILIATION               TIME      HT           

             =====  =================================== ========= ==           

                 1  CANJ      Camden-NJ                 3:09.91 *  3           

                 2  WINJ      Willingboro-NJ            3:13.82    3           

                 3  TANY      Transit Tech-NY           3:15.32    3           

                 4  BOFL      Boyd Anderson-FL          3:16.29    3           

                 5  RISC      Richland N.E.-Sc          3:18.26    3           

                 6  TRNJ      Trenton Central-NJ        3:18.53    3           

                 7  EWNJ      Ewing-NJ                  3:18.72    2           

                 8  THNY      Thomas Jefferson-NY       3:18.82    2           

                 9  BEVA      Bethel-VA                 3:19.12    3           

                10  SIPA      Simon Gratz-PA            3:21.01    4           

                11  OVPA      Overbrook-PA              3:21.19    1           

                12  JANC      Jacksonville-NC           3:21.22    3           

                13  LRMD      Largo-MD                  3:21.70    3           

                14  UINY      Uniondale-NY              3:22.61    2           

                15  SANJ      Sayreville-NJ             3:23.47    2           

                16  CHDE      Christiana-DE             3:25.12    1           

                17  CHNY      Chaminade-NY              3:27.49    2           

                18  JOVA      John Handley-VA           3:27.50    1           

                19  SPVA      Spotsylvania-VA           3:28.00    1           

                20  DACT      Danbury-CT                3:29.02    2           

                                                                               

                         Event 45 Boys Distance Medley                         

                                                                               

      ! National:  9:53.31 (meters)McCullough, The Woodlands, TX 05/09/87      

      ! National: 10:01.60 (yards)South Eugene, Eugene, OR       05/06/77      

      *     Meet: 10:03.09 Rockford, MI                          06/17/00      

                                                                               

          South Lake splits: Richard Smith 3:03.2, Justin Smyser 50.2,         

          Kanda Karmo 1:56.6, Alan Webb 3:59.80 (auto)                         

                                                                               

                      Finals - Results  - Saturday 06/16/01                    

                                                                               

              PLACE  RELAY     AFFILIATION               TIME                  

              =====  =================================== ==========            

                  1  SOVA      South Lakes-VA             9:49.78 !            

                  2  ATFL      Atlantic-FL               10:04.63              

                  3  NOMI      Novi-MI                   10:08.00              

                  4  CAPA      Cardinal O'Hara-Pa        10:11.24              

                  5  JONY      John Jay-NY               10:17.23              

                  6  CUPA      Cumberland Valley-PA      10:18.71              

                  7  DOCA      Don Lugo-CA               10:22.09              

                  8  RICT      Ridgefield-CT             10:27.84              

                  9  MCOR      McKay-OR                  10:30.13              

                 10  DACT      Danbury-CT                10:32.81              

                 11  SYNY      Syosset-NY                10:33.03              

                 12  DUMD      Dulaney-MD                10:35.40              

                 13  HEVA      Herndon-VA                10:45.97              

                 14  WAMD      Walter Johnson-MD         10:47.36              

                 15  OVPA      Overbrook-PA              11:37.97              

                                                                               

                           Event 27 Boys Triple Jump                           

                                                                               

! National: 53'11.25" (16.44m) Greg Yeldell, N. Rowan, Spencer, NC     08/01/98

*     Meet: 52'05.50" (15.99m) Len Herring, Eastside, Gainseville, FL      1997

#    FROSH: 49'02.75" (15.01m) Maurice Robinson, Blount, Prichard, AL      1997

$     SOPH: 51'03.25" (15.63m) Andre Scott, Seminole, Sanford, FL          1992

%   JUNIOR: 53'09.25" (16.39m) Brian Tabor, Clarke Central, Athens, GA     1989

^   SENIOR: 53'11.25" (16.44m) Greg Yeldell, N. Rowan, Spencer, NC     08/01/98

                                                                               

                      Finals - Results  - Saturday 06/16/01                    

                                                                               

  PLACE ATHLETE NAME            YR HOMETOWN            MARK                    

  ===== ======================= == =================== ========                

      1 Moore, Alonzo           01 Hampton, VA         14.93m    0.6  48'11.75 

      2 Smith, Jamil            01 Palmdale, CA        14.86m    0.0  48'09.00 

      3 Wilson, Aarik           01 Fallon, NV          14.85m    0.0  48'08.75 

      4 Zimmerman, Ryan         01 Nipomo, CA          14.85m    0.2  48'08.75 

      5 Gamble, Andrew          01 Universal City, TX  14.69m    0.2  48'02.50 

      6 Davis, A.J.             02 Durham, NC          14.58m    1.1  47'10.00 

      7 Pierce, Eric            01 New Britain, CT     14.52m    2.4  47'07.75 

      8 Wells, Travis           02 Philadelphia, PA    14.26m    0.1  46'09.50 

      9 Wise, Dermillo.         02 St. Petersburg, FL  14.13m    0.8  46'04.25 

     10 Robertson, Arthur       01 Charlotte, NC       14.06m    0.6  46'01.50 

     11 Lawrence, Richard       01 Miami, FL           14.00m    1.1  45'11.25 

     12 Smith, Reynold          03 Woodbridge, VA      13.98m    0.7  45'10.50 

     13 Johnson, Marcus            Orangeburg, SC      13.69m    2.2  44'11.00 

     14 Guidotti, Michael          Northport, NY       13.68m    2.5  44'10.75 

     15 Harris, I-Perfection    02 Staten Island, NY   13.62m    1.7  44'08.25 

     16 Pendleton, Trumaine     01 Miller Place, NY    13.58m    0.0  44'06.75 

     17 Cook, Ron               01 Philadelphia, PA    13.58m    0.9  44'06.75 

     18 Smith, Henry            01 Ellington, CT       13.42m    0.0  44'00.50 

     19 Howard, Jason           01 Trotwood, OH        13.36m    1.2  43'10.00 

     20 Akpaette, Pat           02 Bloomington, MN     13.25m    0.2  43'05.75 

                                                                               

                           Event 31 Boys Discus Throw                          

                                                                               

! National: 234'03.00" (71.40m) Niklas Arrhenius, Mountain View,Orem UT 04/14/0

*     Meet: 197'01.00" (60.07m) Jeremy Allen, Pike, Indianapolis, IN        199

#    FROSH: 191'08.00" (58.42m) Derek Randall, Jones HS, Beeville, TX       199

$     SOPH: 201'02.00" (61.32m) Kevin Bookout, Stroud, OK                   200

%   JUNIOR: 215'00.00" (65.53m) Kevin Bookout, Stroud, OK               04/03/0

^   SENIOR: 234'03.00" (71.40m) Niklas Arrhenius, Mountain View,Orem UT 04/14/0

                                                                               

                      Finals - Results  - Saturday 06/16/01                    

                                                                               

     PLACE ATHLETE NAME            YR HOMETOWN            MARK                 

     ===== ======================= == =================== ========             

         1 Gowda, Vikas            01 Frederick, MD       60.70m * 199'02.00   

         2 Segond, Samuel          01 East Stroudsburg, P 59.26m # 194'05.00   

         3 Battle, Sheldon         01 Jamestown, NY       58.90m # 193'03.00   

         4 Sarantos, Joey          01 Portage, MI         56.76m   186'03.00   

         5 Kuehl, Adam             02 Eatontown, NJ       55.92m   183'05.00   

         6 Austin, Dan             01 Mechanicsburg, PA   54.80m   179'09.00   

         7 Anderson, Derek         01 Wrentham, MA        54.78m   179'09.00   

         8 Franzinger, Ryan           Westlake, OH        51.38m   168'07.00   

         9 Unis, James             02 Gloucester, MA      49.36m   161'11.00   

        10 Littlewood, Stuart      01 Aberdeen, NJ        49.30m   161'09.00   

        11 Taylor, Barclay         01 Atlanta, GA         48.44m   158'11.00   

        12 Clancy, Michael         01 Toms River, NJ      47.88m   157'01.00   

        13 DiGiorgio, Glenn        02 Bayonne, NJ         47.20m   154'10.00   

        14 Huntzinger, Steve       VA Fairfax, VA         45.88m   150'06.00   

        15 Smith, Travis           01 King George, VA     44.04m   144'06.00   

        16 Sangobowale, Michael       Bronx, NY           40.76m   133'09.00   

        17 Drury, Miles            01 Lawrenceville, GA   36.96m   121'03.00   

        18 Williams, Nicholas      03 Adamstown, MD       34.80m   114'02.00   

         - Summers, Sheanon        01 Abbottstown, PA       FOUL               

         - Zyvoloski, Michael      01 Elkridge, MD          FOUL               

                                                                               

                           Event 35 Boys Hammer Throw                          

                                                                               

  ! National: 253'03.00" (77.19m) Jacob Freeman, Bishop Hendrickson, RI   1999 

  *     Meet: 242'09.00" (73.99m) Jacob Freeman, Bishop Hendrickson, RI   1999 

  #    FROSH: 182'04.00" (55.58m) Anthony Strackaluse, Deaf, ProvidenceRI 1970 

  $     SOPH: 208'10.00" (63.65m) Alvin Jackson, Classical, Providence RI 1970 

  %   JUNIOR: 226'08.00" (69.09m) Jacob Freeman, Bishop Hendrickson, RI   1998 

  ^   SENIOR: 253'03.00" (77.19m) Jacob Freeman                             99 

                                                                               

                      Finals - Results  - Saturday 06/16/01                    

                                                                               

     PLACE ATHLETE NAME            YR HOMETOWN            MARK                 

     ===== ======================= == =================== ========             

         1 Freeman, Michael        02 E. Greenwich, RI    61.26m # 201'00.00   

         2 Smolenski, John-Paul    01 New Hyde Park, NY   60.76m # 199'04.00   

         3 Duffy, Jeremy           02 Cumberland, RI      59.08m # 193'10.00   

         4 Myers, Terrance         02 Providence, RI      55.40m   181'09.00   

         5 Hamilton, Adam          02 Milford, NH         55.08m   180'08.00   

         6 Helm, Zach              02 Snellville, GA      54.66m   179'04.00   

         7 Chobanian, Paul         02 Providence, RI      54.48m   178'09.00   

         8 Godin, Daniel           03 Coventry, RI        53.56m   175'09.00   

         9 Palazzo, Nick           02 Providence, RI      53.10m   174'02.00   

        10 Maknoxa, Oudom          01 Providence, RI      52.58m   172'06.00   

        11 Wright, Adrian          01 Marietta, GA        52.08m   170'10.00   

        12 Gabrault, Adam          02 Warwick, RI         51.98m   170'06.00   

        13 Cambras, Jonathan       01 Stratford, CT       51.26m   168'02.00   

        14 Taylor, Barclay         01 Atlanta, GA         51.06m   167'06.00   

        15 Dzwilefsky, Matt        01 Poughkeeepsie, NY   50.16m   164'07.00   

        16 Rodriguez, Santos       02 Ellenville, NY      49.36m   161'11.00   

        17 Chihoski, Jonathan      01 Warwick, RI         48.90m   160'05.00   

        18 Stewart, Mires          01 Monroe, NY          48.40m   158'09.00   

        19 Gianfrancesco, Joseph   02 Providence, RI      46.92m   153'11.00   

        20 Palazzo, Richard        02 Providence, RI      46.28m   151'10.00   

        21 Peterson, Robert        02 W. Warwick, RI      46.16m   151'05.00   

        22 Hengrasmy, Anthony      02 Providence, RI      45.66m   149'10.00   

        23 DeGaetano, Christopher  01 S. Huntington, NY   44.78m   146'11.00   

        24 Kippel, Rob             01 Chester, NY         42.80m   140'05.00   

         - Dodd, Roman             02 Wakefield, RI         FOUL               



                                                                               

                          Event 33 Boys Javelin Throw                          

                                                                               

 ! National: 259'10.00" (79.20m) Art Skipper, Sandy, OR                05/28/88

 *     Meet: 239'09.00" (73.08m) Troy Burkholder, Cocalico, Denver, CO 06/14/95

 #    FROSH: 210'07.00" (64.19m) Marlin Van Horn, Selinsgrove, PA          1973

 $     SOPH: 242'07.00" (73.94m) Craig Stiles, Malta, MT                   1969

 %   JUNIOR: 244'10.00" (74.63m) Stiles                                    1970

 ^   SENIOR: 259'10.00" (79.20m) Art Skipper, Sandy, OR                05/28/88

                                                                               

                      Finals - Results  - Saturday 06/16/01                    

                                                                               

     PLACE ATHLETE NAME            YR HOMETOWN            MARK                 

     ===== ======================= == =================== ========             

         1 Smith, Bobby            01 Hopatcong, NJ       67.66m # 222'00.00   

         2 Friedrich, Jonah        01 Springfield, OR     61.56m   202'00.00   

         3 Scheer, Josh            01 Garden Plain, KS    60.68m   199'01.00   

         4 Skeper, Timothy         02 Hamden, CT          58.34m   191'05.00   

         5 Finneran, James         01 Kittery, ME         58.28m   191'02.00   

         6 Smith, Andy             01 Raleigh, NC         57.34m   188'01.00   

         7 Bass, Derrick           02 Brooklyn, NY        55.46m   181'11.00   

         8 Heiges, Dick            01 Montgomery, PA      55.30m   181'05.00   

         9 Naclerio, Steve         01 White Plains, NY    55.02m   180'06.00   

        10 Francis, Ben            03 Wilber, NE          54.22m   177'11.00   

        11 Duffy, Kevin            02 Chatham, NJ         54.10m   177'06.00   

        12 Jordan, Thomas          03 Lebanon, PA         53.82m   176'07.00   

        13 Moore, Jeffrey          01 Norton, MA          53.62m   175'11.00   

        14 Tanucci, Joe            01 Stratford, CT       52.88m   173'06.00   

        15 Cerr, Mike              01 Rehoboth, MA        52.02m   170'08.00   

        16 Maffuci, Jeff           02 Manasquan, NJ       49.68m   163'00.00   

        17 Avila, Keith            02 E. Providence, RI   49.62m   162'09.00   

        18 Curran, John            01 Carmel, NY          49.50m   162'05.00   

        19 Dickson, Timothy        01 Branford, CT        49.24m   161'06.00   

        20 Funderburg, Drew        01 New Haven, CT       47.42m   155'07.00   

        21 Zapesnik, Bruce         01 Rehoboth, MA        47.18m   154'09.00   

        22 Rouse, Adam             01 Danbury, CT         45.94m   150'09.00   

        23 Lugo, Joselito          01 Manchester, NH      41.70m   136'10.00   

        24 Ludwig, Michael         02 Patterson, NY       41.40m   135'10.00   

        25 Smith, Bruce            03 Raleigh, NC         37.86m   124'02.00   



GIRLS

 Adidas Outdoor Championships                              Hy-Tek's MEET MANAGER

                                 adidas Outdoor                          Page 1

                          Track & Field Championships                          

  Raleigh, North Carolina @ NC State University - Fri 06/15/01 to Sat 06/16/01 

                                                                               

                         COMPLETE RESULTS - ALL ROUNDS                         

                                                                               

                          Event 4 Girls 200 Meter Dash                         

                                                                               

         ! National: 22.58 Marion Jones, Thousand Oaks, CA    06/28/92         

         *     Meet: 23.32 Marion Jones, Rio Mesa, Oxnard, CA     1991         

         #    FROSH: 23.28 Tracee Thomas, North, Riverside CA     1999         

         $     SOPH: 22.76 Marion Jones, Rio Mesa, Oxnard, CA     1991         

         %   JUNIOR: 22.58 Marion Jones, Thousand Oaks, CA        1992         

         ^   SENIOR: 22.89 Chandra Cheeseborough, Ribault, FL     1977         

                                                                               

                        Final to be held Saturday 7:45pm                       

                                                                               

                   Preliminaries - Results  - Saturday 06/16/01                

               9 Advance: Top 1 Each Heat Plus Next 5 Best Times               

                                                                               

  PLACE ATHLETE NAME              YR HOMETOWN                  TIME         HT 

  ===== ========================= == ========================= ============ == 

      1 Whipple, Erica            01 West Palm Beach, FL       23.66    0.0  4 

      2 Perkins, Angel            02 Cerritos, CA              23.92    0.7  2 

      3 Felix, Allyson            03 North Hills, CA           23.99   -0.7  1 

      4 Broaddus, Juanita         03 Philadelphia, PA          24.11    0.0  3 

      5 Hooker, Marshevet         02 San Antonio, TX           24.29    0.0  3 

      6 Bailey, Danielle          01 Newark, DE                24.71    0.0  3 

      7 Cox, Shana                03 Westbury, NY              24.76    0.7  2 

      8 Towns, Ara                01 Hampton, VA               24.82    0.0  3 

      8 Williams, Lauryn          01 Rochester, PA             24.82    0.0  4 

     10 Davis, Chinela            01 Haverstraw, NY            24.85    0.0  4 

     11 Washington, Bernadette    01 Winston-Salem, NC         24.99   -0.7  1 

     12 Rooks, Cynetheia          03 Garysburg, NC             25.04    0.0  3 

     13 Arthur, Candace           01 Locust Valley, NY         25.13    0.0  4 

     14 Lyles, Kimberly           01 Somerset, NJ              25.25   -0.7  1 

     15 Benson, Latoya            02 Sewell, NJ                25.26    0.0  3 

     16 Franklin, Natashia           Austin, TX                25.33    0.7  2 

     17 Miller, Jamie             03 Pageland, SC              25.36    0.0  4 

     18 Salaam, Kamilah           03 Wilmington, DE            25.37    0.7  2 

     19 Ingram, Talonda           02 Pompano Beach, FL         25.86    0.0  3 

     20 Samuel, Jackie            04 St. Petersburg, FL        26.13    0.0  4 

     21 Gamble, Lavonda           04 Sumter, SC                26.30    0.0  4 

     22 Townes, Cecelia           02 Sumter, SC                26.88    0.0  3 

     23 Nixon, Tiesha             01 Denton, MD                26.90   -0.7  1 

     24 Jackson, Shoneka          05 St. Petersburg, FL        26.99    0.7  2 

     25 McFarlane, Janel          03 Silver Spring, MD         27.31    0.7  2 



                                                                               

                      Finals - Results  - Saturday 06/16/01                    

                                                                               

    PLACE ATHLETE NAME              YR HOMETOWN                  TIME          

    ===== ========================= == ========================= ============  

        1 Perkins, Angel            02 Cerritos, CA              23.65    0.2  

        2 Felix, Allyson            03 North Hills, CA           23.68    0.2  

        3 Broaddus, Juanita         03 Philadelphia, PA          24.27    0.2  

        4 Bailey, Danielle          01 Newark, DE                24.67    0.2  

        5 Towns, Ara                01 Hampton, VA               24.68    0.2  

        6 Cox, Shana                03 Westbury, NY              24.78    0.2  

                                                                               

                          Event 6 Girls 400 Meter Run                          

                                                                               

       ! National: 50.74 Monique Henderson, Morse, San Diego, CA 06/03/00      

       *     Meet: 52.56 Mikele Barber, Montclair, NJ            06/12/98      

       #    FROSH: 52.49 Jerrika Chapple, Lancaster, TX              2000      

       $     SOPH: 51.70 Denean Howard, Kennedy,Granada Hills,CA     1980      

       %   JUNIOR: 50.74 Monique Henderson, Morse, San Diego, CA 06/03/00      

       ^   SENIOR: 50.87 Denean Howard, Kennedy,Granada Hills,CA 06/20/82      

                                                                               

                      Finals - Results  - Saturday 06/16/01                    

                                                                               

    PLACE ATHLETE NAME              YR HOMETOWN                  TIME      HT  

    ===== ========================= == ========================= ========= ==  

        1 Chapple, Jerrika          03 Lancaster, TX               53.10    2  

        2 Richards, Sanya           02 Ft. Lauderdale, FL          53.47    2  

        3 Rooks, Cynetheia          03 Garysburg, NC               55.68    1  

        4 Smith, Christina          03 Philadelphia, PA            55.79    2  

        5 Moschella, Christine      01 Hopkinton, MA               56.32    2  

        6 Cornish, Nichola          01 Spartanburg, SC             56.35    2  

        7 Swayzer, Crysta           04 Houston, TX                 56.41    1  

        8 Maclin, Shavonne          02 University Hts, OH          56.96    2  

        9 Baker, Sara               02 Kalamazoo, MI               57.43    2  

       10 Cuevas, Monica            03 Boardman, OH                57.50    1  

       11 Clarida, Vanessa          04 Bloomington, MN             58.14    2  

       12 Pasture, Nija             02 Philadelphia, PA            59.97    2  

       13 Lanewala, Rehana          01 Flemington, NJ            1:00.66    1  

       14 Brown, Cortiena           03 Coral Springs, FL         1:01.99    1  

       15 Noe, Amanda               02 Macon, GA                 1:03.67    1  



                                                                               

                          Event 8 Girls 800 Meter Run                          

                                                                               

      ! National: 2:00.07 Kim Gallagher, Upper Dublin, Ft.Wash,PA 07/24/82     

      *     Meet: 2:04.55 Tameika Grizzle, Washington, NYC, NY        1996     

      #    FROSH: 2:02.40 Robin Campbell, Eastern, Washington, DC     1974     

      $     SOPH: 2:02.29 Mary Decker, Orange, CA                     1974     

      %   JUNIOR: 2:01.82 Kim Gallagher, Upper Dublin, Ft.Wash,PA     1981     

      ^   SENIOR: 2:00.07 Kim Gallagher, Upper Dublin, Ft.Wash,PA 07/24/82     

                                                                               

                        Sections 1 will be contested 3pm                       

                                                                               

                      Finals - Results  - Saturday 06/16/01                    

                                                                               

    PLACE ATHLETE NAME              YR HOMETOWN                  TIME      HT  

    ===== ========================= == ========================= ========= ==  

        1 Rowbury, Shannon          02 San Francisco, CA         2:12.00    3  

        2 Anderson, Adrianne        01 Roseau, MN                2:12.01    3  

        3 Feldkamp, Theresa         01 Lorain, OH                2:12.33    3  

        4 Andersen, Kassi           01 Alpine, UT                2:12.90    3  

        5 Rodgers, Danielle         02 Yeadon, PA                2:13.41    2  

        6 Austin, Andrea            01 Hallandale, FL            2:14.54    3  

        7 Rhinehart, Francine       01 Madison, OH               2:16.65    2  

        8 Egnatuk, Tracy            01 Albion, MI                2:16.82    2  

        9 Wagenseller, Jordan       02 Louisville, KY            2:16.99    2  

       10 Rademacher, Megan         02 Spring, TX                2:17.07    3  

       11 Manthe, Megan             01 Andover, MN               2:17.91    2  

       12 Patten, Ashley            02 Clarkston, MI             2:18.06    3  

       13 Carter, Christine         02 Littleton, MA             2:18.54    1  

       14 Courtney, Michaela        02 Dodgeville, WI            2:18.63    2  

       15 Staton, Shayna            02 Bay Shore, NY             2:19.01    3  

       16 Radermacher, Shannon      02 Spring, TX                2:19.72    2  

       17 Anderson, Nelly           01 Charlotte, VA             2:20.70    1  

       18 Gregory, Anjelica         04 White Plains, NY          2:20.87    1  

       19 Miller, Lauren            02 Apex, NC                  2:21.00    1  

       20 Akajie, Temi              02 Upper Marlboro, MD        2:22.56    1  

       21 Gibbs, Shaquita           03 St. Petersburg, FL        2:27.80    2  

       22 Harper, Gorgeous          01 Philadelphia, PA          2:28.08    1  

       23 Lewis, Lauren             04 Waretown, NJ              2:29.27    2  



                                                                               

                           Event 10 Girls 1 Mile Run                           

                                                                               

      ! National: 4:35.24 Polly Plummer, University, Irvine, CA  05/16/82      

      *     Meet: 4:45.33 Jennifer Smith, Ferris, Spokane WA         1997      

      #    FROSH: 4:42.0h Mary Decker, Portola Jr, Orange CA         1973      

      $     SOPH: 4:42.5h Deanna Coleman, Issaquah, WA               1978      

      %   JUNIOR: 4:41.8h Vicki Cook, Alemany, Mission Hills, CA     1981      

      ^   SENIOR: 4:35.24 Polly Plummer, University, Irvine, CA  05/16/82      

                                                                               

                      Sections 1 will be contested 4:30pm                      

                                                                               

                      Finals - Results  - Saturday 06/16/01                    

                                                                               

    PLACE ATHLETE NAME              YR HOMETOWN                  TIME      HT  

    ===== ========================= == ========================= ========= ==  

        1 Donohue, Erin             01 Haddonfield, NJ           4:42.96 *  3  

        2 Craig, Alicia             01 Gillette, WY              4:47.29    3  

        3 Huddle, Molly             02 Elmira, NY                4:50.98    3  

        4 Novak, Brooke             01 Kaukauna, WI              4:54.61    3  

        5 Olds, Megan               02 Gloversville, NY          4:55.15    3  

        6 Stanley, Laura            02 Fletcher, NC              4:59.23    2  

        7 Hawrylo, Shannon          01 Flemington, NJ            4:59.53    2  

        8 Owen, Meghan              03 Danielson, CT             5:00.35    3  

        9 Cicero, Maria             01 Elmhurst, IL              5:00.42    3  

       10 Carlstrom, Keira          02 Oakton, VA                5:01.56    3  

       11 Dixon, Lynn               03 Manhattan Beach, CA       5:01.87    3  

       12 Moriarty, Erica           02 Pickerington, OH          5:01.90    2  

       13 Kraft, Jessica            01 Gladwin, MI               5:02.41    2  

       14 McLeod, Brianna           03 Jenks, OK                 5:02.99    1  

       15 Iatauro, Heather          04 Grahamsville, NY          5:06.48    1  

       16 McCandless, Maureen       01 Bensalem, PA              5:08.73    2  

       17 Rodgers, Joanna           03 Fairfax, VA               5:09.08    1  

       18 Scott, Maureen            02 Mahomet, IL               5:11.89    2  

       19 Ko, Phebe                 01 Salt Lake City, UT        5:12.08    1  

       20 Kerstetter, Leah          02 Erie, PA                  5:13.11    2  

       21 Nowakowski, Clair         02 Ridgewood, NJ             5:13.32    1  

       22 Saunders, Brittanie       02 Douglas, WY               5:14.06    1  

       23 Medlin, Karen             01 Raleigh, NC               5:14.18    1  

       24 Robinson, Ashley          02 Dix Hills, NY             5:14.49    1  

       25 Zoltani, Tenke            02 Lutherville, MD           5:19.58    1  

       26 Gregory, Anjelica         04 White Plains, NY          5:36.97    1  

       27 Holmes, Ryann             01 Upper Marlboro, MD        5:43.37    1  



                                                                               

                      Event 14 Girls 100 Meter Int Hurdles                     

                                                                               

       ! National: 12.95 Candy Young, Beaver Falls, PA          06/16/79       

       *     Meet: 13.38 Joanna Hayes, North, Riverside, CA         1995       

       #    FROSH: 13.75 Dominique' Callaway, South, Denver, CO     1993       

       $     SOPH: 13.50 Sonya Hardy, Boulder, CO                   1976       

       %   JUNIOR: 12.95 Candy Young, Beaver Falls, PA          06/16/79       

       ^   SENIOR: 13.20 Nichole Denby, JW North, Riverside, CA 06/03/00       

                                                                               

                             Final Saturday 7:35pm                             

                                                                               

                      Finals - Results  - Saturday 06/16/01                    

                                                                               

    PLACE ATHLETE NAME              YR HOMETOWN                  TIME          

    ===== ========================= == ========================= ============  

        1 Paul, Laura               01 Harriman, NY              14.21    0.2  

        2 Ross, Tiffany             01 Miami, FL                 14.22    0.2  

        3 Stone, Kandace            01 Cleveland, OH             14.34    0.2  

        4 Bond, Lindsay             01 Southfield, MI            14.43    0.2  

        5 Nesfield, Tiffany         04 Springdale, MD            14.62    0.2  

        6 McGill, Tamara            01 Franklin Park, NJ         14.65    0.2  

        7 Pulliam, Chandra          03 Burlington, NC            14.66    0.2  

                                                                               

                      Event 16 Girls 400 Meter Int Hurdles                     

                                                                               

       ! National: 55.20 Leslie Maxie, Mills, Millbrae, CA       05/26/84      

       *     Meet: 57.55 Sheena Johnson Gar-Field, Woodbridge VA 06/17/00      

       #    FROSH: 58.82 Tiffany Abney, Merion Mercy, Merion, PA     2000      

       $     SOPH: 57.04 Lashinda Demus, Wilson, Long Beach, CA      1999      

       %   JUNIOR: 55.20 Leslie Maxie, Mills, Millbrae, CA       05/26/84      

       ^   SENIOR: 56.82 Sheena Johnson Gar-Field, Woodbridge VA     2000      

                                                                               

                      Finals - Results  - Saturday 06/16/01                    

                                                                               

    PLACE ATHLETE NAME              YR HOMETOWN                  TIME      HT  

    ===== ========================= == ========================= ========= ==  

        1 Watkins, Tawana           02 Paterson, NJ                57.48 *  3  

        2 Ross, Tiffany             01 Miami, FL                   57.91 #  3  

        3 Smith, Shauna             01 Sheridan, WY                59.70    3  

        4 Myricks, Danielle         01 Willingboro, NJ           1:01.78    3  

        5 Smith, Beth               01 Lakeville, MA             1:02.03    2  

        6 Radziminski, Amanda       02 Sewell, NJ                1:02.55    3  

        7 Thomas, Tyeshia           02 Philadelphia, PA          1:02.57    3  

        8 Worth, Jenny              02 Gales Ferry, CT           1:02.75    1  

        9 Kitton, Fara              01 Bellmore, NY              1:03.27    2  

       10 Tucker, Elizabeth         01 Mount Vernon, NY          1:03.97    1  

       11 Moore, Dawnita            02 Spartanburg, SC           1:04.07    2  

       12 Duncan, Jericka           01 Aurora, OH                1:04.82    2  

       13 Pfeiffer, Jaci            02 Hillsborough, NJ          1:05.05    2  

       14 Kloss, Lauren             03 Hillsborough, NJ          1:05.14    1  

       15 Whittaker, Symone         01 Ft. Lauderdale, FL        1:05.28    3  

       16 Onychie, Chuku            01 Upper Marlboro, MD        1:05.40    1  

       17 McFaydon, Kianna          02 Lauderhill, FL            1:05.48    1  

       18 Castro, Kellie            03 Bay Shore, NY             1:05.55    2  

       19 Ramos, Ebony              01 Hackensack, NJ            1:05.82    3  

       20 Simmonds, Pamela          01 Reston, VA                1:06.81    2  

       21 Byrd, Jennifer            01 Virginia Beach, VA        1:06.96    1  

       22 Hovatter, Alesia          01 Mt. Jackson, VA           1:07.97    1  

       23 Coleclough, Lindsay       03 Sumter, SC                1:08.71    2  

       24 Finley, Edra              03 Mobile, AL                1:09.70    2  

       25 Dutch, Ashley             01 Clayton, NC               1:10.11    1  

                                                                               

                    Event 18 Girls 2,000 Meter Steeplechase                    

                                                                               

                      Finals - Results  - Saturday 06/16/01                    

                                                                               

     PLACE ATHLETE NAME              YR HOMETOWN                  TIME    HT   

     ===== ========================= == ========================= ======= ==   

         1 Gesel, Liz                02 Manchester, NH            6:52.25  2   

         2 Roth, Kristina            02 Celina, OH                7:04.48  1   

         3 Lake, Alexis              02 Breezeport, NY            7:07.99  2   

         4 Demchko, Erin             03 Nanuet, NY                7:08.29  2   

         5 Gubbins, Megan            01 Southampton, NY           7:29.84  2   

         6 Fil, Cheryl               02 Wappingers Falls, NY      7:33.05  2   

         7 Wardenski, Kathryn        03 Manahawkin, NJ            7:34.34  2   

         8 Balkema, Natalie          03 Newton, MA                7:38.79  1   

         9 Slagel, Amelia            03 Huntersville, NC          7:42.21  1   

        10 Krebs, Kara               01 Williston Park, NY        7:43.39  1   

        11 Willard, Deanna           01 Hillsborough, NJ          7:45.71  1   

        12 Gaines, Jaclyn            03 Pearl River, NY           7:46.13  2   

        13 Desoiza, Pia              02 Pearl River, NY           7:51.51  2   

        14 Kemink, Kaylan            04 Poughkeepsie, NY          7:53.47  1   

        15 Owens, Caroline           03 Birmingham, AL            7:57.96  1   

        15 Scott, Brianne            02 Stony Point, NY           7:57.96  2   

        17 Anthony, Laquisha         01 Philadelphia, PA          8:00.07  1   

        18 Gould, Lauren             02 Merrick, NY               8:05.75  1   

        19 Johnson, Emily            02 Newton, MA                8:10.65  1   

        20 Falcone, Cristina         04 Dix Hills, NY             8:22.93  1   



                                                                               

                          Event 50 Girls 4 Mile Relay                          

                                                                               

                   ! National: 20:30.57 Rockford, MI 06/17/00                  

                   *     Meet: 20:30.57 Rockford, MI 06/17/00                  

                                                                               

                 Section 1 first than sections 2 & 3 to follow.                

                                                                               

                      Finals - Results  - Saturday 06/16/01                    

                                                                               

            PLACE  RELAY     AFFILIATION               TIME       HT           

            =====  =================================== ========== ==           

                1  ROMI      Rockford-MI               20:24.34 *  1           

                2  CRIN      Carmel-IN                 21:03.38    1           

                3  SRNY      Saratoga Springs-NY       21:12.77    1           

                4  SONJ      Southern Reg-NJ           21:12.95    1           

                5  IOIA      Iowa City-IA              21:14.51    1           

                6  SROH      Strongsville-OH           21:15.21    1           

                7  JEVA      Jefferson Forest-VA       21:29.10    2           

                8  VONJ      Voorhees-NJ               21:30.27    1           

                9  SRNY "B"  Saratoga Springs-NY       21:41.66    2           

               10  ROMI "B"  Rockford-MI               21:46.53    1           

               11  MAMO      Marquette-MO              22:04.73    1           

               12  MONC      Mount Tabor-NC            22:10.25    2           

               13  SRNY "C"  Saratoga Springs-NY       22:16.10    3           

               14  DACT      Danbury-CT                22:17.24    2           

               15  DUMD      Dulaney-MD                22:25.45    2           

               16  NOVA      Norfolk Academy-VA        22:29.21    3           

               17  BEOH      Beaumont-OH               22:31.09    3           

               18  FRKS      Lawrence Free State-KS    22:34.89    3           

               19  NWMA      Newburyport-MA            22:35.03    3           

               20  THVA      Thomas Jefferson-VA       22:38.20    3           

               21  WAMD      Walter Johnson-MD         22:52.49    2           

               22  TOMA      Towns Concord/Carlisle MA 22:55.01    3           

               23  LAOH      Lancaster-OH              23:00.30    2           

               24  BIMA      Bishop Feehan-MA          23:15.63    3           

               25  TUVA      Turner Ashby-VA           23:17.16    2           

               26  STNY      St. Anthony's-NY          23:27.65    3           

                                                                               

                        Event 38 Girls 4x100 Meter Relay                       

                                                                               

           ! National: 44.70 St. Bernard, Playa del Rey, CA 06/07/97           

           *     Meet: 45.89 JW North, Riverside CA         06/17/00           

                                                                               

                    Final will be contested Saturday 6:10pm                    

                                                                               

                      Finals - Results  - Saturday 06/16/01                    

                                                                               

               PLACE  RELAY     AFFILIATION               TIME                 

               =====  =================================== =======              

                   1  JWCA      J.W. North-CA             45.96                

                   2  PBLK      Palm Beach Lakes-FL       46.07                

                   3  MOIL      Morgan Park-IL            46.50                

                   4  PANY      Paul Robeson-NY           46.52                

                   5  FRTC      Franklin Tc-Nj            46.93                

                   6  RETX      Reagan-TX                 46.93                

                   7  COOH      Collinwood-OH             47.19                

                   8  WICT      Wilbur Cross-CT           47.86                

                   9  TRNJ      Trenton Central-NJ        47.94                

                                                                               

                        Event 42 Girls 4x400 Meter Relay                       

                                                                               

              ! National: 3:35.72 Wilson, Long Beach, CA 06/02/01              

              *     Meet: 3:37.38 Wilson, Long Beach, CA     1997              

                                                                               

         Section 4 will be run at 10:30pm.  Sections 1-3 will be run at        

         8:35pm as scheduled.                                                  

                                                                               

                      Finals - Results  - Saturday 06/16/01                    

                                                                               

             PLACE  RELAY     AFFILIATION               TIME      HT           

             =====  =================================== ========= ==           

                 1  JWCA      J.W. North-CA             3:38.86    2           

                 2  WLPA      William Penn-PA           3:39.70    2           

                 3  WINJ      Willingboro-NJ            3:43.93    2           

                 4  TRNJ      Trenton Central-NJ        3:47.45    2           

                 5  MIFL      Miami Northwestern-FL     3:48.36    2           

                 6  LINY      Lincoln, Yonkers-NY       3:55.42    2           

                 7  BEOH      Beaumont-OH               3:56.24    2           

                 8  HOMA      Hopkinton-MA              3:58.75    1           

                 9  LAOH      Lancaster-OH              3:59.35    2           

                10  IPMA      Ipswich-MA                4:00.27    1           

                11  GOMD      Gov. Thomas Johnson-MD    4:00.41    1           

                12  DACT      Danbury-CT                4:01.40    1           

                13  SOVA      South Lakes-VA            4:01.69    1           

                14  HLNY      Holy Trinity-NY           4:03.55    1           

                15  MDOH      Madison-OH                4:08.00    1           

                                                                               

                         Event 46 Girls Distance Medley                        

                                                                               

          ! National: 11:41.25 San Lorenzo Valley, Felton, CA 04/27/00         

          *     Meet: 11:49.44 Rockford, MI                   06/17/00         

                                                                               

                      Finals - Results  - Saturday 06/16/01                    

                                                                               

            PLACE  RELAY     AFFILIATION               TIME       HT           

            =====  =================================== ========== ==           

                1  BONY      Boys & Girls-NY           11:43.60 *  2           

                2  ROMI      Rockford-MI               11:45.05 *  2           

                3  ROMI "B"  Rockford-MI               11:51.21    2           

                4  RENJ      Red Bank Reg-NJ           11:55.41    2           

                5  WEIA      Iowa City West-IA         12:01.02    2           

                6  BRNY      Bronxville-NY             12:05.21    2           

                7  BPNY      Bellport-NY               12:09.08    2           

                8  CRIN      Carmel-IN                 12:18.33    2           

                9  WONJ      Woodrow Wilson-NJ         12:19.26    1           

               10  ARPA      Archbishop Prendergast PA 12:28.13    2           

               11  DUMD      Dulaney-MD                12:33.78    1           

               12  BOMA      Bromfield-MA              12:37.38    2           

               13  MLNY      Miller Place-NY           12:43.00    1           

               14  JEVA      Jefferson Forest-VA       12:43.56    1           

               15  CONJ      Columbia-NJ               12:47.38    1           

               16  HECA      Henry M. Gunn-CA          12:51.83    1           

               17  TDVA      James Madison-VA          12:52.49    1           

               18  CHNJ      Cherokee-NJ               12:53.42    1           

               19  WAMD      Walter Johnson-MD         12:55.44    1           

               20  HYVA      Hayfield-VA               13:10.69    1           

               21  BEMA      Berkshire School-MA       14:00.87    1           

                                                                               

                           Event 24 Girls Pole Vault                           

                                                                               

! National:     4.16m (13'07.75") Shayla Ballentine, Morro Bay, CA       06/02/

*     Meet: 13'00.25"     (3.97m) Amy Linnen, Mt. Sinai, NY              06/16/

#    FROSH: 12'03.00"     (3.73m) Shepard,Weston,Ma; Lederman,Waltham,Ma     19

$     SOPH: 13'04.00"     (4.06m) Stacie Manuel Wilmar, MN               05/19/

%   JUNIOR: 13'00.00"     (3.96m) Sara Sasaki, NCC, Oregon City, OR          19

^   SENIOR:     4.16m (13'07.75") Shayla Ballentine, Morro Bay, CA       06/02/

                                                                               

         opening height: 11'1.5", 11'7.75", 12'1.5", 12'7.5", 13'1.5",         

         13'5.25", 13'8.25"                                                    

                                                                               

                      Finals - Results  - Saturday 06/16/01                    

                                                                               

      PLACE ATHLETE NAME            YR HOMETOWN            MARK                

      ===== ======================= == =================== =======             

          1 Janson, Lacy            01 Sarasota, FL        4.00m * 13'01.50    

          2 Shepard, Samantha       02 Weston, MA          3.85m # 12'07.50    

          3 Astete, Melissa         01 Arleta, CA          3.85m # 12'07.50    

          4 Lederman, Molly         02 Newton, MA          3.55m   11'07.75    

          5 Green, Jenny            03 Grand Island, NE    3.55m   11'07.75    

          6 Kirichenko, Tatyana     01 Greensboro, NC      3.40m   11'01.75    

          6 Kolar, Jamie            01 Long Beach, CA      3.40m   11'01.75    

          6 Tharpe, Emily           01 Erie, PA            3.40m   11'01.75    

          9 Lehman, Christi         01 Newton, KS          3.40m   11'01.75    

          9 Ullenbruch, Melissa     01 Fort Gratiot, MI    3.40m   11'01.75    

         11 Bourne, Lindsey         01 Joplin, MO          3.40m   11'01.75    

          - LaRoche, Alicia         02 Centreville, VA        NH               

          - Uhrin, Virginia         02 Birmingham, AL         NH               

          - Derrickson, Erica       01 Raleigh, NC            NH               

          - Schwartz, Tabitha       01 Concord, VA            NH               

          - Viau, Rachel            02 Nipomo, CA             NH               

          - Mante, Meredith         02 Warwick, NY            NH               

          - Reed, Teresa            01 Raleigh, NC            NH               

                                                                               

                           Event 28 Girls Triple Jump                          

                                                                               

! National: 44'02.25" (13.47m) Ychlindria Spears, Luling, TX           05/11/01

*     Meet: 41'10.75" (12.77m) Jodi Schlesinger,Clarkstown S,W NyackNY     1999

#    FROSH: 41'08.50" (12.71m) Ychlindira Spears, Luling, TX               1999

$     SOPH: 42'06.75" (12.97m) Juliana Yendork, Walnut, CA                 1989

%   JUNIOR: 44'02.25" (13.47m) Ychlindria Spears, Luling, TX           05/11/01

^   SENIOR: 44'00.50" (13.42m) Julianna Yendork, Walnut, CA            05/31/91

                                                                               

                      Finals - Results  - Saturday 06/16/01                    

                                                                               

  PLACE ATHLETE NAME            YR HOMETOWN            MARK                    

  ===== ======================= == =================== ========                

      1 Gordon, Sheena          02 Erie, PA            12.34m    0.8  40'06.00 

      2 Sanford, Michelle       03 Irvine, CA          12.18m    0.5  39'11.50 

      3 Young, Janae            01 Lacey, WA           11.75m    0.5  38'06.75 

      4 Whitmire, Kemisha       02 Spartanburg, SC     11.72m    1.6  38'05.50 

      5 Williams, Shauna-lee    02 Mount Vernon, NY    11.42m    0.7  37'05.75 

      6 Foster, Kierra          02 West Palm Beach, FL 11.42m    0.0  37'05.75 

      7 McPhatter, Shenita      01 Great Neck, NY      11.41m    2.1  37'05.25 

      8 Robinson, Brittany      02 Vienna, VA          11.35m    0.5  37'03.00 

      9 DeBenedetto, Collette   04 Mountain Lakes, NJ  11.32m    2.2  37'01.75 

     10 Fayanjuola, Tolu        01 Providence, RI      11.24m    3.6  36'10.50 

     11 Kirichenko, Tatyana     01 Greensboro, NC      11.20m    0.0  36'09.00 

     12 Riel, Tiana             04 Hopkinton, MA       11.19m    2.0  36'08.50 

     13 Moore, LaDonna             Austin, TX          11.15m    0.0  36'07.00 

     14 Young, Monique          02 Moreno Valley, CA   11.06m    0.8  36'03.50 

     15 Ferguson, Tishiki       04 Stafford, VA        11.05m    0.0  36'03.00 

     16 Blanks, Cristina        01 Erie, PA            11.01m    2.7  36'01.50 

     17 Byrd, Jennifer          01 Virginia Beach, VA  10.96m    2.8  35'11.50 

     18 Franisco, Franika       01 Hampton, VA         10.89m    1.8  35'08.75 

     19 Allen, Salina           01 Parkland, FL        10.89m    1.8  35'08.75 

     20 Betts, Nailah           01 Waldorf, MD         10.82m    1.6  35'06.00 

     21 Jones, Lamayia          03 West Palm Beach, FL 10.71m    0.0  35'01.75 

     22 Ramos, Ebony            01 Hackensack, NJ      10.68m    3.1  35'00.50 



                                                                               

                            Event 30 Girls Shot Put                            

                                                                               

   ! National: 53'07.75" (16.35m) Natalie Kaaiawahia, Fullerton, CA 05/21/83   

   *     Meet: 51'11.25" (15.83m) Laura Gerraughty, Nashua, NH      06/16/00   

   #    FROSH: 48'05.25" (14.76m) Michelle Carter, Red Oak, TX          2000   

   $     SOPH: 52'02.25" (15.91m) Natalie Kaaiawahia, Fullerton, CA     1981   

   %   JUNIOR: 52'02.25" (15.91m) Natalie Kaaiawahia, Fullerton, CA     1982   

   ^   SENIOR: 53'07.75" (16.35m) Natalie Kaaiawahia, Fullerton, CA 05/21/83   

                                                                               

                      Finals - Results  - Saturday 06/16/01                    

                                                                               

     PLACE ATHLETE NAME            YR HOMETOWN            MARK                 

     ===== ======================= == =================== ========             

         1 Podominick, Elizabeth   03 Lakeville, MN       14.94m # 49'00.25    

         2 Hudgins, Jacqueline     01 Hightstown, NJ      14.64m   48'00.50    

         3 Neuberger, Lindsay      02 Virginia Beach, VA  13.91m   45'07.75    

         4 Kendrick, Nicole        01 Lancaster, OH       13.73m   45'00.50    

         5 Pryor, Brittany         04 Sanborn, NY         12.72m   41'08.75    

         6 Brooks, Ariel           02 Miami, FL           12.51m   41'00.50    

         7 Arundel, Lindsey        02 North Olmsted, OH   12.33m   40'05.50    

         8 Leesman, Jennifer       01 Cincinnati, OH      12.30m   40'04.25    

         9 Braden, Kelly           01 Norwalk, OH         12.18m   39'11.50    

        10 Pachuta, Kate           01 Middletown, NJ      11.98m   39'03.75    

        11 Walters, Alesia         02 Garner, NC          11.59m   38'00.25    

        12 Bradshaw, Allison       02 Southbury, CT       11.43m   37'06.00    

        13 Crocker, Ashley            Alexandria, VA      10.93m   35'10.50    

        14 Liander, Marina         02 Staten Island, NY   10.89m   35'08.75    

        15 Blackwood, Brandy          Miami, FL           10.61m   34'09.75    



Return to adidas Outdoor Championships page