Another national record for Boys & Girls 4x800

Stacy Ann Livingston (left) finishes up
for Boys & Girls, whose 8:51.60 shaved a second off the record they set at the Penn Relays this year. They beat Rockford MI, whose time of 8:56.53 was the 5th best all time in its own right.
Pictured below from left: Stacy Ann Livingston, Keziah Fernandez, Tameka Johnson, and Meisue Francis.

South Lakes edges Atlantic in near record time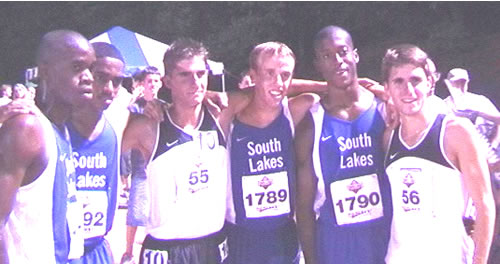 South Lakes VA team and Atlantic's Jefferson twins join for post-race picture after stirring 4x800.
From left: Richard Smith, Yonathan Kebede, John Jefferson, Alan Webb, Kanda Karmo, and Sean Jefferson. Webb and the Jeffersons will see more of each other next year as all will run in the Big 10, Webb for Michigan and the Jeffersons for Indiana.
Photos by DyeStat
Detailed Results
BOYS
 Adidas Outdoor Championships                              Hy-Tek's MEET MANAGER

                                 adidas Outdoor                          Page 1

                          Track & Field Championships                          

  Raleigh, North Carolina @ NC State University - Fri 06/15/01 to Sat 06/16/01 

                                                                               

                         COMPLETE RESULTS - ALL ROUNDS                         

                                                                               



                                                                               

                          Event 1 Boys 100 Meter Dash                          

                                                                               

       ! National: 10.13 Derrick Florence, Ball, TX              06/28/86      

       *     Meet: 10.14 Dwight Thomas, Northwestern, Hyatts-MD  06/17/00      

       #    FROSH: 10.35 Jamar Ervin, Camden, NJ +2.0             06/2000      

       $     SOPH: 10.29 Nicholas Johnson O.D. Wyatt Ft Worth TX     2000      

       %   JUNIOR: 10.26 Deworski Odom, Phila PA-McTear 75 10.0h     1994      

       ^   SENIOR: 10.13 Derrick Florence, Ball, TX              06/28/86      

                                                                               

                         Final to be held Friday 7:40pm                        

                                                                               

                    Preliminaries - Results  - Friday 06/15/01                 

               9 Advance: Top 1 Each Heat Plus Next 5 Best Times               

                                                                               

  PLACE ATHLETE NAME              YR HOMETOWN                  TIME         HT 

  ===== ========================= == ========================= ============ == 

      1 Gay, Tyson                01 Lexington, KY             10.52   -0.1  4 

      2 Christian, Brandon        02 Austin, TX                10.52   -0.1  1 

      3 Currie, Airese            01 Columbia, SC              10.65    0.2  2 

      4 Gailes, Tyree             01 Abilene, TX               10.74    0.1  3 

      5 Johnson, Daniel           01 Rahway, NJ                10.59   -0.1  4 

      6 Hill, Tye                 01 St. George, SC            10.68   -0.1  4 

      7 McFadden, Glenn           01 New Haven, CT             10.71    0.2  2 

      8 Kittleson, Ben            01 Lagrange, KY              10.81    0.1  3 

      8 Bain, Travarious             Miami, FL                 10.81    0.2  2 

     10 Barrino, Duan             01 Charlotte, NC             10.82   -0.1  4 

     11 Jones, Christopher        01 Nashville, TN             10.84   -0.1  1 

     12 Felix, Wes                01 Santa Clara, CA           10.86   -0.1  1 

     13 Griffin, Trey             01 Lockhart, TX              10.88    0.1  3 

     14 Marion, Kevin                St. Petersburg, FL        11.00   -0.1  4 

     15 Jones, Kevin              01 Chester, PA               11.03   -0.1  4 

     16 Lytle, Nicholas           04 Spartanburg, SC           11.04    0.2  2 

     17 Hamler, Daymond           02 Pontiac, MI               11.07    0.1  3 

     18 Summers, Andre            01 Washington, DC            11.11   -0.1  1 

     19 Hope, Brian               02 Raleigh, NC               11.13    0.1  3 

     20 Mott, Martell             03 St. Petersburg, FL        11.14    0.2  2 

     21 Wiggins, Kenneth          03 St. Petersburg, FL        11.19    0.1  3 

     22 Stewart, Jody             01 Columbus, OH              11.22   -0.1  4 

     23 Davis, Chris              03 St. Petersburg, FL        11.33    0.2  2 

     24 Oliver, Travis            02 Belton, SC                11.43    0.2  2 

     25 Clarke, James             03 Westbury, NY              11.56    0.1  3 

     26 Ethridge, Rashad          05 St. Petersburg, FL        11.73   -0.1  1 

     27 Hunter, Patrick           01 Racine, WI                14.32   -0.1  1 



                                                                               

                       Finals - Results  - Friday 06/15/01                     

                                                                               

    PLACE ATHLETE NAME              YR HOMETOWN                  TIME          

    ===== ========================= == ========================= ============  

        1 Christian, Brandon        02 Austin, TX                10.40    0.1  

        2 Johnson, Daniel           01 Rahway, NJ                10.49    0.1  

        3 Currie, Airese            01 Columbia, SC              10.51    0.1  

        4 Hill, Tye                 01 St. George, SC            10.51    0.1  

        5 Gay, Tyson                01 Lexington, KY             10.52    0.1  

        6 McFadden, Glenn           01 New Haven, CT             10.62    0.1  

        7 Gailes, Tyree             01 Abilene, TX               10.67    0.1  

        8 Bain, Travarious             Miami, FL                 10.68    0.1  

        9 Kittleson, Ben            01 Lagrange, KY              10.78    0.1  

                                                                               

                            Event 11 Boys 2 Mile Run                           

                                                                               

          ! National: 8:36.3h Jeff Nelson, Burbank CA         05/06/79         

          *     Meet: 8:48.06 Dathan Ritzenhein, Rockford, MI 06/16/00         

          #    FROSH: 9:04.4h Eric Hulst, Laguna Beach, CA        1973         

          $     SOPH: 8:50.6h Hulst                               1974         

          %   JUNIOR: 8:41.10 Dathan Ritzenhein, Rockford, MI     2000         

          ^   SENIOR: 8:36.3h Jeff Nelson, Burbank CA         05/06/79         

                                                                               

         3000m splits: Section 1 - Elder 8:38.08, Esche 8:39.4, Moulton        

         8:40.27; Section 2 - Ritzenhein 8:08.78 (#3 US all-time)              

         Grumstrup 8:25.33, Smitson 8:26.72, Moore 8:27.05, Kiter              

         8:30.62, Goodwin 8:30.83, Maline 8:34.98, Millioen 8:36.63            

                                                                               

                       Finals - Results  - Friday 06/15/01                     

                                                                               

    PLACE ATHLETE NAME              YR HOMETOWN                  TIME      HT  

    ===== ========================= == ========================= ========= ==  

        1 Ritzenhein, Dathan        01 Rockford, MI              8:44.43 *  2  

        2 Smitson, Robert           01 Carmel, IN                8:58.95 #  2  

        3 Grumstrup, Erik           01 Black Hawk, SD            8:59.57 #  2  

        4 Moore, Tim                02 Novi, MI                  9:03.84 #  2  

        5 Kiter, Michael            01 Spokane, WA               9:04.00 #  2  

        6 Goodwin, Chandler         01 Pleasant Grove, UT        9:09.97    2  

        7 Maline, Matt              01 Herndon, VA               9:11.34    2  

        8 Millioen, Charles         01 Blue Point, NY            9:12.34    2  

        9 Elder, Chris              01 Cary, NC                  9:13.51    1  

       10 Esche, Matt               01 Waukesha, WI              9:14.28    1  

       11 Moulton, Patrick          01 Pelham, NH                9:16.25    1  

       12 McAndrews, Seton          01 Queensbury, NY            9:18.17    2  

       13 Jones, Chris              01 Coralville, IA            9:19.81    1  

       14 Dalpiaz, Brian            03 Sayville, NY              9:20.17    1  

       15 Ruiz, Bryce               02 Williamburg, VA           9:21.29    1  

       16 Solinsky, Chris           03 Stevens Point, WI         9:22.62    2  

       17 Marlowe, Kurtis           01 Richland, MI              9:23.79    1  

       18 Keally, Matt              02 Virginia Beach, VA        9:25.45    1  

       19 Glaz, Dan                 01 Palos Hills, IL           9:25.59    2  

       20 Ludwig, Adam              02 St. Joseph, MI            9:26.71    1  

       21 Henk, Mint                02 Braintree, VT             9:28.10    1  

       22 Fuqua, Scott              02 Birmingham, AL            9:29.98    2  

       23 Van Antwerp, Matthew      01 Oak Ridge, NJ             9:30.13    1  

       24 Prunty, Jared             01 Winchester, VA            9:33.90    1  

       25 Koeppen, Charlie          01 Carmel, IN                9:37.00    2  

       26 McConnell, Ryan           01 North Kingstown, RI       9:40.09    1  

       27 Davis, Kevin              02 Fresno, CA                9:49.86    2  

       28 Weaver, Austin            02 Brentwood, TN             9:51.27    1  

       29 Damony, Giles             01 Philadelphia, PA          9:53.35    1  

                                                                               

                      Event 13 Boys 110 Meter High Hurdles                     

                                                                               

       ! National: 13.30 Chris Nelloms, Dunbar, Dayton, OH       05/26/90      

       ! National: 13.22 Arthur Blake, Haines City, FL           05/11/84      

       ! National: 12.9h Renaldo Nehemiaah, Scotch Plains, NJ    05/30/97      

       *     Meet: 13.32 Ricardo Moody, Harrison, CO. Springs,CO     1999      

       #    FROSH: 14.16 Jason Stanley, Planatation FL               1998      

       $     SOPH: 13.67 Ricky Harris, Centreville, Clifton VA       1998      

       %   JUNIOR: 13.34 Terrance Trammell, SW De Kalb, Dectr,GA     1996      

       ^   SENIOR: 13.30 Chris Nelloms, Dayton, OH               05/26/90      

                                                                               

                             Final Saturday 7:40pm                             

                                                                               

                    Preliminaries - Results  - Friday 06/15/01                 

               9 Advance: Top 1 Each Heat Plus Next 4 Best Times               

                                                                               

  PLACE ATHLETE NAME              YR HOMETOWN                  TIME         HT 

  ===== ========================= == ========================= ============ == 

      1 Williams, Derrick         01 Canton, OH                13.80 # -0.2  3 

      2 Stephens, Christopher     01 Palinfield, NJ            13.94 #  0.0  4 

      3 Boulware, Robert          01 Charlotte, NC             13.98 #  0.0  1 

      4 Hancock, B.J.             01 Lynchburg, VA             14.13 #  0.2  5 

      5 Daux, Emmanuel            01 Linden, NJ                14.14 #  0.0  2 

      6 Wickard, Justin           01 Gering, NE                14.10 #  0.0  1 

      7 Garrison, Jeffrey         01 Riverside, CA             14.15 #  0.0  1 

      8 Akers, Cameron            01 Raleigh, NC               14.21    0.0  2 

      9 Smith, Azim               01 Port Norris, NJ           14.22    0.2  5 

     10 Acklin, Anthony           01 Clayton, NJ               14.29    0.0  4 

     11 Brand, Jamaal             03 High Point, NC            14.30   -0.2  3 

     12 Francis, Fillippe         01 Westbury, NY              14.31    0.2  5 

     12 Keziah, Ryan              01 Raleigh, NC               14.31    0.0  4 

     14 English, Andre            02 Dayton, OH                14.33    0.0  2 

     15 Altman, Kenneth           01 Garner, NC                14.39   -0.2  3 

     16 Hazard, Gemayel           01 Hampton, VA               14.40   -0.2  3 

     17 Porter, Jeffrey           03 Somerset, NJ              14.46    0.0  2 

     18 Kasik, Christopher        01 Mesa, AZ                  14.54    0.2  5 

     19 Martin, Quinn                Newark, DE                14.59    0.0  1 

     20 Stout, Nicholas           01 Lake Orion, MI            14.67    0.0  1 

     21 Larkins, Eddie            01 Dayton, OH                14.78   -0.2  3 

     22 Wright, Nicholas          01 Baltimore, MD             14.80    0.0  4 

     23 Cheney, Roy               02 Grovetown, GA             14.82    0.2  5 

     24 Delgado, Michael          01 Bridgewater, MA           14.88   -0.2  3 

     25 Morgan, Chris             01 Northridge, CA            14.93    0.2  5 

     25 Williams, Carl            01 Plainfield, NJ            14.93   -0.2  3 

     27 Corbin, Arsenio           02 St. Petersburg, FL        15.01    0.0  1 

     27 Garner, Steven            01 Manassas, VA              15.01    0.2  5 

     29 Harms, Jon                01 Aberdeen, SD              15.02    0.0  2 

     30 Woods, Antoine            02 Woodbridge, VA            15.18    0.0  4 

     31 Belton, Michael           01 Trenton, NJ               15.33    0.0  4 

     32 Taylor, Joseph            03 West Palm Beach, FL       15.75   -0.2  3 

     33 Loyd, Mike                02 Winston-Salem, NC         28.46    0.0  2 

                                                                               

                        Event 37 Boys 4x100 Meter Relay                        

                                                                               

             ! National: 39.76 O.D. Wyatt, Fort Worth, TX 05/16/98             

             *     Meet: 39.80 O.D. Wyatt, Fort Worth, TX     1998             

                                                                               

                    Final will be contested Saturday 6:15pm                    

                                                                               

                    Preliminaries - Results  - Friday 06/15/01                 

               9 Advance: Top 1 Each Heat Plus Next 6 Best Times               

                                                                               

              PLACE  RELAY     AFFILIATION               TIME    HT            

              =====  =================================== ======= ==            

                  1  FOTX      O.D. Wyatt-TX             40.79    2            

                  2  FETX      Forest Brook-TX           41.22    3            

                  3  STCA      St. Mary's-CA             41.60    1            

                  4  DIFL      Dixie Hollins-FL          40.89    2            

                  5  THNY      Thomas Jefferson-NY       42.13    1            

                  6  GIFL      Gibbs-FL                  42.14    1            

                  7  PONY      Poly Prep-NY              42.33    2            

                  8  DODE      Dover-DE                  42.47    3            

                  9  SPSC      Spartanburg-SC            42.79    3            

                 10  CEVA      Centreville-VA            42.90    3            

                 11  TRNJ      Trenton Central-NJ        42.93    1            

                 12  KIVA      King George-VA            43.19    1            

                 13  DACT      Danbury-CT                43.42    2            

                 14  FONY      Fordham Prep-NY           43.79    2            

                 15  UINY      Uniondale-NY              43.91    1            

                 16  WENY      Westbury-NY               44.01    2            

                 17  ORSC      Orangeburg-SC             44.32    3            

                 18  BANY      Bay Shore-NY              45.09    2            

                 19  TEDC      Techworld-DC              46.36    3            

                                                                               

                        Event 47 Boys 4x200 Meter Relay                        

                                                                               

            ! National: 1:23.31 O.D. Wyatt, Ft. Worth, TX   05/30/98           

            *     Meet: 1:23.67 O. D. Wyatt, Fort Worth, TX 06/20/98           

                                                                               

           Auto-Timer Failed on Section 3.                                     

           Hand Times for places 1-3.                                          

           Places only for other finishers - duplicate medals will be          

           awarded for places 4-6.                                             

                                                                               

                       Finals - Results  - Friday 06/15/01                     

                                                                               

             PLACE  RELAY     AFFILIATION               TIME      HT           

             =====  =================================== ========= ==           

                 1  FETX      Forest Brook-TX           1:23.9h    3           

                 2  FOTX      O.D. Wyatt-TX             1:25.8h    3           

                 3  STCA      St. Mary's-CA             1:26.0h    3           

                 4  SIPA      Simon Gratz-PA            1:29.81    2           

                 5  SPSC      Spartanburg-SC            1:30.10    2           

                 6  DACT      Danbury-CT                1:31.19    1           

                 7  JANC      Jacksonville-NC           1:31.22    2           

                 8  LAMD      Laurel-MD                 1:32.24    2           

                 9  WANY      Warwick Valley-NY         1:32.71    1           

                10  ELMD      Eleanor Roosevelt-MD      1:33.20    2           

                11  LKFL      Lakewood-FL               1:33.21    2           

                12  UINY      Uniondale-NY              1:33.40    1           

                13  OVPA      Overbrook-PA              1:34.17    1           

                14  WENY      Westbury-NY               1:34.29    1           

                15  HYVA      Hayfield-VA               1:36.67    2           

                16  TEDC      Techworld-DC              1:37.18    1           

                17  DIFL      Dixie Hollins-FL          2:00.00    3           

                18  PONY      Poly Prep-NY              2:00.00    3           

                19  BEVA      Bethel-VA                 2:00.00    3           

                20  DODE      Dover-DE                  2:00.00    3           

                21  BOFL      Boyd Anderson-FL          2:00.00    3           

                22  GIFL      Gibbs-FL                  2:00.00    3           

                 -  FONY      Fordham Prep-NY               DNF    2           



                                                                               

                        Event 39 Boys 4x800 Meter Relay                        

                                                                               

            ! National: 7:35.60 (yards) Jackson, Queens, NY                    

            ! National: 7:35.60 (yards) Boys, Brooklyn, NY                     

            ! National: 7:34.80 York, Elmhurst, IL          05/07/85           

            *     Meet: 7:38.31 Don Lugo, Chino Hills, CA   06/16/00           

                                                                               

                       Finals - Results  - Friday 06/15/01                     

                                                                               

             PLACE  RELAY     AFFILIATION               TIME      HT           

             =====  =================================== ========= ==           

                 1  SOVA      South Lakes-VA            7:35.33 !  3           

                 2  ATFL      Atlantic-FL               7:37.31 *  3           

                 3  STOH      St. Ignatius-OH           7:41.22    3           

                 4  CBNJ      Christian Brothers Aca-NJ 7:43.26    3           

                 5  JONY      John Jay-NY               7:43.99    3           

                 6  CAPA      Cardinal O'Hara-Pa        7:47.02    3           

                 7  CUPA      Cumberland Valley-PA      7:49.65    3           

                 8  CRIN      Carmel-IN                 7:51.61    3           

                 9  XACT      Xavier-CT                 7:54.87    2           

                10  FRKS      Lawrence Free State-KS    7:56.84    2           

                11  DONJ      Don Bosco Prep-NJ         7:57.25    2           

                12  WANY      Warwick Valley-NY         7:57.64    2           

                13  EDIL      Edwardsville-IL           7:57.88    3           

                14  BRNJ      Bridgeton-NJ              7:58.15    1           

                15  HAGA      Harrison-GA               7:58.79    2           

                16  ARNY      Arlington-NY              8:02.64    1           

                17  POTN      Portage-IN                8:03.82    1           

                18  EVIL      Evanston Township-IL      8:04.35    3           

                19  XAMA      Xaverian Brothers-MA      8:05.91    2           

                20  CYNC      Cary-NC                   8:06.25    2           

                21  THNY      Thomas Jefferson-NY       8:06.41    1           

                22  BOMD      Bowie-MD                  8:07.13    2           

                23  LOVA      Louisa County-VA          8:07.68    2           

                24  THVA      Thomas Jefferson-VA       8:09.59    1           

                25  HEVA      Herndon-VA                8:11.12    1           

                26  MENJ      Metuchen-NJ               8:11.54    1           

                27  NYNY      Nyack-NY                  8:14.47    1           

                28  RICT      Ridgefield-CT             8:21.00    1           



                                                                               

                     Event 43 Boys 1,600 Mtr Sprint Medley                     

                                                                               

        ! National: 3:21.15 Hawthorne, CA                       03/16/85       

        ! National: 3:21.1h Berkeley, CA                        04/25/81       

        ! National: 3:23.3h Spring Branch Memorial, Houston, TX 04/08/67       

        *     Meet: 3:25.14 Lawrence, Cedarhurst, NY            06/11/99       

                                                                               

                       Finals - Results  - Friday 06/15/01                     

                                                                               

             PLACE  RELAY     AFFILIATION               TIME      HT           

             =====  =================================== ========= ==           

                 1  IOIA      Iowa City-IA              3:22.69 !  5           

                 2  CANJ      Camden-NJ                 3:22.85 !  5           

                 3  WINJ      Willingboro-NJ            3:23.77 *  5           

                 4  BOFL      Boyd Anderson-FL          3:23.85 *  5           

                 5  SUNY      Suffern-NY                3:24.09 *  5           

                 6  SIPA      Simon Gratz-PA            3:27.35    5           

                 7  LENJ      Lenape-NJ                 3:28.63    4           

                 8  BRNJ      Bridgeton-NJ              3:30.28    5           

                 9  WICT      Wilbur Cross-CT           3:31.01    3           

                10  BEMN      Benilde St. Margaret's-MN 3:31.14    5           

                11  UINY      Uniondale-NY              3:31.98    4           

                12  BANY      Bay Shore-NY              3:32.45    4           

                13  SANJ      Sayreville-NJ             3:32.59    4           

                14  THNY      Thomas Jefferson-NY       3:32.87    2           

                15  HYVA      Hayfield-VA               3:33.28    3           

                16  TRNJ      Trenton Central-NJ        3:33.55    3           

                17  GANY      Garden City-NY            3:33.64    2           

                18  CONJ      Columbia-NJ               3:34.10    4           

                19  RENJ      Red Bank Reg-NJ           3:35.19    2           

                20  MCOR      McKay-OR                  3:35.61    4           

                21  GIPA      Girard College-PA         3:36.11    1           

                22  FONY      Fordham Prep-NY           3:36.73    4           

                23  DACT      Danbury-CT                3:36.96    3           

                24  BOMD      Bowie-MD                  3:38.52    3           

                25  PRNY      Port Jefferson-NY         3:39.19    3           

                26  SPVA      Spotsylvania-VA           3:40.00    2           

                27  CHDE      Christiana-DE             3:40.51    1           

                28  TUNY      Trumansburg-NY            3:41.25    2           

                29  WANY      Warwick Valley-NY         3:42.31    2           

                30  OVPA      Overbrook-PA              3:42.45    4           

                31  TOMA      Towns Concord/Carlisle MA 3:43.09    3           

                32  SYNY      Syosset-NY                3:44.57    2           

                33  VCNY      Valley Central-NY         3:45.46    1           

                34  CAPA      Cardinal O'Hara-Pa        3:47.46    2           

                35  XACT      Xavier-CT                 3:47.63    2           

                 -  PEFL      Pensacola Catholic-FL         DNF    3           

                 -  SUSC      Sumter-SC                     DNF    3           



                                                                               

                            Event 23 Boys Pole Vault                           

                                                                               

  ! National: 18'02.25" (5.54m) Eric Eshbach, Orangefield, TX            1999  

  *     Meet: 16'11.50" (5.17m) Sage Thomas, Frenship, Wolfforth, TX 06/17/00  

  #    FROSH: 16'03.25" (4.96m) Jayson Lavender, Wichita Falls, TX       1987  

  $     SOPH: 17'06.00" (5.33m) Jacob Davis, Orangefield, TX             1994  

  %   JUNIOR: 17'06.50" (5.35m) Sage Thames, Frenship, Wolforth, TX      2000  

  ^   SENIOR: 18'02.25" (5.54m) Eric Eshbach, Orangefield, TX              99  

                                                                               

         opening height: 14'7.5", 15'1", 15'7", 16'0.75", (+10cm, 4in)         

                                                                               

                       Finals - Results  - Friday 06/15/01                     

                                                                               

      PLACE ATHLETE NAME            YR HOMETOWN            MARK                

      ===== ======================= == =================== =======             

          1 Weirich, Matt           01 Fredericksburg, TX  5.10m # 16'08.75    

          2 Most, Bobby             01 Laredo, TX          5.10m # 16'08.75    

          3 Gensic, Paul            01 Fort Wayne, IN      4.90m   16'00.75    

          4 Gebauer, Brad           02 Bad Axe, MI         4.75m   15'07.00    

          4 Skipper, Tommy          03 Sandy, OR           4.75m   15'07.00    

          6 Stead, David            02 Bluffton, IN        4.60m   15'01.00    

          7 Vogtner, Matt           01 Mobile, AL          4.60m   15'01.00    

          7 Carlucci, Steve         01 Erie, PA            4.60m   15'01.00    

          9 Gross, Chris            01 Raleigh, NC         4.60m   15'01.00    

          9 Johnson, Mark           02 N. Myrtle Beach, SC 4.60m   15'01.00    

         11 Garrett, Daniel         02 Chesapeake, VA      4.45m   14'07.25    

         11 Lancon, Ryan            01 Hurst, TX           4.45m   14'07.25    

         13 Shealy, Chase           03 Cayce, SC           4.45m   14'07.25    

         13 Blinka, Clint           01 Export, PA          4.45m   14'07.25    

         13 Hoverstad, Eric         01 Raleigh, NC         4.45m   14'07.25    

          - Smith, Brad             01 Royston, GA            NH               

          - Kessler, Andrew         01 St. Albans, WV         NH               

          - Mondschein, Brian       01 Hummelstown, PA        NH               

          - Bazzoni, David          01 N. Manchester, IN      NH               

          - Vickers, David          01 Clifton Park, NY       NH               

          - Majewski, Taylor        01 Warwick, NY            NH               

          - Marsh, Laban            01 Erie, PA               NH               

          - Wojdowski, Neal         01 Valencia, PA           NH               

          - Marzka, Andrew          01 Lakeport, MI           NH               

          - Heuser, Chip            03 Louisville, KY         NH               

          - Sullivan, David         02 Clifton, VA            NH               

          - Kupets, Mark            01 Centreville, VA        NH               

          - Bell, Trey              02 Lexington, SC          NH               

          - Parker, Kyle            01 Raleigh, NC            NH               

          - Scotten, Ray            02 Indianapolis, IN       NH               

          - Simpson, Wes            01 Marble Falls, TX       NH               



                                                                               

                            Event 25 Boys Long Jump                            

                                                                               

 ! National: 26'09.25" (8.16m) Dion Bentley, Penn Hills, Pittsburgh PA 06/23/89

 *     Meet: 25'06.75" (7.79m) Maurice English, Sumter, SC                 1998

 #    FROSH: 24'06.75" (7.49m) Curt Anders, Coolidge JHS, Moline, IL       1966

 $     SOPH: 25'02.25" (7.68m) John Johnson, CA-Vincent Hypolite TX 90     1964

 %   JUNIOR: 26'08.50" (8.14m) Sheddric Fields, S. Oak Cliff,Dallas,TX     1991

 ^   SENIOR: 26'09.25" (8.16m) Dion Bentley, Penn Hills, Pittsburgh PA 06/23/89

                                                                               

                       Finals - Results  - Friday 06/15/01                     

                                                                               

   PLACE ATHLETE NAME            YR HOMETOWN            MARK                   

   ===== ======================= == =================== =======                

       1 Wise, Dermillo.         02 St. Petersburg, FL  7.64m #  2.3  25'00.75 

       2 Alexander, Gemayel      01 Bakersfield, CA     7.27m    0.5  23'10.25 

       3 Harris, I-Perfection    02 Staten Island, NY   7.26m    1.6  23'10.00 

       4 Davis, A.J.             02 Durham, NC          7.21m    1.4  23'08.00 

       5 Davis, Chris            02 St. Petersburg, FL  7.08m    1.7  23'02.75 

       6 Griswould, T.J.         01 Aiken, SC           6.95m    1.2  22'09.75 

       7 Hill, Hakim             01 Iowa City, IA       6.91m    0.3  22'08.00 

       8 Good, Brian             01 York, PA            6.89m    1.1  22'07.25 

       9 Pendleton, Trumaine     01 Miller Place, NY    6.72m    1.2  22'00.75 

      10 James, Brent            01 Danbury, CT         6.68m    1.6  21'11.00 

      11 Liggins, Derek          03 Woodbridge, VA      6.66m    1.6  21'10.25 

      12 Howard, Jason           01 Trotwood, OH        6.65m    0.9  21'10.00 

      13 Cooper, Charles         01 District Heights, M 6.63m    2.7  21'09.00 

      14 Hobbs, Brent            01 Ramsey, NJ          6.58m    0.8  21'07.25 

      15 McCutchen, Reginald     02 Stone Mountain, GA  6.57m    2.0  21'06.75 

      16 Brown, Stephen          01 Humble, TX          6.54m    1.3  21'05.50 

      17 Anderson, Ivan          02 Washington, DC      6.44m    1.8  21'01.50 

      18 Mershon, Jason          03 Cordova, TN         6.39m    0.7  20'11.75 

      19 Hardy, Irell            03 Sumter, SC          6.13m    0.6  20'01.50 

      20 Turner, Jermaine        03 Salem, OR           6.09m    2.2  19'11.75 

      21 Oliver, Travis          02 Belton, SC          6.03m    0.5  19'09.50 

      22 Marion, Kevin              St. Petersburg, FL  5.98m    2.0  19'07.50 

       - Fournier, Josh          01 Colchester, CT       FOUL    NWI           

                                                                               

                             Event 29 Boys Shot Put                            

                                                                               

! National: 81'03.50" (24.78m) Mike Carter, Jefferson, Dallas TX       06/16/79

*     Meet: 69'08.25" (21.24m) Kevin DiGiorgio, Bayonne, NJ                1997

#    FROSH: 63'00.00" (19.20m) Kevin Bookout, Stroud, OK                   1999

$     SOPH: 68'10.75" (21.00m) Kevin Bookout, Stroud, OK                   2000

%   JUNIOR: 71'10.25" (21.90m) Arnold Campbell, Airline, Bessier Ci,LA     1983

^   SENIOR: 81'03.50" (24.78m) Mike Carter, Jefferson, Dallas TX       06/16/79

                                                                               

                       Finals - Results  - Friday 06/15/01                     

                                                                               

     PLACE ATHLETE NAME            YR HOMETOWN            MARK                 

     ===== ======================= == =================== ========             

         1 DiGiorgio, Glenn        02 Bayonne, NJ         19.87m # 65'02.25    

         2 Reeves, Jonathan        01 Houston, TX         19.63m # 64'05.00    

         3 Gowda, Vikas            01 Frederick, MD       19.49m # 63'11.50    

         4 Segond, Samuel          01 East Stroudsburg, P 19.07m   62'06.75    

         5 Porter, Garland         01 Indianapolis, IN    18.39m   60'04.00    

         6 Guerin, David           01 Lawndale, CA        18.36m   60'03.00    

         7 Lyons, Paul             01 Norwood, MA         18.10m   59'04.75    

         8 Shields, Sean           01 Oceano, CA          17.83m   58'06.00    

         9 Howard, Jonathan        02 Nipomo, CA          17.78m   58'04.00    

        10 Clancy, Michael         01 Toms River, NJ      17.37m   57'00.00    

        11 Ragin, Tom              01 New Haven, CT       17.31m   56'09.50    

        12 Denbo, Will             02 Nashville, TN       17.28m   56'08.50    

        13 Beadle, Zach            01 Queensbury, NY      17.16m   56'03.75    

        14 Sarantos, Joey          01 Portage, MI         17.03m   55'10.50    

        15 Gilson, Derek           01 Red Bank, NJ        17.01m   55'09.75    

        16 Anderson, Walker        02 Atlanta, GA         16.86m   55'03.75    

        17 Drame, Kader            01 New Haven           16.16m   53'00.25    

        18 Walker, Willie          01 Emporia, VA         16.04m   52'07.50    

        19 Abadio, Dzigbodi        01 Willingboro, NJ     15.84m   51'11.75    

        20 Pepe, Mitchell          02 Hudson, NC          15.64m   51'03.75    

        21 Sangobowale, Michael       Bronx, NY           15.27m   50'01.25    
GIRLS
                           Event 2 Girls 100 Meter Dash                         

                                                                               

         ! National: 11.11 Angela Williams, Chino, CA         06/26/98         

         *     Meet: 11.39 Muna Lee, Central, Kansas City, MO 06/16/00         

         #    FROSH: 11.24 Angela Williams, Chino, CA             1995         

         $     SOPH: 11.17 Marion Jones, Rio Mesa, Oxnard, CA     1991         

         %   JUNIOR: 11.13 Chandra Cheeseborough, Ribault, FL     1976         

         ^   SENIOR: 11.11 Angela Williams, Chino, CA         06/26/98         

                                                                               

                         Final to be held Friday 7:35pm                        

                                                                               

                    Preliminaries - Results  - Friday 06/15/01                 

               9 Advance: Top 1 Each Heat Plus Next 5 Best Times               

                                                                               

  PLACE ATHLETE NAME              YR HOMETOWN                  TIME         HT 

  ===== ========================= == ========================= ============ == 

      1 Whipple, Erica            01 West Palm Beach, FL       11.66   -0.5  4 

      2 Perkins, Angel            02 Cerritos, CA              11.66    0.0  3 

      3 Williams, Lauryn          01 Rochester, PA             11.66   -0.1  1 

      4 Richards, Sanya           02 Ft. Lauderdale, FL        11.89    1.0  2 

      5 Felix, Allyson            03 North Hills, CA           11.67   -0.1  1 

      6 Towns, Ara                01 Hampton, VA               11.87   -0.1  1 

      7 Hooker, Marshevet         02 San Antonio, TX           11.90    1.0  2 

      8 Stone, Kandace            01 Cleveland, OH             11.94   -0.5  4 

      9 Ransom, India             02 Largo, MD                 12.05   -0.5  4 

     10 Young, Janae              01 Lacey, WA                 12.09    0.0  3 

     11 Urbina, Larica               Austin, TX                12.10    0.0  3 

     12 Kennedy, Tiffany          01 Chicago, IL               12.16   -0.5  4 

     13 Bailey, Danielle          01 Newark, DE                12.23    1.0  2 

     14 Whaley, Danielle          01 Columbia, SC              12.26    1.0  2 

     15 Ephraim, Yanira           04 Washington, DC            12.34    0.0  3 

     16 Ingram, Talonda           02 Pompano Beach, FL         12.42    1.0  2 

     17 Jones, Darneshea          01 Fort Bragg, NC            12.43   -0.5  4 

     18 Gamble, Lavonda           04 Sumter, SC                12.52   -0.1  1 

     19 Whitlock, Jennifer        02 Montclair, NJ             12.53   -0.1  1 

     20 Bailey, Melanie           01 Upper Marlboro, MD        12.58   -0.1  1 

     21 Young, Tiffany            02 Dayton, OH                12.61    0.0  3 

     22 Nixon, Tiesha             01 Denton, MD                12.64    0.0  3 

     23 Nickens, Stephanie        01 Herndon, VA               12.66    1.0  2 

     24 Samuel, Jackie            04 St. Petersburg, FL        12.67    0.0  3 

     25 Jefferson, Jennie         01 Capitol Heights, MD       12.87   -0.1  1 

     25 Norris, Shannon           02 Lititz, PA                12.87   -0.5  4 

     27 Dixon, Michelle           01 Raleigh, NC               13.03    1.0  2 

     28 Miller, Jamie             03 Pageland, SC              13.13   -0.5  4 

     29 McKenzie, Nicole          02 Largo, MD                 13.59   -0.1  1 

     30 Taylor, Portia            01 Fayetteville, NC          13.86   -0.5  4 



                                                                               

                       Finals - Results  - Friday 06/15/01                     

                                                                               

    PLACE ATHLETE NAME              YR HOMETOWN                  TIME          

    ===== ========================= == ========================= ============  

        1 Whipple, Erica            01 West Palm Beach, FL       11.55   -0.1  

        2 Williams, Lauryn          01 Rochester, PA             11.65   -0.1  

        3 Perkins, Angel            02 Cerritos, CA              11.69   -0.1  

        4 Felix, Allyson            03 North Hills, CA           11.77   -0.1  

        5 Hooker, Marshevet         02 San Antonio, TX           11.79   -0.1  

        6 Stone, Kandace            01 Cleveland, OH             11.91   -0.1  

        7 Richards, Sanya           02 Ft. Lauderdale, FL        11.92   -0.1  

        8 Ransom, India             02 Largo, MD                 11.96   -0.1  

        9 Towns, Ara                01 Hampton, VA               11.97   -0.1  

                                                                               

                           Event 12 Girls 2 Mile Run                           

                                                                               

       ! National: 10:03.50 Mary Shea, Cardinal Gibbons, Raleigh NC 1979       

       *     Meet: 10:16.46 Christy Nichols, Anne Arundel, MD       1996       

       #    FROSH: 10:20.69 Vicki Cook, Alemany, CA 3200m           1979       

       $     SOPH: 10:09.0h Patty Matava, Bellevue, WA 3200m        1981       

       %   JUNIOR: 10:03.0h Suzie Tuffey, Bergan Peoria,  IL 3200m  1984       

       ^   SENIOR:  9:48.59 Kim Mortensen, Thousand Oaks, CA 3200m  1996       

                                                                               

         3000m splits: Siraki 9:30.82, Odlaug 9:37.79, Huddle 9:43.85,         

         Tubbs 9:44.88, Cicero 9:49.30, Roetter 9:56.16, Roth 10:04.50         

                                                                               

                       Finals - Results  - Friday 06/15/01                     

                                                                               

   PLACE ATHLETE NAME              YR HOMETOWN                  TIME       HT  

   ===== ========================= == ========================= ========== ==  

       1 Siraki, Anita             01 Glendale, CA              10:12.48 *  2  

       2 Odlaug, Erika             02 Bannockburn, IL           10:17.15 #  2  

       3 Huddle, Molly             02 Elmira, NY                10:25.30    2  

       4 Tubbs, Alison             02 Enumclaw, WA              10:26.57    2  

       5 Cicero, Maria             01 Elmhurst, IL              10:33.37    2  

       6 Roetter, Natasha          02 Lexington, MA             10:39.68    2  

       7 Stanley, Laura            02 Fletcher, NC              10:40.84    1  

       8 Roth, Kristina            02 Celina, OH                10:44.54    2  

       9 McLeod, Brianna           03 Jenks, OK                 10:46.35    1  

      10 Wale, Michelle            01 Pine Bush, NY             10:50.12    2  

      11 Blood, Nicole             06 Saratoga, NY              10:53.05    2  

      12 Lauver, Valerie           02 Allen, TX                 10:54.28    2  

      13 Ewart, Katie              02 Ft. Washington, PA        10:55.06    2  

      14 Ko, Phebe                 01 Salt Lake City, UT        10:58.80    1  

      15 Saterstad, Angela         03 Lykens, PA                11:06.11    2  

      16 Winant, Carmen            01 Philadelphia, PA          11:06.55    1  

      17 Kitson, Rachel            01 Chapel Hill, NC           11:07.06    1  

      18 Stublic, Lisa             02 Waterbury, CT             11:12.13    1  

      19 Homan, Angela             02 Delphos, OH               11:14.05    1  

      20 Boykin, Nicole            01 White Plains, NY          11:15.54    1  

      21 Bennett, Kymnelie         04 Bellevue, NE              11:17.28    1  

      22 Selby, Sarah              03 Shelbyville, IL           11:18.85    2  

      23 Nelkie, Abigail           01 West Branch, MI           11:19.12    2  

      24 Hastings, Amy             02 Leavenworth, KS           11:20.33    1  

      25 ObermanBreindel, Hannah   02 New York, NY              11:21.60    1  

      26 Scott, Maureen            02 Mahomet, IL               11:21.62    1  

      27 Saunders, Shannon         02 Forest, VA                11:21.78    1  

      28 Wheeler, Ginger           01 Winston-Salem, NC         11:25.45    1  

      29 Cummings, Laura           05 Bay Shore, NY             11:57.58    1  

                                                                               

                      Event 14 Girls 100 Meter Int Hurdles                     

                                                                               

       ! National: 12.95 Candy Young, Beaver Falls, PA          06/16/79       

       *     Meet: 13.38 Joanna Hayes, North, Riverside, CA         1995       

       #    FROSH: 13.75 Dominique' Callaway, South, Denver, CO     1993       

       $     SOPH: 13.50 Sonya Hardy, Boulder, CO                   1976       

       %   JUNIOR: 12.95 Candy Young, Beaver Falls, PA          06/16/79       

       ^   SENIOR: 13.20 Nichole Denby, JW North, Riverside, CA 06/03/00       

                                                                               

                             Final Saturday 7:35pm                             

                                                                               

                    Preliminaries - Results  - Friday 06/15/01                 

               9 Advance: Top 1 Each Heat Plus Next 5 Best Times               

                                                                               

  PLACE ATHLETE NAME              YR HOMETOWN                  TIME         HT 

  ===== ========================= == ========================= ============ == 

      1 Ross, Tiffany             01 Miami, FL                 13.91    0.5  4 

      2 Powell, Ginnie            02 Seattle, WA               13.93    0.2  1 

      3 Stone, Kandace            01 Cleveland, OH             14.04    0.0  2 

      4 Paul, Laura               01 Harriman, NY              14.26    0.3  3 

      5 Bond, Lindsay             01 Southfield, MI            14.10    0.2  1 

      6 Nesfield, Tiffany         04 Springdale, MD            14.39    0.2  1 

      7 McGill, Tamara            01 Franklin Park, NJ         14.40    0.5  4 

      8 Pulliam, Chandra          03 Burlington, NC            14.47    0.3  3 

      9 Foster, Kierra            02 West Palm Beach, FL       14.55    0.2  1 

     10 Decruise, Carylle         02 Miami, FL                 14.67    0.5  4 

     11 Pickett, Shanna           01 Chicago, IL               14.72    0.3  3 

     12 Kitton, Fara              01 Bellmore, NY              14.73    0.3  3 

     13 Wilkins, Austrea          01 West Palm Beach, FL       14.90    0.0  2 

     14 Ukpai, Chiama             01 Ft. Lauderdale, FL        15.03    0.3  3 

     15 Allen, Nikki              02 Florence, SC              15.06    0.5  4 

     16 Colvin, Tiffany           02 Cleveland, OH             15.14    0.0  2 

     17 Dutch, Ashley             01 Clayton, NC               15.16    0.3  3 

     18 Coleclough, Lindsay       03 Sumter, SC                15.33    0.3  3 

     19 Byrd, Jennifer            01 Virginia Beach, VA        15.36    0.2  1 

     20 Whittaker, Symone         01 Ft. Lauderdale, FL        15.39    0.3  3 

     21 Peterson, Cicely          03 Brandenton, FL            15.56    0.5  4 

     22 Showell, Aajah            03 Waldorf, MD               15.67    0.2  1 

     23 Taylor, Kimaiya           01 West Palm Beach, FL       15.69    0.5  4 

     24 Simmonds, Pamela          01 Reston, VA                16.12    0.5  4 

     25 Moore, Dawnita            02 Spartanburg, SC           16.16    0.0  2 

     26 Allen, Salina             01 Parkland, FL              16.37    0.2  1 

                                                                               

                        Event 38 Girls 4x100 Meter Relay                       

                                                                               

           ! National: 44.70 St. Bernard, Playa del Rey, CA 06/07/97           

           *     Meet: 45.89 JW North, Riverside CA         06/17/00           

                                                                               

                    Final will be contested Saturday 6:10pm                    

                                                                               

                    Preliminaries - Results  - Friday 06/15/01                 

               9 Advance: Top 1 Each Heat Plus Next 6 Best Times               

                                                                               

              PLACE  RELAY     AFFILIATION               TIME    HT            

              =====  =================================== ======= ==            

                  1  JWCA      J.W. North-CA             46.00    3            

                  2  MOIL      Morgan Park-IL            46.35    1            

                  3  RETX      Reagan-TX                 46.37    2            

                  4  PANY      Paul Robeson-NY           46.46    2            

                  5  PBLK      Palm Beach Lakes-FL       46.64    1            

                  6  FRTC      Franklin Tc-Nj            46.89    2            

                  7  COOH      Collinwood-OH             46.92    1            

                  8  TRNJ      Trenton Central-NJ        47.62    1            

                  9  WICT      Wilbur Cross-CT           47.85    1            

                 10  HICT      Hillhouse-CT              48.04    3            

                 11  OAVA      Oakton-VA                 48.28    2            

                 12  ELMD      Eleanor Roosevelt-MD      48.39    2            

                 13  CEVA      Centreville-VA            48.42    2            

                 14  BCFL      Boca Ciega-FL             49.18    3            

                 15  CNOH      Colonel White-OH          49.36    3            

                 16  PRIL      Proviso West-IL           49.42    1            

                 17  WONJ      Woodrow Wilson-NJ         49.75    1            

                 18  DUDC      Dunbar-DC                 49.77    2            

                 19  FRNY      Friends Academy-NY        50.54    3            

                 20  NECT      New Canaan-CT             51.33    3            

                 21  OVPA      Overbrook-PA              51.74    1            

                 22  TEDC      Techworld-DC              51.87    3            

                 23  HYVA      Hayfield-VA               52.32    2            



                                                                               

                        Event 48 Girls 4x200 Meter Relay                       

                                                                               

      ! National: 1:34.60 Westbury, Houston, TX                   05/02/98     

      *     Meet: 1:36.90 St. Thomas Aquinas, Fort Lauderdale, FL 06/16/00     

                                                                               

                       Finals - Results  - Friday 06/15/01                     

                                                                               

             PLACE  RELAY     AFFILIATION               TIME      HT           

             =====  =================================== ========= ==           

                 1  JWCA      J.W. North-CA             1:35.89 *  3           

                 2  PANY      Paul Robeson-NY           1:38.39    3           

                 3  FRTC      Franklin Tc-Nj            1:38.42    2           

                 4  RETX      Reagan-TX                 1:38.60    3           

                 5  MOIL      Morgan Park-IL            1:38.82    3           

                 6  WLPA      William Penn-PA           1:39.43    3           

                 7  COOH      Collinwood-OH             1:39.89    3           

                 8  MIFL      Miami Northwestern-FL     1:40.01    3           

                 9  BEVA      Bethel-VA                 1:40.79    2           

                10  TRNJ      Trenton Central-NJ        1:41.50    1           

                11  MUNY      Mount Vernon-NY           1:41.59    1           

                12  WSNJ      Washington Township-NJ    1:42.32    2           

                13  ELMD      Eleanor Roosevelt-MD      1:43.05    2           

                14  LANJ      Lakewood-NJ               1:43.17    3           

                15  HOMA      Hopkinton-MA              1:44.47    1           

                16  ARDC      Archbishop Carroll-DC     1:44.80    1           

                17  PRIL      Proviso West-IL           1:44.94    2           

                18  BCFL      Boca Ciega-FL             1:45.81    2           

                19  WICT      Wilbur Cross-CT           1:45.87    2           

                20  NECT      New Canaan-CT             1:48.81    1           

                21  LINY      Lincoln, Yonkers-NY       1:49.66    1           

                22  RJNC      RJ Reynolds-NC            1:50.49    2           

                23  TEDC      Techworld-DC              1:51.30    1           

                 -  CNOH      Colonel White-OH               DQ    2           

                                                                               

                        Event 40 Girls 4x800 Meter Relay                       

                                                                               

            ! National: 8:52.85 Boys and Girls Brooklyn, NY 04/27/01           

            *     Meet: 8:54.88 Columbia, Maplewood, NJ     06/13/97           

                                                                               

                       Finals - Results  - Friday 06/15/01                     

                                                                               

            PLACE  RELAY     AFFILIATION               TIME       HT           

            =====  =================================== ========== ==           

                1  BONY      Boys & Girls-NY            8:51.60 !  3           

                2  ROMI      Rockford-MI                8:56.53    3           

                3  KAWI      Kaukauna-WI                9:06.30    3           

                4  BEOH      Beaumont-OH                9:08.78    3           

                5  WEIA      Iowa City West-IA          9:09.09    3           

                6  BOMA      Bromfield-MA               9:10.85    3           

                7  BPNY      Bellport-NY                9:15.50    3           

                8  BRNY      Bronxville-NY              9:15.52    3           

                9  IOIA      Iowa City-IA               9:15.75    3           

               10  VONJ      Voorhees-NJ                9:17.03    3           

               11  ROMN      Roseau-MN                  9:18.31    2           

               12  HUNJ      Hunterdon Reg-NJ           9:22.73    2           

               13  PENY      Pearl River-NY             9:24.10    2           

               14  WONJ      Woodrow Wilson-NJ          9:26.32    2           

               15  MAMO      Marquette-MO               9:26.44    2           

               16  ARPA      Archbishop Prendergast PA  9:26.48    2           

               17  WOCT      Woodstock Academy-CT       9:27.98    2           

               18  NECT      New Canaan-CT              9:33.77    2           

               19  BOOH      Boardman-OH                9:35.63    2           

               20  ARNY      Arlington-NY               9:38.40    2           

               21  MAMA      Masconomet Reg.-MA         9:38.45    1           

               22  TUVA      Turner Ashby-VA            9:38.79    2           

               23  MDOH      Madison-OH                 9:39.49    2           

               24  BANY      Bay Shore-NY               9:42.56    1           

               25  LNVA      Langley-VA                 9:42.88    2           

               26  HEVA      Herndon-VA                 9:46.25    1           

               27  HYVA      Hayfield-VA                9:49.03    2           

               28  SOVA      South Lakes-VA             9:50.44    1           

               29  BRMD      Broadneck-MD               9:50.60    1           

               30  HAMA      Hamilton Wenham Reg-MA     9:52.80    1           

               31  FRKS      Lawrence Free State-KS     9:58.66    1           

               32  URDE      Ursuline-DE               10:13.01    1           

               33  LANJ      Lakewood-NJ               10:23.75    1           

                                                                               

                     Event 44 Girls 1,600 Mtr Sprint Medley                    

                                                                               

           ! National: 3:54.39 William Penn,Philadelphia, PA 06/13/97          

           *     Meet: 3:54.39 William Penn,Philadelphia, PA 06/13/97          

                                                                               

                       Finals - Results  - Friday 06/15/01                     

                                                                               

             PLACE  RELAY     AFFILIATION               TIME      HT           

             =====  =================================== ========= ==           

                 1  WLPA      William Penn-PA           4:00.19    3           

                 2  BANY      Bay Shore-NY              4:03.69    3           

                 3  TRNJ      Trenton Central-NJ        4:03.69    3           

                 4  LAMD      Laurel-MD                 4:04.53    3           

                 5  OAVA      Oakton-VA                 4:06.08    2           

                 6  BEVA      Bethel-VA                 4:07.18    3           

                 7  HICT      Hillhouse-CT              4:07.76    2           

                 8  LANJ      Lakewood-NJ               4:09.65    3           

                 9  HLNJ      Hillsborough-NJ           4:11.44    2           

                10  NECT      New Canaan-CT             4:12.13    2           

                11  WONJ      Woodrow Wilson-NJ         4:12.45    2           

                12  WICT      Wilbur Cross-CT           4:13.06    1           

                13  RJNC      RJ Reynolds-NC            4:13.10    2           

                14  SPSC      Spartanburg-SC            4:13.37    2           

                15  DACT      Danbury-CT                4:13.96    2           

                16  GOMD      Gov. Thomas Johnson-MD    4:15.34    3           

                17  TOMA      Towns Concord/Carlisle MA 4:16.29    2           

                18  BOFL      Boyd Anderson-FL          4:16.54    3           

                19  CONJ      Columbia-NJ               4:20.72    1           

                20  TDVA      James Madison-VA          4:23.18    1           

                21  SUSC      Sumter-SC                 4:24.62    1           

                 -  LRMD      Largo-MD                       DQ    3           

                                                                               

                            Event 22 Girls High Jump                           

                                                                               

 ! National: 6'04.00" (1.93m) Amy Acuff, Calallen, Corpus Christi, TX 08/28/93 

 *     Meet: 6'02.00" (1.88m) Amy Acuff, Calallen, Corpus Christi, TX     1993 

 #    FROSH: 6'00.00" (1.83m) Amy Acuff, Calallen, Corpus Christi, TX     1990 

 $     SOPH: 6'02.50" (1.89m) Amy Acuff, Calallen, Corpus Christi, TX     1991 

 %   JUNIOR: 6'03.00" (1.91m) Amy Acuff, Calallen, Corpus Christi, TX     1992 

 ^   SENIOR: 6'04.00" (1.93m) Amy Acuff, Calallen, Corpus Christi, TX 08/28/93 

                                                                               

         opening height: 5'4.5", 5'6.5", 5'8.5", 5'10.5", 6'0.5" (+4cm)        

                                                                               

                       Finals - Results  - Friday 06/15/01                     

                                                                               

      PLACE ATHLETE NAME            YR HOMETOWN            MARK                

      ===== ======================= == =================== =======             

          1 Howard, Chaunte         02 Riverside, CA       1.84m # 6'00.50     

          2 Gordon, Sheena          02 Erie, PA            1.84m # 6'00.50     

          3 Loomis, Emily           01 Fort Wayne, IN      1.74m   5'08.50     

          4 Jackson, Joann          01 Raleigh, NC         1.74m   5'08.50     

          5 Baker, Sara             02 Kalamazoo, MI       1.74m   5'08.50     

          6 Colvin, Tiffany         02 Cleveland, OH       1.74m   5'08.50     

          7 Meekins, Bonnie         02 Herndon, VA         1.69m   5'06.50     

          8 Bland, Amber            04 Boardman, OH        1.69m   5'06.50     

          9 Shaffer, Ashley         04 Lancaster, OH       1.64m   5'04.50     

         10 McGill, Tamara          01 Franklin Park, NJ   1.64m   5'04.50     

         11 Gudmundson, Erin        02 Kearney, NE         1.64m   5'04.50     

          - Meiser, Kaitlin         01 Hillsborough, NJ       NH               

          - Jones, Meredith         04 Charlotte, NC          NH               

          - Randolph, Jessica       01 Roanoke, VA            NH               

          - Bolte, Kendall          02 Frederick, MD          NH               

          - Meadows, Shannon        01 Hendersonville, NC     NH               

          - Showell, Aajah          03 Waldorf, MD            NH               

          - Edwards, Lauren         01 Port Jefferson, NY     NH               



                                                                               

                            Event 26 Girls Long Jump                           

                                                                               

  ! National: 22'03.00" (6.78m) Kathy McMillan, Hoke Cty, Raeford, NC 06/21/76 

  *     Meet: 20'03.75" (6.19m) Kim Jones, Grimsley, Greensboro, NC       1999 

  #    FROSH: 20'07.25" (6.28m) Tomi Rucker, Paul JHS, Washington, DC     1979 

  $     SOPH: 21'01.50" (6.44m) Ychlindria Spears, Luling, TX             2000 

  %   JUNIOR: 21'07.75" (6.60m) Carol Lewis, Willingboro, NJ              1980 

  ^   SENIOR: 22'03.00" (6.78m) Kathy McMillan, Hoke Cty, Raeford, NC 06/21/76 

                                                                               

                       Finals - Results  - Friday 06/15/01                     

                                                                               

   PLACE ATHLETE NAME            YR HOMETOWN            MARK                   

   ===== ======================= == =================== =======                

       1 Hooker, Marshevet       02 San Antonio, TX     5.97m    2.1  19'07.00 

       2 Davis, Chinela          01 Haverstraw, NY      5.95m    0.7  19'06.25 

       2 Sanford, Michelle       03 Irvine, CA          5.95m    2.1  19'06.25 

       4 Foster, Kierra          02 West Palm Beach, FL 5.84m    2.0  19'02.00 

       4 Richards, Cassandra     01 Pittsburgh, PA      5.84m    2.3  19'02.00 

       6 Williams, Shauna-lee    02 Mount Vernon, NY    5.79m    1.2  19'00.00 

       7 Richards, Sanya         02 Ft. Lauderdale, FL  5.75m    2.1  18'10.50 

       8 Young, Janae            01 Lacey, WA           5.62m    2.2  18'05.25 

       9 Williams, April         02 Rahway, NJ          5.56m    3.2  18'03.00 

      10 Byrd, Jennifer          01 Virginia Beach, VA  5.32m    1.5  17'05.50 

      11 McCullough, Ashley      04 Dayton, OH          5.30m    3.6  17'04.75 

      12 Marsh, Whitney          03 Birmingham, AL      5.23m    1.8  17'02.00 

      13 Whitmire, Kemisha       02 Spartanburg, SC     5.22m    0.4  17'01.50 

      14 Todd, Kellie            01 Raleigh, NC         5.20m    1.3  17'00.75 

      15 Finley, Edra            03 Mobile, AL          5.14m    1.5  16'10.50 

      16 DeBenedetto, Collette   04 Mountain Lakes, NJ  5.12m    0.0  16'09.75 

      17 Steele, Sherina         03 Salisbury, NC       5.08m    0.9  16'08.00 

      18 Allen, Nikki            02 Florence, SC        5.05m    1.2  16'07.00 

      19 Dawkins, Sheena         02 Jamestown, NC       5.03m    2.4  16'06.00 

      20 Blanks, Cristina        01 Erie, PA            5.02m    2.9  16'05.75 

      21 McPhatter, Shenita      01 Great Neck, NY      4.95m    1.3  16'03.00 

      22 Golden, Allicia         02 Sumter, SC          4.67m    1.4  15'04.00 

       - Gordon, Sheena          02 Erie, PA               ND    NWI           

                                                                               

                          Event 32 Girls Discus Throw                          

                                                                               

  ! National: 188'04.00" (57.40m) Suzy Powell, Modesto, CA            05/20/94 

  *     Meet: 175'09.00" (53.57m) Krista Keir, South, Westerville, OH     1997 

  #    FROSH: 168'01.00" (51.23m) Briona Reynolds, Red Rivers, ND         1998 

  $     SOPH: 176'04.00" (53.75m) Heather Colyer, East Juniata, PA        1996 

  %   JUNIOR: 181'11.00" (55.45m) Krista Keir, South, Westerville, OH     1997 

  ^   SENIOR: 188'04.00" (57.40m) Suzy Powell, Modesto, CA            05/20/94 

                                                                               

                       Finals - Results  - Friday 06/15/01                     

                                                                               

     PLACE ATHLETE NAME            YR HOMETOWN            MARK                 

     ===== ======================= == =================== ========             

         1 Ukabam, Amarachi        02 Black Jack, MO      49.42m   162'02.00   

         2 Pequignot, Michelle     01 Arroyo Grande, CA   46.84m   153'08.00   

         3 Podominick, Elizabeth   03 Lakeville, MN       45.96m   150'09.00   

         4 Hernandez, Johvonne     01 Port Isabel, TX     43.98m   144'03.00   

         5 Grant, Billie-Jo        03 Oceano, CA          43.22m   141'09.00   

         6 Ruston, Abby            02 San Antonio, TX     42.68m   140'00.00   

         7 Neuberger, Lindsay      02 Virginia Beach, VA  41.70m   136'10.00   

         8 Kendrick, Nicole        01 Lancaster, OH       40.84m   134'00.00   

         9 Groover, Keri-Faith     01 Riviera Beach, FL   40.82m   133'11.00   

        10 Waykowski, Karen        02 Old Saybrook, CT    39.56m   129'09.00   

        11 Muth, Kristine          02 Pleasant Hill, CA   38.42m   126'00.00   

        12 Blackwood, Brandy          Miami, FL           38.14m   125'01.00   

        13 Pachuta, Kate           01 Middletown, NJ      37.86m   124'02.00   

        14 Brooks, Ariel           02 Miami, FL           37.32m   122'05.00   

        15 Mighty, Monique         02 Hackensack, NJ      37.16m   121'11.00   

        16 Gullatte, Ronda         02 Marietta, GA        37.08m   121'08.00   

        17 Karow, Brienne          03 Napanoch, NY        36.84m   120'10.00   

        18 Miller, Christina       01 Sterling, VA        36.24m   118'11.00   

        19 Seeba, Carli            02 Bellevue, NE        36.16m   118'08.00   

        20 Braden, Kelly           01 Norwalk, OH         35.80m   117'05.00   

        21 Nahm, Bethany           02 Madison, OH         35.74m   117'03.00   

        22 Swann, Candace          01 Waldorf, MD         35.74m   117'03.00   

        23 Robistow, Stephanie     01 Foxboro, MA         35.62m   116'10.00   

        24 Porter, Latoya          01 Midlothian, VA      33.76m   110'09.00   

        25 Mallory, Beth           02 Ashland, OH         33.22m   109'00.00   

        26 Liander, Marina         02 Staten Island, NY   33.06m   108'05.00   

        27 Check, Sarah            02 Laurel, MD          30.02m   98'06.00    

         - Washington, Qualenda    01 Sumter, SC            FOUL               

         - Phillips, Alex          03 New Canaan, CT        FOUL               

                                                                               

                          Event 36 Girls Hammer Throw                          

                                                                               

    ! National: 201'07.00" (61.44m) Maureen Griffin, Pocatello, UT 05/30/98    

    *     Meet: 187'10.00" (57.25m) Maureen Griffin, Pocatello, ID     1997    

    #    FROSH: 141'03.00" (43.05m) Kate Johnston, Warwick, RI         1998    

    $     SOPH: 176'00.00" (53.64m) Kate Johnston, Warwick, RI         1999    

    %   JUNIOR: 187'10.00" (57.25m) Griffin                            1997    

    ^   SENIOR: 201'07.00" (61.44m) Griffin                            1998    

                                                                               

                       Finals - Results  - Friday 06/15/01                     

                                                                               

     PLACE ATHLETE NAME            YR HOMETOWN            MARK                 

     ===== ======================= == =================== ========             

         1 Johnston, Kate          01 Warwick, RI         54.36m $ 178'04.00   

         2 Bizon, Christina        01 Warwick, RI         48.92m # 160'06.00   

         3 Wynn, Jenn              02 Douglasville, GA    46.58m # 152'10.00   

         4 Thayer, Sarah           02 Wakefield, RI       45.46m # 149'02.00   

         5 Reynolds, Kelly         03 Warwick, RI         44.78m # 146'11.00   

         6 Dufresne, Danielle      03 Warwick, RI         41.78m   137'01.00   

         7 Callan, Kristen         03 Monroe, NY          41.76m   137'00.00   

         8 Cambareri, Ashleigh     01 Otisville, NY       38.22m   125'05.00   

         9 Waykowski, Karen        02 Old Saybrook, CT    37.16m   121'11.00   

        10 Liander, Marina         02 Staten Island, NY   34.40m   112'10.00   

        11 Berudezz, Natasha       01 Poughkeepsie, NY    31.02m   101'09.00   

                                                                               

                          Event 34 Girls Javelin Throw                         

                                                                               

 ! National: 198'08.00" (60.55m) Barabara Friedrich, Manasquan, NJ    06/07/67 

 *     Meet: 168'04.00" (51.31m) Emily Carlsten, Warwick, RI              1996 

 #    FROSH: 162'06.00" (49.53m) Kate Schmidt, Wilson, Long Beach, CA     1968 

 $     SOPH: 177'04.00" (54.05m) Kate Schmidt, Wilson, Long Beach, CA     1969 

 %   JUNIOR: 191'06.00" (58.37m) Kate Schmidt, Wilson, Long Beach, CA     1970 

 ^   SENIOR: 198'08.00" (60.55m) Barabara Friedrich, Manasquan, NJ    06/07/67 

                                                                               

                       Finals - Results  - Friday 06/15/01                     

                                                                               

     PLACE ATHLETE NAME            YR HOMETOWN            MARK                 

     ===== ======================= == =================== ========             

         1 Keats, Ashleigh         03 Salina, KS          43.26m   141'11.00   

         2 Donohue, Erin           01 Haddonfield, NJ     41.96m   137'08.00   

         3 Waykowski, Karen        02 Old Saybrook, CT    41.38m   135'09.00   

         4 Bobiak, Annie           81 Media, PA           41.28m   135'05.00   

         5 Salisbury, Chelsea      02 Estell Manor, NJ    39.78m   130'06.00   

         6 Greeley, Meghan         01 Foxboro, MA         37.64m   123'06.00   

         7 George, Lindsay         03 Foxborough, MA      36.32m   119'02.00   

         8 Walsh, Meghan           02 Havre De Grace, MD  35.04m   114'11.00   

         9 Young, Megan            01 Brockton, MA        32.78m   107'06.00   

        10 Shea, Meghan            02 Manchester, NH      31.82m   104'05.00   

        11 Lee, Jennifer           01 Bellmore, NY        30.50m   100'01.00   

        12 Ondash, Jenna           03 New Canaan, CT      29.20m   95'09.00    




Return to adidas Outdoor Championships page